Whether you have a peanut allergy or just want a replacement for regular peanut butter, here is a list of our favorite peanut-free spreads.
Some options are even completely nut-free, and many are suitable for other types of diets like keto, whole-30 or paleo.
There are affiliate links below. As an Amazon affiliate, I earn from qualifying purchases.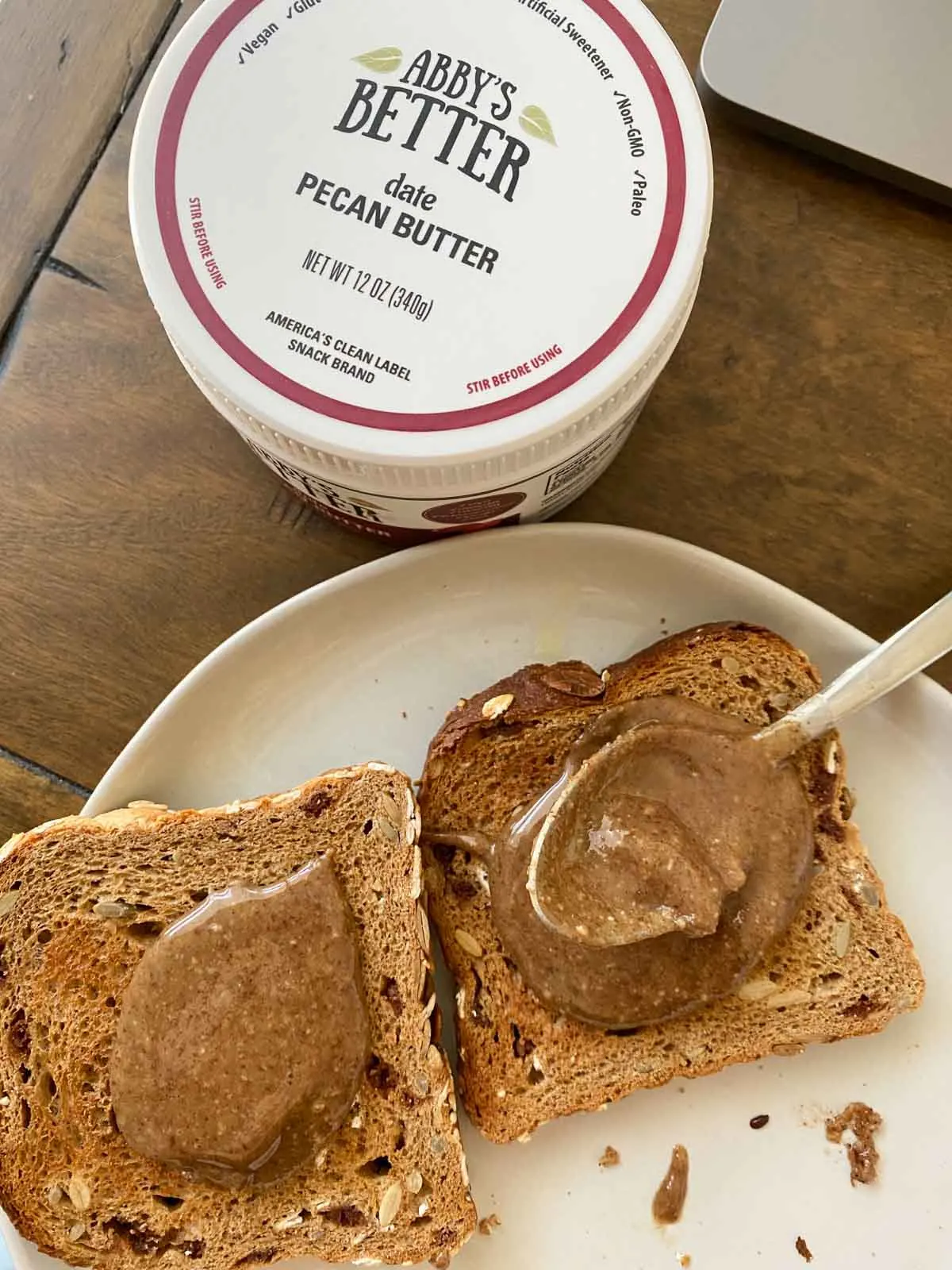 Abbys Nut Butters
Abby's Nut Butters are all gluten-free, peanut-free, paleo and plant-based, with 6 or fewer ingredients in each flavor. They also have a newer keto flavor!
Each flavor highlights a unique nut or seed – like chocolate sunflower seed butter or coffee almond butter.
Though they do have regular almond or pecan butter that are a more direct replacement for peanut butter!
As an example, my favorite flavor of date pecan butter has only 3 ingredients: Dry Roasted Pecans, Dates, and Pink Himalayan Salt.
Use code TRIALANDEATER to save 15% on their website. (Read our full review here!)
Granola Butter
The company Oat Haus makes several different flavors of granola butter that are all based on oats.
The original tastes like cinnamon graham crackers!
They are all USDA organic and have all natural ingredients – the original has gluten-free oats, flax, olive oil, coconut oil, maple syrup, cinnamon, rosemary extract, salt, allspice, cardamom and ginger.
Granola butter is very allergy friendly, being free of the top 14 major allergens, and are made in a nut-free facility.
Try the ultra-liquidy spreads on sandwiches, dessert toppings, or straight out of the jar. You can also refrigerate them for a more cookie-dough like consistency!
Read our full review of granola butter here!
Nuttzo
Nuttzo is a brand of nut and seed butters that have a range of delicious offerings.
While they also offer spreads that include peanuts, they have many without peanuts that are made up of ingredients like cashews, almonds, brazil nuts, chia seeds and pumpkin seeds.
Most mixes have no sugar added, a couple are specifically labeled keto-friendly and a couple others are paleo-friendly butters!
The ingredients and dietary qualifications are clearly printed on the label on each jar.
I buy mine through Thrive Market.
Tiger nut butter
Tiger nuts are becoming more and more popular, as well as tiger nut butter, because they are paleo and AIP diet compliant.
With a high fiber count and no sugar added, this could provide health benefits like improved digestion and blood sugar control.
Are there any other peanut-free butters that you love and recommend? Let us know in the comments so we can add to the list!