My experience and favorite vegetarian food from the 2021 Taste of Epcot International Food and Wine Festival!
When my dear friend Leah invited me to go to Epcot for the food and wine festival this year, I knew I was in good hands. Not only is she a family travel & money saving blogger at The Frugal South but she has a whole other site (and podcast) dedicated just to Disney World, called The Budget Mouse.
Having tips from someone who knows the parks backwards and forwards definitely helps!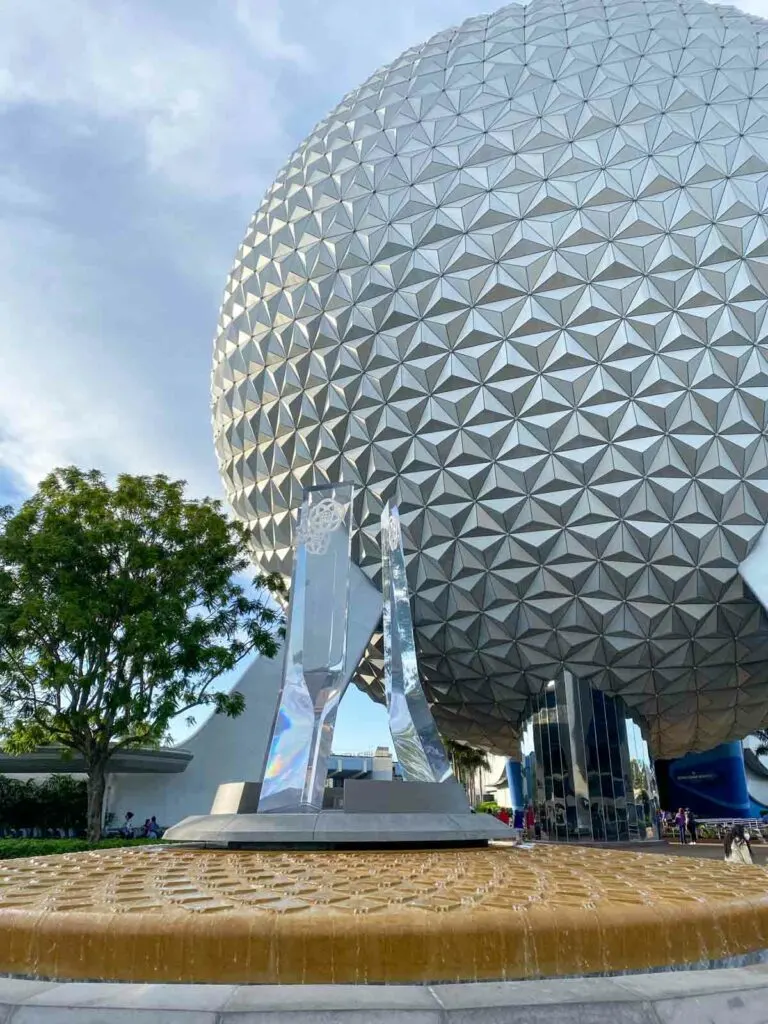 This post contains affiliate links, which means I may receive a small commission if you make a purchase after clicking on my links.
We arrived late Monday afternoon and left Wednesday morning, so we had one FULL day at Epcot on Tuesday. Even though our trip was short, we were able to pack in pretty much everything we wanted to do at Epcot and our resorts in that short time.
We stayed one night at the Animal Kingdom Lodge and the other night at the new Riviera Hotel, both of which were amazing in their own rights. We had an amazing buffet dinner at Boma (African inspired food) which I'll do another post on soon.
2021 is the 50th anniversary of Walt Disney World so it was a fun year to go for my first time at Food and Wine!
While the official dates run for about 4 months (mid July – mid November), some booths do not open until October 1 so our trip was planned for the first week in October after everything was open. I believe they also have different features at each countries booths throughout the year for other events too, like Festival of the Holidays at the end of the year.
Epcot opened at 9am and currently if you stay at a Disney resort you can get in 30 minutes early. So we arrived via bus just before 8:30, walked right in, and headed straight to Leah's favorite attraction, Soarin' Around the World.
It's like a simulated hang-gliding adventure and super fun. It was a great way to start the day (but you probably want to skip it if you're afraid of heights!).
The Food & Wine booths didn't open until 11am so we also had time to ride Mission: Space and Test Track before heading over to Ratatouille, which is the only current ride where you'll need to reserve a place in line. (You can do this on the Disney app at 7am.) Super cute and worth the wait!
On the walk over for our call time, the Impossible booth was already open so we grabbed an early lunch.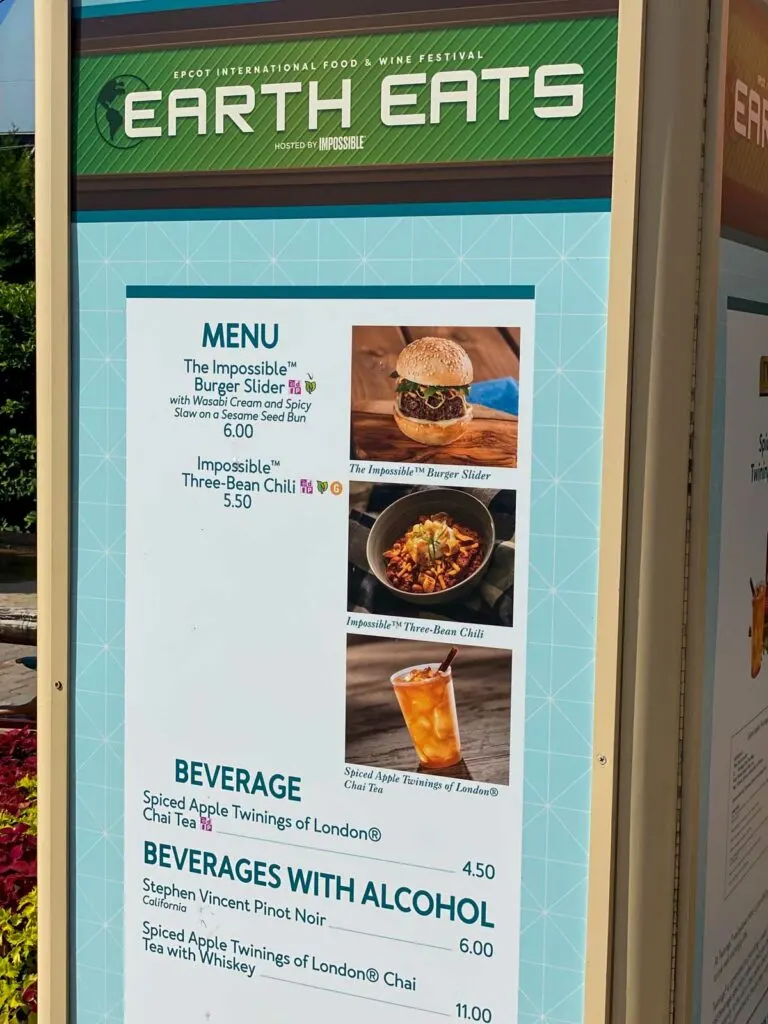 Earth Eats is a must stop for vegetarians and vegans! We tried both the Impossible Burger Slider and the Impossible 3-Bean Chili.
I preferred the burger but Leah's half had a bite full of wasabi cream so she liked the chili better.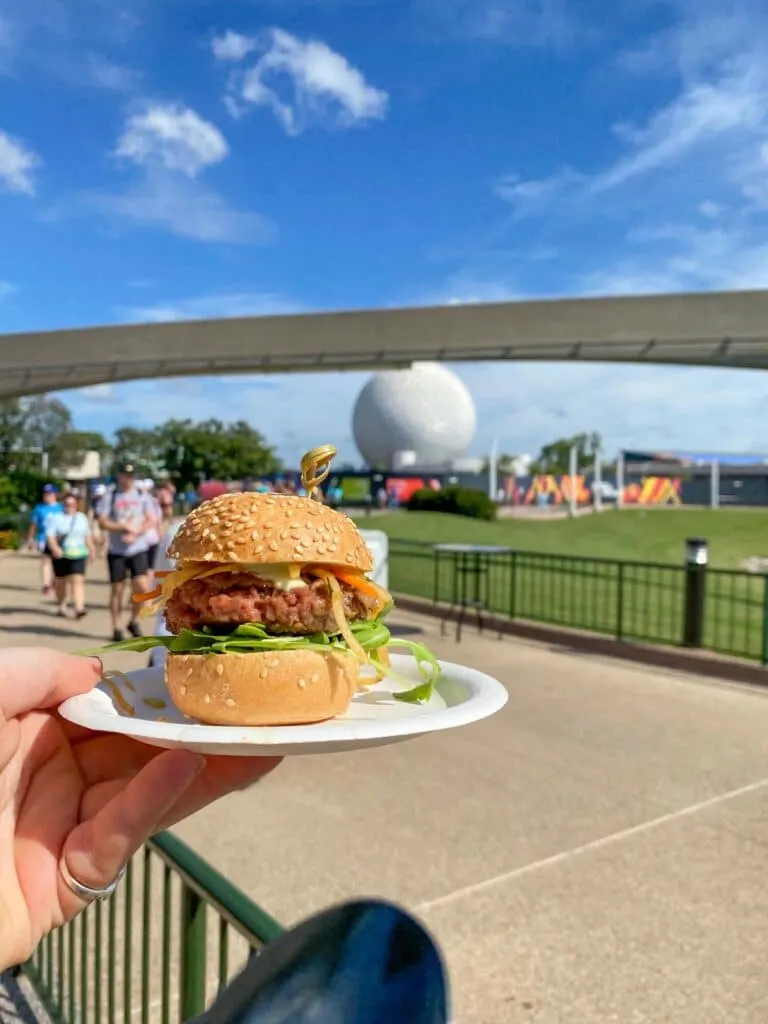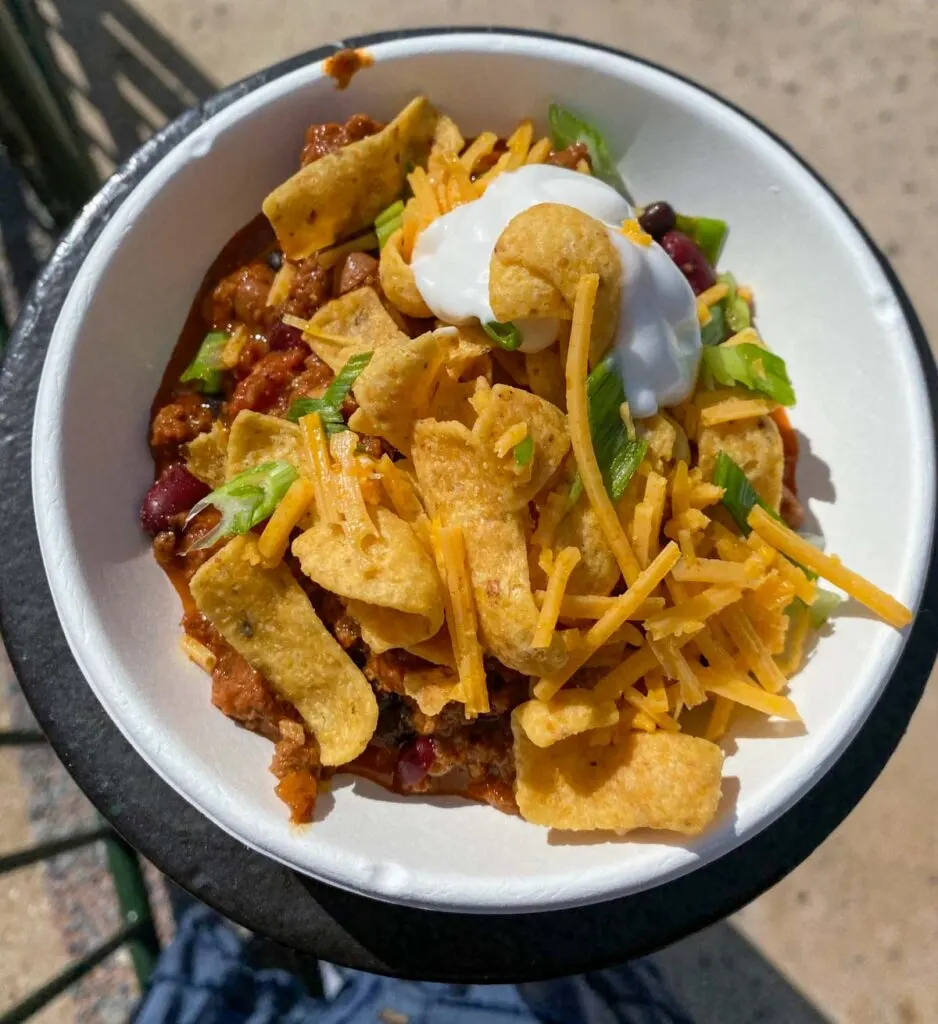 My favorite area of Epcot is France, and after Ratatouille we of course had to stop and get some crepes.
The crepes aren't part of the festival but are one of the many quick service spots where you can walk up and get food any time of year. We got one savory buckwheat crepe (Ratatouille Galette) and one sweet red berry crepe.
Our next stop was Morocco! We got the stone-baked Morrocan bread with dips (that zaalouk dip is an amazing spicy cilantro dip I will need to recreate soon), fried falafel pita and the pistachio cake.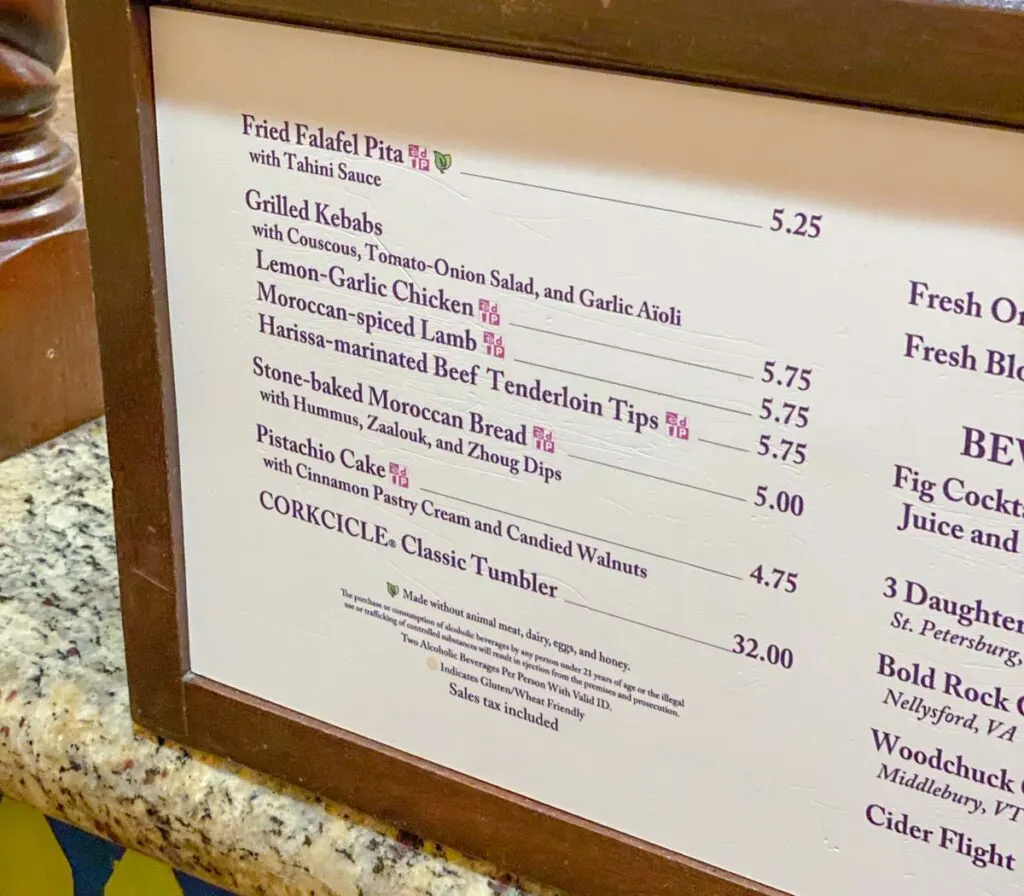 I loved the falafels! They nailed the flavor and the texture – somehow made it crispy on the outside and light on the inside.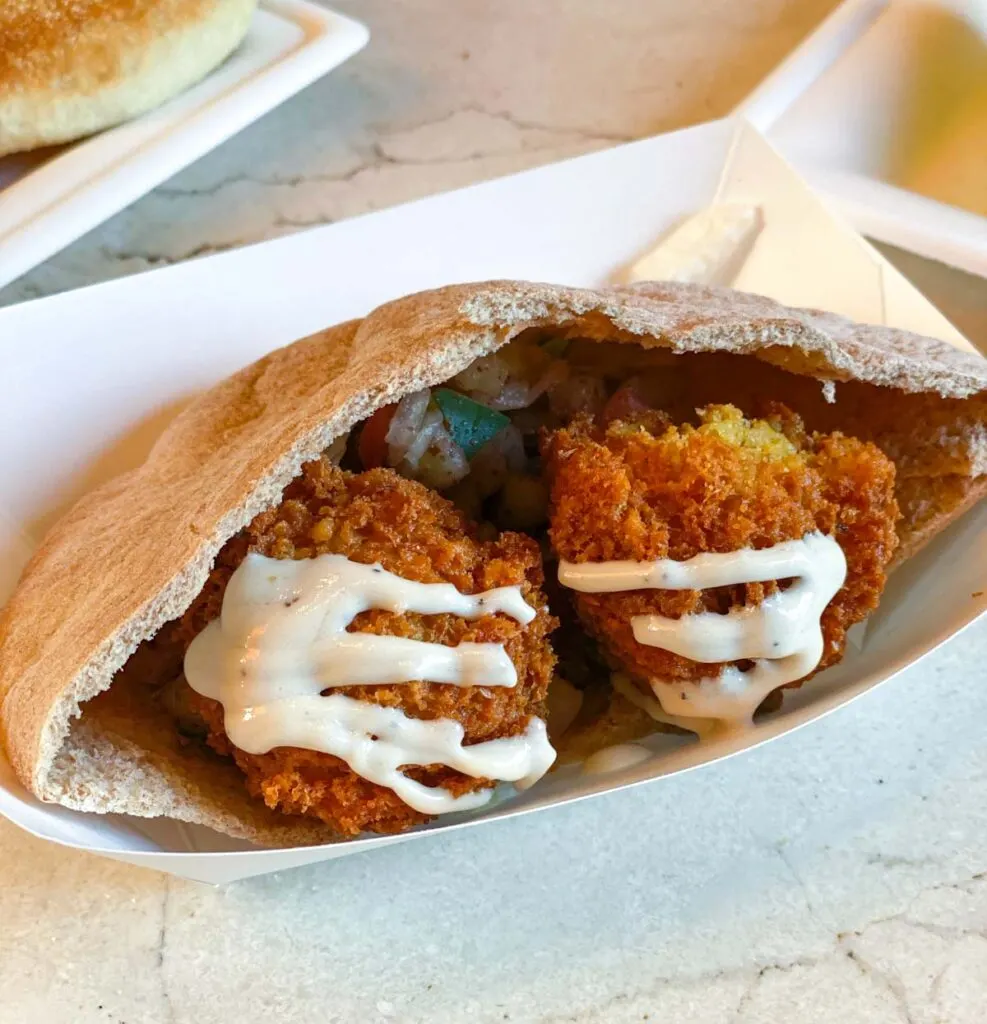 This pistachio cake was initially purchased just for the picture, because how pretty is this?! But we got a bonus because it actually turned out to be AMAZING.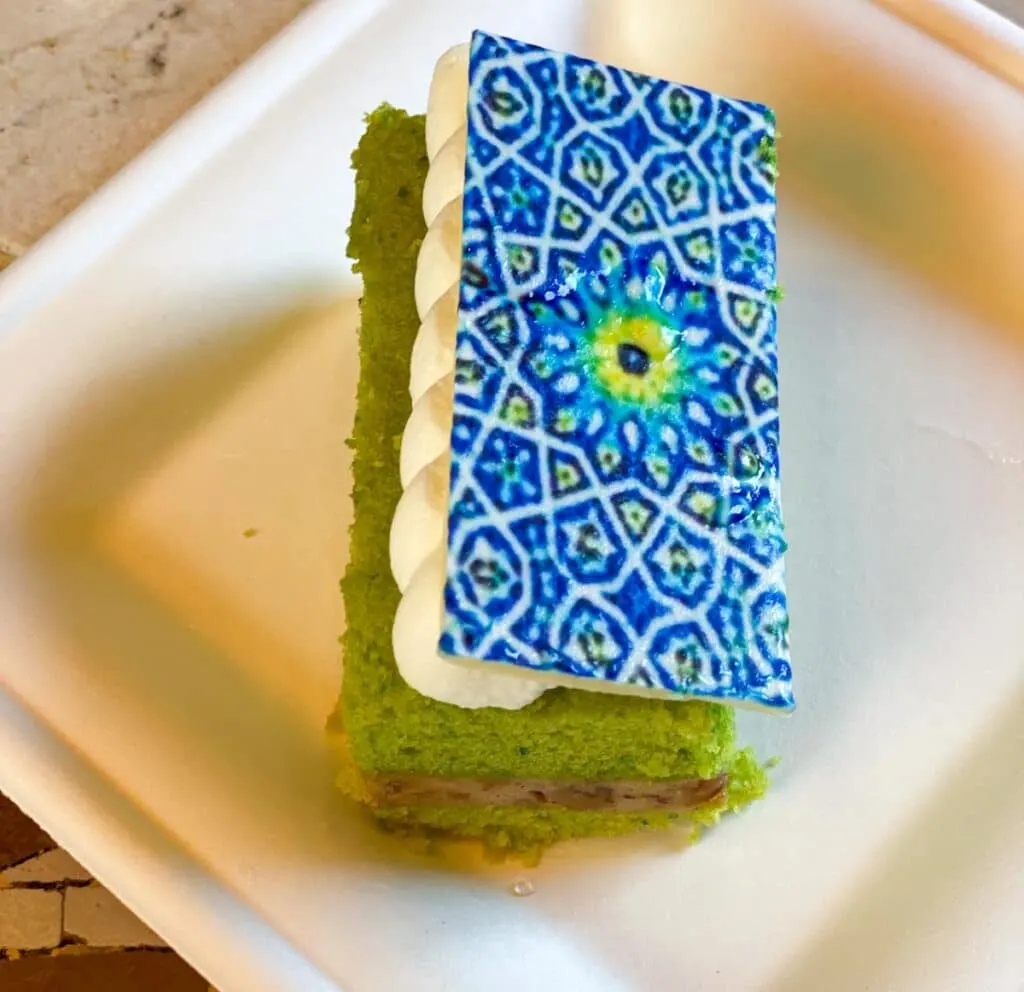 From The Alps we got a warm swiss raclette with baby potatoes and pickles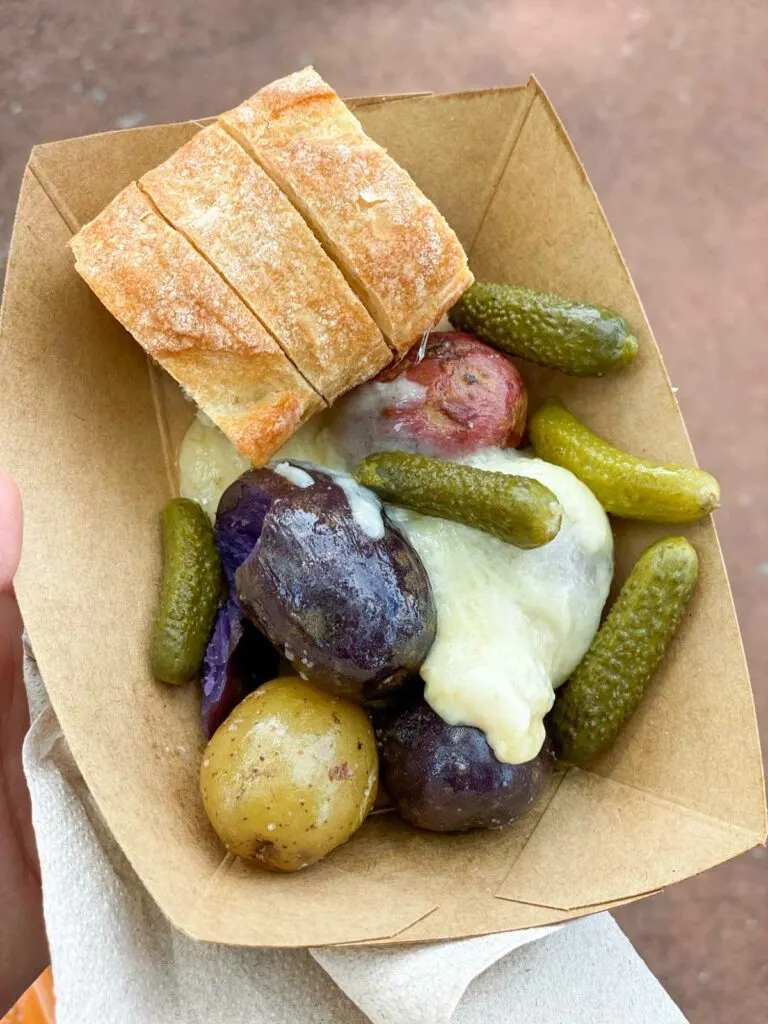 Of course we had to get the spanakopita from Greece!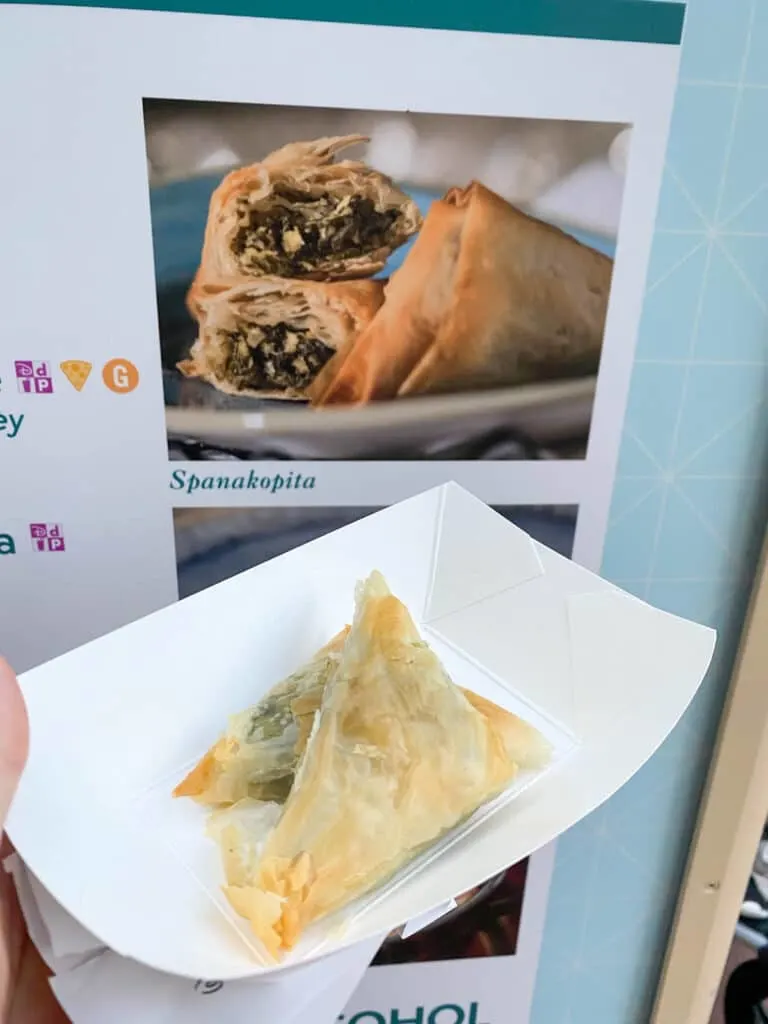 The Wild Mushroom Truffle Tart from the Rotunda Bistro was also pretty amazing. It's also located in a great spot with air conditioned seating.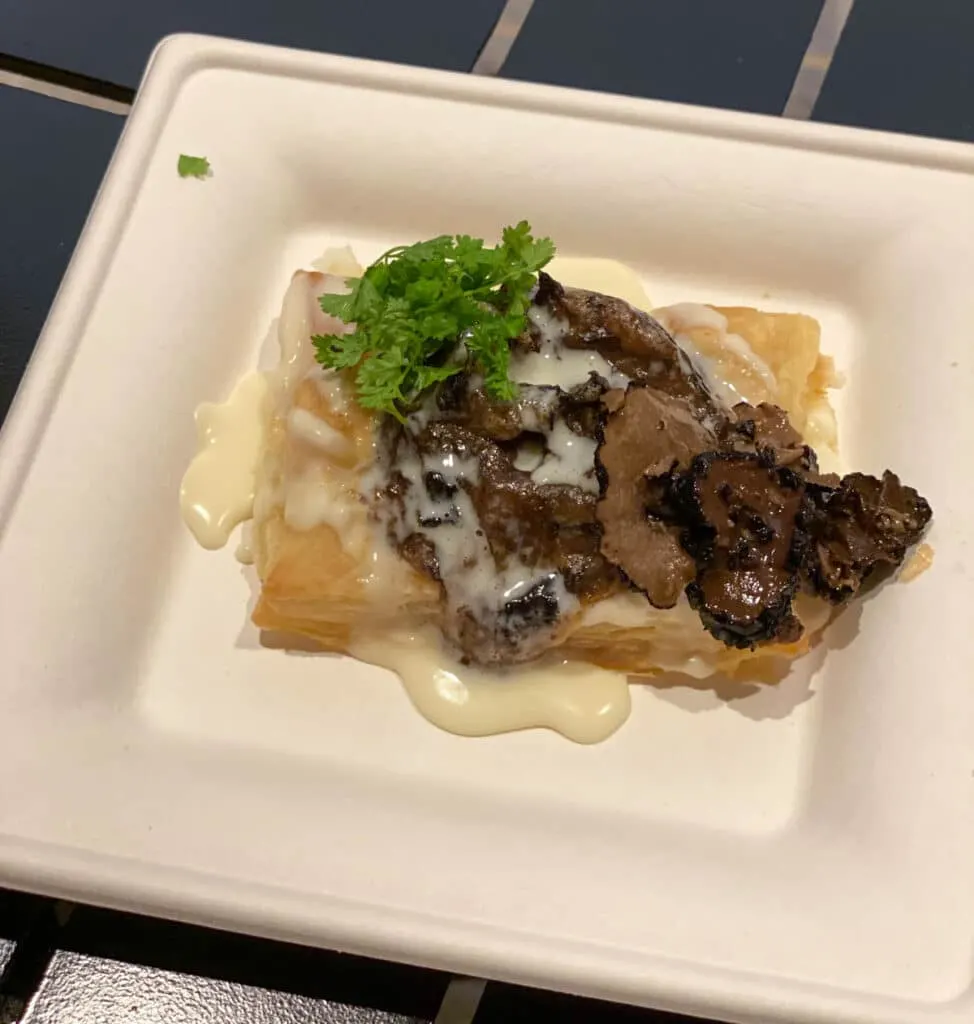 A must-try dessert is the Maple Boursin Cheesecake from the Refreshment Port!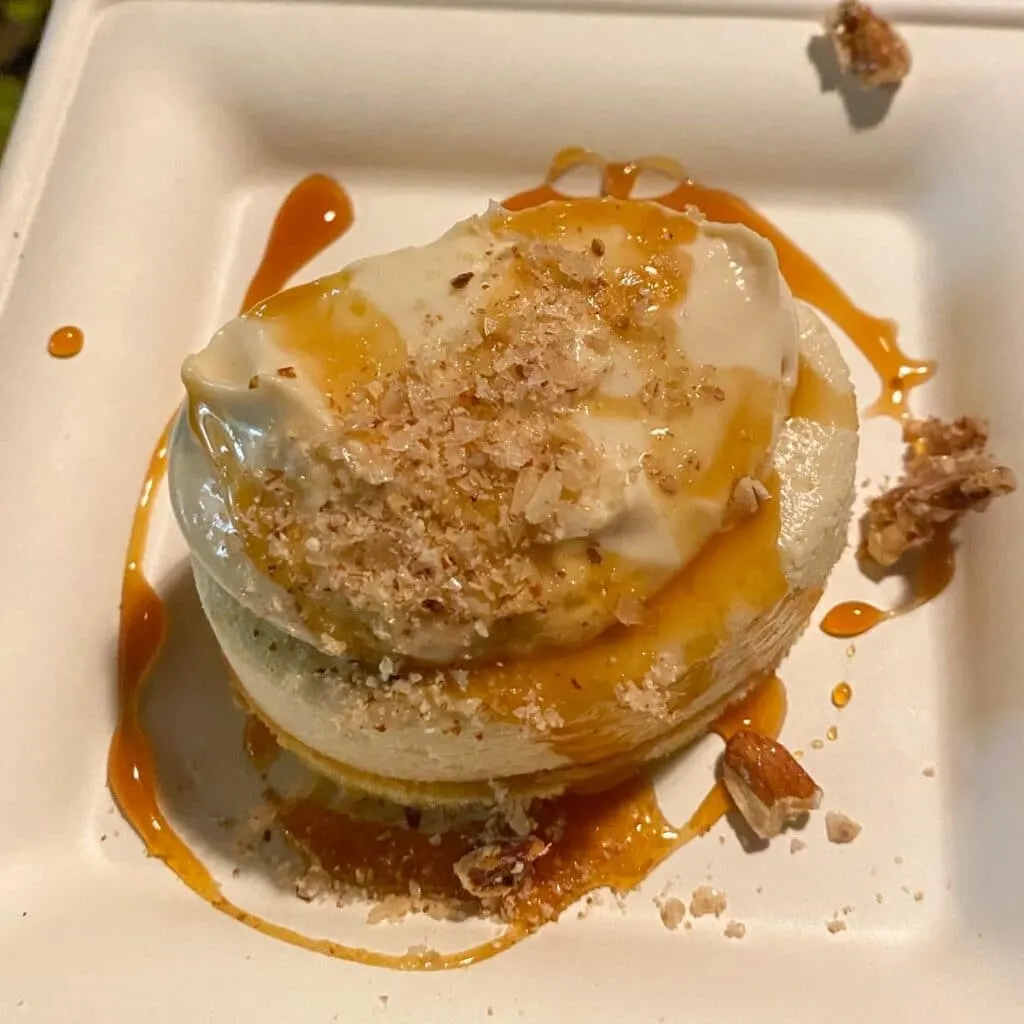 Of course we had to sample some wines while we were there also. We had frozen rosé in the afternoon (wish they had larger than a sample size, I would have been drinking that all day), a beer flight and a couple wine flights later on.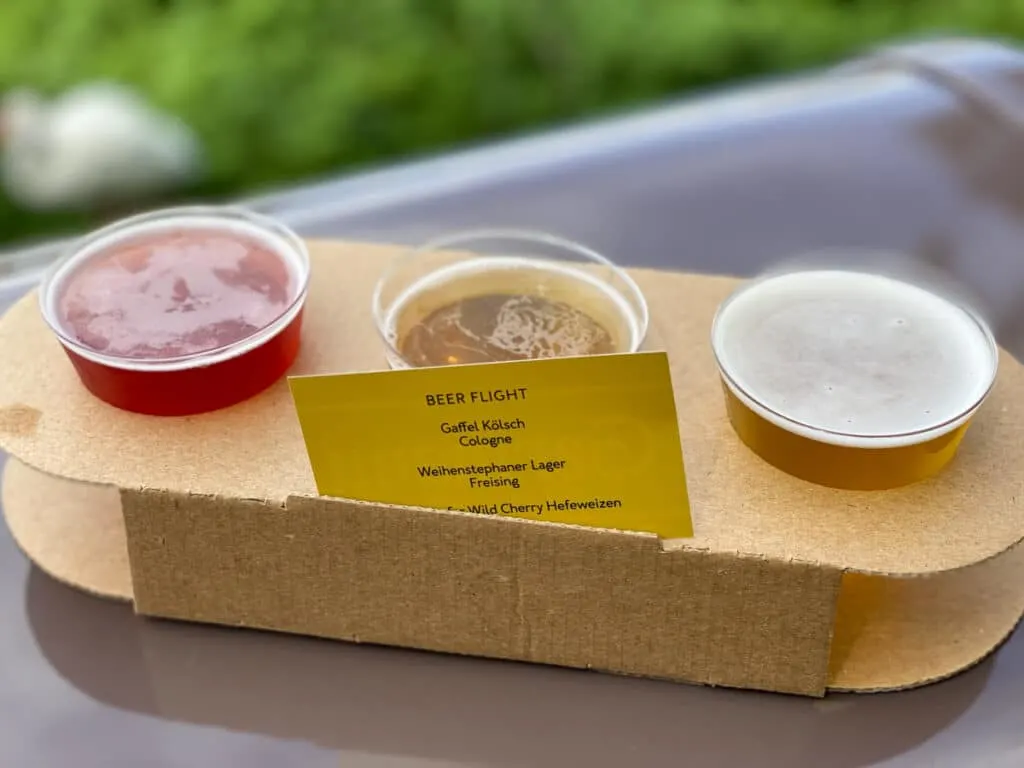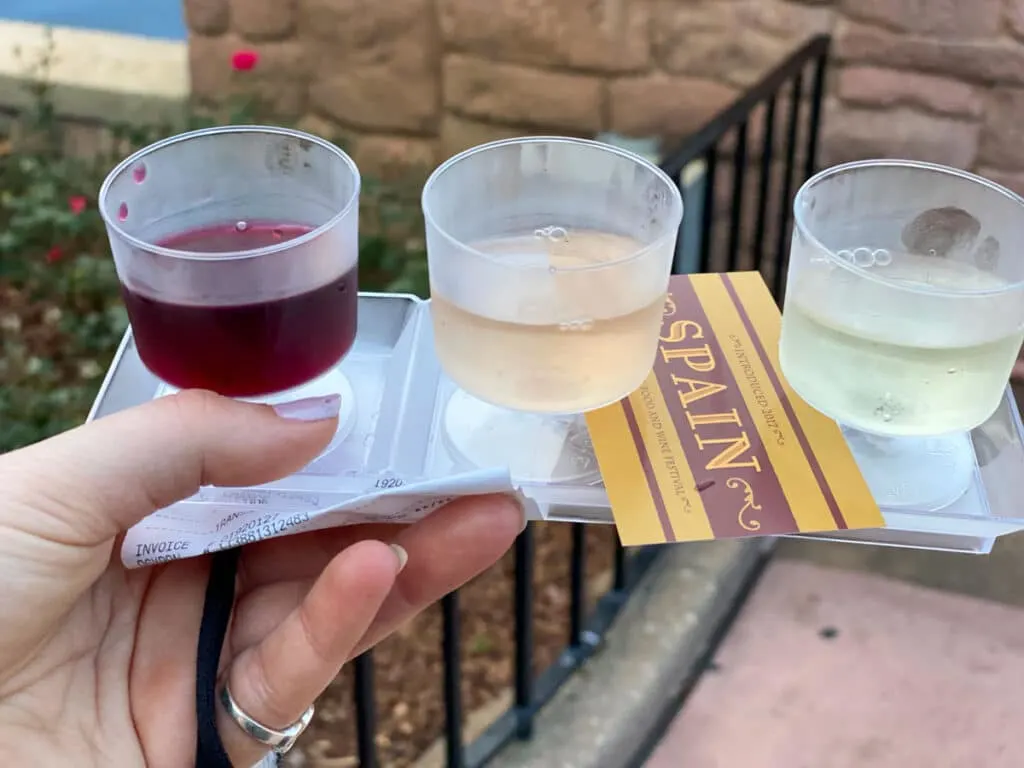 None of the regular wine/beer was honestly worth writing home about (maybe I'm just spoiled by my favorite wine club).
[lasso ref="dryfarmwines" id="8003″]
Though a stop at Ireland for their Guiness Bailey's shake (along with their warm chocolate pudding cake) is definitely worth it!
The perfect way to end the night.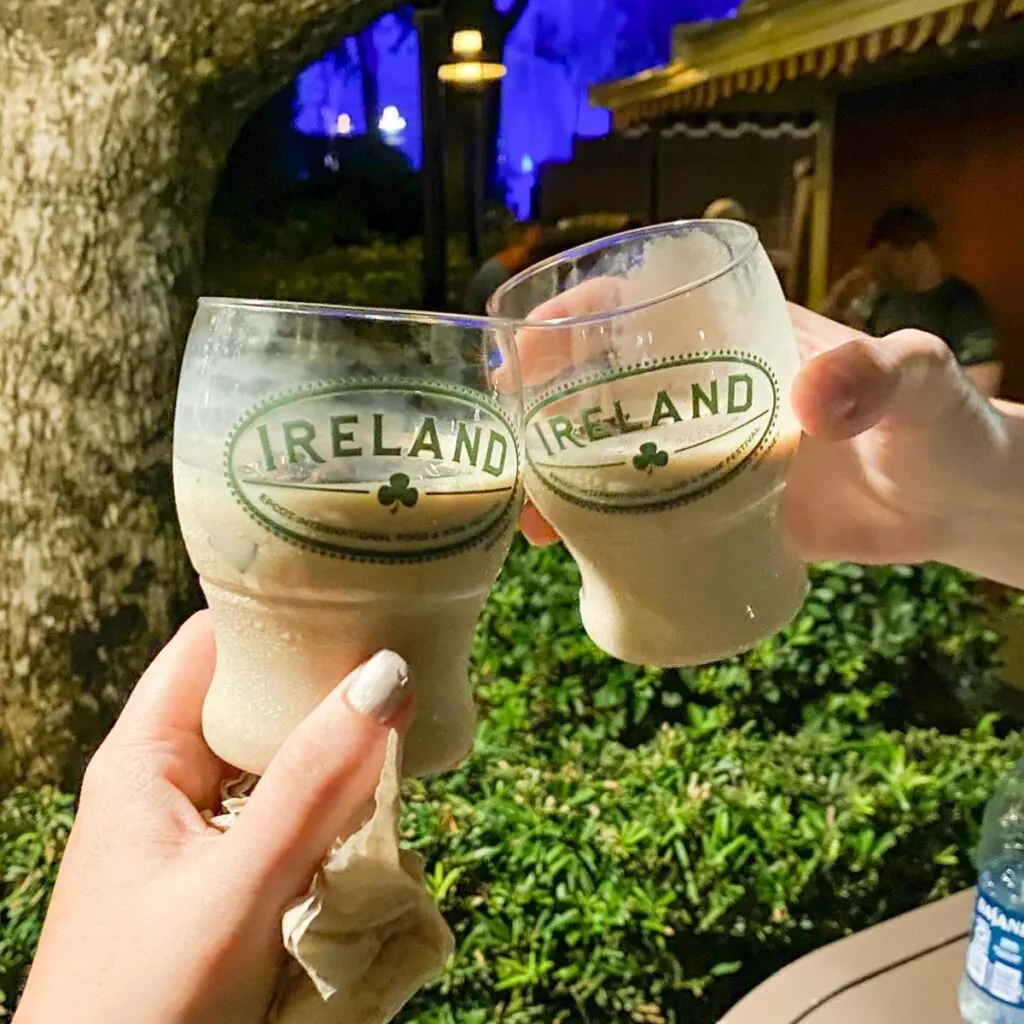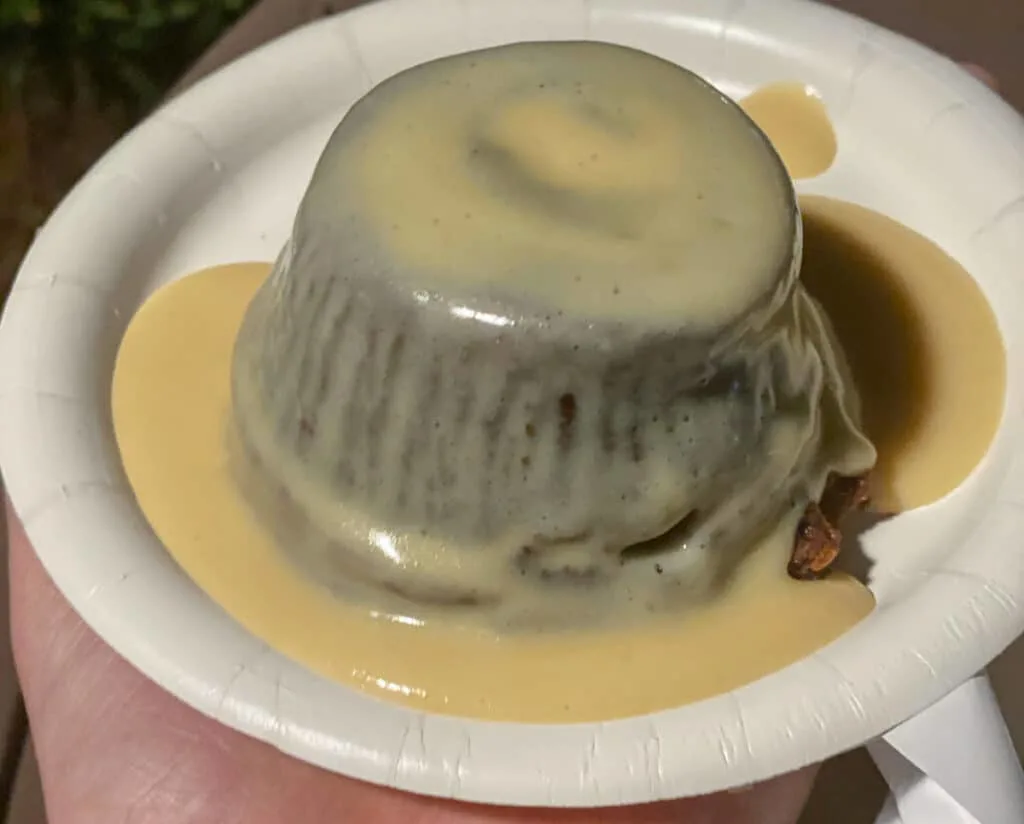 While we tried many of the plant-based items available that were part of Food & Wine, we did skip a few of the vegetarian options that were desserts, cheese-heavy, and/or that Leah had tried in previous years that she thought weren't worth it.
Walking around in the heat all day meant we didn't want to have anything too heavy sitting our stomach for hours but I do wish we had room for the cheesy Beignet from France, griddled cheese from Greece (served with pistachios and honey!), and the plant-based mac and cheese from Mac and Eats (we couldn't find the booth!)
My advice for a short trip is to definitely have a plan and know what you want to eat / see / ride beforehand so you can strategize. Or if you're lucky enough, travel with a Disney expert!
And definitely pace yourself and take breaks when you need to. We actually took a few hours off in the afternoon and went back to the Riviera pool before dinner, which ended up being perfect.
Having someone with you that shares similar food preferences or is willing to share with you will help a lot. Leah isn't vegetarian but she had no problem going meatless for the day – and we split pretty much everything except when we got our own Bailey's shakes.
You can find all of Leah's best tips and tricks for Epcot and the rest of Disney (on a budget) here.