This post contains affiliate links, which means I may receive a small commission if you make a purchase after clicking on my links. This is not intended as medical advice.
What to do when you want to jump on the collagen trend but are following a vegan or vegetarian lifestyle?
Most collagen supplements are derived from animals or fish, but there are some vegan options that will help your body support the natural collagen you already have.
Why Collagen
First – why do we need collagen support? Collagen is the most abundant protein in our bodies and is one of the major building blocks of bones, skin, and tendons and ligaments. It's like the "glue" that holds us all together. (source.)
With age and certain lifestyle impacts, our collagen production declines over time. Many people have started to incorporate collagen supplements like gelatin or marine collagen into their diets for skin, hair and bone health.
Vegan Collagen Supplement Options
It's important to clarify that there is no actual "vegan collagen" – collagen comes from animals. But when we are talking about vegan collagen supplements we are looking for superfoods and vitamins that support our natural collagen production. Plant-based options will say something along the lines of "collagen support" or "collagen protect."
Your Super Plant Collagen Support
I love all the organic superfood powders from Your Super, and was so happy when they came out with a collagen support.
Formulated by holistic nutritionists, the YS collagen support powder is certified organic, vegan, gluten-free and all natural.
Only 6 ingredients:
Tocos – rice bran solubles, for antioxidants and essential amino acids
Pea Protein – a complete protein with all 9 essential amino acids to support your body's ability to produce natural collagen
Tremella – an antioxidant-rich mushroom that increases your body's level of hyaluronic acid, for skin cell regeneration and hydration
Lucuma – a superfood fruit packed with beta carotene
Madagascar Vanilla – rich in vitamins and gives the powder the sweet flavor
Aloe Vera – antibacterial and rich in antioxidants
Because of its slightly sweet taste, you could add it to your morning coffee in addition to smoothies, or even foods like oatmeal. This is personally one of my favorite mixes from Your Super!
Save 15% on your purchase of Your Super with code TRIALANDEATER at checkout (or check out all products on the full Your Super review here.)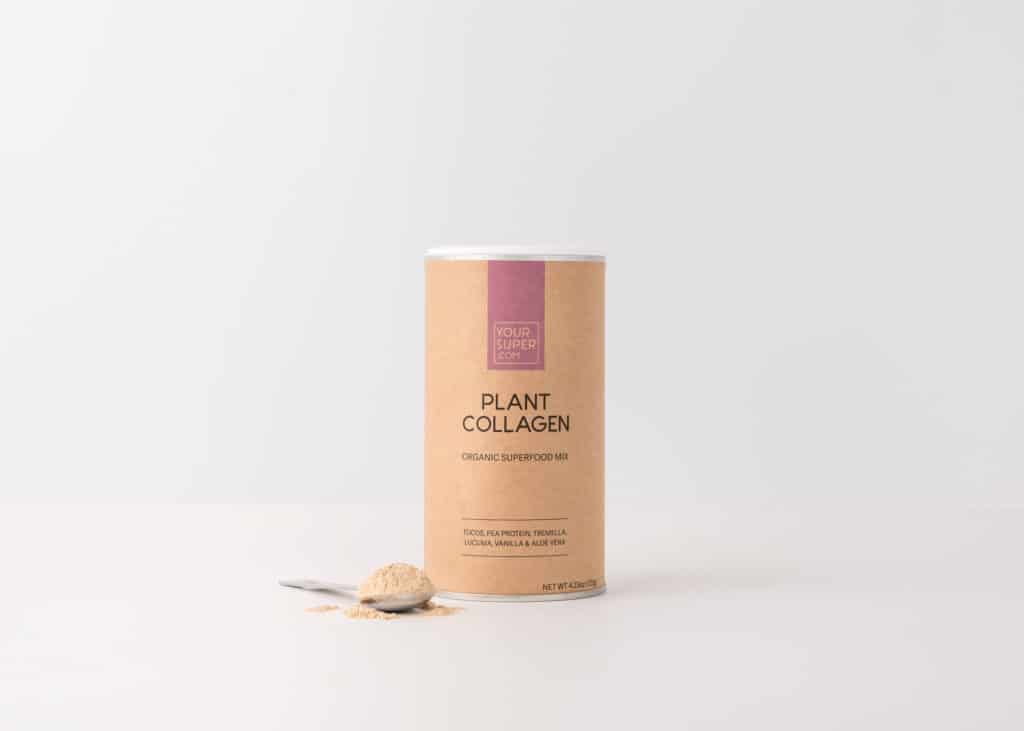 Moon Juice Collagen Protect
Skincare You Can Drink Is the tagline for this product, and it only has 3 ingredients.
Tocos and tremella mushroom are two of them, which are two of the ingredients in the above YS powder too. The third ingredient here is sodium hyaluronate (hyaluronic acid).
This is also a powder, and can be used in the same ways as the YS powder – in coffee, smoothies, etc.
Buy from the Moon Juice website.
Mary Ruth Vegan Collagen Support Gummies
Our next option for vegan collagen is actually in gummy form! This could be a good option for those of you who don't like the powder option, or don't eat enough smoothies.
The one personal downside is that these have stevia extract, which I try not to eat because of an allergy.
Excerpt from the MaryRuth website: Both Vitamin A and Vitamin C help to stimulate collagen synthesis and promote skin health. Amino Acid Lysine, one of the essential building blocks of protein, also works alongside Vitamins A and C as an essential part of collagen production. Amla fruit, which has been used in Ayurvedic medicine in India for decades, has been found to improve skin elasticity and thickness as well as promote hair growth.
Other non-active ingredients: Organic Isomalto-oligosaccharides, Purified Water, Organic Erythritol, Xylitol, Pectin, Citric Acid, Natural Watermelon Flavor, Sodium Citrate, Black Carrot (for color), Organic Stevia Leaf Extract, Organic Sunflower Oil.
Buy it on the MaryRuthOrganics website.
Summary of Vegan Collagen Options
Supporting our own collagen production is possible with diet and other plant-based options. My personal favorite from this list is the Your Super collagen support, because it's certified organic and has the most well-rounded ingredients. I love the smell and taste of it too!
If you've tried a vegan collagen support supplement that's not on this list, leave a comment below and tell me about it! I will continue to update this list as more options become available, as long as they are generally clean ingredients.