Do you love Reese's cups but are looking for a healthier alternative? Below are some options we've tried that have better ingredients, some of which are even vegan!
This post contains affiliate links, which means I may receive a small commission if you make a purchase after clicking on my links. As an Amazon affiliate, I earn from qualifying purchases.
You all seem to love my list on Cheetos alternatives so I thought I would put together more "healthier option" lists for different snack foods.
My all-time favorite dessert used to be Reese's peanut butter cups (especially the holiday versions like Easter eggs that had a thicker peanut butter filling).
Though when I finally got real with myself on all the ingredients that are in Reese's cups I knew had I had to find a better alternative. Luckily there are some great options now!
Table of contents
Unreal Peanut Butter Cups
The brand name Unreal is totally fitting for these candies – not all their flavors are vegan, but their dark chocolate peanut butter cups are both vegan and gluten-free.
Plus they have less sugar without using sugar alcohols like erythritol, stevia or artificial sweeteners. No artificial flavors or preservatives either!
I actually really love the almond butter cups, I think because they are a big creamier than the peanut butter. But all of the varieties are delicious.
Unreal also has a dark chocolate peanut butter cup with crispy quinoa, if you like the idea of getting some nutrition in with your dessert!
Where to buy Unreal peanut butter cups: Amazon, Thrive Market, or the Unreal website.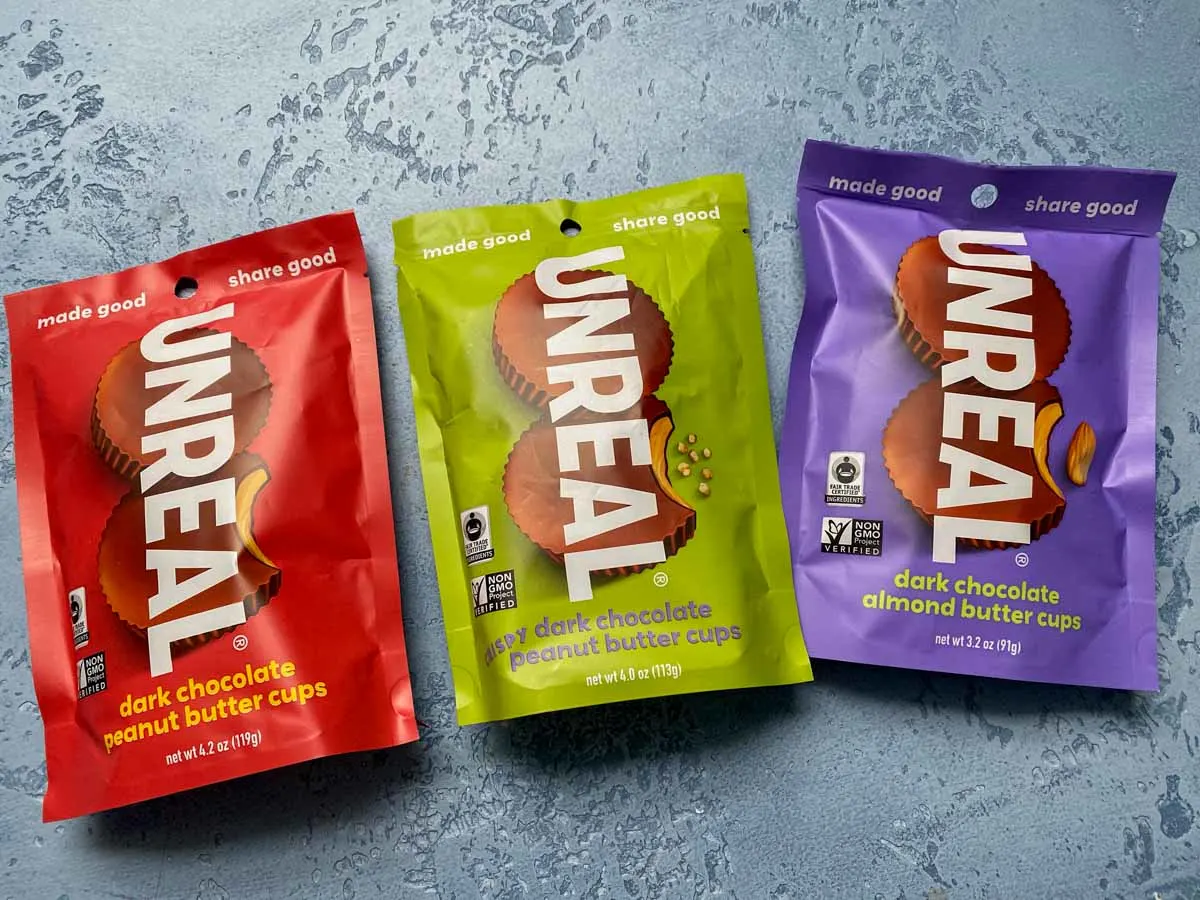 Skinny Dipped
Skinny Dipped started out as a chocolate covered almonds company (you can find the full review here), but now they have whole range of dessert snacks – including peanut butter cups!
Their cups have a higher peanut butter to chocolate ratio (which is what I miss most about the Reese's Eggs!) and only have 2 grams of sugar per cup in the dark chocolate version.
These are not vegan, but they are keto-friendly and made with simple ingredients:
Unsweetened Chocolate, Peanut Butter, Allulose, Cocoa Butter, Cane Sugar, Organic Maple Sugar, Peanut Flour Nonfat Milk Powder, Sea Salt, Sunflower Lecithin, Vanilla
Where to buy Skinny Dipped peanut butter cups: Select Target stores, or on the Skinny Dipped website (use code TRIALANDEATER15 to save 15%!)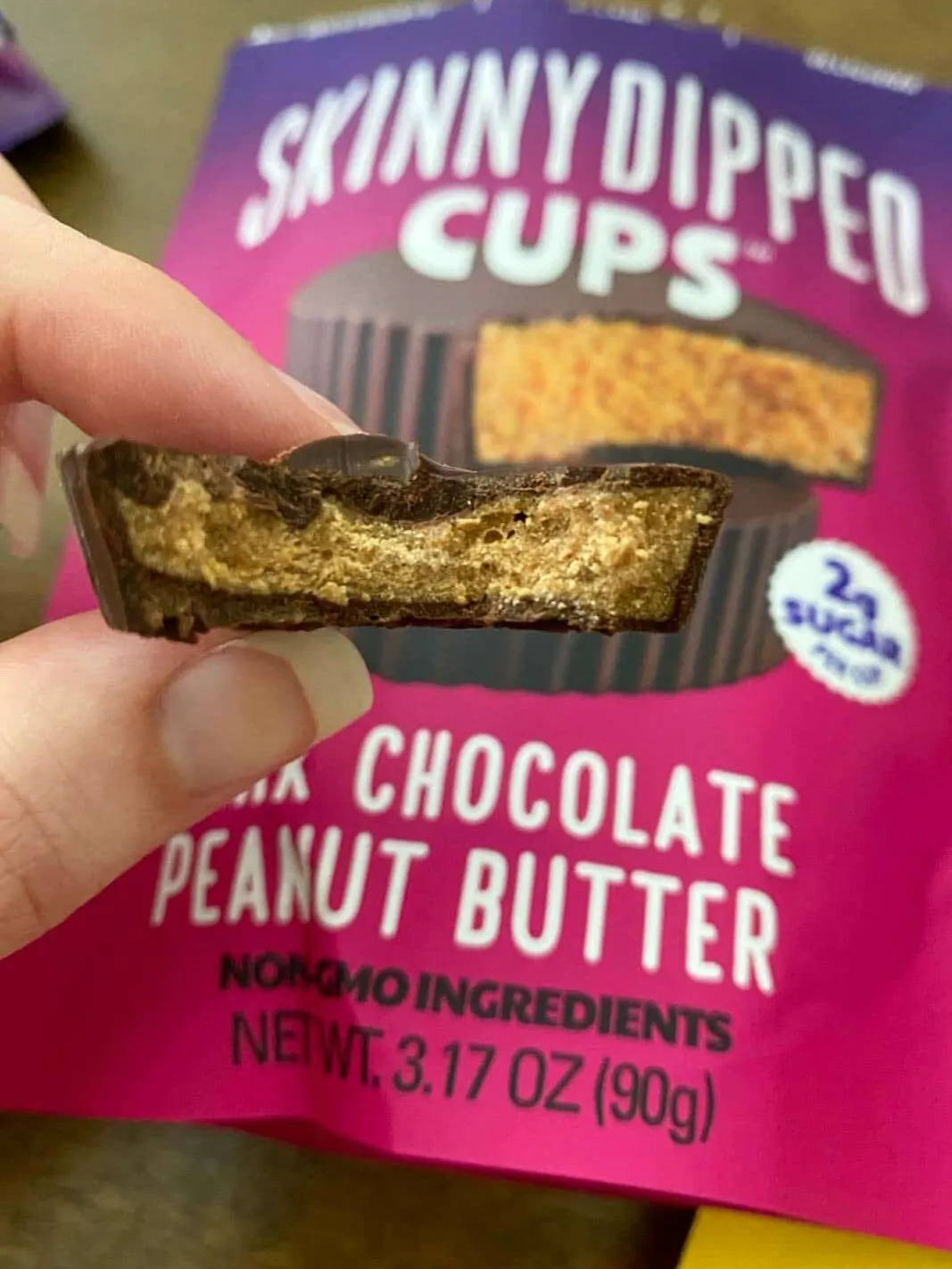 Justins
Justin's carries a range of USDA certified organic peanut butter cups and other nut butter cups. Their dark chocolate varieties are vegan!
Dark chocolate peanut butter cup ingredients: Organic Dark Chocolate (Organic Evaporated Cane Sugar, Organic Cacao Beans*, Organic Cocoa Butter*, Organic Soya Lecithin [Emulsifier]), Organic Peanut Butter (Organic Ground Peanut), Organic Cane Sugar, Organic Peanut Flour, Organic Palm Oil, Sea Salt, Organic Sunflower Lecithin.
Where to buy: Justin's website, Amazon, or select stores.
Perfect Snacks
I've had a long-time love affair with the bars from Perfect Snacks – but they also have delicious, *refrigerated* dark chocolate + sea salt peanut butter cups.
What is unique about the Perfect Snacks line is that all their products have 20+ hidden superfoods – so you're eating a bunch of nutrients without realizing it!
Ingredients: Peanut Butter*, Dark Chocolate*† (Cacao Beans*, Cane Sugar*, Cocoa Butter*, Sunflower Lecithin), Honey*, Nonfat Dry Milk*, Rice Protein*, Dried Whole Egg Powder*, Sea Salt, Dried Whole Food Powders (Kale*, Flax Seed*, Rose Hip*, Orange*, Lemon*, Papaya*, Tomato*, Apple*, Alfalfa*, Celery*, Kelp*, Dulse*, Carrot*, Spinach*), Sunflower Lecithin*, Flax Seed Oil*, Sunflower Oil*, Sesame Seed Oil*, Olive Oil*, Pumpkin Seed Oil*. (*Organic †Fair Trade Chocolate)
Though these are dark chocolate, they are not vegan because of the milk and egg powders – but great organic ingredients and whole foods.
Where to buy Perfect Snacks: many retail stores carry these now like Whole Foods and Target, and you can also buy them on Amazon or the Perfect Snacks website.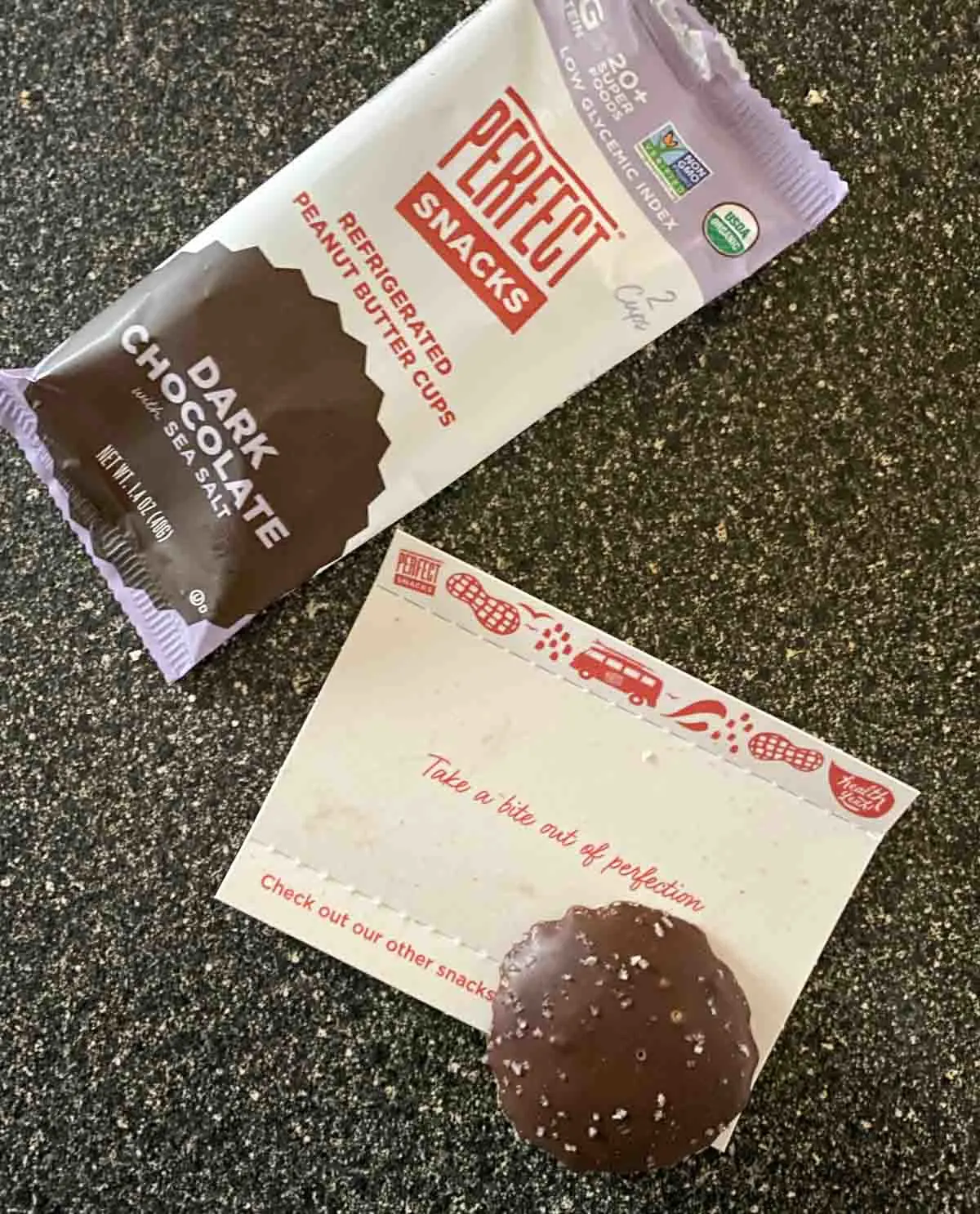 Which healthier peanut butter cup treats will you try first?
Let me know what you think and if you have any other favorite alternatives in the comments!