This post contains affiliate links, which means I may receive a small commission if you make a purchase after clicking on my links. All opinions are my own.
A review of the dark chocolate covered almonds from SkinnyDipped.com! Flavors include chocolate mint, chocolate peanut butter, cocoa, espresso, and raspberry. And for a limited time, a winter edition flavor – dark chocolate peppermint! A female founded company that uses ethically sourced, real ingredients with no artificial flavors or colors. Read more about them and get an exclusive discount code here!
The Skinny Dipped Products
Of course right after I ordered all five of their main flavors, they released a limited edition peppermint for winter! So while that's the only flavor I haven't yet tried, I'm sure it's just as delicious as the rest.
Dark Chocolate Cocoa – like most of the varieties, they offer them in mini bags and resealable pouches. This is the most subtle of the flavors.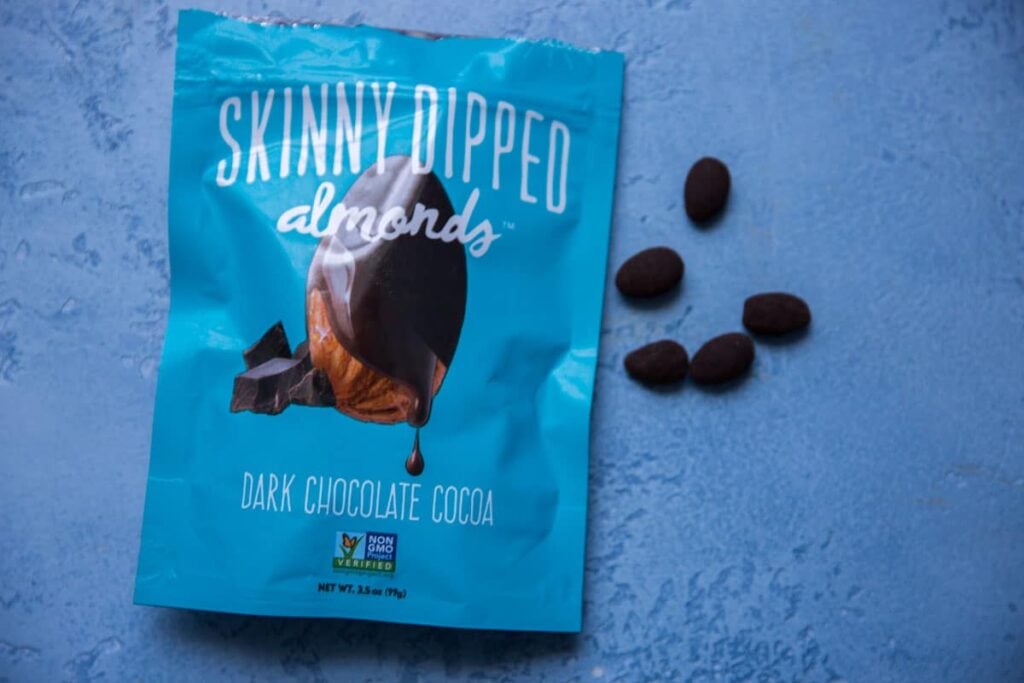 Dark Chocolate Mint – tastes kind of like a thin mint cookie!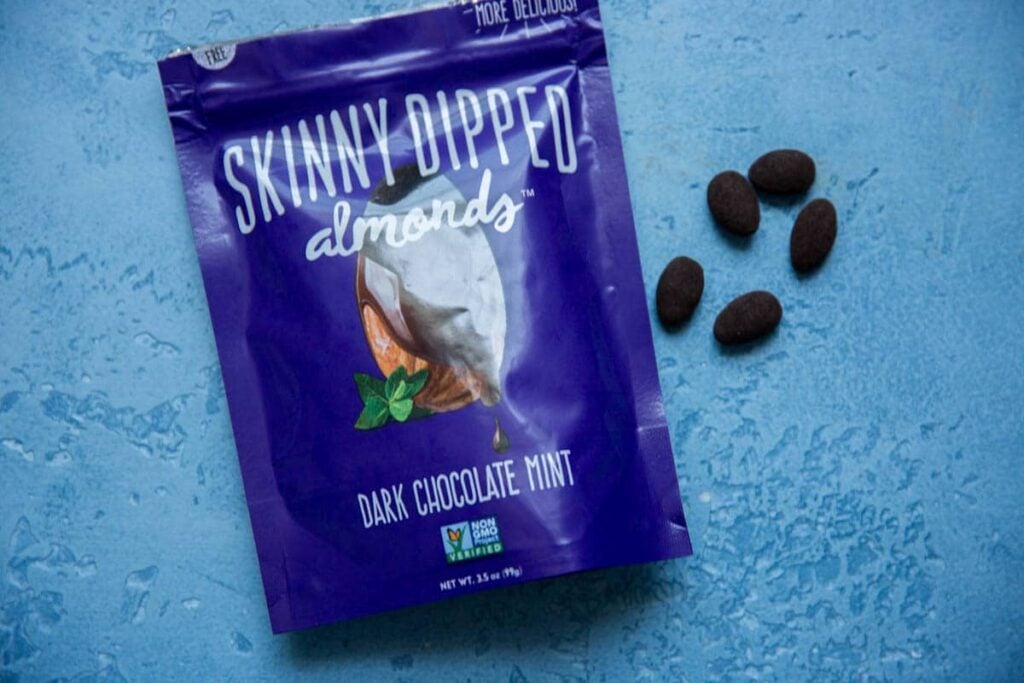 Dark Chocolate Peanut Butter – my favorite! Any peanut butter chocolate fans will love this.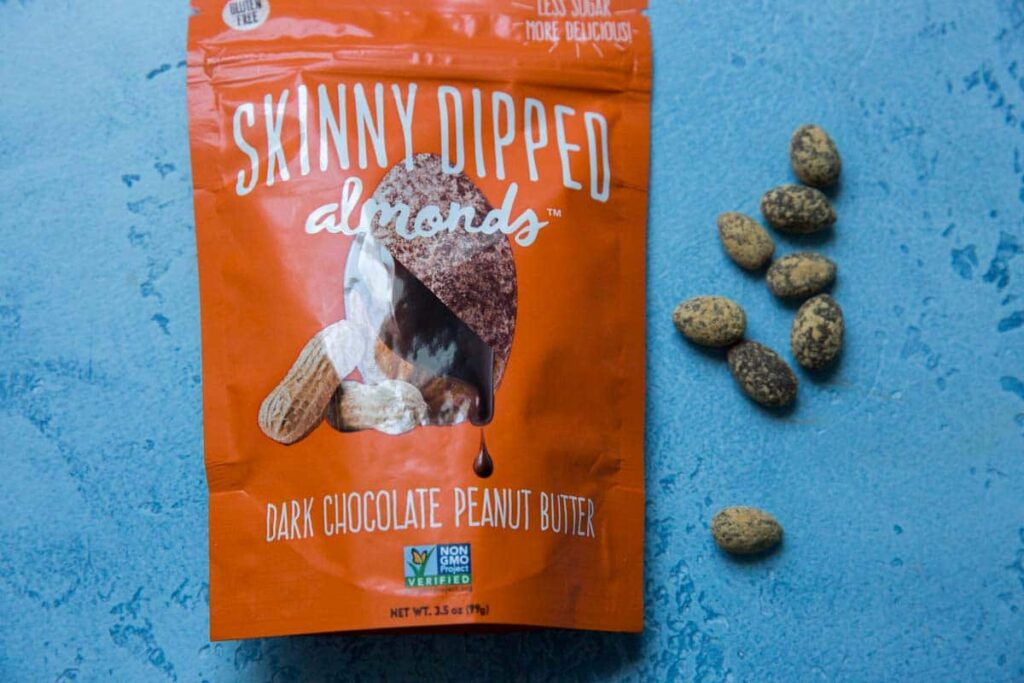 Dark Chocolate Espresso – why not get your kick of caffeine this way?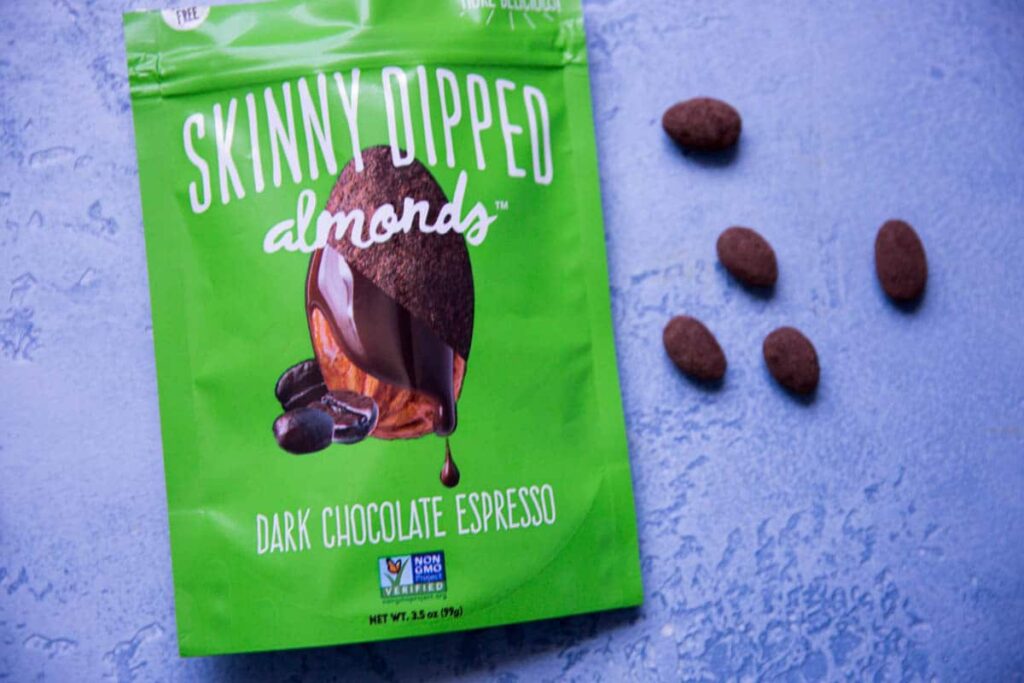 Use the code TRIALANDEATER15 at checkout to get a special 15% off your order at SkinnyDipped.com!
Background and Review Summary of Skinny Dipped Almonds
Skinny Dipped was started by a mom, her daughter and two of her daughter's friends in Seattle, Washington.
The name "Skinny Dipped" comes from the fact the almonds are only very lightly coated with chocolate. Less sugar, but still same great taste.
The almonds they use are PPO-free, which mean they were treated with heat to pasteurize instead of propylene oxide (PPO), a fumigant. I didn't even know this was a thing until I read the back of the bag!
Made in small batches without artificial flavors or colors, the chocolate is ethically sourced and all flavors are non-GMO and gluten-free.
The fact that they have mini bags as well as larger, resealable bags mean they are perfect for any snacking or sharing occasion. And there's a flavor for everyone! Even people who don't love dark chocolate have been known to like these almonds, probably since they are so lightly coated.
Be sure you don't keep them in a hot place as they will melt above 70 degrees F! They actually arrived on ice to keep them cool and melt-free.
The best way to try them out is to get a variety pack of all 5 main flavors!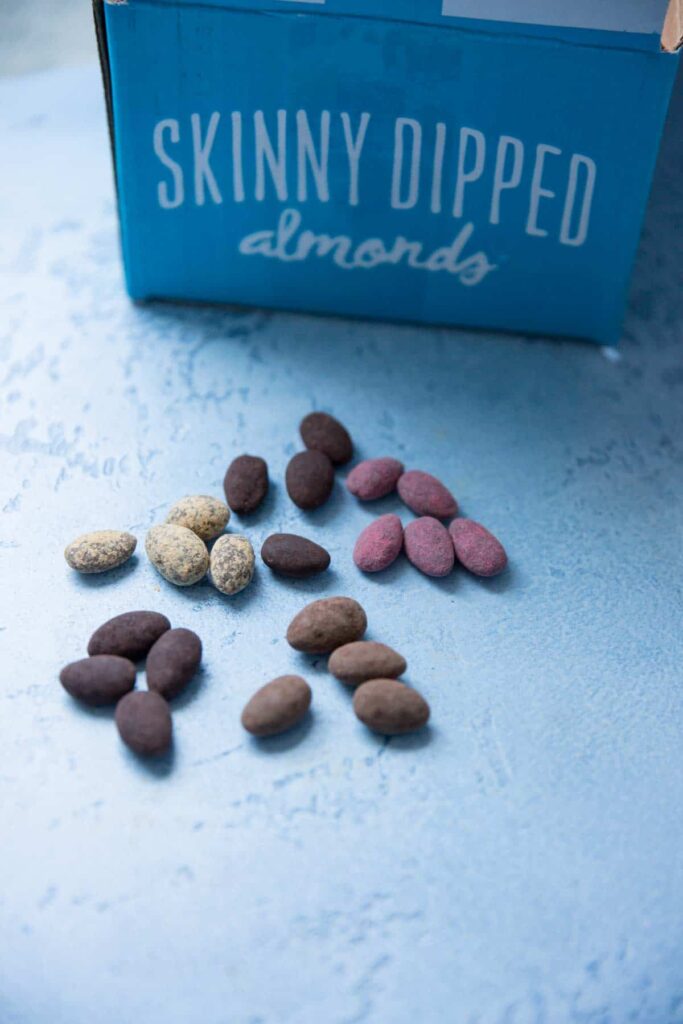 Coupon Code for 15% OFF Any Order at Skinny Dipped
My readers can use the code TRIALANDEATER15 at checkout to get a special 15% off your order at SkinnyDipped.com! (affiliate)
Which one will you try first?! Let me know on Instagram by tagging me @trialandeater or #trialandeater!