A review of some of my favorite products from Truvani. Truvani is a growing company, started by Vani Hari (the founder of Food Babe) and creates health supplements made without artificial ingredients. As not all of the products are vegetarian (like the marine collagen and bone broth), I will only talk here about the benefits of the ones that are vegetarian friendly!
This review contains affiliate links, which means I may receive a small commission if you make a purchase after clicking on my links. This statement has not been evaluated by the Food and Drug Administration. This product is not intended to diagnose, treat, cure or prevent any disease.
In this review: The newest Truvani product, an immune support vitamin called "Under the Weather" and the recently launched Digestive Enzymes.
Background of Truvani
When Vani Hari, the Food Babe, started sharing her story and caught the attention of the masses, my family knew we'd found a kindred spirit. Vani's methods of restoring herself to full health were similar to ours – cut out the chemicals and damaging additives, and make healthy food choices a priority. Her determination to bring awareness to these issues and demand changes from big food corporations was (and continues to be) so admirable!
Challenging the status quo of food production is certainly quite an undertaking. It has been really exciting to see the impact she's made on our generation's food choices and, no doubt, many more to come.
However, the Food Babe's powerful influence over the food industry is only one aspect of her inspirational movement to encourage health and wellness! Vani also stepped up to create her own line of healthy and organic supplements called Truvani. These supplements are created with the same attention to high standards set by their founder.
The Truvani line currently has over ten products and is on track to release another ten in the coming year. Vani created the products she couldn't find on the market and they've already generated a lot of interest from people looking to improve their health and live their best lives.
Newest Product Alert: Under the Weather Immune System Support
The latest product release is a plant-based immunity support tablet called "Under the Weather." It is specially formulated with 8 organic berries, herbs and roots that have been used for centuries in carious regions of the world to support immune health and overall wellness.
The combined potency of amla berry, elderberry, astragalus, garlic, and oregano helps to support cell function and maintain a positive immune response in the body. Astragalus and garlic support heart health while helping to maintain cholesterol levels and blood pressure already within normal range.
Read more about the Under the Weather immune system support tablets by clicking here.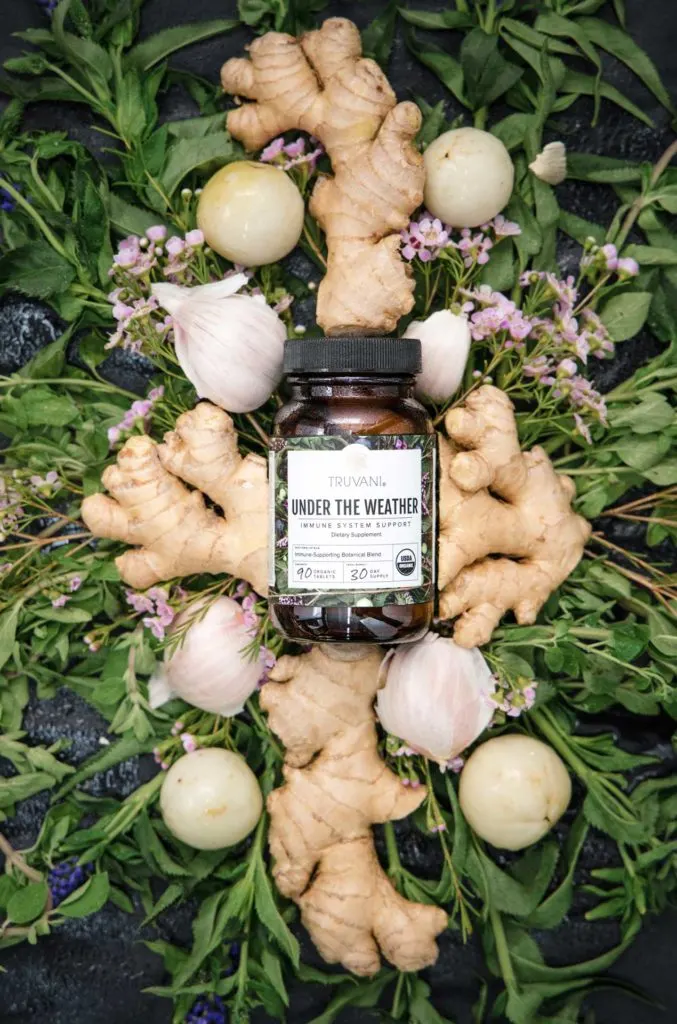 Photo credit: Truvani
Our immune systems are weakened when we are sleep-deprived, under stress, eating the wrong foods for our body, and even during environmental changes like when a new season arrives. These tablets help support your immune system during these times of change or stress.
Special launch week pricing! If you want to try Under the Weather during the official launch week (November 6-November 13, 2019) you can get 25% off your monthly delivery by clicking here.
Easy Enzymes: Truvani's Digestive Enzymes
Truvani's also has a plant-based digestive enzyme called Easy Enzymes. This vegan supplement blends nine different enzymes to help you properly break down the food you eat and allows that inherent nutrition to fuel your body. The enzymes help digest protein, carbs, dietary fats, fiber, starch, lactose, fruits and sugars. It's gluten, dairy and soy free, as well as non-GMO, accommodating the guidelines of those who have dietary restrictions and/or preferences.
Read more about the digestive enzymes and their benefits by clicking here.
Each bottle contains 30 vegan capsules, to take as needed or for a general one-month's supply. To make it truly easy, Truvani supplements are all available on a monthly subscription basis with a 15% discount. There are no commitments and you may cancel any time.
Good health depends on proper nutrition. See what a positive difference Truvani Easy Enzymes can make in your life!
Find more information on these digestive enzymes on the Truvani website.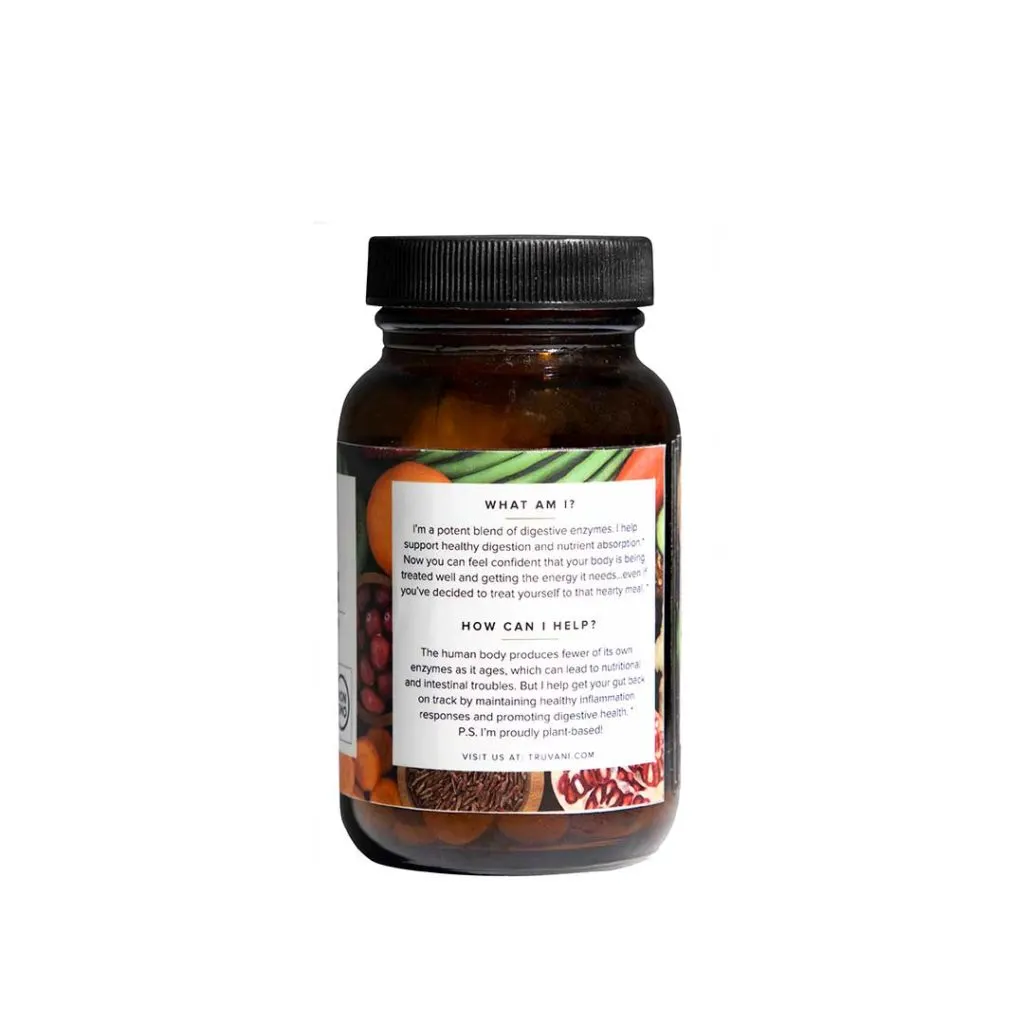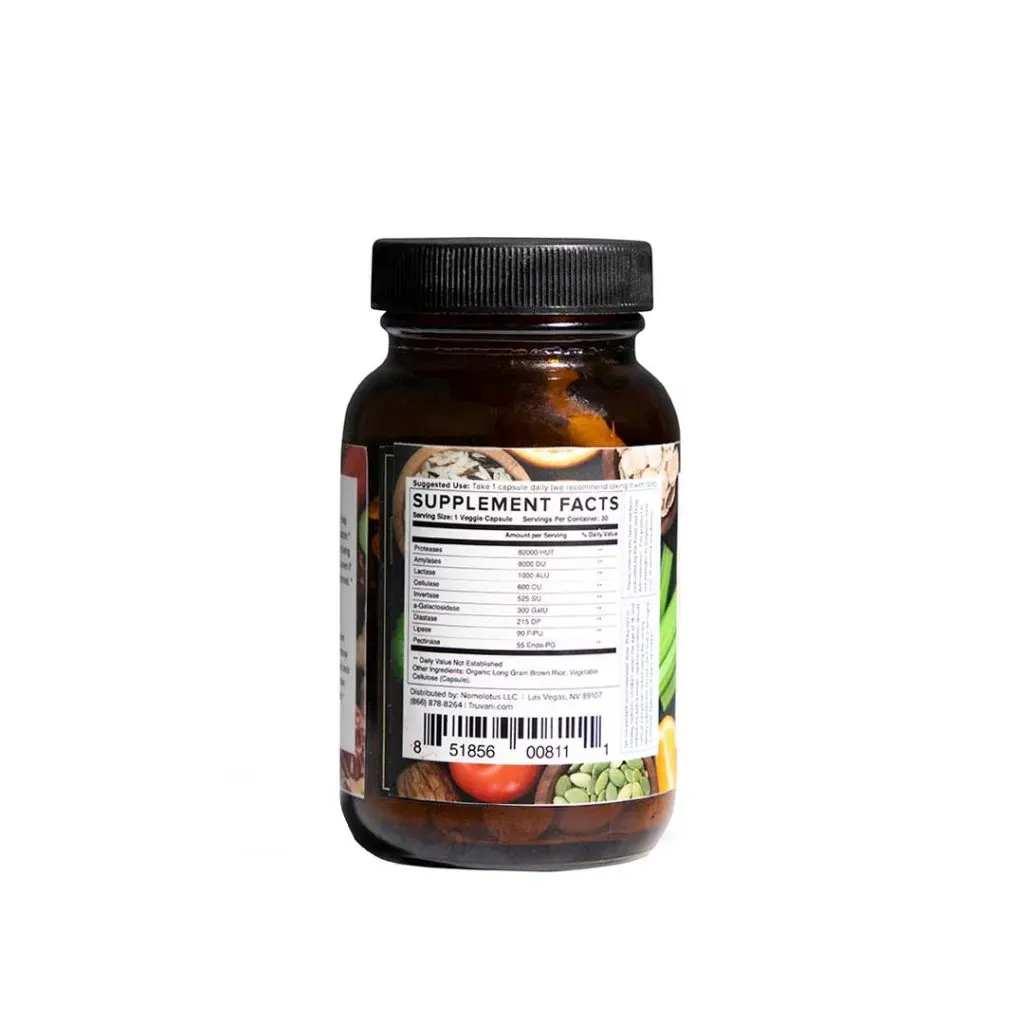 Photo credit: Truvani