This post contains affiliate links, which means I may receive a small commission if you make a purchase after clicking on my links. All opinions are my own.
A review of the nut butters from Superfat.com! Protein Nut, Cacao Coconut, Macadamia Coconut Nut, Coffee + MCT, and Macadamia MCT + Probiotics are the five current flavors. All vegan, gluten-free, paleo, keto, non-GMO, with no added sugar or fillers. Read more about them and find an exclusive discount code below.
Update: Through December 31, 2019 – Superfat pouches are up to
40% off
through this link– and add the coupon code TRIALANDEATER for additional savings, this is the best sale all year!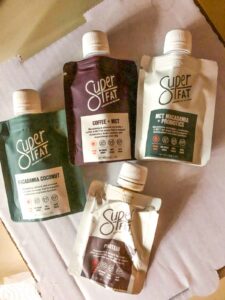 What are SuperFat Nut Butters
SuperFat Nut Butters are made with a blend of macadamia nuts and almonds, along with functional, science-backed ingredients. SuperFat is free of added sugar, fillers, and refined carbohydrates (though they do have sugar-alternatives, stevia and erythritol). They come in a convenient on-the-go packaging which make them a portable option for travel or workout bags.
Suitable for many diets as they are keto, paleo, vegan and gluten-free.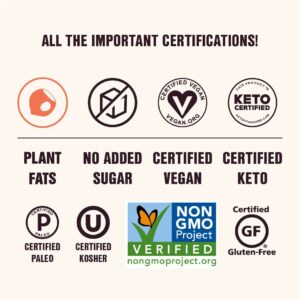 The SuperFat Products
SuperFat currently has five blends of nut butters available: Protein Nut, Cacao Coconut, Macadamia Coconut Nut, Coffee + MCT, and Macadamia MCT + Probiotics.
You can also try them all (2 of each flavor) in their variety pack.
How to Eat the SuperFat Nut Butters
These nut butters come in a squeezable pouch that you can eat right out of, or you can add them to toast, smoothies and any way you would normally eat nut butters!
I do find it's hard to get all the nut butter out of the bag if you are just trying to eat it out of the pouch, so you can also cut the top off of the pouch to get out the remnants.
Review Summary of SuperFat
While I love that these nut butters are vegan, gluten-free, non-GMO, free of sugar etc., and suitable for many dietary restrictions because of this, I didn't realize that they had stevia and erythritol until I had already eaten them.
I wish I could reorder these but I won't be able to because I'm sensitive to stevia and try to stay away from sugar-alternatives like these (a story for another post!). But if you are fine with these sweeteners then these nut butters could be a good fit for you.
My favorite flavor taste-wise was the "Protein" blend.
Coupon Code for 10% OFF Any Order at SuperFat
If you decide these SuperFat nut butters are right for you and your lifestyle, you can use the code TRIALANDEATER at checkout to get 10% off your order at SuperFat.com! (affiliate)
Let me know what you think on Instagram by tagging me @trialandeater or #trialandeater!