A review for the powdered fruits and veggies packets from Kencko! Organic, vegan, gluten-free, no-sugar-added smoothie options that each provide 2 of your 5 recommended produce servings a day. There's something for everyone, with 9 flavor options named by color. Shake up with just water or add to drinks or food! Great for on-the-go options while traveling, or if you simply can't seem to get enough veggies in your daily diet.
**If you're interested in these Kencko smoothies, you'll probably also want to read about these superfood powders**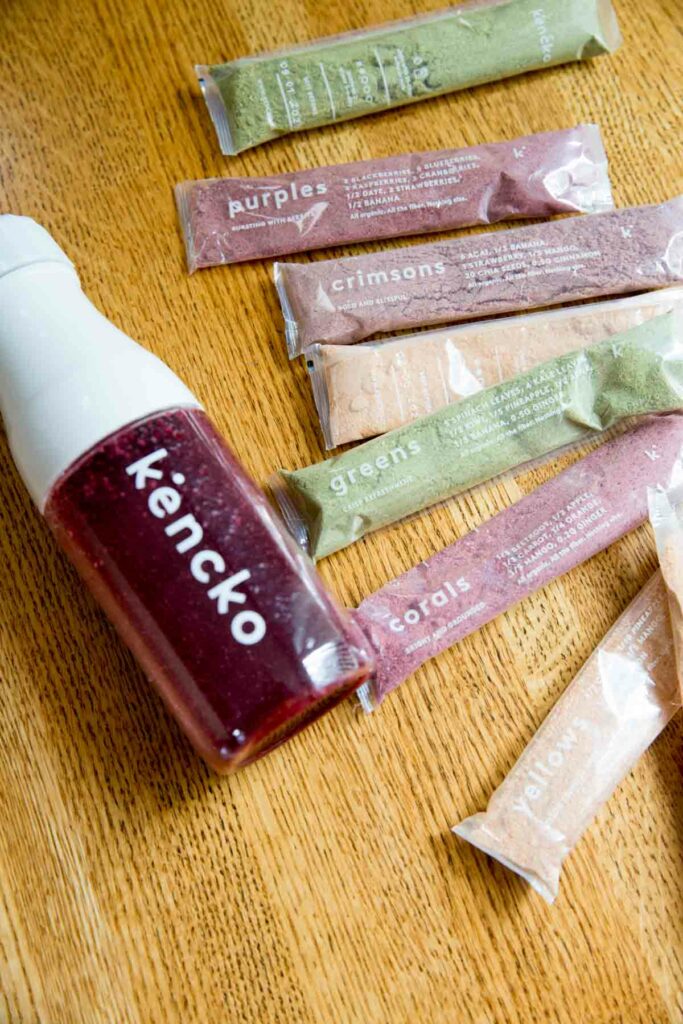 I bought these Kencko smoothie packets in September 2019 right before they launched a few new flavors (the jades, scarlets and golds), so while I haven't tried them all I can tell you there's truly something for everyone!
These are not only perfect for the people who don't like all vegetables or fruits and want to get more nutrients into their body, but also for those of us who are just busy and don't always have the opportunity to eat them as much as we'd like.
Since I travel so much, these are great to pack for times I don't have access to fresh produce – and I still know I'm getting my fill of organic fruits and veggies.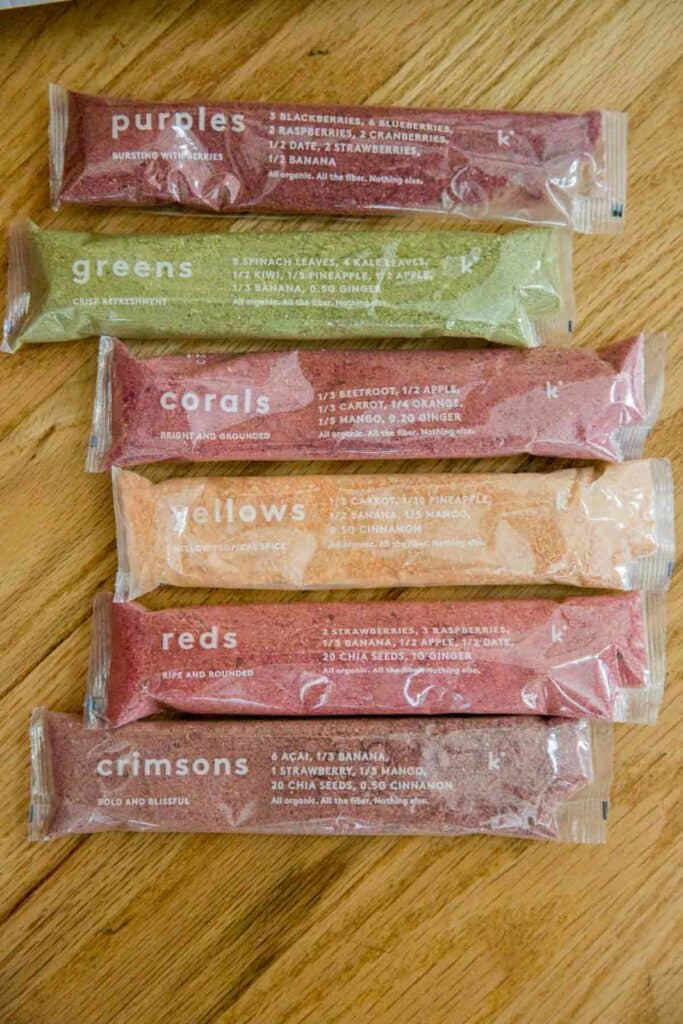 The Kencko Flavors
Purples – blackberry, blueberry, raspberry, cranberry, banana, strawberry and dates. Labeled as "anti-inflammatory" from the berry antioxidants and polyphenols.
Greens – spinach, kale, kiwi, pineapple, apple, banana and ginger. Labeled as "energy surge" from the iron and B vitamins.
Corals – beetroot, apple, carrot, orange, mango and ginger. Labeled for "performance" from the post-workout benefits.
Yellows – carrot, pineapple, banana, mango and cinnamon. Labeled for "immune support" from the mix of Vitamins A+B+C.
Reds – strawberry, raspberry, banana, apple, dates, ginger and chia seeds. Labeled for "skin health" from the vitamin C and omega-3's.
Crimsons – açai, banana, strawberry, mango, chia seeds and cinnamon. Labeled for "brain boost" from the antioxidants and fiber.
Jades – lime, apple, matcha, zucchini, banana, kombucha, spirulina, dates and chia seeds. Labeled for "mental focus" from the natural caffeine in green tea. Benefits: Omega-3's, L-theanine, Probiotics
Scarlets – tomato, apple, banana, spinach, dates, chia seeds, cayenne pepper and kombucha. Labeled for "invigoration" for the antioxidants and metabolism boost.
Golds – cacao, banana, strawberry, pea protein, hemp protein, dates, goji berry, flax seeds and vanilla. Labeled for "recovery" from the protein and B-vitamins.
How to Eat the Kencko Mixes
Remember that they have *no sugar added* so it won't be super sweet, but if you follow the directions and shake it up with water (thoroughly) for 45 seconds or so, it does not taste powdery. If you like fruit infused water (or cucumber "spa water), this is what the subtle flavor reminds of.
The starter kit does come with a BPA-free shaker bottle, but you can mix it in anything with a secure lid – one packet to 10 oz. liquid.
I recommend you start with the color(s) that have the most fruits and/or veggies that you already know you like and work your way through from there.
It's great that they can all be mixed with water for when you're truly on the go, and some of the mixes also taste good with milk (or nut or oat milk) or juice. Think golds in milk (like golden milk!) and berries with juice (like the reds or purples!). It's fun to play around with them!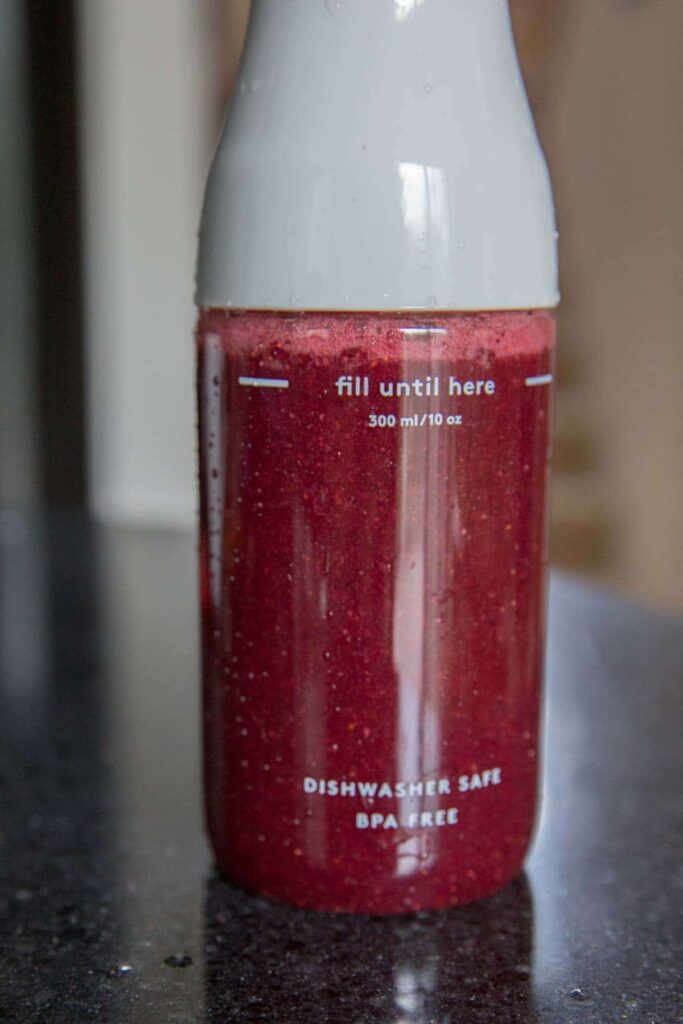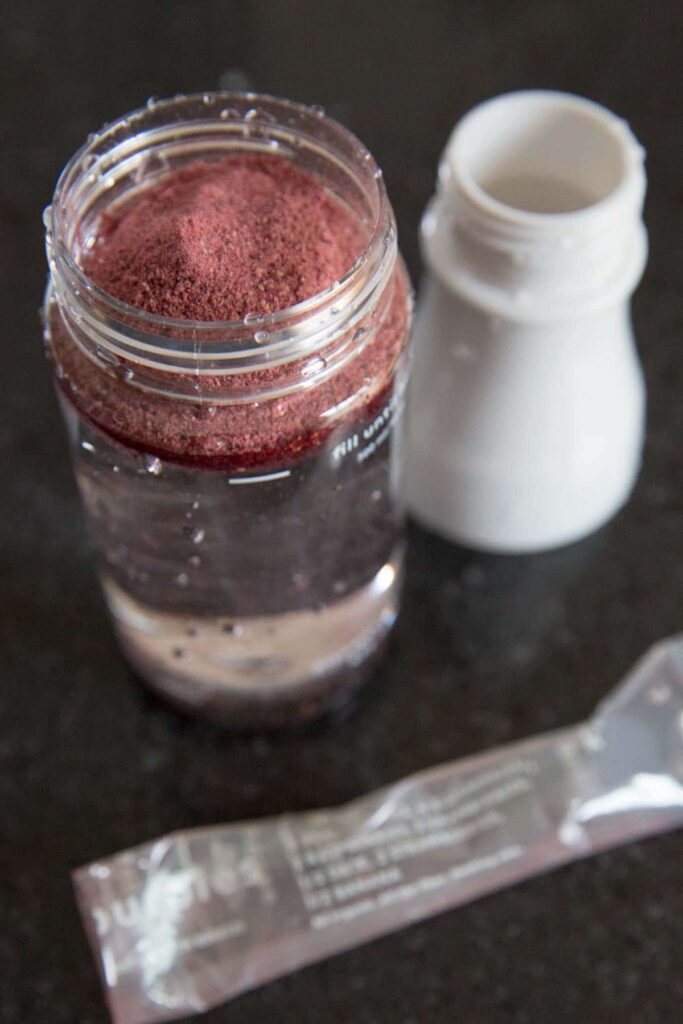 Summary of Trial and Eater's Kencko Review
While fresh is usually best (like my rhyme?), I love the options that Kencko provides for powdered fruits and vegetables on the go. Knowing that I can still get my *organic* produce in this form is so amazing, and makes me feel healthier when I'm on the road or not able to get to the store for whatever reason.
Each packet has its own unique flavor, and while they are totally drinkable in simply water (shaken really well) you could also "hide" the flavor a little more in a smoothie, oatmeal, or in other creative ways.
Not all of the flavors are super delicious tasting with just water but the options are almost endless with what you can mix them into.
Some of the flavors can also be blended with ice (like the jades), mixed with milk (like the golds), or mixed with juice (like the reds). Take the suggestions from their site and once you learn the flavor profiles, experiment!
*ALSO* I love that the packets are made from COMPOSTABLE plastic!
My current favorite is the "purples"- berries and more berries!
Which one will you try first?! Let me know on Instagram by tagging me @trialandeater or #trialandeater!