This post contains affiliate links, which means I may receive a small commission if you make a purchase after clicking on my links. All opinions are my own.
A review of the banana bread mix company, GoNanas! Staple flavors like crackly banana bread and chocolate chip banana bread mixes, plus limited releases of new flavors every month – read about our favorites, what we recommend to try, and get an exclusive discount code below!
Ready to buy and don't need to see the review? Use coupon code TRIALANDEATER at eatgonanas.com when checking out to save 10% on your order!
Table of contents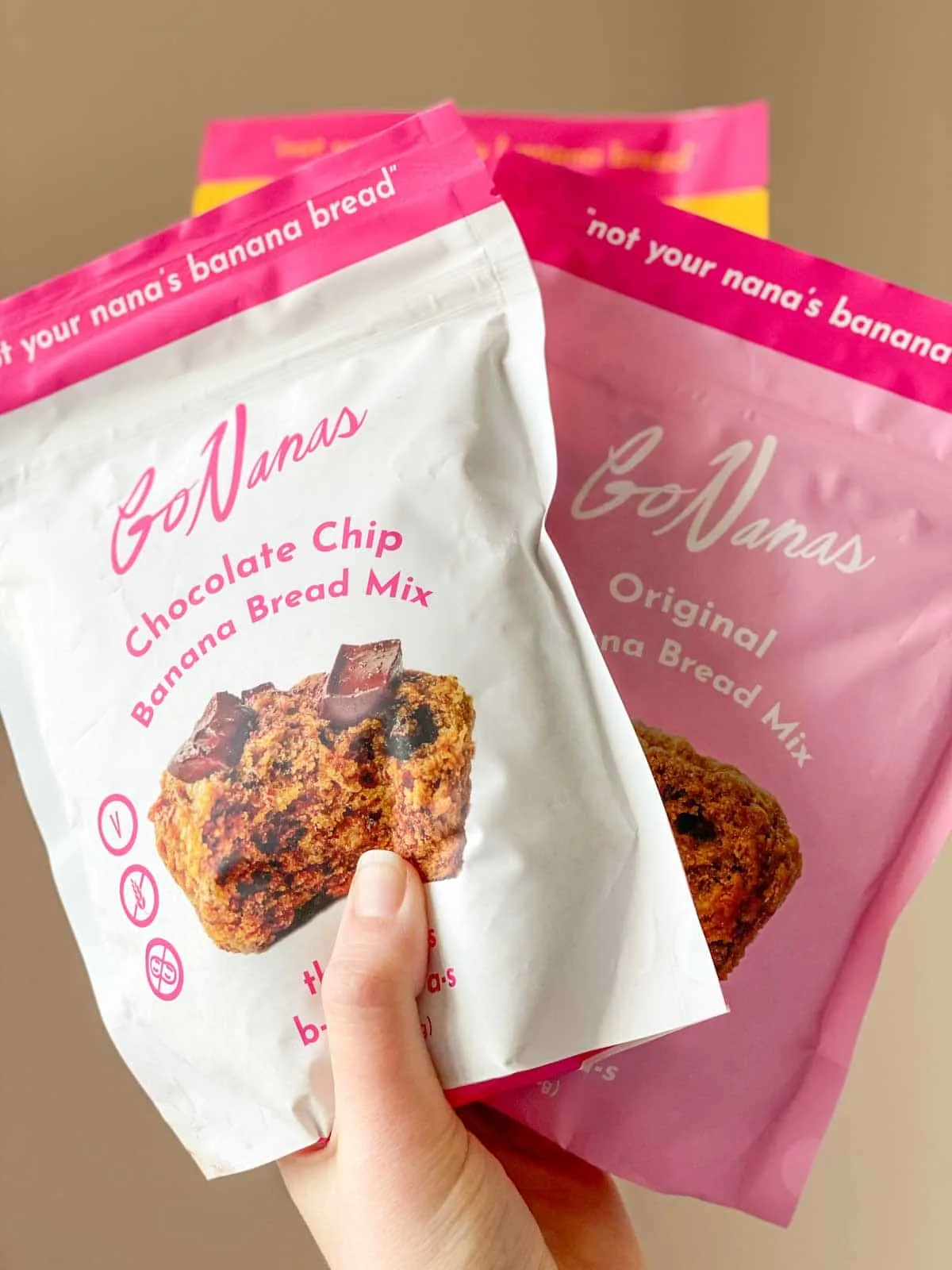 About GoNanas
GoNanas is female-founded by two friends who started making banana bread together in college.
Originally the company sold pre-made banana breads, and when they expanded to start shipping they evolved into banana bread mixes to half a more shelf-stable product.
All their mixes are vegan, gluten-free, nut-free and top allergen free.
According to their website – being the health-conscious founders they are, Annie and Morgan swapped out the refined ingredients in normal banana bread for more wholesome ones.
They call GoNanas mixes a "healthified" and modernized banana bread.
Flavors
Staple Flavors
GoNanas has a few staple flavors that are always available.
Original Banana Bread – the most "basic" mix with minimal ingredients: oat flour, brown sugar, cinnamon, salt, baking soda, baking powder and flax.
Crackly Banana Bread – the same ingredients as original, but with added millet.
Chocolate Chip Banana Bread – the same mix as original but with added vegan chocolate chips (sugar, unsweetened chocolate cocoa butter, soy lecithin, vanilla)
These staple flavor packs stay true to their wholesome ingredient philosophy!
You will still need to add 3 bananas, 1 tablespoon of liquid sweetener (like maple syrup), 2 tablespoons of non-dairy milk and 2 tablespoons of oil, and then it will be ready to bake into a banana bread loaf or muffins.
I will say – these make a tasty loaf of bread! I love that there are no preservatives, and some additional nutritional benefits with the flax.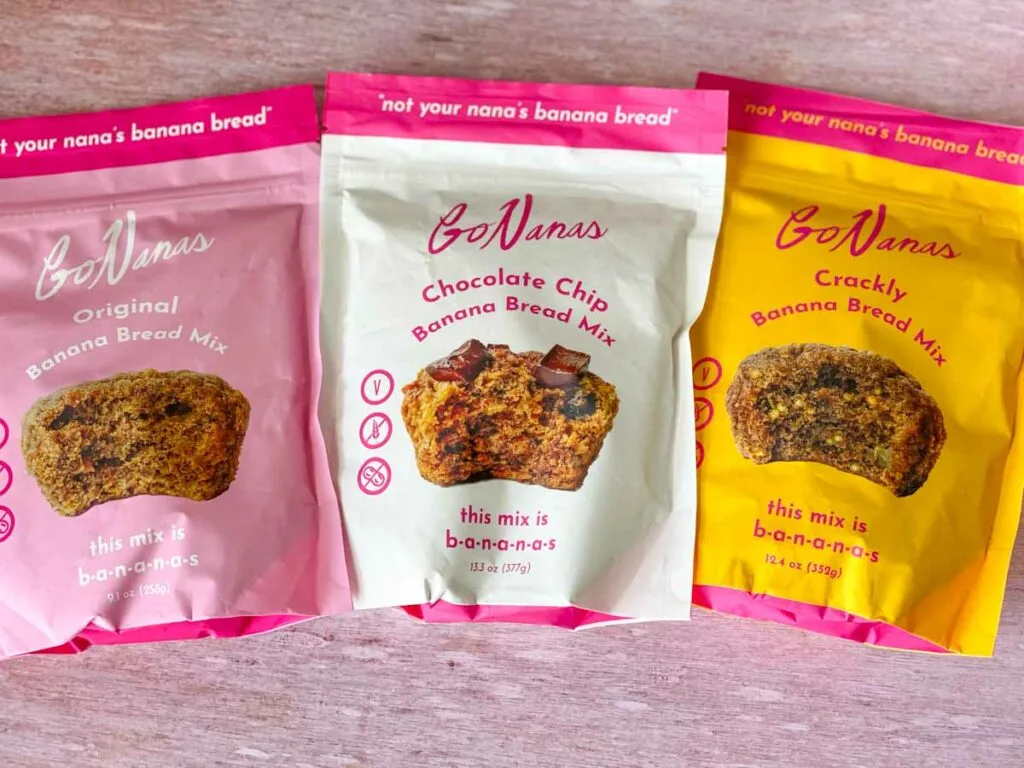 Limited Edition Flavors
GoNanas releases limited edition flavors nearly every month with seasonal ideas like pumpkin spice or red velvet.
Sometimes the limited edition flavors do so well that they will do another batch of them, but most of the time they sell out fast.
A few of the limited edition flavors I've seen include:
Pumpkin Spice -ingredients include pumpkin pie spice and pumpkin powder
Red Velvet – includes red beet powder and white chocolate chips (sugar, palm kernel oil, tapioca starch, soy lecithin, vanillin, salt)
Salted Caramel – oat flour, brown sugar, butterscotch chips (sugar, palm fat, soy flour, emulsifiers, soy lecithin, cocoa butter, salt, flavors, vanillin, food colorings), baking soda, baking powder, natural caramel flavor
I was surprised to learn that their limited releases do not always seem to hold up to their wholesome ingredients promise as much.
Pumpkin spice looks good, but for the salted caramel – natural flavors, food colorings and additives don't count as wholesome in my book.
I'll keep an eye on the upcoming releases and see what their ingredients look like, but at least the pumpkin spice is a good one!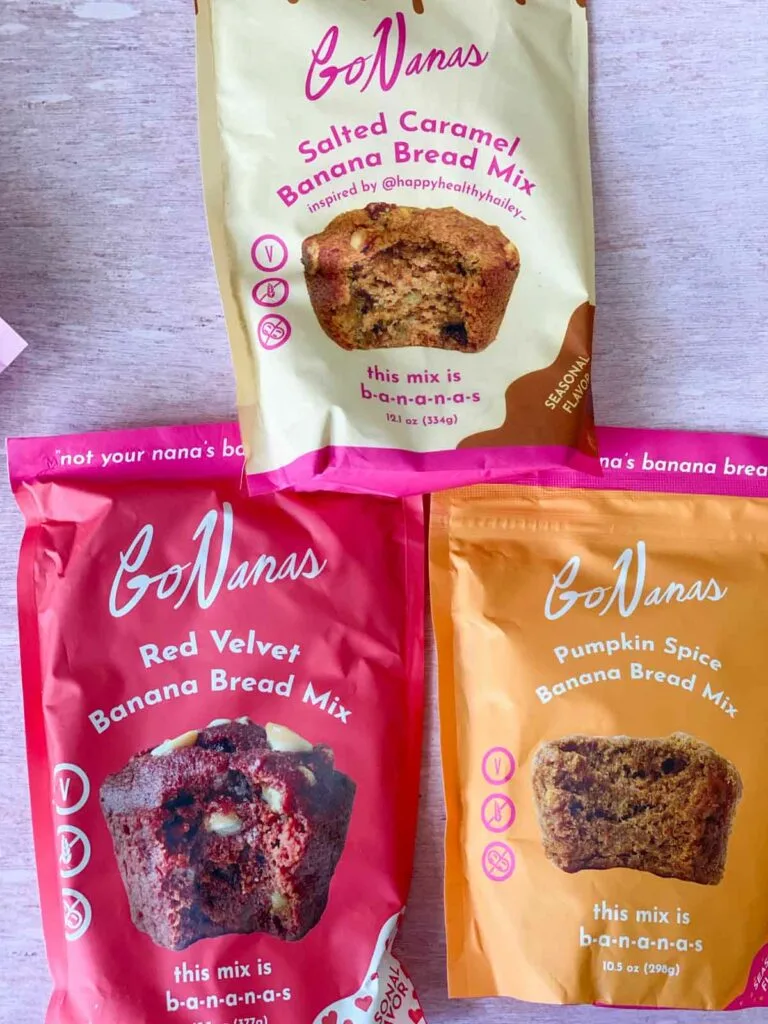 Instants
GoNanas has a newer line of *instant* banana bread mixes.
These are more for those individual servings / mug cake fans, that only require one banana and a few minutes in a microwave.
Original release includes their original flavor and a new cinnamon roll flavor, and I'm sure they will be adding more flavors to this line as well.
Again with the cinnamon roll flavor, it has ingredients that I wouldn't normally recommend – natural flavors, vanillin (which is often a synthetically produced vanilla flavor), etc. in their cinnamon chips and white chocolate chips.
Price
If you purchase the bags through the GoNanas website, an individual bag of one of the staple flavors is $7.99 plus shipping. Limited edition flavors seem to run at $8.99 per bag.
You can reduce the price per bag by buying multi-pack bundles and also use the code "trialandeater" at checkout to save an additional 10%.
GoNanas Review Summary
If you like baking and are looking for a gluten-free and vegan banana bread mix, I would say the staple flavors are fun to try – original, crackly, or chocolate chip.
I would love it even more if these were organic, but I do appreciate that these ingredients at least are thoughtfully sourced to be free of major allergens, and are free of preservatives.
Because some of their limited edition flavors seem to have natural flavors and other additives that I don't recommend, it's worth a read to the ingredients label for any special flavors before purchasing.
Hopefully more of the releases will be more like the pumpkin spice, with just spices added to the mix!
The price seems more in line with buying a loaf of bakery bread so you'll need to consider that you'll still need fresh ingredients on hand and bake them.
I haven't tried their instant mix, but that at least only requires one banana, which seems like it could be a good option for those personal banana bread.
We do have the coupon code – trialandeater – that will save you 10% if you decide to try them.
I will say the ones I've tried are delicious – and if you enjoy the process of baking they are a fun activity!
These could make a fun gift, especially since their packaging is so cute. GoNanas saves you the time of putting together the dry ingredients, so you're paying for the fun factor and convenience.
Which flavor will you try?