This post contains affiliate links, which means I may receive a small commission if you make a purchase after clicking on my links. All opinions are my own.
A review of the broccoli microgreens and microtea from Beyond Microgreens! Add fiber and nutrition to your meal with 100% USA grown and freeze-dried broccoli microgreens and microgreen-infused teas.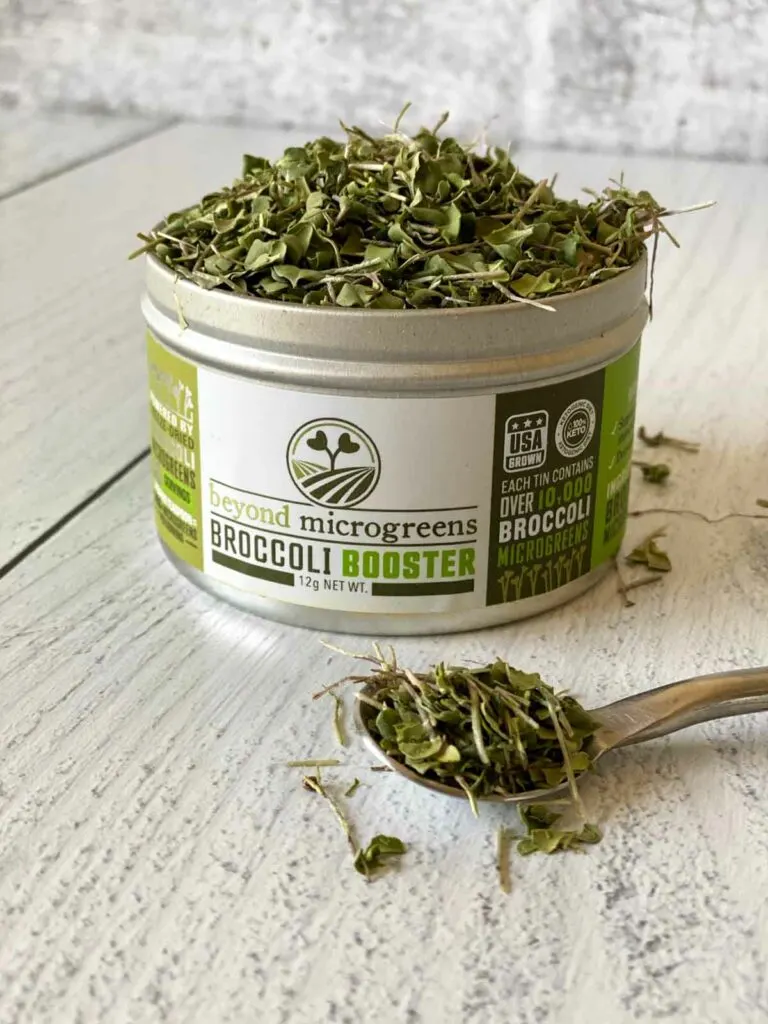 Table of contents
We've talked microgreens before (in terms of growing your own) but I'm excited to share about this dried microgreen company I have discovered – Beyond Microgreens!
As a reminder, microgreens are vegetable plants before they have fully grown, when they are just past the sprout stage. This growth phase is when they are most nutrient dense. In fact, microgreens can be up to 40x more concentrated in micronutrients than when the plant is fully grown into adult stage.
This company uses broccoli microgreens with nothing added – so it's naturally vegan, gluten-free, sugar-free, preservative-free.
The Broccoli Booster
Since these are freeze-dried broccoli microgreens, they really don't have much of a taste. So you can get the extra nutritional boost even if you don't normally like broccoli. They can add a little color to your meal as a garnish (great way to sneak it in for people who don't like veggies – it just looks like an herb!
Sulforaphane is the big nutrient they highlight – which is a powerful nutrient that boosts your body's own antioxidant production to help support your immune system.
Each little 12 gram tin of Broccoli Booster holds over 10,000 broccoli microgreens, and 1 teaspoon of this is equivalent to 1/2 cup of fresh microgreens!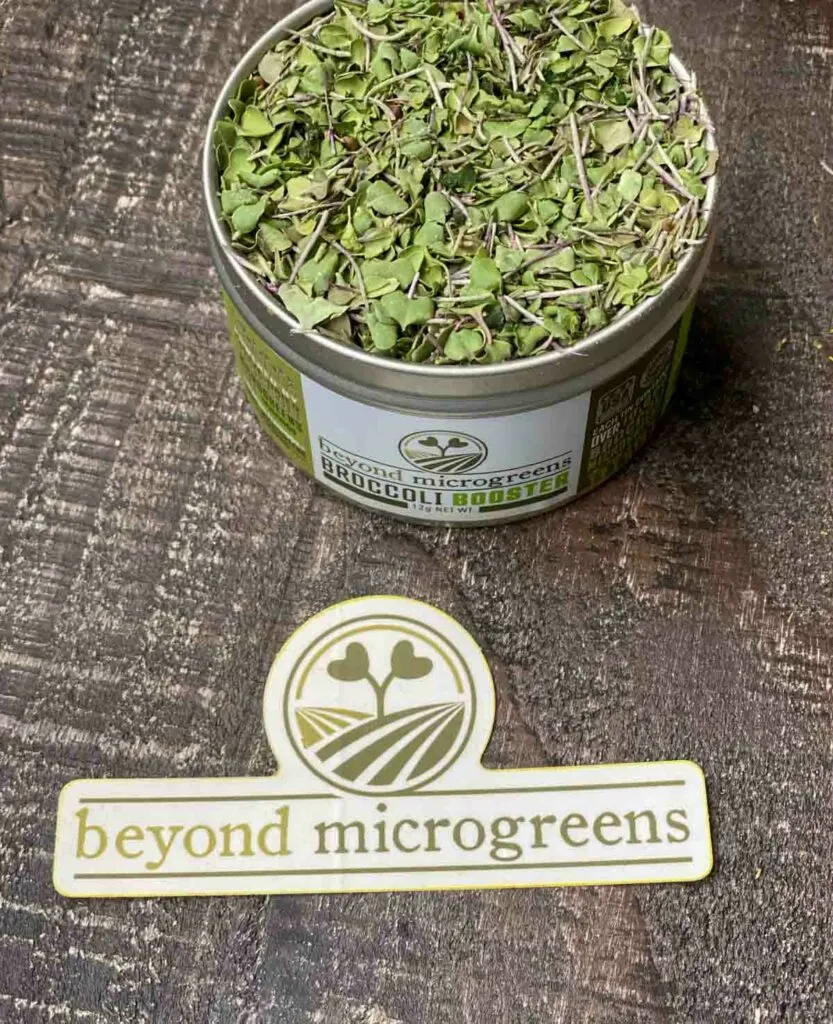 MicroTea – The Microgreen Teas
All of their microgreen teas use the above dried broccoli microgreens with their tea blends. This means you get some extra nutrients with your cup of tea! They are all loose-leaf tea options. I've only tried the first two (without caffeine).
Recovery
Their recovery tea is caffeine free and has ingredients to help reduce inflammation: Broccoli Microgreens, Organic Turmeric, Organic Lemon Myrtle, Organic Ginger, Organic Tulsi, Organic Peppercorns. Because of the turmeric, this not only makes a great hot cup of tea but a good addition to "golden milk."
Relax
The relax microtea is the other caffeine-free option and perfect for winding down at night. Ingredients include Broccoli Microgreens, Organic Chamomile, Organic Lemon Peel, Organic Sage, Organic Lemon Balm, Organic Lemongrass.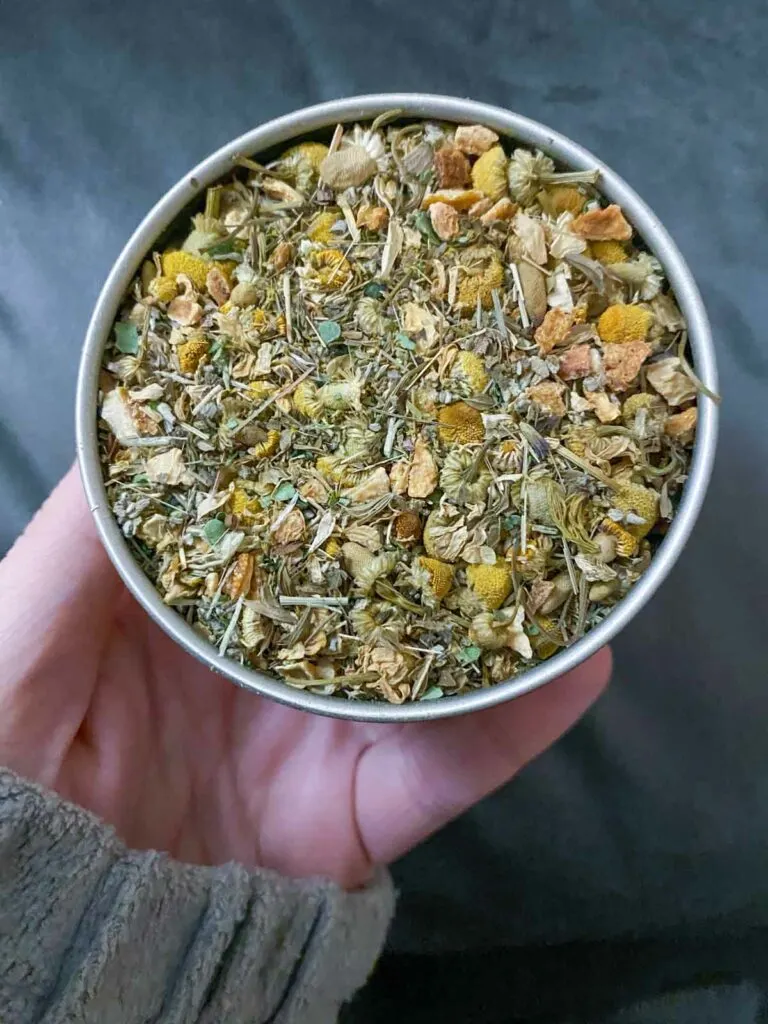 Energize
Energize microtea is perfect for those who like tea in the morning as their source of caffeine. Ingredients are Broccoli Microgreens, organic pu'erh tea, organic black tea, organic orange peel, natural vanilla flavoring.
Focus
Lastly their focus tea has only two ingredients – jasmine green tea and the broccoli microgreens. They describe it as having more of a natural, earthy flavor.
Overall Review
As someone who doesn't always eat fresh vegetables before they go bad, I love that Beyond Microgreens has freeze-dried them at peak state to make them more shelf-stable (though they do recommend to refrigerate after opening).
The broccoli booster itself is so versatile – because it really doesn't have much of a taste you're getting all the benefits without changing the flavor profile of your meal. And if you don't like eating broccoli normally, this is a game changer!
While I'm not a big tea person in general, I am much more likely to go for these options because of the added benefits. I love adding superfoods however I can – and broccoli microgreens are a great one!
I enjoy the relax tea, though I would choose the broccoli booster as my go-to product from them since I don't drink enough tea.
Also, another point bonus for this small company: they are a 1% for the planet partner which means 1% of gross sales goes to non-profits supporting environmental causes.
Be sure to check out their website at BeyondMicrogreens.com to read more about the benefits. Let me know if you try any of these freeze-dried broccoli powerhouses – and what you think!