This post contains affiliate links, which means I may receive a small commission if you make a purchase after clicking on my links.
A review of the plant based, organic meal delivery service from Sakara.com! Read more about them and get an exclusive discount code here!
Ready to buy and don't need to see the review? Use the discount code XOTRIALANDEATER on Sakara.com to save 20% on your first order!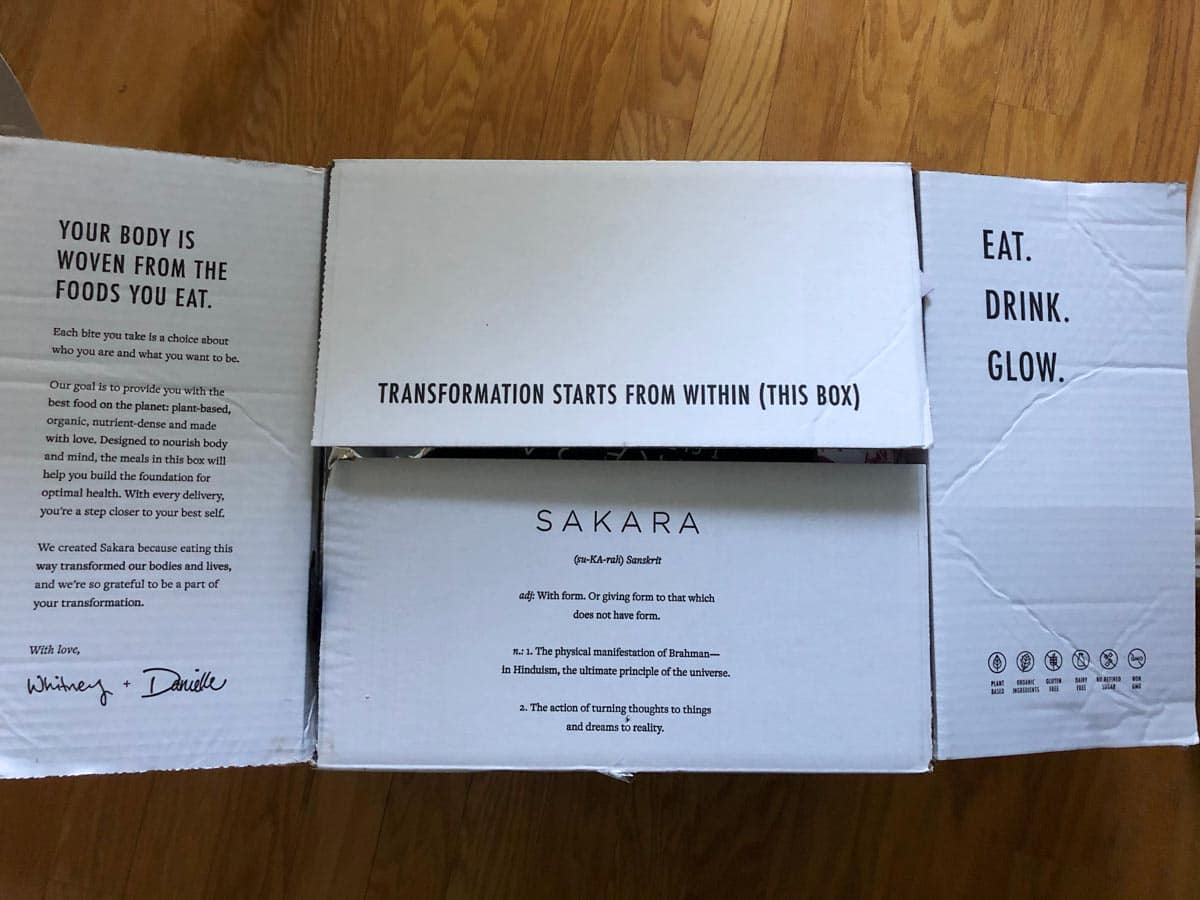 What is Sakara?
Sakara Life is not just a meal subscription company, they also offer many other products like detox snacks, protein powders, superfood chocolates and more wellness products. They are a female founded company that believes in plant powered nutrition.
Their meals are 100% plant-based, organic, and ready-to-eat, and this is a meal delivery company that really focused on foods that offer life-changing nutrition and clean ingredients. Plant-based in this case does not mean fully vegan, as they occasionally use bee pollen and honey, but their meals and products are free from other animal products besides those.
They have a strong team that develops their menus based on science and goes by what they call the "9 pillars of nutrition."
Sakara's 9 Pillars of Nutrition
These foundational concepts are what Sakara is built on – much of which as to do with eating a healthydiet of variety, eliminating processed foods and not restricting yourself.
No Calorie Counting
Plant Protein
Eat Your Water
Greens
Good Fats
Eat the Rainbow
Nutrient Density
Sulfur-Rich Veggies
Body Intelligence
In addition to the meal programs they offer, they also have a shop full of other wellness products to help supplement your lifestyle.

Female Founded Company
Sakara was created by two best friends, Danielle Duboise and Whitney Tingle. They were both on a journey to increase their gut health by focusing on unprocessed, nourishing foods.
Once they started creating these wholesome meals they started to share with friends and family locally in New York, and then their delivery service grew from there.
The Meal Plans from Sakara
Their ready-to-eat healthy meals are 100% plant-based, gluten-free, organic, superfood-rich, and oh so creative!
They offer a 2-day, 3-day or 5-day signature meal program (known as Level 1) as either a one-time purchase or a recurring subscription. You can also choose to to include 2 or 3 meals a day out of breakfast, lunch, or dinner.
Also available plans are a Total Body Reset and a Level 2 Detox plan (offered once or twice a month) as well as a 20-day program for brides.
They have about 200 meals in rotation at any given time, and are constantly testing new recipes. You can also swap out up to 2 meals in a week if you are on a subscription plan.
I tried their 3-day program back in 2019, and this summer (2021) I decided to try it again more consistently. Below are pictures and thoughts from a few of the weeks I've tried it, including the 5-day Level II Detox which I recently completed!
Example Week #1 : (older pictures)
The first week is an example of a 3-day program, which I first tried back in 2019. The pictures aren't quite as bright, but I think they are still helpful as it includes my initial thoughts and many of these meals are still in rotation. Be sure to check out the other example weeks too for updated photos.
9 meals for 3 days, including breakfast, lunch and dinner – plus detox tea, a daily probiotic and a small welcome bag with an intro to Sakara Life guide, a sample from their clean boutique (mine was an energy bar and some sleep teas), and palo santo.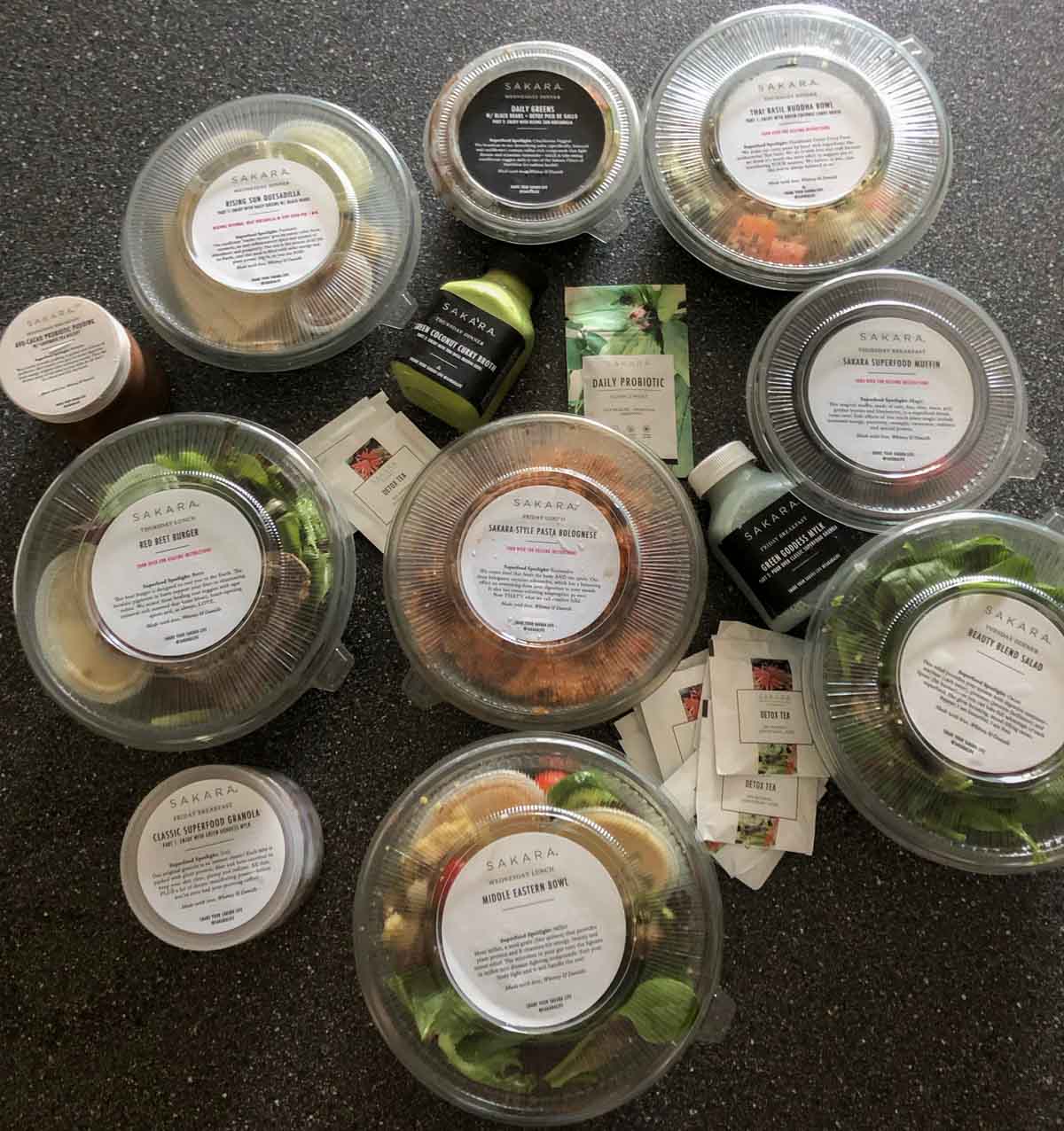 Since I received my meals on a Tuesday, everything was planned for Tuesday evening through Friday lunch. (Note I only had the first 3 of each option in the menu below, since I did the 3-day plan instead of the 5-day.)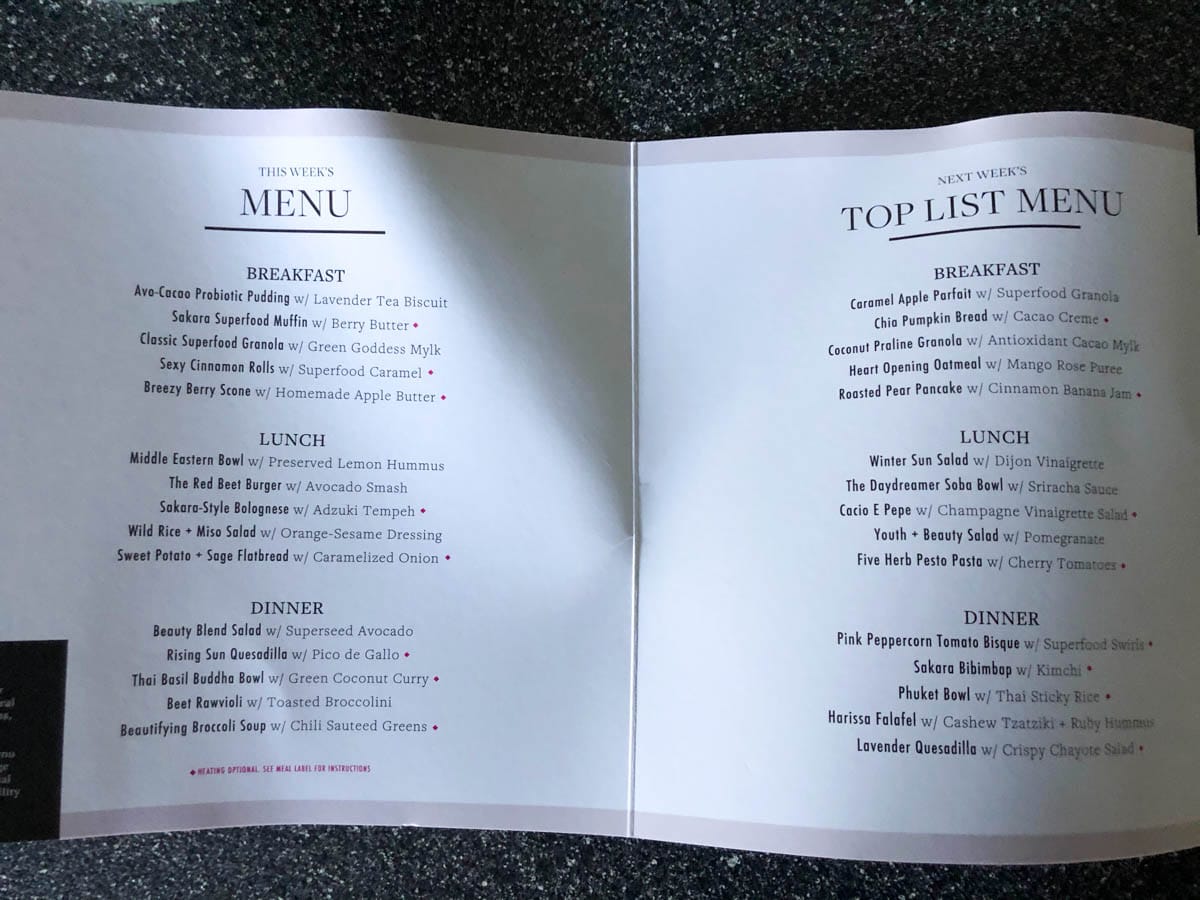 My favorite breakfast: I actually loved all 3 of the breakfasts I received – avo-cacao pudding, superfood muffin and the superfood granola with green goddess mylk.
If I had to choose, the granola + green goddess mylk would be my favorite out of these three. I'm not usually a huge granola person, but that green goddess mylk made it into more like a cereal and was so good!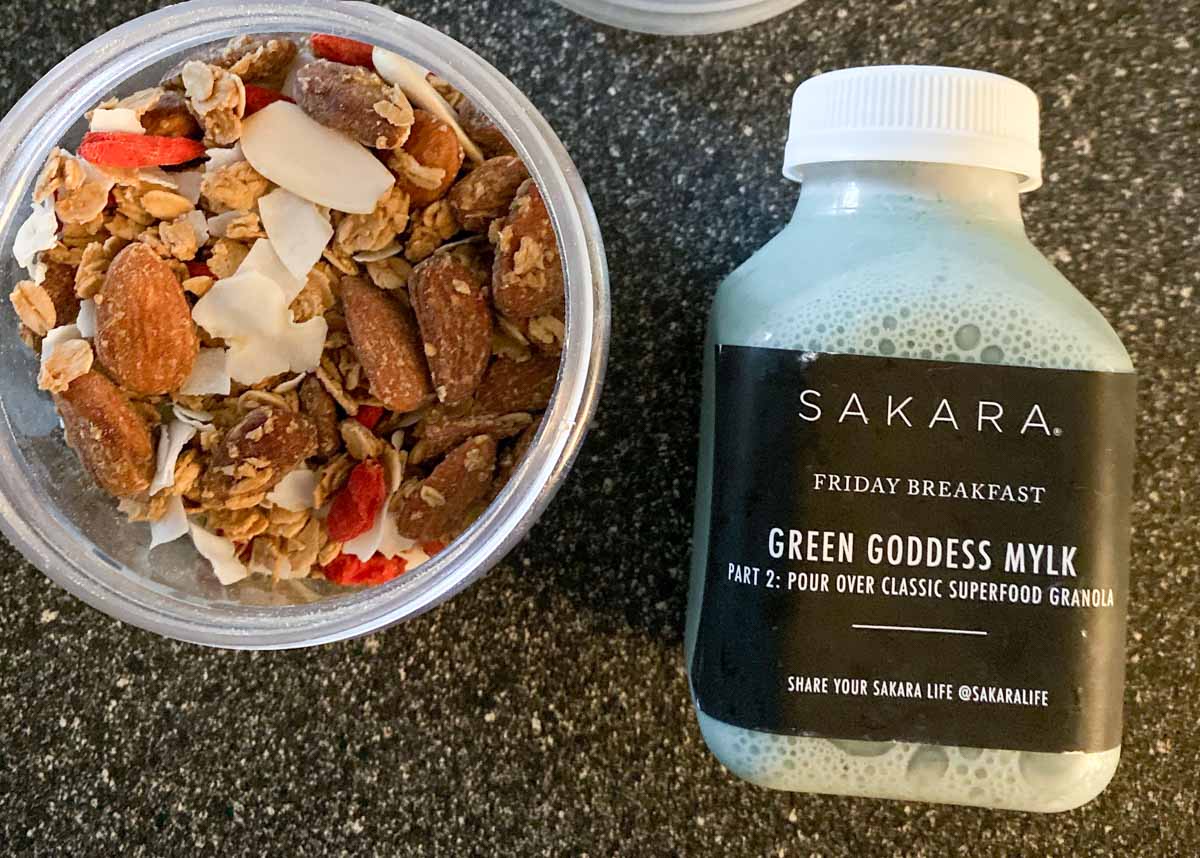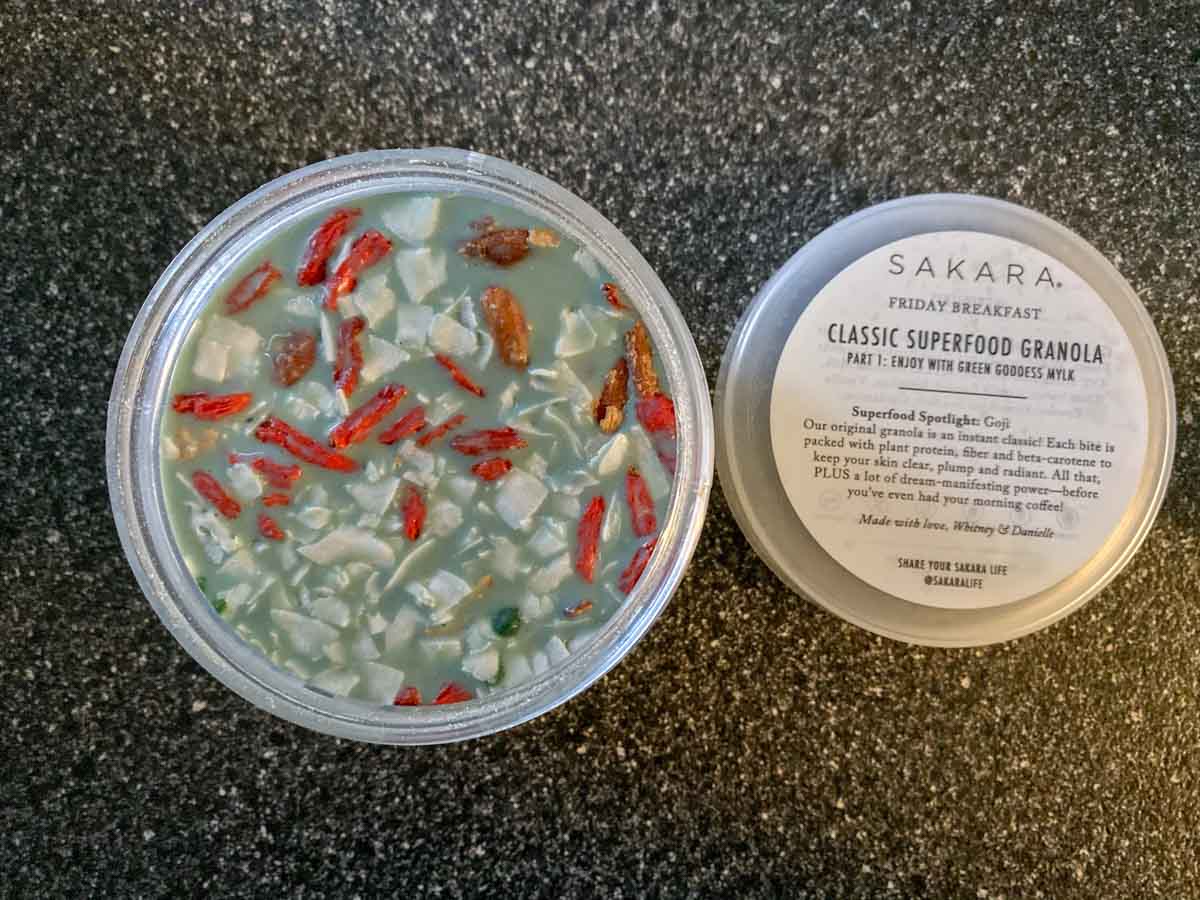 The Superfood muffin with strawberry "butter" was super good (and pretty!) and the avo-cacao pudding felt like an extra special treat. The pudding is a little bit more tart than regular pudding but still was delicious to have chocolate for breakfast!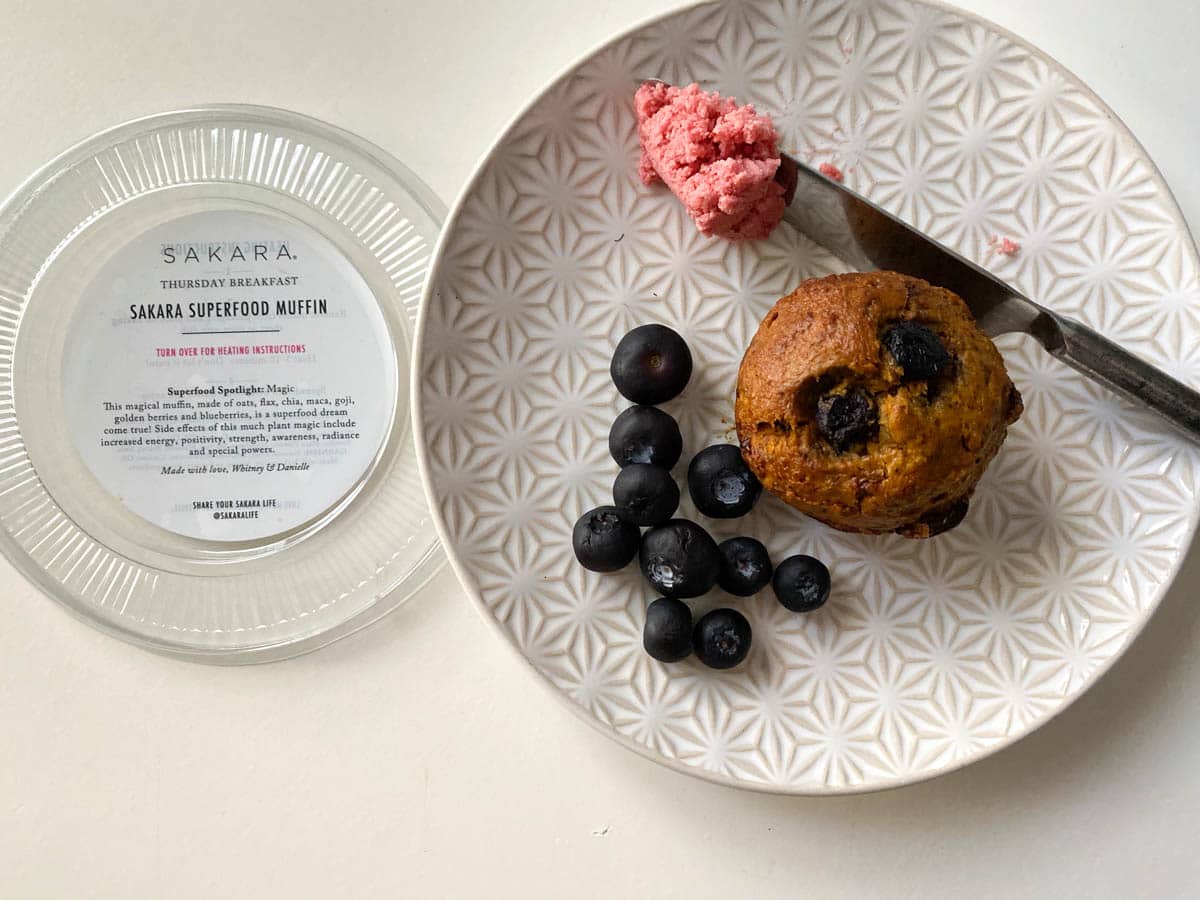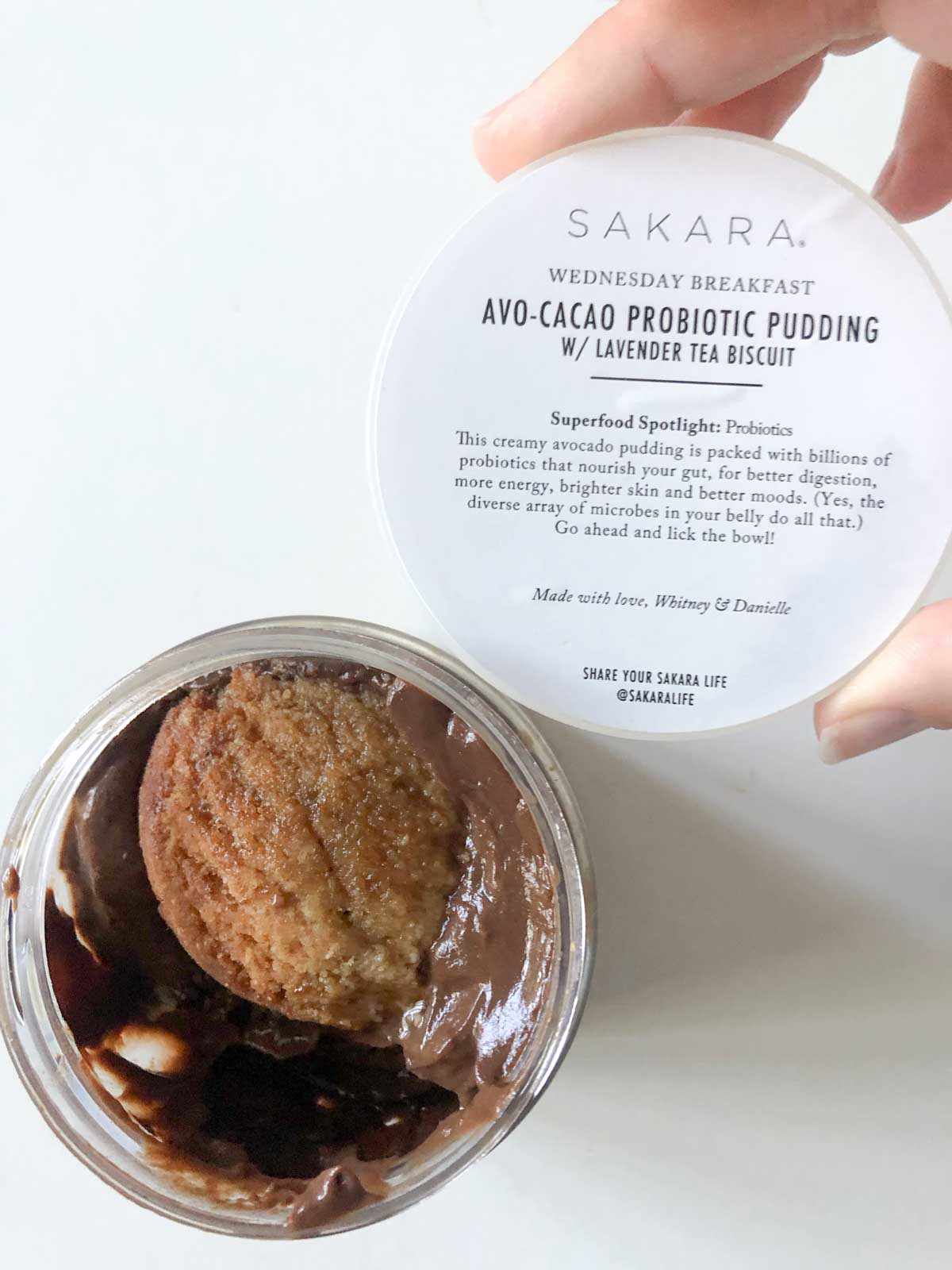 My favorite lunch: Probably the pasta bolognese. It was made from a lentil pasta. (Update: this is now one of the "staple meals" in rotation where you can swap out for it if any of the lunch or dinners don't appeal to you for the week. Applies to subscriptions only.)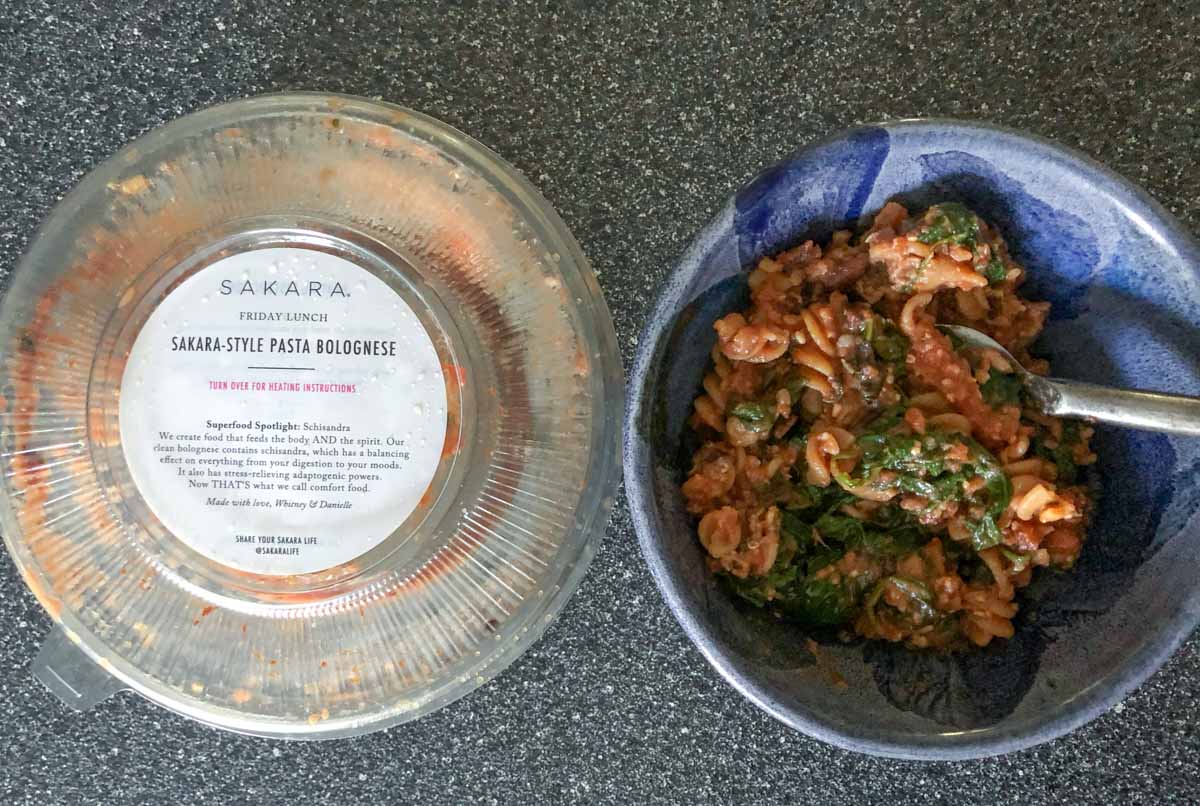 The Middle Eastern bowl was a nice big salad and the red beet burger came with a big one too – and all the salad dressings I tried were AMAZING. These made it easy to "eat my greens" for the day.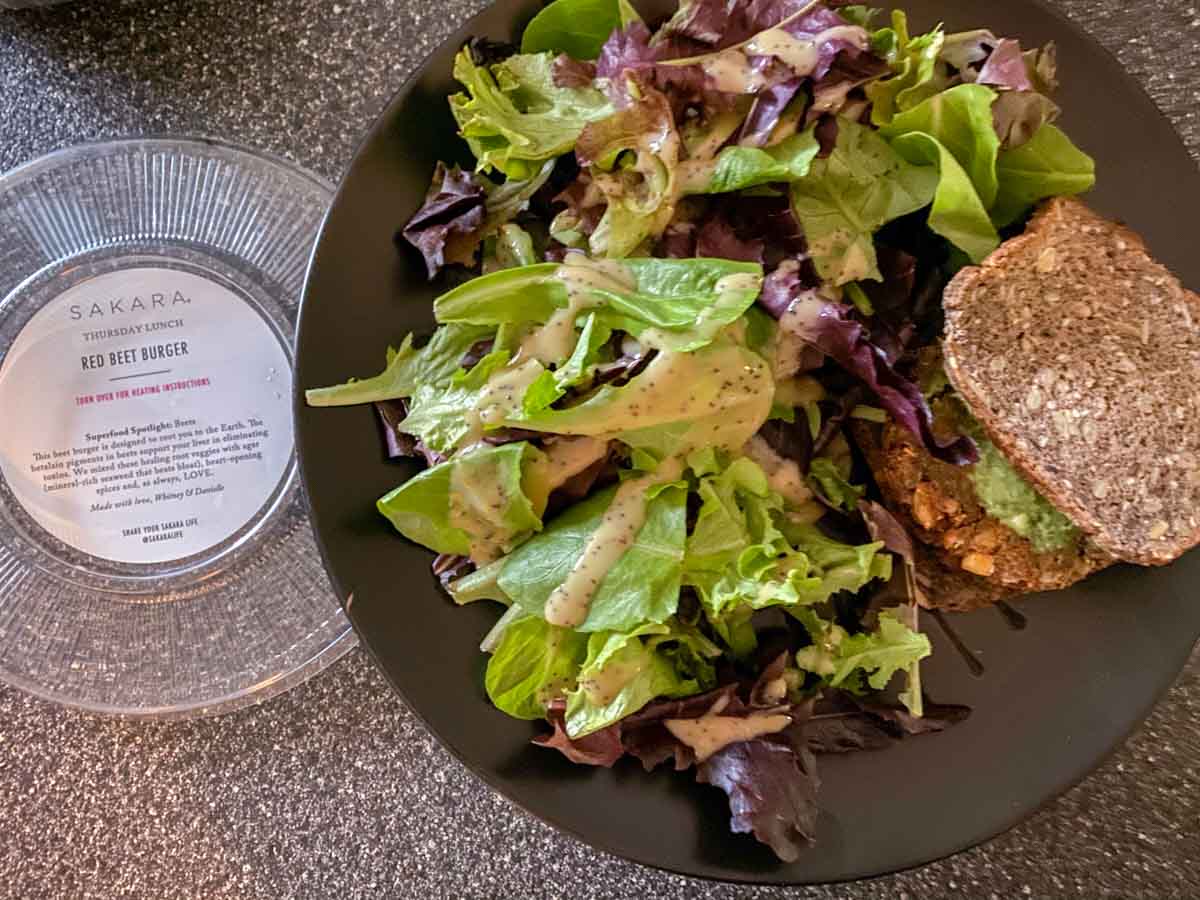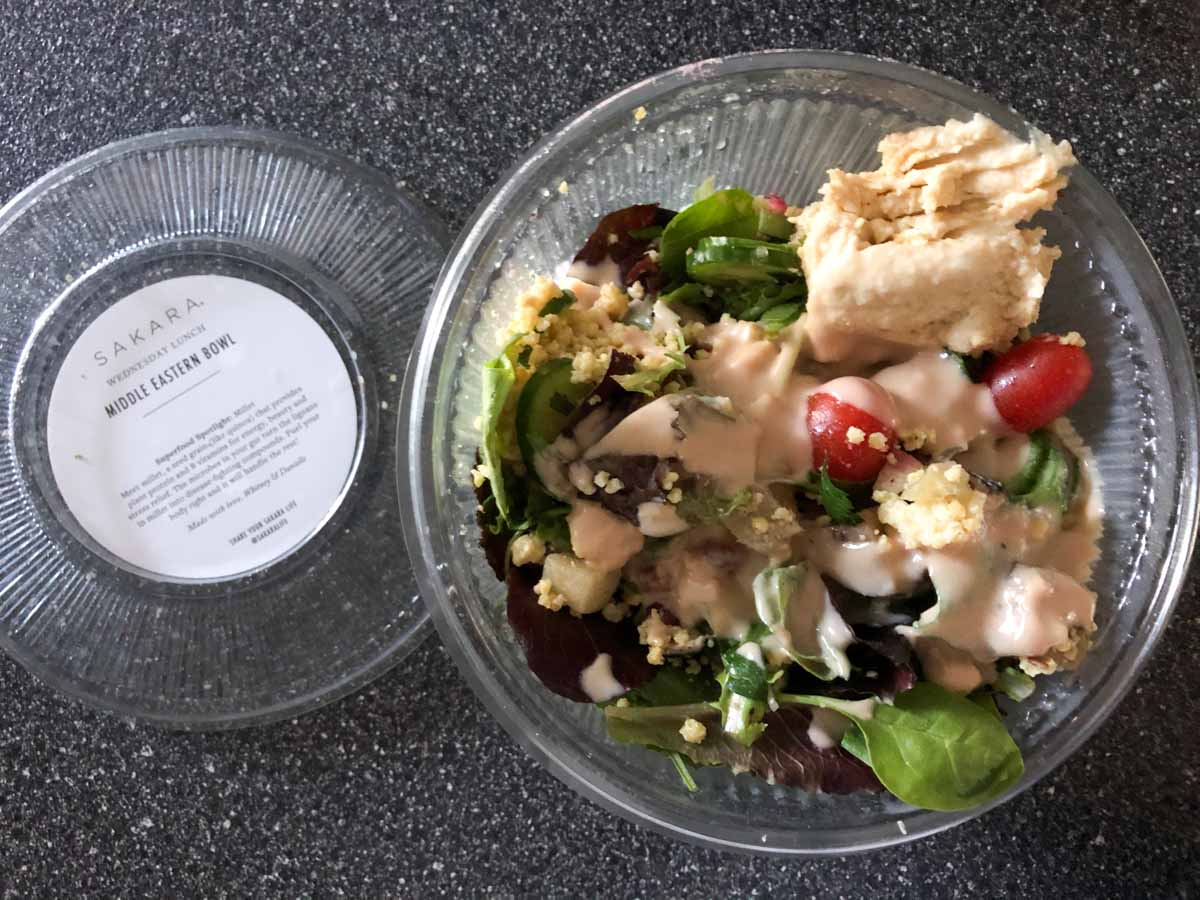 As for dinners, the beauty blend salad was probably my favorite (all about those dressings!) and I actually got two meals out of it. That's one thing I've been impressed with about Sakara, is that the meals are actually enough for one person.
The Thai basil buddha bowl was also good, and the quesadilla was also surprisingly filling with the sides.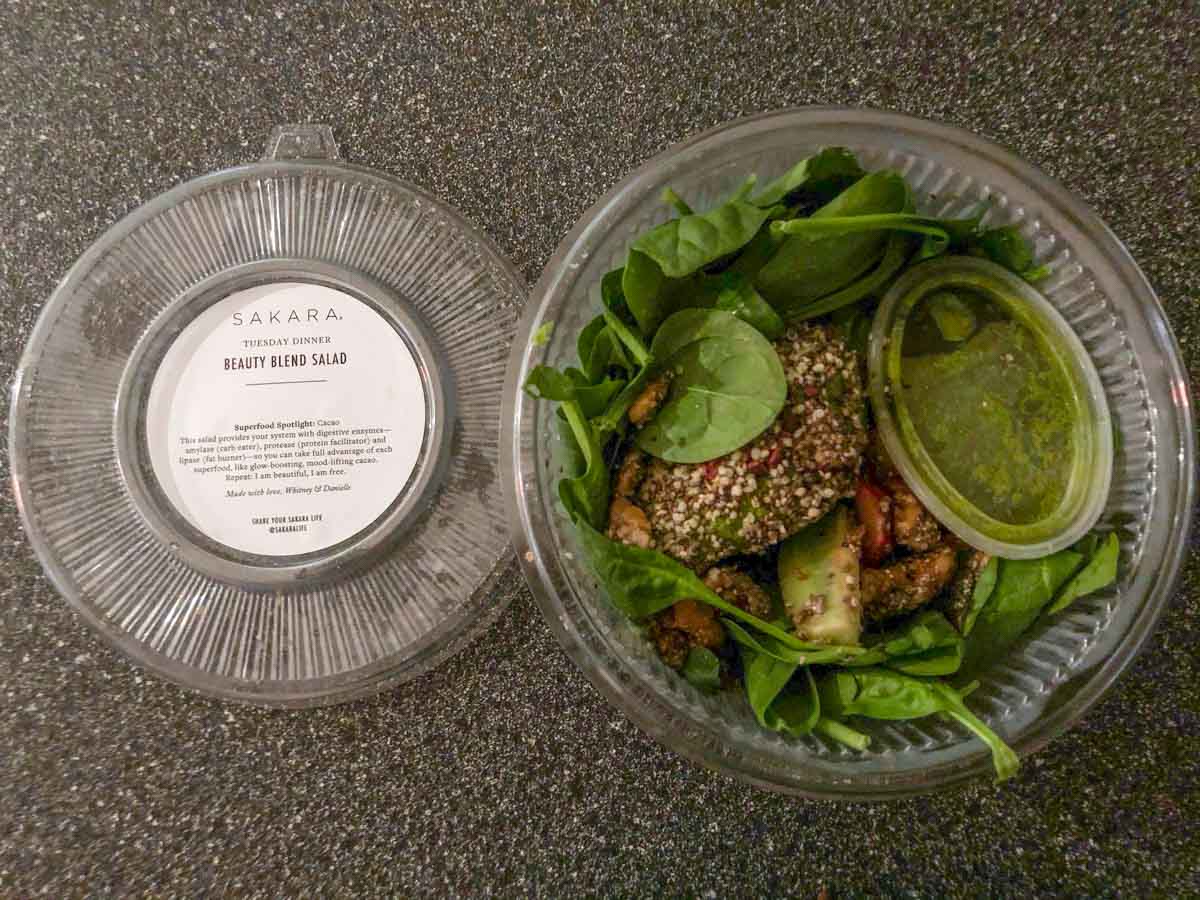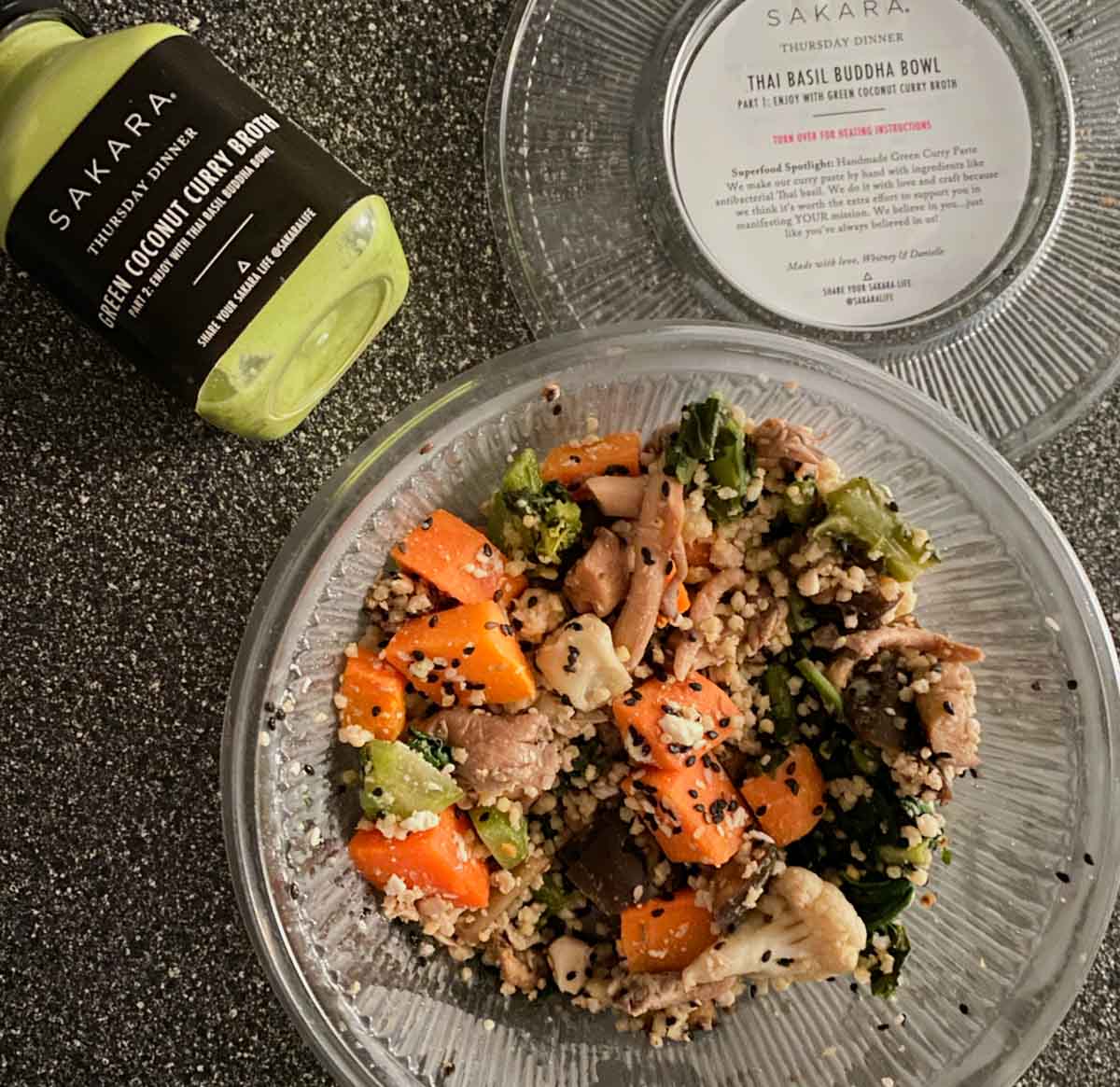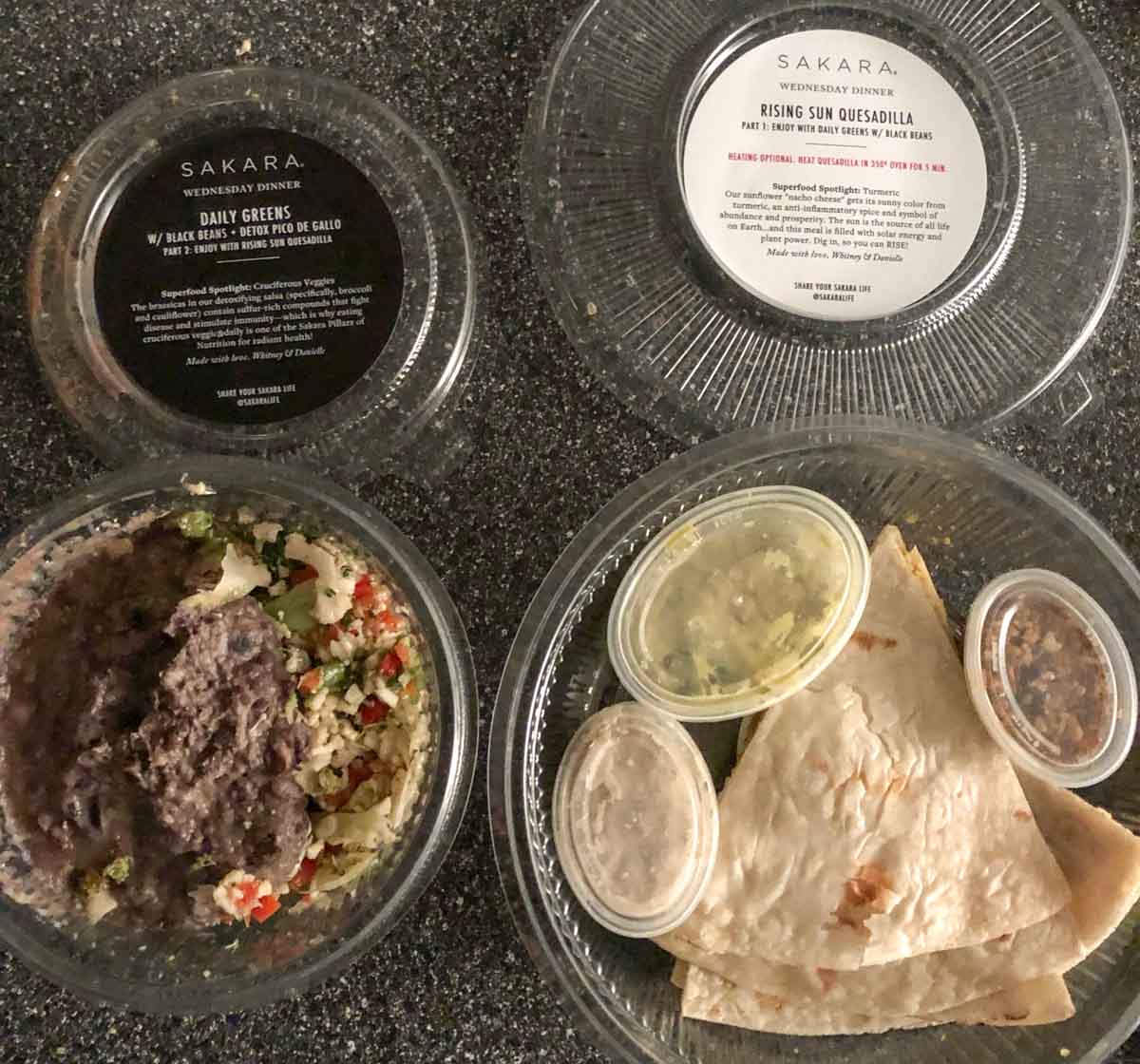 Example Week #2: (newer photos)
My first week back trying Sakara in 2021 was another 3-day plan.
Since I'm on the East coast the meals arrive Tuesday night and start with Tuesday dinner. First dinner was a "Butterfly Bowl" with tie-dye carrots. One of the things I love most about Sakara is how colorful the meals are! Also it is always fun to read about the "superfood spotlight" for each meal – this one was butterfly pea flower, which is what I imagine made the grain purple. And obviously something I've never bought myself before. This was delicious!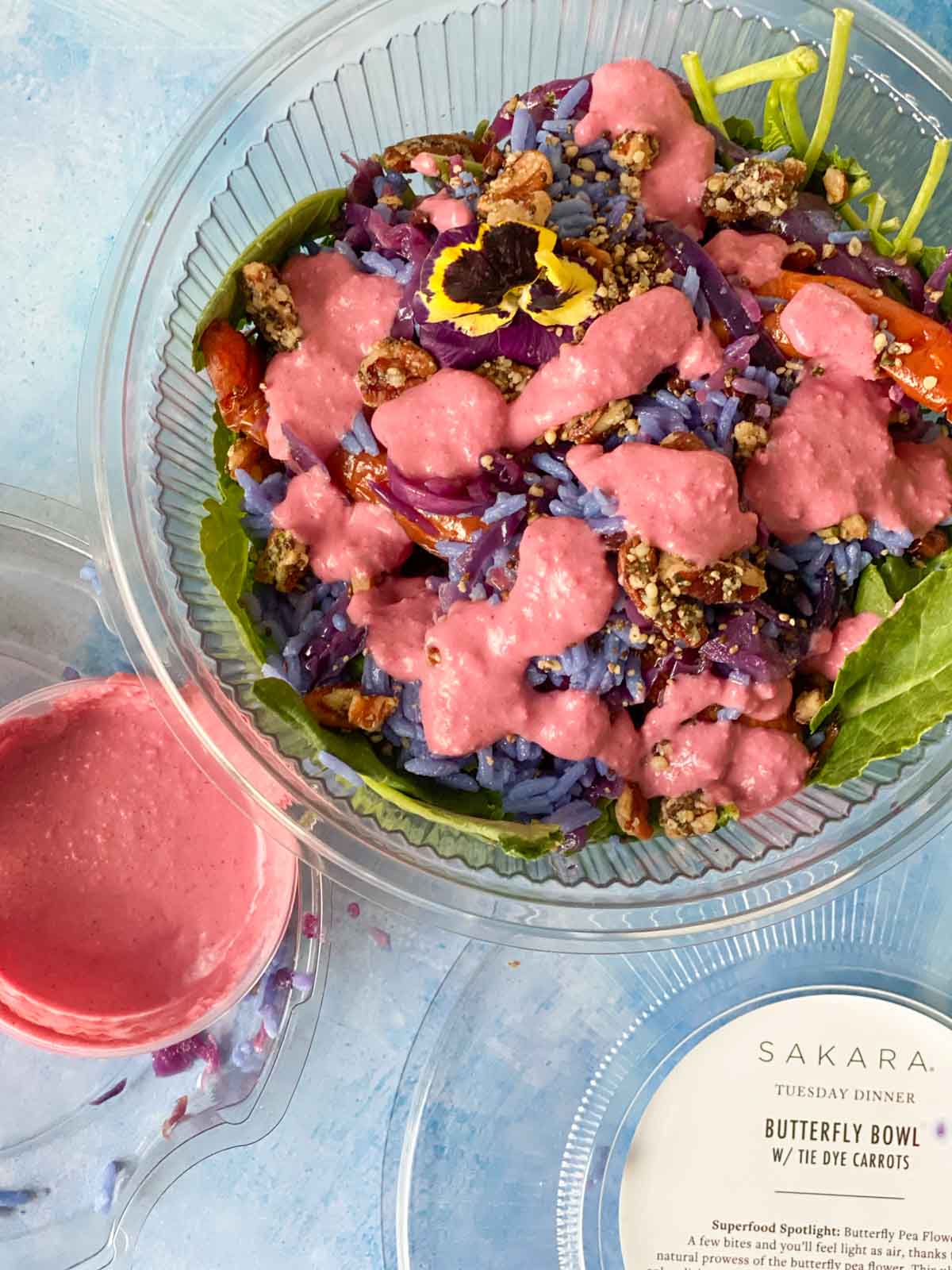 Wednesday morning brought a Yoga Bunny Breakfast with carrot-coconut butter. There was also a small apricot as a side. The muffin was good, though I wasn't a fan of the "butter."
Wednesday lunch was the red beet burger, which I remember trying in my first order years ago. I'm not sure how often the meals repeat yet, since it has been almost 2 years since I ordered last. But I am a fan of this burger so no complaints!
I also really like all the dressings and sauces – this poppy seed vinaigrette included.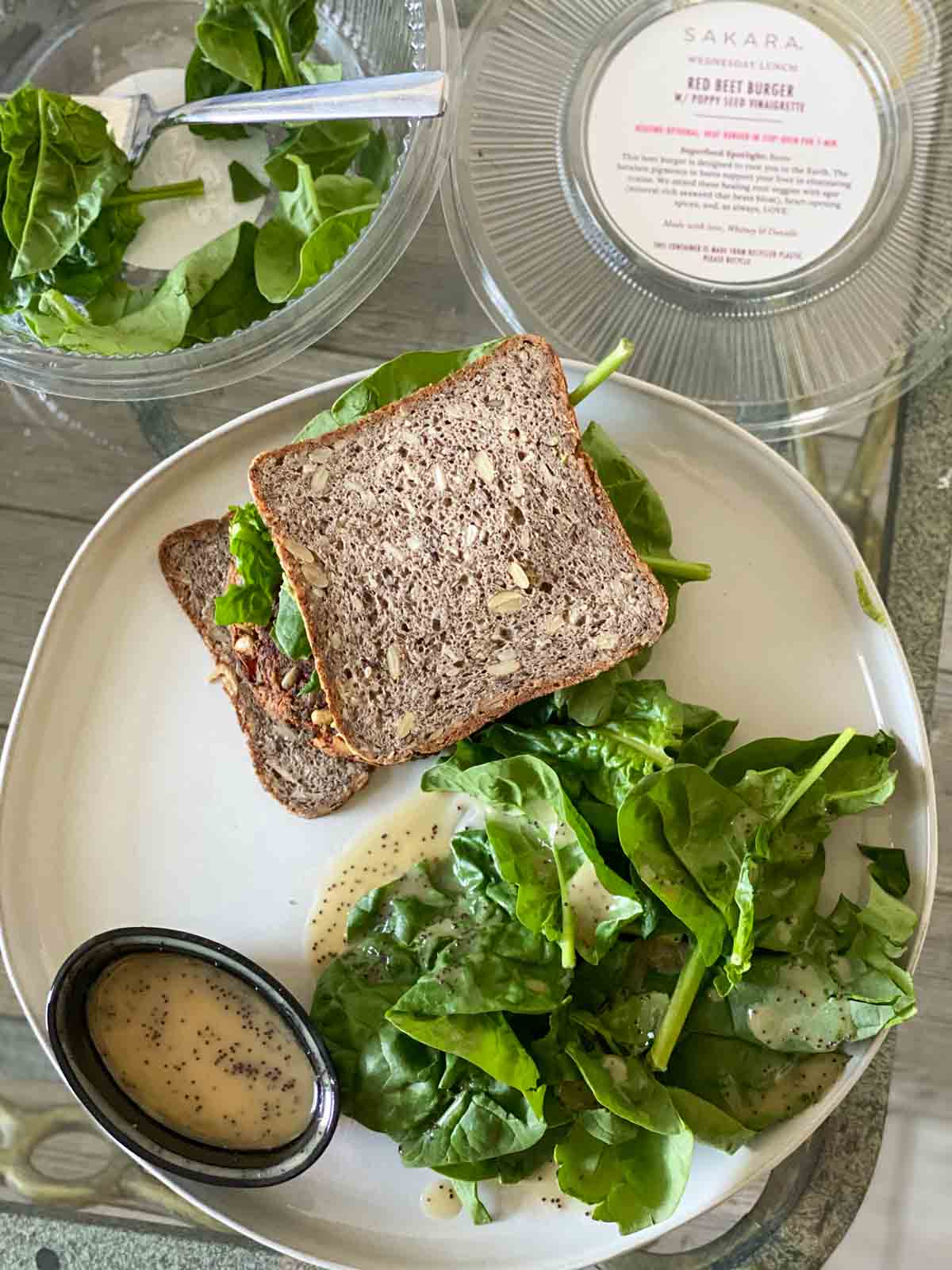 Wednesday dinner was a Sunshine Curry Bowl with purple coconut rice. Whoever writes these meal descriptions is a marketing genius! Another filling and delicious meal. (Picture is before heating – highly recommend warming any meal that says "heating optional"!)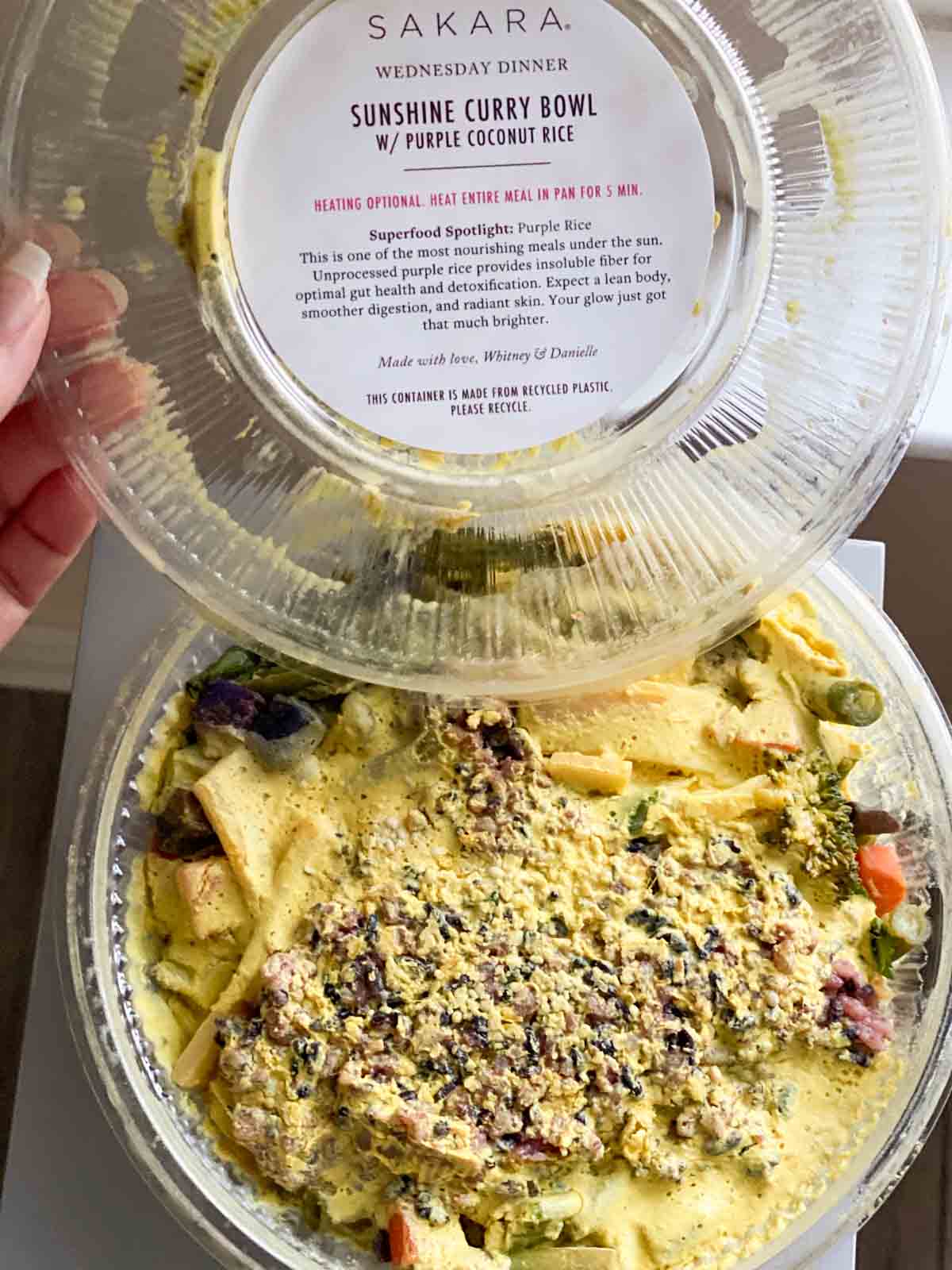 Thursday breakfast was another exciting colorful adventure – a Healing Hojicha Donut. I was skeptical about this but was pleased with both the texture and the taste.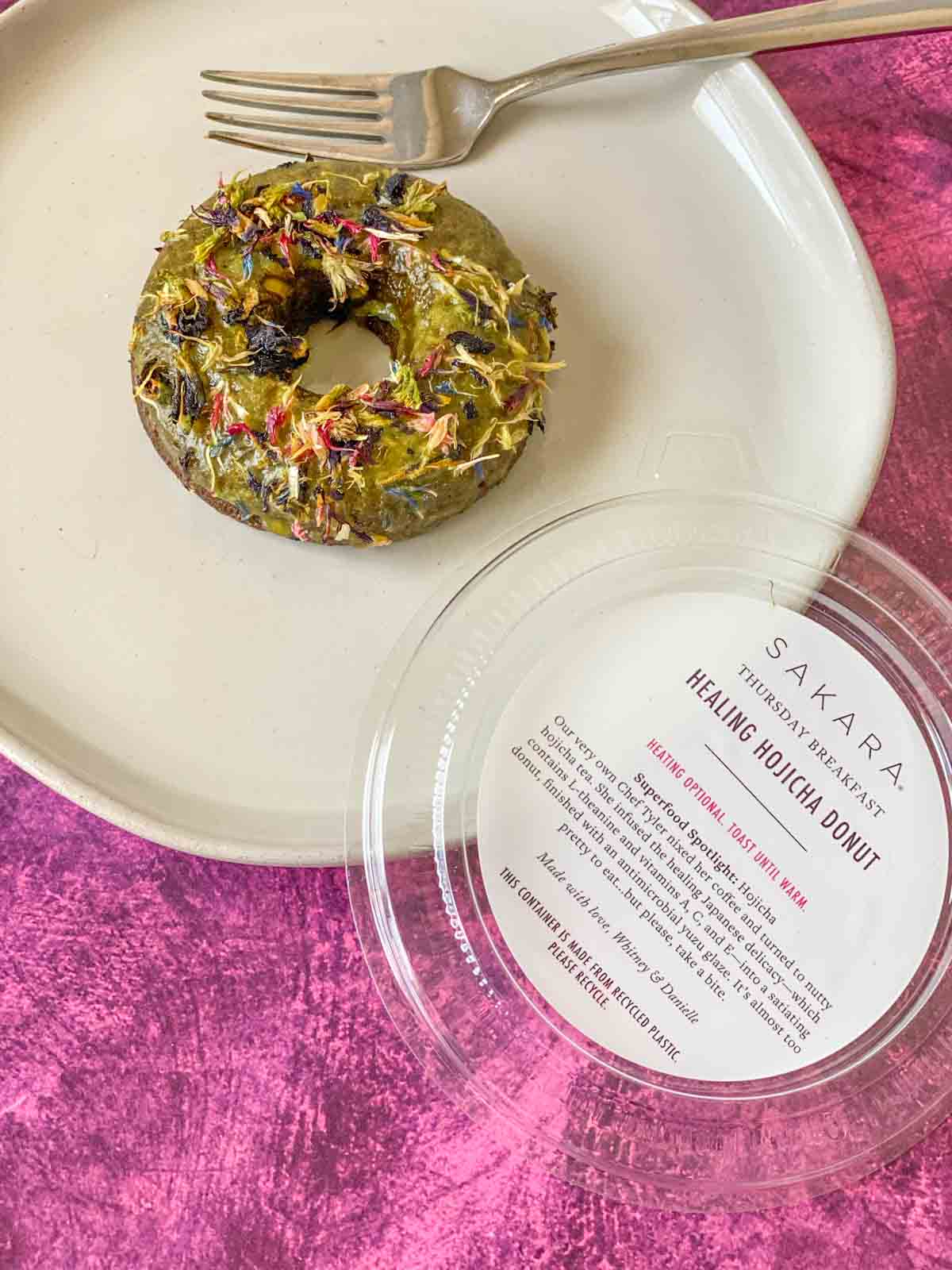 Thursday lunch was a big Summer Sun Salad. They pack their salads with colorful vegetables and I'm always surprised how many ingredients they include – and again, another great salad dressing on the side.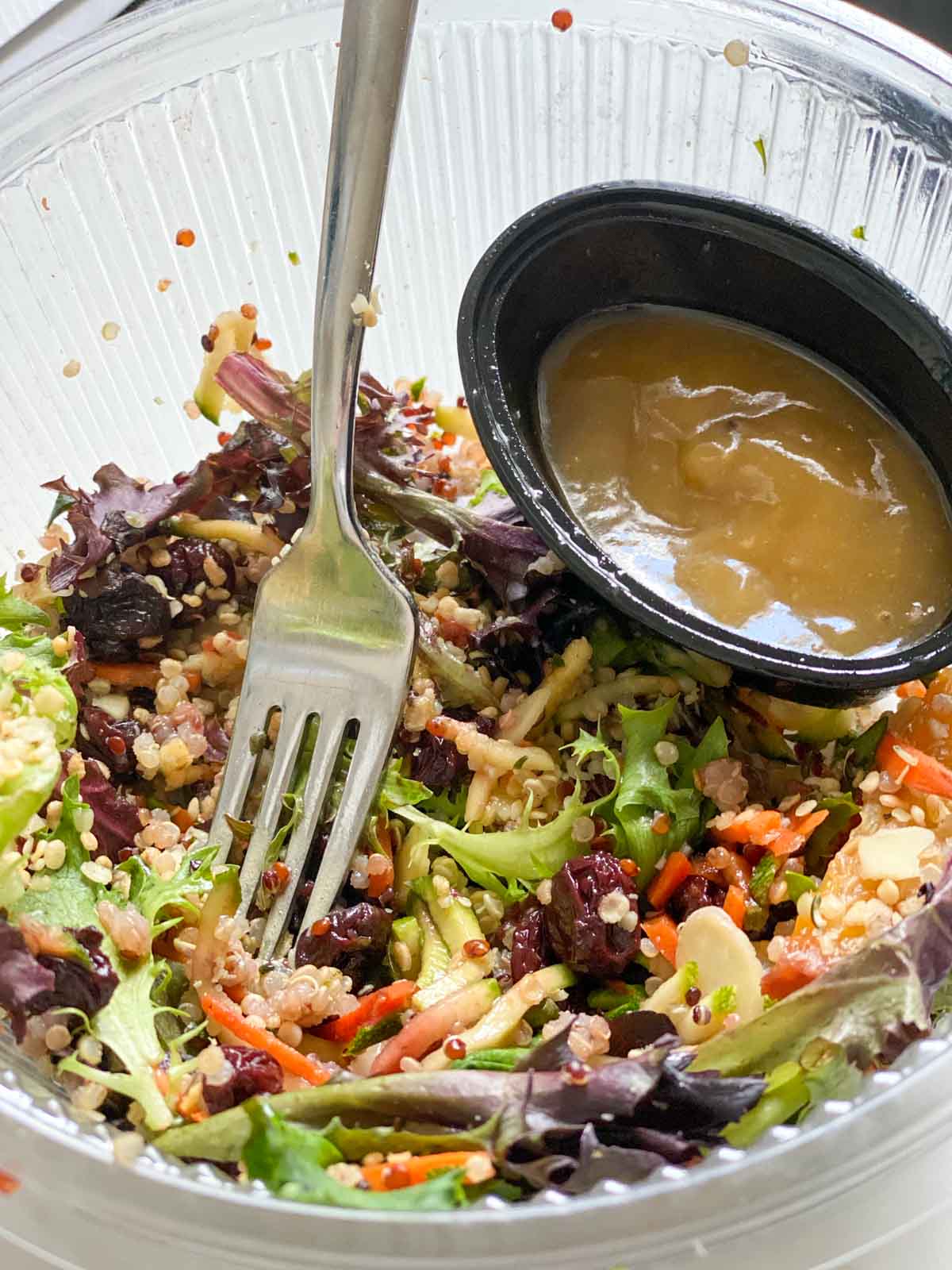 Thursday dinner was a Protein Power Plate with golden turmeric flatbread. The flatbread wasn't crispy as expected, but I don't know if this is because it had been in the fridge too long. Other than that it was very tasty.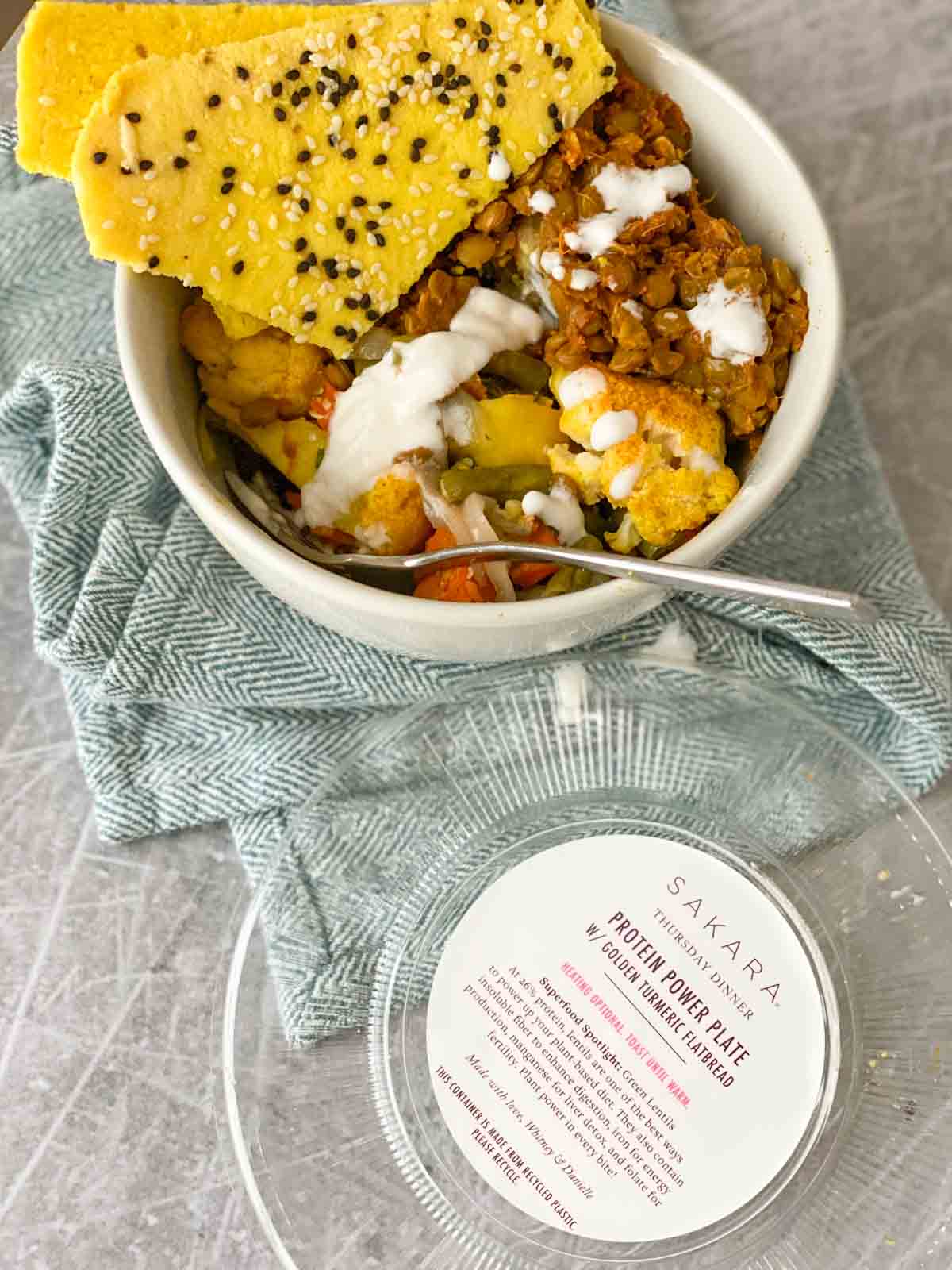 Friday breakfast: "Sexy Cinnamon Rolls" with a date caramel, and a side of kiwi. Love that their breakfasts can still be sweet treats and include all this goodness.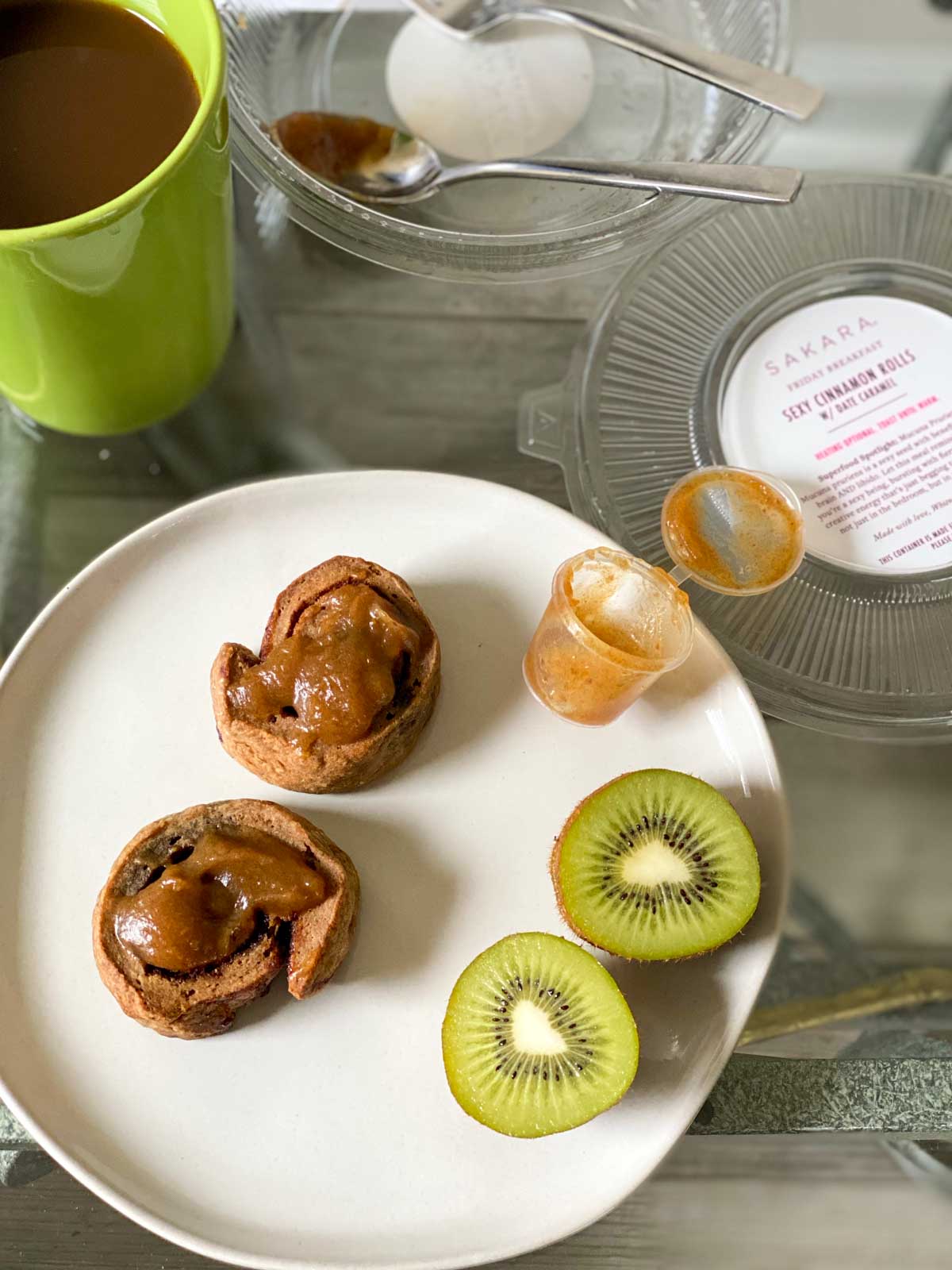 Finally, the last lunch for the week was a pink lady pesto pasta with macadamia-beet crumble. A healthy pasta, what?! Again, not something I would ever think of making and was another really satisfying meal.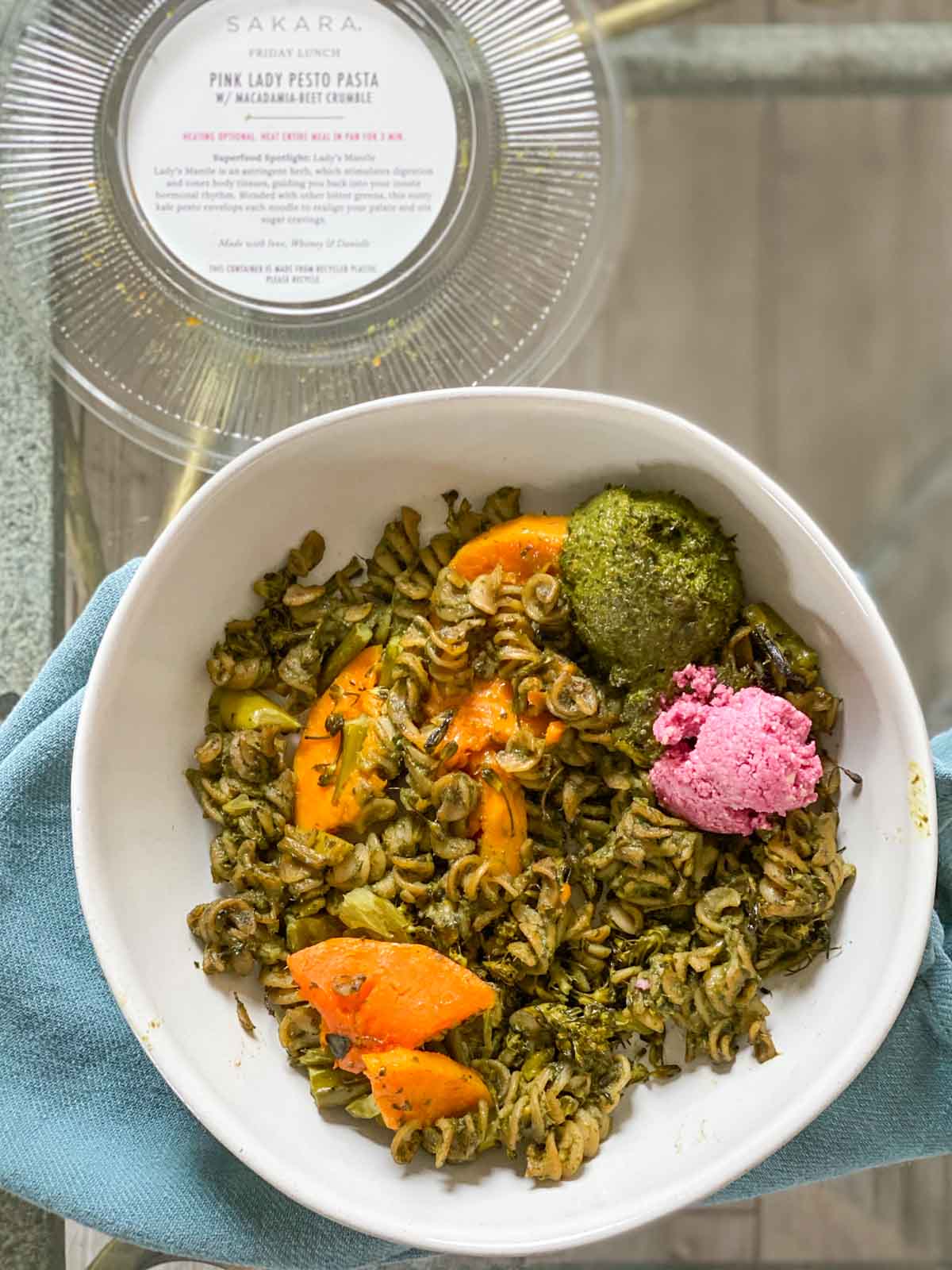 This first week trying this year made me sign up for a subscription! I have been mixing it up with the number of meals I get each week, but I've been loving having at least a few on hand every week.
Example Week #3: Sakara Summer Top List
One of these recent weeks was a "top list" favorites week. I did a full 5-day, 3 meals a day plan for this to try out all the favorites. I wouldn't say all of them are MY favorites, but there are definitely some good ones in here!
First, breakfasts.
Another granola breakfast I loved – endless summer granola with strawberry mylk. It's basically a superfood cereal and I learned I definitely want to incorporate this into breakfasts going forward! You can buy their granolas from their "clean boutique" but I'm still waiting for them to sell their plant-based flavored mylks separately.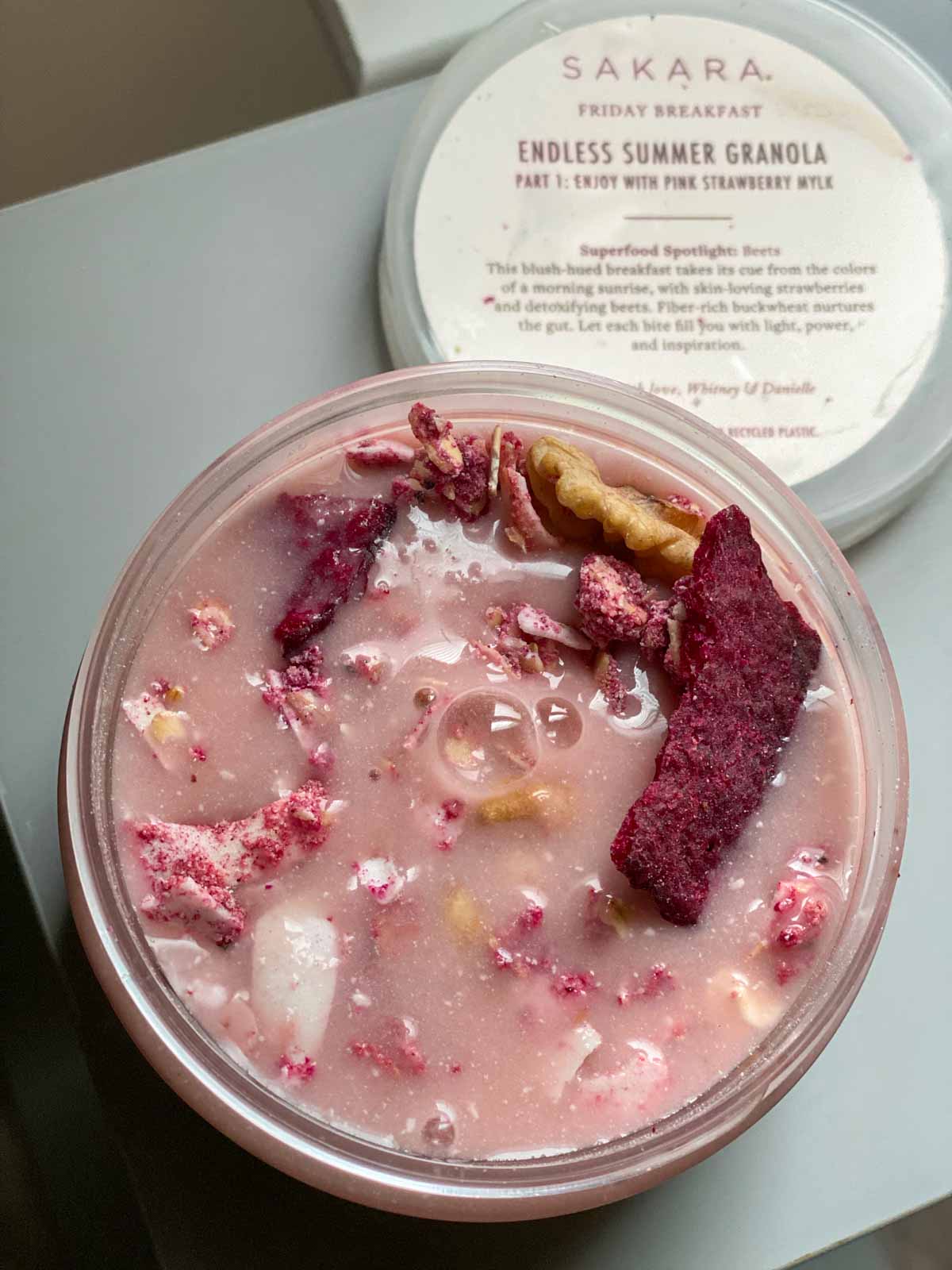 Sakara's version of avocado toast is probably my favorite ever. They have a thick slice of turmeric-sesame gluten-free bread, toasted and topped with a chili-tomato red butter. Smashed avocado that's covered in seeds, top with microgreens, salt and lemon.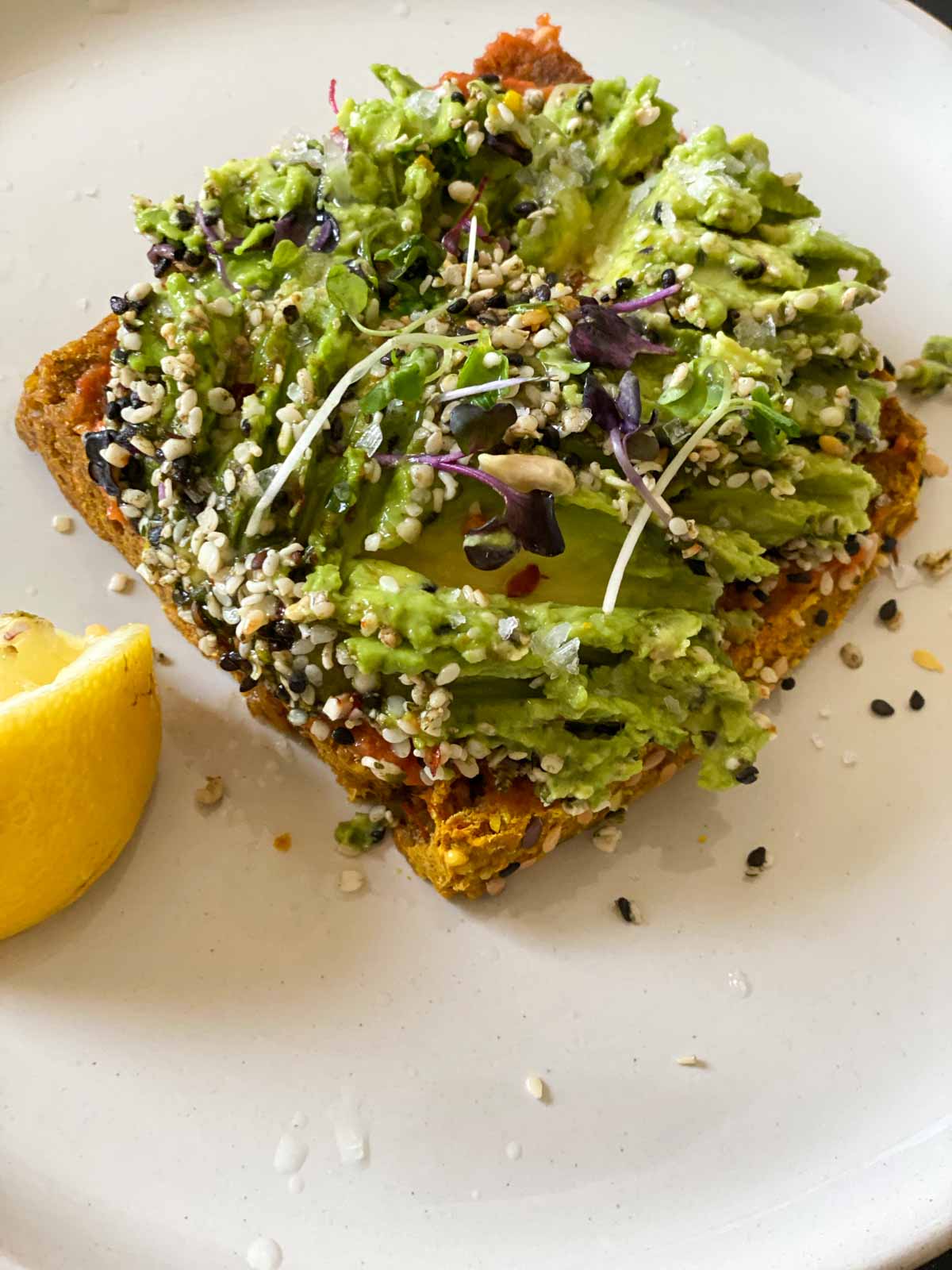 Strawberry shortcake for breakfast! This includes maca which is a popular hormone-balancing veggie.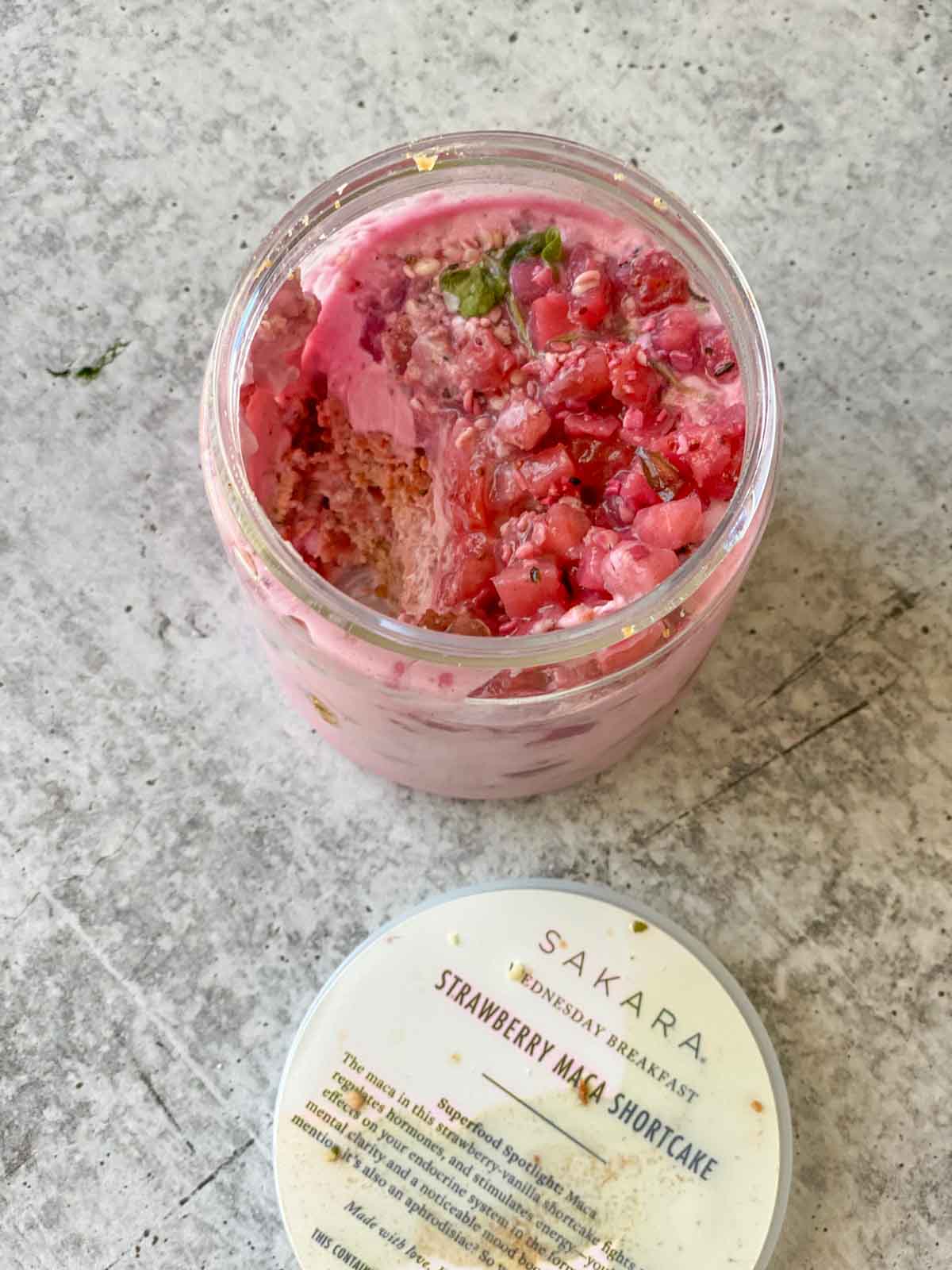 Chocolate Love Muffin! This was surprisingly fudgy and that caramel sauce on top made it extra-decadant.
The only breakfast I was not a fan of was the sweet potato bowl! This is an example of one that has bee pollen – maybe I expected it to be sweeter, but even though I love sweet potatoes this wasn't my favorite.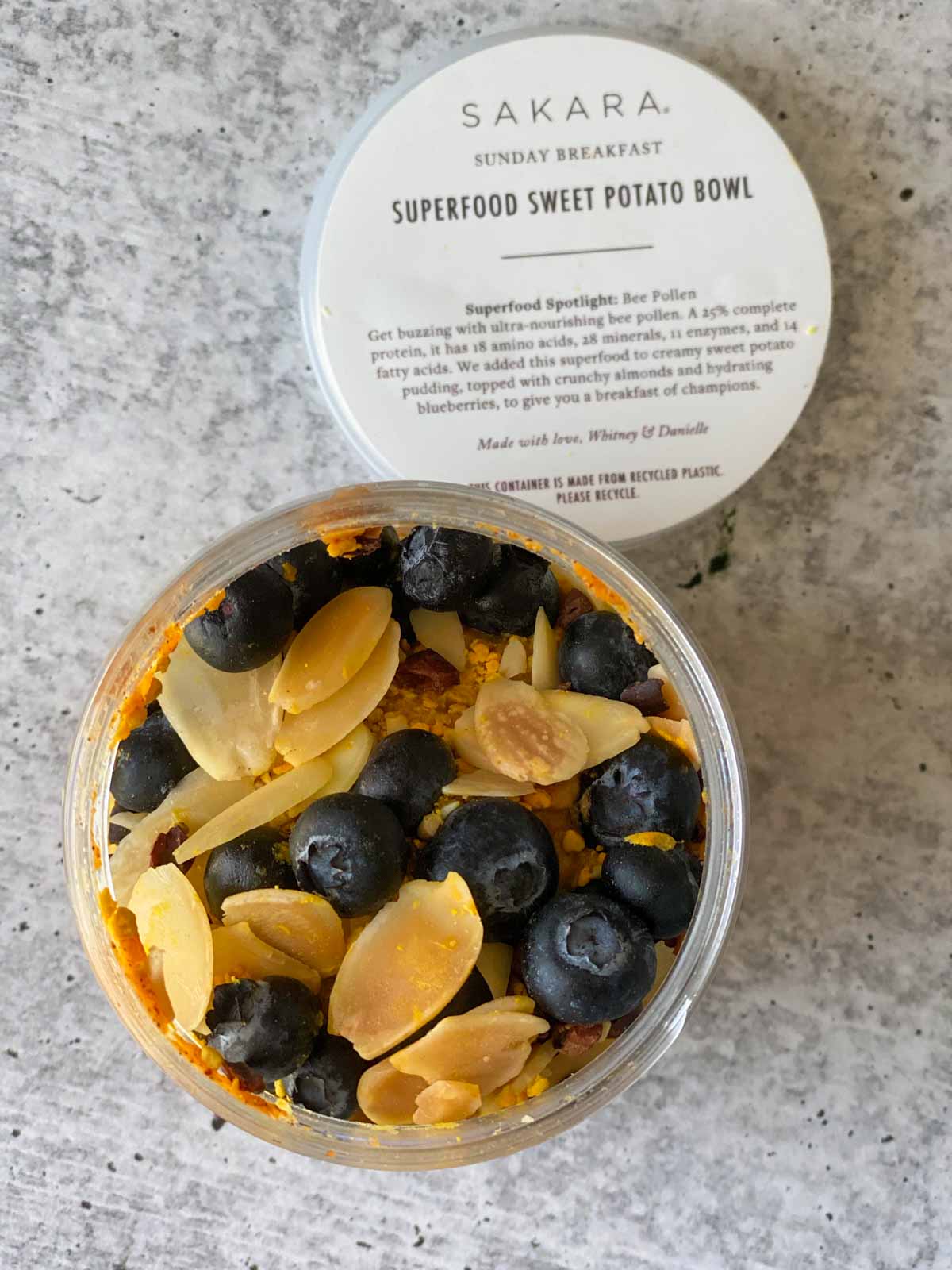 Their salads never feel like "salads" – even though they are packed with greens, they are always topped with flavorful dressings and interesting veggies. This "burrito bowl" was no exception.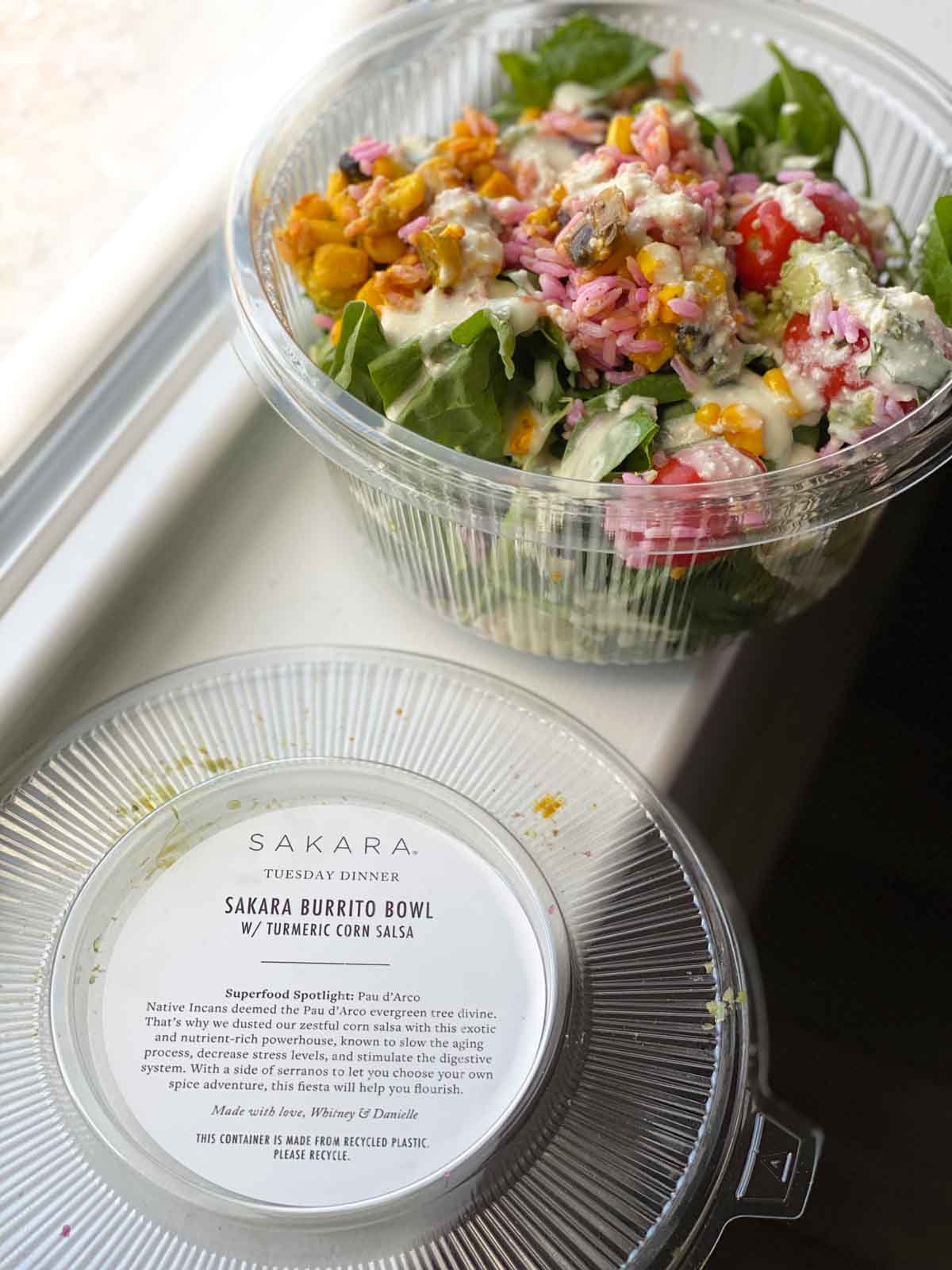 Thier burgers are also one always so creative. This thai burger didn't come with bread so it was more of a burger salad, but another amazing sauce and the I love the root veggies.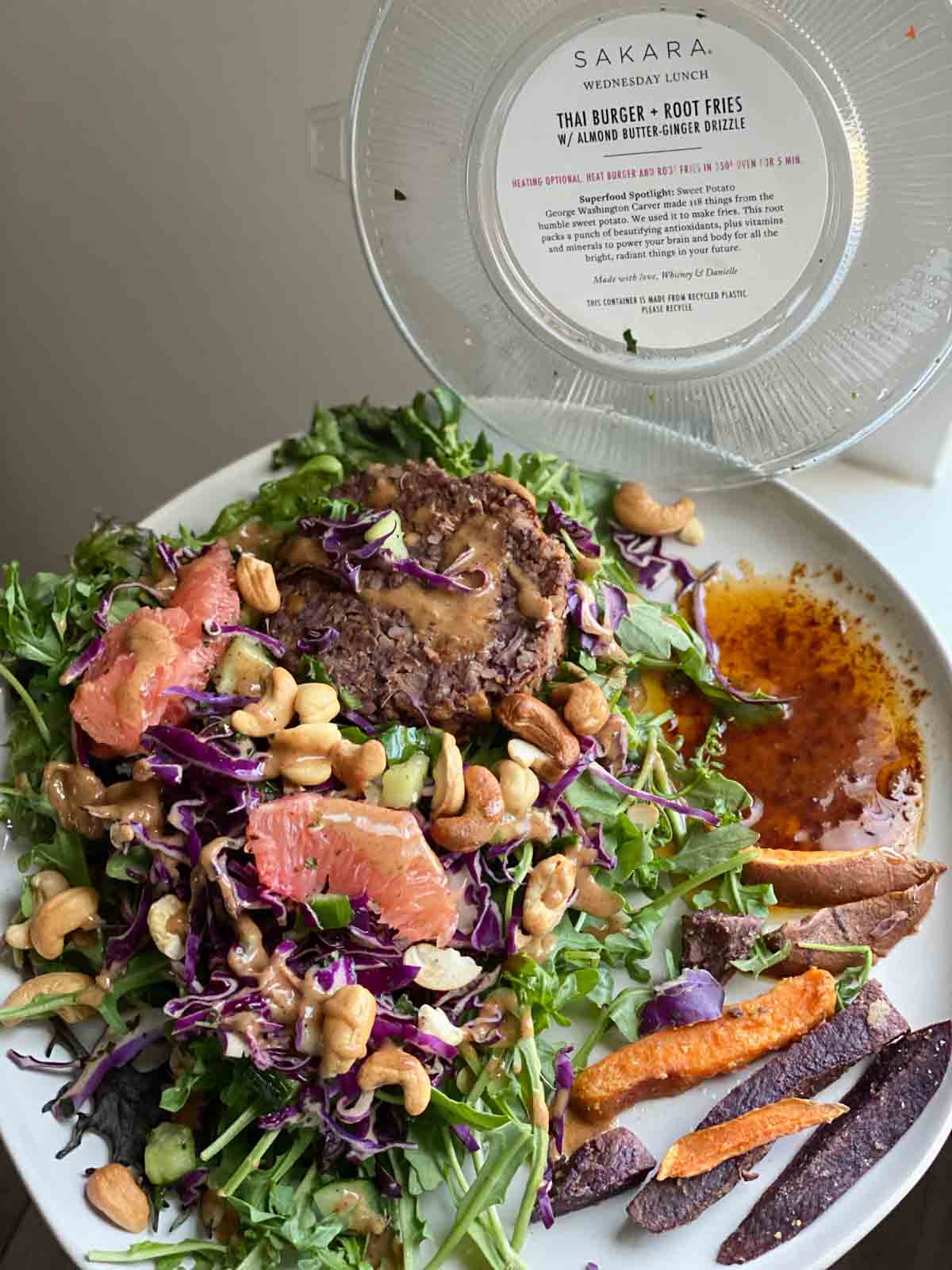 H2O Glow Salad isn't one of my favorite salad from them, but lived up to its name – very hydrating.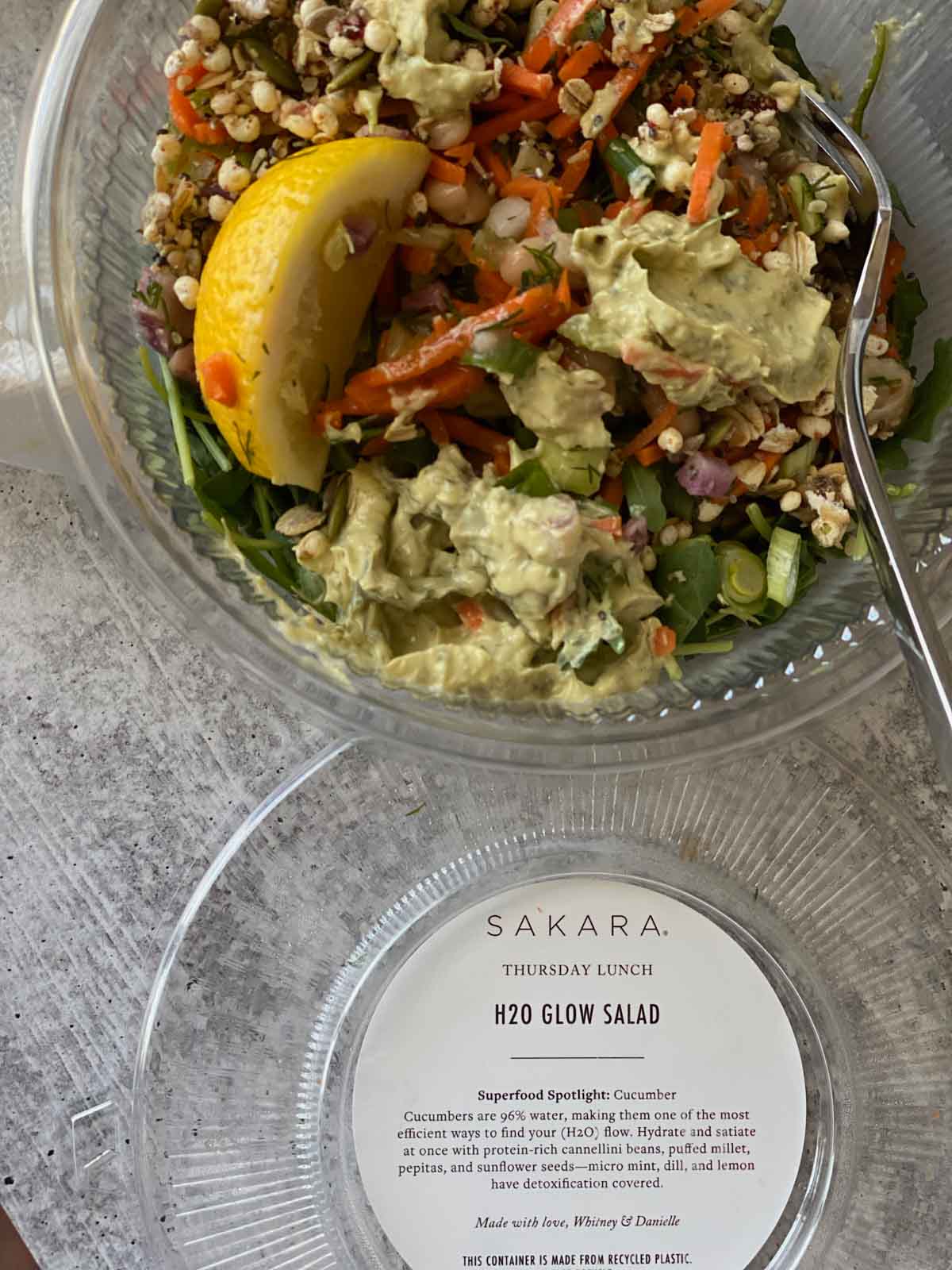 Wild Mushroom Pasta! I love truffle oil and I 100% see why this is a Sakara-family ritual.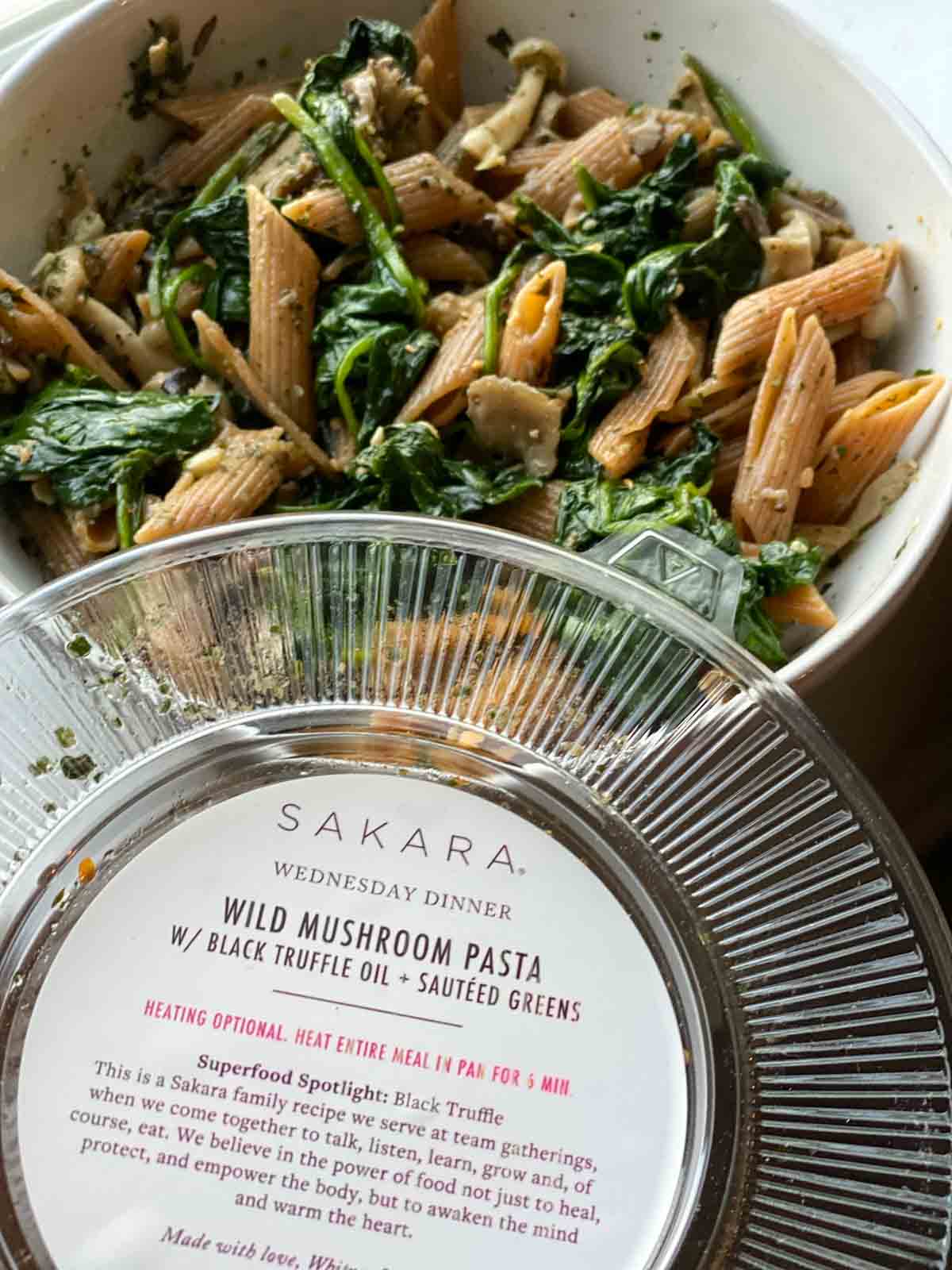 Wild Rice and Miso Salad – the edible flower is kind of buried under there but that is one extra touch I always love.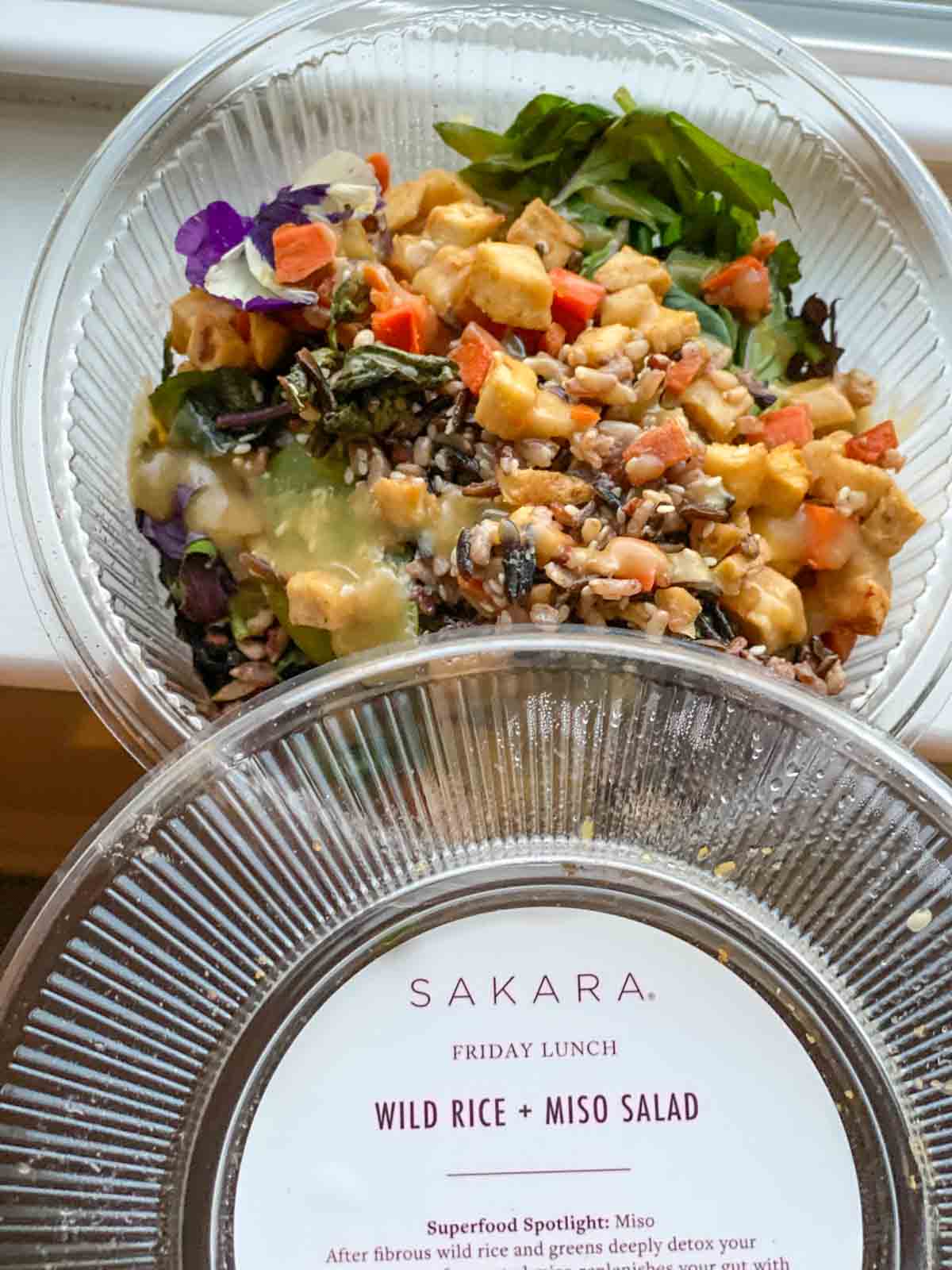 Rainbow Veggie Moo-Shu Wraps – I love tamarind sauce and I love this meal! I ate most it like a salad since I wrap out of lettuce wraps, so I do with more lettuce was included, but there were also a few tortilla-like pieces to use as well.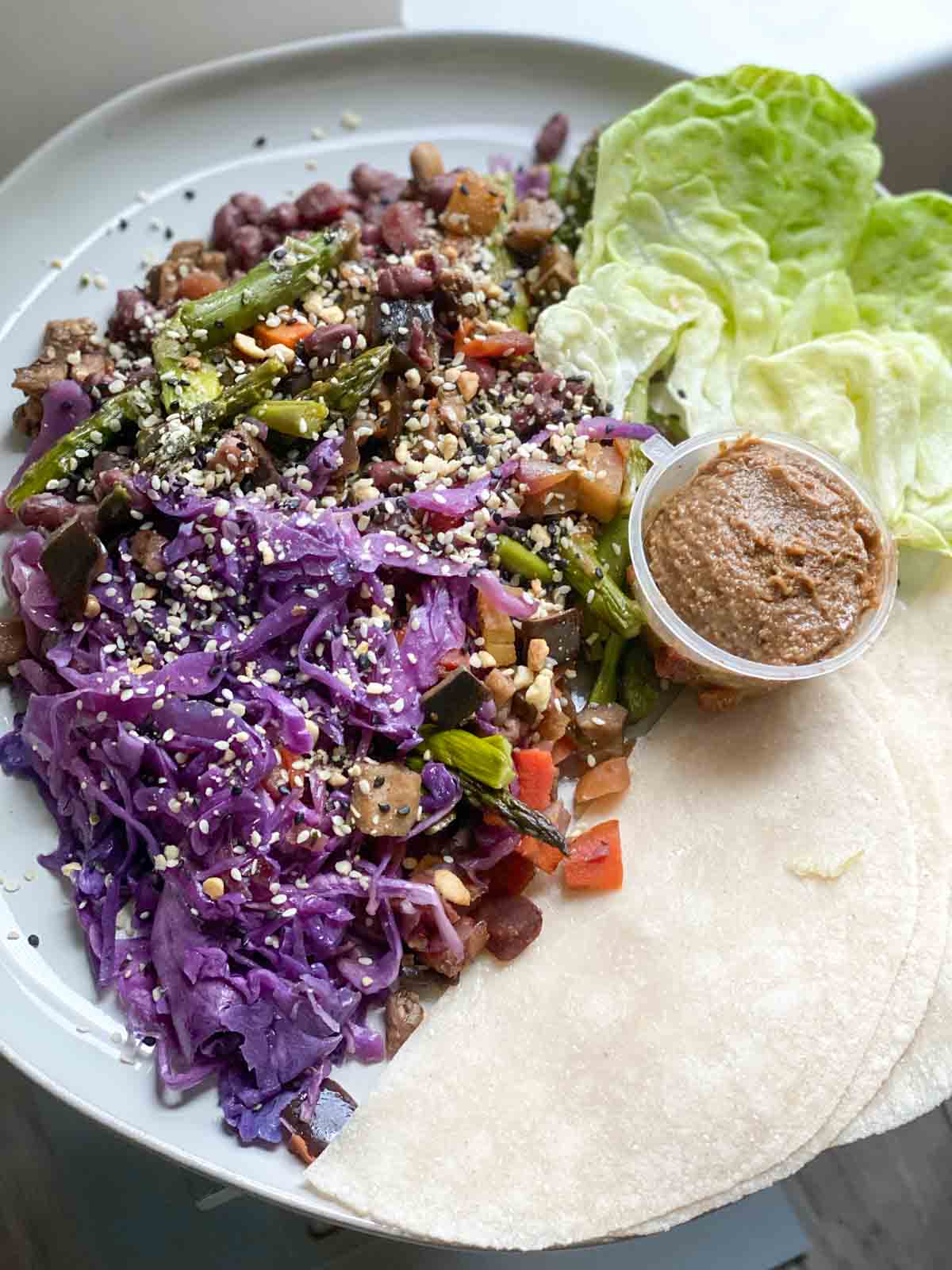 Sakara earth both with lotus root – another vegetable I can safely say I've never purchased on my own, so this was fun to try. And another edible flower!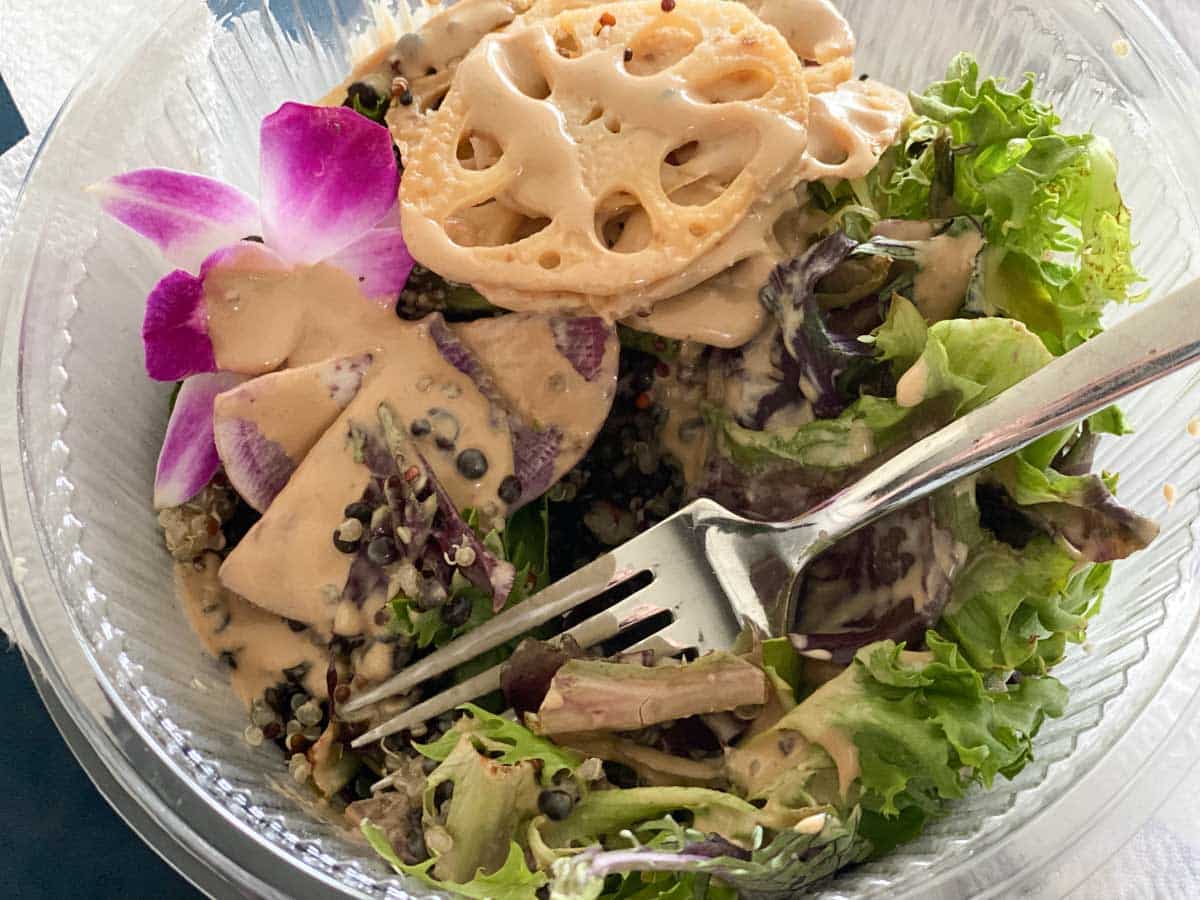 Before delivery, since I'm on a subscription I swapped one of the meals out for the pasta bolognese staple meal and another meal I didn't get a picture of, but was some veggie not-fried rice situation.
Overall I was happy to try some of the "top list" meals! The next week was my first run at their Detox (level II) plan so I went into it feeling pretty good and eating clean.
Example Week: 5-day Detox (Level II)
Level II is Sakara's 5-day comprehensive gut-healing cleanse. In addition to their usual no meat, dairy, gluten, pesticides or toxins, it also eliminates all sugar (including fruit), grains, nuts, soy, nightshades, alcohol and caffeine.
It was created with a functional medicine doctor (Aviva Romm, MD) and is designed to remove common inflammation triggers to help reboot your metabolism and heal your gut.
They offer this once or twice a month and it does appear they rotate a couple of the meals each time, so yours may not be identical to what is below. There is the option to peak at the current detox menu before committing!
I had never successfully completed any kind of plan like this before, and I was most nervous about cutting out my morning coffee. I am pretty sure I hadn't gone a day without caffeine for almost 2 decades! But I was ready for the challenge and see if it helped me kickstart some more healthy habits.
In addition to all the food you will eat during the 5 days, you will receive vitamin packs, detox water and beauty water drops, digestive teas and a dry brush.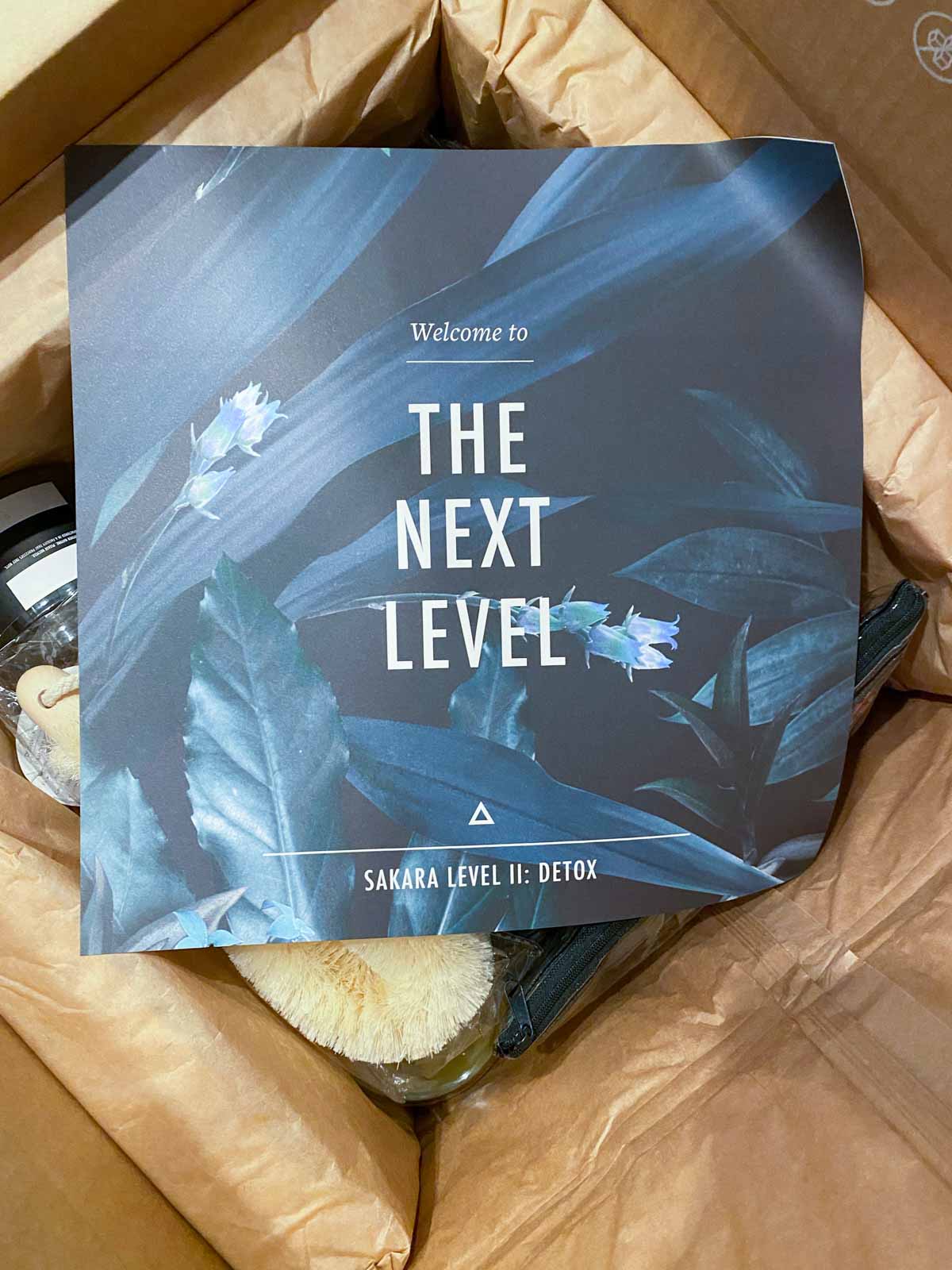 The food will arrive in two packages – the first box having everything you need for the first 3 days. (In the bag pictured below is the instruction booklet, vitamins, water drops and teas.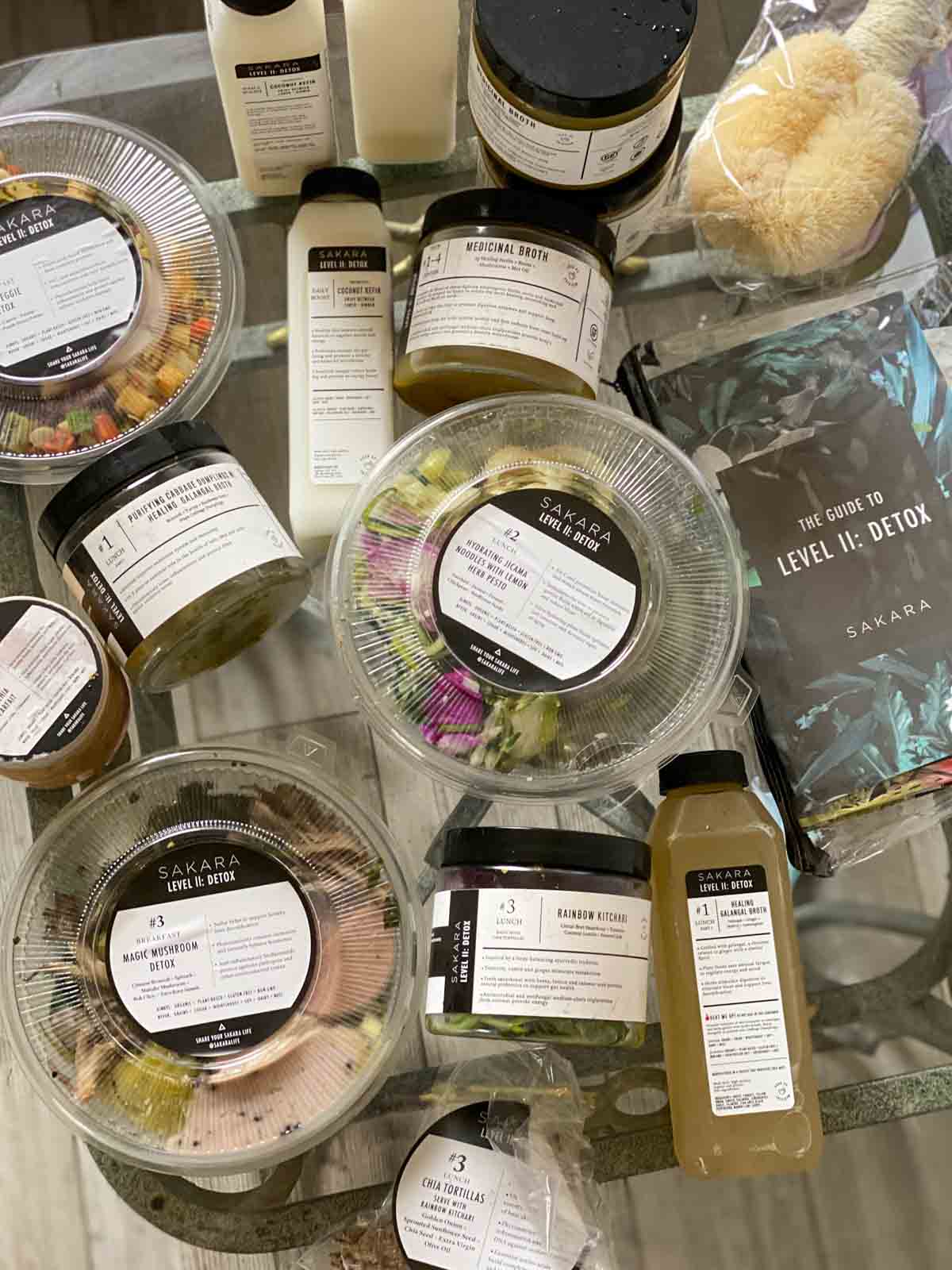 Day 1
The day starts out with a surprisingly large breakfast, a root veggie detox plate. I'm not normally much of a morning eater, so I am already nervous that the bulk of the food is earlier in the day. (Dinners are a broth on days 1-4).
I took all my vitamins and beauty drops with the meal and by noon I had already almost drank 100 ounces of water! The beauty drops are very salty so I have to dilute them a bunch to get it down.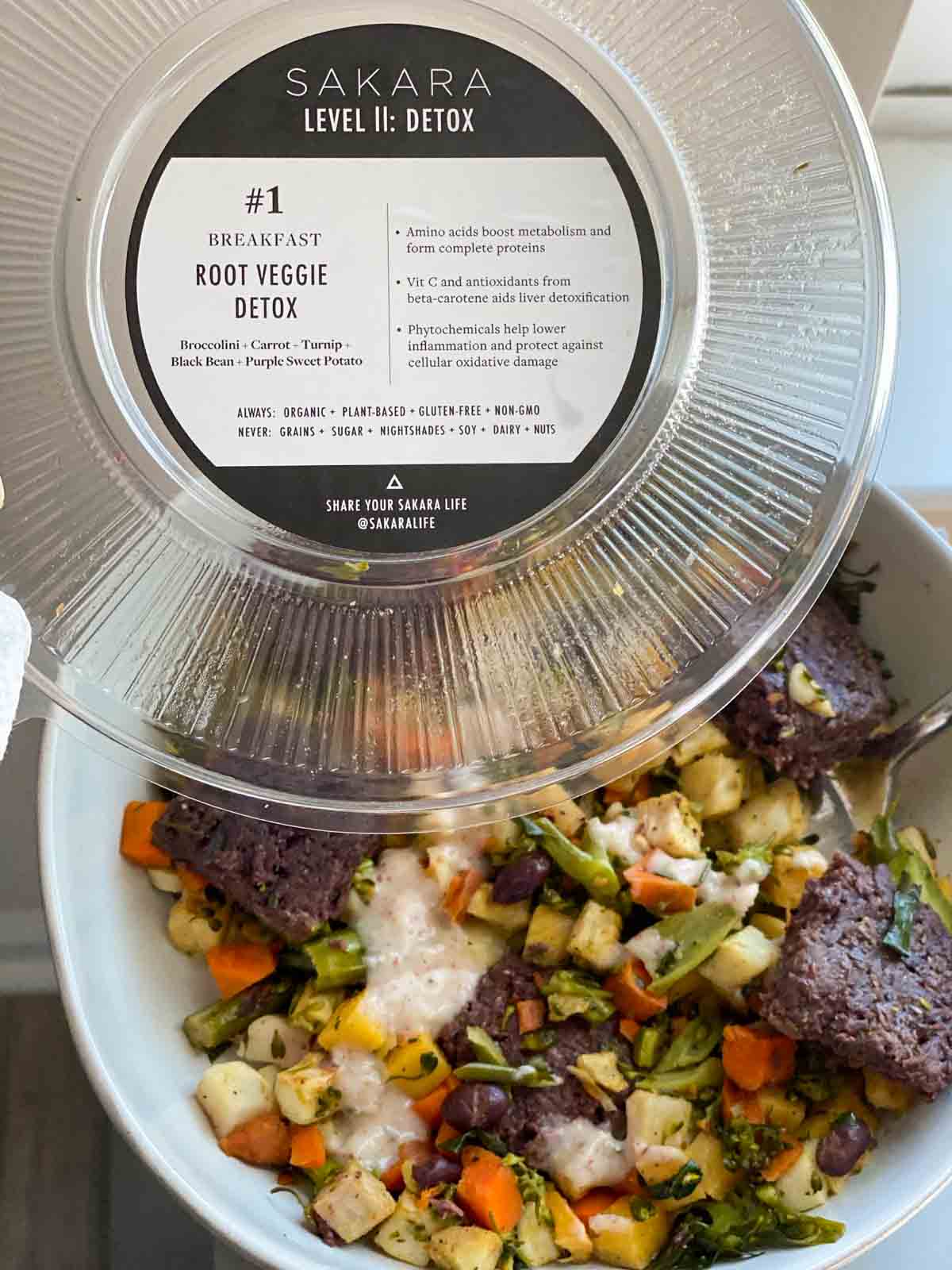 Lunch is purifying cabbage dumplings with a healing galangal broth. The dumplings are filled with herbs and broccoli. I honestly was still full from breakfast so I didn't eat this until almost 2pm, and even though it seems like a small meal it was still satisfying.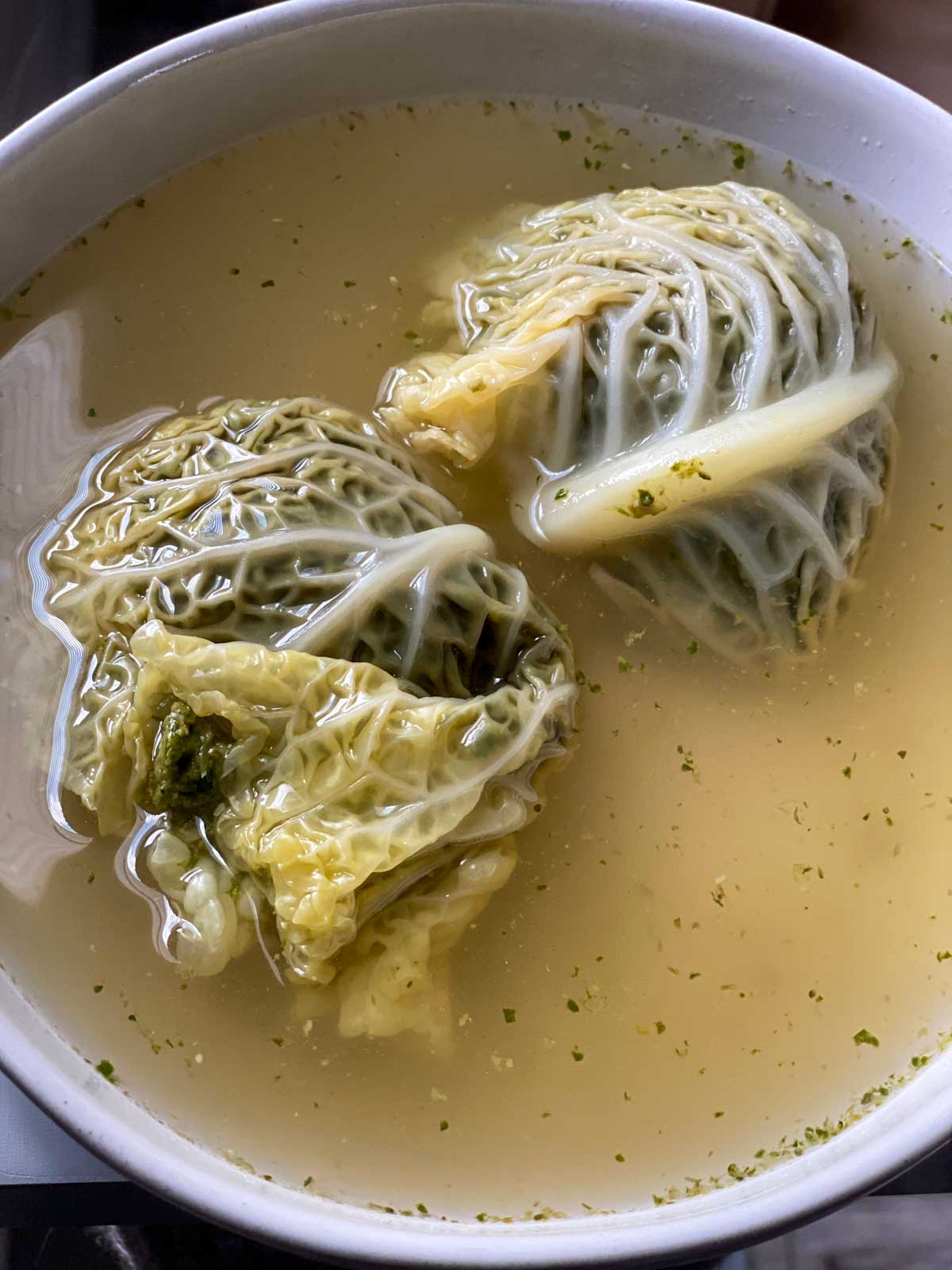 Each day between lunch and dinner you have a probiotic coconut kefir as a "snack." I had a tough time with the texture at first – I expected this to be more yogurt-like for some reason, so it was a bit like drinking water when you're expecting milk. Once I got used to it and knew what to expect, it was easy drinking.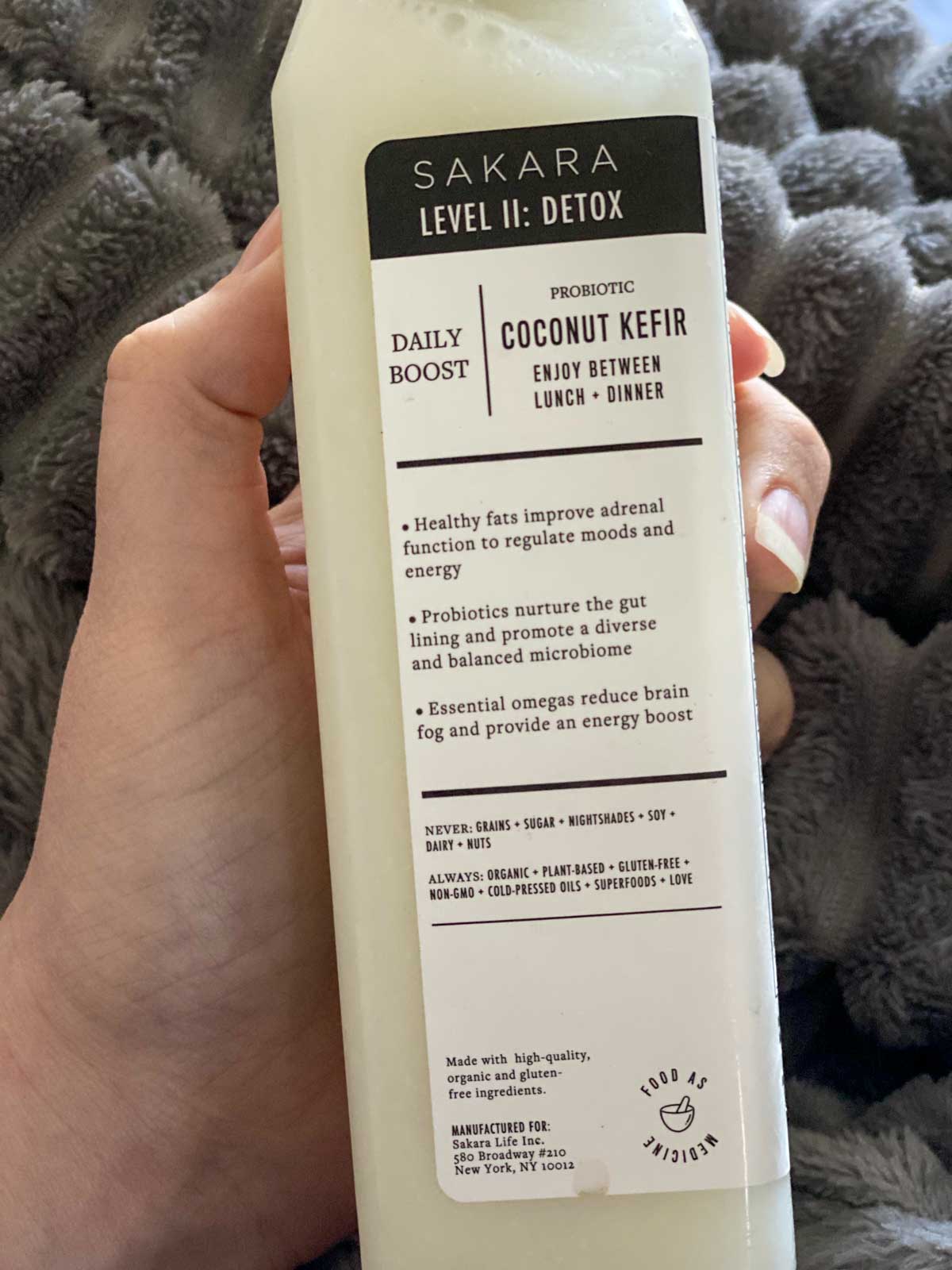 I'm normally hungriest at nighttime, so I pushed dinner as late as I could until about 8:30. I first did an hour of my sauna blanket and dry brushed before to help with detox, then showered.
I wasn't looking forward to the medicinal broth dinner but found I really enjoyed it! I somehow didn't get a picture of it but it looks just like a vegetable broth, but it's filled with 25 healing herbs, roots, mushrooms and MCT oil.
I realized I didn't drink the digestive tea in the morning (you're supposed to do it twice a day, two cups each) so I made some with dinner, and also took the nighttime pills. I went to bed early, mostly from boredom!
Day 2
I woke up surprised by the fact that I did not have a caffeine withdrawal headache – and that I slept 11 hours! At this point, I want coffee but I don't NEED coffee, which is a relief.
It was a good thing I wasn't really hungry because this breakfast I did NOT like – it was the only meal in this plan I couldn't finish. I ate just enough to finish my vitamins. Many people do seem to enjoy this cinnamon-chia-carrot parfait though, but maybe I'm just not much of a carrot person.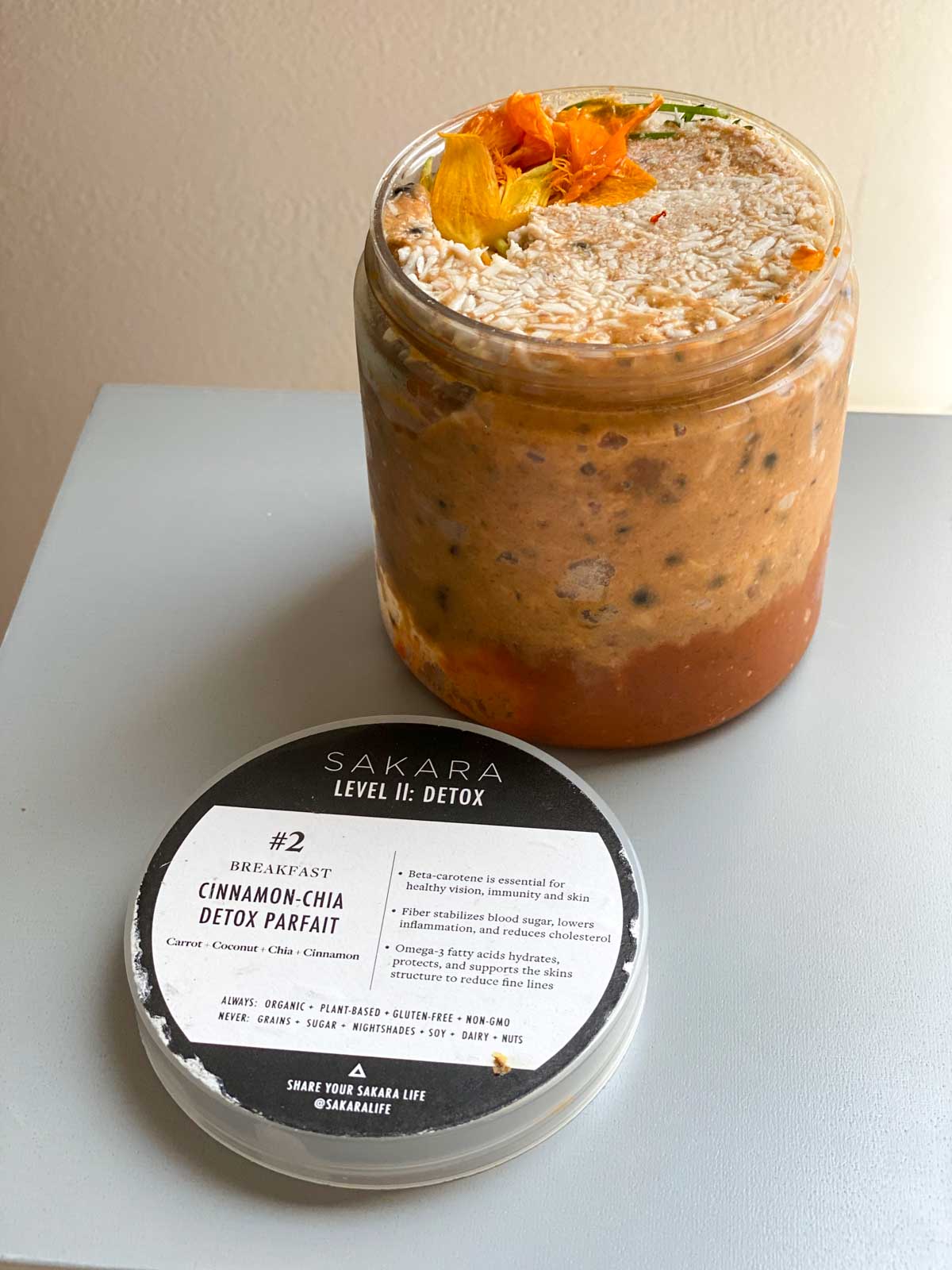 Luckily lunch was very good, the lemony pesto complemented the dish very well! They call it Hydrating Jicama Noodles with lemon herb pesto.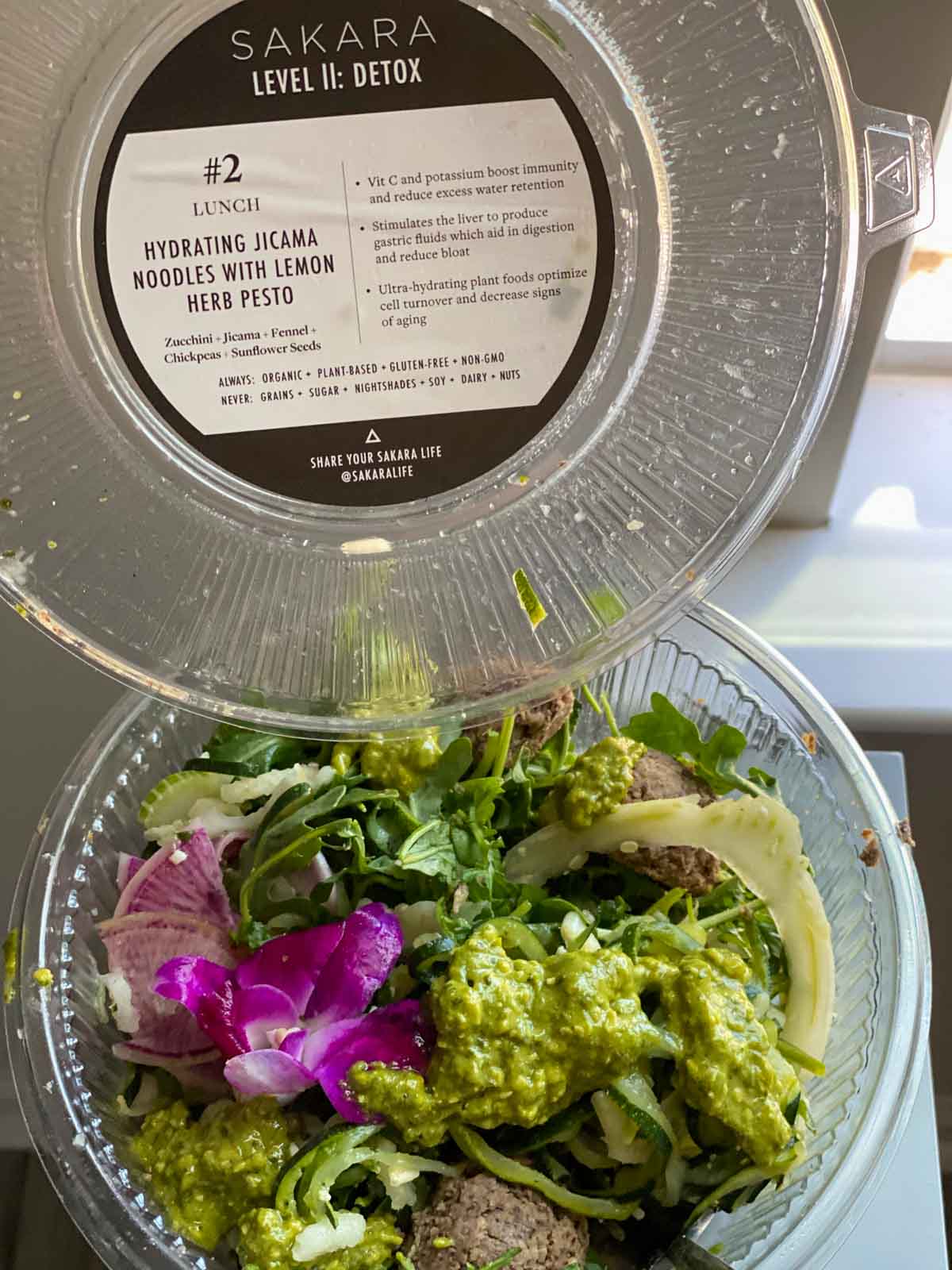 Same pattern on day 2 – you have a coconut kefir as a snack, and medicinal broth for dinner. I again realize I forgot to do the digestive tea in the morning, so I had the same routine as night 1 – dry brush, sauna blanket, shower, dinner, tea, bed.
Day 3
Day 3 was the hardest for me – I woke up with a headache, and was having to make frequent trips to the bathroom all morning.
Instead of running to my coffee machine, I made some mud water (a coffee alternative) for just a little caffeine – 1/7 the amount of a regular cup of coffee. This is the only way I "cheated" the rules of the detox but it greatly helped my headache and I have no regrets.
Because of my rough morning, I wasn't able to eat breakfast until early afternoon. I don't know if I was just so excited to eat, but I loved this breakfast! It was called a "Magic Mushroom Detox" and included a lot of sulfur-rich vegetables and something very similar to mashed potatoes but made from taro root.
It looked like I should heat it up but it didn't say to, so I ate it cold and was surprised how good it was.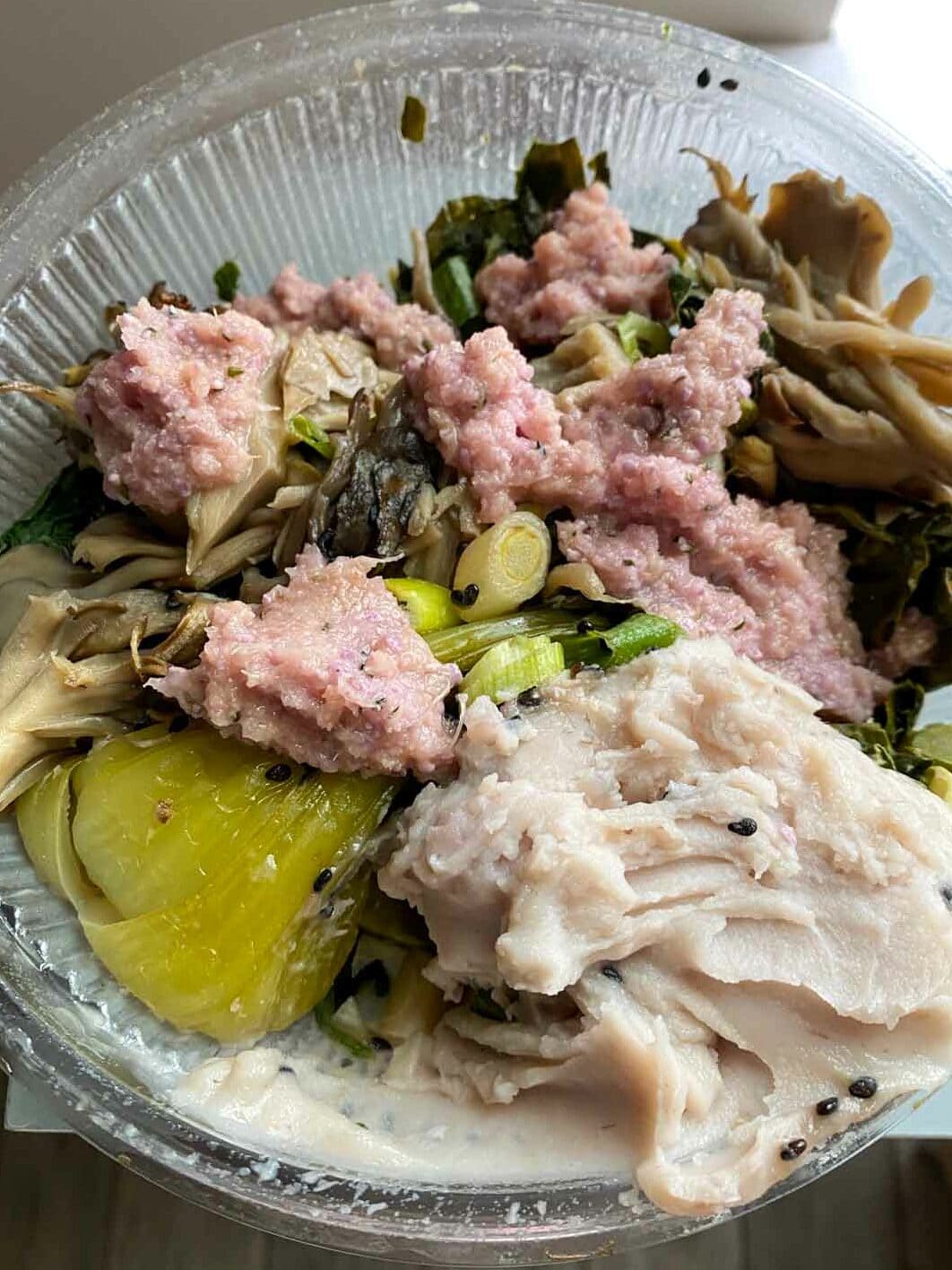 I had a much easier time the rest of day 3 because I had a shorter eating window to eat all my food.
Lunch was super filling – a rainbow kitchari with chia tortillas. I ate around 4 which made the rest of the evening smooth sailing.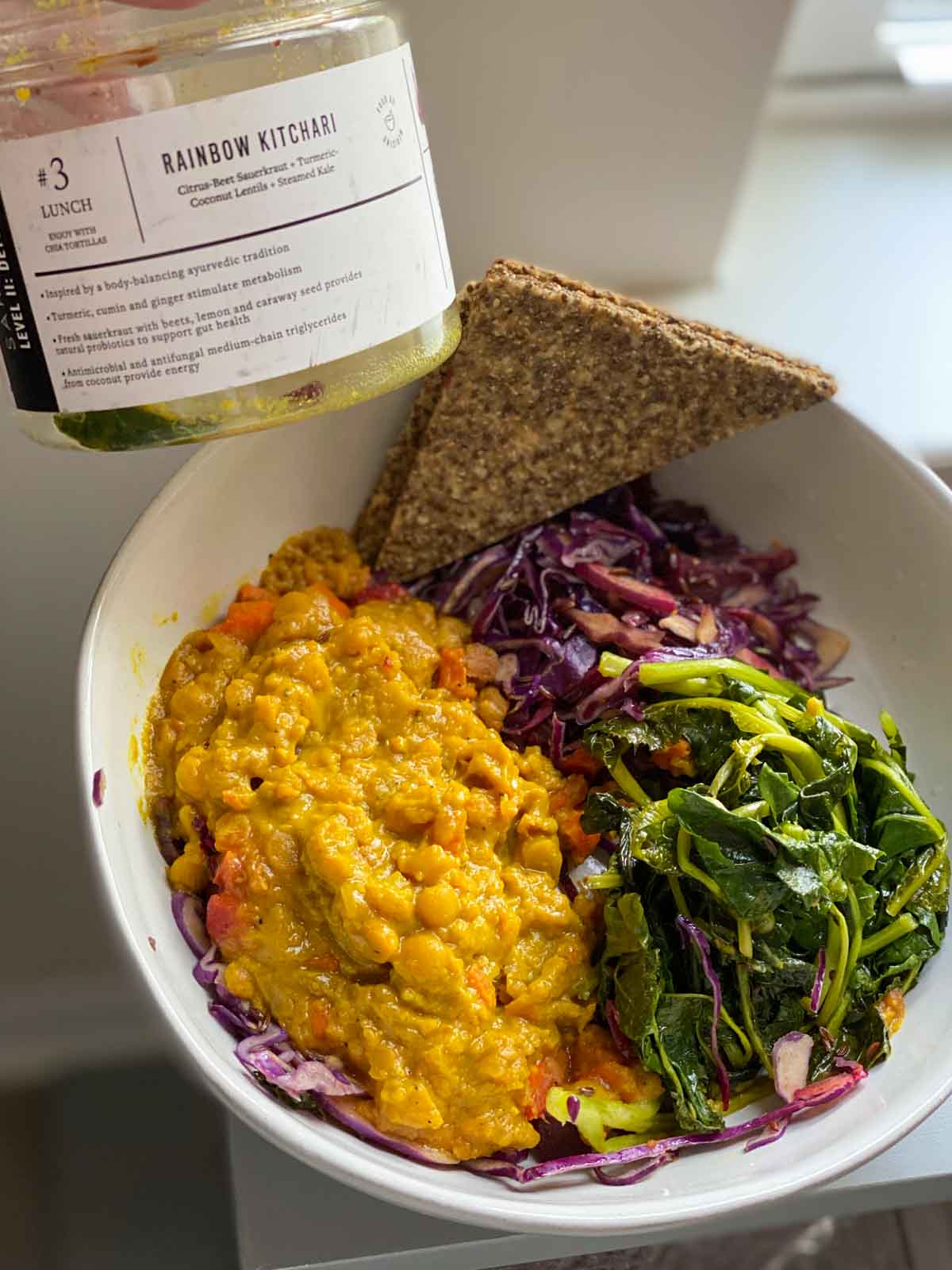 I did skip the coconut kefir on this day only because my schedule was delayed after the way the morning went.
Same routine for nighttime – dry brush, blanket, shower, broth, bed. I am nervous for tomorrow because day 4 is an all liquid day – something I don't think I ever intentionally completed.
Day 4
I have a surprising amount of energy all day! No headache in the morning but I still have a cup of Mud Wtr – it's a liquid so I don't feel as bad about it today.
This is everything day 4 includes:
Breakfast is a green juice, lunch is an alkalizing carrot ginger soup, have another green juice after lunch, coconut kefir before dinner, medicinal broth for dinner.
The only thing I struggled with this day is taking the vitamins – I usually have to take mine with food because I have trouble swallowing pills, so I did eat a stalk of celery when I needed help with the evening packs.
Surprisingly I did not get hungry this day – I actually had to force myself to finish some of the liquid because it didn't feel like my stomach could hold any more at some points! I miss solid food already but I know this is temporary.
My top tip for day 4 is to stay busy if you have energy like I did – this fell on a Saturday for me and I did so many home organization projects that I had been putting off, so I thought about food less.
Day 5
I wake up so excited to CHEW something. The last day of detox feels more like a regular Sakara meal day to me – no broths, all whole-food meals.
Breakfast is called a sunshine squash protein frittata. It was good but I wouldn't say this tasted like a frittata – at least how I make them. I'd say they're more similar to hash browns.
The pink sauce gets its color from beet powder.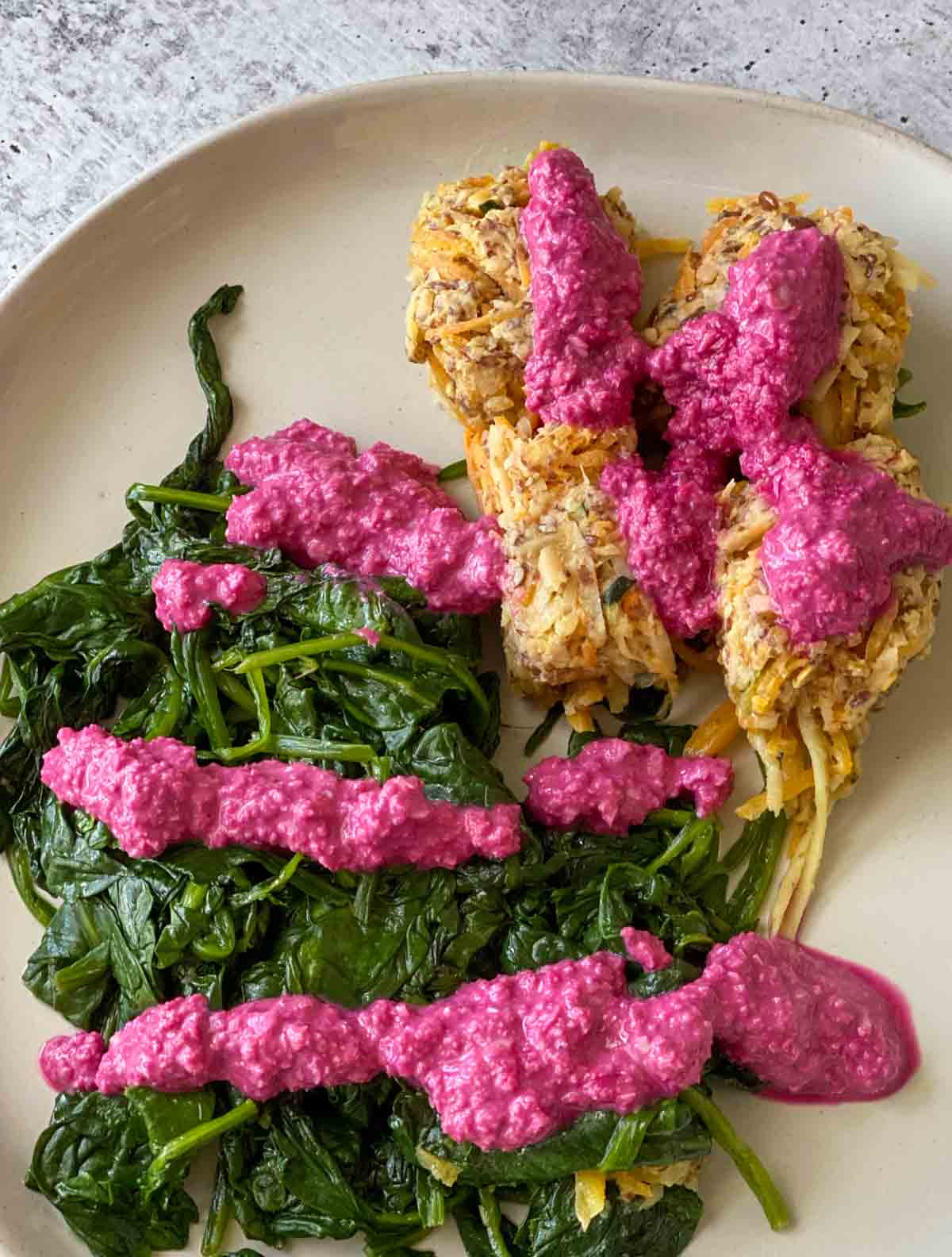 Lunch was a delicious salad with another pink dressing – it's labeled as a cauliflower + white bean burger but I'd call it a burger salad. Had a few root veggie fries on the side too.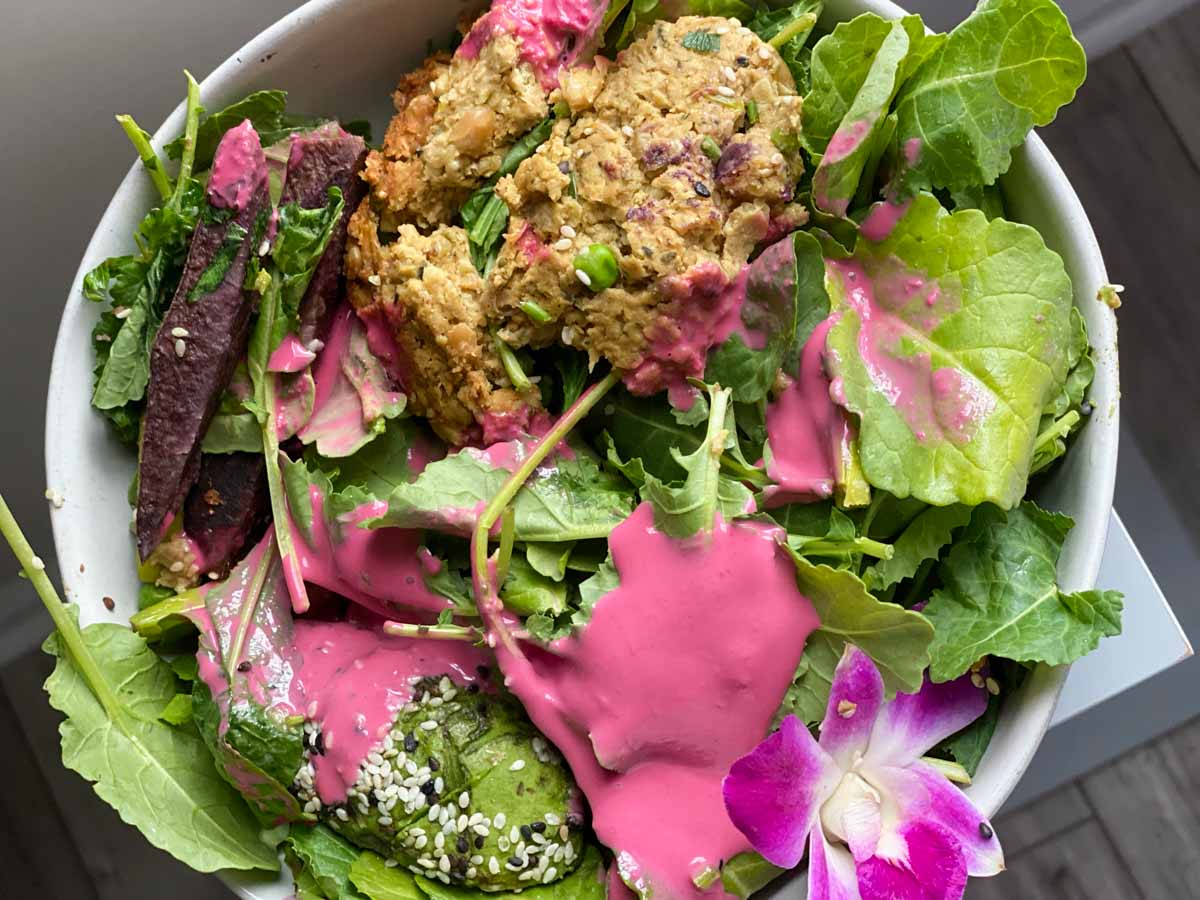 Probiotic kefir for snack, and dinner was called a "detox macro bowl". Had a lot of purple cabbage and topped with a thick avocado sauce.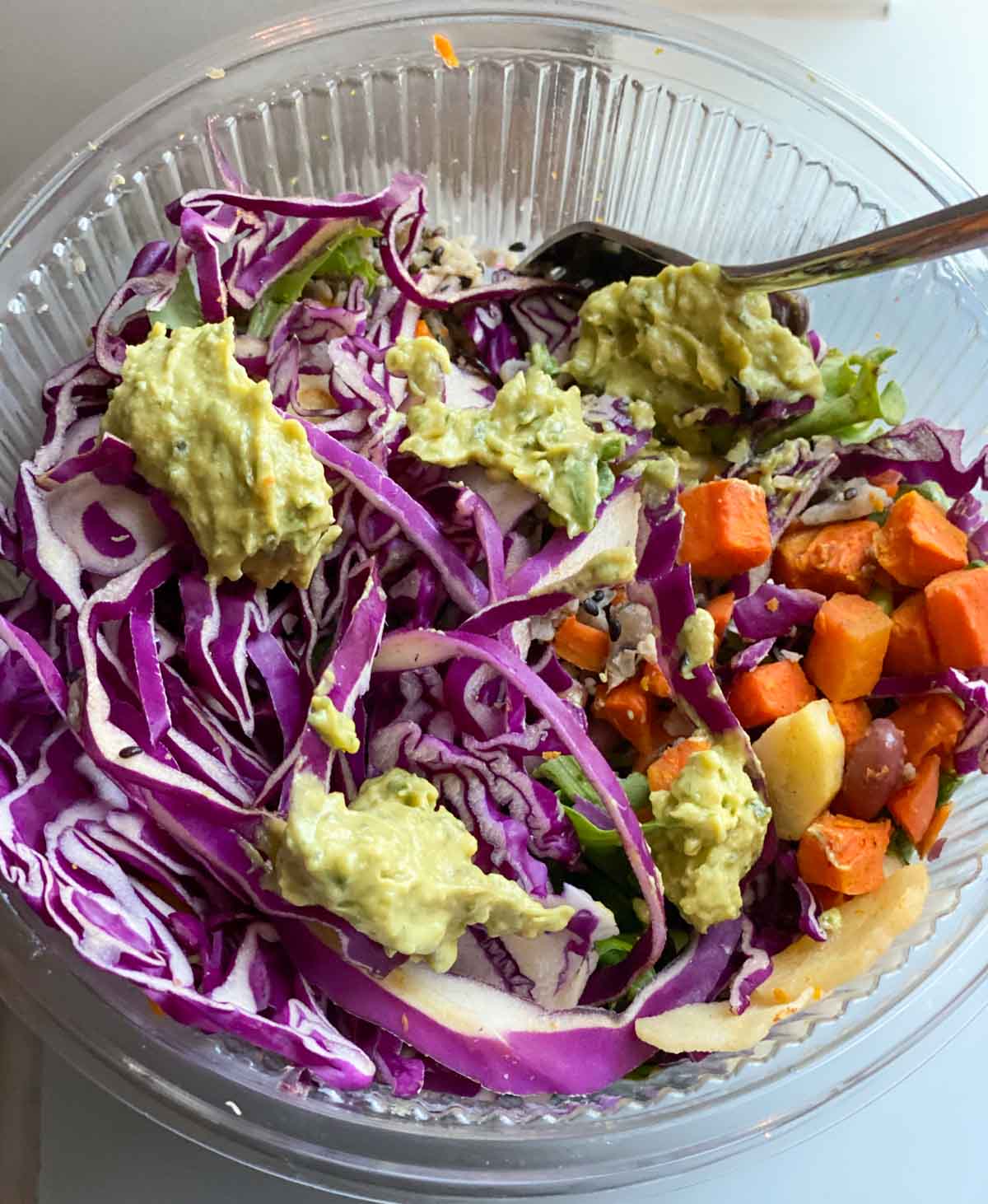 Detox Summary Thoughts
Overall, my experience with the 5-day detox went much smoother than expected! I did lose a few pounds, which has seemed to stay off more than a week later, and it really made me pay attention to my habits related to eating and drinking.
My digestion did feel like it improved afterwards as well – I think my body appreciated the break.
I honestly didn't feel hungry at any point, and I think this is partly due to the fact that I had done regular Sakara meals for a few weeks before starting the detox. I highly recommend doing that before, to get your body used to a plant-based diet.
I'll say I was most tempted to snack when I was bored, and I almost convinced myself to not wait for a glass of my sugar-free wine – but the only way I "cheated" was with a slight amount of caffeine from the Mud Wtr drinks.
My top tips for doing this cleanse is to decide why you're doing it (will make it much easier to stick with), choosing a week where you don't have too many important projects or places to be, and doing regular Sakara meals (or a heavily plant-based diet) for a week or two beforehand.
And yes, you can use the discount code XOTRIALANDEATER for the Level II plan too, it applies 20% off any first purchase! That's a great one to use it for as it is the most expensive plan.
The Other Sakara Products AKA "The Clean Boutique"
In addition to the meal plans, they have a full line of other supplements and snacks in their clean boutique.
My first order included their "best-sellers" package which is a box of their detox bars (my favorite), a jar of beauty chocolates, super protein powder and dark chocolate granola.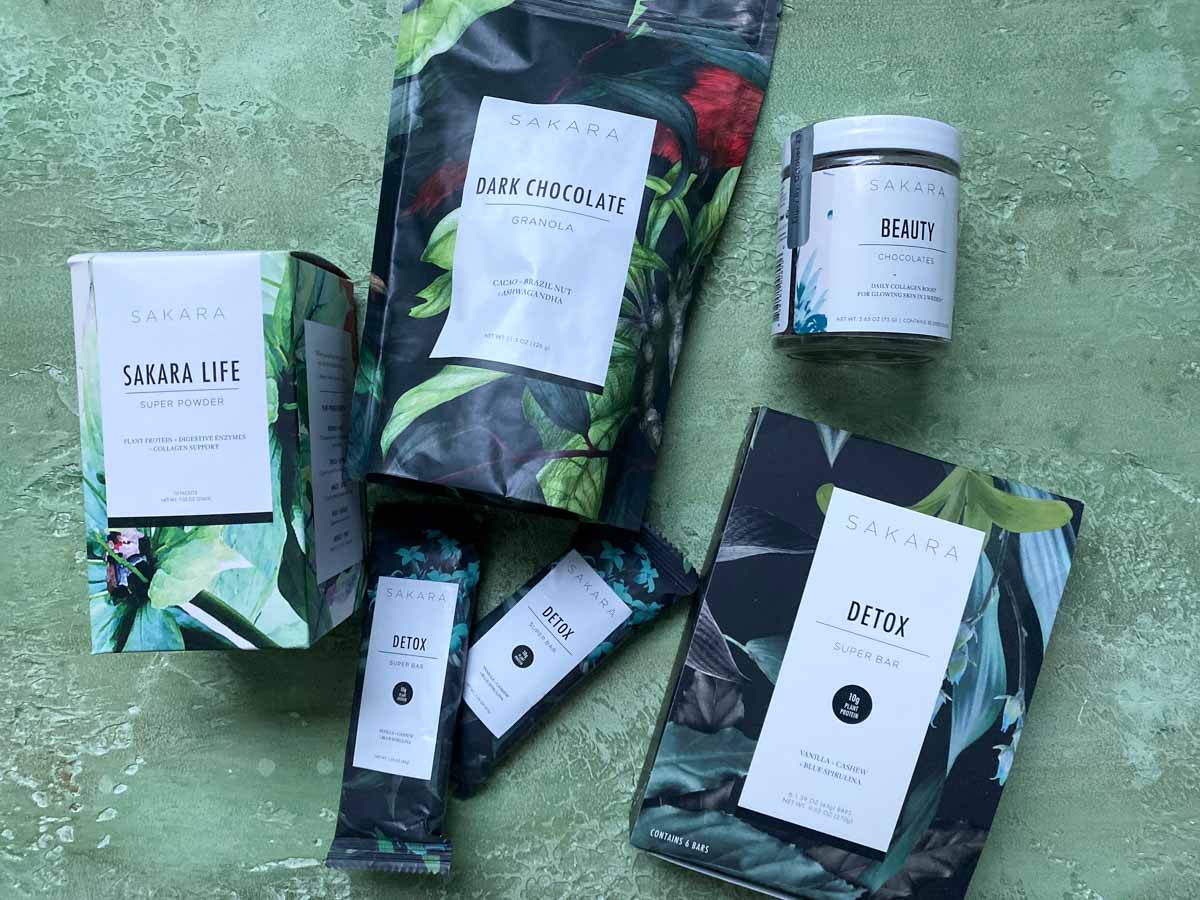 Going forward, I will definitely order their detox bars again (as well as trying their beauty bars), but I'm not a fan of the granola.
The protein powder seems great but it does have a 1% stevia blend in their coconut sugar and I try to stay away from stevia. Their beauty chocolates are a nice small snack.
Detox bars look a little weird – I'll be honest, they look like play-doh at first glance. I personally love these, but they are an acquired taste. The good news is that this has a good chance of being included as a sample in your meal order, so you can try them out before ordering a full box.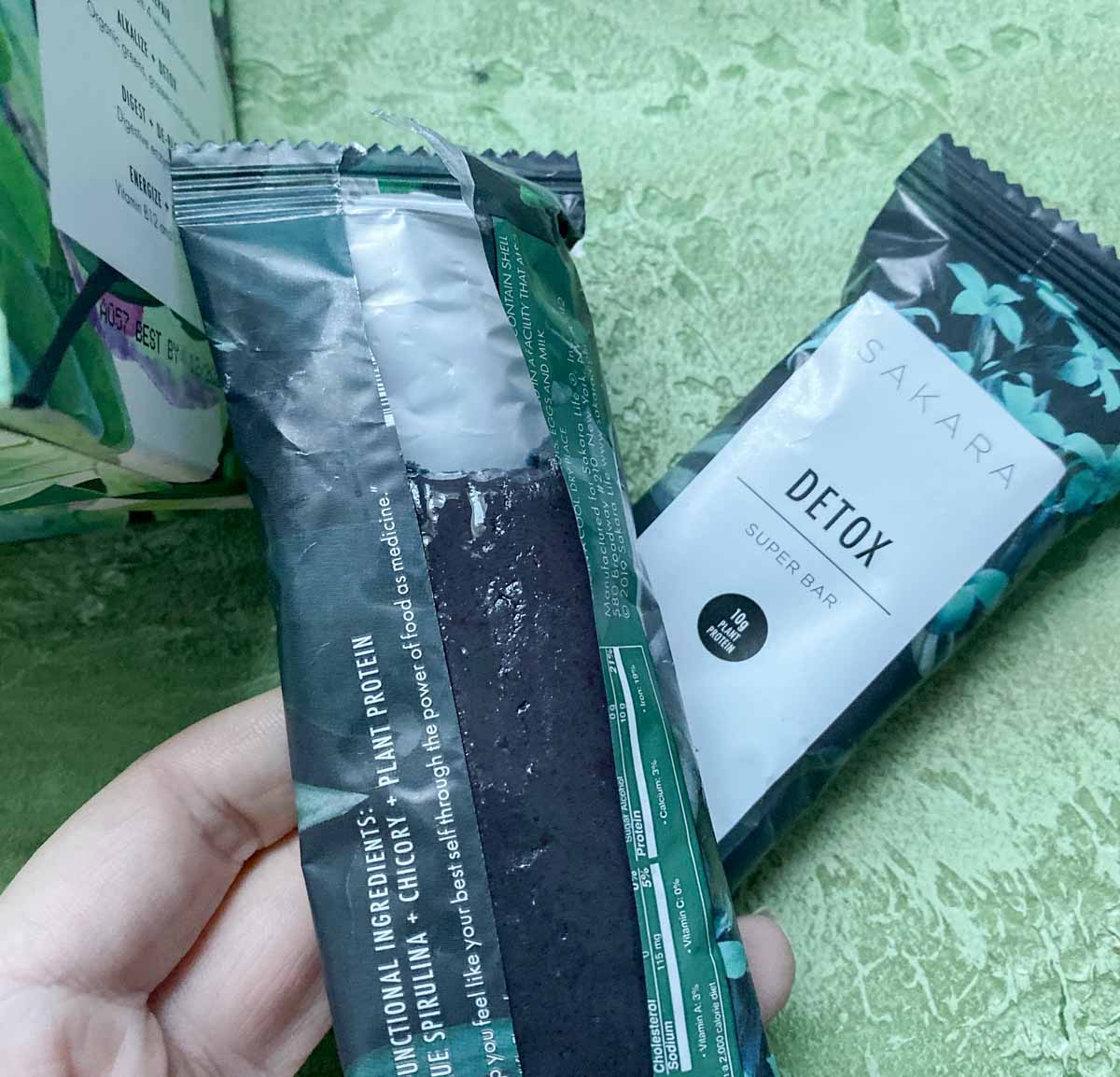 Funny story about the sleep tea – it has catnip in it, and when I was brewing it for the first time my cats were walking around the house with their nose in the air trying to figure out where the smell was coming from!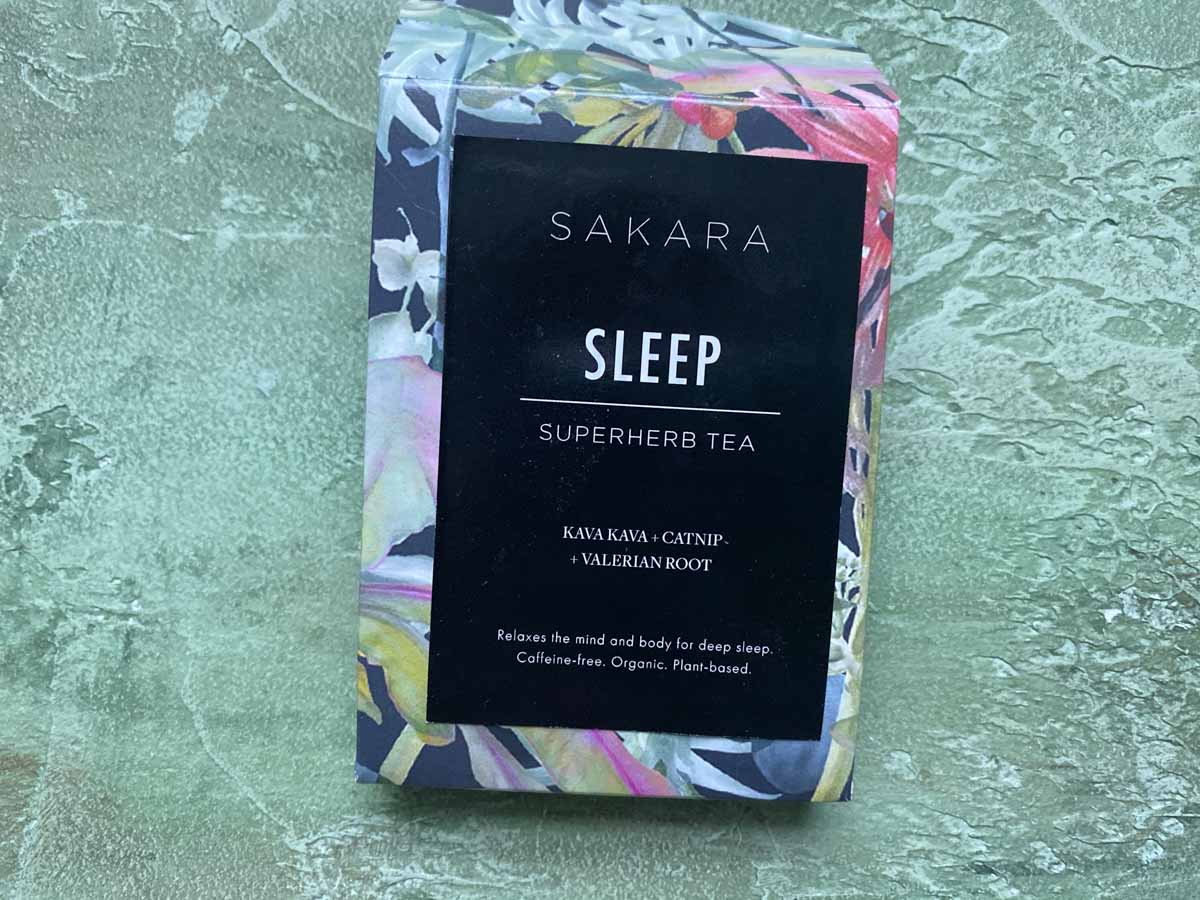 Two more of my favorite boutique products are the beauty water and the detox water. You can add these as your complimentary weekly item if you are a subscriber, or purchase a larger bottle on its own.
The beauty water is a dropper of 72 trace minerals and the detox water is full of liquid chlorophyll!
Use the discount code below at checkout to get a special 20% off your first order at Sakara.com!

Sakara Review Summary
Overall I love the taste and quality of the food from Sakara. The price is similar to ordering take-out food, and obviously much healthier.
The meals are super creative and not something I felt like I could have recreated at home myself, so that makes me feel like I get my money's worth. Sakara also gets bonus points for being fully ready-to-eat rather than sending ingredients you have to cook yourself, which obviously saves time and energy and is worth $$ too.
You do need to heat up some of the meals for 5 minutes or so, but mostly they are fully prepared and ready to go.
Every season or so they will have a week of "Sakara's favorites," so keeping an eye on when they offer that would be a great time to try it! If price is a factor, you can always start with just a few meals to see if it's worth it to you. The most basic plan you can do is a 2-day, 2 meals per day plan. Though since you only get a discount on the first order, that's your best deal overall to get any many meals as you can!
Once I started ordering more Sakara meals I really noticed how great I was feeling, and it takes so much stress out of what I"ll be eating. It also prevents me from making bad take out decisions, which can definitely add up to be more than a Sakara meal – and usually not nearly as nutritious.
A gift card for Sakara also makes for a great gift for your health-conscious friends as there are so many wellness options to try.
Sakara is one of my top picks for favorite vegan meal delivery services, the only real downside being the price point. The food is of the highest quality and you really can't beat the taste and nutritional profiles of their creative plant based food!
Coupon Code for 20% OFF Your First Order at Sakara Life
Remember – my readers can use the promo code XOTRIALANDEATER to save 20% on your first order! Be sure to enter this at checkout.