This post contains affiliate links, which means I may receive a small commission if you make a purchase after clicking on my links.
A review of the plant based, organic meal delivery service from Sakara.com! Sakara Life is not just a food subscription company, they also offer many other products like detox snacks, protein powders, superfood chocolates and more wellness products. A female founded company that believes in plant powered nutrition. Read more about them and get an exclusive discount code here!
Ready to buy and don't need to see the review? Use the discount code below to save 20% on your first order!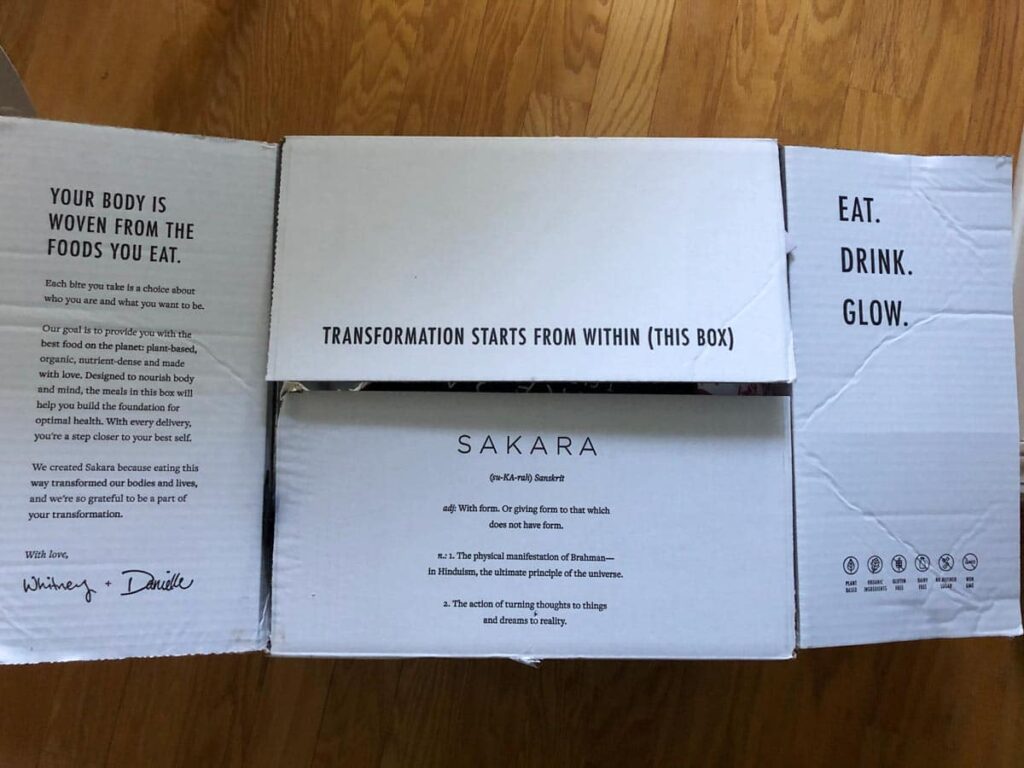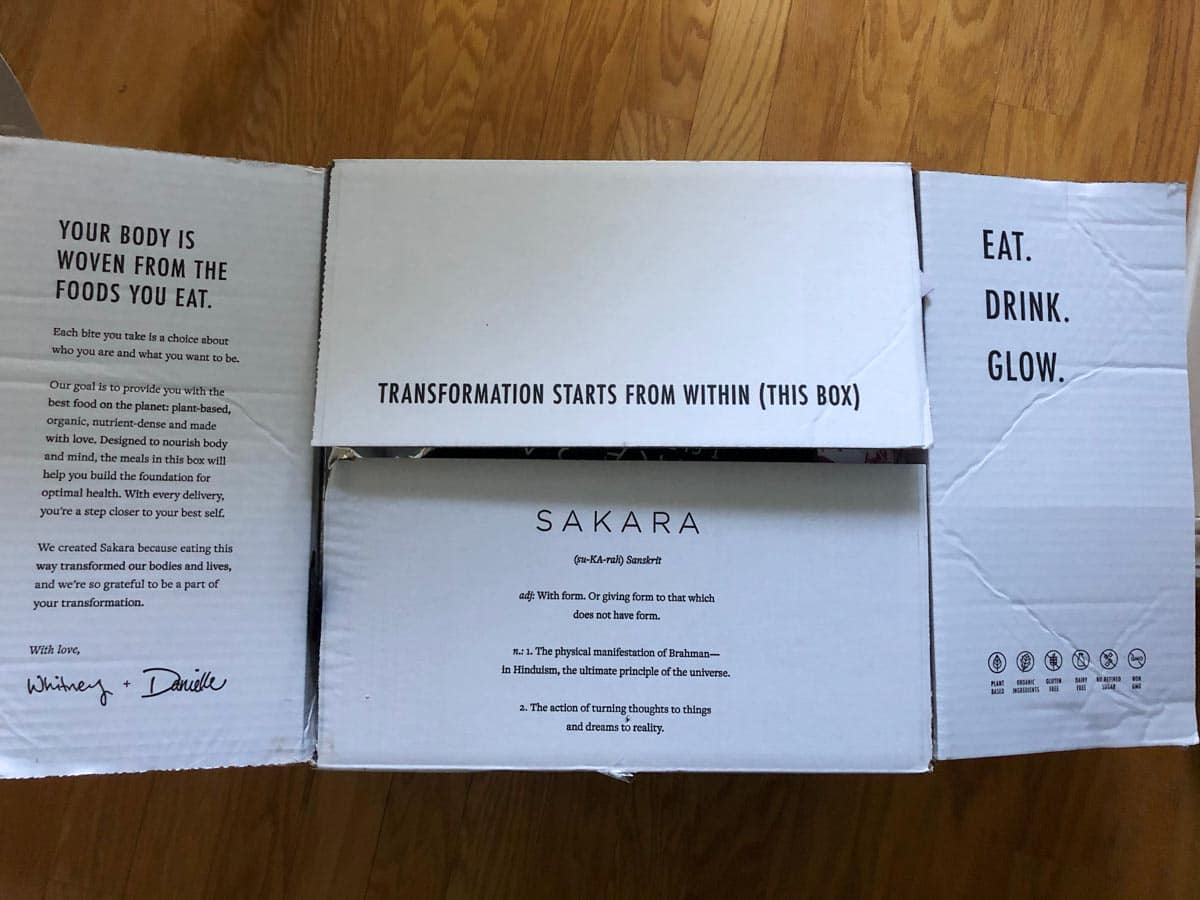 What is Sakara?
Sakara Life is a 100% plant-based, organic, ready-to-eat meal delivery company focused on foods that offer life-changing nutrition and clean ingredients. They have a strong team that develops their menus based on science and goes by what they call the "9 pillars of nutrition."
Sakara's 9 Pillars of Nutrition
These foundational concepts are what Sakara is built on – much of which as to do with eating a healthydiet of variety, eliminating processed foods and not restricting yourself.
No Calorie Counting
Plant Protein
Eat Your Water
Greens
Good Fats
Eat the Rainbow
Nutrient Density
Sulfur-Rich Veggies
Body Intelligence
In addition to the meal programs they offer, they also have a shop full of other wellness products to help supplement your lifestyle.
Female Founded Company
Sakara was created by two best friends, Danielle Duboise and Whitney Tingle. They were both on a journey to increase their gut health by focusing on unprocessed, nourishing foods.
Once they started creating these wholesome meals they started to share with friends and family locally in New York, and then their delivery service grew from there.
The Meal Plans from Sakara
Their ready-to-eat meals programs are 100% plant-based, gluten-free, organic, superfood-rich, and oh so creative!
They offer a 2-day, 3-day or 5-day signature program (known as Level 1) as either a one-time purchase or a recurring subscription. You can also choose to to include 2 or 3 meals a day out of breakfast, lunch, or dinner.
They also have a Total Body Reset and a full Detox plan (known as Level 2, offered once a month) as well as a 20-day program for brides.
I tried their 3-day program back in 2019, and this summer (2021) I decided to try it again more consistently. So far, I've ordered 3 more weeks of meals, with plans to do their Sakara Summer Favorites next week, and the Level II Detox the following week at the end of June. Will update this when I have completed!
Example Week 1 : 3-day
The first week is an example of a 3-day program, which comes a full meal plan – 9 meals for 3 days, including breakfast, lunch and dinner – plus detox tea, a daily probiotic and a small welcome bag with an intro to Sakara Life guide, a sample from their clean boutique (mine was an energy bar and some sleep teas), and palo santo.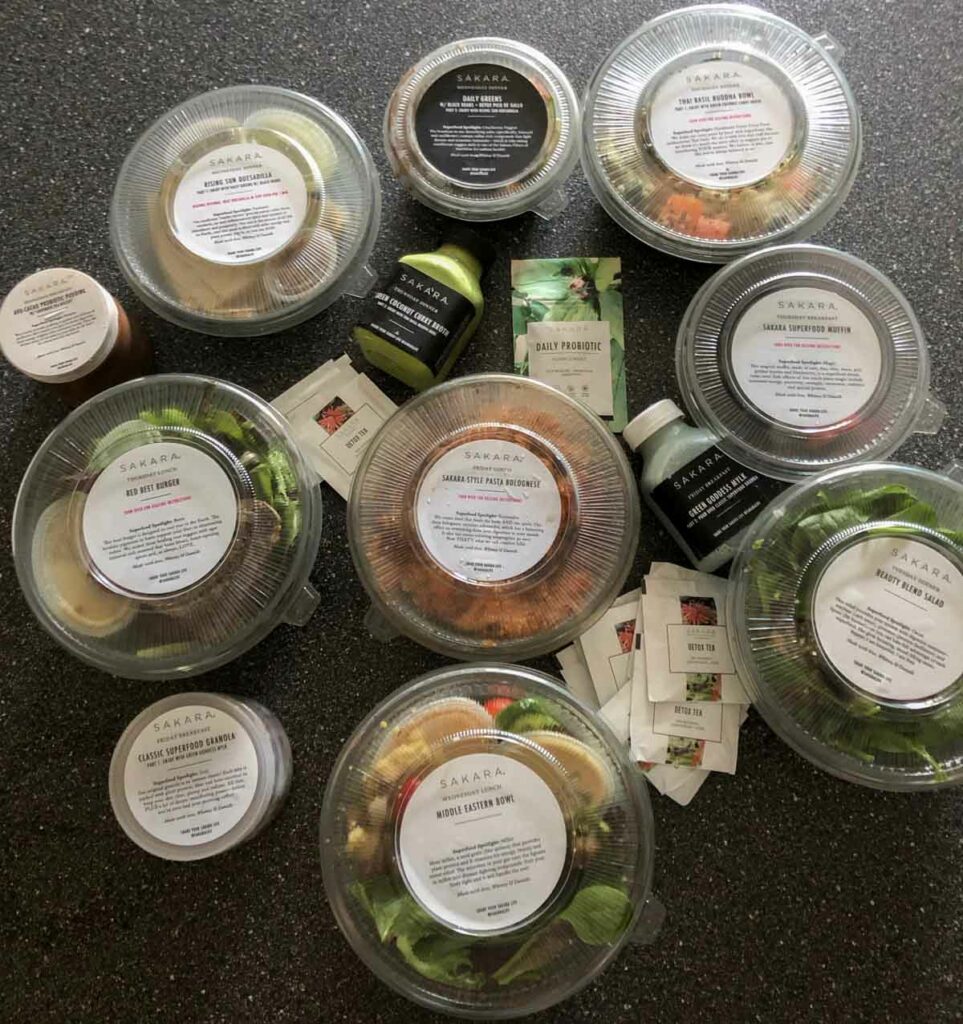 Since I received my meals on a Tuesday, everything was planned for Tuesday evening through Friday lunch. (Note I only had the first 3 of each option in the menu below, since I did the 3-day plan instead of the 5-day.)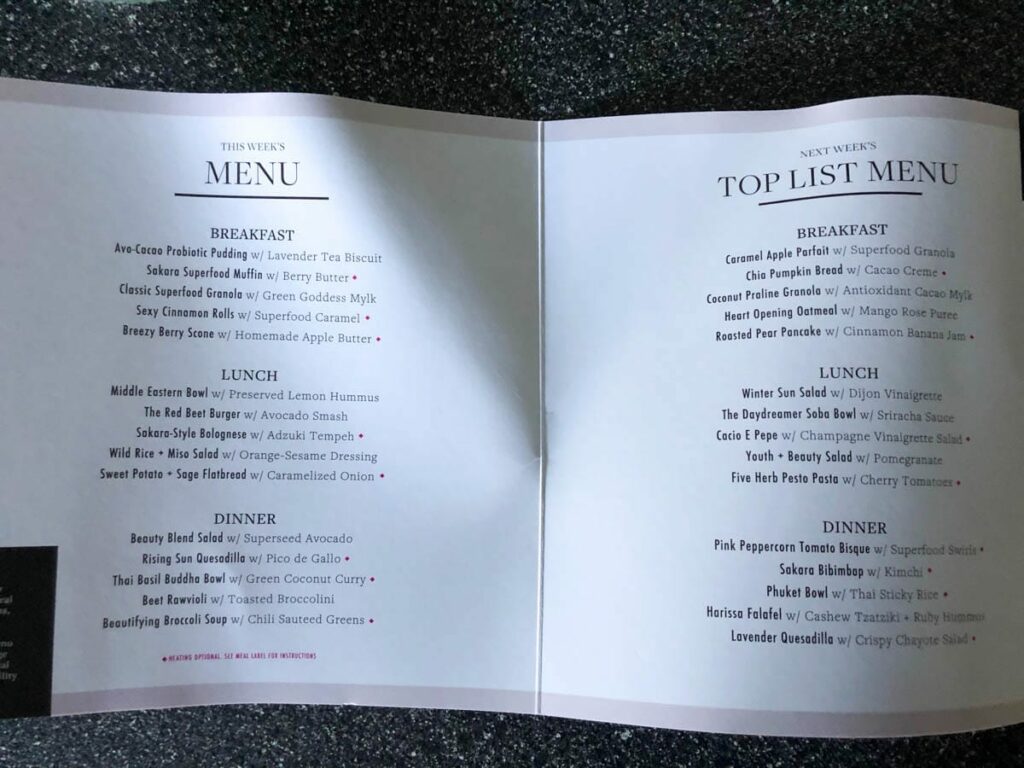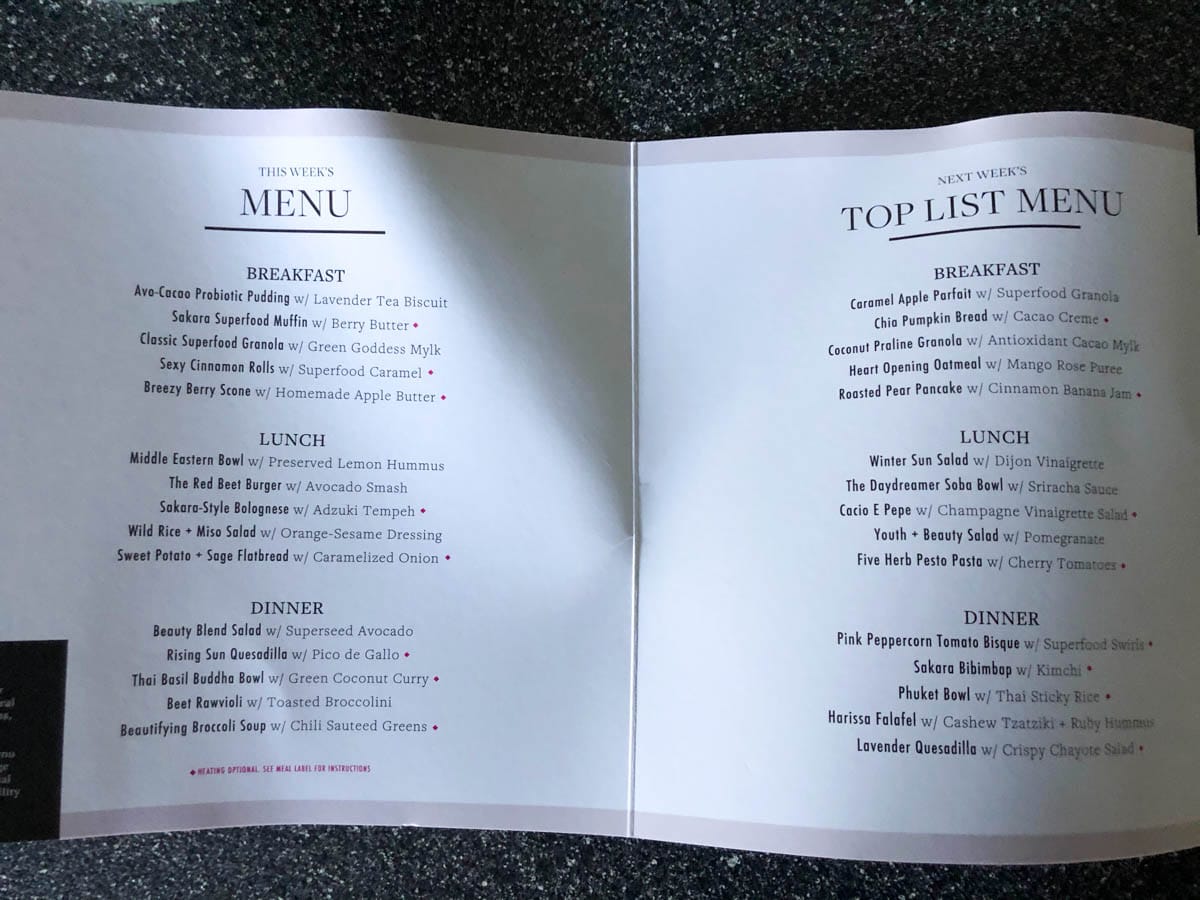 My favorite breakfast: I actually loved all 3 of the breakfasts I received – avo-cacao pudding, superfood muffin and the superfood granola with green goddess mylk.
If I had to choose, the granola + green goddess mylk would be my favorite out of these three. I'm not usually a huge granola person, but that green goddess mylk made it into more like a cereal and was so good!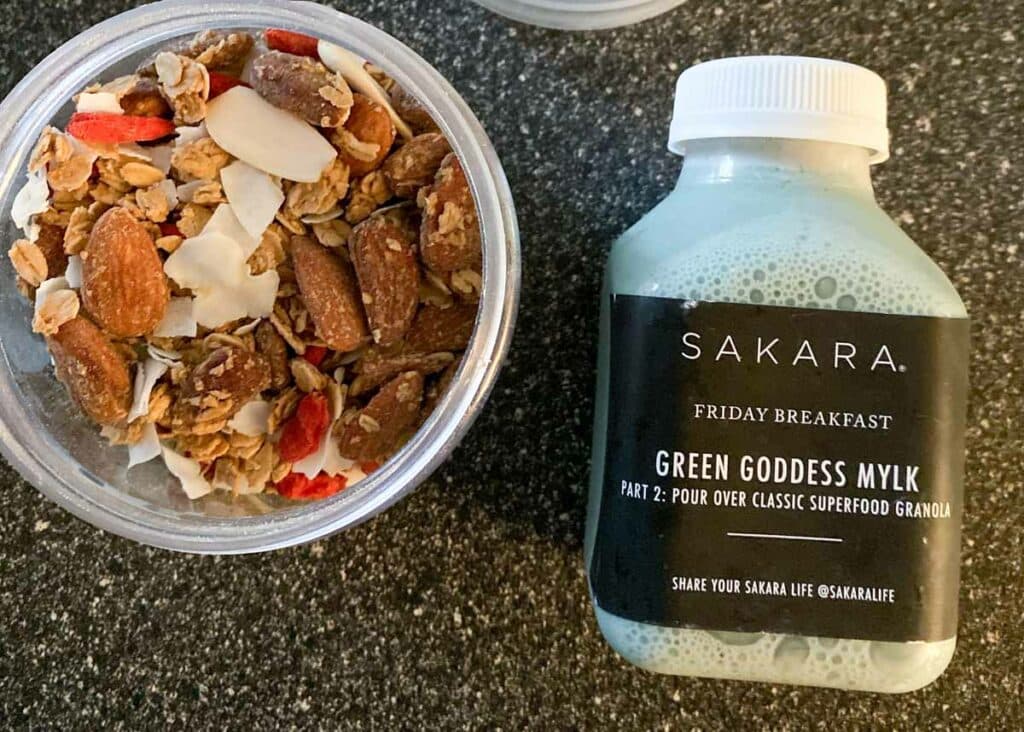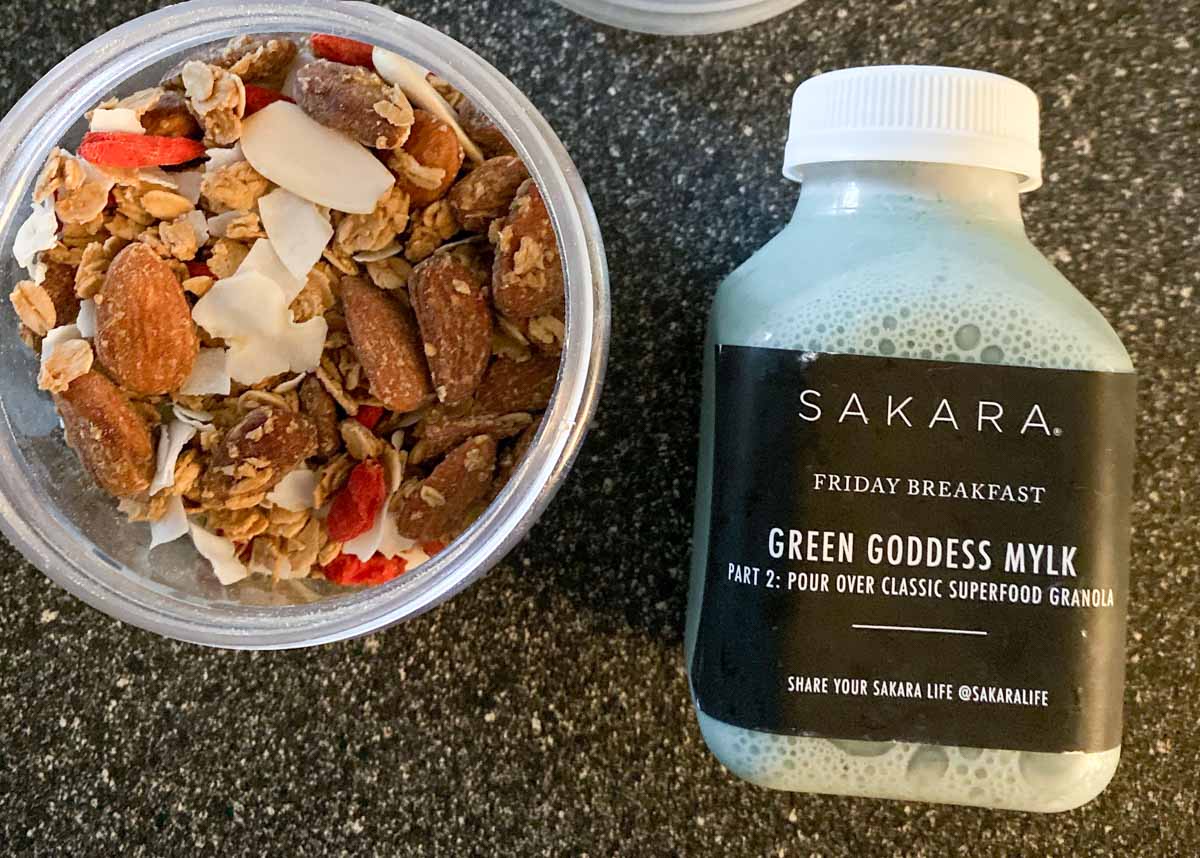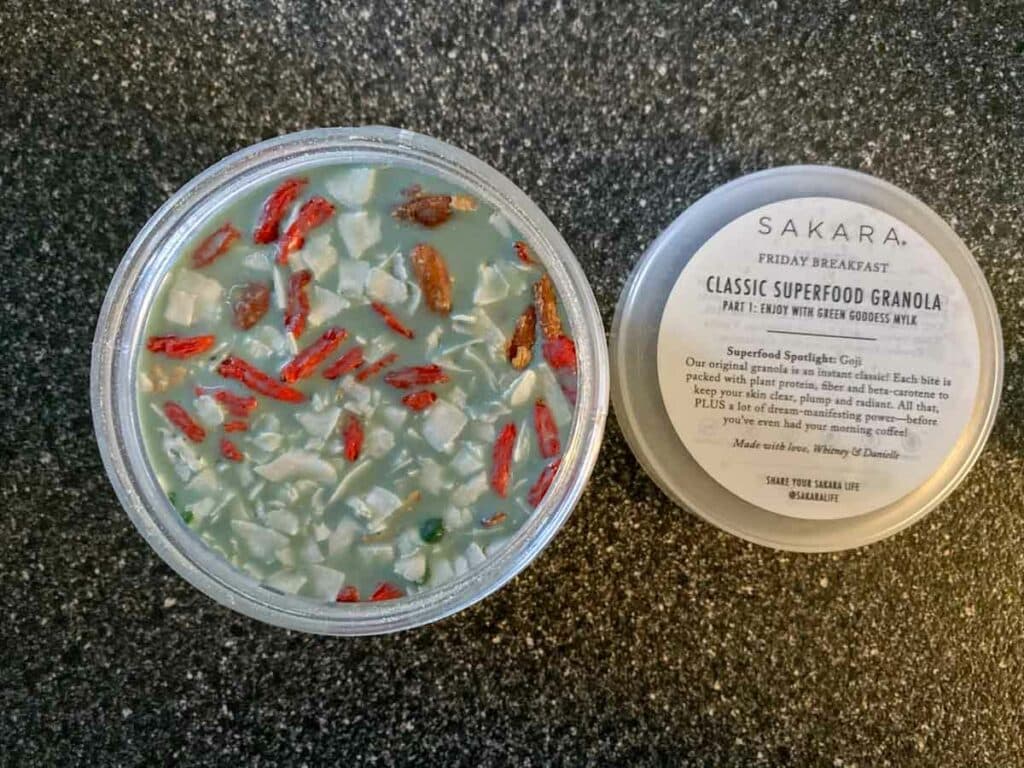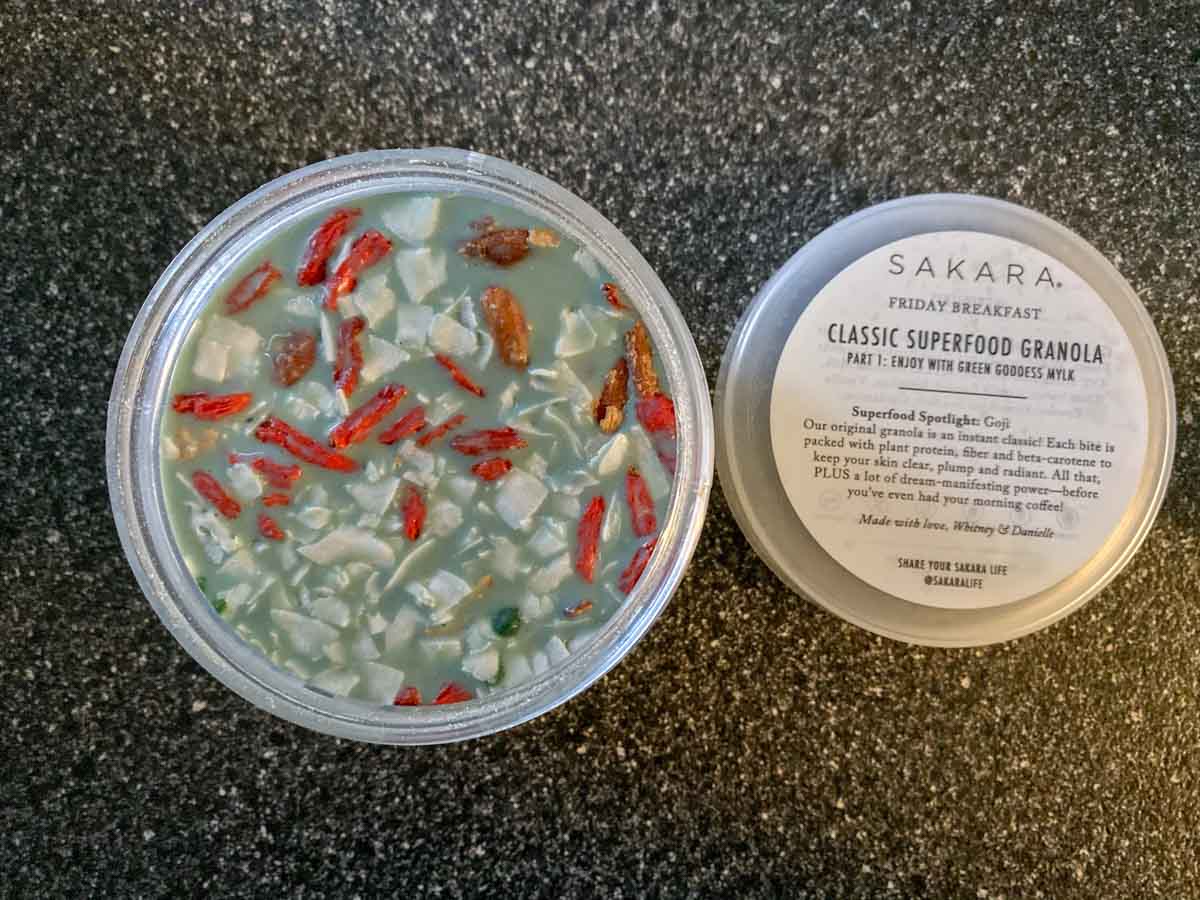 The Superfood muffin with strawberry "butter" was super good (and pretty!) and the avo-cacao pudding felt like an extra special treat.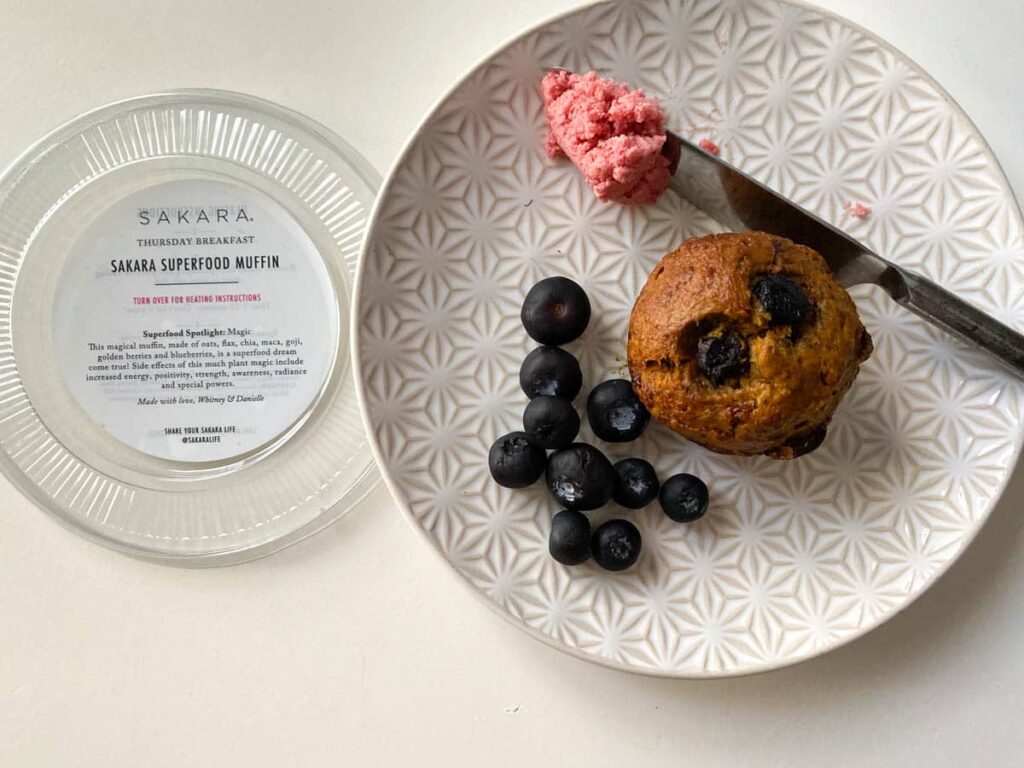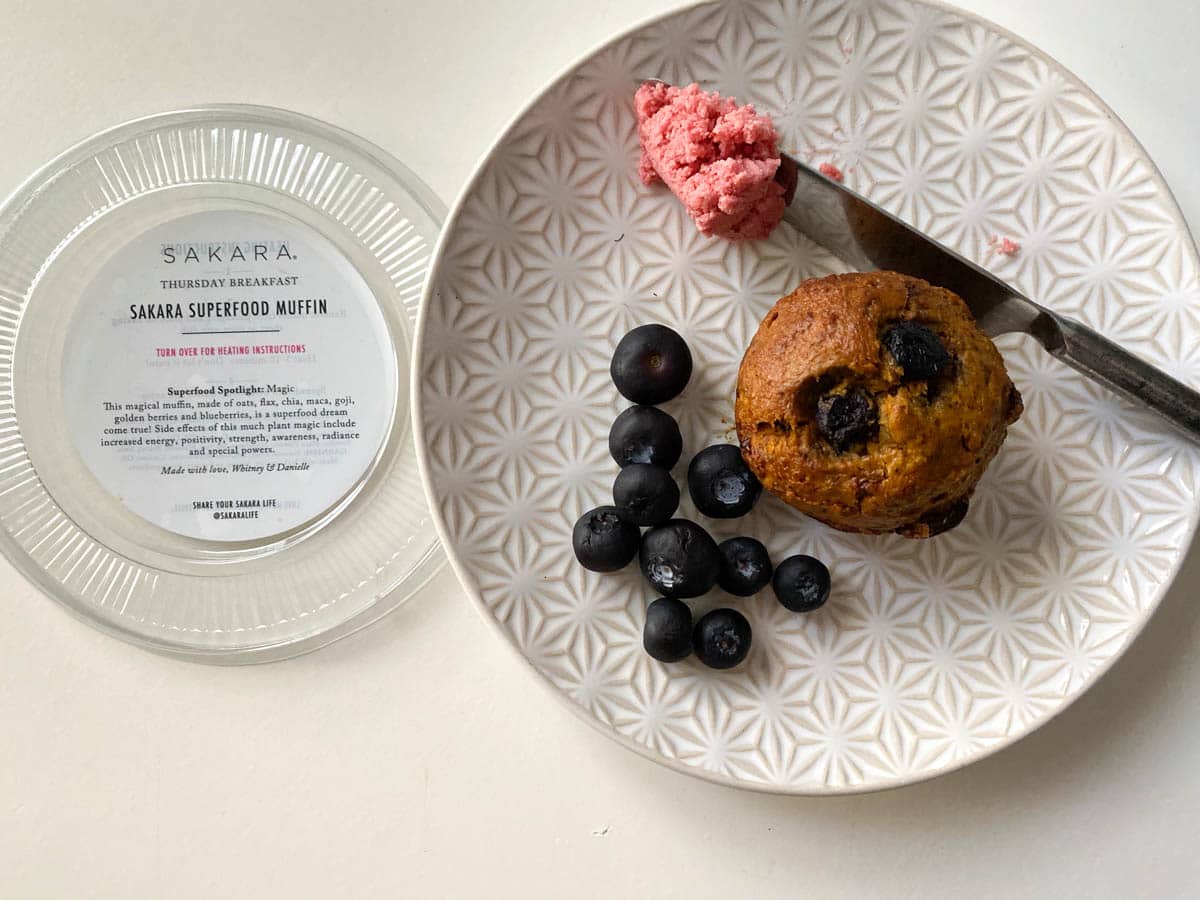 My favorite lunch: Probably the pasta bolognese. It was made from a lentil pasta. It tasted slightly flowery at first which I'm not sure why, but it was very good.
The Middle Eastern bowl was a nice big salad and the red beet burger came with a big one too – and all the salad dressings I tried were AMAZING. These made it easy to "eat my greens" for the day.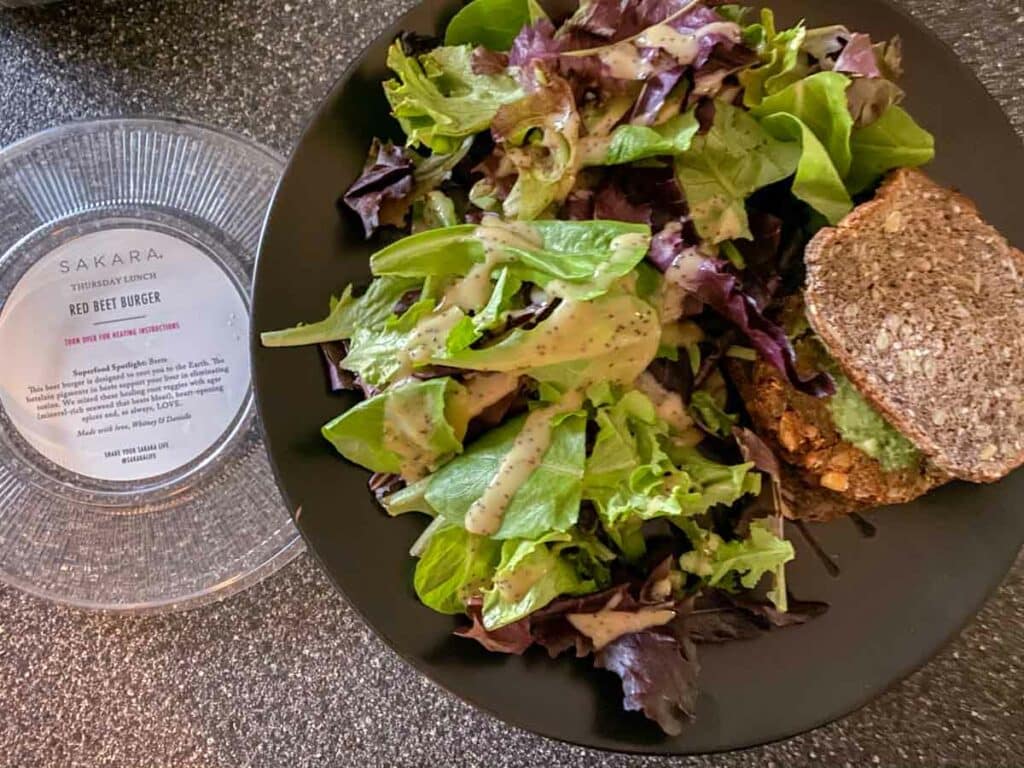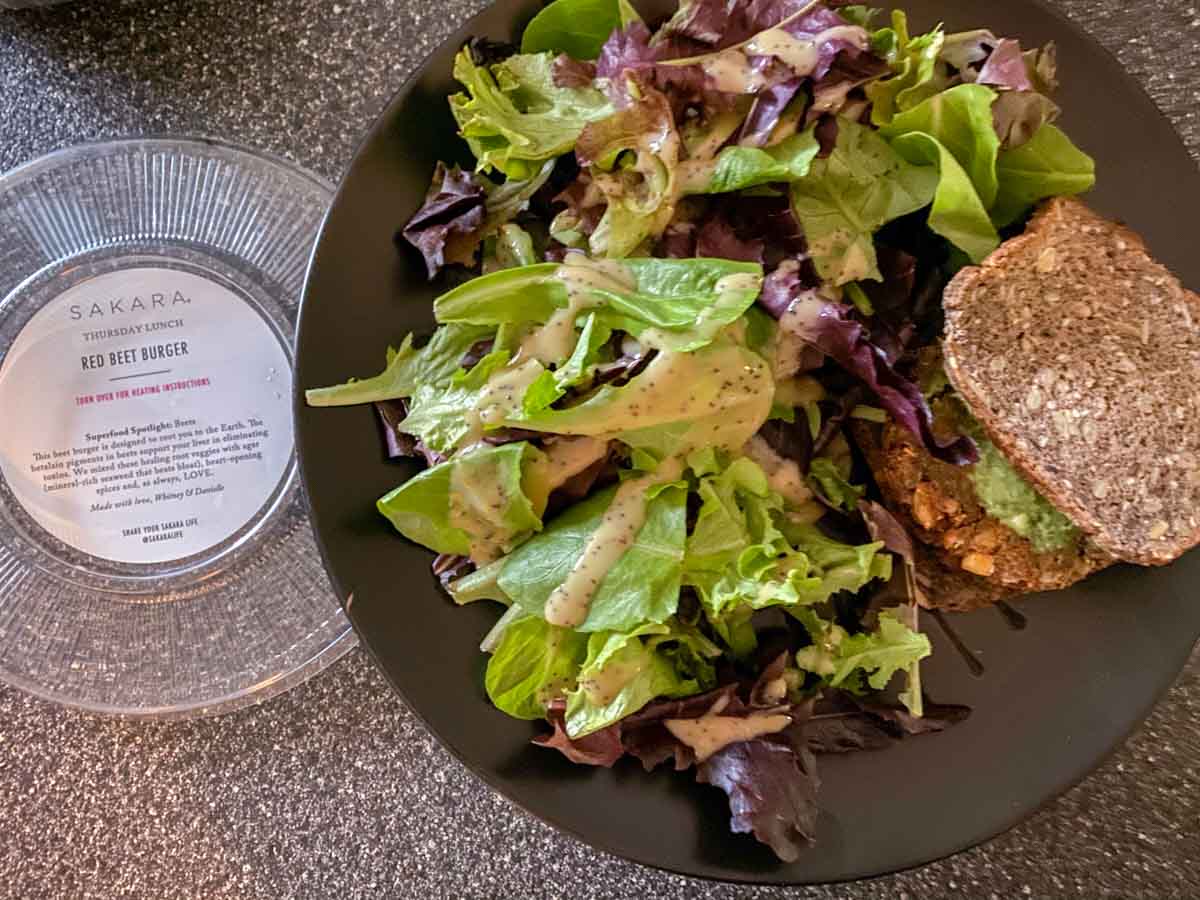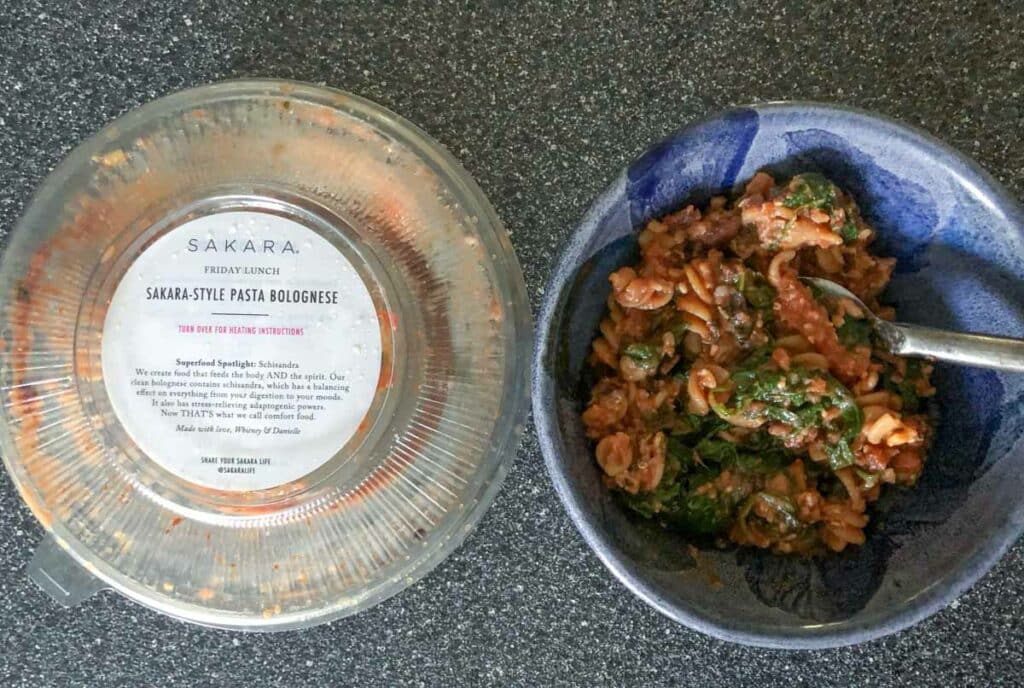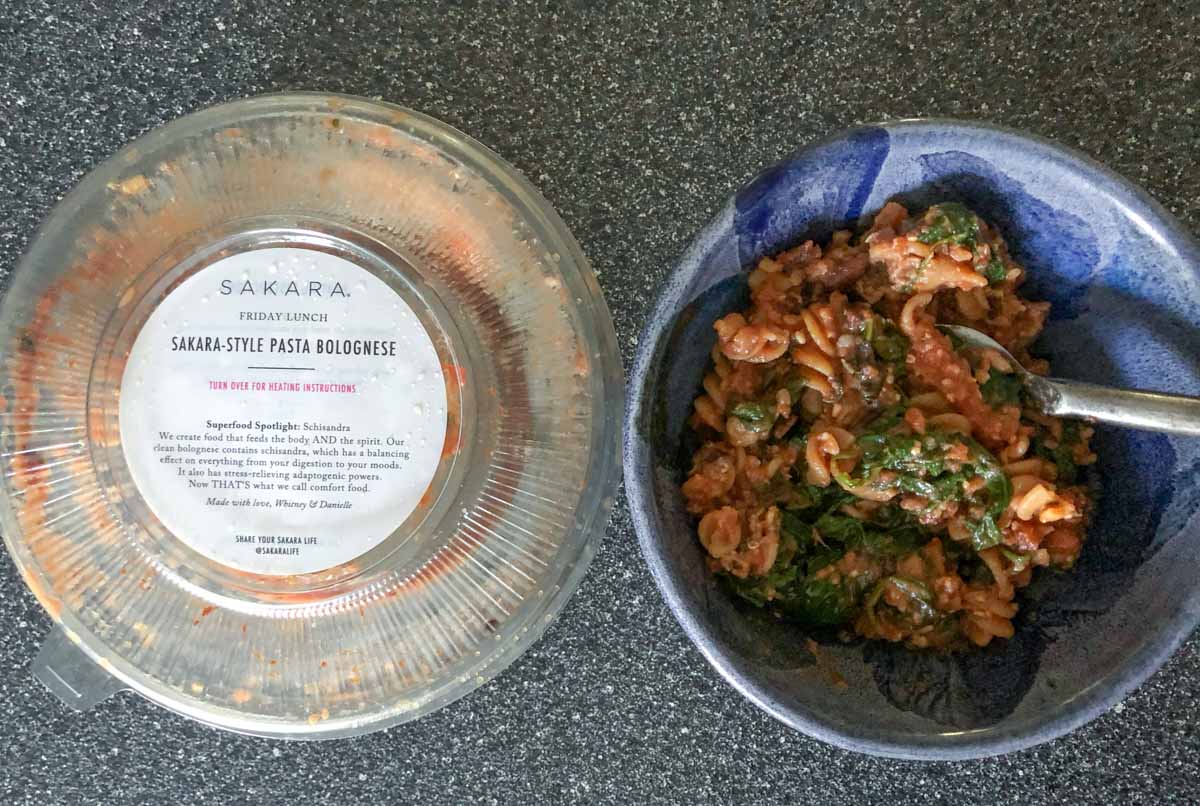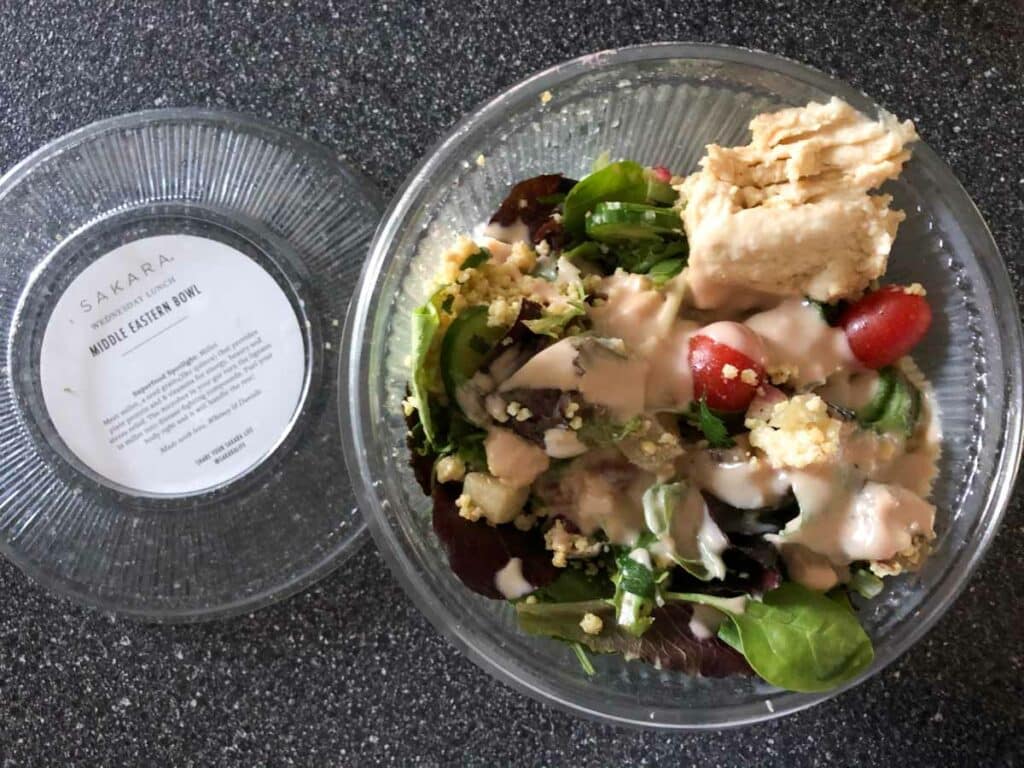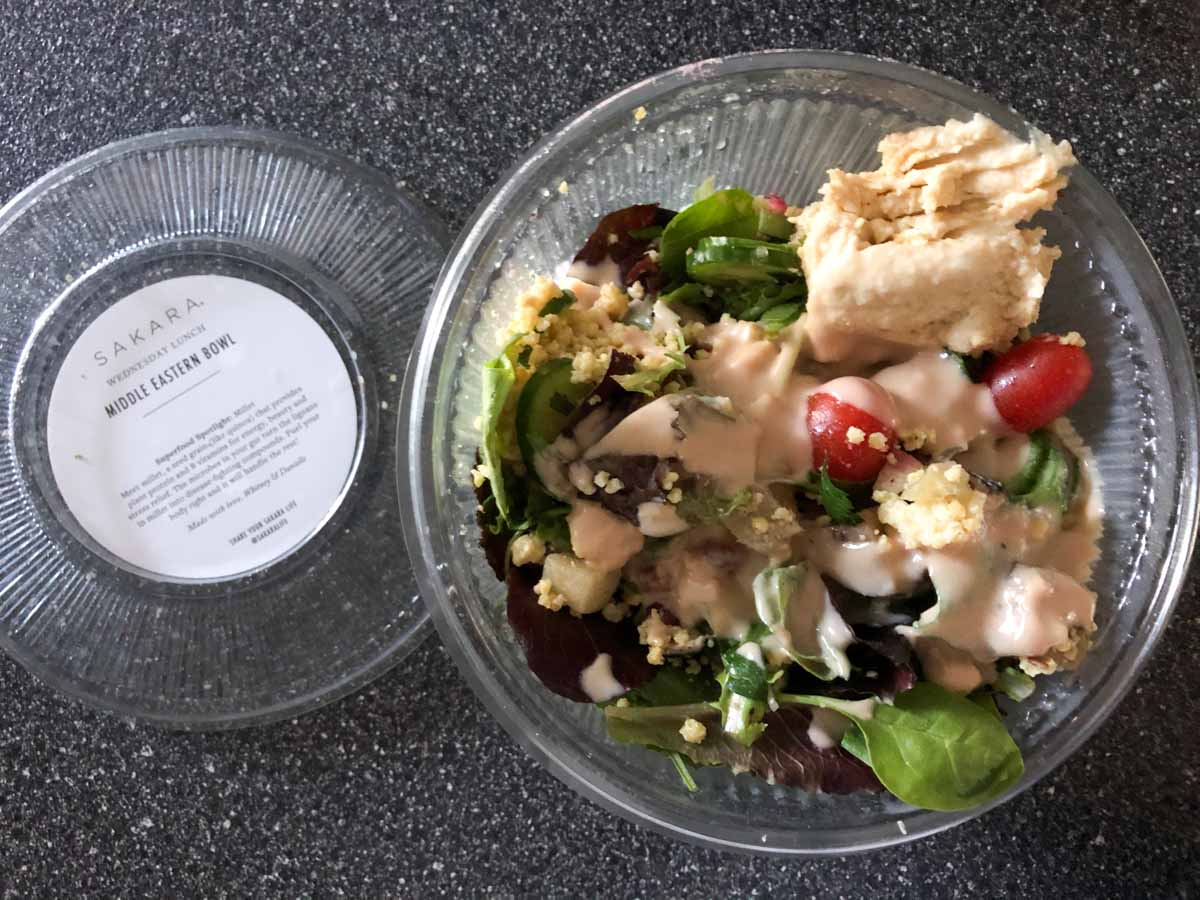 As for dinners, the beauty blend salad was probably my favorite (all about those dressings!) and I actually got two meals out of it. That's one thing I've been impressed with about Sakara, is that the meals are actually enough for one person.
The Thai basil buddha bowl was also good, and the quesadilla was also surprisingly filling with the sides.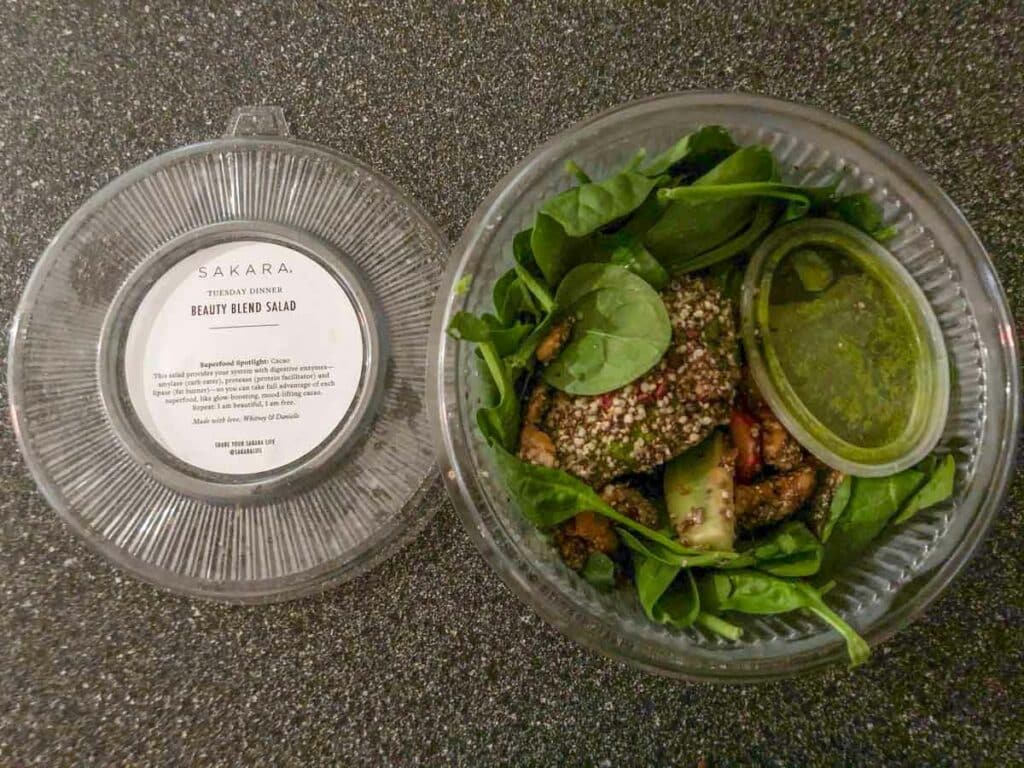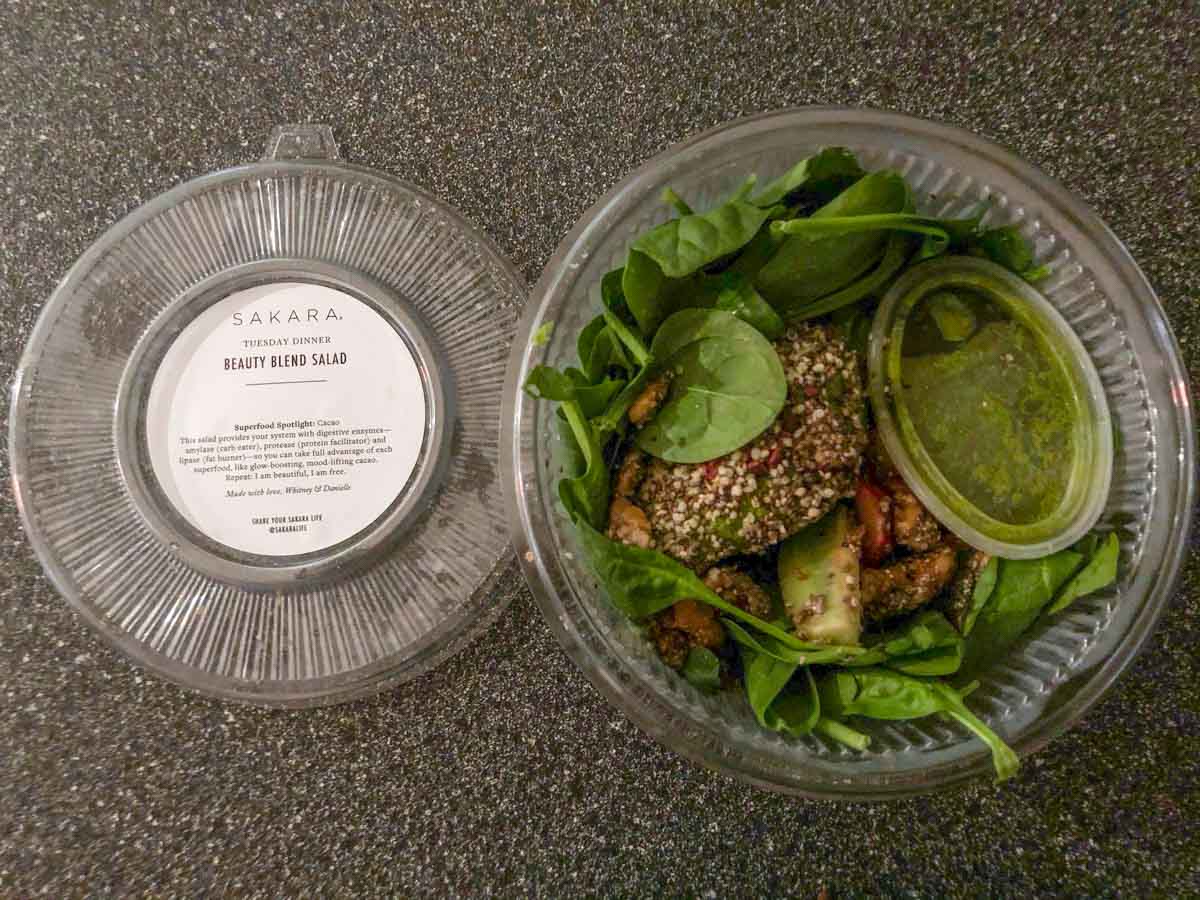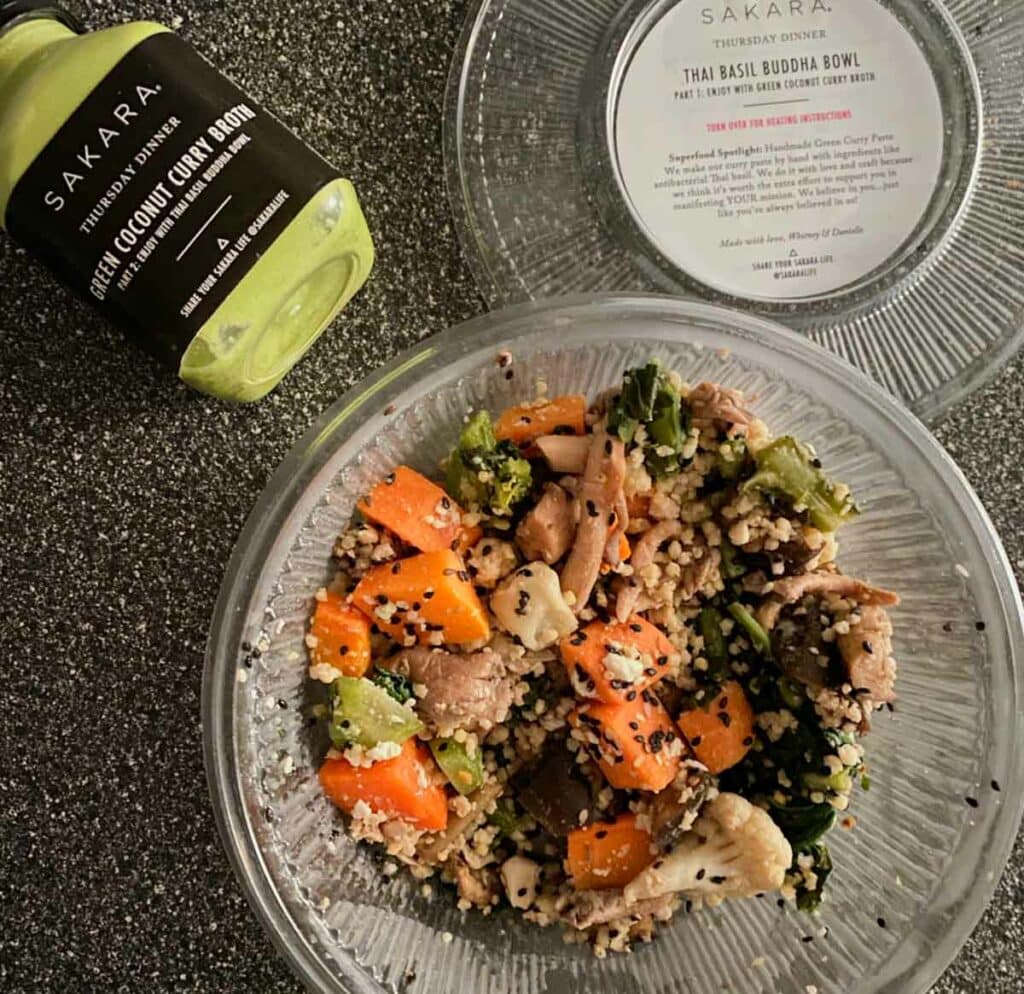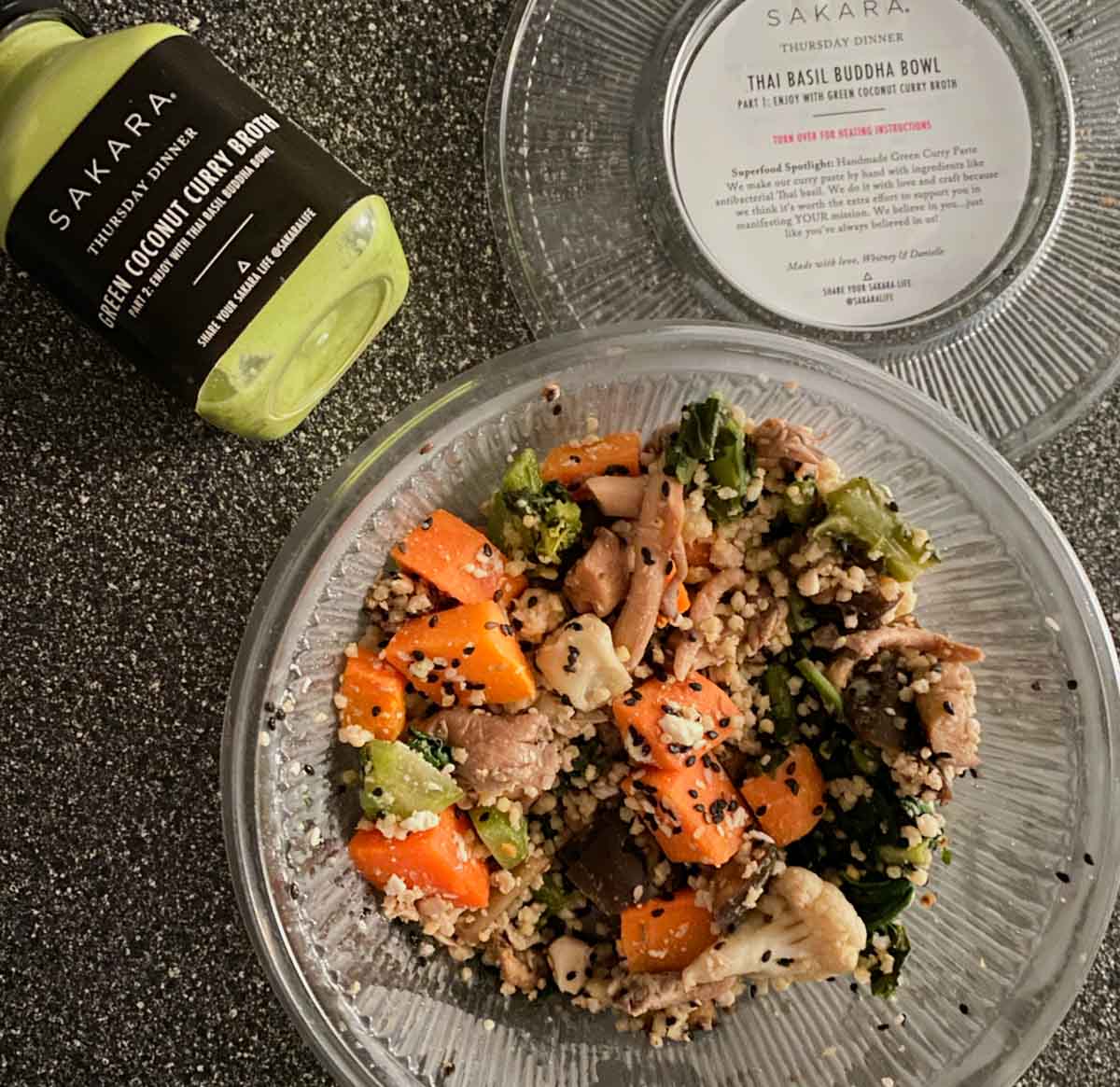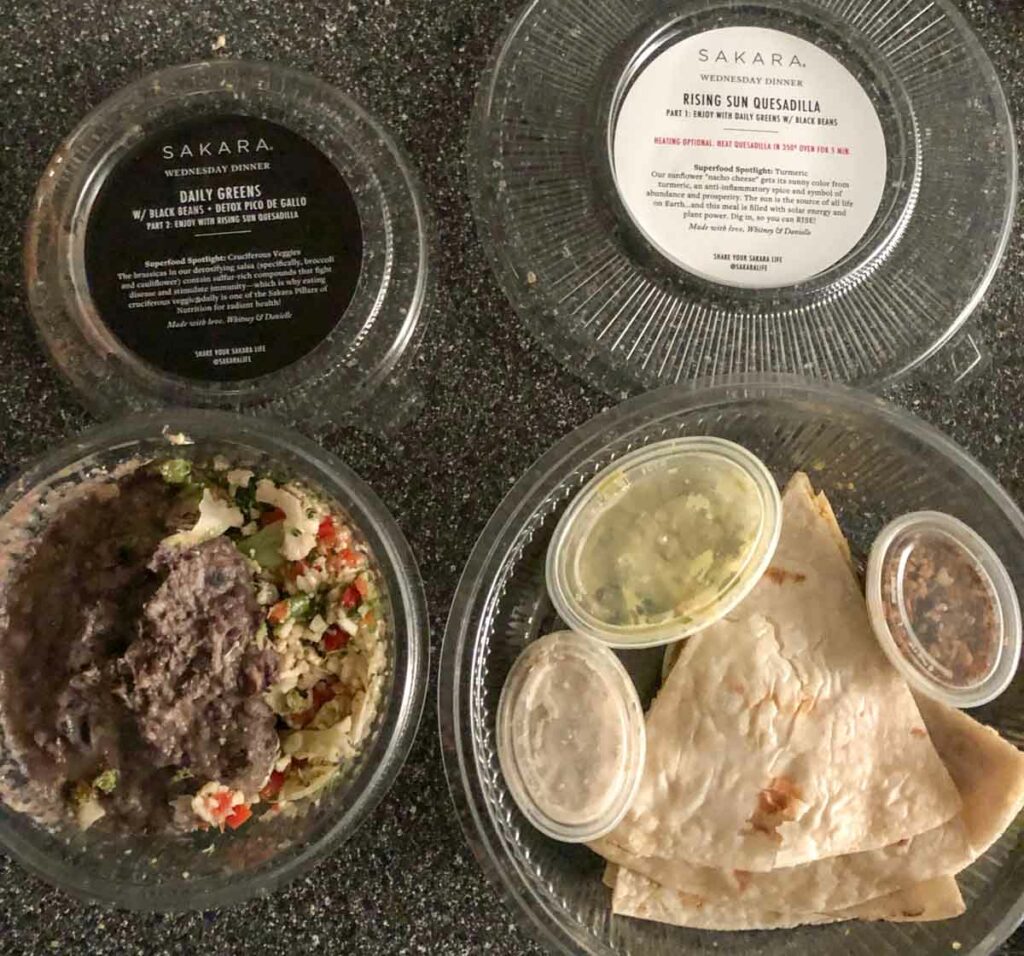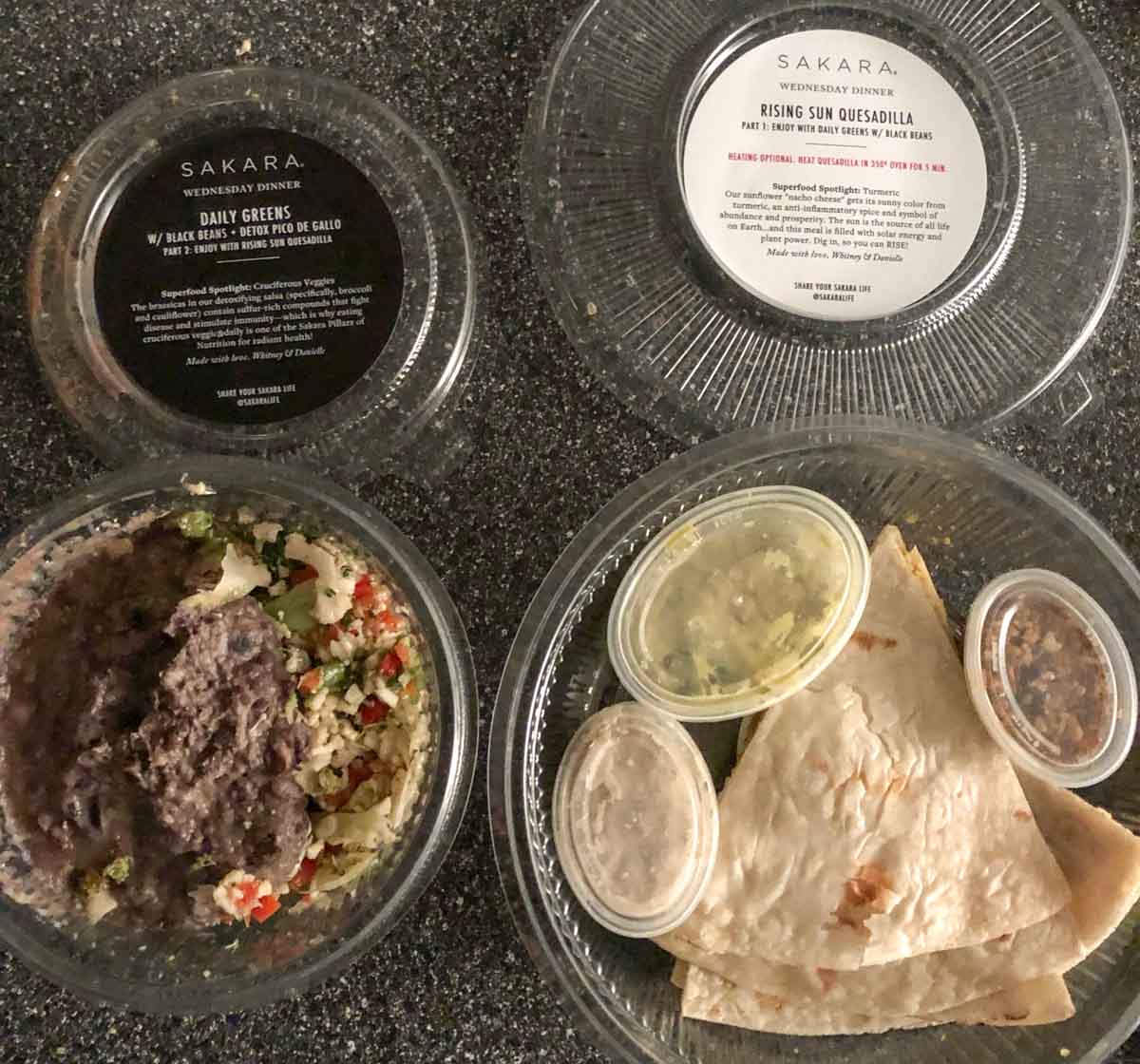 Example Week #2: 3-day (2021)
My first week back trying Sakara in 2021 was another 3-day.
Since I'm on the East coast the meals arrive Tuesday night and start with Tuesday dinner. First dinner was a "Butterfly Bowl" with tie-dye carrots. One of the things I love most about Sakara is how colorful the meals are! Also it is always fun to read about the "superfood spotlight" for each meal – this one was butterfly pea flower, which is what I imagine made the grain purple. And obviously something I've never bought myself before. This was delicious!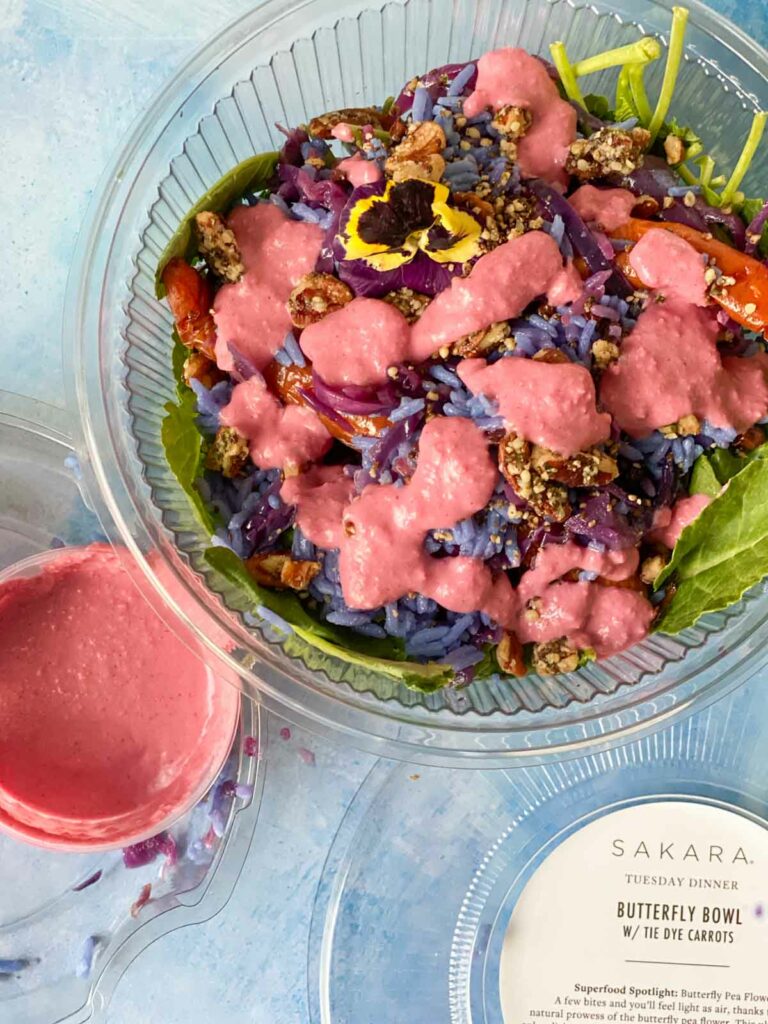 Wednesday morning brought a Yoga Bunny Breakfast with carrot-coconut butter. There was also a small apricot as a side. The muffin was good, though I wasn't a fan of the "butter."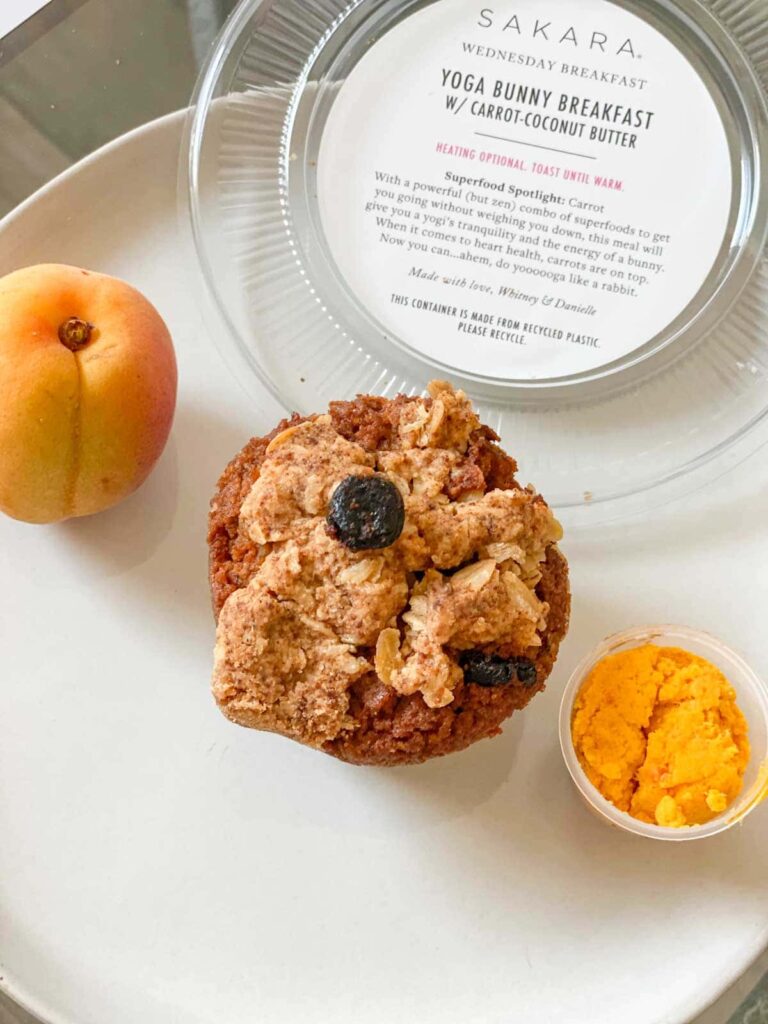 Wednesday lunch was the red beet burger, which I remember trying back in 2019. I'm not sure how often the meals repeat yet, since it has been almost 2 years since I ordered last. But I am a fan of this burger so no complaints!
I also really like all the dressings and sauces – this poppy seed vinaigrette included.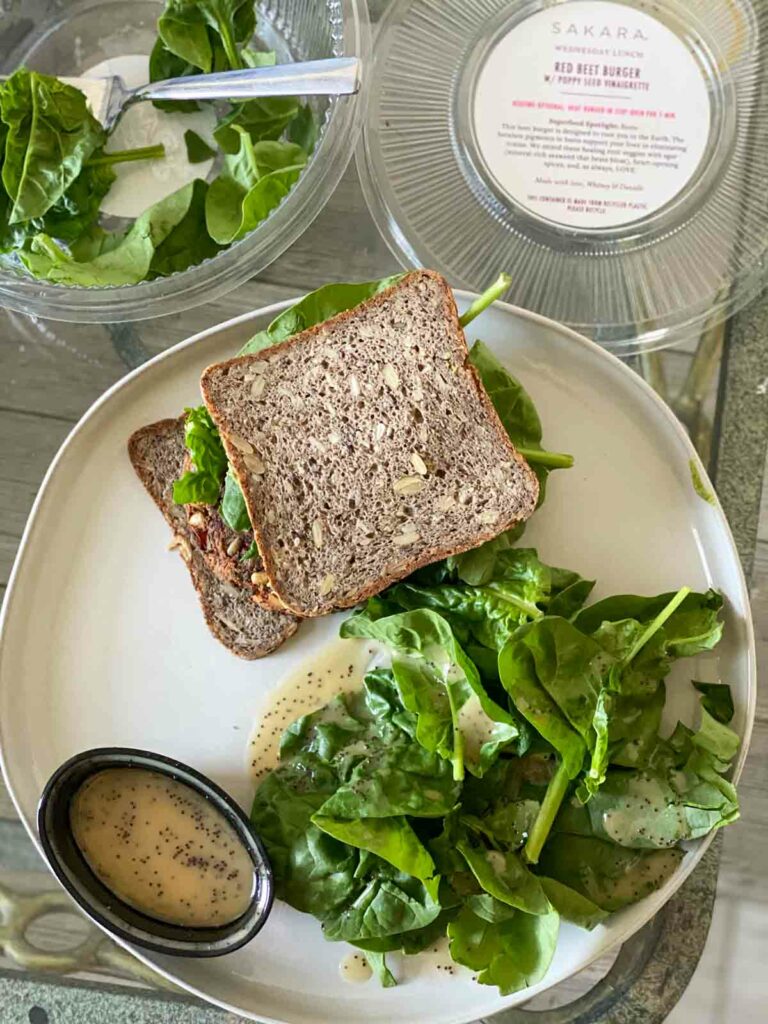 Wednesday dinner was a Sunshine Curry Bowl with purple coconut rice. Whoever writes these meal descriptions is a marketing genius! Another filling and delicious meal.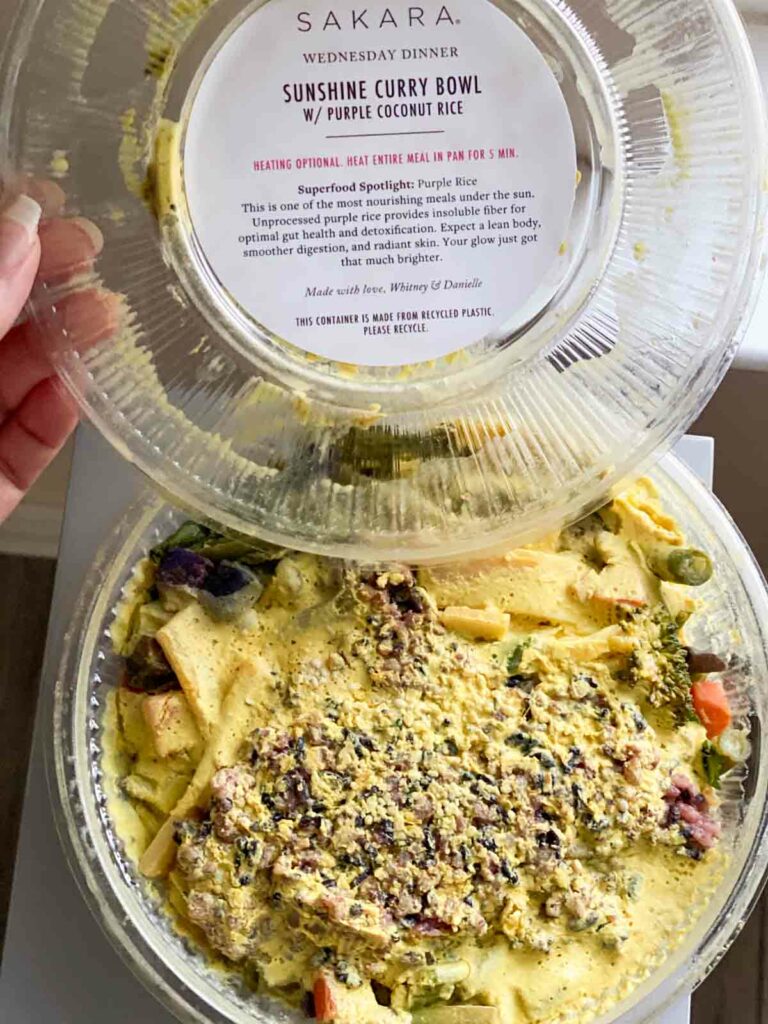 Thursday breakfast was another exciting colorful adventure – a Healing Hojicha Donut. I was skeptical about this but was pleased with both the texture and the taste. I highly recommend heating any meal that says "heating optional".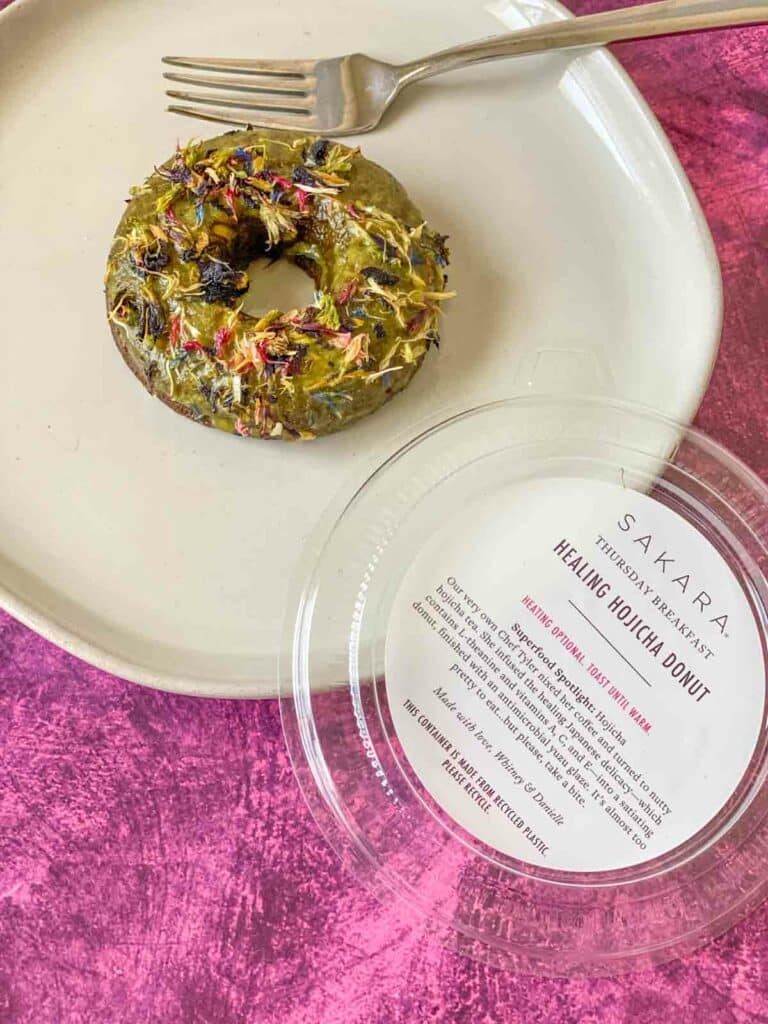 Thursday lunch was a big Summer Sun Salad. They pack their salads with colorful vegetables and I'm always surprised how many ingredients they include – and again, another great salad dressing on the side.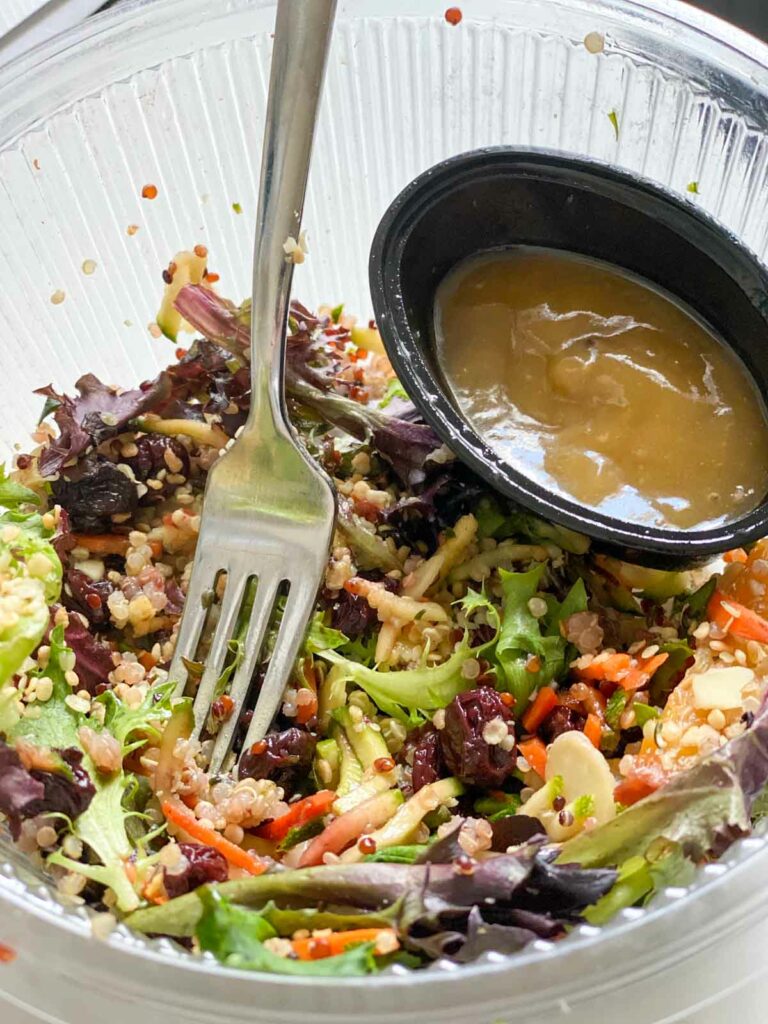 Thursday dinner was a Protein Power Plate with golden turmeric flatbread. The flatbread wasn't crispy as expected, but I don't know if this is because it had been in the fridge too long. Other than that it was very tasty.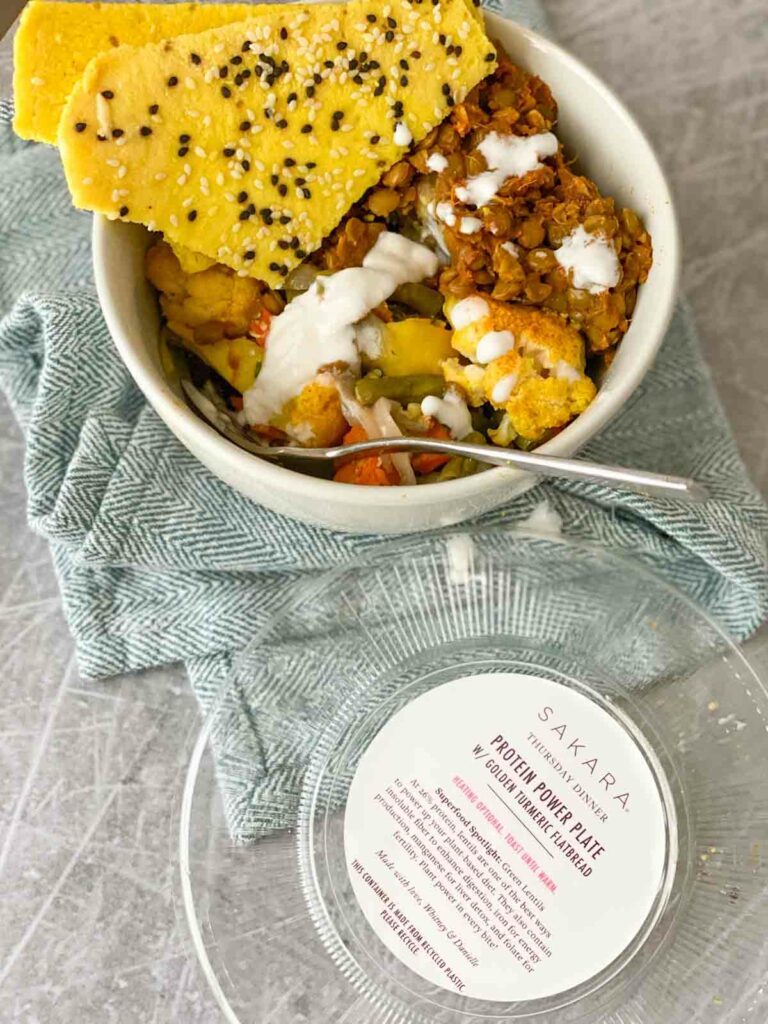 Friday breakfast: "Sexy Cinnamon Rolls" with a date caramel, and a side of kiwi. Love that their breakfasts can still be sweet treats and include all this goodness.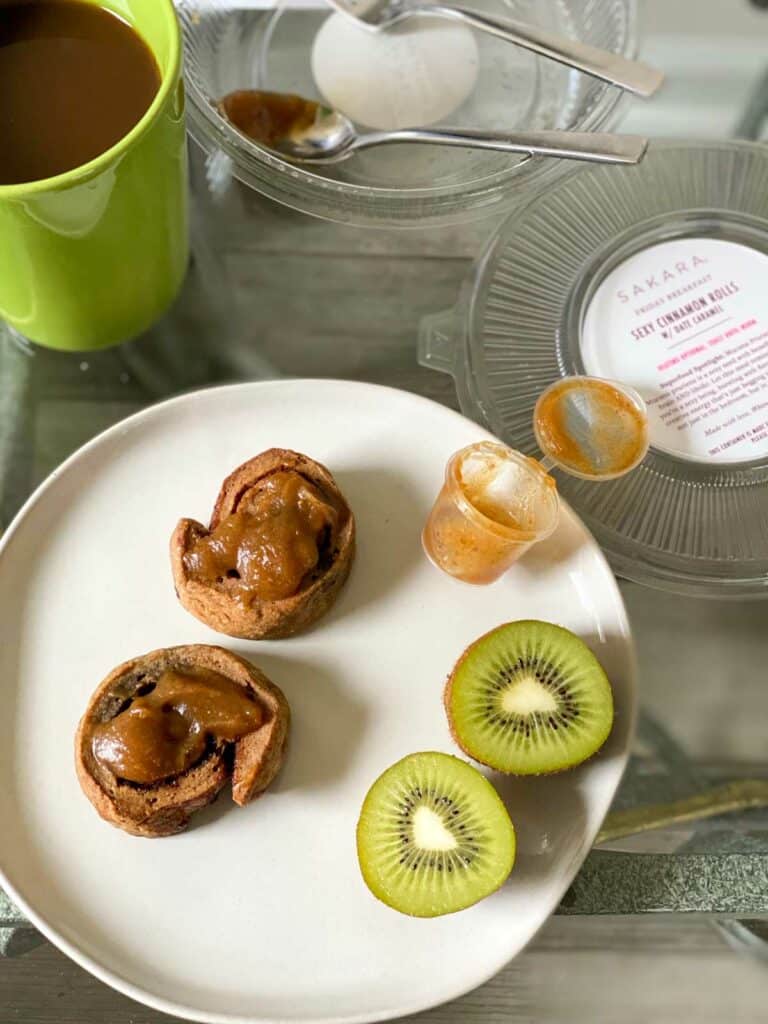 Finally, the last lunch for the week was a pink lady pesto pasta with macadamia-beet crumble. A healthy pasta, what?! Again, not something I would ever think of making and was another really satisfying meal.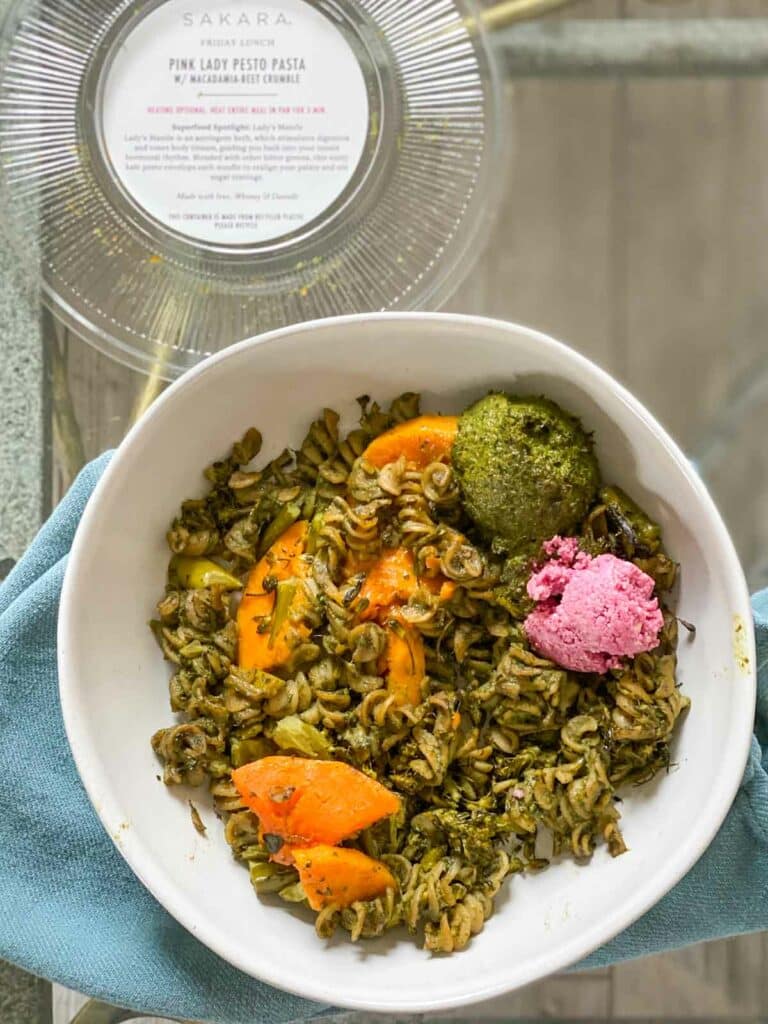 This first week trying this year made me sign up for a subscription! Will post more as I try additional weeks.
The Other Sakara Products AKA "The Clean Boutique"
In addition to the meal plans, my first order included their "best-sellers" package so I had snacks in between meals. This includes a box of their detox bars (my favorite), a jar of beauty chocolates, super protein powder and dark chocolate granola.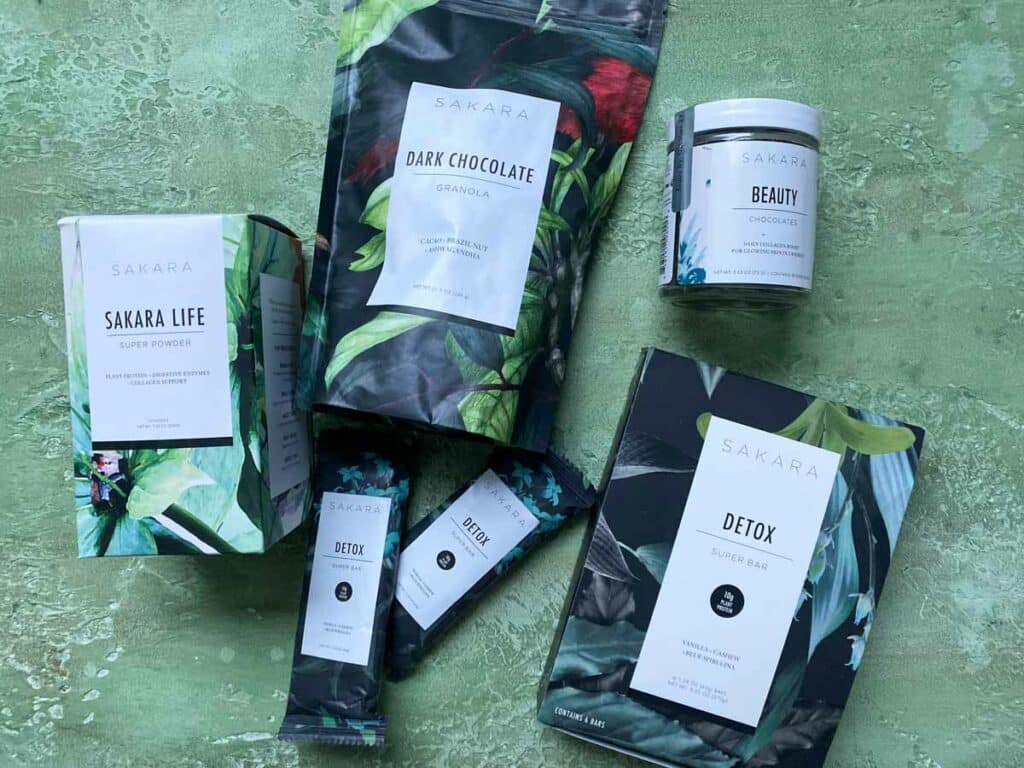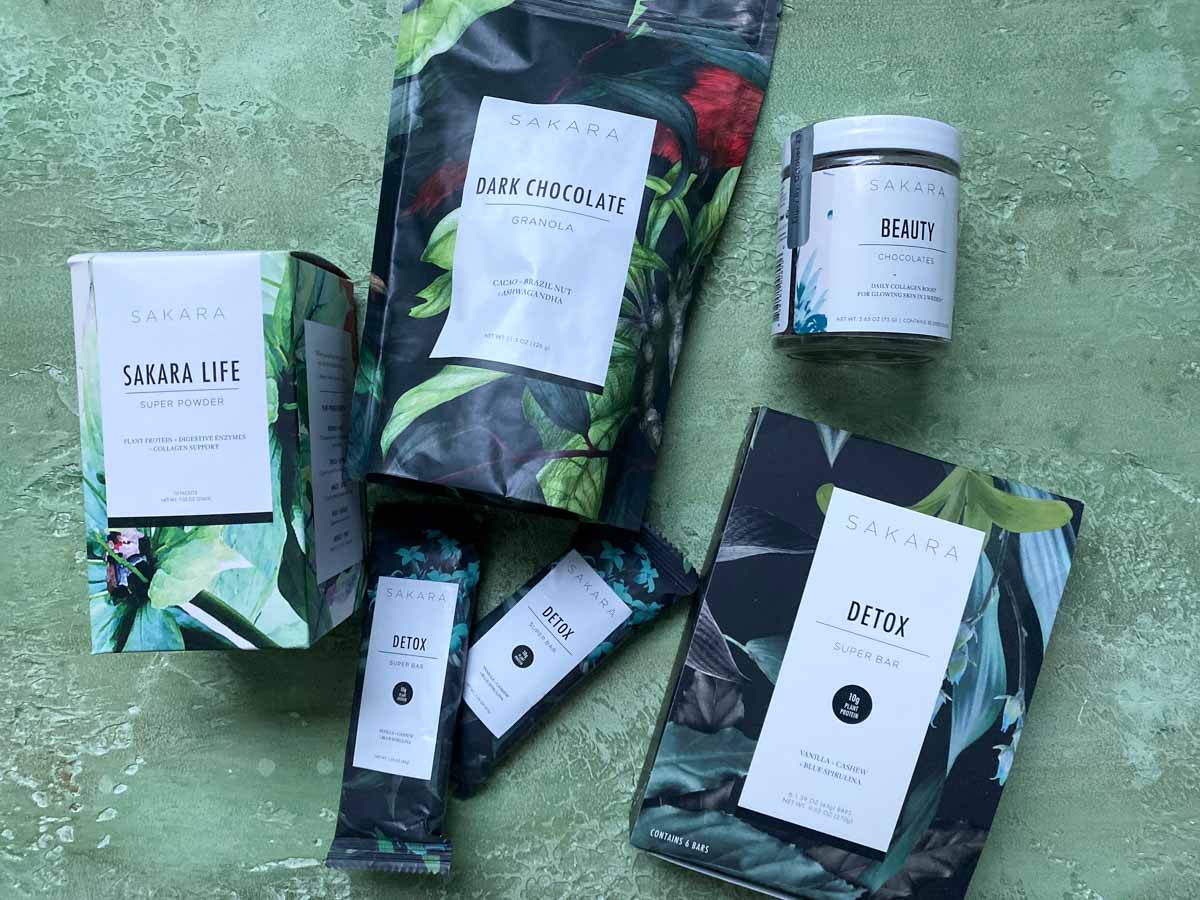 Going forward, I will definitely order their detox bars again (as well as trying their beauty bars), but I'm not a fan of the granola.
The protein powder seems great but it does have a 1% stevia blend in their coconut sugar and I try to stay away from stevia. Their beauty chocolates are a nice small snack.
Detox bars look a little weird – I'll be honest, they look like play-doh at first glance. I personally love these, but they are an acquired taste. The good news is that this has a good chance of being included as a sample in your meal order, so you can try them out before ordering a full box.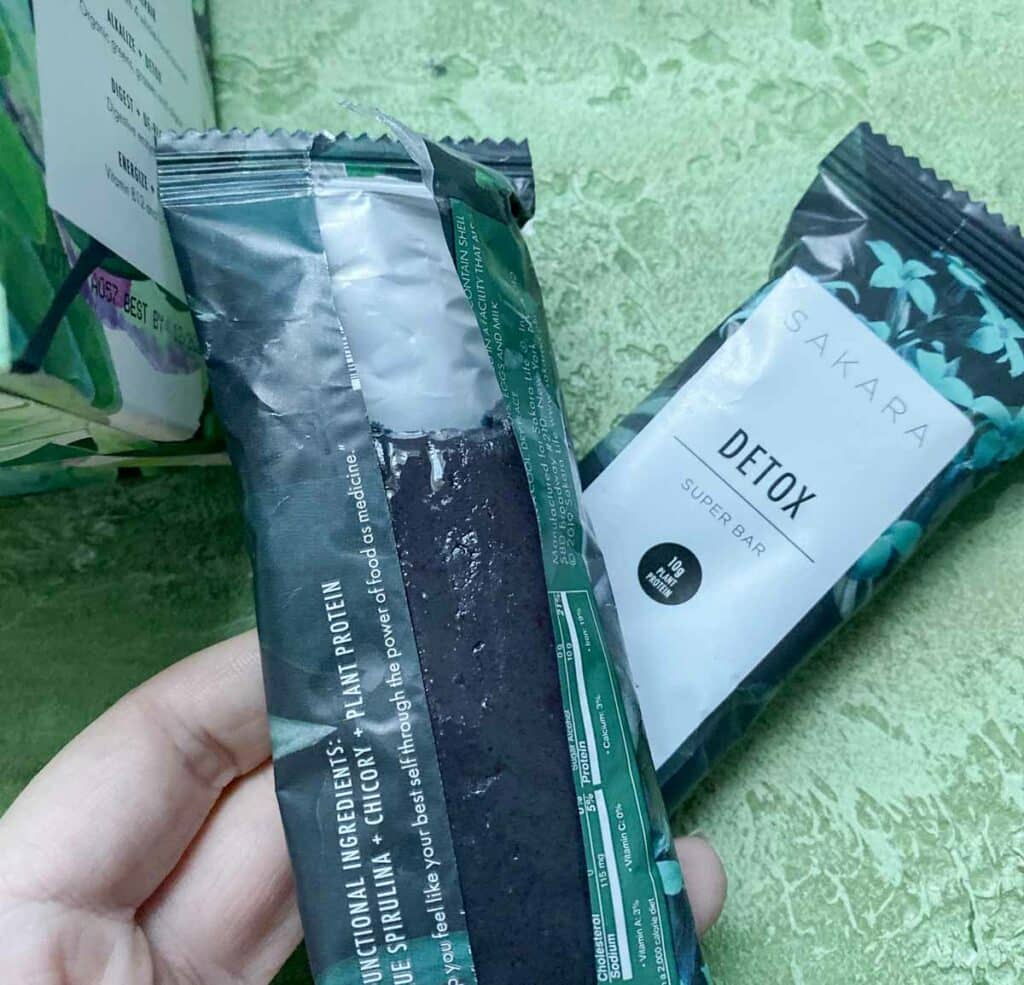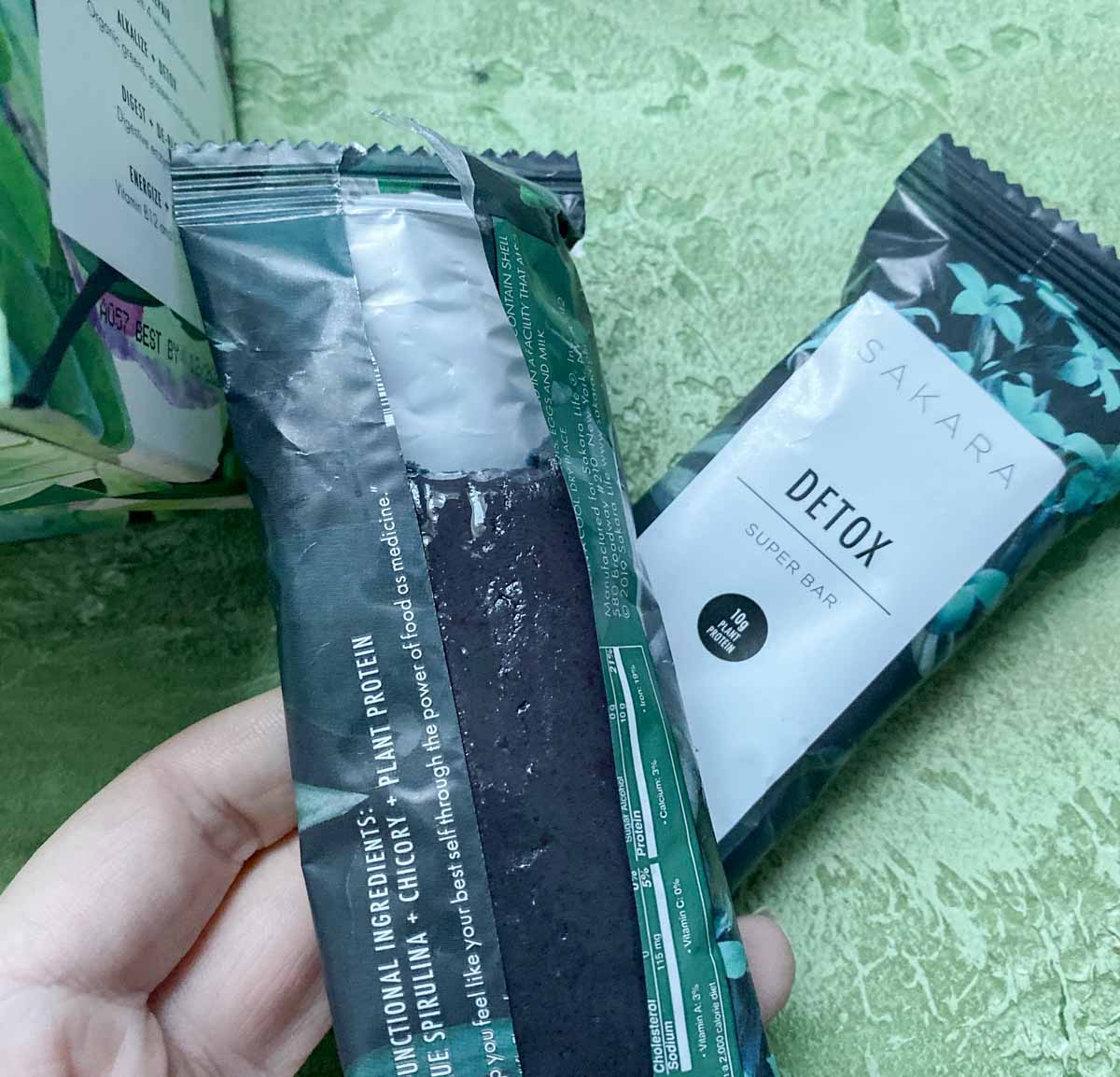 Funny story about the sleep tea – it has catnip in it, and when I was brewing it for the first time my cats were walking around the house with their nose in the air trying to figure out where the smell was coming from!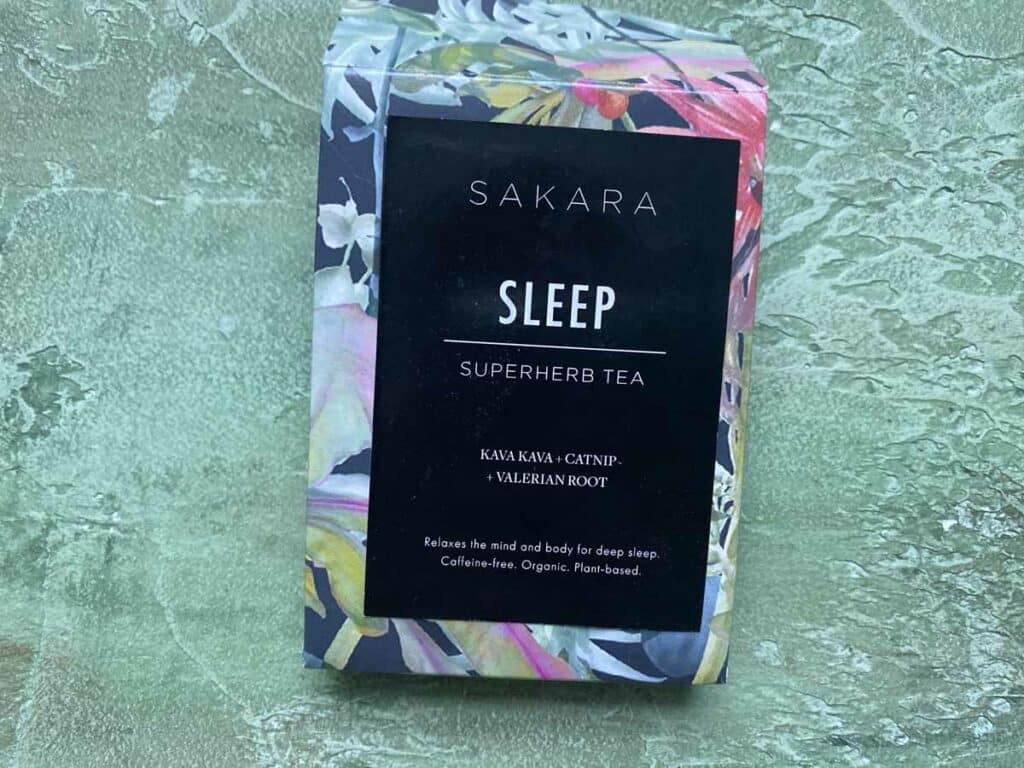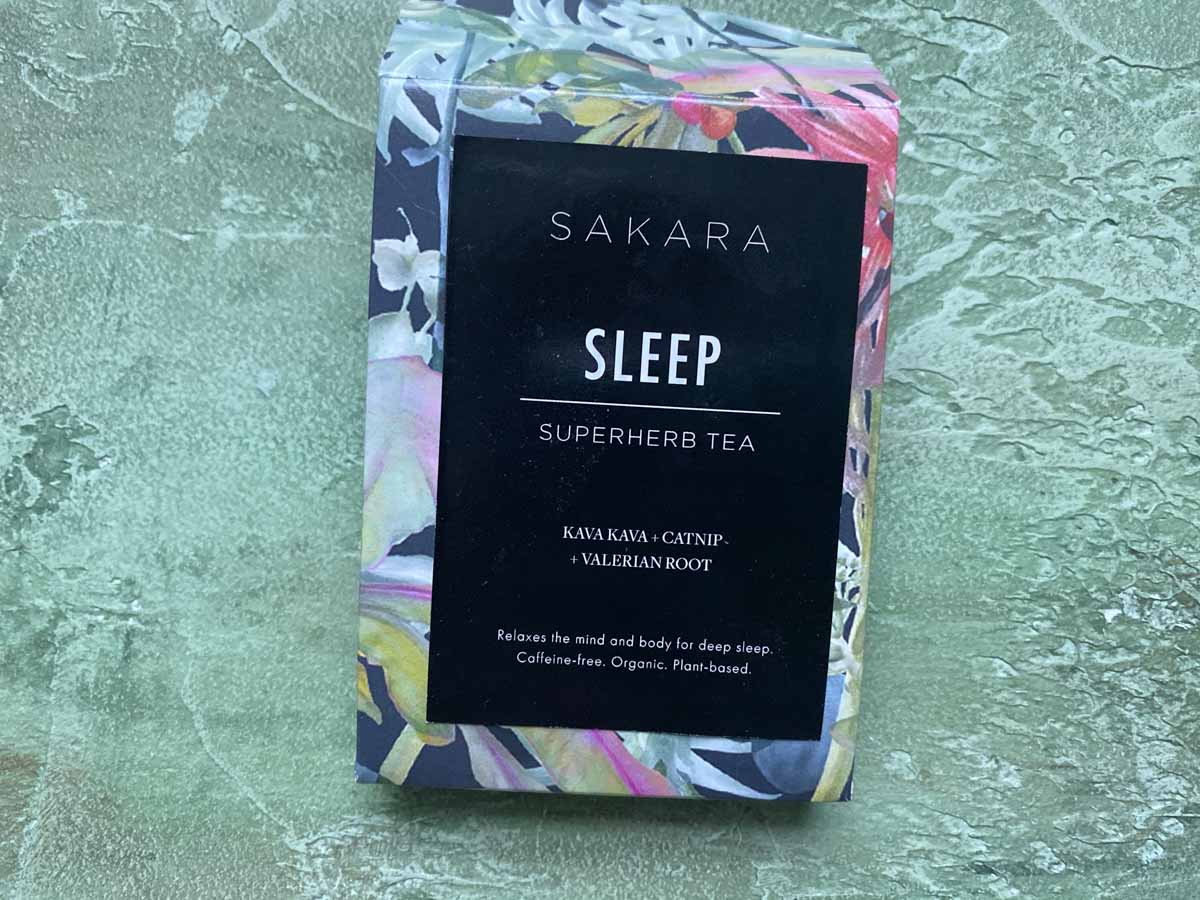 Use the discount code below at checkout to get a special 20% off your first order at Sakara.com!

Sakara Review Summary
Overall I love the taste and quality of the food from Sakara. The price is similar to ordering take-out food, and obviously much healthier.
The meals are super creative and not something I felt like I could have recreated at home myself, so that makes me feel like I get my money's worth. Sakara also gets bonus points for being fully ready-to-eat rather than sending ingredients you have to cook yourself, which obviously saves time and energy and is worth $$ too.
You do need to heat up some of the meals for 5 minutes or so, but mostly they are fully prepared and ready to go.
Every season or so they will have a week of "Sakara's favorites," so keeping an eye on when they offer that would be a great time to try it!
As mentioned earlier, I am ordering Sakara more consistently this summer to see how that impacts my overall wellness. I feel great on these meals and it takes away so much stress of what I'll be eating (and prevents me from making bad take out decisions).
A gift card for Sakara also makes for a great gift for your health-conscious friends as there are so many wellness options to try.
Sakara is one of my top picks for favorite vegan meal delivery services, the only real downside being the price point. The food is of the highest quality and you really can't beat the taste and nutritional profiles of their creative plant based food!
Coupon Code for 20% OFF Your First Order at Sakara Life
Remember – my readers can use the promo code below to save 20% on your first order!

What will you try first?! Let me know on Instagram by tagging me @trialandeater or #trialandeater!