Spicy Baba Ganoush (Eggplant Dip) – with red pepper and sriracha, this appetizer is for you spicy food lovers!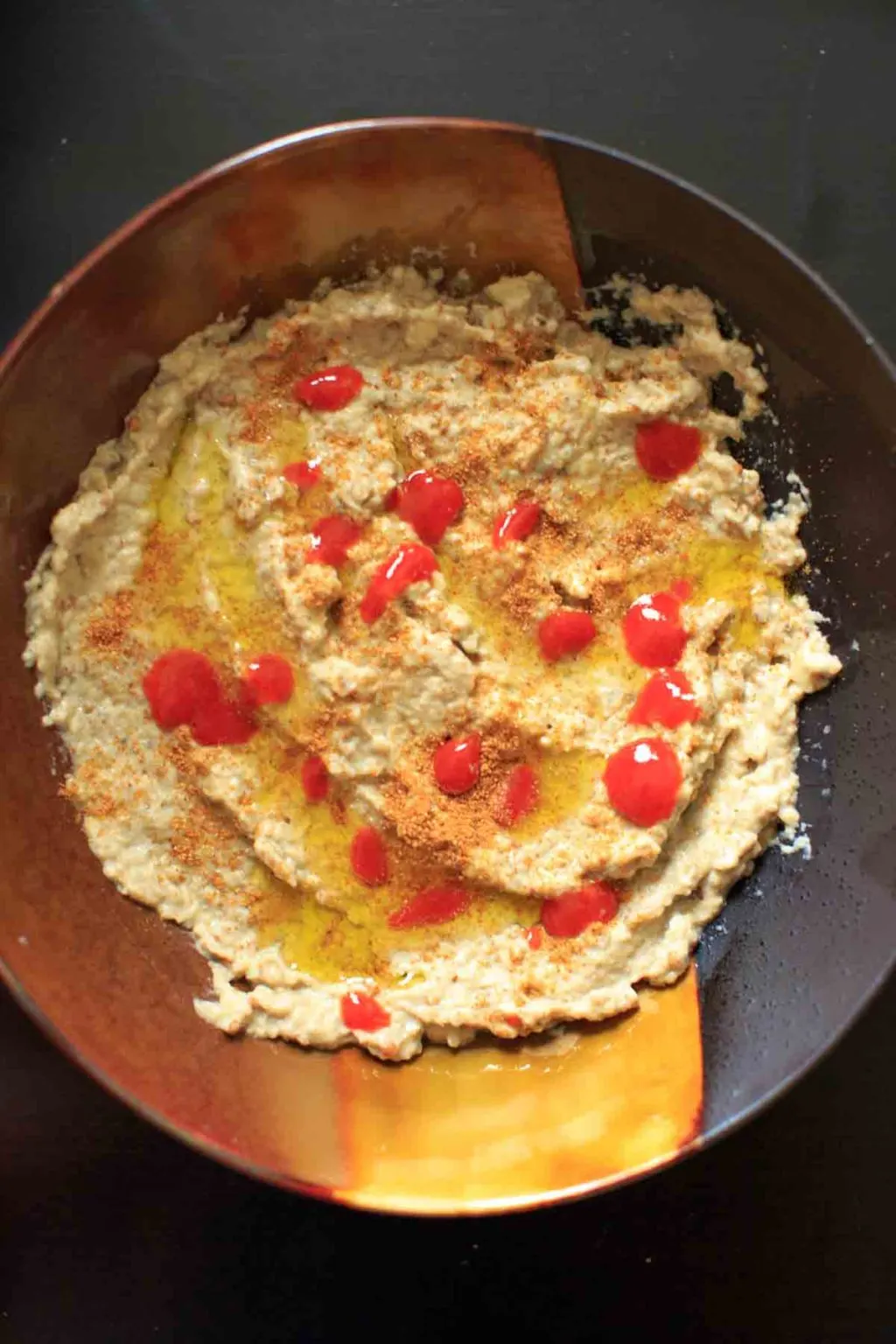 Can someone please tell me, is it "baba ganoush," "baba ghanoush," "baba ghanouj" or a spelling I'm not even aware of?! The ever-reliable wikipedia tells me the primary spelling is "ghanoush" with the "GH" at the beginning, but in my head I liked it without the first "H." I think because there is a restaurant around here that is spelled that way, and so that's how I thought it was supposed to be.
Whatever, it's eggplant dip. Spicy eggplant dip.
Either way, you're here and you found it! My recipe for spicy baba ganoush.
This recipe came about like many others – random Trader Joe's purchases. I'm pretty sure that it is part of the employees job description to make conversation about your selection of items in the checkout aisle. I had randomly picked up a jar of organic tahini (sesame seed paste), thinking I would use it for hummus. But the cashier said you MUST use this in baba ganoush!
I do what I'm told. Sometimes.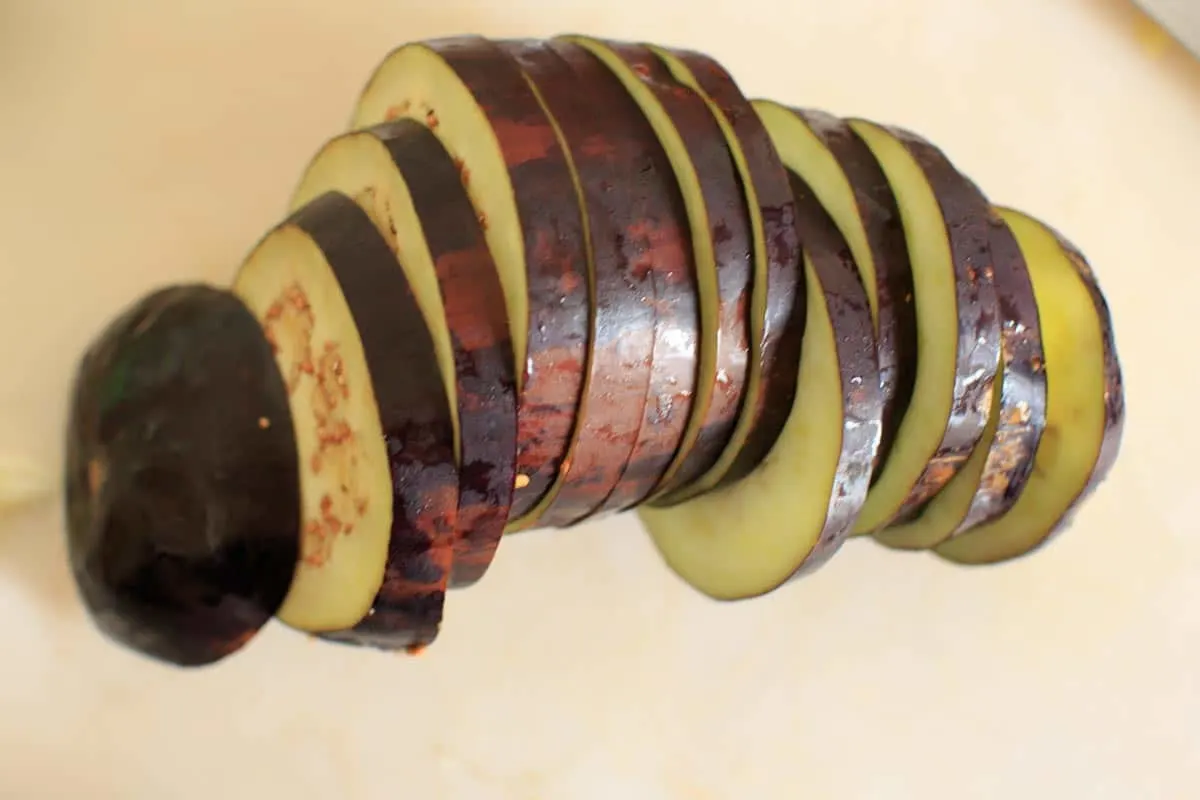 If you're a regular reader you know by now that I like things spicy. So it makes sense that I wanted to make a spicy version of this.
There are a few different ways you can prepare the eggplant. You can either roast it, broil it, or grill it. I went with broiling, which takes about 10 minutes (same as grilling). Roasting you would use 400 degrees F for about 20 minutes.
For whichever option you choose, drizzle the eggplant slices in olive oil and flip halfway through the cooking time.
You can even throw the garlic in with the eggplant to cook.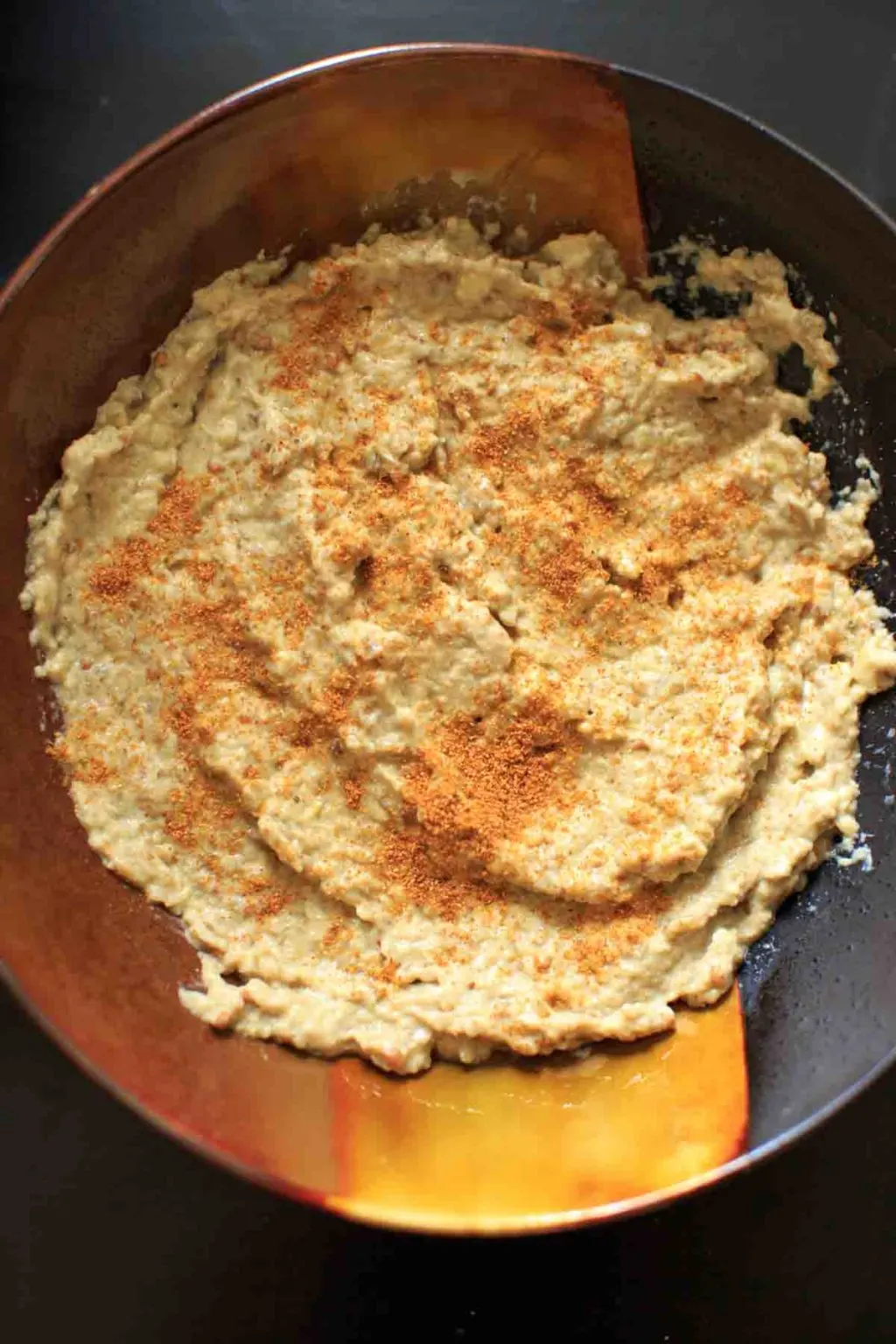 Use a food processor to mix the eggplant, garlic, lemon juice, and tahini. Flavor with salt, add more olive oil to achieve desired consistency and you have yourself a basic baba ganoush.
Of course for the spicy part, top with red pepper flakes and/or sriracha sauce. Always sriracha sauce. And use whatever you want (crackers, veggies) as dippers.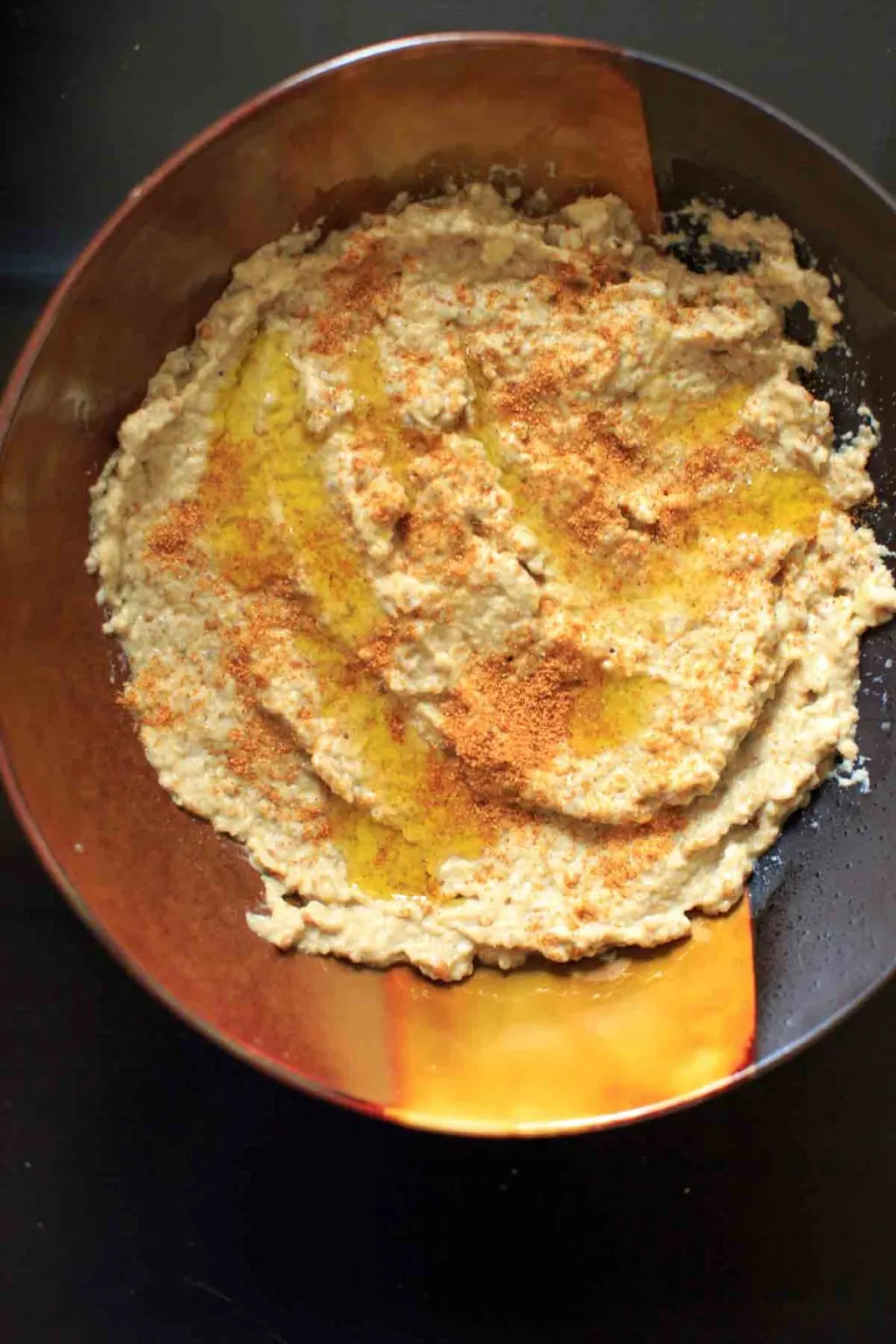 Related recipes: If you like spicy dips, also try this skinny bang bang sauce!
Yield: 2
Spicy Baba Ganoush Eggplant Dip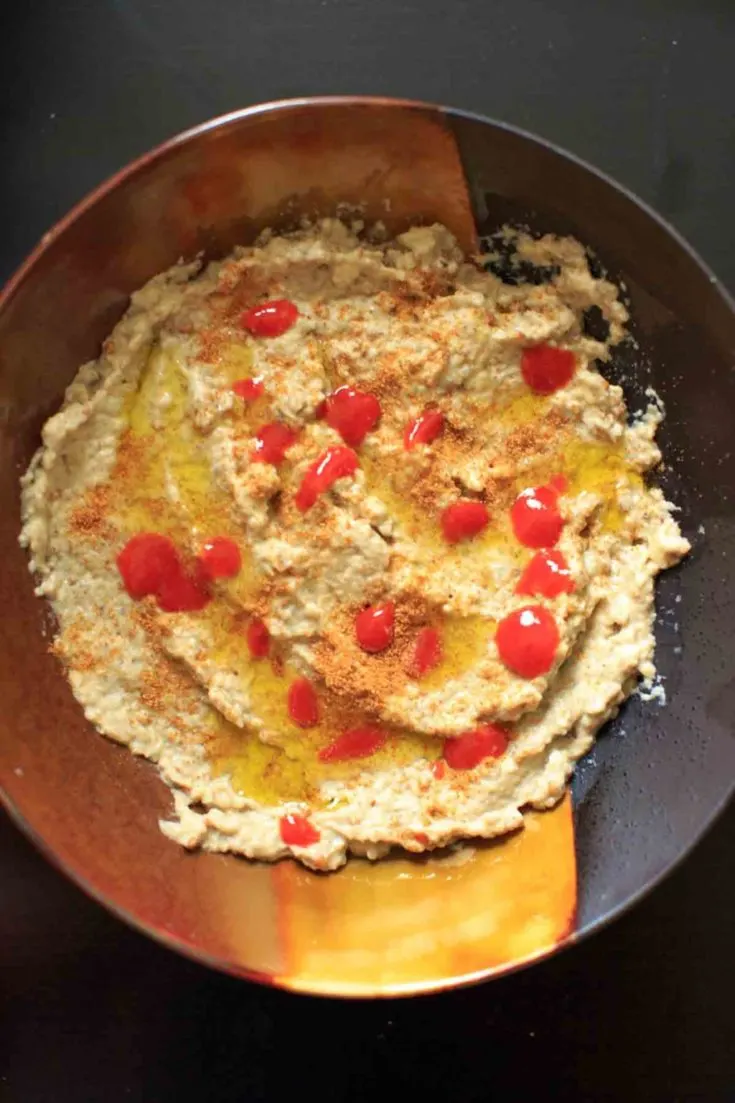 Spicy Baba Ganoush (Eggplant Dip) - with red pepper and sriracha, this appetizer is for you spicy food lovers!
Ingredients
1 eggplant
1 1/2 tablespoons olive oil
2 cloves garlic
2 tablespoons tahini (sesame seed paste)
1 lemon, juiced
1/2 teaspoon salt
Top with:
More olive oil as needed
1/2 teaspoon red pepper flakes
sriracha, optional
Instructions
Slice the eggplant into 1/2 inch pieces. Drizzle with olive oil and cook on the grill or in oven under high broil for 5 minutes. Flip and cook another 5 minutes. After cooling, remove eggplant skin.
In a food processor, add eggplant flesh, garlic, tahini, lemon juice and salt and combine.
Add more olive oil as needed to reach desired consistency, and top off with red pepper and sriracha.
Serve with crackers, carrots or your favorite dippers.
Notes
For added flavor, cook the garlic cloves with the eggplant on the grill or under the broil. *Adapted from Gimme Delicious
Nutrition Information:
Yield:
2
Amount Per Serving:
Calories:

351
Total Fat:

26g
Saturated Fat:

4g
Trans Fat:

0g
Unsaturated Fat:

21g
Cholesterol:

0mg
Sodium:

607mg
Carbohydrates:

31g
Fiber:

8g
Sugar:

10g
Protein:

5g
Nutrition information is calculated automatically by an online tool at Nutritionix. It is not always accurate. Please use your own tools to check if you rely on this information.