Pumpkin bagels – the perfect carb fall breakfast. It's fun to learn how to make your own homemade bagels! Vegan.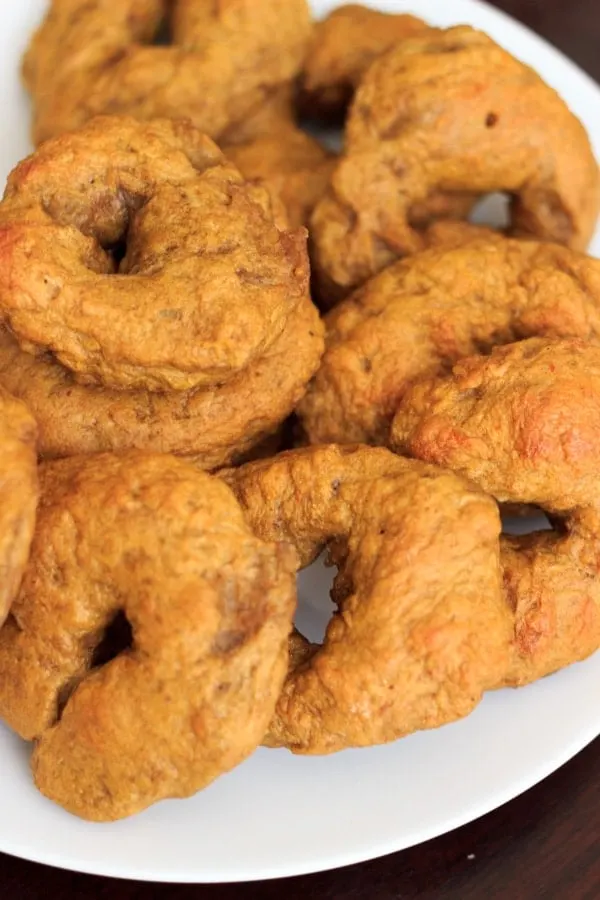 LOOK at those bagels.
I MADE them!
I know that may seem obvious, since this is my food blog and all, but I can't hide my excitement.
My whole life would have been filled with MORE bagels if only I realized that it wasn't that complicated to make them. (Sorry if I'm overdoing the CAPS, blame it on the bagel-high.)
I knew boiling was involved and typically anything that involved more than one pot or pan scares me off. Before the blog, anyway. Now I have "reason" to push myself out of my comfort zone and make things that I didn't know I could – like BAGELS.
The thing about bagels is, I think I could eat them all day every day. With cream cheese. It's a problem. That probably wouldn't be the most healthy thing.
But these have pumpkin so… I say we can eat them because it's Fall. Did you realize this is my first pumpkin post of the season? Since it seems to be pumpkin everything everywhere these days, I was trying not to over-do it and accidentally ended up not doing it at all. Until now. Bagels.
The bagels themselves are vegan, which is cool, but if that doesn't matter to you then you can add an egg wash for a darker color or load it up with said cream cheese.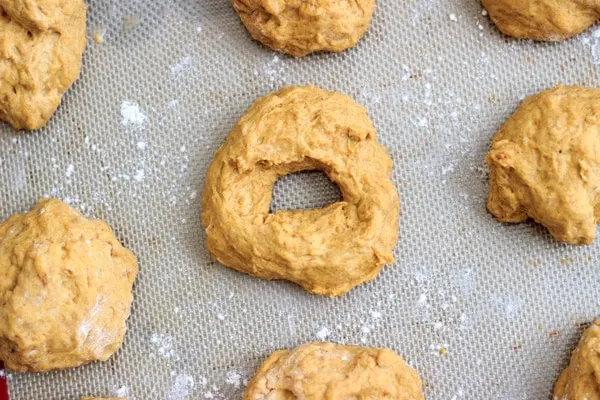 (Below is what the dough looks like after boiling.)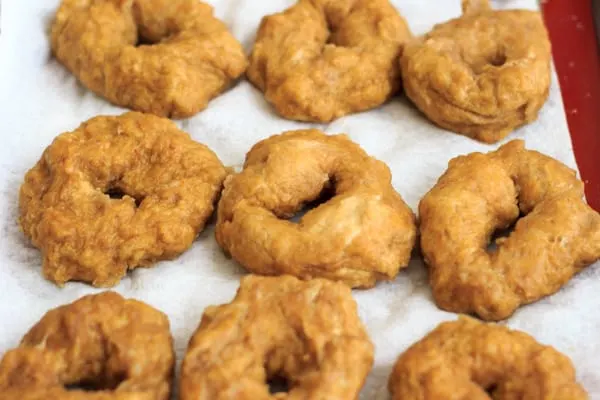 I tried it first with pumpkin butter.
Slice it, sandwich it, eat it.
The pumpkin butter turned out not to be the most photographic-friendly (i.e. prettiest), but I had to take advantage of all the pumpkin things.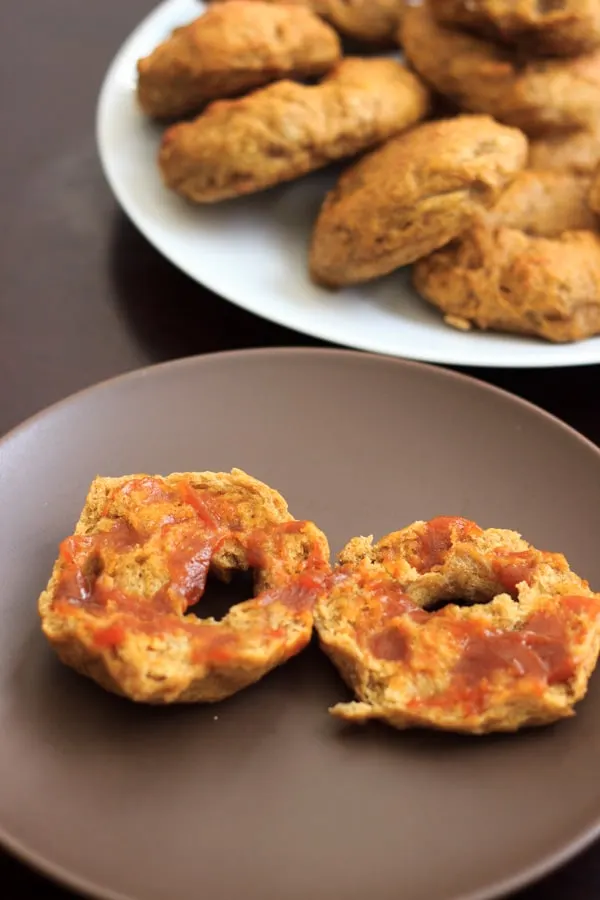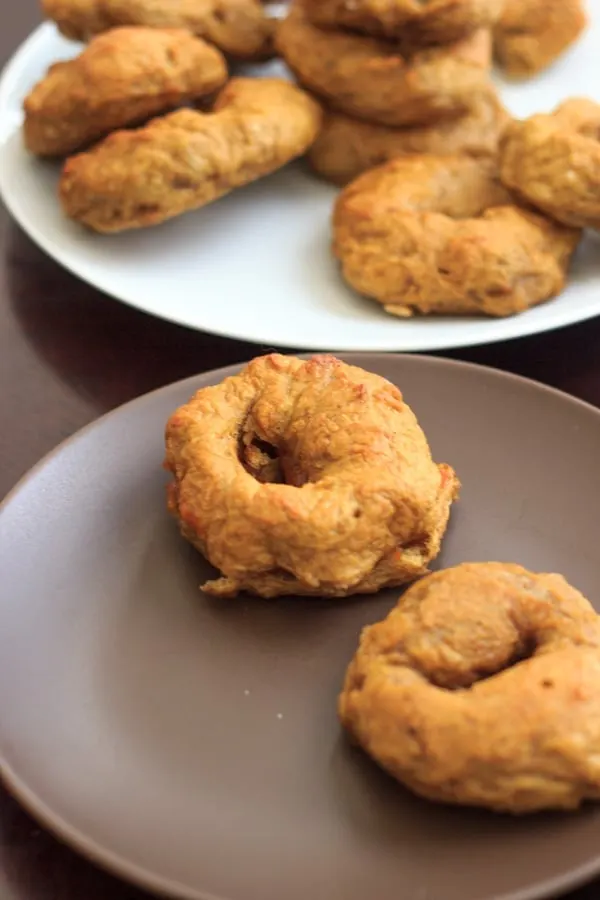 What's your favorite bagel spread?
Yield: 12 bagels
Pumpkin bagels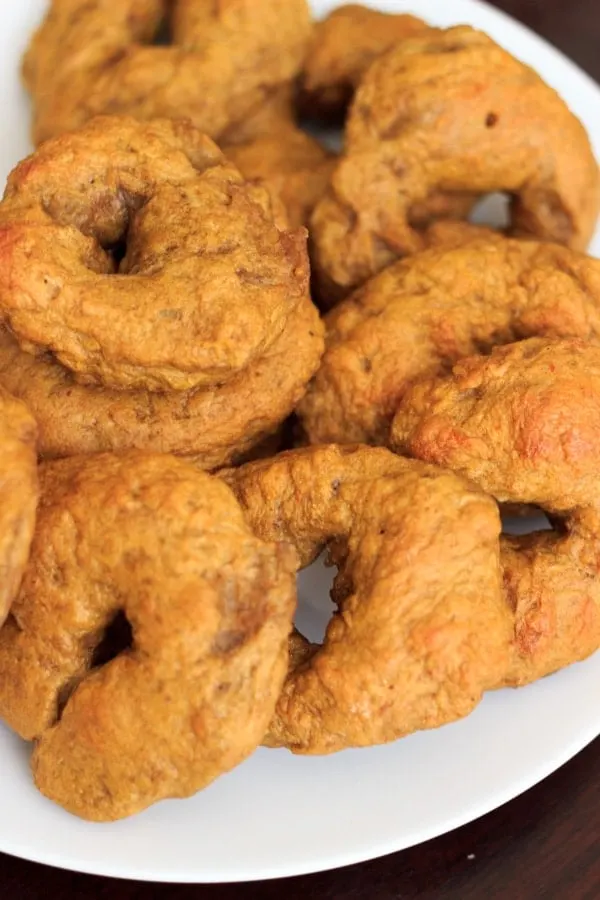 Vegan pumpkin bagels - the perfect carb Fall breakfast. It's much easier to make bagels than you might think!
Total Time
2 hours
20 minutes
Ingredients
1 cup hot water, (about 115°F)
2 teaspoons yeast
1/3 cup brown sugar
2/3 cup pumpkin puree
1 tablespoon pumpkin pie spice
2 teaspoons cinnamon
1/2 teaspoon salt
3 1/2 cups bread flour
Instructions
In a large bowl, add the water, yeast and brown sugar. Let sit about 5 minutes or until bubbly.
Add the pumpkin puree, pumpkin pie spice, cinnamon and salt and mix together.
Slowly add in bread flour until combined. Knead dough by hand (or with stand mixer) for 5-10 minutes until smooth, adding more flour as needed if sticky.
Place dough back in bowl and let rise until double for 1 hour.
After rising, separate dough into 12 balls. You can make the bagel shape a couple different ways: Option 1 (this is what I did): poke hole in center of each ball and pull apart gently. Option 2: roll out dough in shape of a rope, and bring each end together into a circle. Make sure the ends are securely pressed together or else they may came apart in boiling process.
Place on baking sheet and let the dough rise a second time for 15-20 minutes.
After short second rise, bring a big pot of water to a boil. Drop bagels one at a time into boiling water, cooking for about 30-45 seconds on each side. I could fit 3 bagels in at once. Let dry on cooling rack and/or paper towels.
Preheat oven to 400°F. Once bagels have dried, bake for 15-20 minutes until golden brown.
Nutrition Information:
Yield:
12
Amount Per Serving:
Calories:

173
Total Fat:

1g
Saturated Fat:

0g
Trans Fat:

0g
Unsaturated Fat:

0g
Cholesterol:

0mg
Sodium:

92mg
Carbohydrates:

36g
Fiber:

2g
Sugar:

5g
Protein:

5g
Nutrition information is calculated automatically by an online tool at Nutritionix. It is not always accurate. Please use your own tools to check if you rely on this information.