Irish Pub Potato Nachos topped with cheddar cheese and all your favorite toppings. For celebrating St. Patrick's Day or any day with a twist on this gluten-free appetizer staple!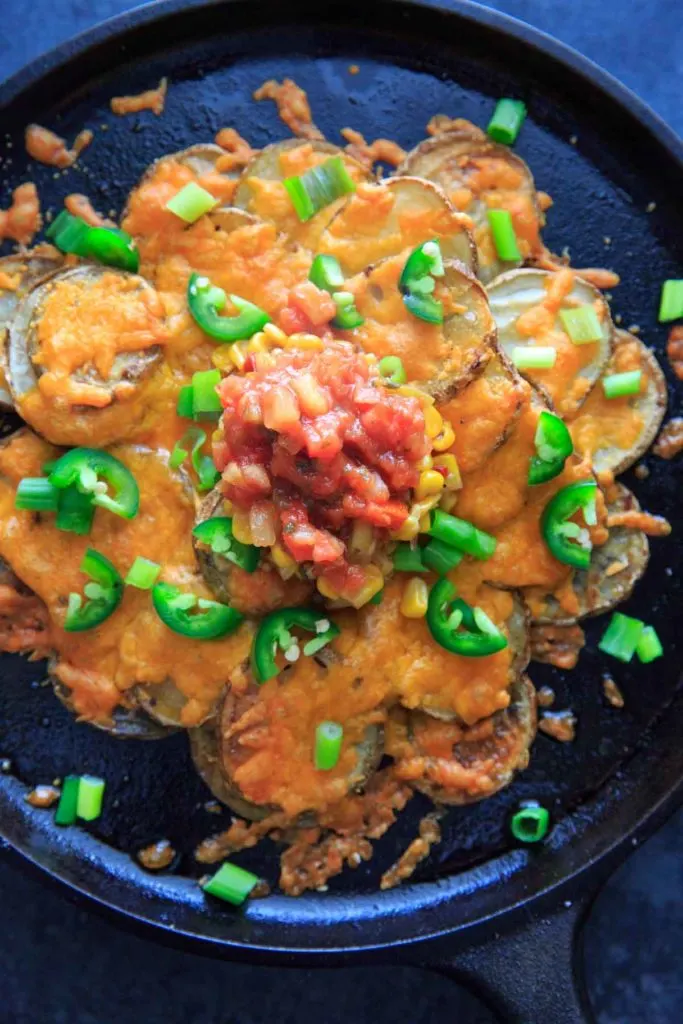 These nachos are not really technically or traditionally Irish, but I have seen versions of these available as an appetizer at some Irish pub.
Sometimes I've also seen them made with potato chips or french fries! Technically we are making homemade potato chips out of potato slices today.
No need to peel the potatoes if you are using organic – that's actually where most of the nutrients come from! Potassium iron, and fiber being the most notable.
But let's be real – we're topping them with olive oil and cheese, so I'm not pretending this is one of the healthiest meals. Let's take the nutrients where we can get them.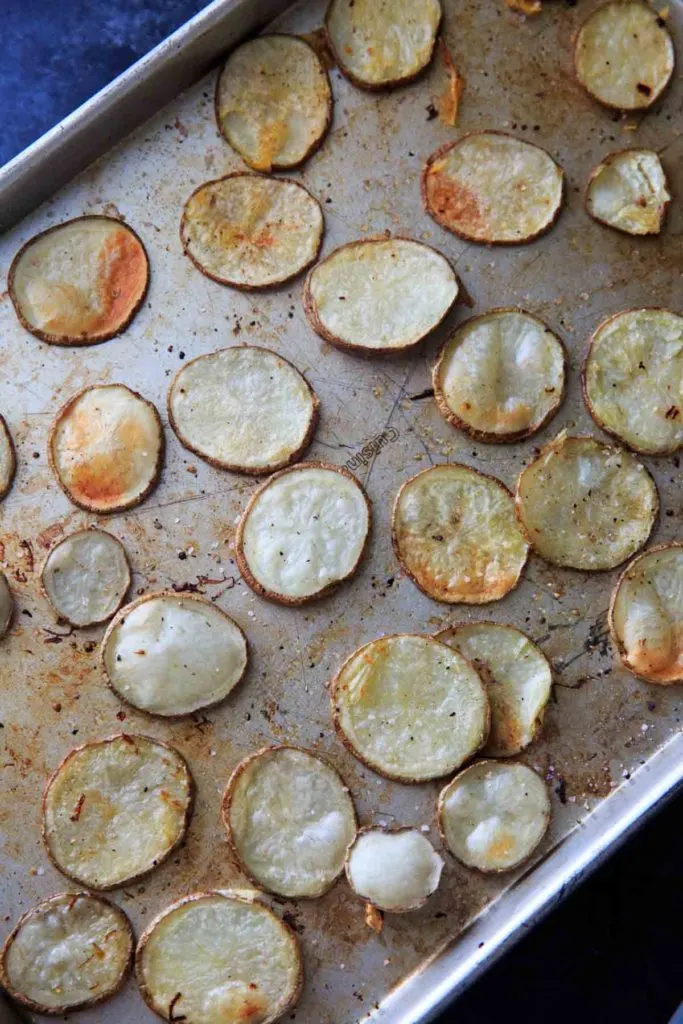 Roasting the potatoes in (roughly) 1/4 inch slices works well so they are sturdy enough to hold some toppings, but not too thin where they all burn. Really the trick is to cut them evenly.
I like to add the cheese on the potatoes in a couple layers so that each bite will have a good distribution of cheese. It's no fun when you realize all the good cheese and toppings are gone after only eating the top half of your nacho plate!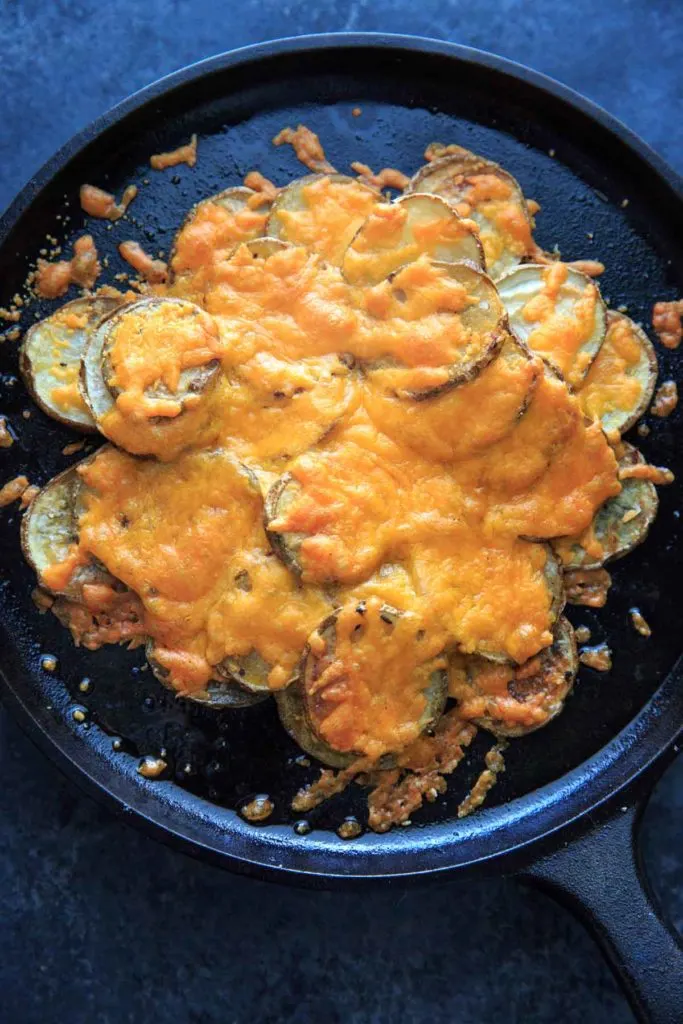 As far as toppings go – you can go with really any of your favorites. I kept mine fairly minimal with green onion, jalapeno and salsas (corn AND tomato salsa for the win). I didn't even realize I was going for a green theme, but that brings a bit more "luck of the Irish" feel!
But anything that works for regular nachos would work here.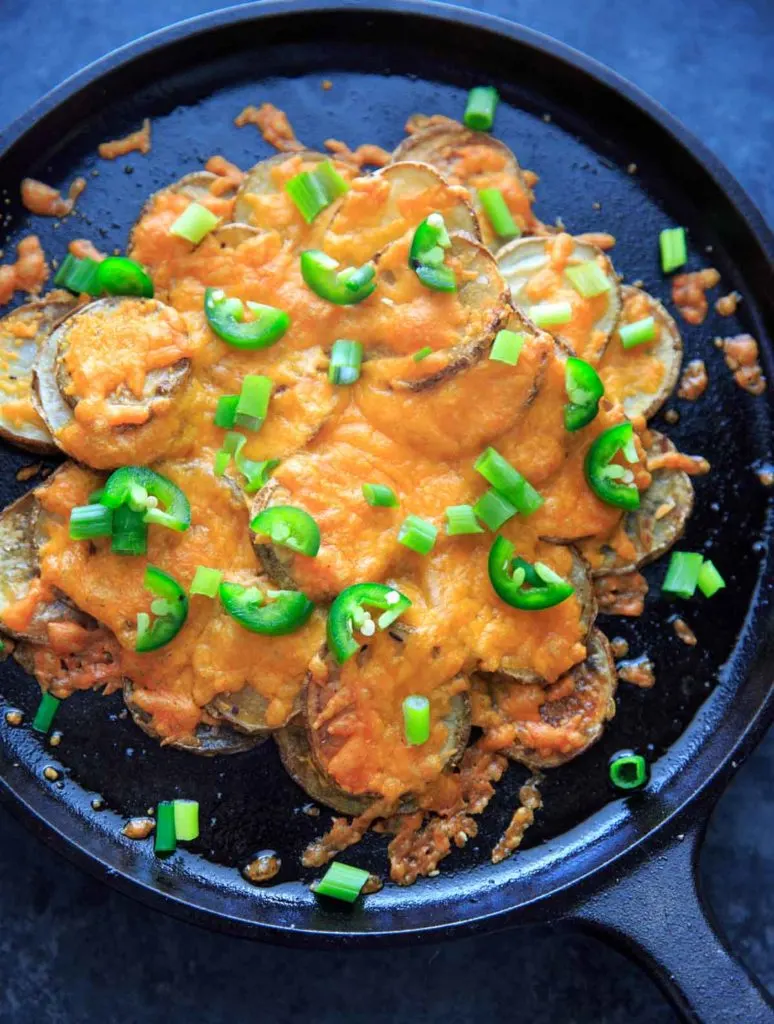 You could even shape it like a shamrock if you're artistically inclined! I didn't think of this until I was editing the photos, but that could be super cute.
Let's just pretend I did that. Squint really hard it'll look like one.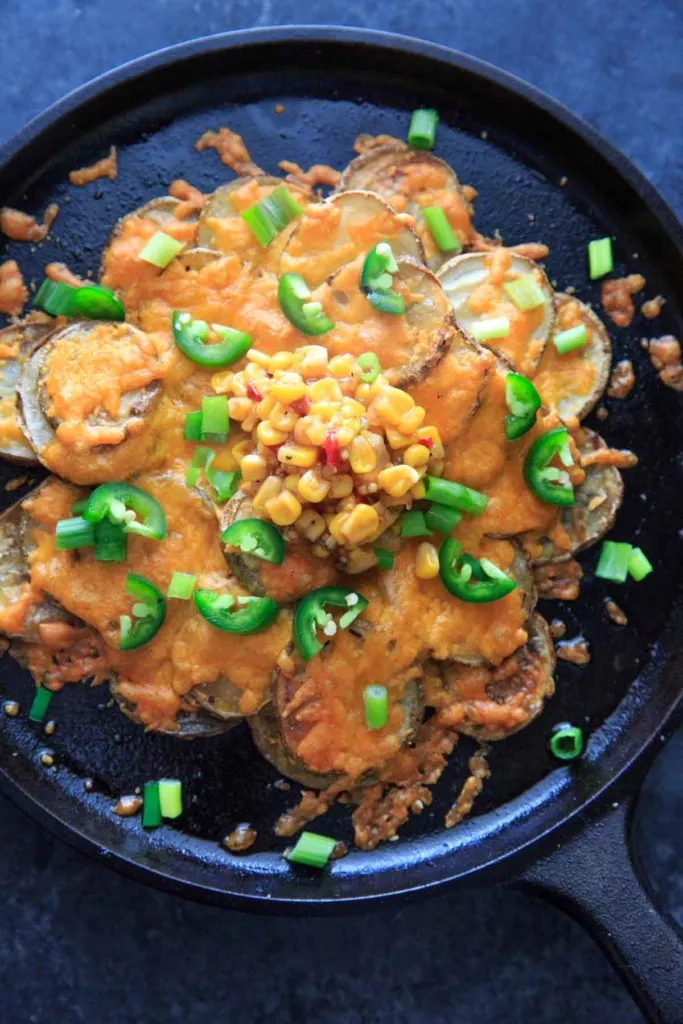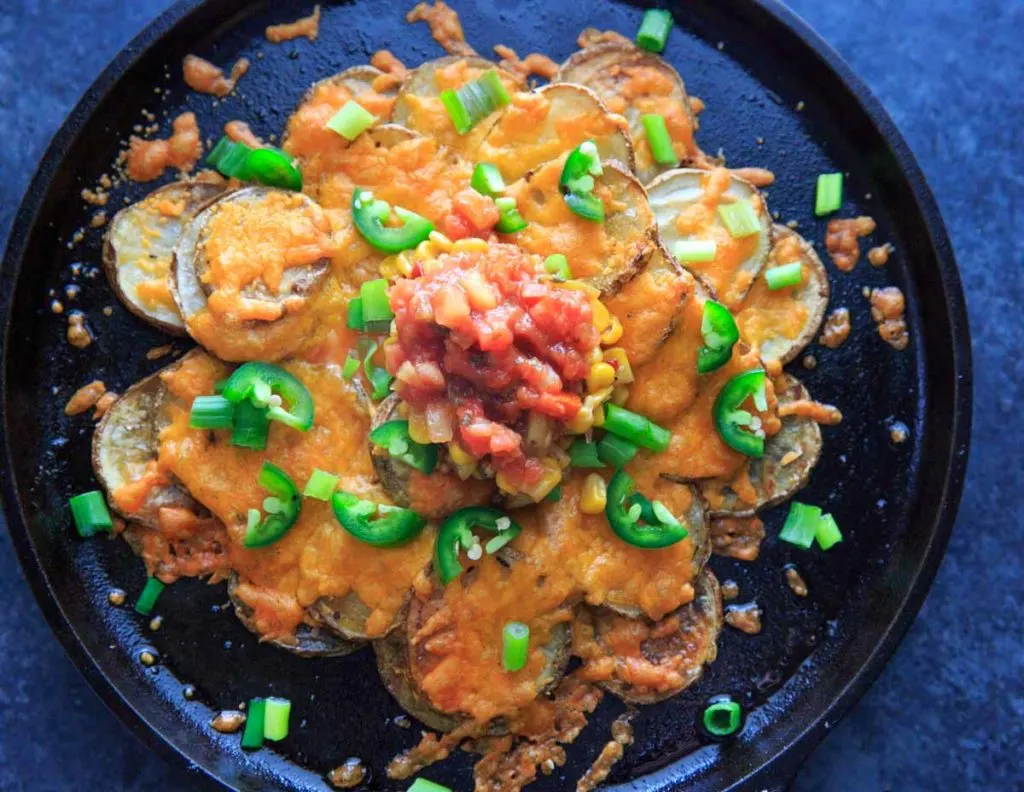 If you're looking for more Irish recipes, check out this traditional Irish soda bread!
Yield: 2 -3 as an appetizer
Irish Pub Potato Nachos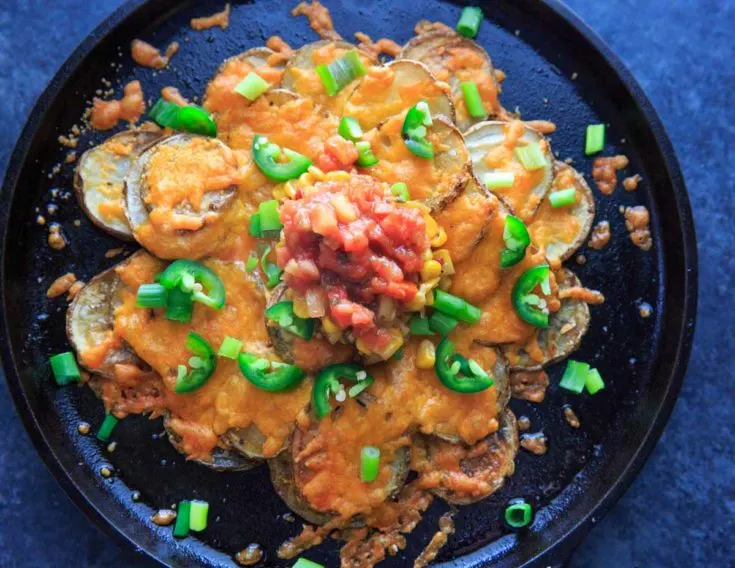 Irish Pub Style Potato Nachos topped with cheddar cheese and all your favorite toppings. For celebrating St. Patrick's Day or any day with a twist on this gluten-free appetizer staple!
Ingredients
Base Nachos:
2 medium russet potatoes
2 tablespoons extra virgin olive oil
salt and pepper
1 cup shredded sharp cheddar cheese, (even better if it's Irish cheddar cheese!)
Topping ideas (as desired)*
chopped green onion
salsa , (and/or corn salsa)
avocado, (and/or guacamole)
jalapeno, , diced
sour cream, (and/or queso)
Instructions
Preheat oven to 400°F.
Wash and cut potatoes in 1/4 inch slices. Lay slices on a baking sheet and drizzle with olive oil, salt and pepper, making sure both sides are covered.
Bake potato slices at 400°F for 10 minutes, flip pieces over and bake another 10-15 minutes until lightly browned. Careful not to burn.
Let cool slightly. Arrange half of potato slices on baking sheet or cast iron in a pile (nacho style) and top with 1/2 cup of the cheese. Top with remaining potato slices and the remaining 1/2 cup cheese.
Bake at 400°F for an additional 10 minutes or until cheese is melted.
Add toppings as desired and serve!
Notes
*I used chopped green onion, diced jalapeno, corn salsa and tomato salsa as my toppings.
Recommended Products
As an Amazon Associate and member of other affiliate programs, I earn from qualifying purchases.
Nutrition Information:
Yield:
2
Serving Size:
2 -3 as an appetizer
Amount Per Serving:
Calories:

523
Saturated Fat:

13g
Cholesterol:

59mg
Sodium:

362mg
Carbohydrates:

40g
Fiber:

3g
Sugar:

2g
Protein:

18g
Buy the recommended cast iron skillet for this potato nachos recipe from the
Trial and Eater amazon store
.