There are affiliate links below. As an Amazon affiliate, I earn from qualifying purchases.
A review of Boarderie, the first nation-wide pre-arranged cheese and charcuterie board delivery service in the United States!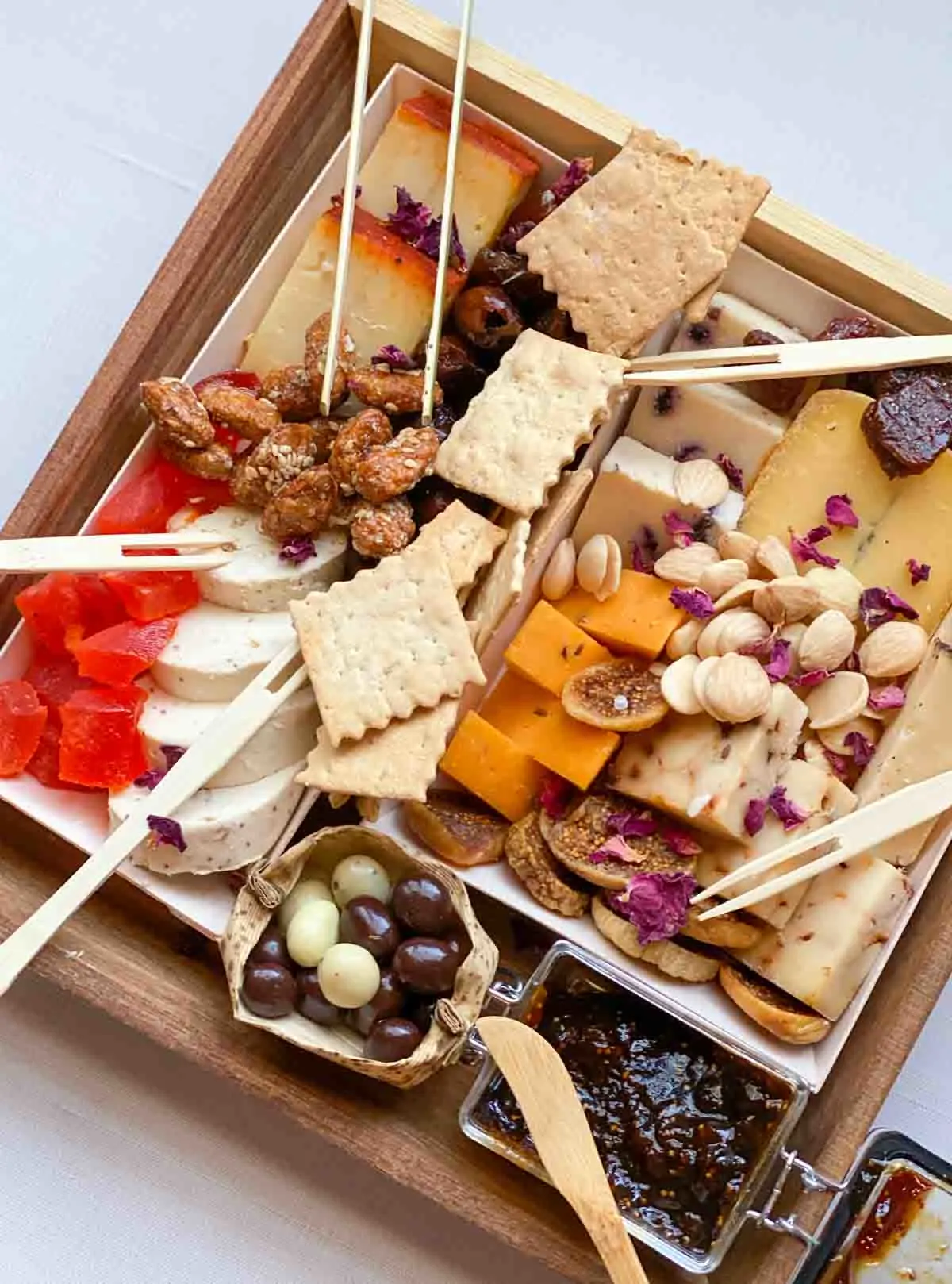 I first heard about the company Boarderie a few months ago and I've been waiting for the right time to treat myself. I'm so glad I finally got one!
Really it was an impulse buy because I heard they were going to appear on Shark Tank, and I wanted to get one before they had a mad-rush of orders!
And, they are also the top foodie gift on this year's list of Oprah's Favorite Things.
Talk about popular!
I don't know how those things will affect shipping times by the time you're reading this, but normally shipping times are FAST (ships out next day after ordering, with overnight delivery).
Since I don't eat meat, I love that they offer cheese only boards.
(Disclaimer: Some of the cheeses may be made with animal rennet or enzymes, and therefore would not be considered vegetarian.)
I first ordered the Ciccetti All Cheese Board ($129), which serves 3-4 people, and have since tried the Diletto All Cheese Board which serves 5-6 ($159) and the newest all-cheese large board, the Art All Cheese Board which serves 9-10 people.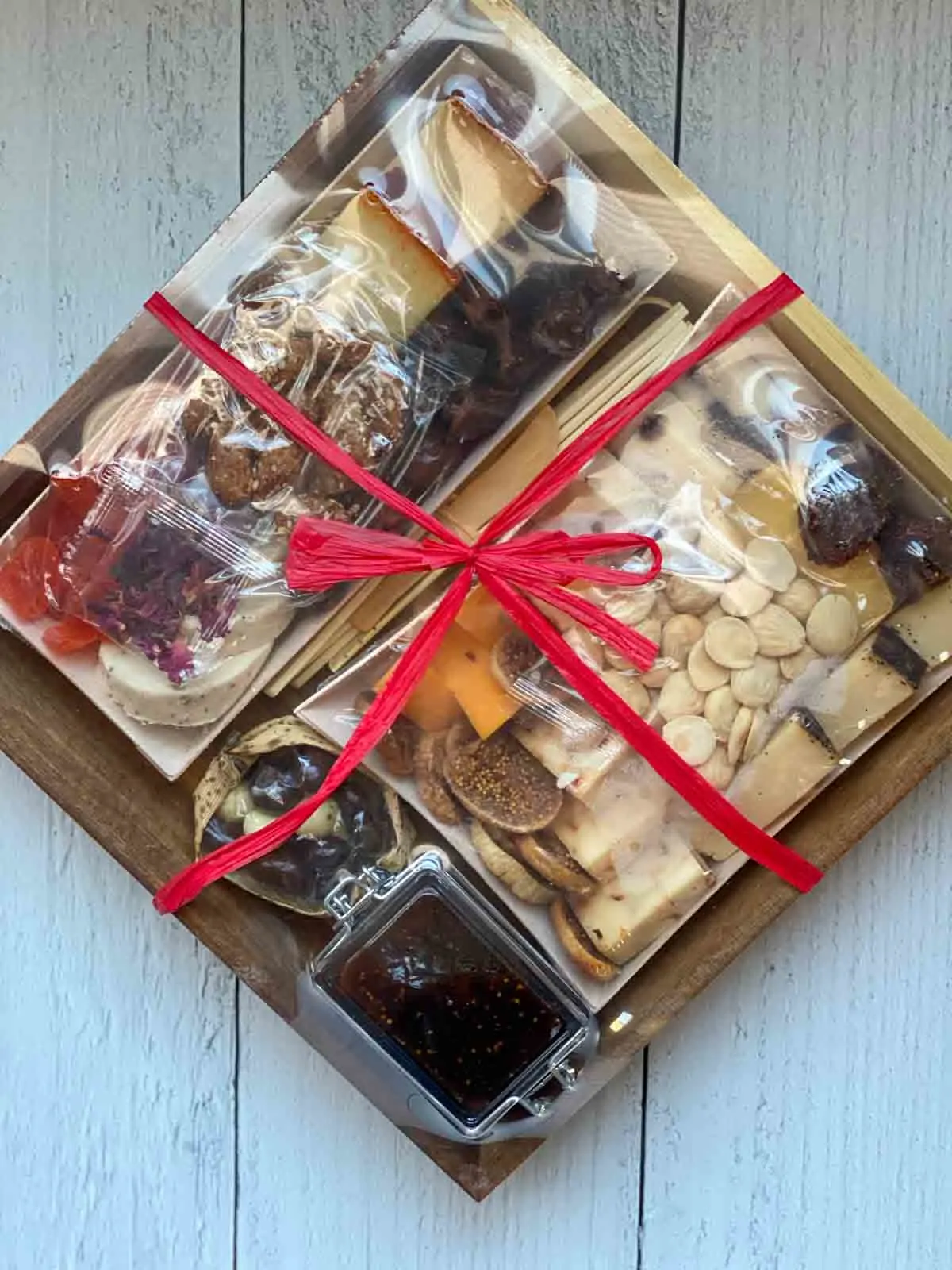 It arrives with the cheese pre-cut, the nuts in plastic baggies and everything mostly arranged for you.
All you need to do is take off the plastic wrap and un-bag the nuts, etc. when ready to serve.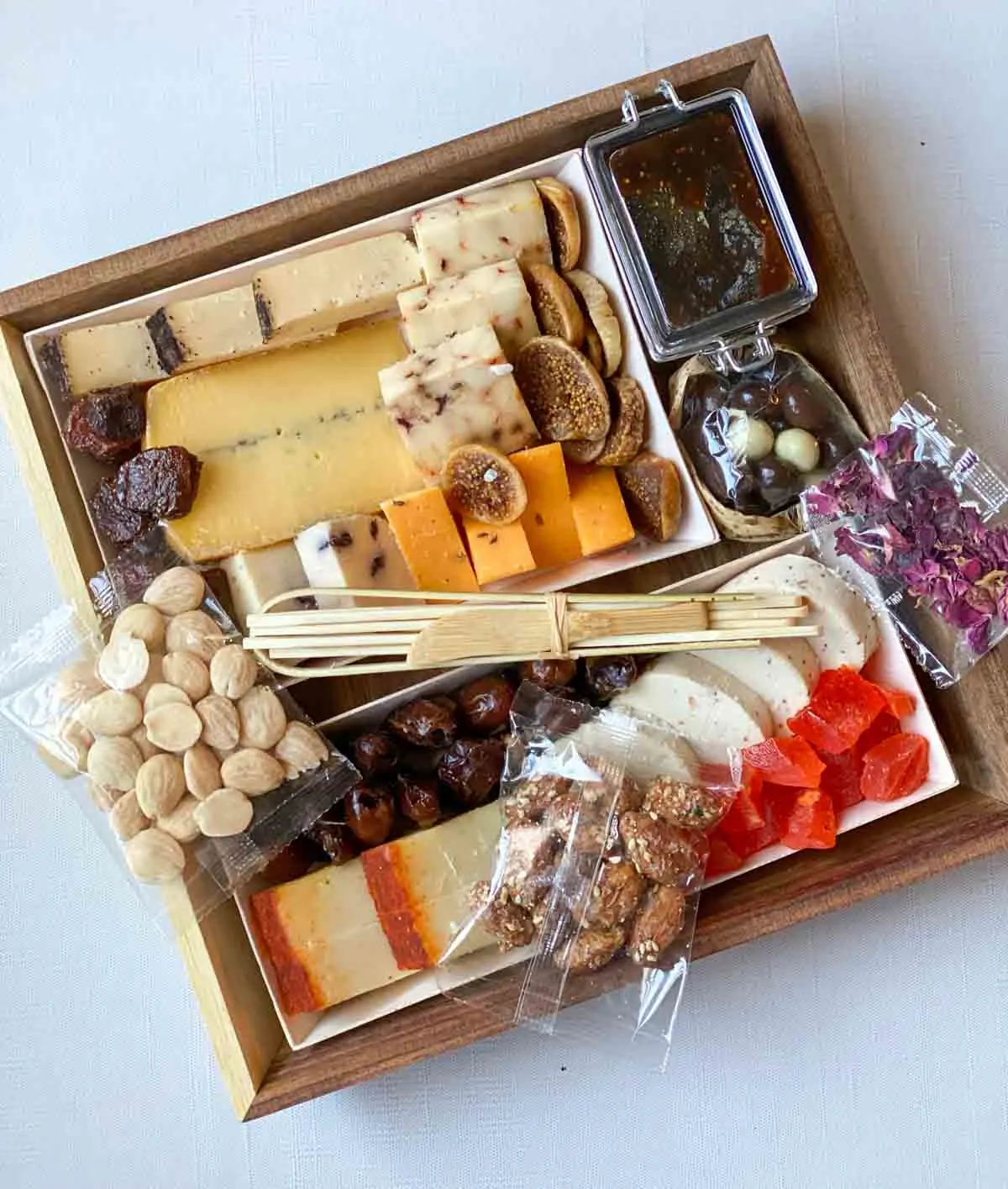 This smaller cheese board has a total of 16 hand selected ingredients: 7 varieties of cheeses, 8 side accompaniments like dried fruit and nuts, and 1 box of rosemary and olive oil crackers.
All on a nice reusable 9 inch square acacia wood board, and ready to serve!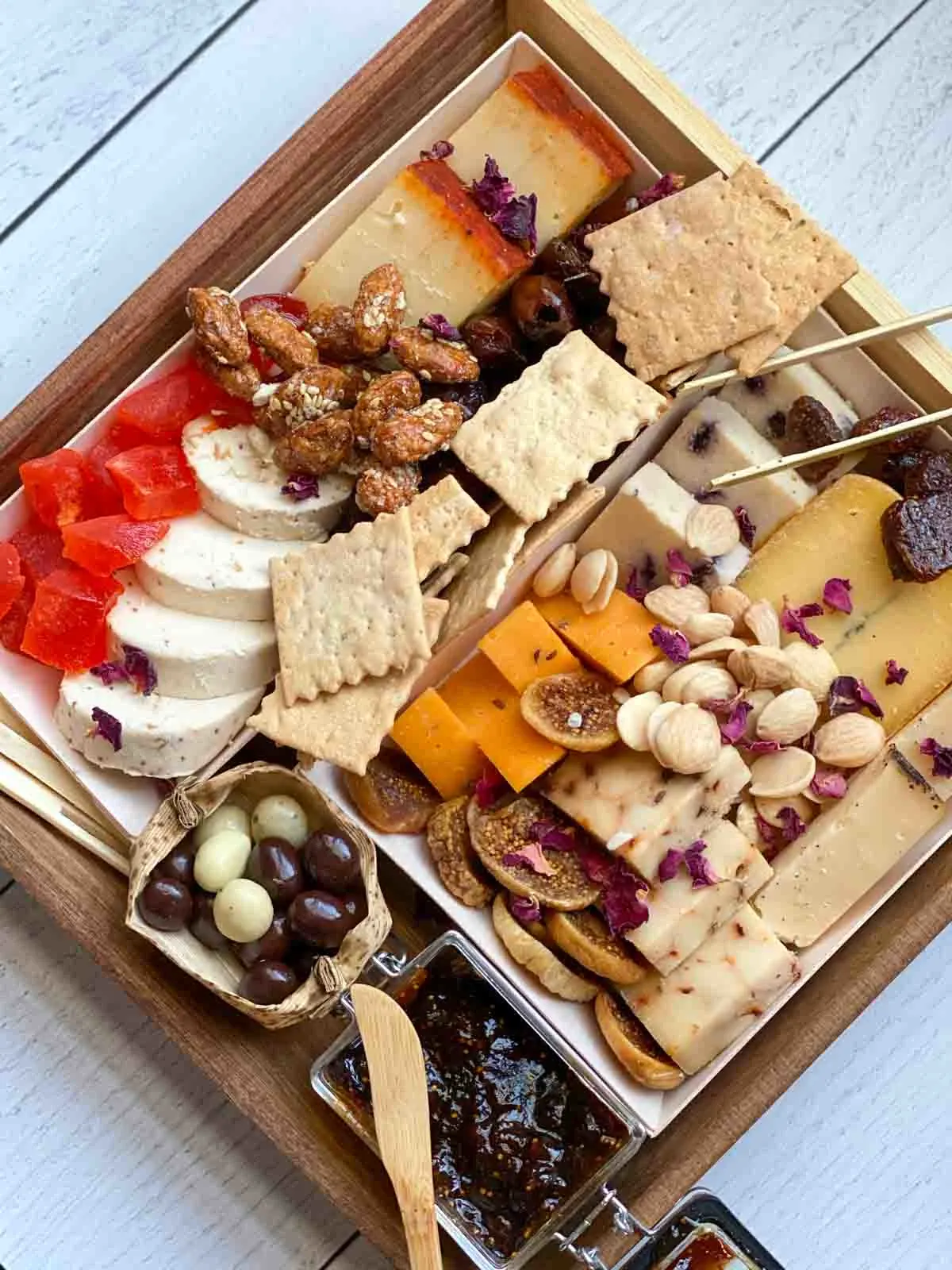 The standard cheeses for this board include (substitutions may occur due to availability): Coppinger, Cranberry Chipotle Cheddar, Caraway Cheddar, Blueberry Wensleydale, BellVitano Espresso, Fig Goat Milk Cheese and Cocoa Cardona.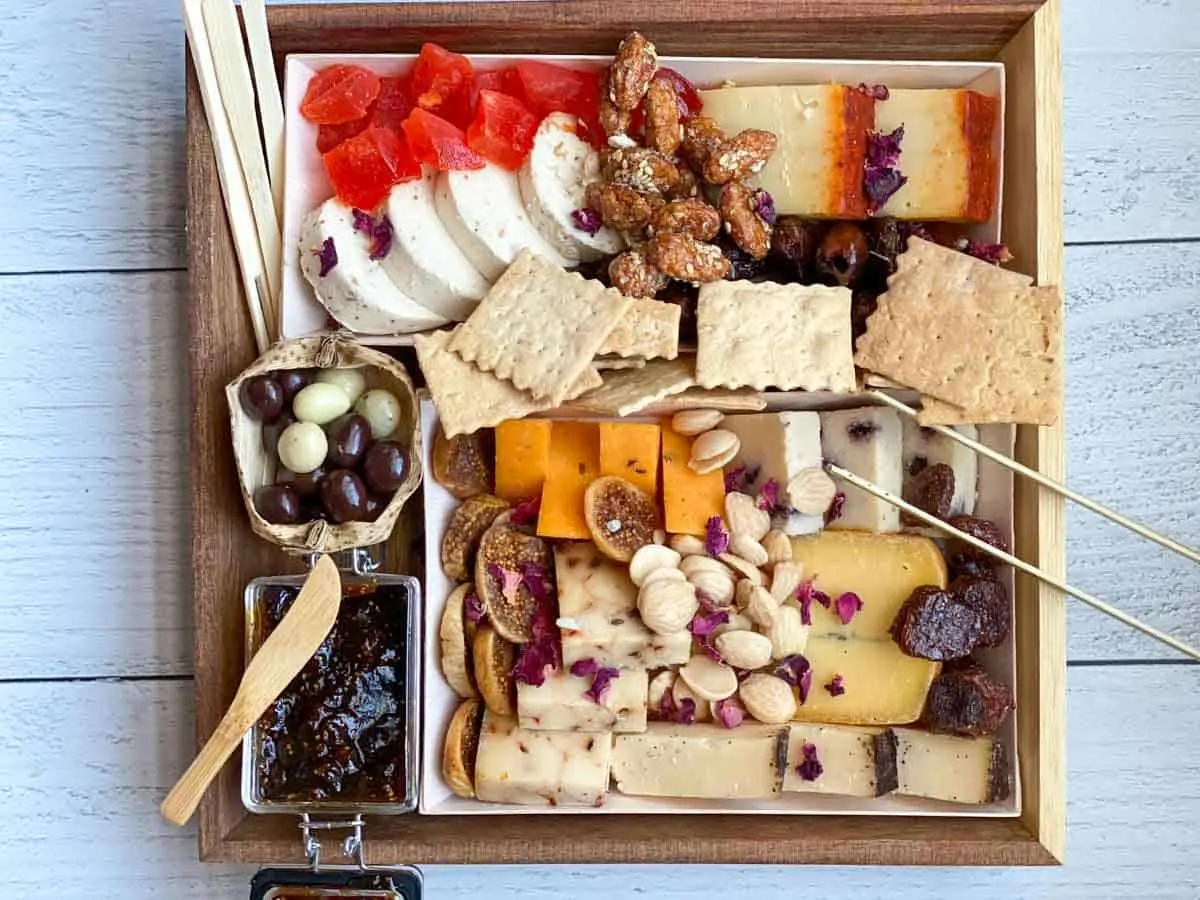 Accompaniments include: dried fruit (like strawberries, figs, papaya), variety of almonds, a marmalade, espresso candies and a box of crackers.
And for easy sharing, also included are bamboo forks, a tong and a jam knife!
Some of their pre-made boards serve as many as 12 people, which is perfect for a large family dinner or holiday gathering, main appetizer or party finger food.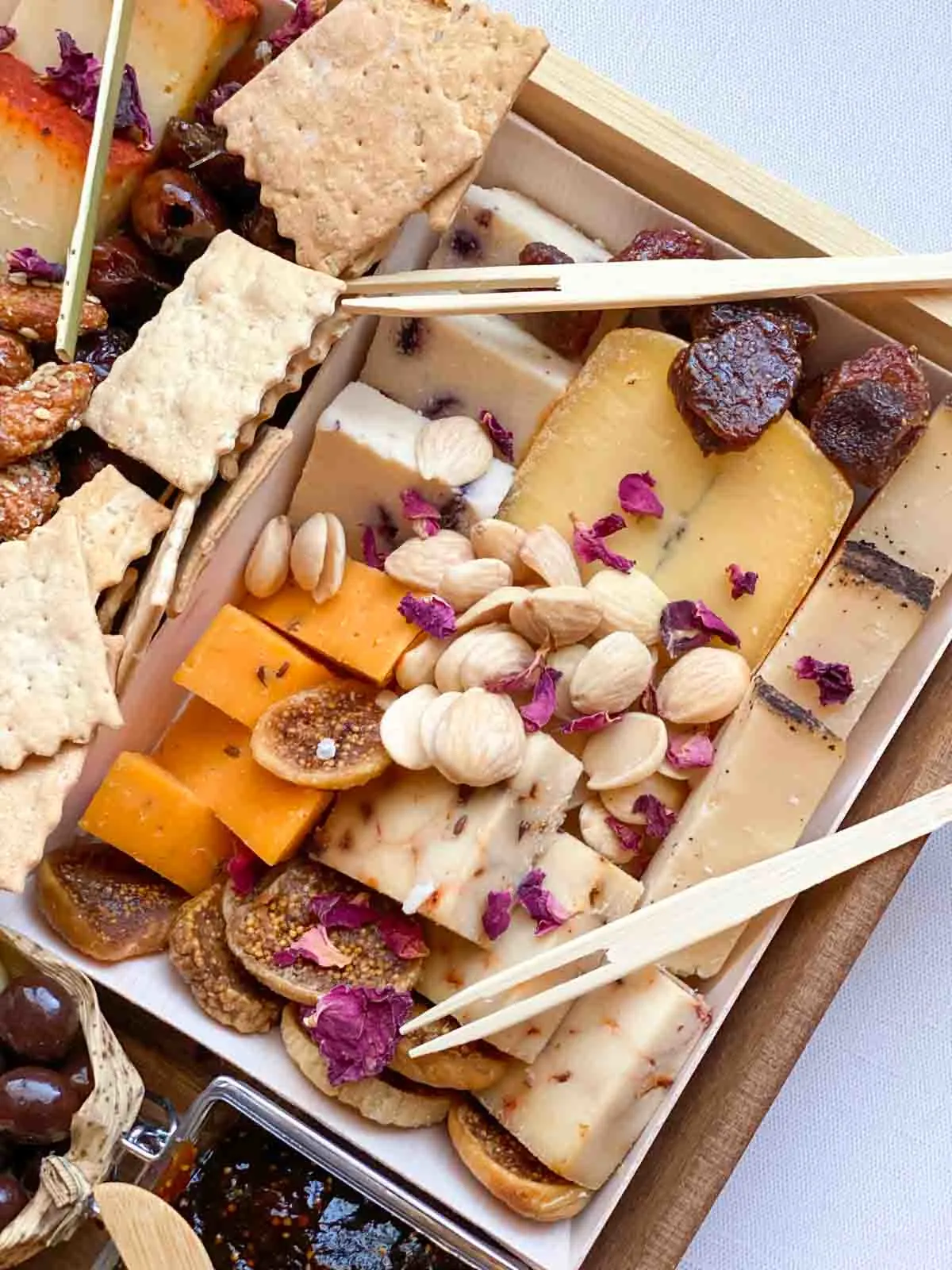 In addition, they have a delicious looking baked brie board.
With 4 baked brie flavors like "Chocolate, Espresso and Raspberry" to "Blueberry, Vanilla and Ginger" that is the ultimate baked brie spread.
Sure I know how to make my own, but seriously – those flavors!
Plus, the baked brie pastries are able to be frozen for later and baked fresh within one year of receiving.
You can also schedule your delivery date for any board if you want to make sure it arrives fresh for your event.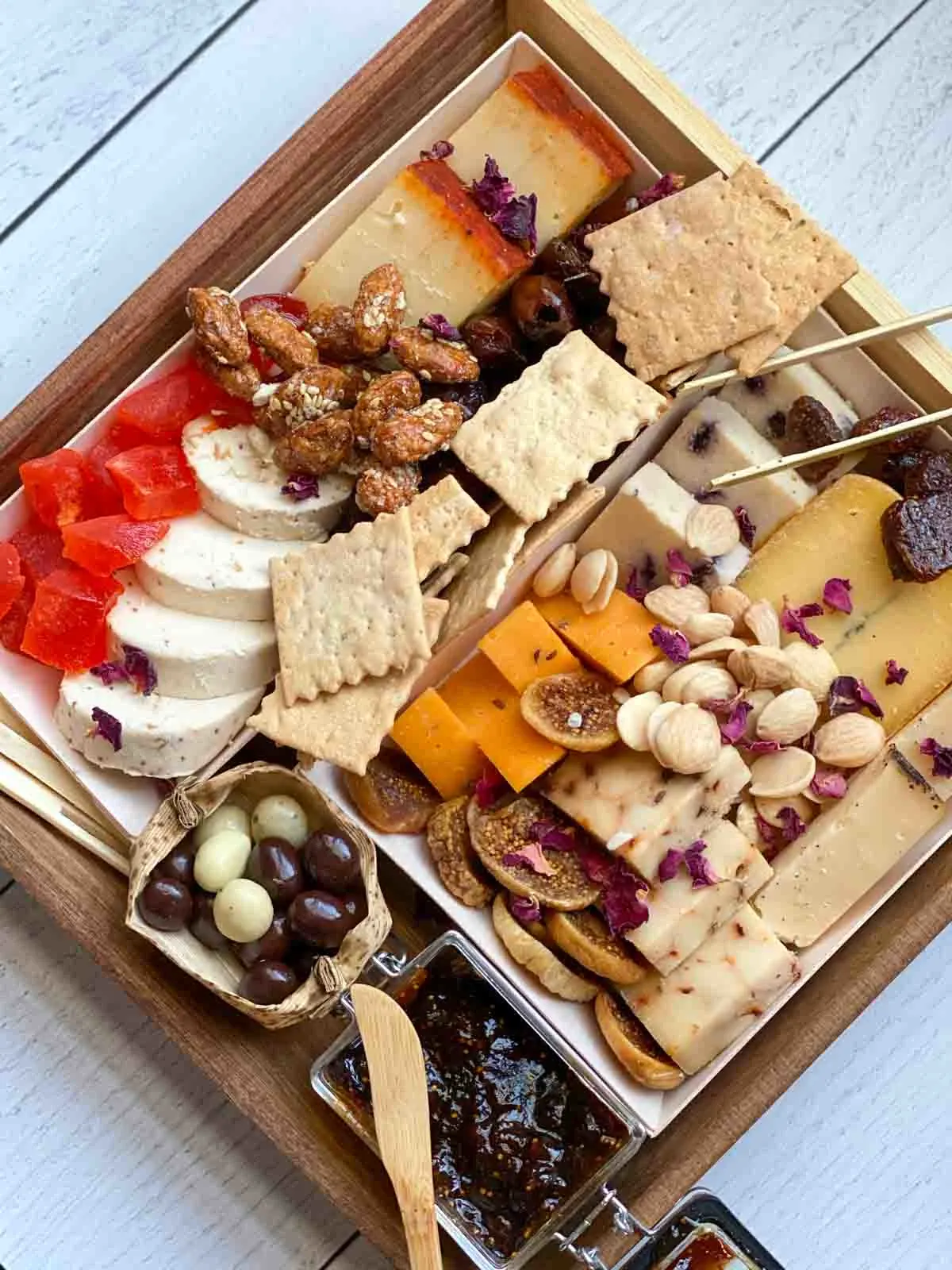 Overall, I think these make great gifts or treats for special occasions.
If you've ever tried to make your own cheese board, you know how much work it can be to put together. And the costs still add up when you buy each ingredient yourself!
I do wish it came with an easy cover to store leftovers, or for when you need to have it ready to go and want to get everything out of the plastic ahead of time.
I ended up just using aluminum foil to cover mine for later after I initially opened to taste test.
Everything on the board is delicious and unique! Definitely not cheeses you'd normally get at the grocery store.
Having cheese only options (without charcuterie) make this more versatile, though still be aware that they are not all vegetarian specific cheeses.
(Another option is the foodie gift crates from iGourmet, and they do have a vegetarian specific cheese box!)
Do you want to be the hostess with the mostest? Do you want to send a gift that will have your loved ones raving about your thoughtfulness? Order a cheese board from Boarderie.
In addition to ordering from their website, you can also find them (usually about $10 more, but also free shipping!) on Amazon.