This post contains affiliate links, which means I may receive a small commission if you make a purchase after clicking on my links. As an Amazon affiliate, I earn from qualifying purchases.
A review of the plant-based hard-boiled egg replacement, Wunder Eggs! Ready to buy and don't need to see the review? Use promo code TRIALANDEATER on their website to save 10%!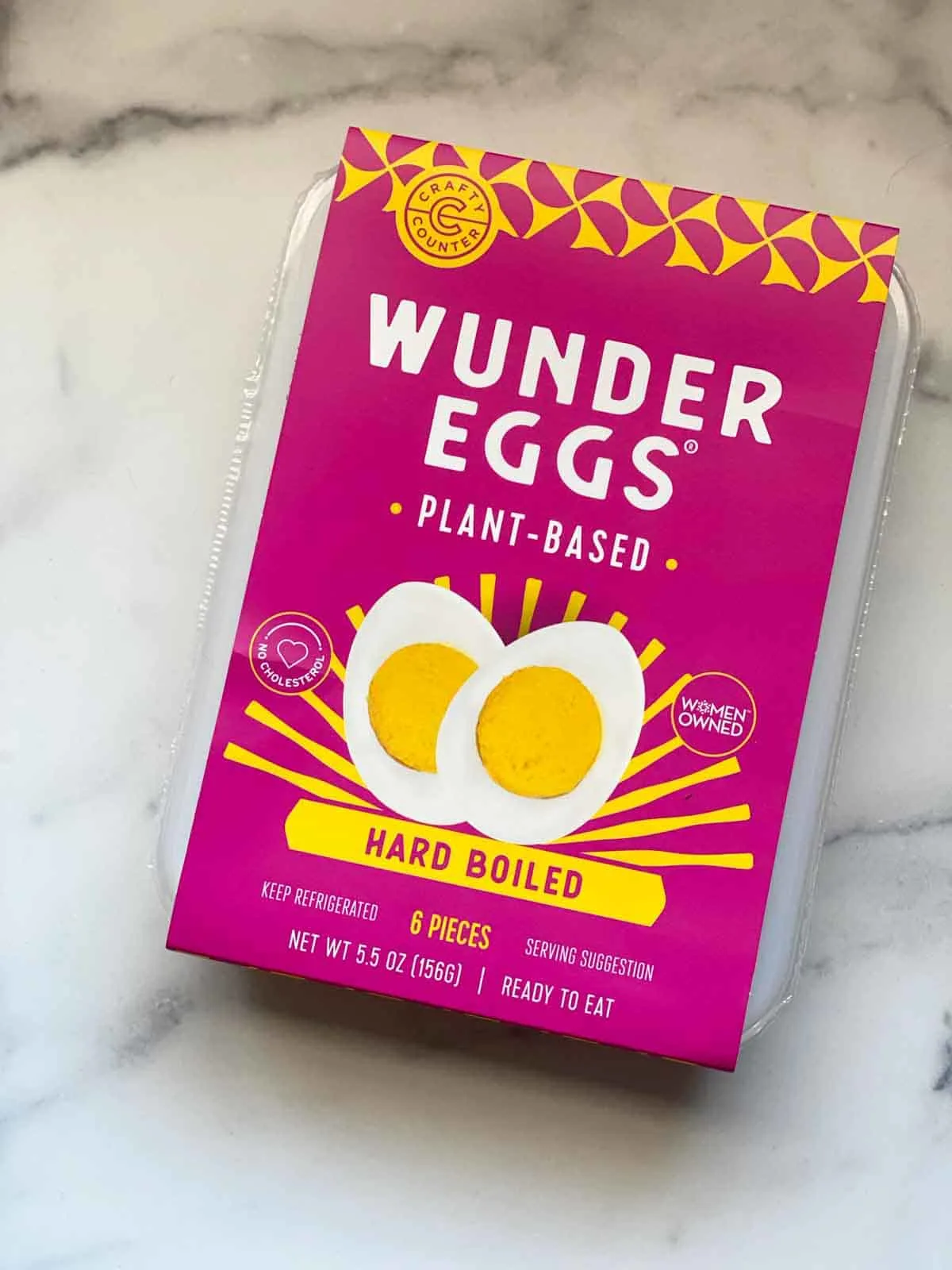 I've been following Crafty Counter on Instagram for a while now since I first heard she'd spent years perfecting her vegan hard-boiled egg recipe. And now they are officially launched!
They come in a package of 6 "halves" and a package of black salt. Black salt is known for giving the eggy flavor.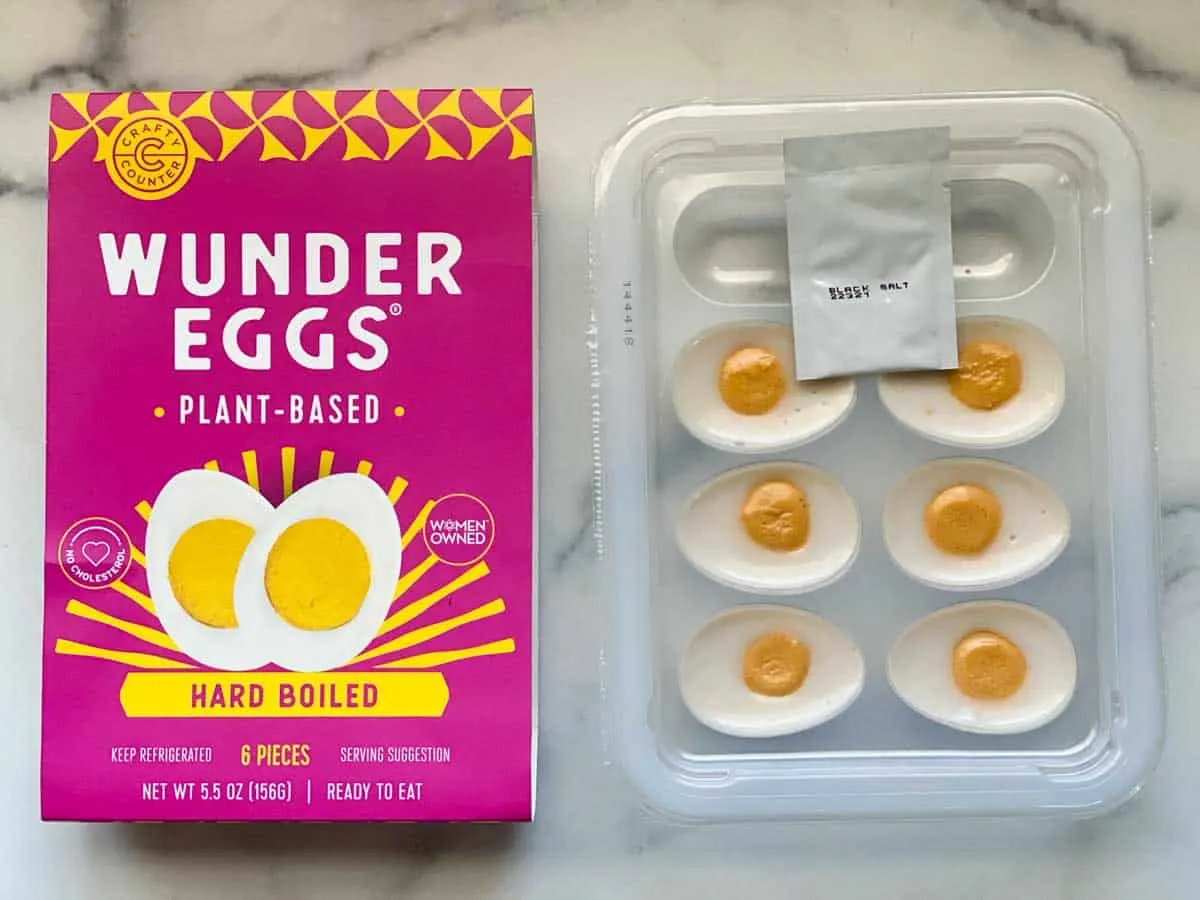 Wunder eggs were designed to not only look and taste like a regular chicken egg, but also to have similar nutrition (minus the cholesterol).
A regular egg has 5 grams of fat and 7 grams of protein, and a wunder egg has 6 grams of fat and 3 grams of protein. Keep in mind these are *small* eggs.
Being mostly made from almonds, cashews, coconut milk is pretty amazing though! Of course they have a small amount of flavorings, and natural color from turmeric and annato.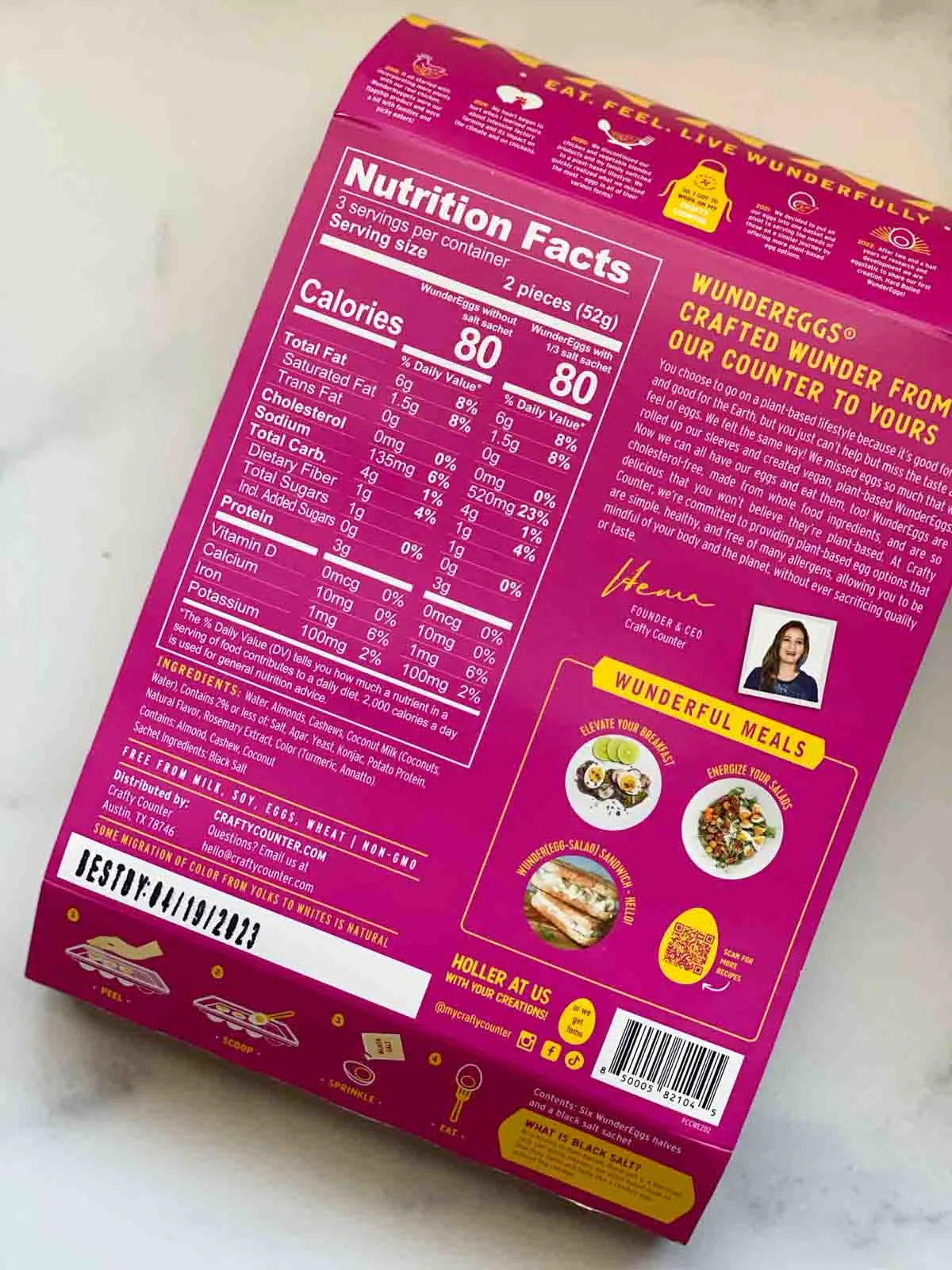 I've seen people make deviled eggs or egg salad from these but I chose to try them straight out of the package.
If you don't plan on consuming the entire package right away, open the plastic covering just enough to get out what you need.
You'll then kind of "pop" out the egg half by pressing on the back.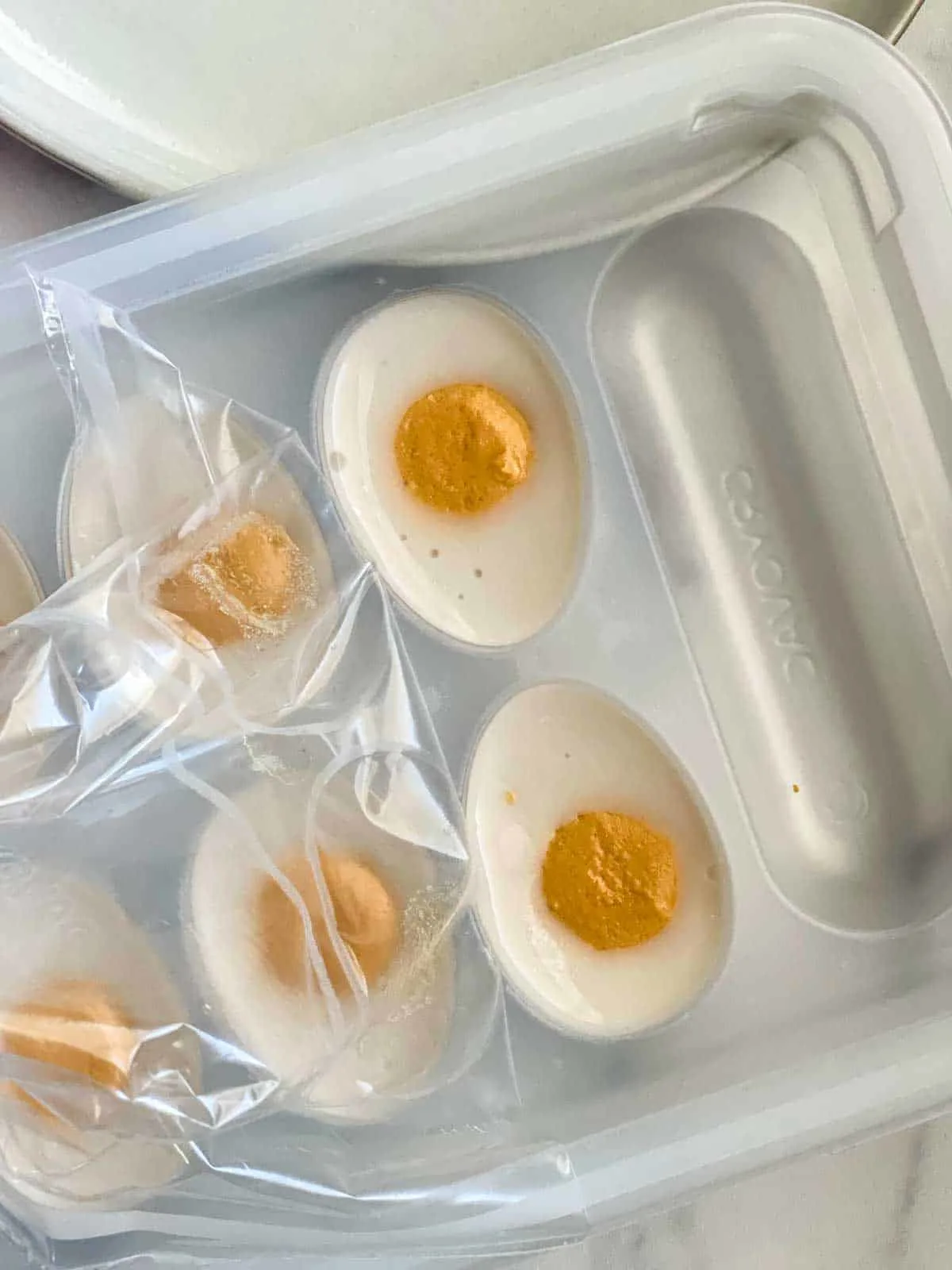 The package of black salt is super easy to over-pour, so I recommend to sprinkle a small amount in your hand or other dish before adding directly to the egg.
This is an example of what the black salt looks like on the vegan egg – a little too much came out this time! You can see black salt is not really black, but it does kind of change color a little when absorbing moisture from the wunder egg.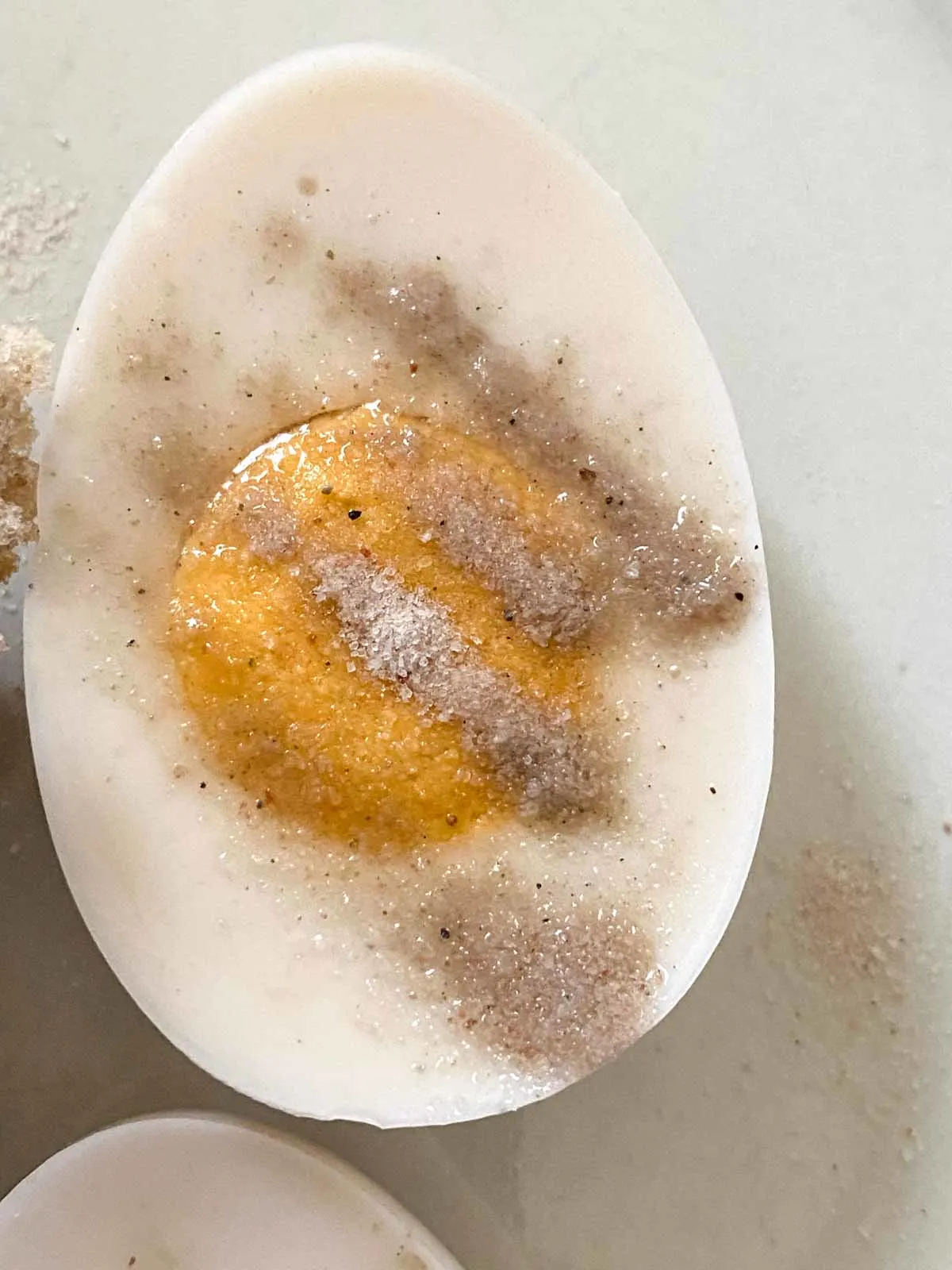 So how do they taste? It definitely does taste like an egg! Though honestly, most of the flavor comes from the black salt.
I think the wunder egg itself looks and feels very much like a real hard-boiled egg (though a little rubbery), but does not have much flavor by itself. If you are missing the *experience* of eating an egg, then you should definitely try this.
Though if you just want the *taste* of an egg, you could just buy some black salt! The biggest downside of the wunder egg is the price point.
In general though I love the innovation – New Hope Network awarded them "Best New Meat Alternative" in 2022.
I will definitely keep following this company to see what they come up with next. Coming soon to their product line up is vegan egg white patties!
Where to Buy
You can find Wunder Eggs in the refrigerated section of Whole Foods (or through Amazon Whole Foods delivery or pick-up). Normal price is $8.29.
These plant-based eggs are also available on the company website, where you can buy in bulk – 6 packages for 44.99, which comes out to about $7.50 per package.
Tip: The website says the shelf life is 120 days, but my expiration date was about 2 months out from the day I bought them at Whole Foods. So you may have more time to eat them if you order from the website directly.