This post contains affiliate links, which means I may receive a small commission if you make a purchase after clicking on my links. All opinions are my own.
A review of the smoothie company, Blendtopia! Superfood packs in delicious flavors delivered frozen to your dooor – vegan, gluten-free, soy-free and organic.
Ready to buy and skip the rest of the review? Click here to go to their website and add your favorite smoothies to your cart!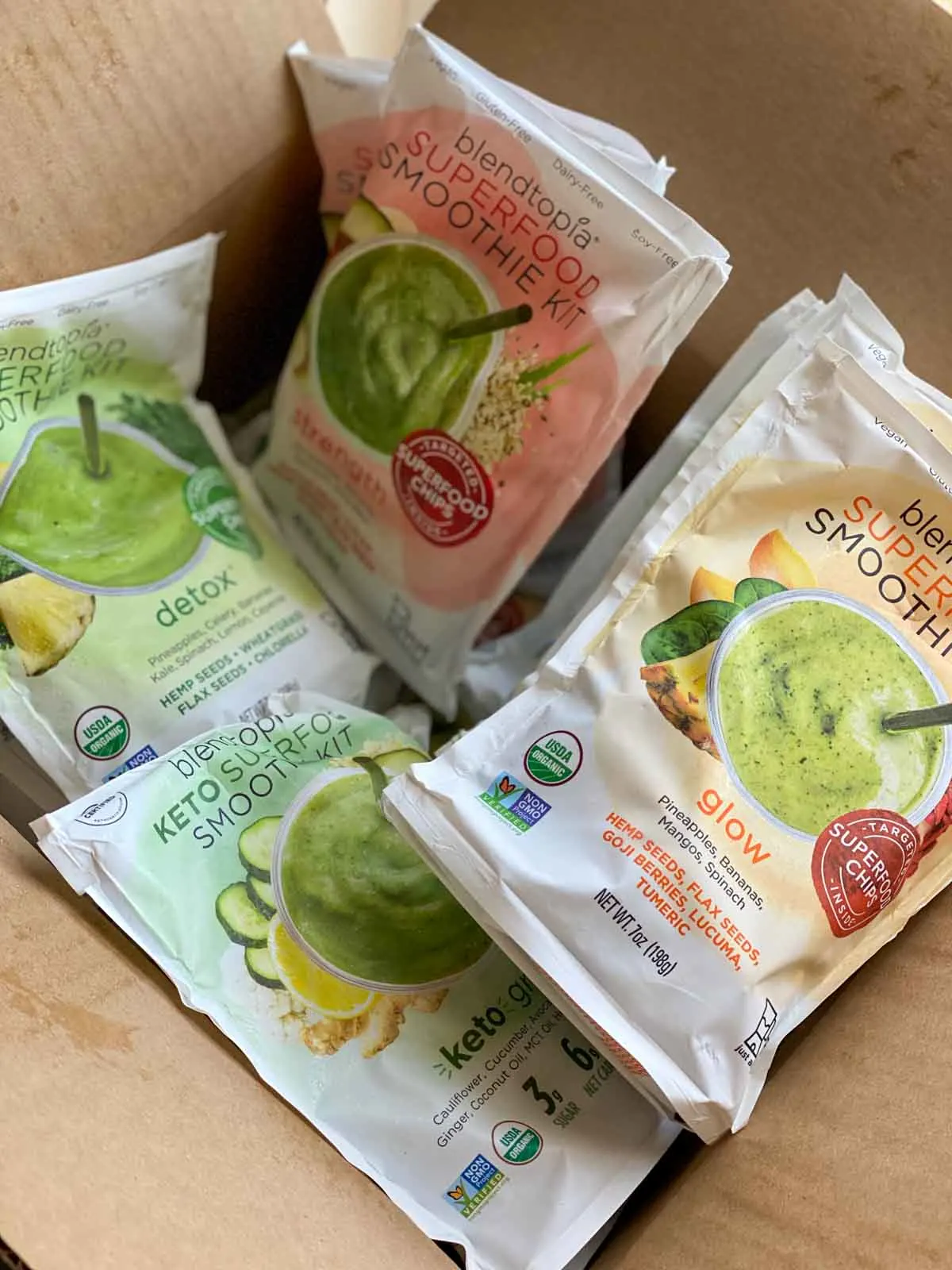 I found another company with awesome organic smoothies!
Now that's it's heating up outside again, I've been making these frozen smoothies practically every day to give me a midday boost. Since they are
About Blendtopia
The company's founder, Tiffany Taylor, created the general idea for this company in 2012 when a friend of hers was diagnosed with cancer. (Similar to the Your Super story!). She made ready-to-blend smoothies for her friend to help provide the energy she needed while going through treatment.
Taylor went on to become a Certified Raw Food and Holistic Nutritionist to perfect the science behind her "smoothies with purpose". Her carefully crafted superfoods and nutrient rich fruit blends went on to become the company Blendtopia!
Types of Smoothies
While the company started with green smoothies, there are other fruit blends available also.
How to make the smoothies: Each bag is 2 servings but I usually just make one big smoothie and use the whole bag, mixed with 14 ounces of oat milk or even water. I also like to add protein powder, especially if I'm drinking it as a meal or before a workout.
Detox Smoothie – Main ingredients are pineapple, celery, banana, kale, spinach and chlorella. Has a touch of lemon with a kick of cayenne, plus added seeds and wheatgrass! I like to add vanilla protein powder to this one and have as a midday snack.
Energy – Has a purple color from blueberries, with extra sweetness from pineapple, banana, coconut and cinnamon. Added chia seeds, cacao and maca! I like to add peanut butter protein powder (goes well with the berries + cacao) as fuel before working out.
Glow – Mainly pineapples, banana, mango and spinach. Anti-inflammatory turmeric and lucuma powder also.
Immunity – Similar to the "energy" mix except added strawberries, and goji berries.
Strength – Similar to the "detox" mix with the pineapples, bananas and spinach, but this one also has healthy fat from avocados!
Keto Smoothies – There are 3 low-carb options here: a green blend, berry blend, or chocolate chai!
They even have smoothie pops, which I can't wait to try.
Find all the smoothies here!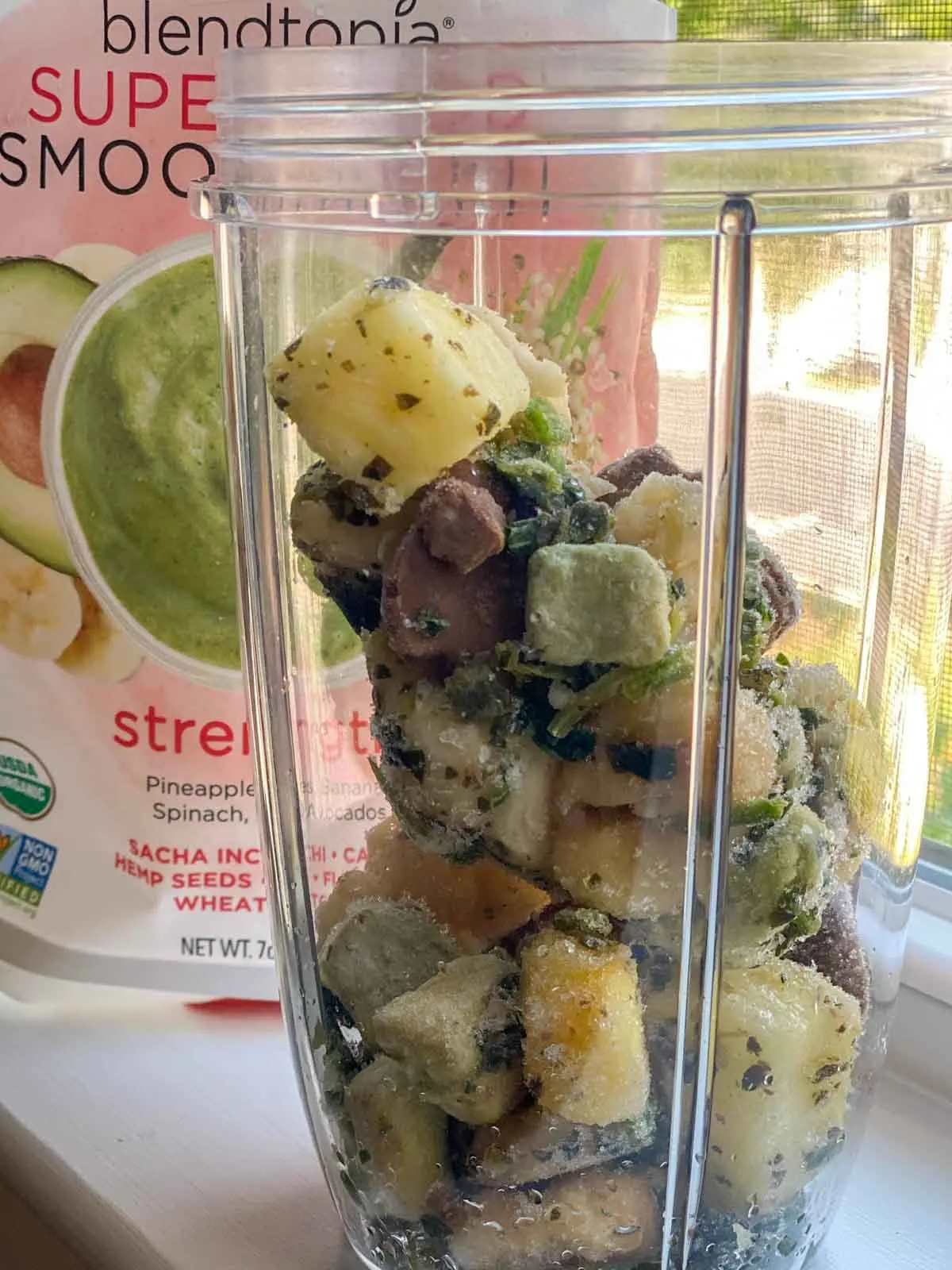 How to Order
On their website, you can build your own box with 12, 18, or 24 smoothies @ $6.99-$7.99 each (cheapest with 24) or you can do a 7 day cleanse (2 green smoothies a day) for $7.99 a piece. There is also a keto smoothie variety pack with 4 keto greens, 4 keto chocolate chai and 4 keto berries, also $7.99 each.
You can also find these smoothie packets in select retail stores, like Whole Foods and Walmart!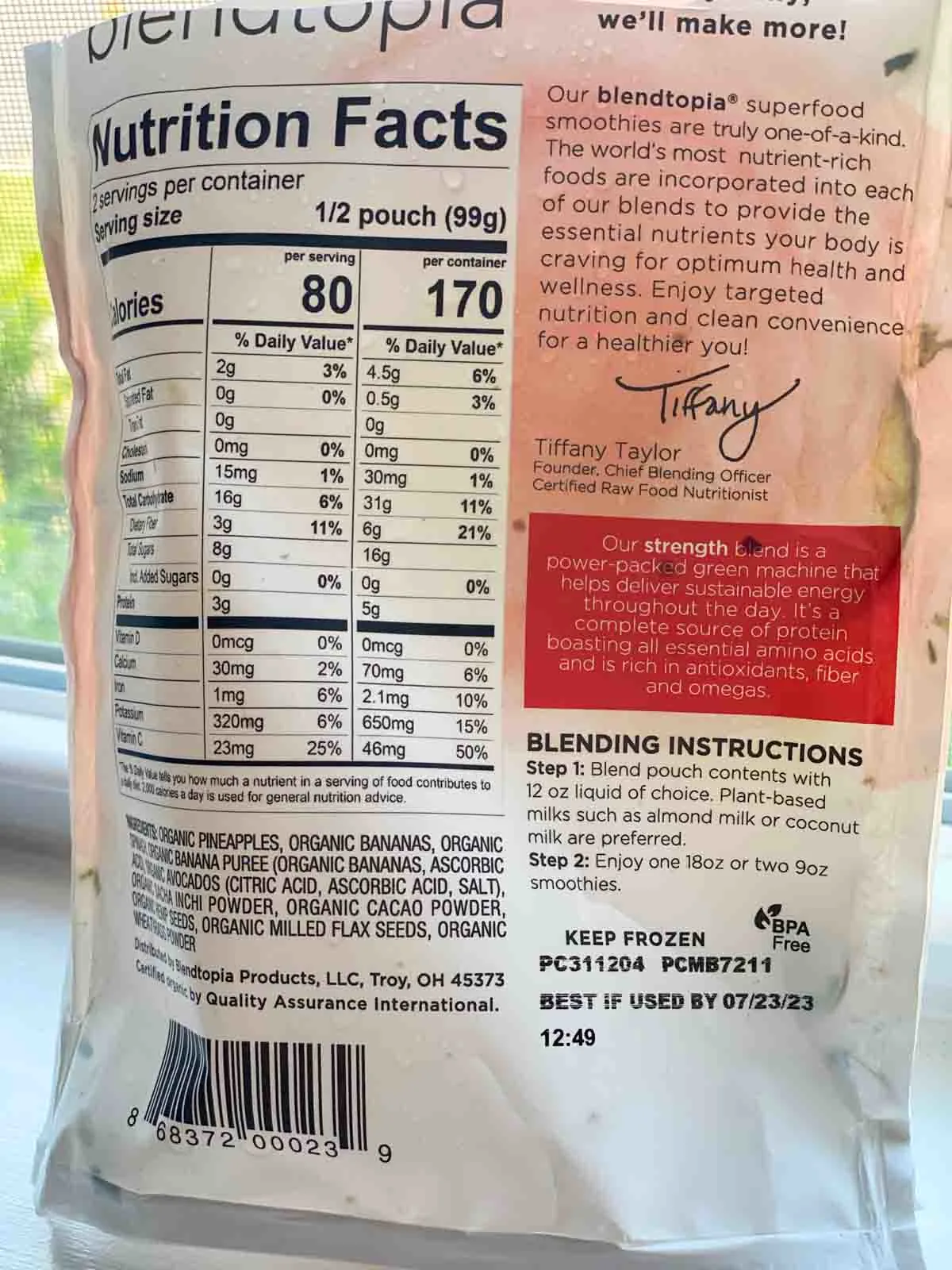 Review Summary
Another great, healthy smoothie option. If you're like me and don't want to spend a lot of time prepping your own smoothies, these are for you.
My favorite is the "Strength" mix – I find myself reaching for this one most often. Though all the flavors I have tried taste very fresh and delicious!
The build your own box is obviously the mostly flexible and the best deal! And you can try whichever flavors you want.
The only people I wouldn't recommend these for are if you don't like or are allergic to pineapple, since that is a common ingredient. Though you can still check out the keto flavors!
Which flavors will you try first?