This post contains affiliate links, which means I may receive a small commission if you make a purchase after clicking on my links. All opinions are my own.
A review of the low-calorie Miracle Noodle products, made from plant-based shirataki noodles! This ever-expanding product line is suitable for many types of diets, easy to prepare, and makes for a great pantry staple.
Ready to buy and don't need to see the review? Head on over to their website and get free shipping on all your favorites!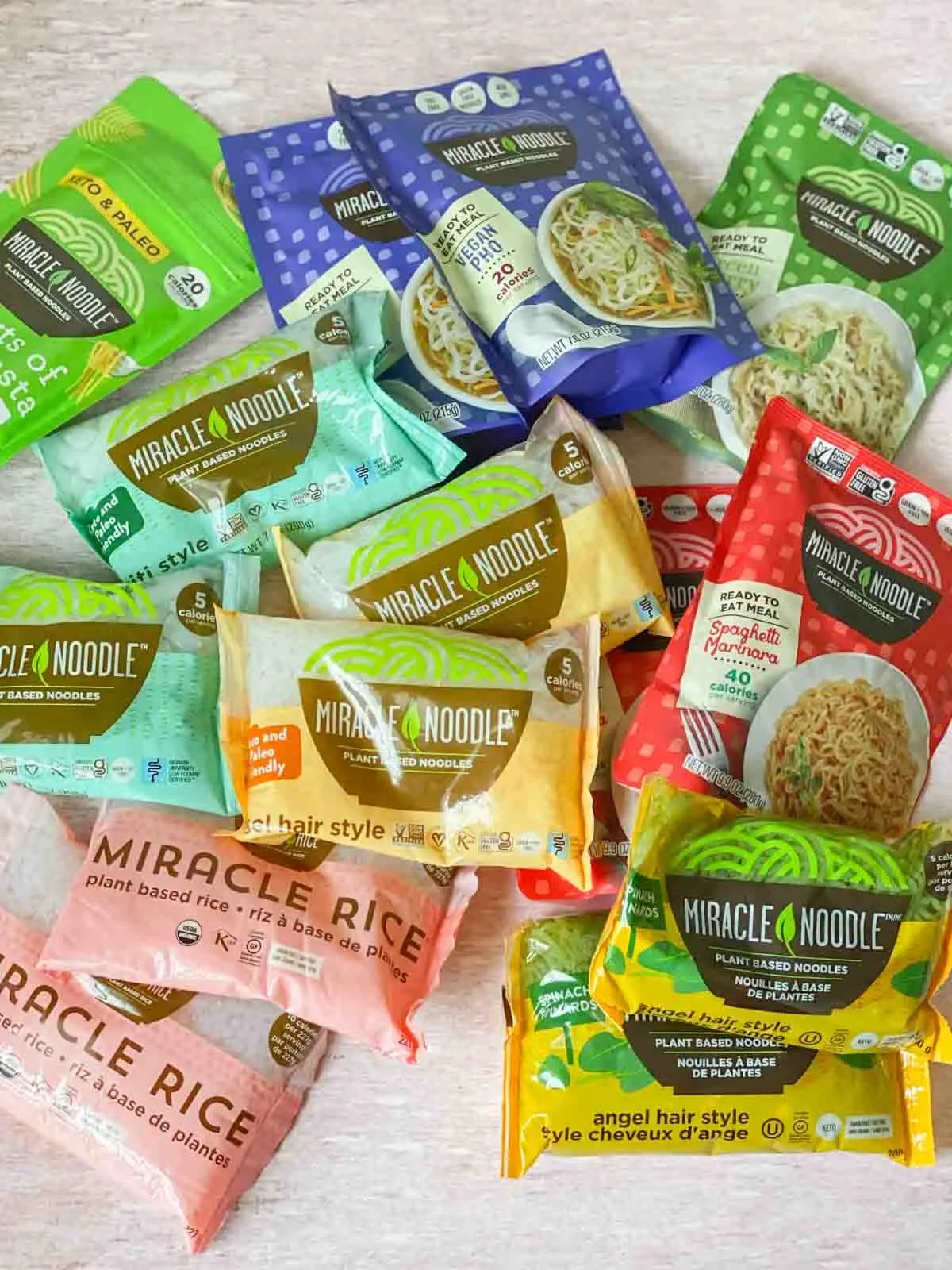 Raise your hand if you've heard of a shirataki noodle? I had not until I discovered these Miracle Noodle products.
"Shirataki" is a Japanese word for "white waterfall", which describes the interesting translucent appearance of the noodles. It is made from a fiber of a konjac plant called glucomannan, which can absorb up to 50 times its weight in water! (source).
(All things added to the things I've learned list!)
Since these noodles are high in water content, they are a very low calorie food. Virtually calorie-free, in fact!
That's why they call them MIRACLE noodles!
The noodles themselves are 5 calories per serving. Now that Miracle Noodles has expanded its product line into meals, those calories come mostly from the sauces.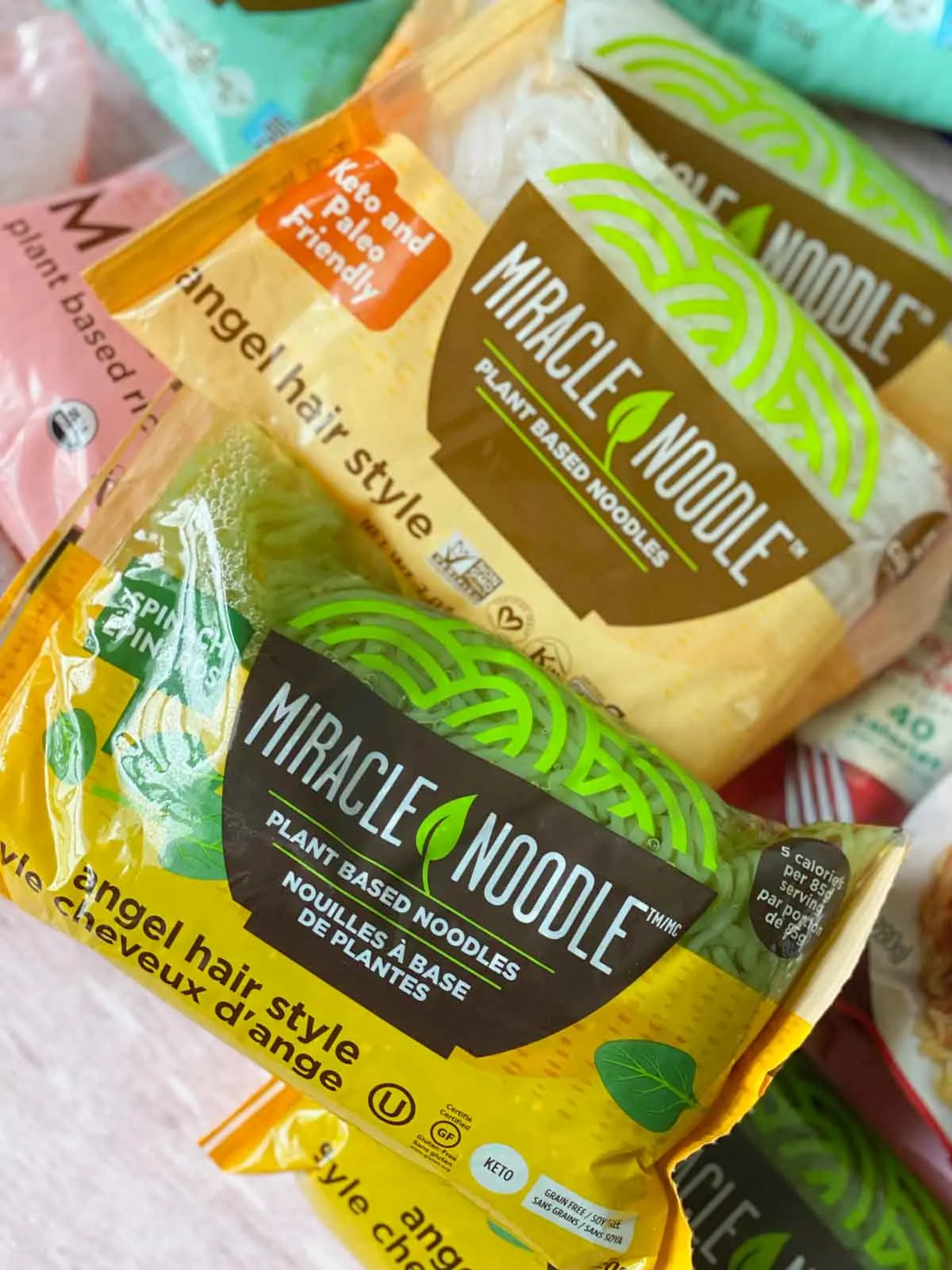 Products
Let's look at their product line – a wide variety of noodles, prepared dishes, and even rice! Note that they do have some products with meat ingredients in them, and I will only discuss the vegetarian-friendly ones below.
Noodles – so many noodle styles! Angel hair pasta, spaghetti, fettuccine, even ziti (can't wait to use it in grandma's ziti recipe).
They also have a hearts of palm pasta which is delicious as well.
A few of the above also come in organic options! Currently the miracle rice, and the fettuccine and spaghetti noodles have an organic version.
I actually love all the varieties of the noodles I've tried so far! I've been pleasantly surprised that they keep me full, also – though I realized that I usually eat a whole package (2 or 2.5 servings) at a time!
Rice– they have both a "miracle rice" option and a blend with regular rice called Love My Rice. I haven't tried this variety yet but think it would be great in a rice casserole.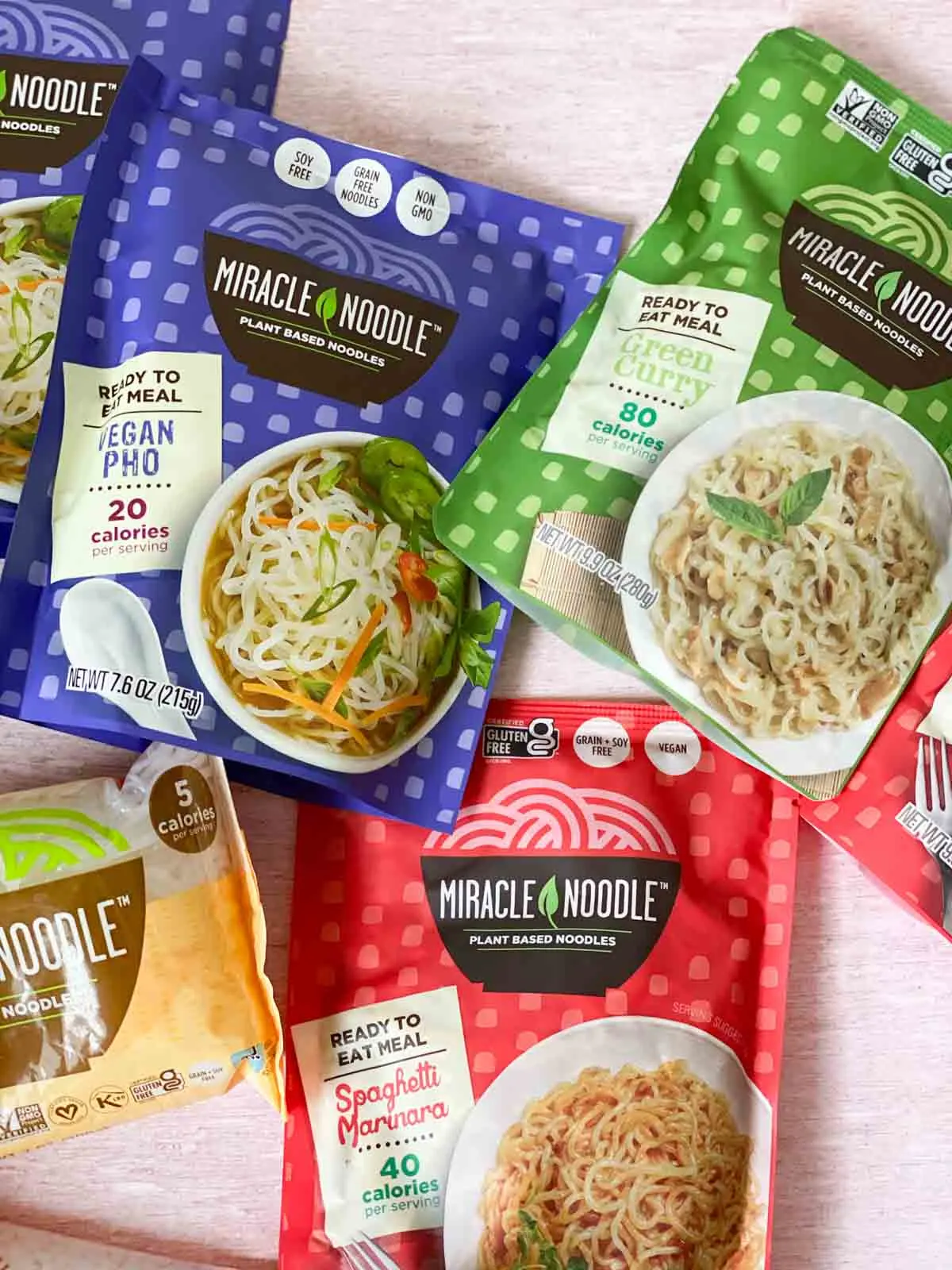 Prepared meals– Green curry, pad thai, spaghetti marinara, even vegan pho! For the most part, even these ready-to-eat meals are pretty clean ingredients, though the vegan pho does contain some natural flavors. Just something to be aware of!
Another note about the vegan pho, though there are carrots and mushrooms in the broth, you'll still need to add your own vegetables if you want it to look like the packaging. 🙂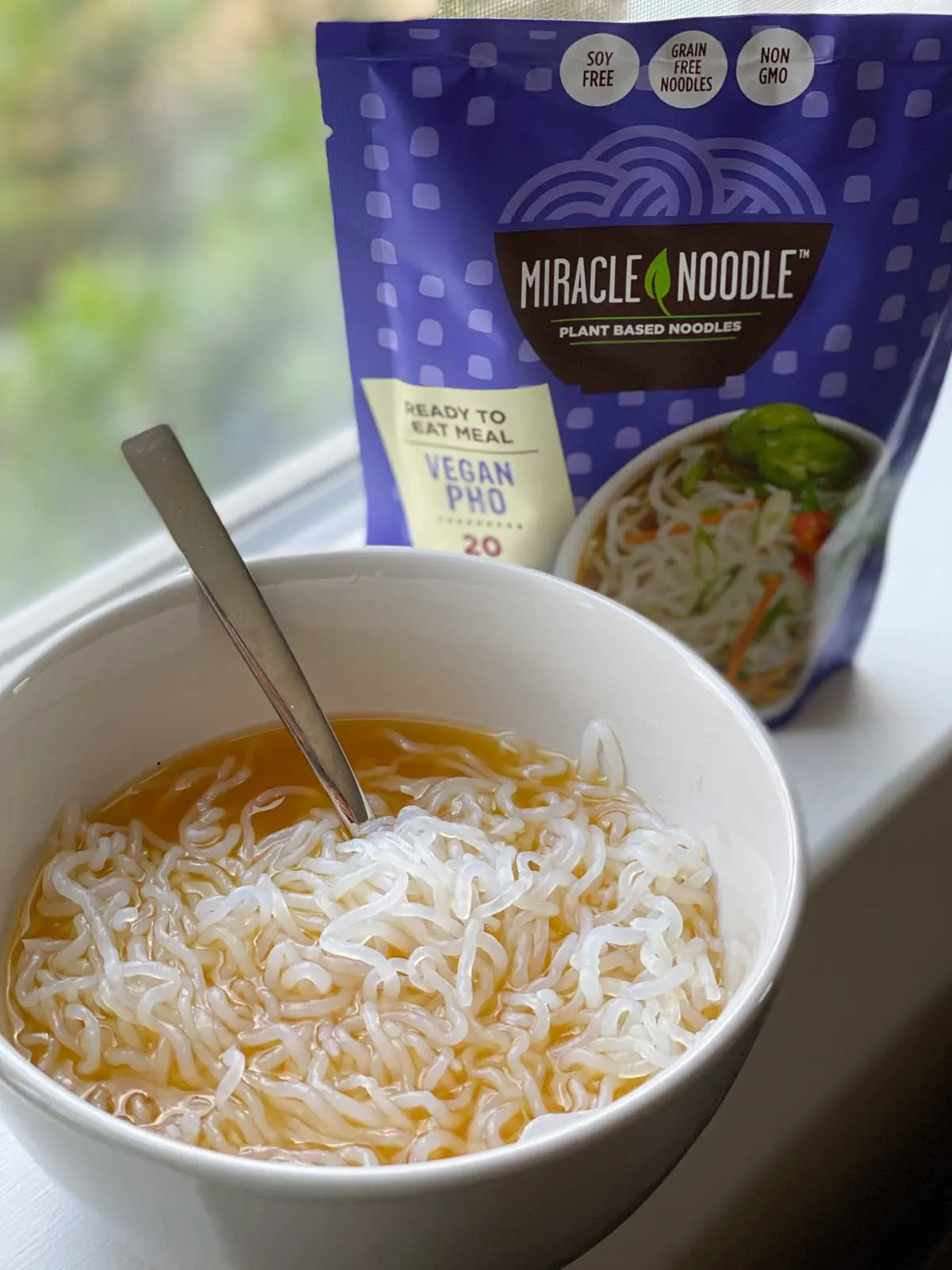 There are also some desserts available on their website as well as some "keto meals" (thai peanut as an example) that contain stevia. Another thing to be aware of if you avoid that ingredient like I do!
Review Summary
Miracle Noodle is another paleo friendly, keto friendly line of products, but most importantly (to us) are the vegan options! While not all of their products are Trial and Eater recommended, the ones mentioned here that are vegetarian and stevia-free are.
I personally really like the taste, though the noodles are a bit chewier and more slippery than traditional pasta. So if you have texture issues it may not be for you.
Plain noodles are the most versatile and easy to mix it up with your favorite sauces and toppings. Once you get over the unique appearance, they are a really good replacement for regular pasta.
Perfect for easy one-person cooking, or quick lunches. You do need to rinse the plain noodles so the prepared meals may be a better option if you're on-the-go.
Of course, you can always make them for 2 or more people with more packages! Even though there are multiple "servings" in a package, I usually eat the whole bag for one meal.
You can buy any of these products through their website, Thrive Market, or select stores.
Below is an example of one package of the spaghetti marinara. 40 calories! Which will you try first?