Peppermint eggnog hot chocolate using homemade (cooked) eggnog. Perfect holiday drink! Scroll down below this recipe to see a list of 17 other fabulous eggnog recipes from around the blogosphere! #FoodieExtravaganza
Then I saw December's ingredient was eggnog.
Of all the ingredients to get, this one was a challenge for me. I don't really drink eggnog (raw eggs and all that) so I was really wishing I had jumped in on the party for the peanut butter month. Then I remembered that the whole point of this blog is to try new recipes and get out of my foodie box (within reason), so I decided to experiment.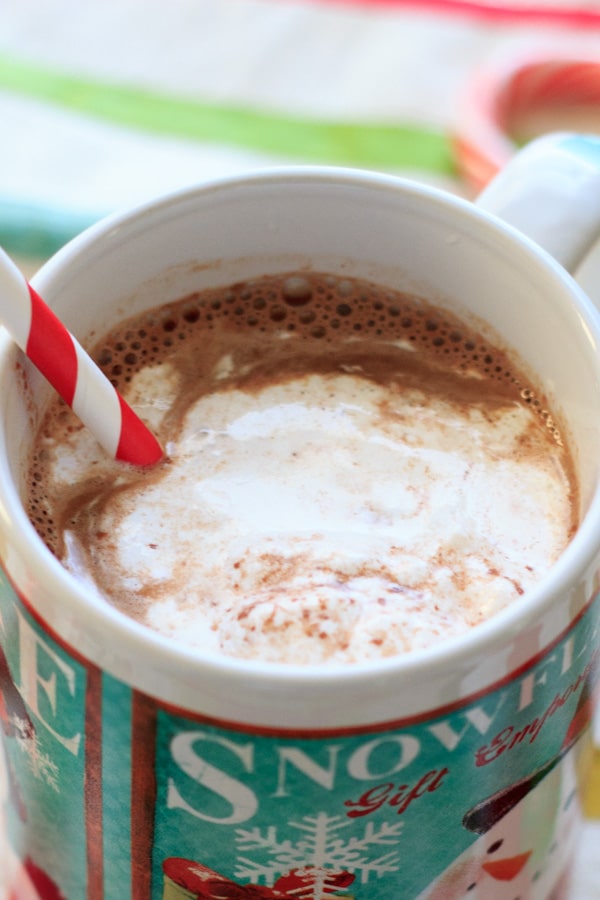 I decided on hot chocolate because I had a ton of cacao powder in the pantry. It may be because I ordered this organic cacao powder
 forgetting that I had just ordered another 1 pound bag the day before. Amazon makes it too easy, I forget when I click through sometimes!
I've been wanting to buy cacao powder for a while after reading about the benefits of cacao vs cocoa. I always thought they were the same (chocolate is good for you, right?) but it turns out cacao is less processed than cocoa and therefore has more nutrients. The two can be used interchangeably in recipes though, so you can use cocoa powder if you don't have cacao!
Remember to scroll down to see the other eggnog recipes!