Sweet and salty kettle corn popcorn. A highly addictive, easy to make snack that takes 5 minutes on the stove top with only 4 ingredients!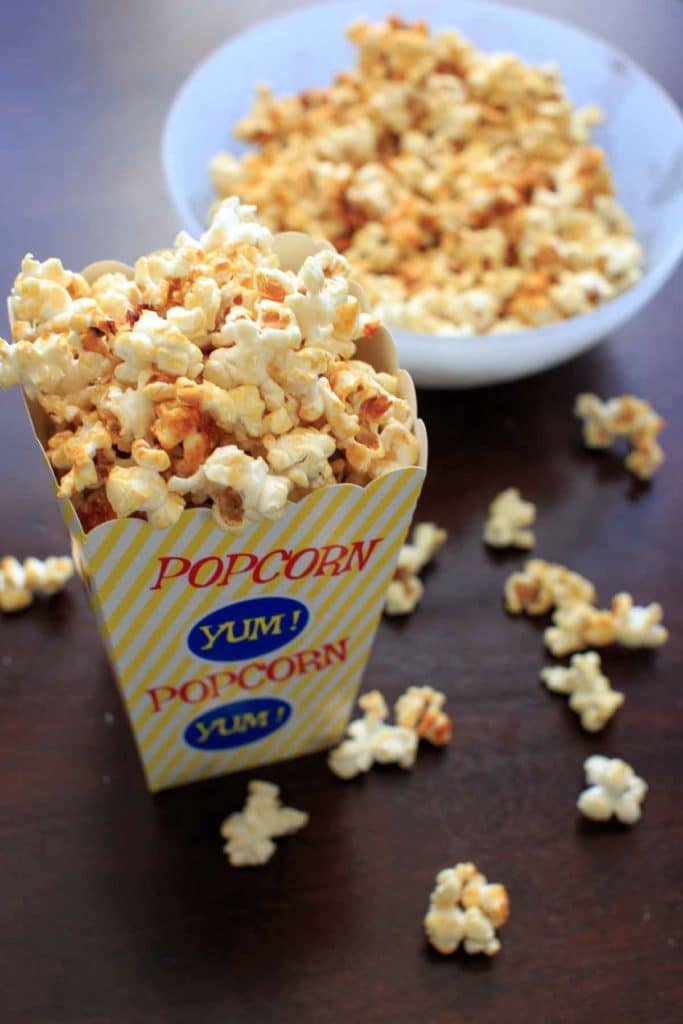 As an Amazon Associate, I earn from qualifying purchases.
WARNING!
Highly addictive popcorn recipe coming up.
I've talked before on how to make your own popcorn at home without all the chemicals from store-bought bags.
So far I've only posted one recipe on how to enjoy said popcorn, and today I'm going to fix that.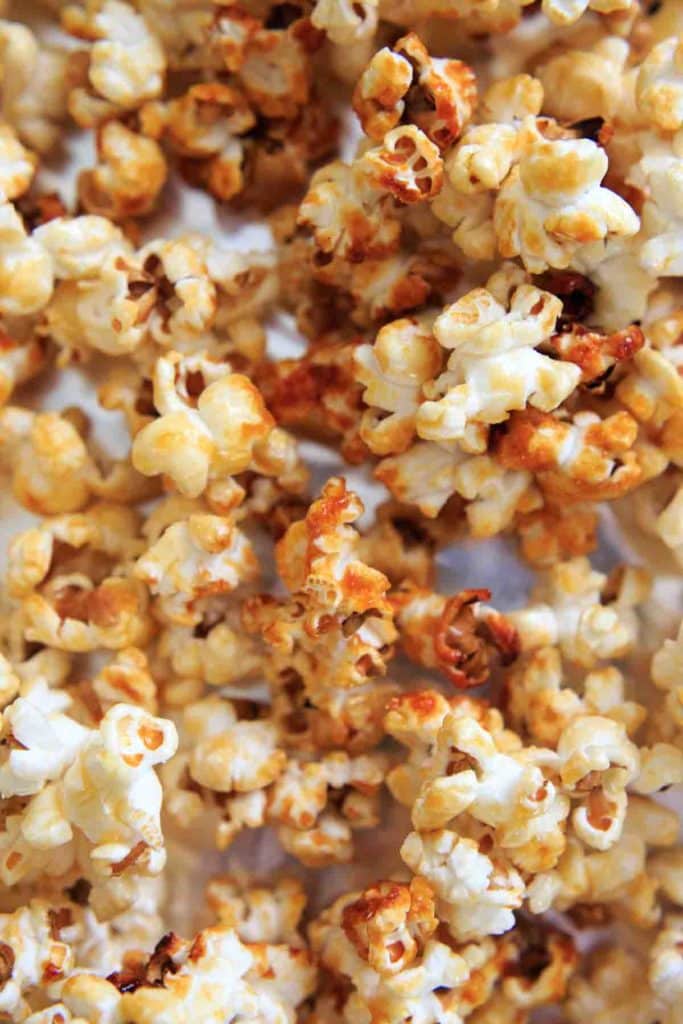 This recipe makes about 4 cups popped popcorn, and is easily doubled if you need to make some to share. I wouldn't try to triple it though, even if you use the 12 cup whirly pop machine, because it can get awfully crowded in there and will result in uneven coating on the popcorn.
But it only takes a few minutes, so you can always pop another batch right after!
For those wondering, a whirly pop is a large pot that has a handle on it that allows you to mix the popcorn while it's cooking to prevent burning.
If you don't have one, just use a large stove pot with a lid. You'll just have to pick it up and shake the pot every few seconds instead of turning a handle.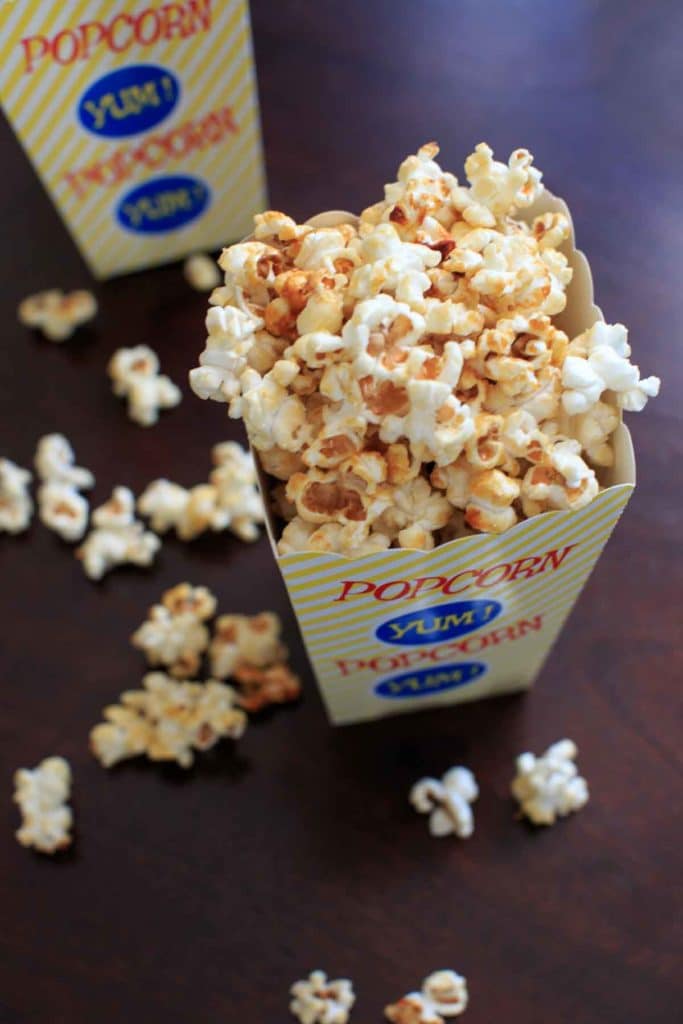 I have seen other popcorn recipes that told you to put 3 kernels in with the oil with no explanation of why.
I finally figured out it was so you know when the oil is hot enough (when those 3 pop) and is ready for the rest of the kernels.
While the oil is heating, I put the rest of the kernels (1/4 cup), 2 tablespoons of sugar and 1/2 teaspoon of salt in a bowl. Then it's all ready to go when the oil is heated.
Even distribution can get a little tricky if you don't shake the pot enough, but other than that it's hard to mess up.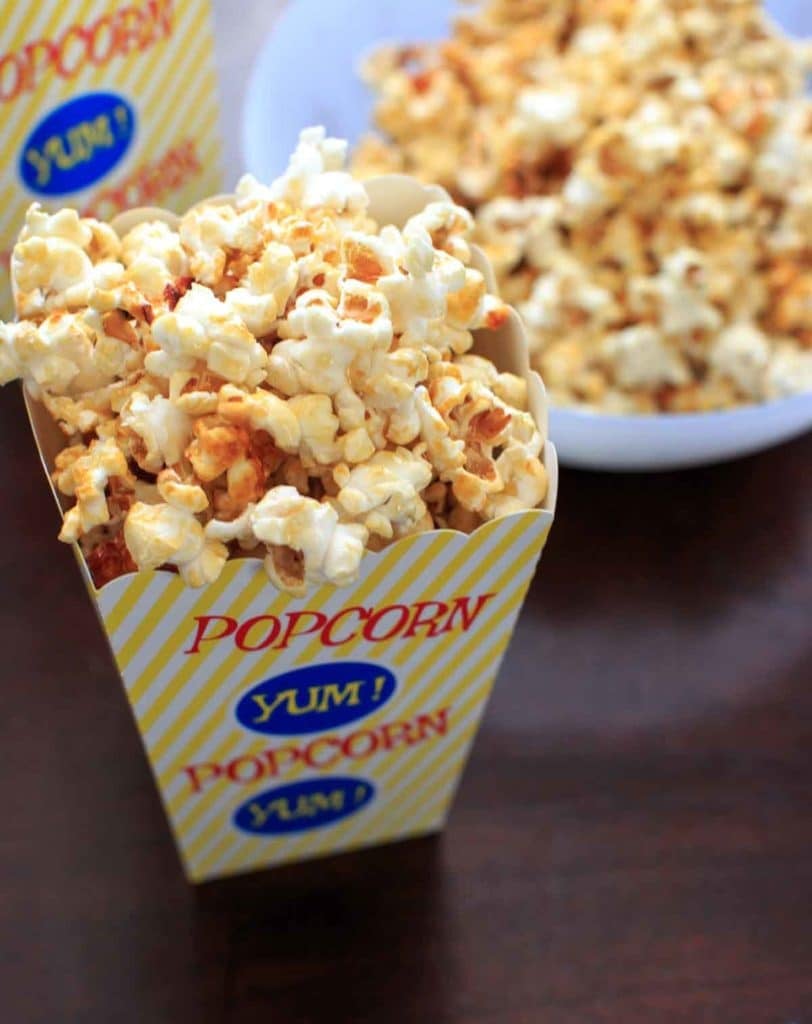 Have any other popcorn recipes you want me to try? Leave suggestions in the comments!
In the meantime, you can try this one or my movie night "pizza popcorn!"
Yield: 4 cups
Sweet and Salty Kettle Corn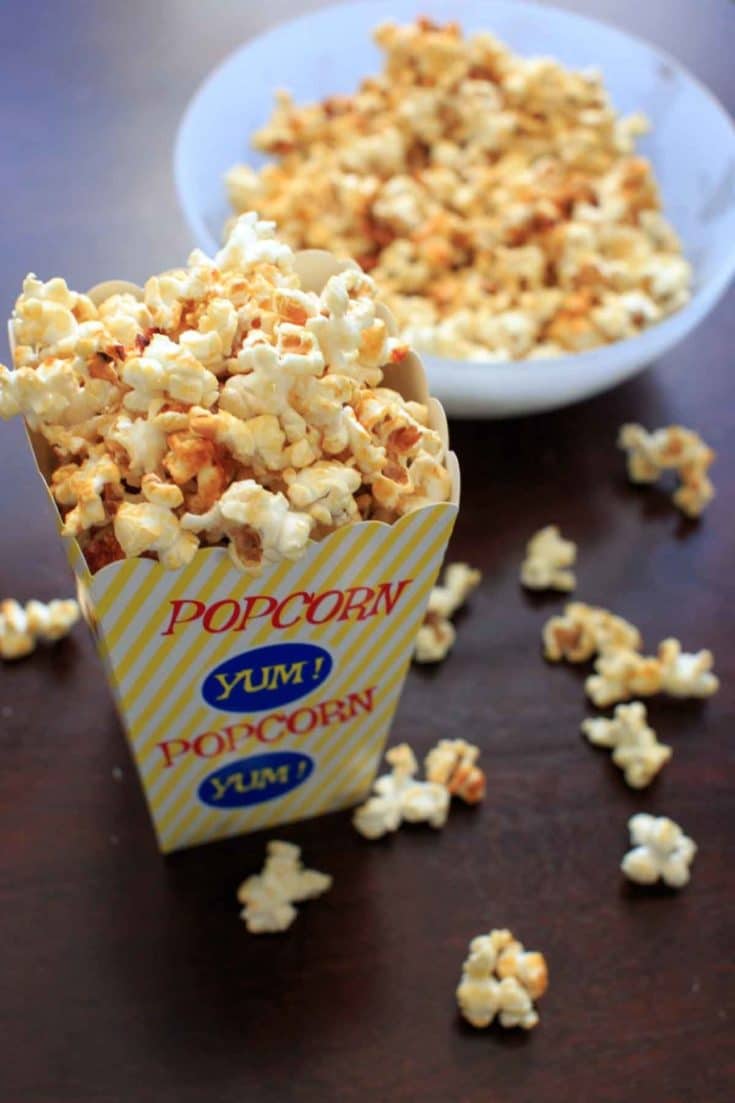 Sweet and salty kettle corn popcorn. A highly addictive, easy to make snack that takes 5 minutes on the stove top with only 4 ingredients!
Ingredients
2 tablespoons coconut oil
4 tablespoons organic popcorn kernels
2 tablespoons sugar
1/2 teaspoon salt
Instructions
In a large pot (or whirly pop) add coconut oil and 3 popcorn kernels and turn on medium-high heat. Once the 3 kernels have popped, the oil is hot enough to continue.
In a small bowl, add remaining popcorn kernels, sugar and salt and mix together. Add to pot. Shake pot every few seconds (or turn the handle if using a whirly pot) to ensure kernels don't burn and continue until popcorn is popped (about 3 minutes).
Immediately remove from heat and spread out on foil or a flat surface to dry and cool for a couple minutes.
Nutrition Information:
Yield:
4
Serving Size:
1 cup
Amount Per Serving:
Calories:

88
Total Fat:

7g
Saturated Fat:

6g
Trans Fat:

0g
Unsaturated Fat:

1g
Cholesterol:

0mg
Sodium:

268mg
Carbohydrates:

7g
Fiber:

0g
Sugar:

6g
Protein:

0g
Nutrition information is calculated automatically by an online tool at Nutritionix. It is not always accurate. Please use your own tools to check if you rely on this information.
Recommended and useful items for this sweet and salty kettle corn recipe:
*There are affiliate links within this post that we can earn a commission on at no extra cost to you.