This post contains affiliate links, which means I may receive a small commission if you make a purchase after clicking on my links. This product was sent to me as a gift. All opinions are my own.
A review of the organic spoonable smoothie cups from Sweet Nothings! With a handful of flavors – blueberry beet, peanut butter, strawberry, chocolate, and coffee – you're sure to find something you enjoy.
All of them are made from just fruits, nuts and seeds – which means they are 100% plant-based, vegan, gluten-free, and also kosher. If you're looking for a healthy frozen treat, read more about them below!
Ready to buy and don't need to see the review? Go check out the variety pack and get started!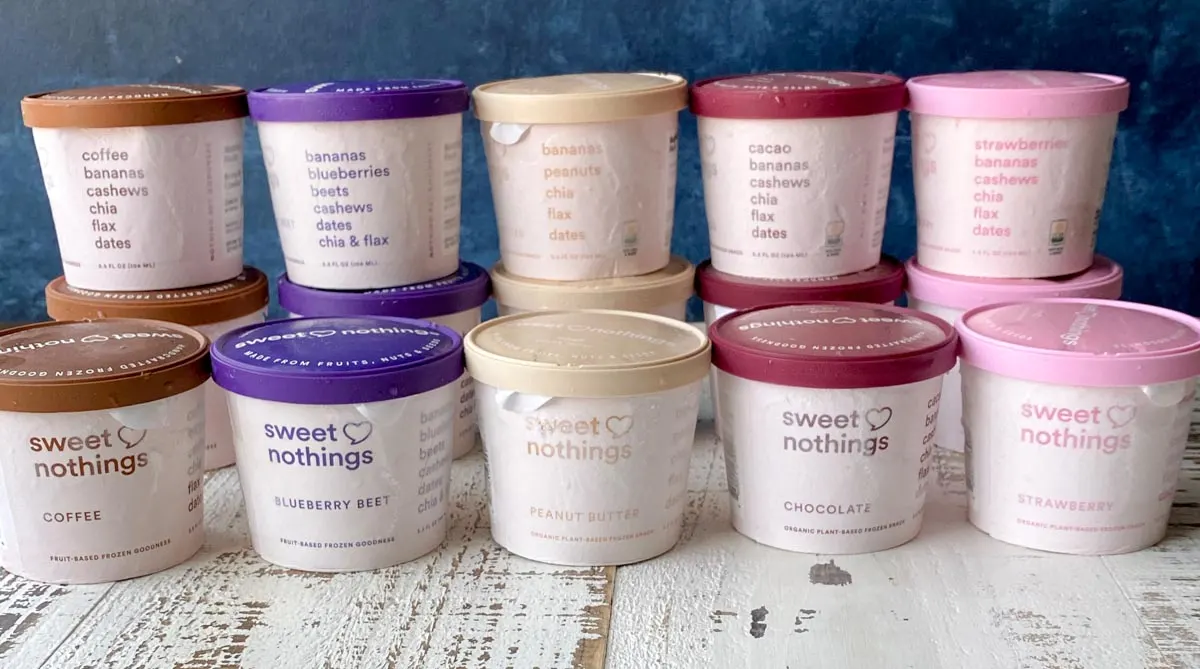 Sweet Nothings was created by a mom when her own 7-year old daughter decided to become vegan.
You know a product is good when it's created by a mom – made with love, and good nutrition!
It's easy to want to think of them like ice cream because of the packaging, but remember these are frozen smoothies.
There is a hidden spoon in each cap too, so you can grab and go! I find they taste best when they are out of the freezer for 10 minutes before eating.
The Flavors + Ingredients
Since each flavor is only made with fruit, nuts and seeds the ingredients are pretty simple. I love how transparent they are with the ingredients listed right on each single-serve cup!
Currently, Sweet Nothings offers 5 flavors:
Blueberry Beet – This one is my favorite! I don't much taste the beets but this is definitely the kind of smoothie I would choose to make.
Ingredients: Bananas, blueberries, beets, cashews, dates, chia and flax seed (all organic) plus a little sea salt and water.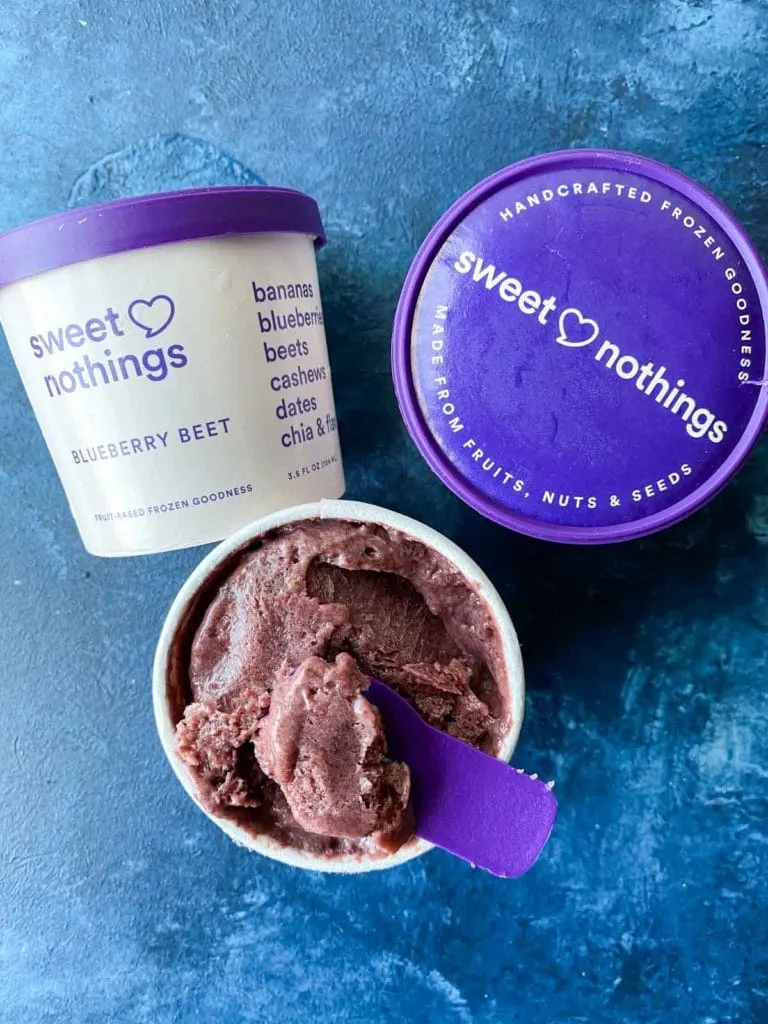 Strawberry – This one was very healthy tasting and you definitely can tell there is banana.
Tasted a bit like a fruit sorbet – if you like your smoothies heavy on the fruit, this one would be a good one to try.
Ingredients: Strawberries, bananas, cashews, chia, flax seed and dates plus organic balsamic vinegar, sea salt and water.
Peanut Butter – For peanut butter lovers! My second favorite flavor.
This one would be great with some chocolate chips to turn it into a pb+chocolate dessert, or maybe even a scoop on top of waffles.
Ingredients: Bananas, peanuts, chia, flax seed, dates, lemon juice and water.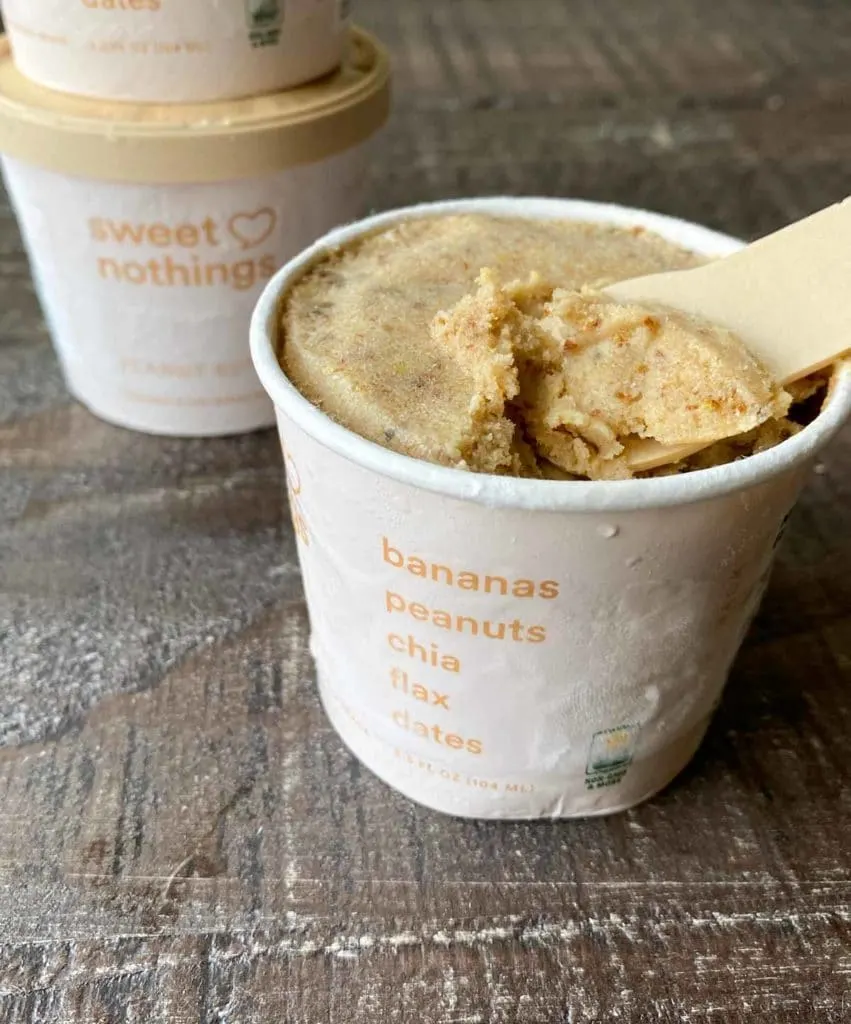 Chocolate – If you're craving chocolate, this is a good healthy swap.
Not very creamy, but similar to if you add cacao powder to your regular smoothie or frozen bananas.
Ingredients: Cacao, bananas, cashews, chia, flax seed, dates, sea salt, lemon juice and water.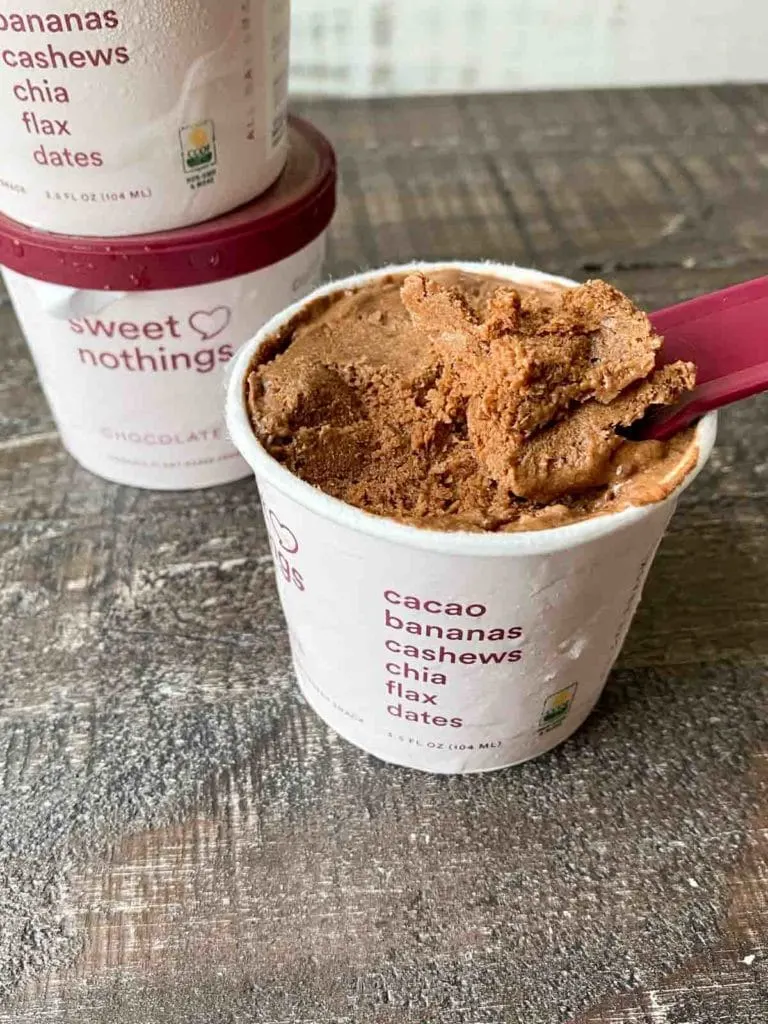 Coffee – I love (and NEED) coffee but I'm not a huge coffee-flavored person, so this one wasn't for me.
If you like coffee ice cream, this might be a good one for you to try!
Ingredients: Coffee, bananas, cashews, chia, flax, dates.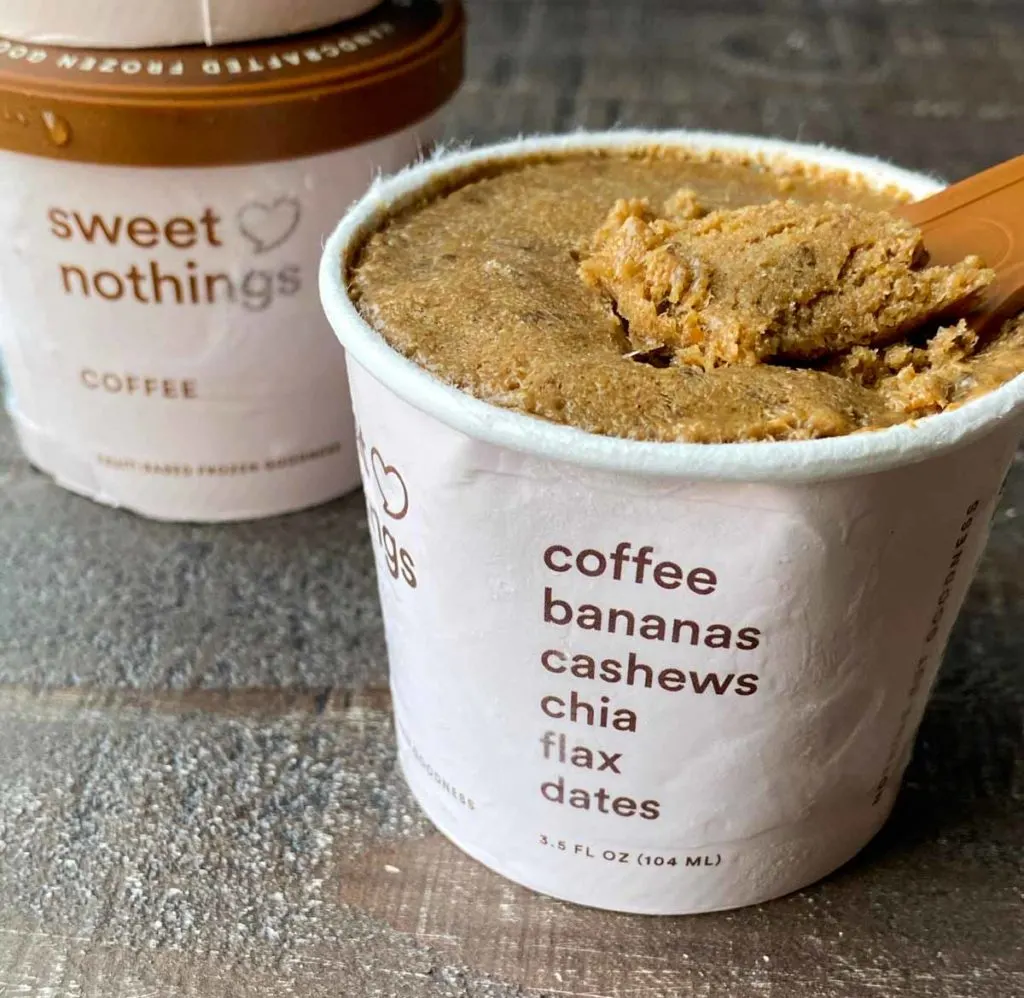 How to Order + Delivery
One of the best things about Sweet Nothings is they deliver to your door, if you live in the United States. Shipping takes about 2-3 days.
They also are in select stores nationwide – be sure to use their store locator on their website to find out if they are near you!
A great way to start is the variety pack, which includes 3 of each of the 5 flavors for a total of 15 servings (3.5 ounces each).
Once you find your favorites, you can order individual flavors by the 12-pack. This is not a subscription, so order a restock any time you want!
They arrive with dry ice and need to be frozen right away.
If you get the variety box, each flavor has cute descriptions like "You're the jelly to my peanut butter!" or "Buy me coffee & win my heart."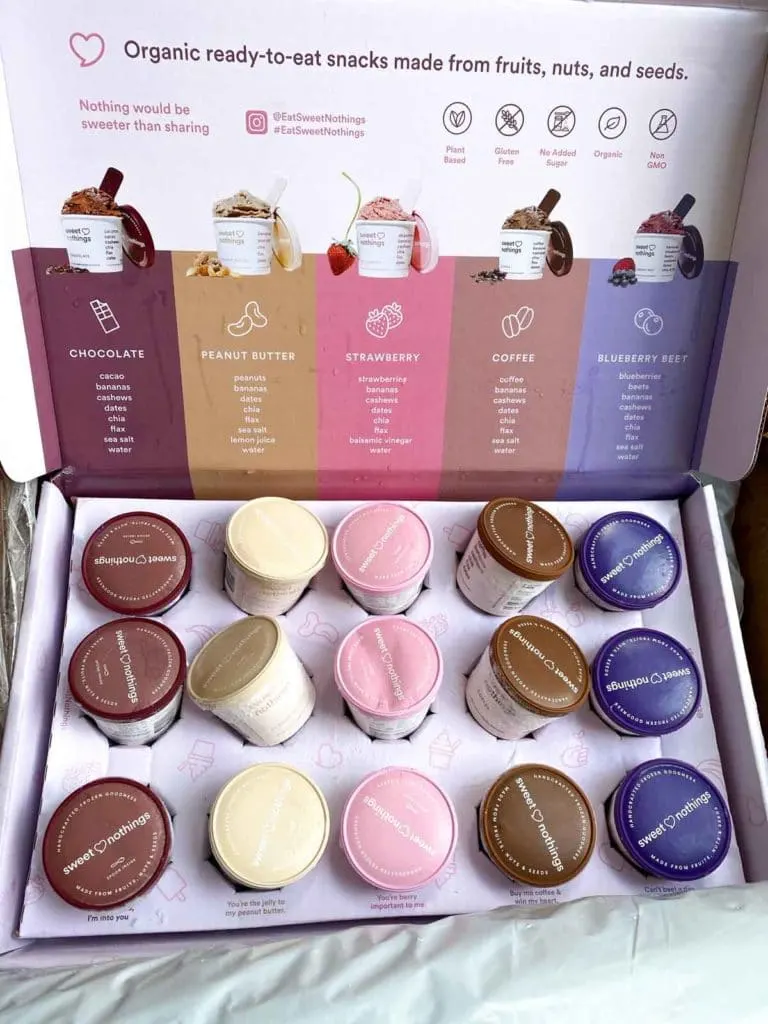 Sweet Nothings Review Summary
Overall, Sweet Nothings is a great healthy frozen treat.
If you are looking for a replacement for ice cream, this won't fool you, but if you like the flavor and texture of vegan banana "nice cream" then you'll probably enjoy these!
They are called "spoonable smoothies" so go into it with that in mind.
I see how these would be great options for kids too, especially if your littles need a little coaxing to eat healthy.
They are 100% a Trial and Eater approved product as they are made with organic, simple ingredients and no added sugar or preservatives.
I would definitely keep these on hand in the freezer for a quick snack or breakfast. Blueberry beet especially!
What will your favorite flavor be?
Want to see more of our favorite vegetarian and vegan products? Click here to see all our reviews and make sure to sign up for our emails for special offers!