This post contains affiliate links, which means I may receive a small commission if you make a purchase after clicking on my links. All opinions are my own.
A review of the healthy bakery bites from Farm & Oven! Each flavor has 1/2 cup of hidden veggies like zucchini, pumpkin, beets or carrot. A 3-bite packet is equivalent to two servings of vegetables – 40% of your daily recommendation. These vegetarian treats are perfect for kids or adults – and some flavors are even gluten-free. Read more about them and get an exclusive discount code here!
Ready to buy and don't need to see the review? My readers can use the code TRIALANDEATER at checkout to get a special 10% off their order at FarmandOven.com!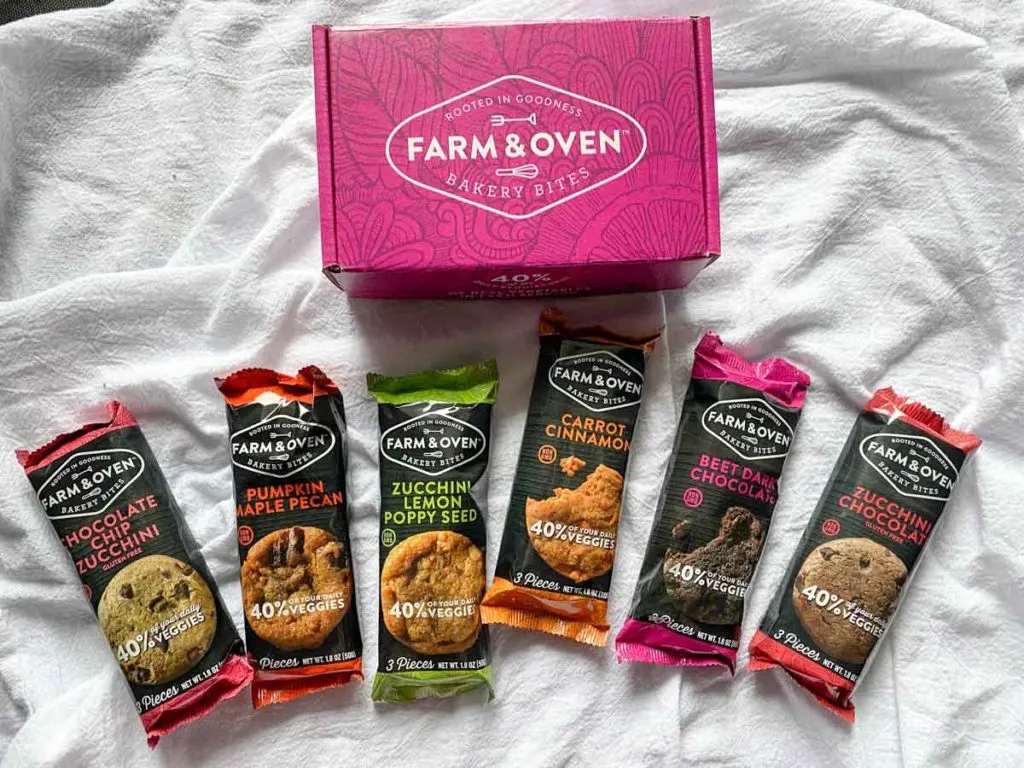 Farm & Oven packs 1/2 cup of non-GMO veggies in each packet of 3 mini muffin bites, by using air-dried vegetables. Since they use it as a dry ingredient, it takes the place of some of the flour and sugar that would normally be in the muffin. Genius! Added probiotics give these an extra nutritional boost too (though they don't take the place of my favorite probiotics).
With 6 flavor offerings (2 of which are currently gluten-free), you have some great choices depending on what you like. I gave them all a try and was surprised by some of them. Keep in mind the texture is very soft.
You can buy each flavor as a one-time purchase or a subscription, in packs of 5, 12, 20 or 30. Each packet has 3 muffin bites.
The Flavors
Ranked in order of my personal preference:
Beet Dark Chocolate – Who knew this would be such a delicious combo? This one is my favorite, probably because it was the sweetest! They don't even taste like beets. 32% of your daily fiber.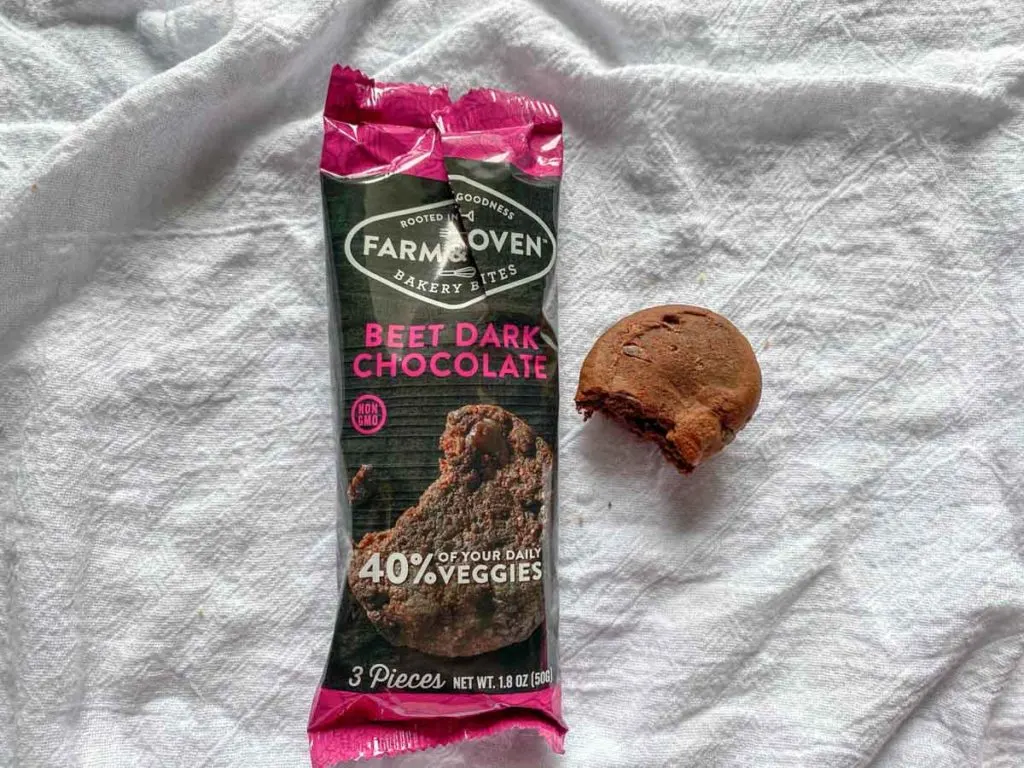 Zucchini Chocolate – This is a close tie with my favorite – chocolate is the theme here. Zucchini hides well in cocoa! This is one of their gluten-free flavors.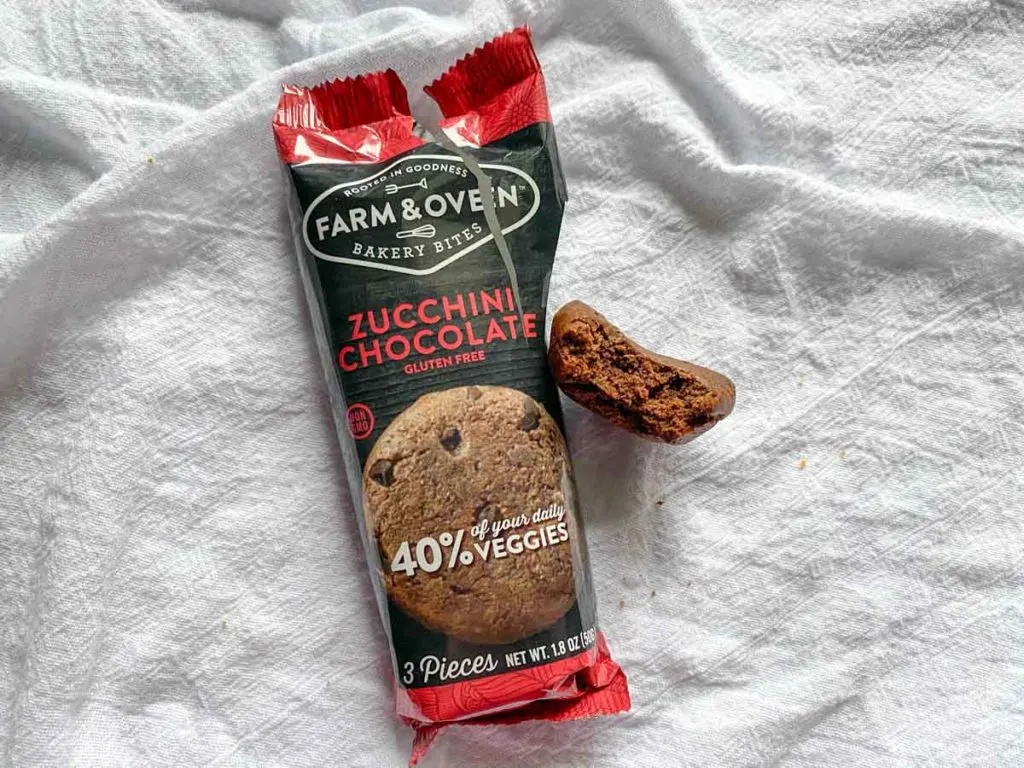 Chocolate Chip Zucchini – This is second of the gluten-free flavors, and I liked this one too (maybe because of the chocolate chips!). 32% of your daily fiber.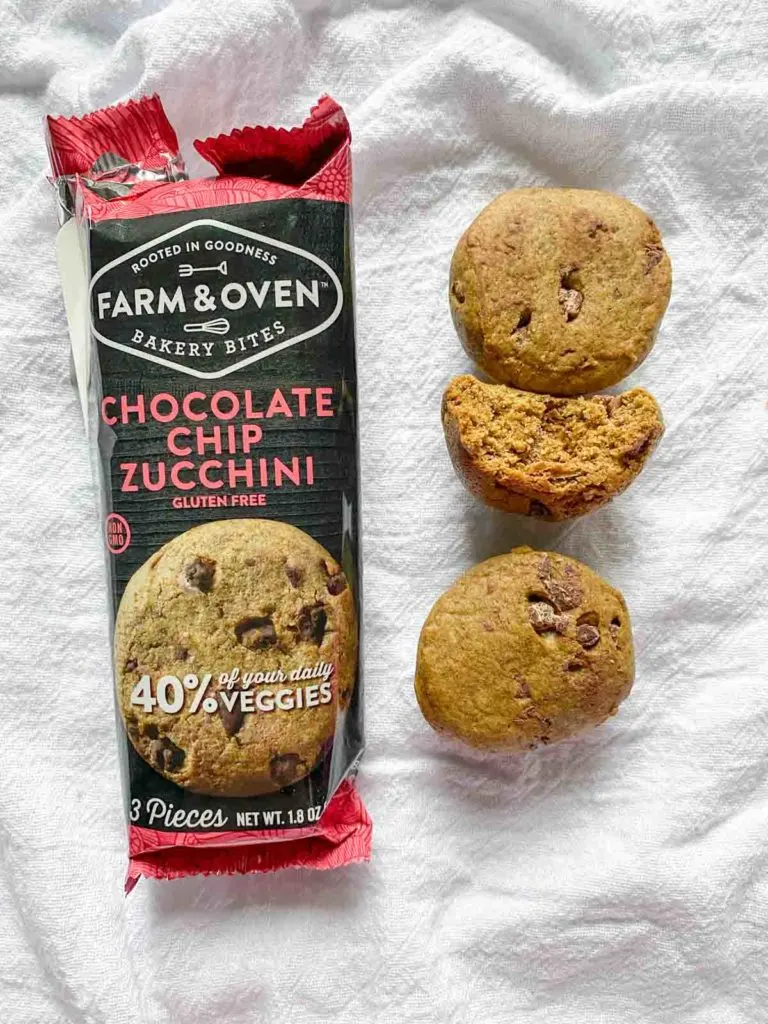 Pumpkin Maple Pecan– This is would pair well with a pumpkin spice latte, in the fall.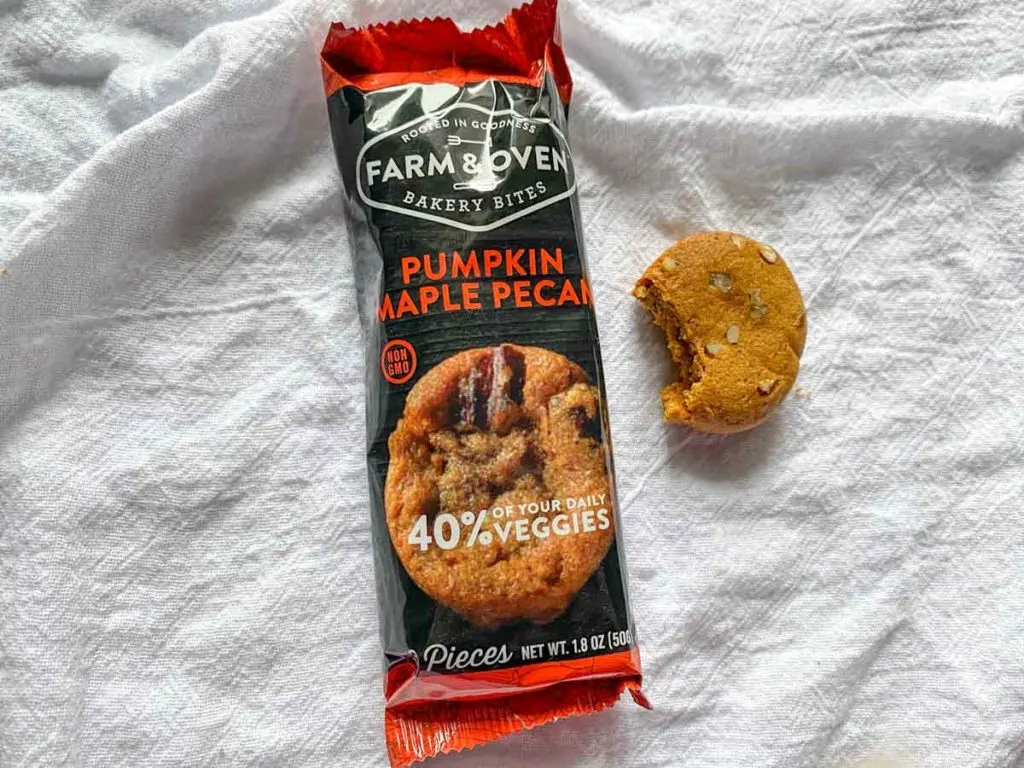 Carrot Cinnamon – This tastes like carrot cake, and was pretty cinnamon-y. I'm not a huge fan of carrot cake so this wasn't my favorite, but if you do then this would probably be a flavor for you to try! 24% of your daily fiber.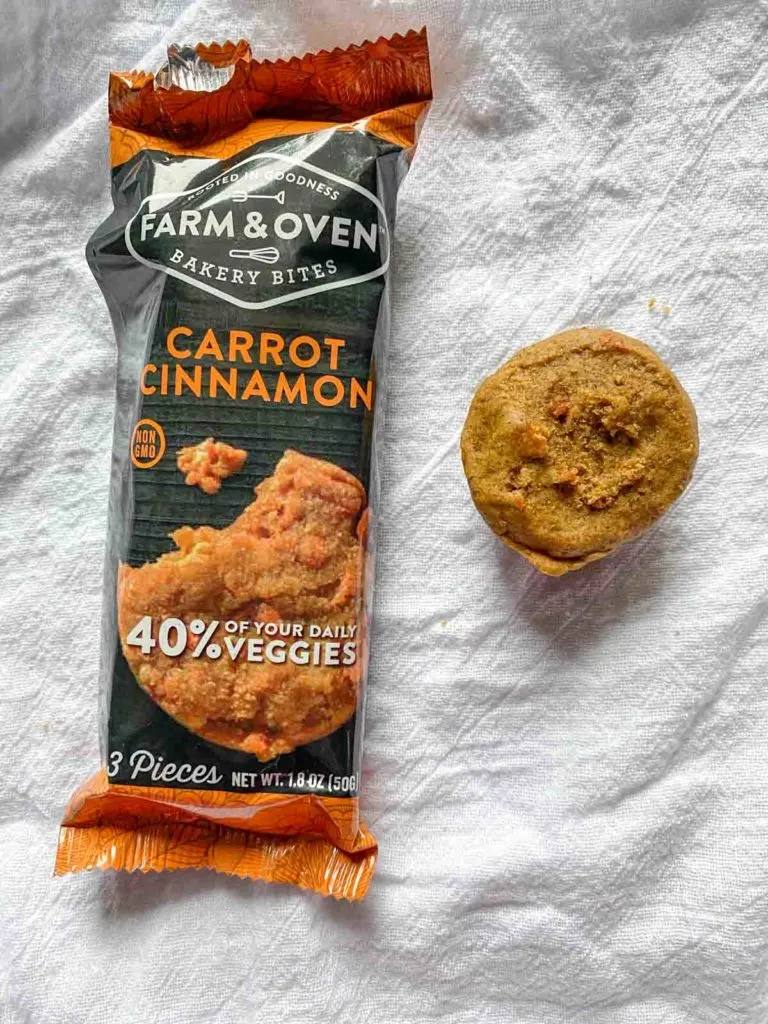 Zucchini Lemon Poppy Seed – I was really excited for this flavor as I usually love the lemon + poppyseed combo – but this was my least favorite. To me, it tasted like play-doh. Unfortunately, I don't recommend this one.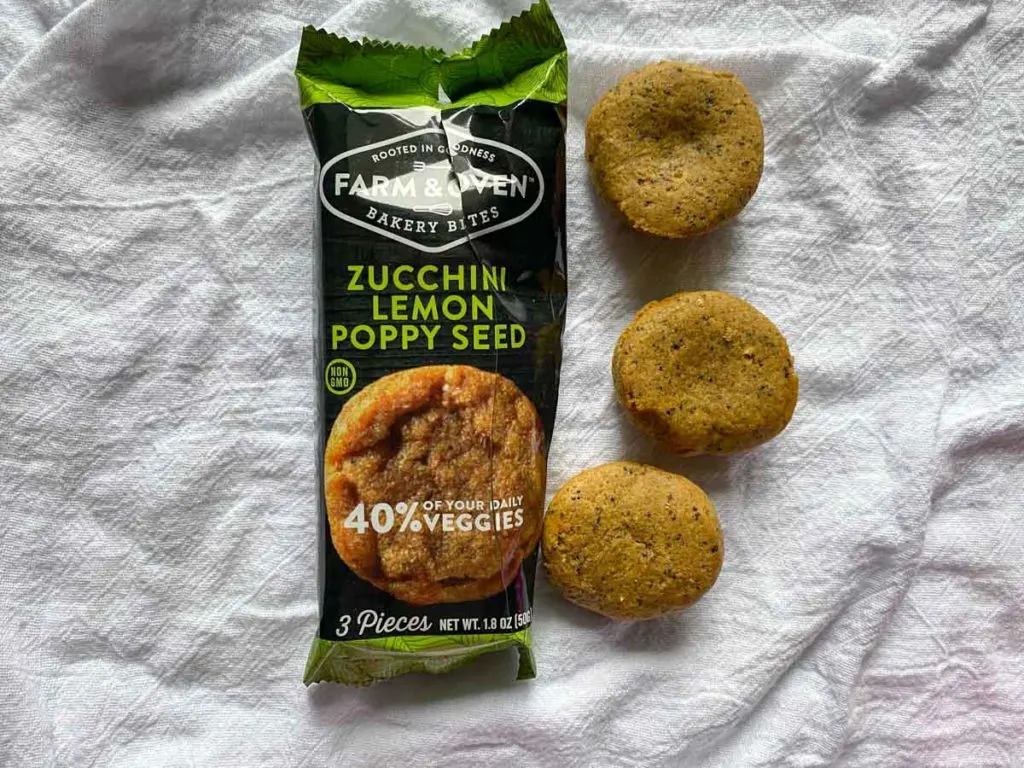 You can save on any of these flavors by using the code TRIALANDEATER on their website to get a special 10% off!!
Review Summary
Personally the chocolate flavors were my favorite, with the beet + zucchini winning. While every flavor may not be your favorite, you can buy specific varieties from the Farm & Oven website and they also sell bundles like the gluten-free pack, chocolate lovers, and special edition bundles.
With their 8-month shelf life these are a great snack to have ready in the pantry, whether you are feeding kids or yourself.
If you or your kids don't like eating veggies, these are definitely worth a try! Any snack that has added nutritional benefits is a win in my book. Remember code "TRIALANDEATER" at checkout saves you an extra 10%!
Want to see more of our favorite vegetarian and vegan products? Click here to see all our reviews and make sure to sign up for our emails!