This post is brought to you in partnership with Seed.com and contains affiliate links, which means I may receive a small commission if you make a purchase after clicking on my links. All opinions are my own. This is not intended as medical advice.
Seed synbiotics (prebiotics + probiotics) – organic, vegan, gluten-free, preservative-free and allergen-free supplements! The capsule is a prebiotic + probiotic together for maximum benefit, and to ensure that it actually survives the trip through your digestive tract. Read more about them and get an exclusive discount code below!
Ready to buy and don't need to see the rest of the review? My readers can use the coupon code EATER15 at checkout to save 15% off your first order!
Table of contents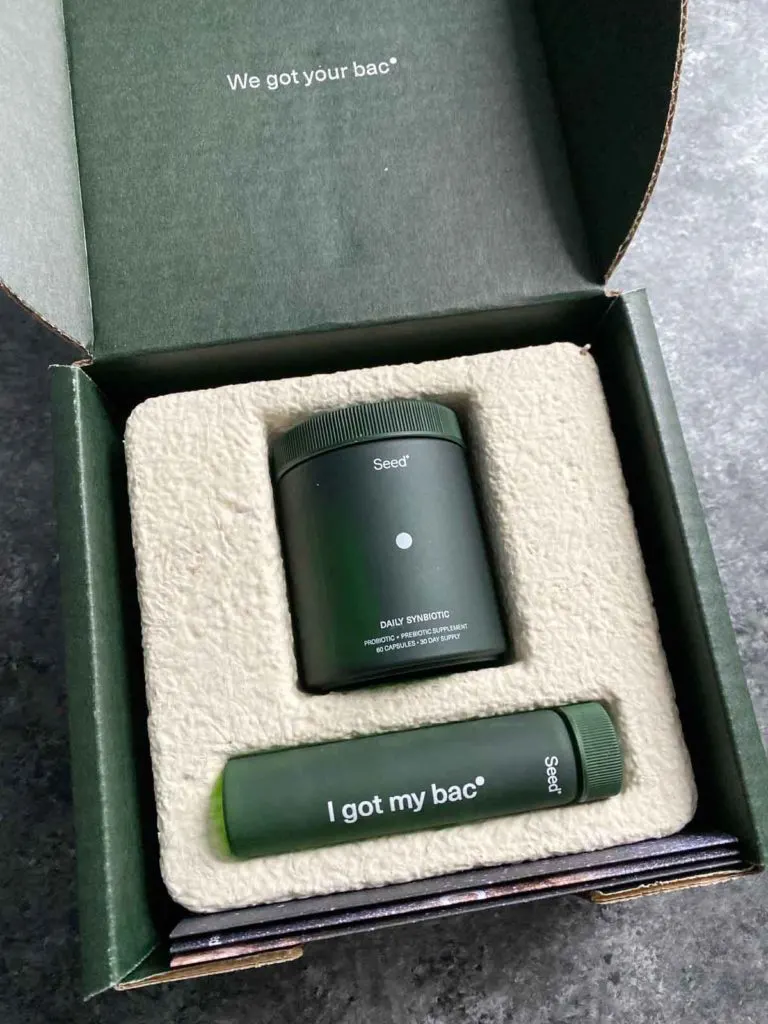 Do you take a probiotic? This is one of those things I always have been told I "should" take but I never did consistently – until I found Seed.
First, what is a probiotic?
Probiotics are live microorganisms that (studies show) provide health benefits when administered in the right amounts. They are known as the "good" bacteria.
If you're familiar with probiotics, you probably associate probiotics with digestive health. But the benefits can actually extend much beyond that.
Some studies have shown that probiotics can:
Aid in gastrointestinal function
Maintain regularity, ease bloating and alleviate occasional constipation
Promote heart health
Synthesize folate and increase its production in the body
Promote skin health
Regulate metabolism
Synthesize vitamins
Suppress inflammation
Improve immunity
And more!
Seed performs strain-specific clinical studies to arrive at each of their beneficial claims, which you can read more about on their website.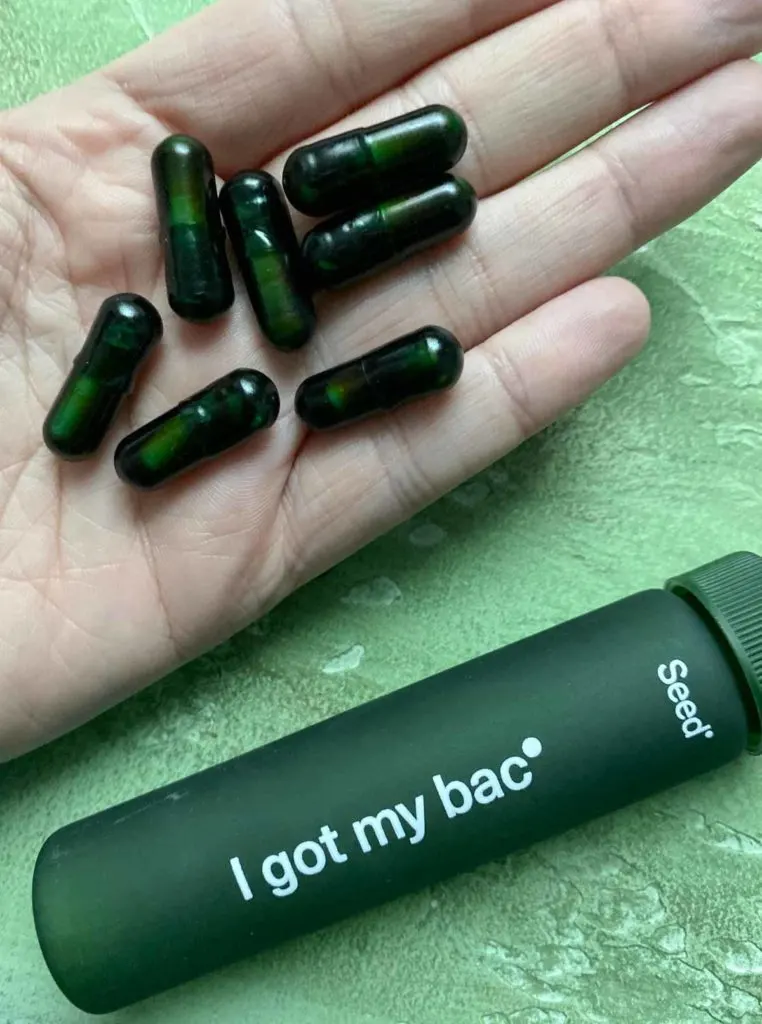 Our bodies are super-organisms (as Seed says). The human microbiome is a community of 38 trillion microorganisms – mainly bacteria. 50% of us (by cell count), actually – so we are are half human, half microbial. Your microbiome weighs about 3-5 pounds – the same as your brain!
What do microbes do? They train your immune system to identify viruses and pathogens. The majority of your microbiome resides in your colon. Probiotics add this good bacteria to your microbiome and its in these interactions that provide the benefits listed above.
Not all probiotics are created equally. The strains and amounts matter, as does the clinical research done on humans.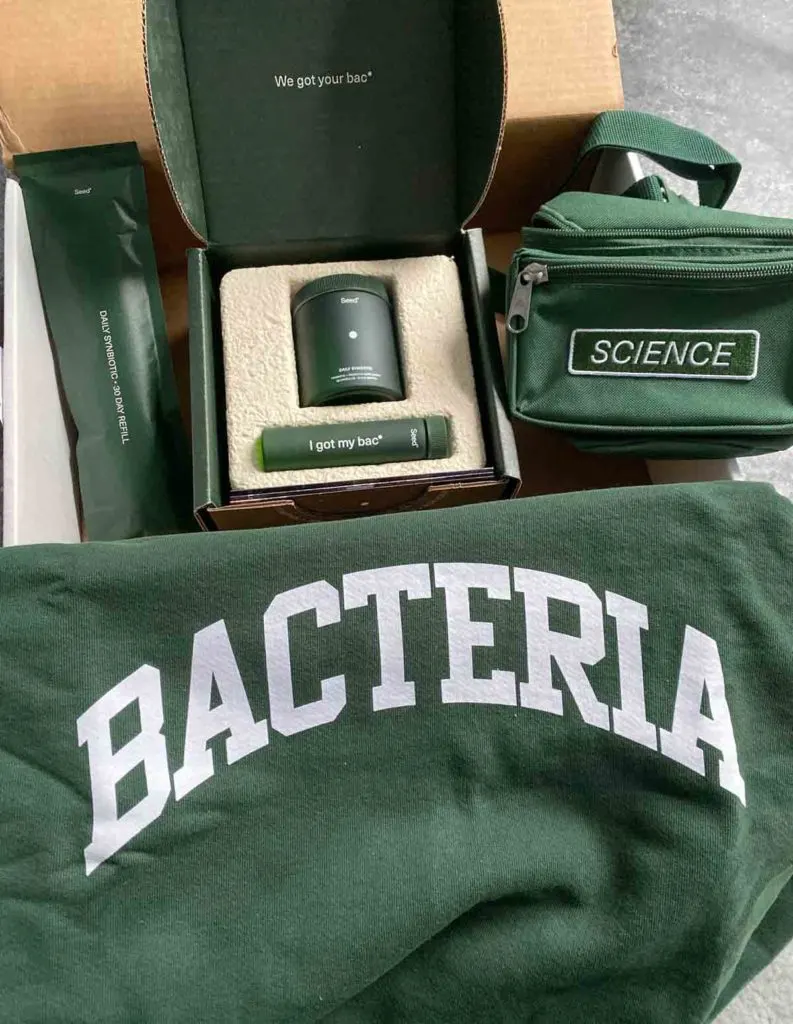 Why Seed?
Seed is actually a prebiotic and a probiotic in one. Synbiotic = probiotics + prebiotics. A prebiotic outer capsule with an inner probiotic capsule containing 20+ probiotic strains validated in 23+ clinical studies.
Prebiotics are the food that feed your probiotics. When certain beneficial strains of bacteria interact with select prebiotics compounds, they release byproducts into the colon called metabolites. One of the most important metabolites is called butyrate, which can strengthen the lining of your intestines (which means better containment of pathogens and better absorption of nutrients).
Did you know? Most probiotics don't actually make it all the way through your digestive track! The Seed synbiotic capsule is designed to protect against stomach acid and ensure viability through digestion, optimized for pH, water activity, temperature and 28 other growth factors to help survive the trip.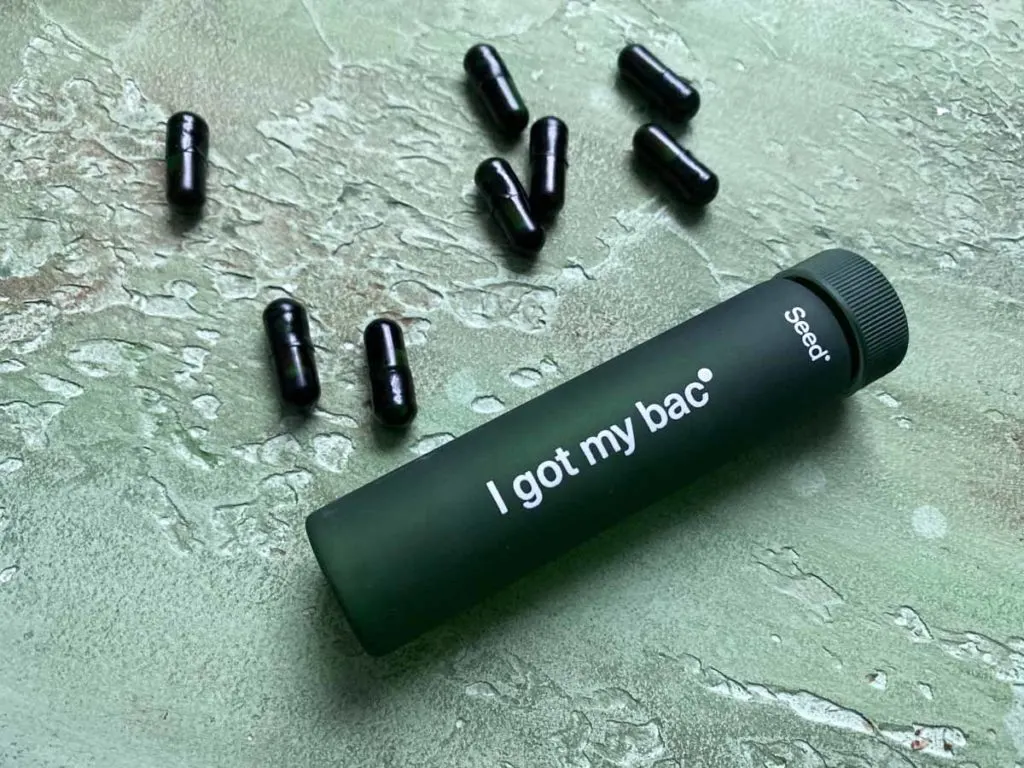 Regulations
The FDA categorizes most probiotics as dietary supplements, which unfortunately is not very regulated category here in the U.S.. In Europe, it's actually illegal to call something a probiotic without scientific proof.
Seed of course adheres to FDA requirements, but goes above and beyond by aspiring to higher global standards like the European Food Safety Authority (ESFA) and the Japan's Food for Specified Health Uses (FOSHU).
They are (so far) the only probiotics to undergo whole-genome testing = meaning they know what ratios of specific strains are present.
Interested in learning more? Check out the research on seed.com
They take their research and education seriously! I even had to pass a test before I could work with them. Seriously!
Proof I passed: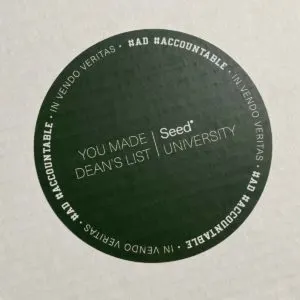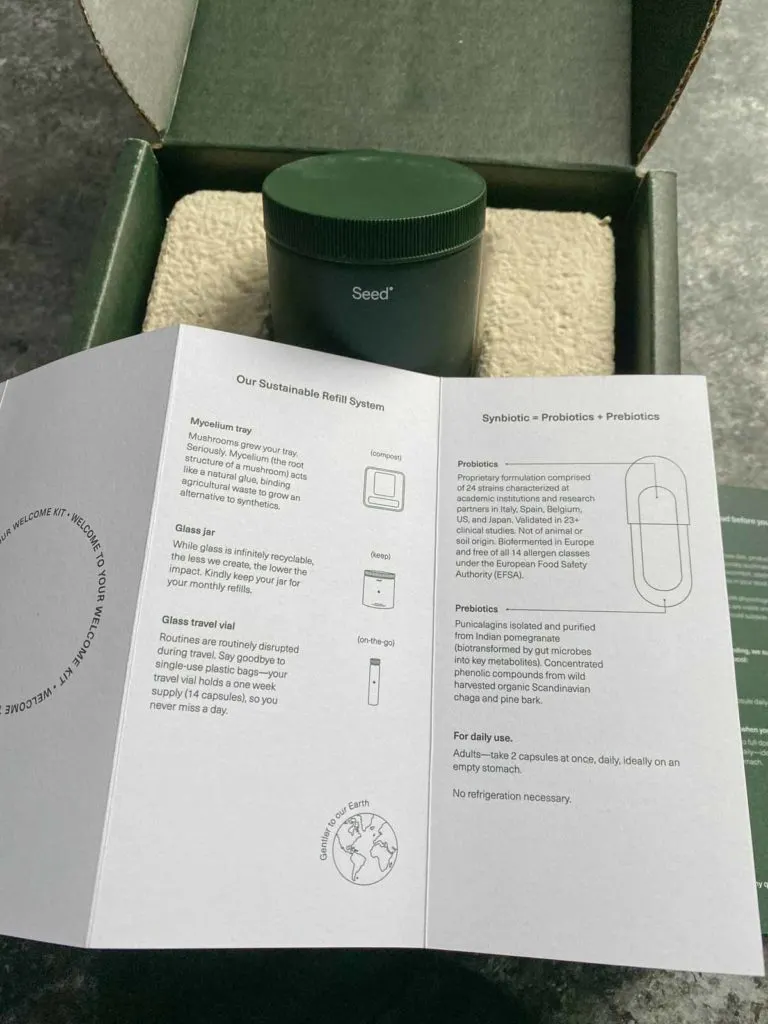 Another thing I love above Seed? Their sustainably delivered packaging!
In your first package you will receive a green glass jar and travel vial. The tray it comes in compostable and the packaging is recyclable. For future monthly shipments, you'll receive a compostable packet that you can use to refill your glass jar.
And no need to refrigerate!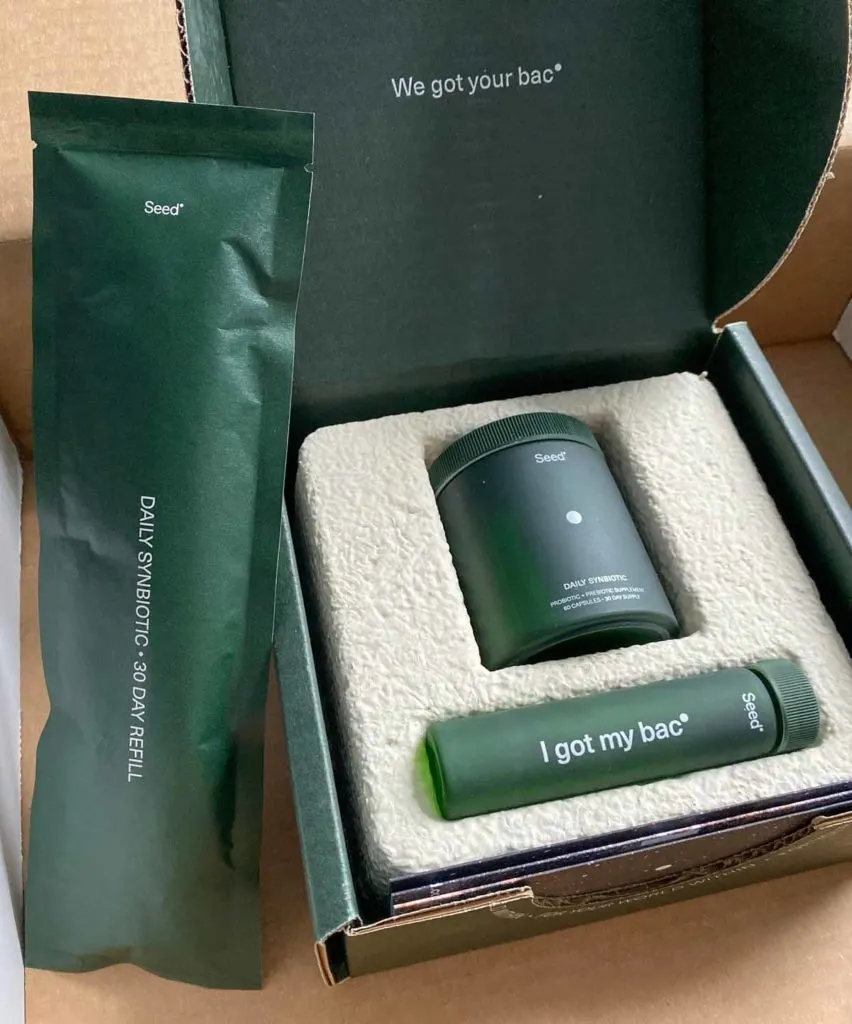 Science
If you're somebody who enjoys learning and is interested in finding out more about how probiotics and microbes work, why they are important and how we are all connected – I recommend also following Seeds Instagram (@seed).
They have fun, nerdy challenges from time to time where you can win swag and learn at the same time! Much more fun than high school science class.
Review Summary of Seed Probiotics (Synbiotics)
If you're looking for a probiotic, I definitely recommend Seed. Especially if you are someone who needs to see science-based research on the benefits, Seed is transparent with all their studies and findings. It can also be difficult to find a dairy-free, vegan, allergen friendly pill which is another reason I love Seed.
Seed is a 24-strain broad spectrum probiotic and prebiotic with 53.6 Billion AFU with 100% survival through simulated digestion.
I used to be someone who would drag my feet on taking probiotics and wouldn't notice a difference – but with Seed, I definitely notice an improvement with my digestion.
Normally Seed is a subscription – but they have a 30 day guarantee. So if you change your mind, you can get a refund. And if you continue, you get your probiotics delivered to your door every month and can take them with you wherever you may need them!
Head on over to Seed's website to get started and be sure to use promo code EATER15 to save 15%!