Peanut butter and jelly wraps. Warm toasted crescent rolls help make a quick and easy spin on a traditional PB&J sandwich. Fun for all ages!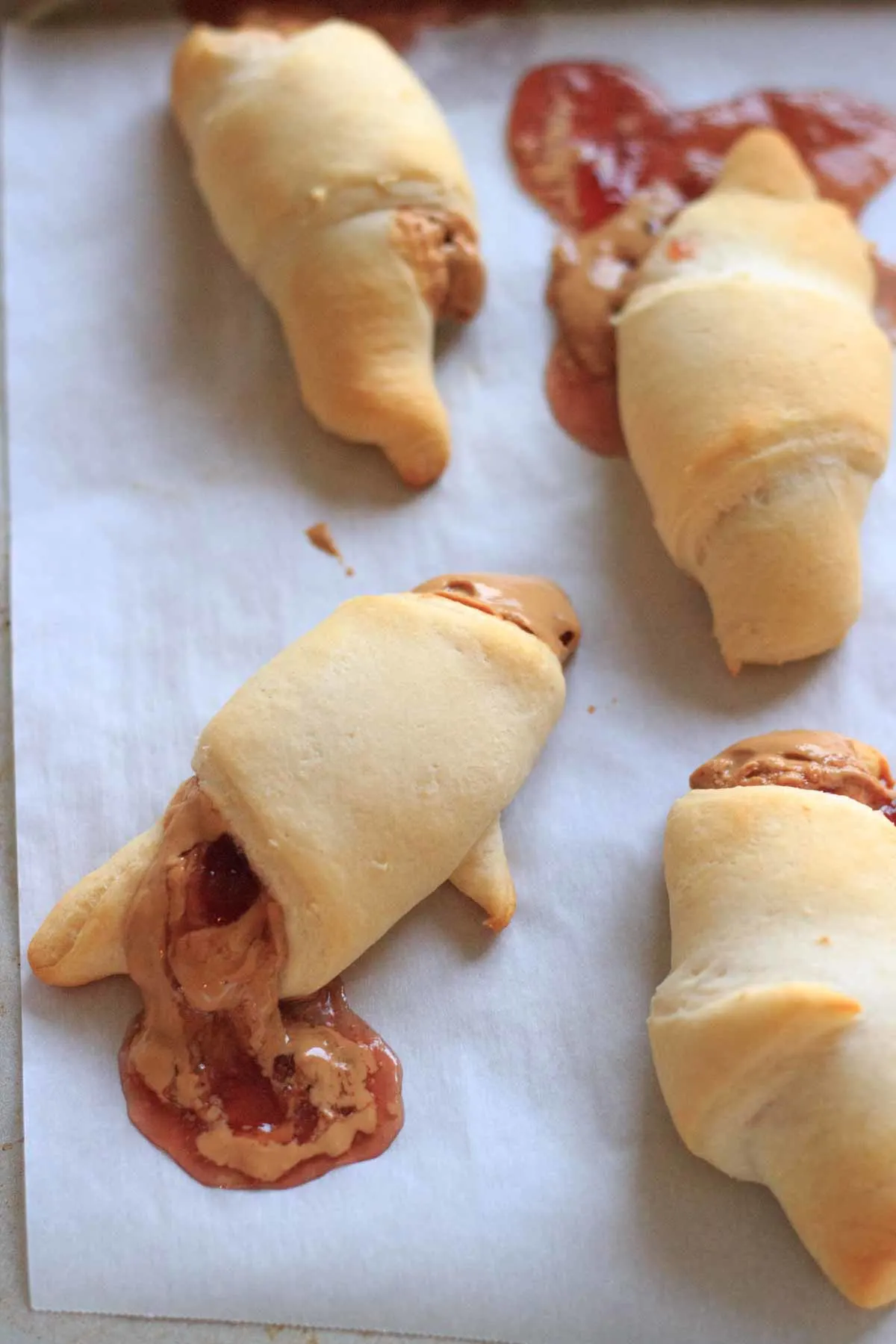 In honor of National Peanut Butter and Jelly Day (April 2), I present to you: peanut butter and jelly wraps!
Peanut butter and jelly wrapped and baked in a crescent roll. It's so easy it almost feels wrong to post as a recipe. But since it is a national holiday and all I'm gonna let it count.
I've only met one person in my life who does not like peanut butter and jelly together. I'm sure none of you are as weird as her (Mom, I'm looking at you).
To me it's like a childhood staple and one of the best and easiest comfort foods. Especially since I grew up vegetarian, pb&j's were one of my favorite lunches.
But if you can't have peanut butter for whatever reason, also check out our list of peanut butter alternatives.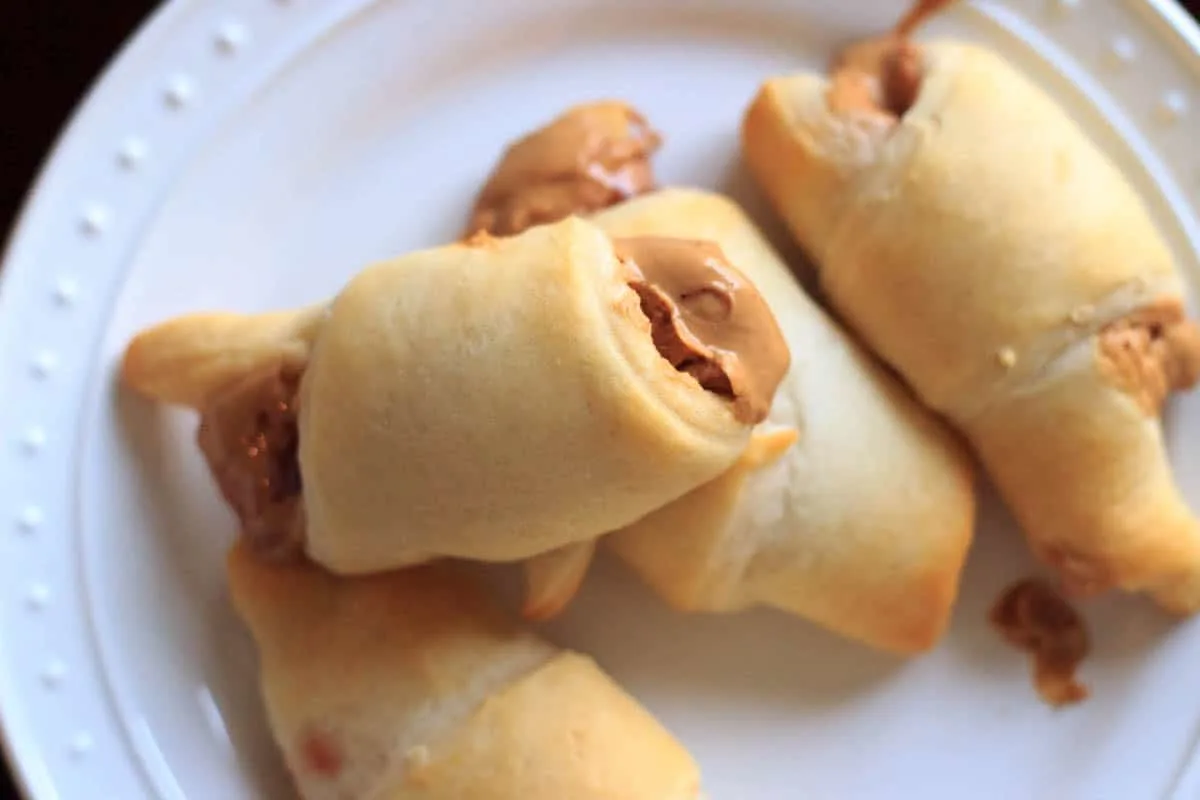 There are differing opinions on how to make a traditional peanut butter and jelly sandwich.
One is the group of people who only put peanut butter on the bottom piece of bread. The theory is so it doesn't get stuck to the roof of your mouth.
Another group of people put peanut butter on both sides with jelly in the middle. The theory here is to prevent the bread from getting soggy.
And a lesser known group of people put peanut butter on one side and on the edges only of the other side, to "lock in" the jelly. This is so the jelly doesn't fall out while biting into the sandwich.
Those are the only ways I can think of right now, but some people are really particular. The good news here is that it's all just wrapped up into one little package. All sides win!
I may have been a little over-zealous with a couple of these and ended up with a jelly volcano spurting out the side, which you may or may not choose to imitate.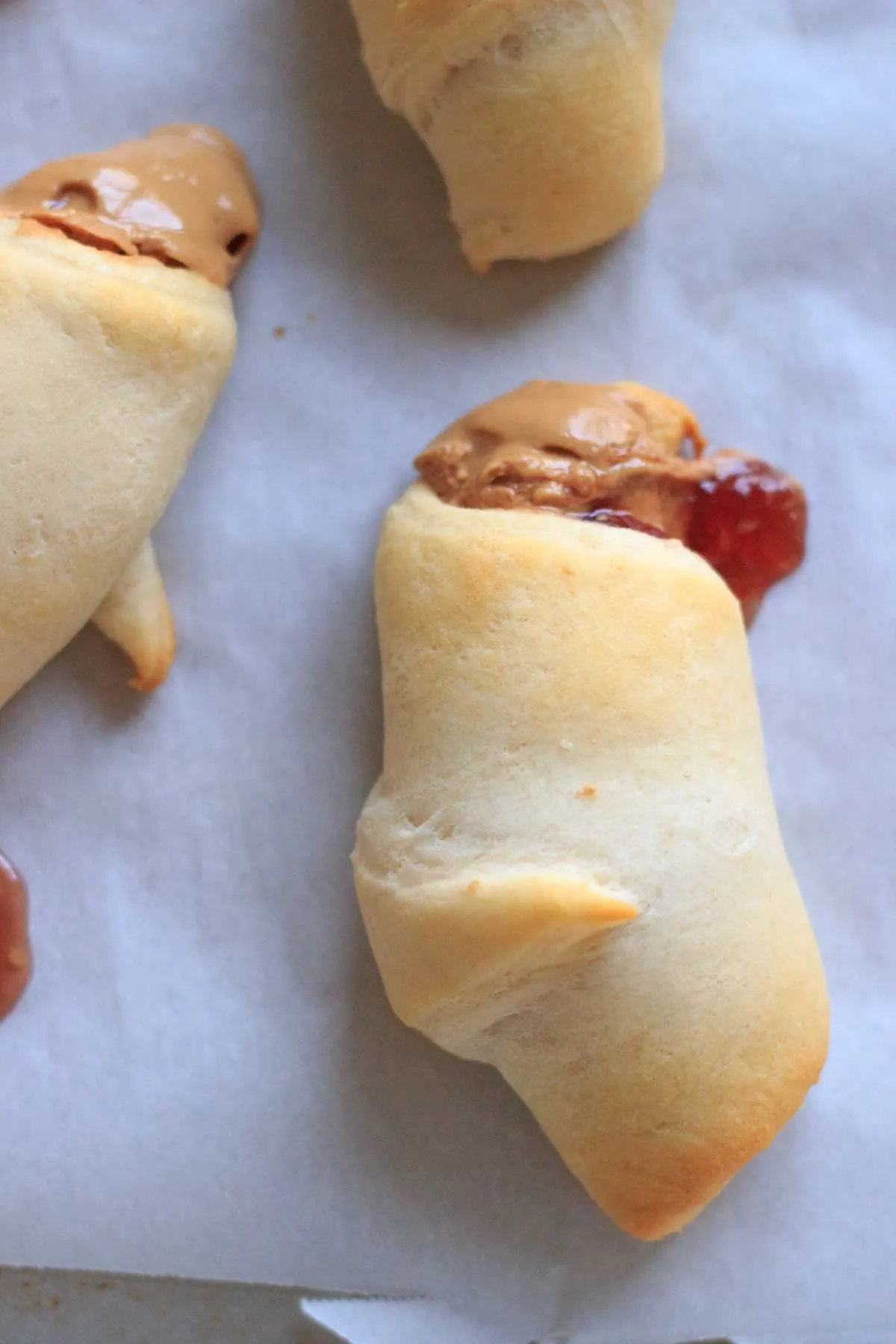 A meal that's toasty, easy, yummy, and slightly sticky.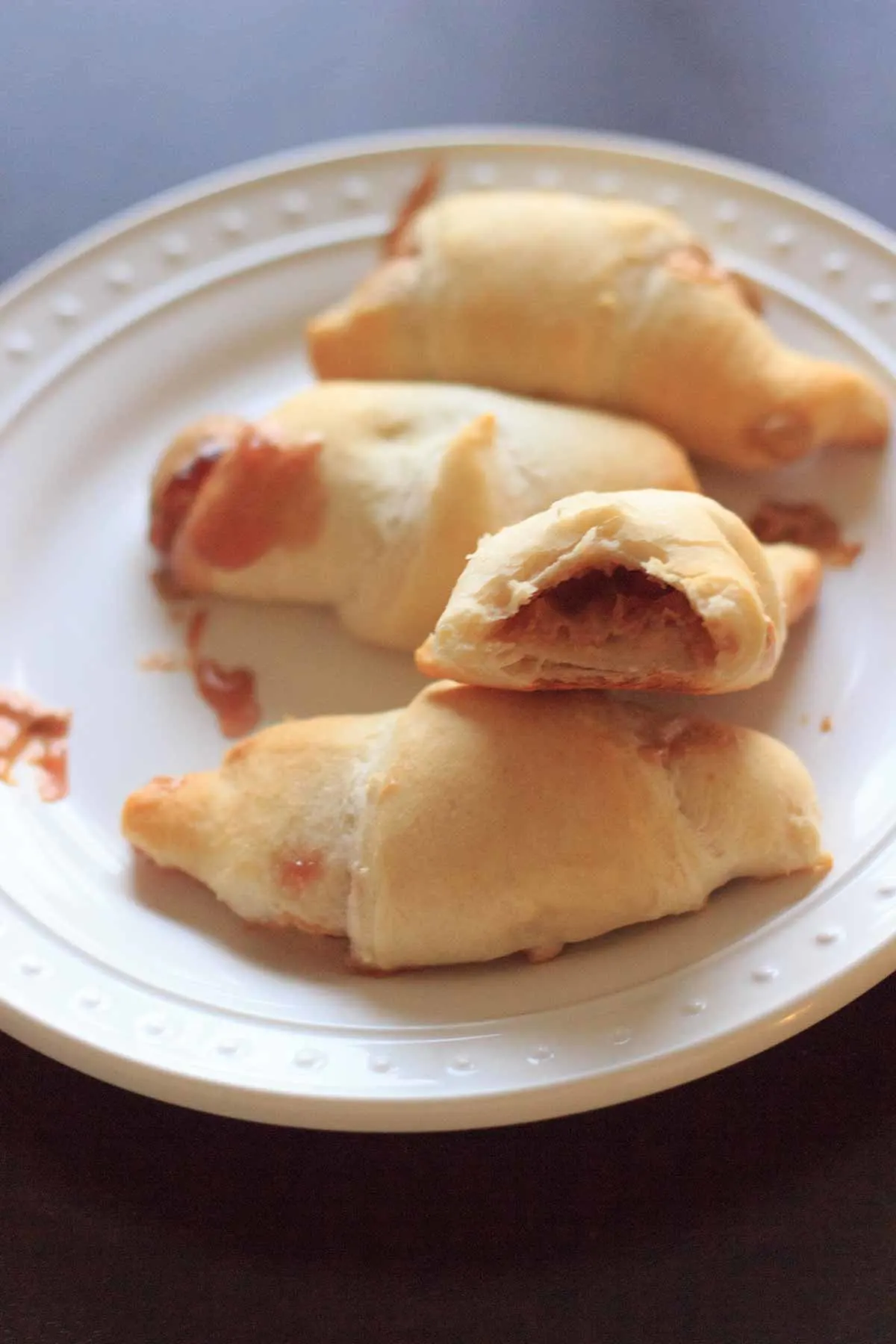 Best enjoyed with a tall glass of milk. 🙂
Another favorite crescent roll dinner recipe: broccoli crescent wrap!
Yield: 8
Peanut butter and jelly wraps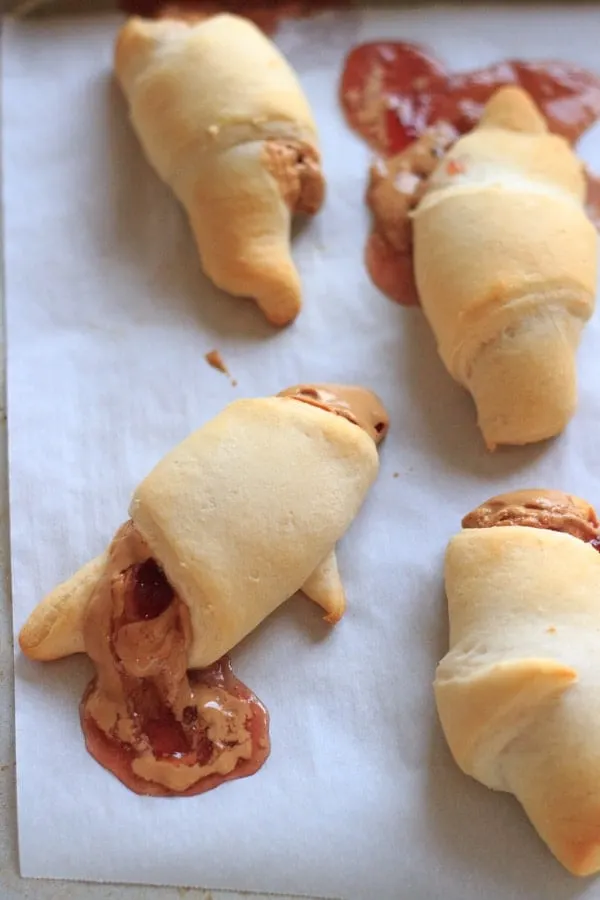 Peanut butter and Jelly wraps - Warm toasted crescent rolls for a quick and easy spin on a traditional PB&J sandwich. Fun for all ages!
Ingredients
1 package Crescent roll dough
Peanut butter
Jelly
Instructions
Unroll crescent roll dough.
Spoon your favorite kind of peanut butter on the base side of the triangle, and then add a spoonful of your favorite flavor of jelly on top of the peanut butter. Roll into a wrap.
Bake at 350 degrees Fahrenheit for 13 to 15 minutes, or by following the instructions on your crescent roll can.
Serve warm with a glass of milk!
Nutrition Information:
Yield:
8
Amount Per Serving:
Calories:

170
Total Fat:

10g
Saturated Fat:

3g
Trans Fat:

0g
Unsaturated Fat:

5g
Cholesterol:

2mg
Sodium:

151mg
Carbohydrates:

19g
Fiber:

1g
Sugar:

2g
Protein:

2g
Nutrition information is calculated automatically by an online tool at Nutritionix. It is not always accurate. Please use your own tools to check if you rely on this information.