As an Amazon Associate, I earn from qualifying purchases.
All about the organic sauces from Otamot Foods! These tomato sauces are vegan, certified gluten-free, USDA organic, and have no sugar added (which means Whole-30 approved!) Read more about them and find an exclusive discount code below!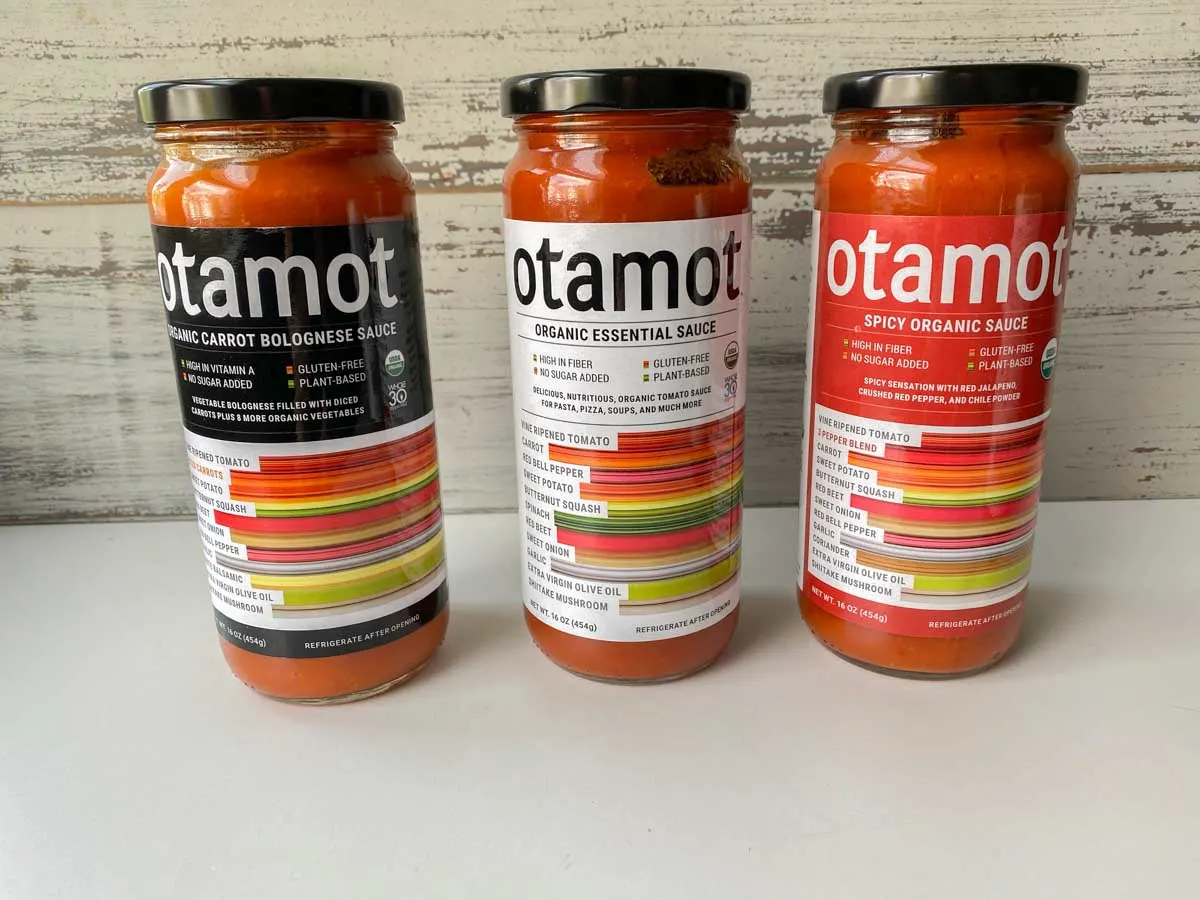 We love a good product that packs in extra nutrients, and these sauces from Otamot definitely do that!
They were created by a dad to help his picky-eater daughter eat more veggies without complaint. Parents are the most innovative, don't you think?
And yes, "Otamot" is "Tomato" spelled backwards!
Otamot Products
Currently, Otamot has three flavors of sauces: Essential, Carrot Bolognese, and Spicy.
All of these are organic, gluten-free, and plant-based with 8-10 vegetables inside.
The base vegetables in each of the flavors are similar, with amounts of: vine-ripened tomato, carrot, red bell pepper, sweet potato, butternut squash, red beet, sweet onion and shiitake mushroom.
Organic Essential Sauce: A good "everything sauce." In addition to the vegetables above, this one also includes spinach!
Organic Carrot Bolognese Sauce: Vegetable bolognese filled with extra diced carrots.
Spicy Organic Sauce: this includes a 3-pepper blend of red jalapeno, crushed red pepper and chile powder. I like spicy but I need to be careful to not over-pour this one, you definitely taste the heat!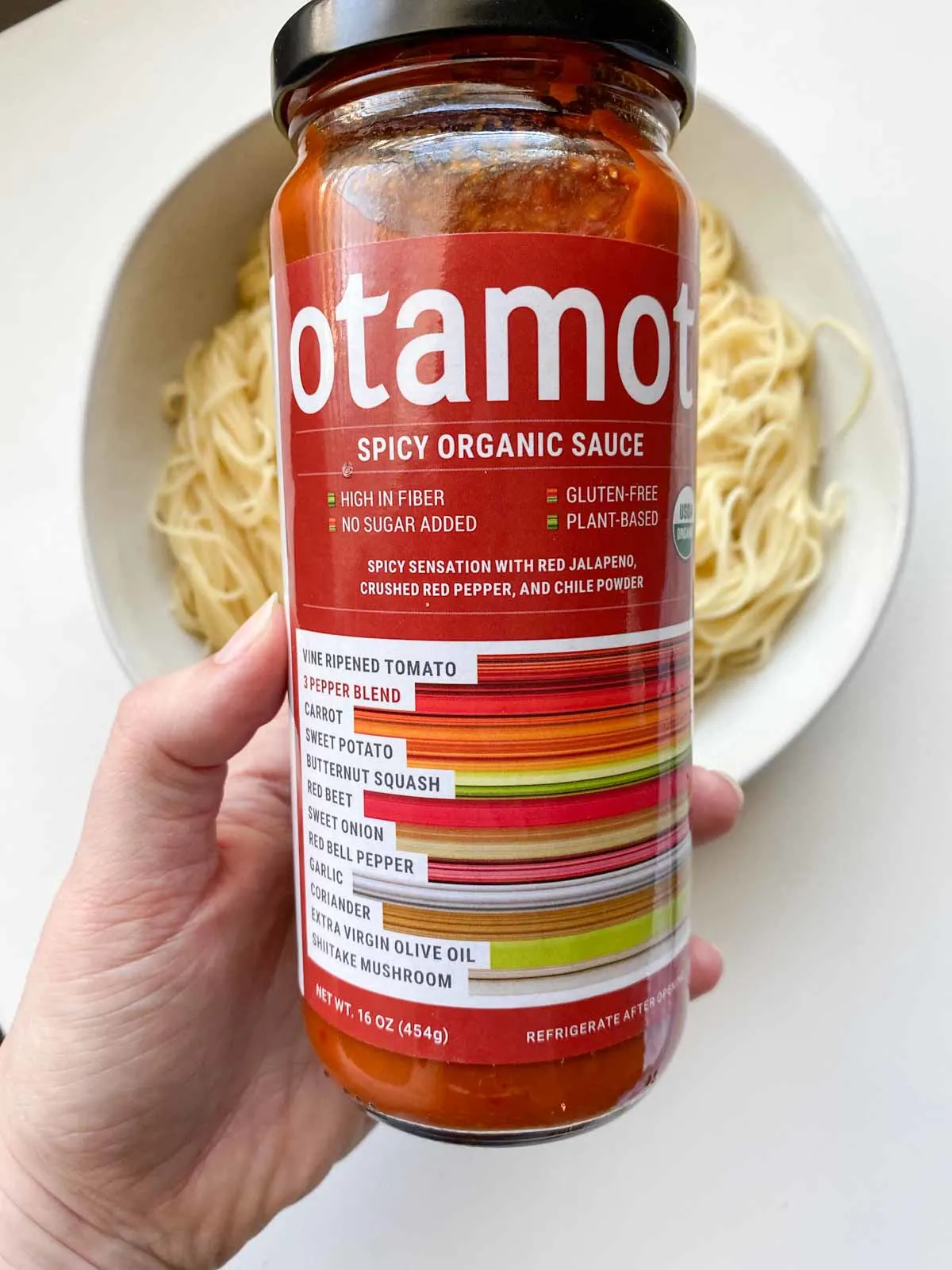 How to Eat the Sauces
These sauces are thicker than your average tomato sauce, because they are packed with good whole foods!
I find these make a great base for pizza or any pasta dish because they aren't watered down.
Though if you find you like a thinner sauce, you can dilute it with water or broth to reach the desired consistency.
A little can go a long way!
Especially with the spicy sauce (just because of the heat level), start with less than you think you need and you can work your way up if needed.
I love red sauce so I have to pace myself with Otamot!
Pasta, fried halloumi cheese, arugula and spicy Otamot: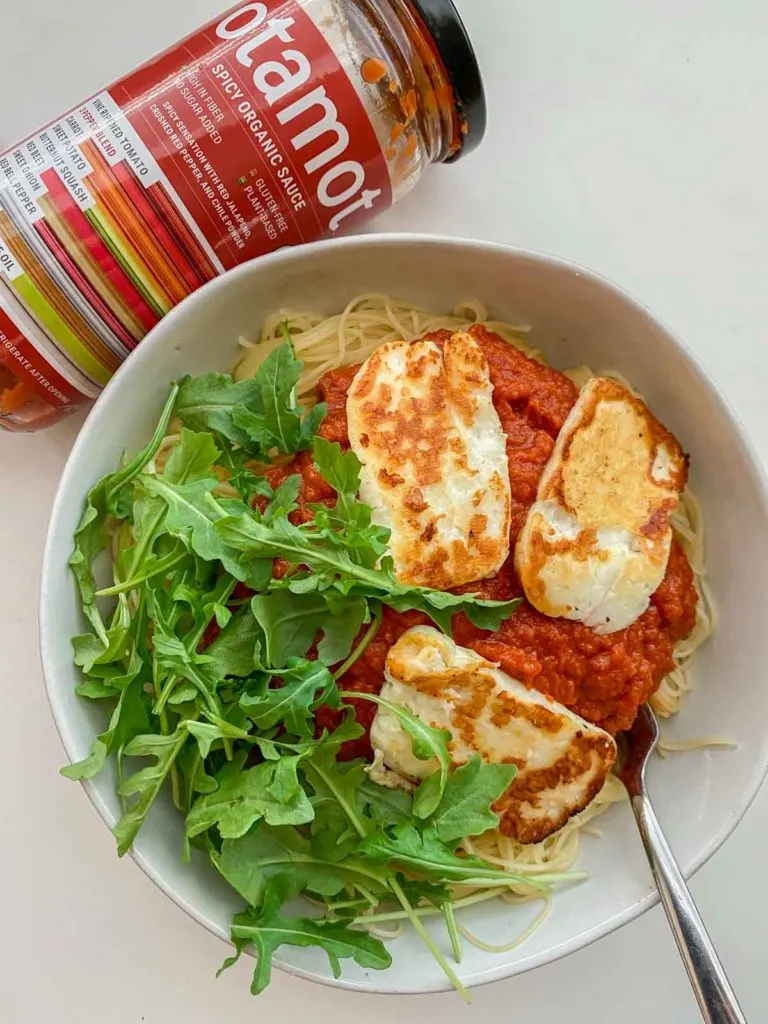 The sauces are highly versatile and you can use them anywhere you would use regular tomato sauce: stews, veggies, spaghetti, pizza night.
And since they are more concentrated they also make a great dip, or as a spread for sub sandwiches!
It would be a great way to sneak in veggies and vitamins with grandma's famous baked ziti recipe!
You can also simply dilute the sauce and eat it on its own and it's still a well-balanced meal. Proportions from their website:
Thick soup: Dilute 1 cup Otamot with 1/2 cup liquid.
Thinner soup: Dilute 1 cup Otamot with 3/4 cup liquid.
Cream Soup: Dilute 1 cup Otamot with ½ cup milk and ½ cup heavy cream.
Brothy Soup: Dilute 1 cup Otamot with 1 ½ cups liquid.
Where to Find and Buy Otamot Sauces
You can find Otamot in Whole Foods nationwide and they are continually expanding into other regional stores like Fred Myers and QFC.
If you prefer to order online, you can also grab them on Amazon.
Through their website they sometimes offer customized bottles! Either with a name, or a fun saying or nickname for a personalized gift, these are super fun.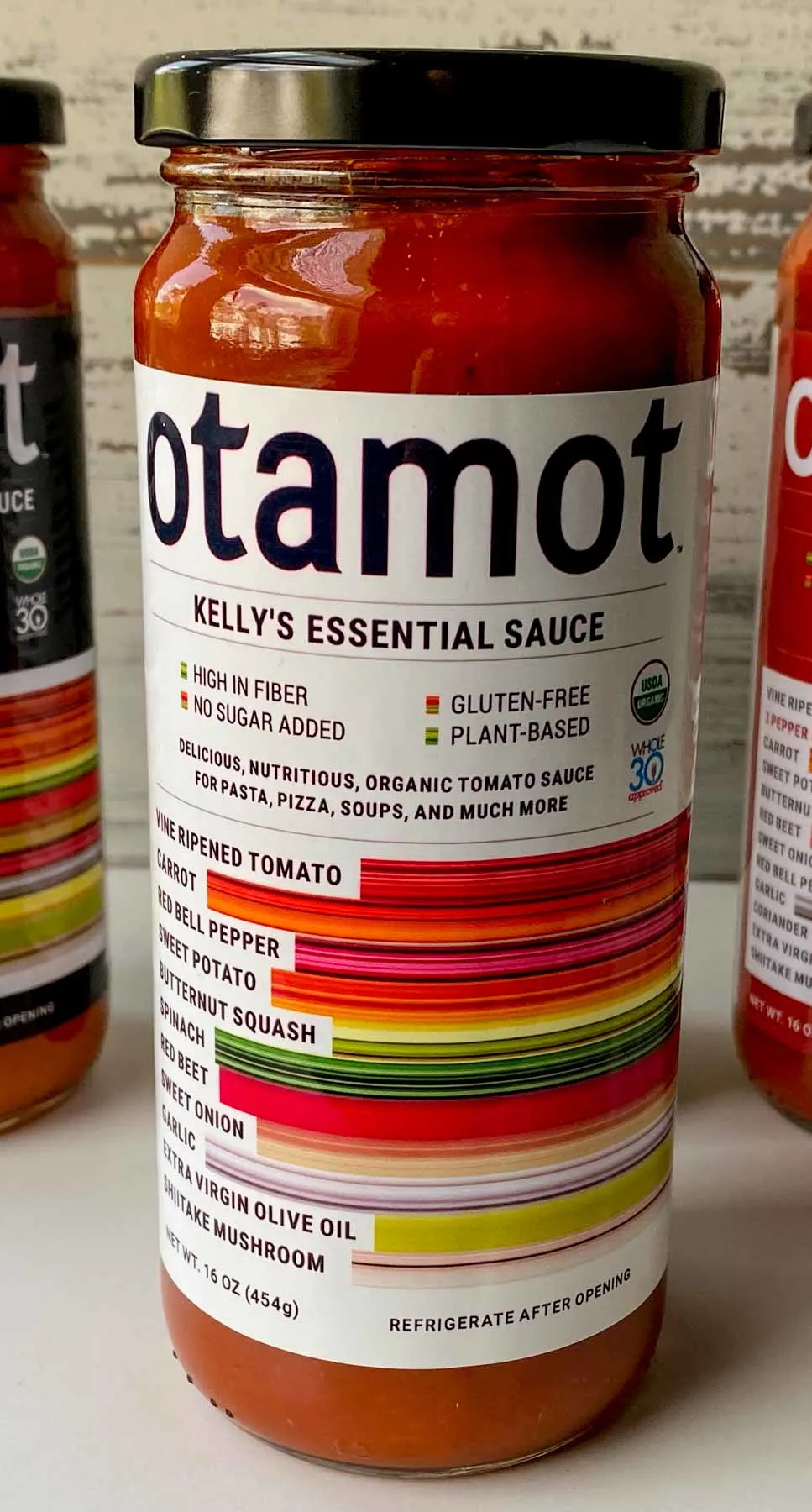 Review Summary
Anything that hides extra veggies and vitamins is a win in our book, and the fact that Otamot tastes delicious too is a no-brainer.
You really can't tell by the taste that they have so many vegetables. The Essential sauce seems like an excellent one to try with kiddos, or really any picky eater that doesn't like to eat their veggies.
I love the creativity of the sauces and also that you can get a personalized jar.
I'm pretty sure I found my new staple tomato sauce, and I can't wait to see what other flavors they come out with next!