This post contains affiliate links, which means I may receive a small commission if you make a purchase after clicking on my links. All opinions are my own.
Ritual Vitamins – the vegan multivitamin company with different formulations based on your age and gender to help make sure you're getting only the nutrients you need. They even have prenatal and postnatal formulas! Read more about them and get an exclusive discount code below.
Ready to buy and don't need to see the review? My readers can use the code TRIALANDEATER at checkout on Ritual.com to get a special 10% off your first three months!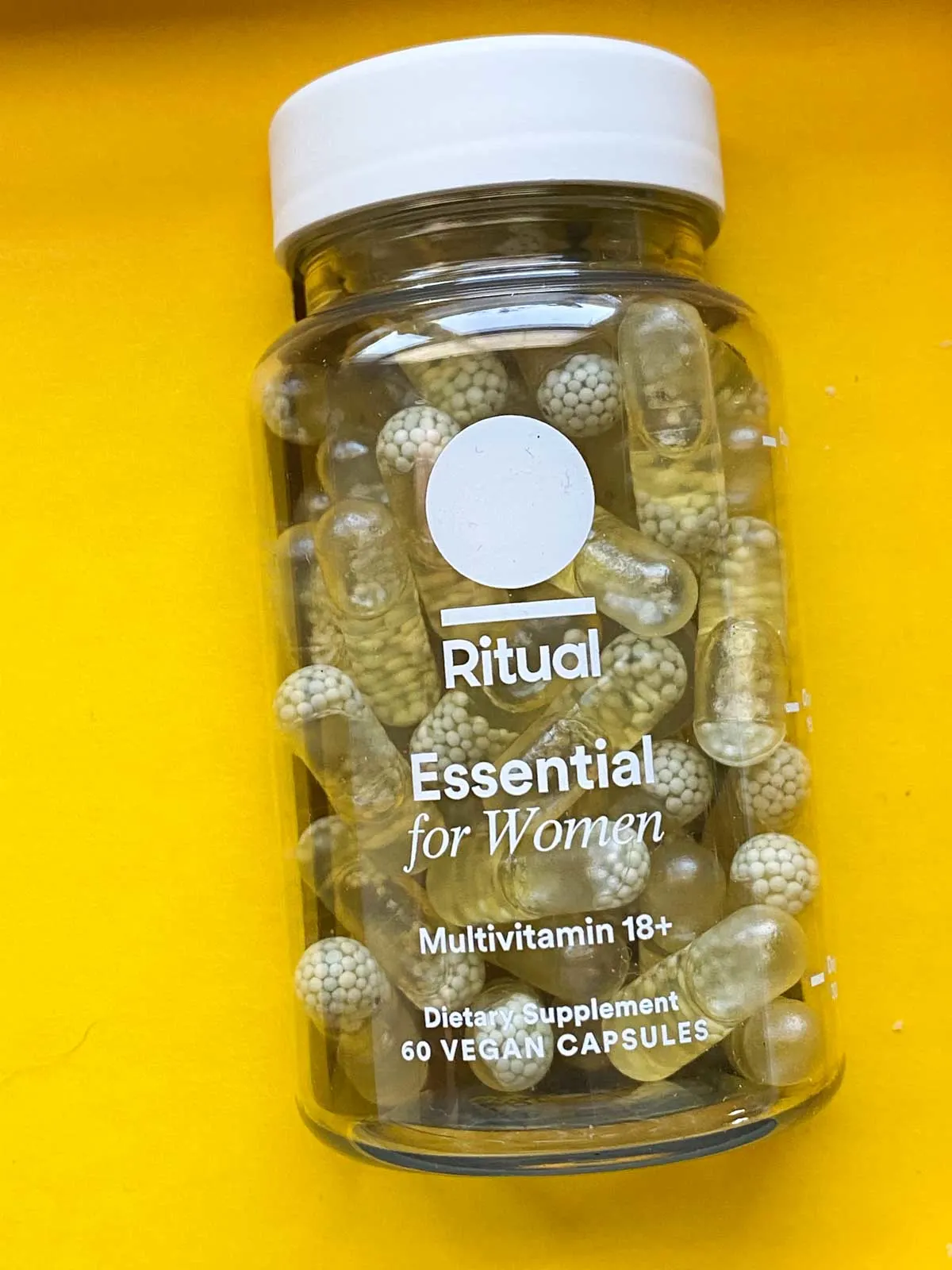 Ritual Vitamins Overview – Just the Essentials
All of the varities of multivitamins that Ritual offers are formulated specificially to fill nutrient gaps in the diet. They specifically leave out certain vitamins like Vitamin C and Calcium and instead focus on "helper-nutrients" that aren't easily met with diet alone.
Each delayed-release capsule is filled with only the essential nutrients for your age, and smells and tastes minty fresh! (Minus the prenatal vitamin, which is lemony fresh!) The mint scent is much stronger than I expected, but it is much preferable to most multi-vitamin smells.
On top of that, they are vegan, gluten-free and major-allergen-free with no artificial colors or fillers.
Ritual Vitamin Options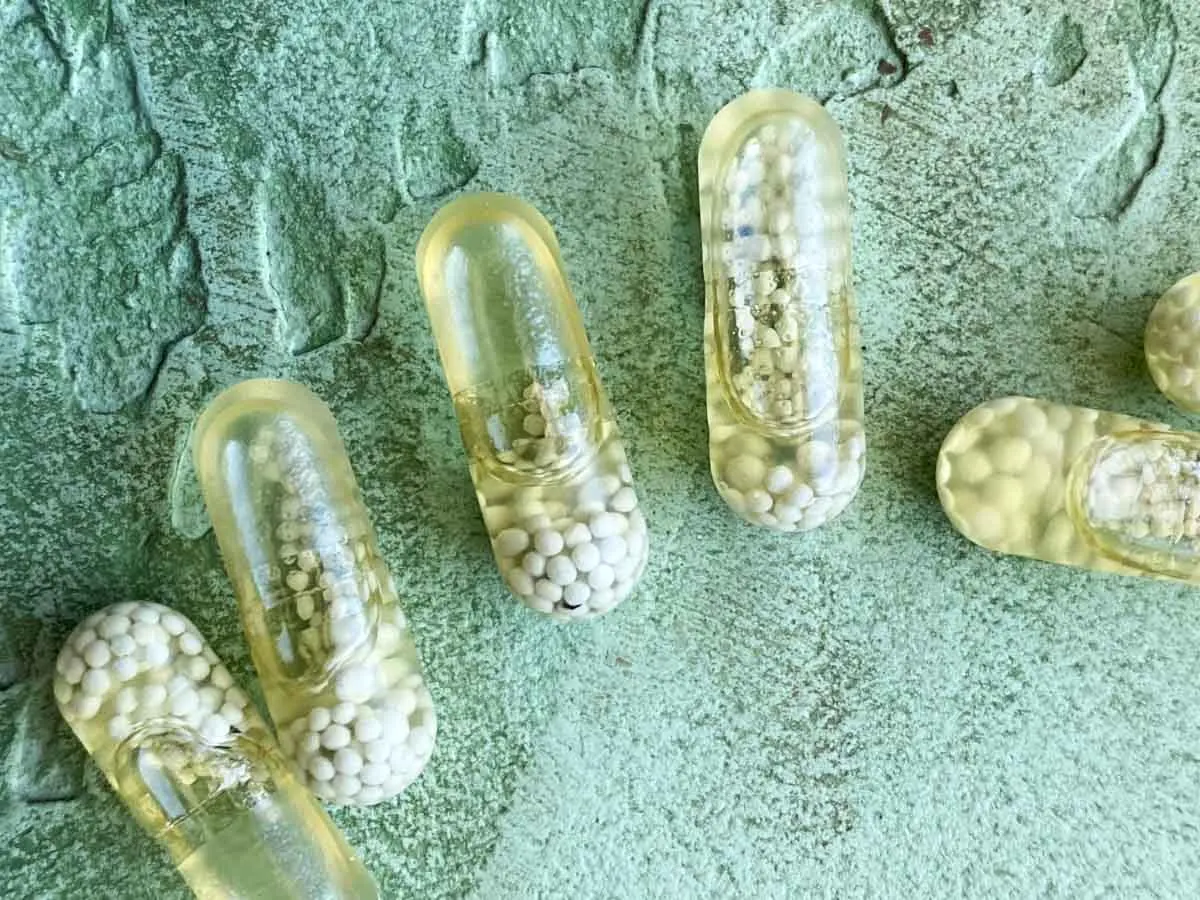 For Women
Womens Essentials for ages 18+
Contains Iron, Methylated Folate, Omega-3 DHA, Methylated Vitamin B12, Vitamin D3, Vitamin K2, Boron, Vitamin E and Magnesium.
The Omega-3 from microalgae and the methylated B12 are combined to support brain health.
Vitamin D3, Magneisum and Boron are Calcium-helper nutrients, so even though these multivitamins do not contain calcium the combination of these helper vitamins are designed to help maintain bone health. Vitamin K2 is often taken with Vitamin D to help absorption.
Chelated Iron and methylated folate are for blood-building, to promote red-blood cell formation.
Vitamin E provides antioxidant support.
Buy the women's 18+ here.
Womens Essentials for ages 50+
The multivitamin for women in post-menopause. The main difference from the 18+ womens essentials is that it does not contain iron, so if you are not post-menopausal yet then you would want the 18+ vitamin above. Buy the Womens 50+ here.
Essentials for Teens (Hers)
The multivitamin for girls ages 13-17. Includes Vitamin A and Zinc for healthy immune function, and does not contain Boron like the Womens 18+ does. Buy the Teen for her here.
Womens Essentials Prenatal
Prenatal vitamin for women while pregnant or planning for pregnancy. This one is flavored with lemon instead of mint, and contains different levels of the vitamins in the 18+ women vitamin (with the exception of Vitamin K) while adding Iodine, Biotin, and Choline to support fetal development. Buy the prenatal here.
Womens Essentials Postnatal
This is Ritual's newest adult multivitamin, designed for women up to 6 months postpartum. This differs from the prenatal vitamin by adding Vitamin A, C, and Zinc and it also has different levels of Iron, Iodine, E and B12. Buy the postnatal here.
For Men
Men Essentials for ages 18+
Contains Vitamin A, Methylated Folate, Omega-3 DHA, Methylated B-12, Vitamin D-3, Vitamin K-2, Boron, Vitamin E Magnesium and Zinc. Buy the Men multivitamin here.
Men Essentials for ages 50+
Contains different levels of the same vitamins in the Men's Essentials. Buy Men 50+ vitamin here.
Essentials for Teens (His)
Multivitamin for teen boys ages 13-17 , with different levels of the above nutrients (without Boron). Buy the teen multivitamin for him here.
Ritual For Kids 4+
New sugar-free gummy formulated with picky eaters in mind. 12 traceable ingredients including 50 mg Omega-3 DHA and a good source of fiber per serving. I love that this does not have any artificial colors or flavors like a lot of kids gummies on the market!. Buy the Kids multivitamin gummy here.
How to Order
Ritual is based on a subscription model, which you can pause, change or cancel at any time from the website. I actually find this helpful as then you don't have to worry about running out, and your next months supply shows up at your door on time.
You are able to change your future delivery dates very easily without help from customer service, and they also send a helpful reminder before shipping out your next order in case you're not ready for a refill.
They also have a 30-day guarantee if you decide it's not right for you.
Once you find the right multivitamin for you or your family, simply place the items in your cart and you'll be taken to checkout.
The base price is $33-39 a bottle and you can save 10% on your first 3 months with the promo code TRIALANDEATER – remember to enter this before paying on Ritual's website.
Free shipping is included with your Ritual vitamins subscription and you can modify delivery dates and items once you order and create a profile.
Ritual Vitamins Review Summary
I love that Ritual includes only the most commonly lacking vitamins and has invested in clinical research. You know we love transparent and traceable ingredients here at Trial and Eater, and the fact that this is vegan with clean ingredients make Ritual a win!
These are now my go-to multivitamins and I appreciate that I will be able to stay within the Ritual vitamin family as my age or life stage changes.
I started with the Women's Essential 18+ and the vitamins are very easy to take, even on an empty stomach. The minty smell is pretty strong so if you do take it with food, just be mindful that you'll get a whiff of mint along with whatever you're eating!
A couple months in, I decided to switch to the Prenatal formulation since it has biotin. That eliminates one more supplement I need to take, as I've started taking the biotin for hair health. Also, for me personally I prefer the lemon flavor over the mint! Just as easy to take with or without food for me.
Most people take a multivitamin as a "one and done" so they don't have to think about a bunch of different pills. At first I wished that Ritual included more vitamins that I also supplement. Though since I now have been taking Ritual for over a year I actually appreciate that it has the "essentials" only, since everyone is different!
The times that I am eating a really clean, plant-based diet (like weeks I'm on the Sakara meal plan), I don't feel I need to supplement with this multivitamin, but it is great to have on hand for when I'm not eating as much variety.
Remember to use code TRIALANDEATER to save on your purchase!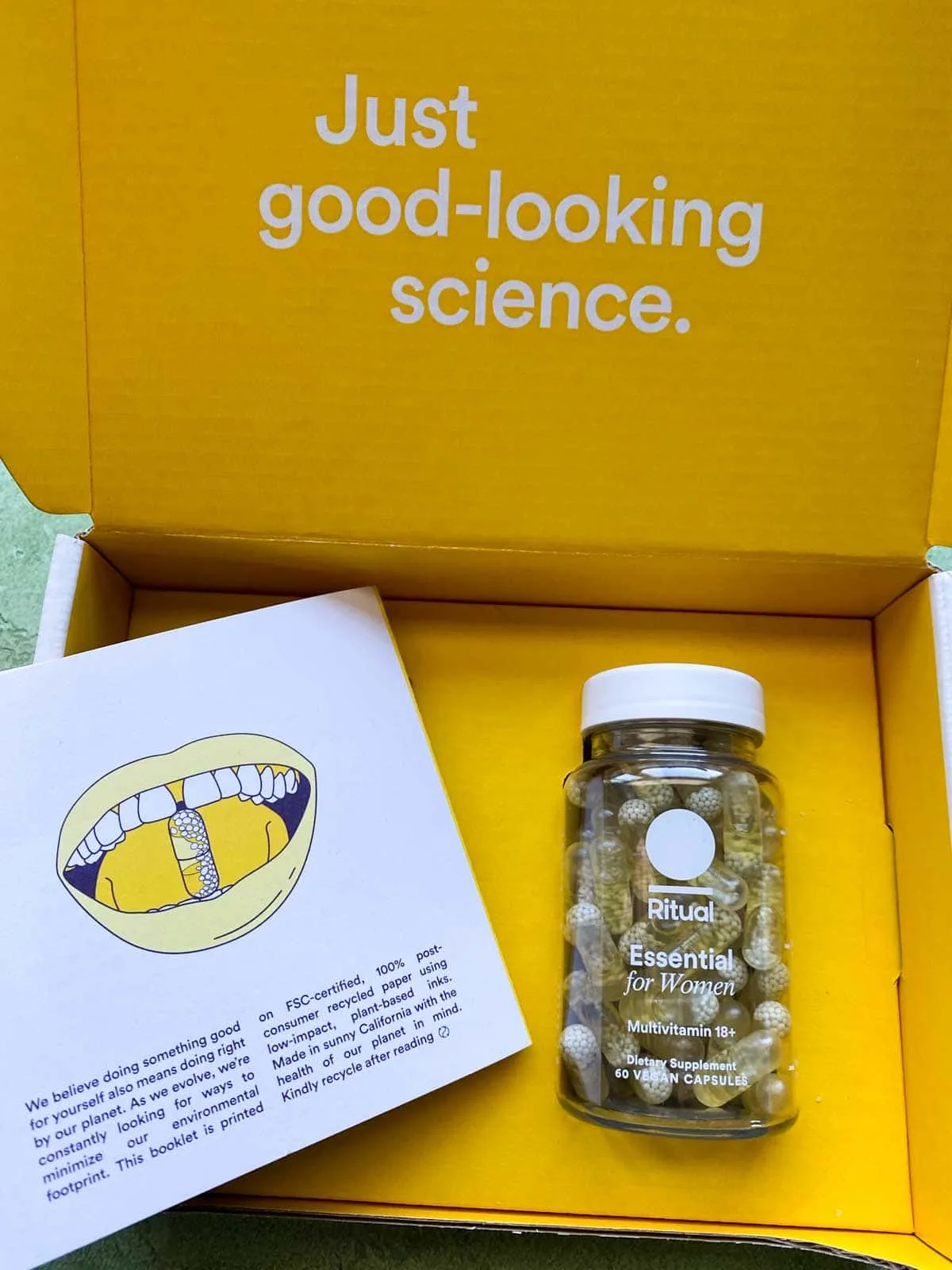 Want to see more of our favorite vegetarian and vegan products? Click here to see all our reviews and make sure to sign up for our emails!