This review post contains affiliate links, which means I may receive a small commission if you make a purchase after clicking on my links. All opinions are my own.
Trial and Eater's review of the natural wine club, Mysa Wine.
We love natural wine here, so coming across Mysa wines meant we had to try the club out for ourselves. Below are our thoughts and the pros and cons of this wine delivery service vs some others.
Mysa curates a special selection of wines that changes monthly. You do have the option to choose the red wine club, orange wine only, or a mixed bottle selection, and within the groups each member will receive the same bottles.
They do also have other wines available in their warehouse that you can purchase by the bottle.
While our *favorite* natural wine club is Dry Farm Wines, it is good to have options for buying clean wine online.
For my first Mysa wine club order, I chose a 12 mixed bottle case to try out the variety. It is also the best deal per bottle to choose this option.
In my box (in the month of September) there were 2 bottles of orange, 1 sparkling, 2 white, 2 rosé, and 5 reds.
What I really appreciate is that Mysa wine sends an email with a whole bunch of information on each bottle in your shipment. There is some backstory, description, tasting and pairing notes, and even a youtube clip of a live taste test.
Below is a screenshot of what the tasting notes look like, for one of my favorite bottles from this month's wine club!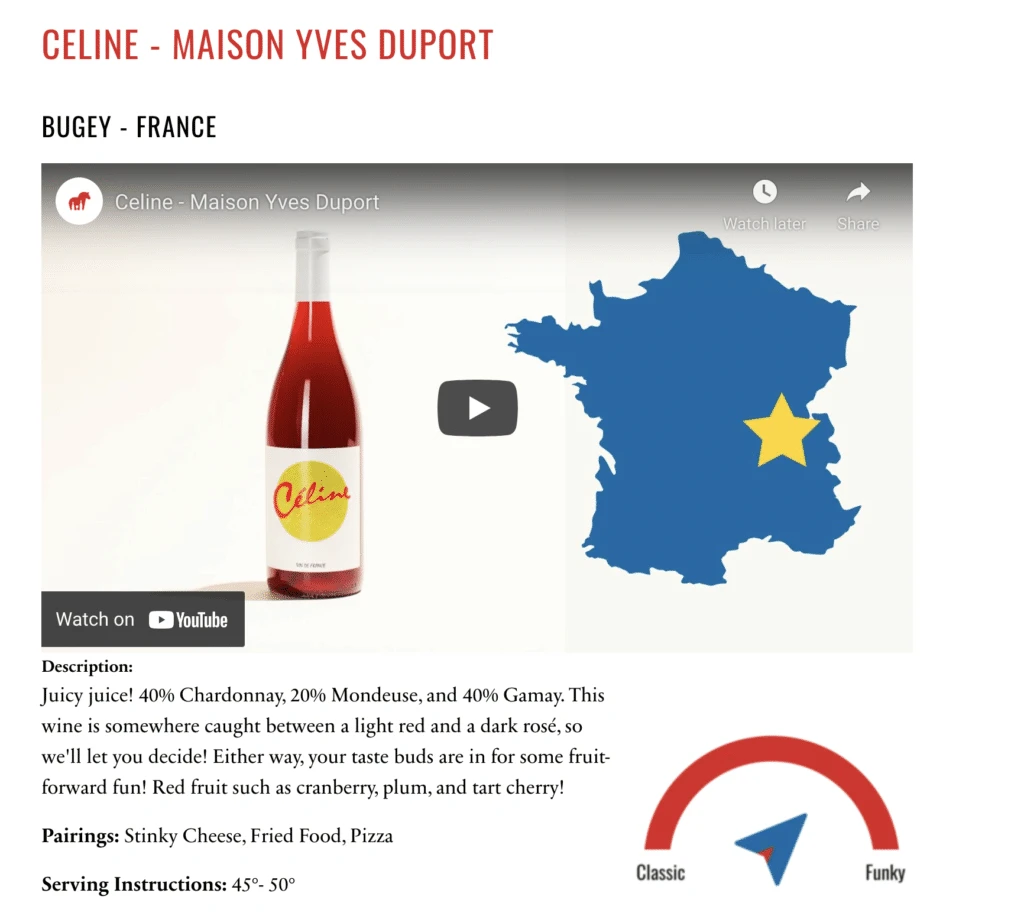 These details will help you decide which bottles to try first based on taste preferences and food pairings.
If you are more of an adventurous drinker and don't mind some "funky" wines along with classic favorites, this can be a fun club to try. Unfortunately the wine club is not customizable, which is its biggest downside.
What I love about Mysa Wine: Adventure! New wines to try every month.
And (for the most part) – the price! They have great deals for natural wines, especially for your first order, if you use the coupon CLUB15 on your first membership order. (That coupon makes it under $20 a bottle for your first order, if you do the 12 bottle mixed club.)
(Do note that if you do a smaller number of bottles, like the 3-bottle mixed club, the price is more like $28.31 per bottle – which is more in line with the Dry Farm Wine prices.)
Unfortunately you can't choose your wines or customize your delivery dates, which you mostly can for Dry Farm Wines. (You can request certain types of wines with your shipment, and they have a happiness guarantee.)
Besides those couple items though, Mysa wine is an excellent resource to buy natural wines online, whether you join the club or not.