This review post contains affiliate links, which means I may receive a small commission if you make a purchase after clicking on my links. All opinions are my own.
Our review of Dry Farm Wines delivery club! The natural wine club sourced from sustainable family farms, with no additives, low residual sugars, and lab-tested to ensure low sulfite levels. Find out why you would want to choose dry farm wines over conventional and get an exclusive bonus bottle below!
Ready to buy and don't need to see the review? Use this link or go to dryfarmwines.com/trialandeater to get an extra bottle for just a penny with your first delivery!
*Note that there will be a pop-up asking you to verify you are 21 years or older when you go to their site.*
Why Choose Dry Farm Wines
Why would you choose to buy Dry Farm Wines over conventional? First of all, no additives! Did you know that there are over 70+ additives (including thickeners and dyes) that are are approved by the FDA to be added to wines?
This list can include animal products, dyes (including mega purple) and other things I'd rather not be in my drink.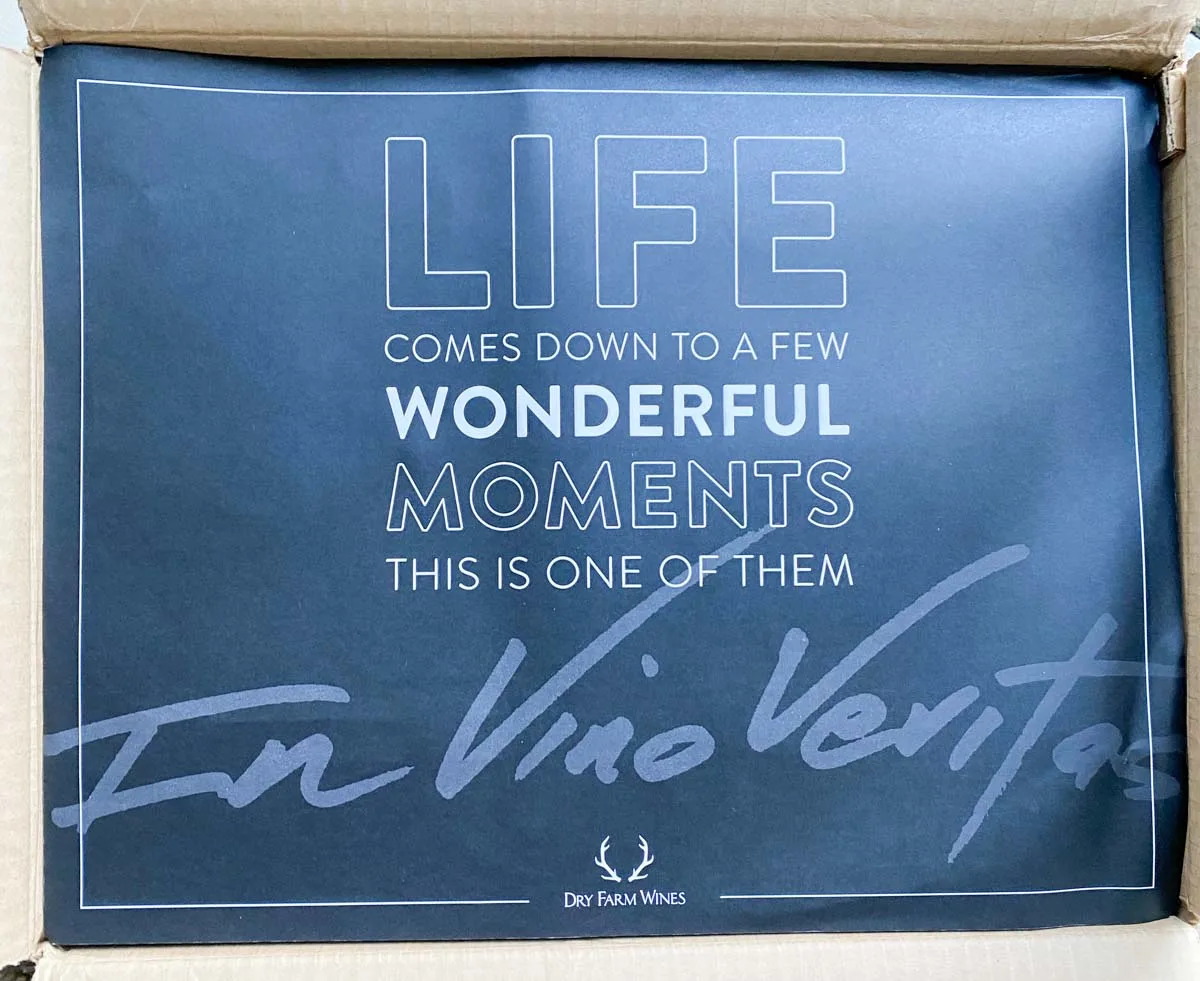 Here are some more benefits of choosing Dry Farm.
Sugar-free. When wine is allowed to fully-ferment, the yeast eats all of the sugar. There is guaranteed to be no more than 1 gram of residual sugar per liter of wine (or <0.15 g per glass).
Low-alcohol. This means <12.5%. They have some bottles that are as low as 7% alcohol, but most of the ones I've received are 11.5-12.5%, which I think is the perfect amount.
No added sulfites (with low naturally-occurring sulfites). Grapes contain sulfites naturally but because they don't add sulfites (which are typically added by conventional methods to stop the yeast from growing), they have very small amounts. They say their average is 39ppm – for comparison USDA organic are allowed to have 10ppm, and conventional can have up to 300ppm.
Lab-tested results. You can actually look up any of the wines you receive in their "wine library" to see the amount of detectable sulfites, sugar and alcohol content. They also include other details of the wine as well as suggested pairings.
Vegan certified and keto-friendly. Non-vegan additives can be in many commercial wines, like dairy, gelatin, and others. Dry Farm Wines is certified vegan and the low sugar makes them appropriate for the keto diet!
There is also an extensive F.A.Q.'s section on their website that answers other common questions related to what is and what is not in their wines, and why.
Claim your bonus bottle of clean wine for just a penny at dryfarmwines.com/trialandeater
About Dry Farm Wines
It was only a few years ago I began my quest to find more natural and organic wines. I originally switched to USDA organic wines but then I came across Dry Farm Wines.
Dry-farmed means the grapes were grown without irrigation, which allows the vines to find their own natural water source instead of forced watering in the attempt to increase fruit yield.
Fun fact: Dry Farm Wines estimates their natural growers save 1.4 BILLION gallons of water annually by not irrigating!
While I discovered Dry Farm Wines when looking for organic options, it's important to point out the difference in certified organic vs. organic. USDA certified are only allowed to have 10 ppm (parts per million) of sulfites, and wine "made from organic grapes" are allowed to add sulfites. Conventional wines can have up to 300 ppm and 70+ different additives.
Dry Farm sources wines from other countries, so the certification label doesn't apply here, but I think they are even better than USDA certified because of the other criteria they follow.
Dry Farm only sources from growers who focus on regenerative and sustainable practices from around the world. They use organic grapes, practice biodynamic farming and make their wines without any additives.
They have a 3rd party lab test certification to ensure this, and to show the levels of natural sulfites and residual sugar.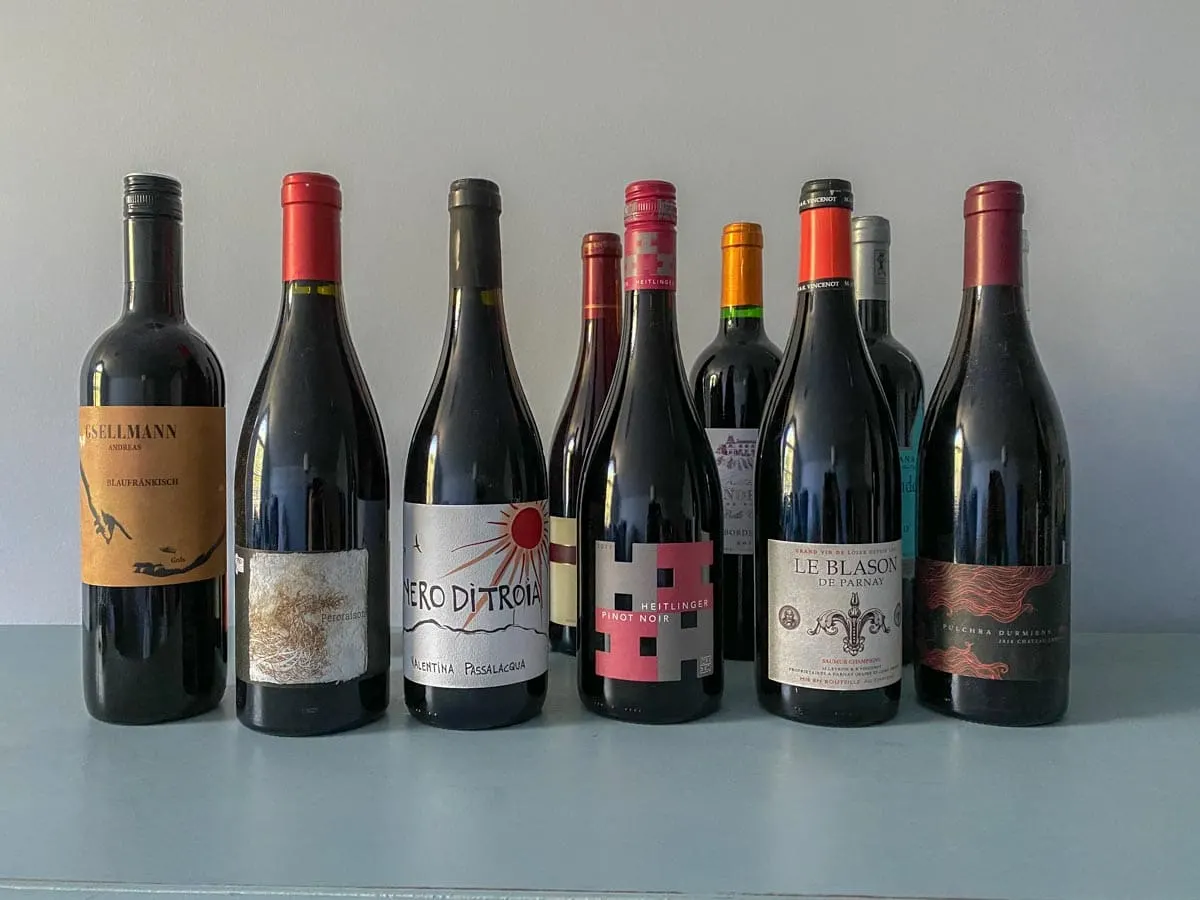 Claim your bonus bottle for just a penny at dryfarmwines.com/trialandeater
Dry Farm Products
Dry Farm Wines main feature is of course, the natural wines. You can get a one time box or join the club for a bit cheaper. Choose from red wines, white wines, sparkling wines, rosé and special features throughout the year (like orange wine).
They also have a lower-alcohol botanical wine line called Bolixir, and a new premium olive oil line!
The Wine Club Options
Here is a summary of your options to try these curated natural wines:
And just for readers of Trial and Eater – if you use the link dryfarmwines.com/trialandeater to sign up, you'll get an email on how to receive a BONUS bottle for just one cent with your first subscription!
(Note that their customer service is AWESOME, so if you use any of the links here and don't get your extra bottle automatically added with your first member box, just email them to tell them Trial and Eater referred you!)
Botanical Low-Alcohol "Bolixir"
In the summer of 2021, Dry Farm released a new line of mindfully lower-alcohol wines called Bolixir ("botanical elixirs").
A collection of natural wines infused with wild botanicals like lavender, rose, and elderflower – check out our review here. It seems this was a limited batch and may or may not come back in the future, but club members would be the first to know.
Olive Oils
A super fun new release as of November 2021 are their collection of olive oils.
Made from the same family growers who make their high-quality wine, these are high in polyphenols and make an elegant addition to your kitchen – or a unique hostess gift!
How to Order
Dry Farm Wines only sells through their website (NOT in stores like Whole Foods, Trader Joe's or any others).
When you land on their site from any of the links in this review, there will be a pop-up that will ask you for verify you are 21 years or older. I mention this because I am so used to cancelling out of pop-ups so quickly, but they won't let you in if you don't verify!
You can order a one-time gift for yourself or someone else to try it out, but I find the best way to stay informed on their deals is to join the club (you'll also get a bonus bottle with your first shipment using that link).
You can skip or change any shipment once you're a member and then you will also hear about their special boxes they often run around the holidays. Like orange wine for Halloween!
For your club membership, you can choose to receive 6 or 12 bottles of red, white, or a mix. You can also choose a Rosé membership or even a sparkling wine box. The frequency can be every month or every other month, though you can skip a shipment any time or choose a different date if you'd prefer a different interval.
I love trying different bottles from around the world this way. If you find a bottle you truly love, you can contact them to purchase more of it and they are always happy to customize a box to your preferences.
And they have a happiness promise where they will replace or refund a bottle you don't love!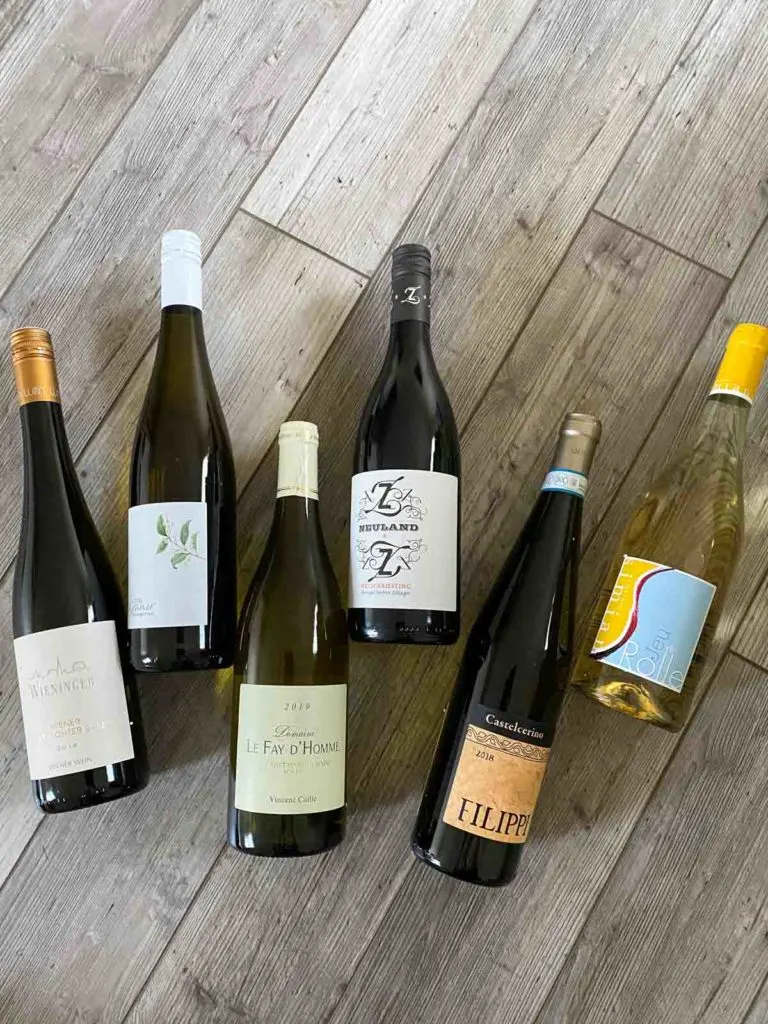 Cost
The club membership runs about $29 per bottle, and it will be slightly more if you are buying a one-time box. Though you can get a bonus bottle for $0.01 through this link in your first shipment! Shipping is always included.
Review Summary
This has turned into my favorite "treat-yourself" boxes I get for myself, and I sometimes take advantage of their holiday sales as well. After learning about what is in conventional wines, I would rather invest in quality wine.
Especially because other wines do not have labels with ingredients or sulfite levels, it's harder to find in-store options that I trust as much.
As far as the taste of these natural wines, I thoroughly enjoy the vast majority of them. I've never been a sweet-wine person, so if you like them more dry and don't need or like the sweetness, these are a great option because of the zero residual sugar.
If you are more of a moscato person, I probably wouldn't recommend them – but as a dry red fan, these are great.
Every so often I'll get a box of whites too and I have found some that I've really enjoyed. It just depends on your drinking preference!
Also, if you're unhappy with any bottle for any reason they will send you a replacement or refund your money. Excellent customer service! I've received many boxes at this point and have taken advantage of this a few times – and one time was because I had an issue with the cork.
Each bottle has it's own lab-results in their wine library resource that you can look up for sulfite and alcohol content, as well as suggested food pairings.
Purity standards upheld by Dry Farm Wines help me know that I'm not likely to get the "wine headache" afterwards and that I'm not drinking all sorts of crazy additives that can be found in store-bought wine.
And knowing they are vegan certified is great peace-of-mind.
I really do notice a difference in how I feel afterwards comparatively and do not feel sluggish or have any sort of hangover effects the next day. Seriously!
The subscriptions are super flexible, you can add, pause, change or cancel any time. And you can choose your charge date for any time during the month – rather than having it be on the same day. Very convenient!
Get a Bonus Bottle
Just for readers of Trial and Eater – if you use the link dryfarmwines.com/trialandeater to sign up, you'll get an email on how to receive a BONUS bottle for just one cent with your first subscription!
Let me know what you think!