This post contains affiliate links, which means I may receive a small commission if you make a purchase after clicking on my links. All opinions are my own.
A review of the unique meal delivery service, HungryRoot! The online grocery and meal planning service that makes meal time easy. Answer a few questions on their quiz and they design a grocery list for the week and send you easy recipes. Read more about them and find their latest deals below!
About HungryRoot
I call HungryRoot a meal delivery service but they are definitely unique in their approach – it focuses more on the grocery delivery aspect and then includes partially prepared ingredients for easy assembly. Their tagline is "Healthy groceries with simple recipes" and it is all customizable to your specific households needs.
The Process – Intro Quiz
It all starts with an intro quiz so that Hungry Root can recommend some recipes for your first box. This includes questions about how many people you are cooking for, any dietary needs or specifications, and what kind of meals you like.
The first question – do you have any dietary needs? They have a bunch of categories – vegan, vegetarian, pescatarian, dairy-free, gluten-free, soy-free, tree nut-free, peanut-free, egg-free, or shellfish-free. You can select more than one if needed.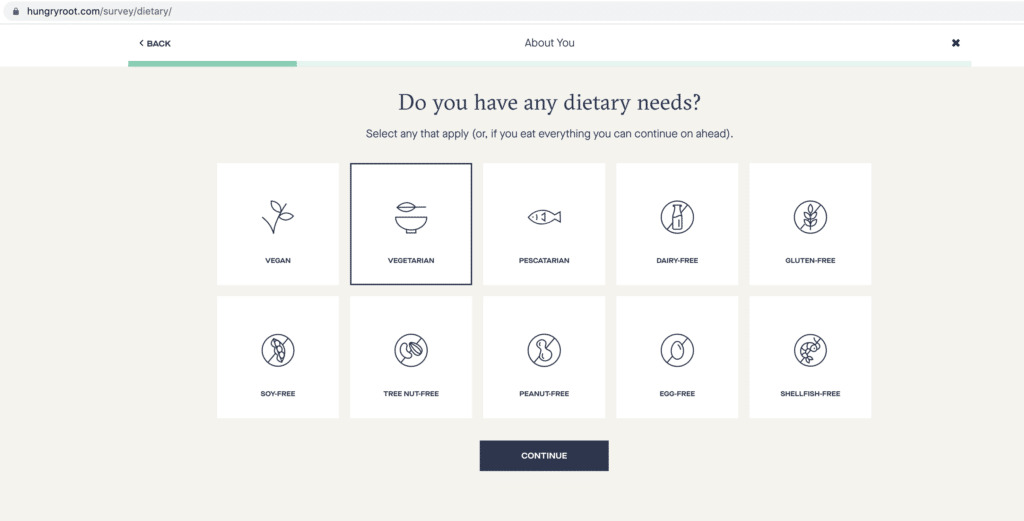 Next question – how do you usually eat throughout the morning? This will help them recommend if you should include breakfast or snack servings in your meal plan.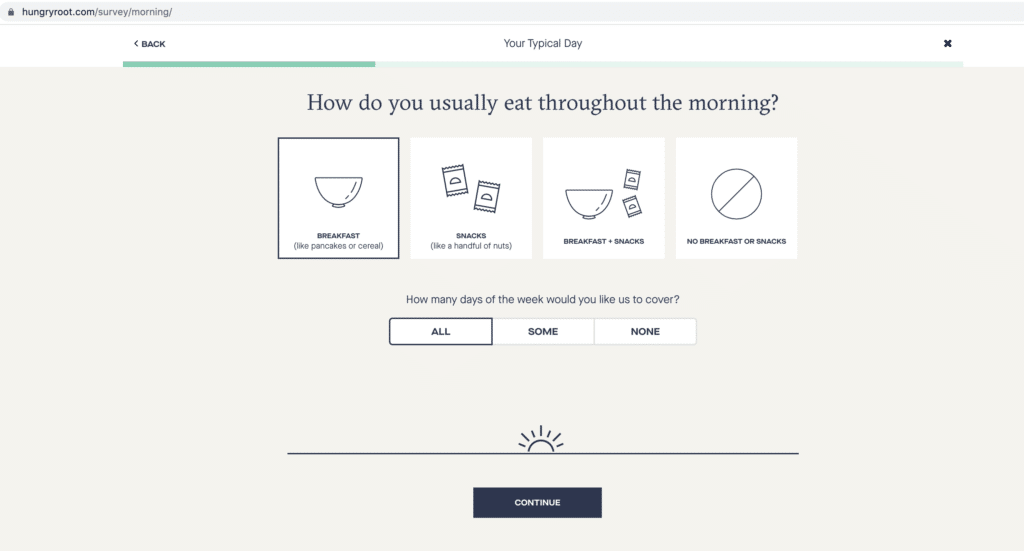 How do you usually eat throughout the afternoon? Again another opportunity to see if you need afternoon snacks included in your plan!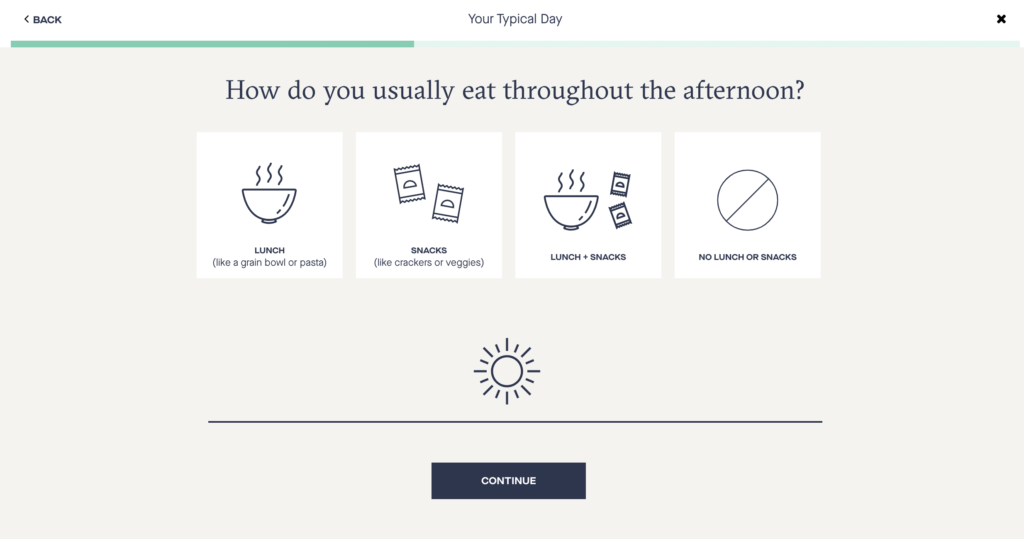 How about in the evening?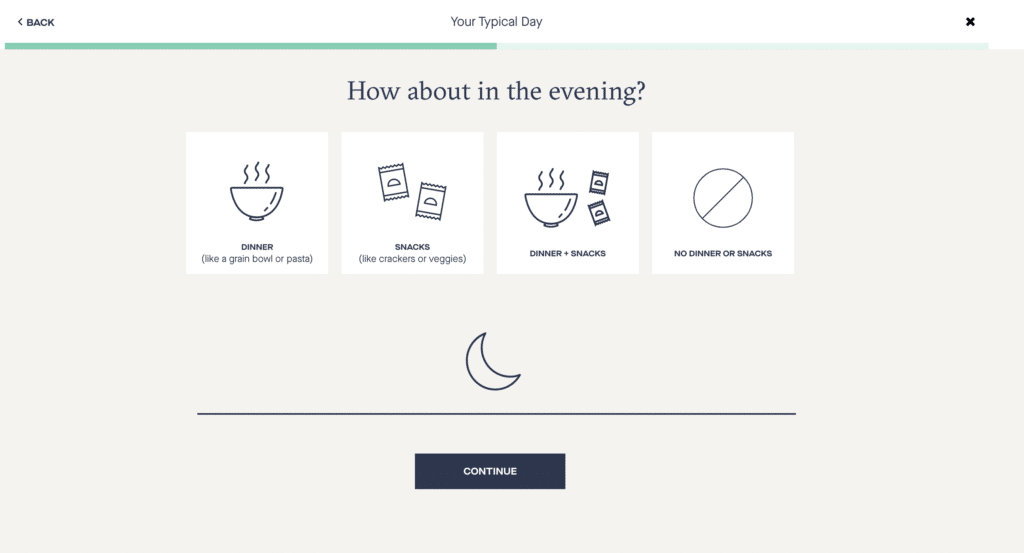 Do you like sweets?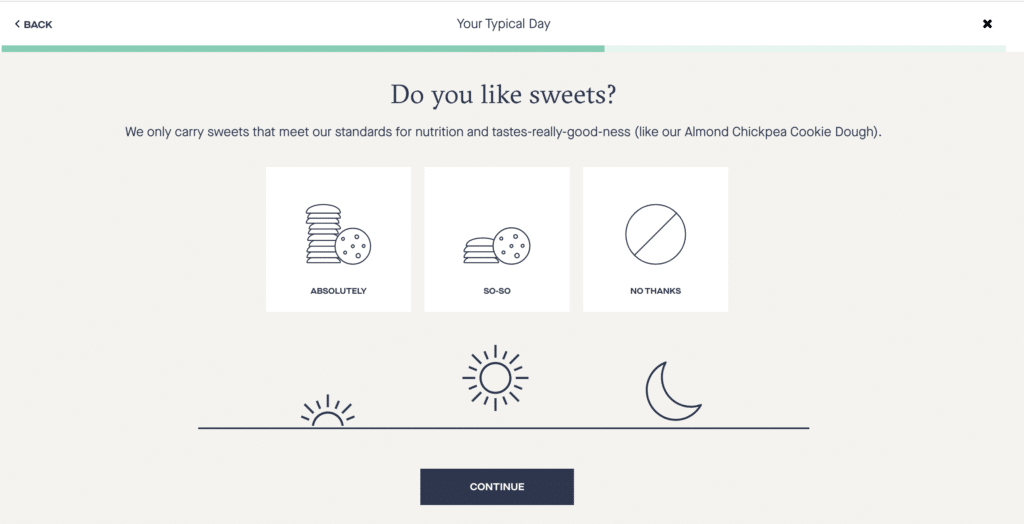 What looks good for breakfast?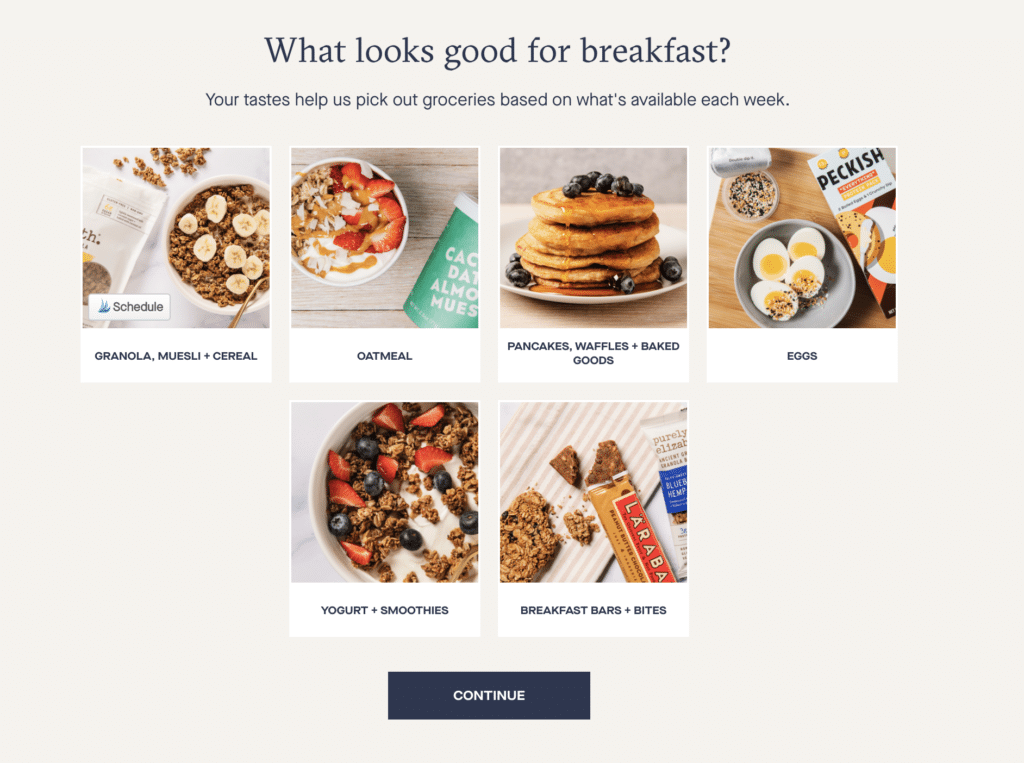 What looks good for lunch and dinner? These categories might look different based on the dietary needs you chose in the beginning.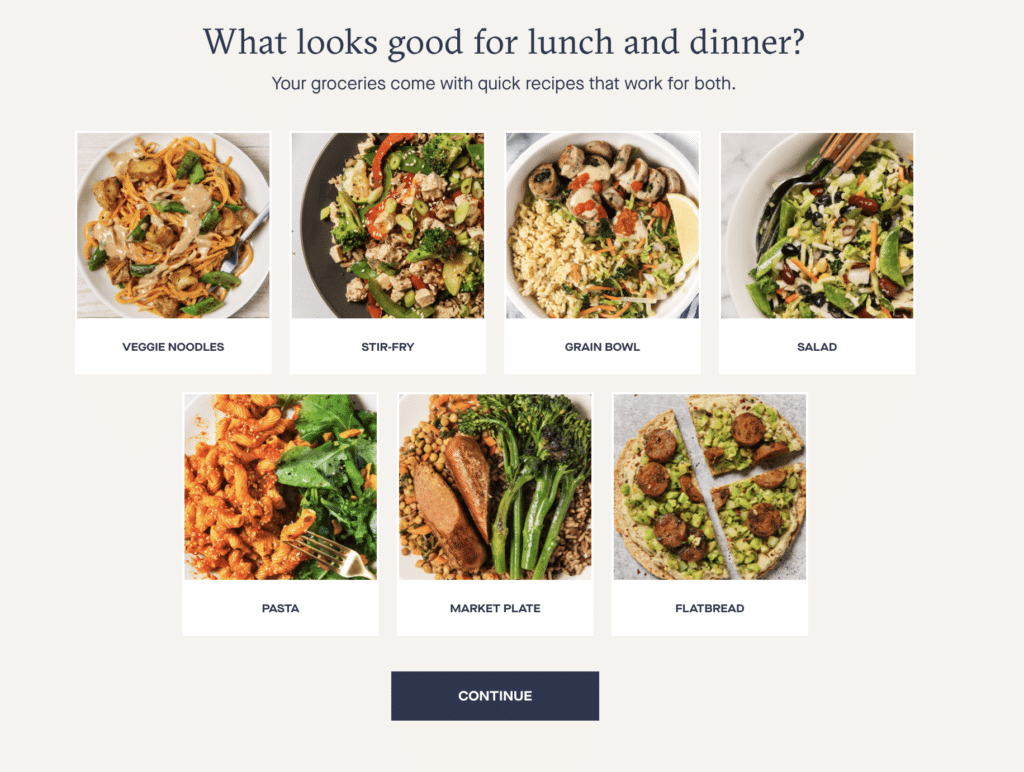 After you finish the quiz it will take you to a recommended amount of food, which you can modify from there if you want. Customize your lunch and dinner serving amounts first (up to 16 servings each), and then the "ready-to-eat" servings for breakfast, snacks, and sweets.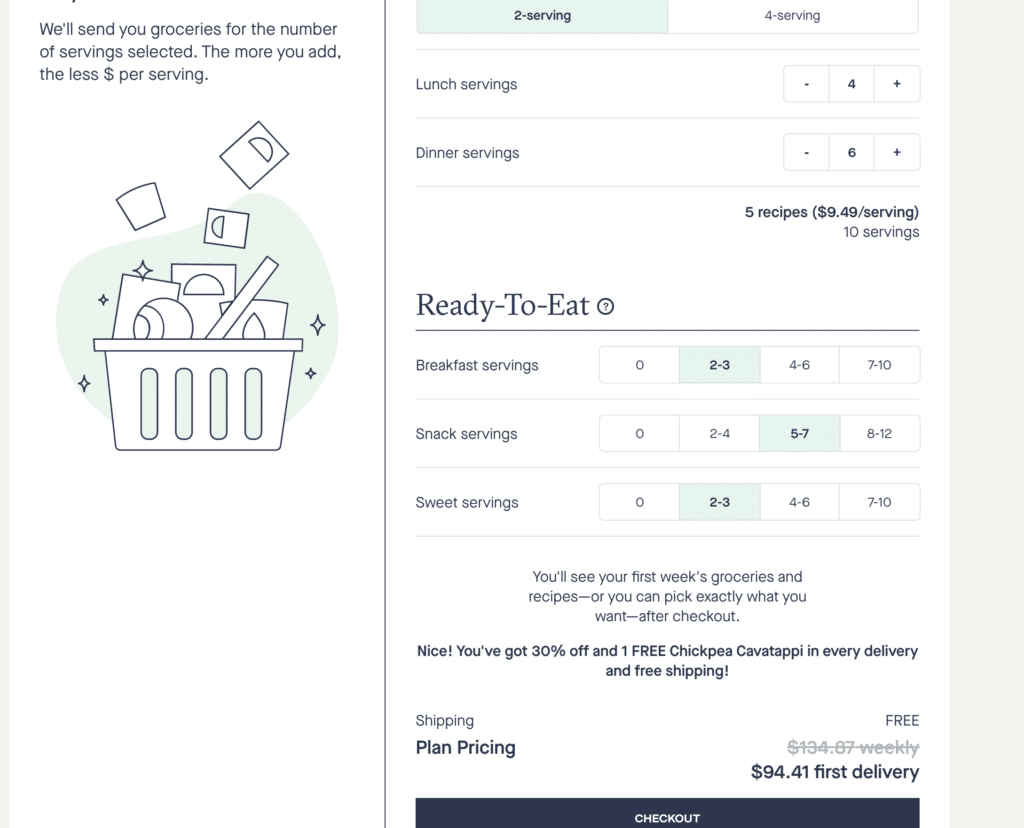 The next page will send you to the recipes chosen for you. It works on a credit system, with each recipe or grocery item worth a certain number of credits. If you don't like the sound of one of the chosen recipes, you can swap it out for another meal worth the same number of credits, and also add extra individual groceries if you want some extras.
Filters are available to sort the recipes and grocery items based on dietary preference – it doesn't hold you to your answers given in the quiz.
Price
My first week ended up being under $100 ($99.90) after customizations for 8 total servings of main meals (lunch and dinner), two breakfasts and a dessert.
You'll get 30% off your first order plus your choice of free item with each box.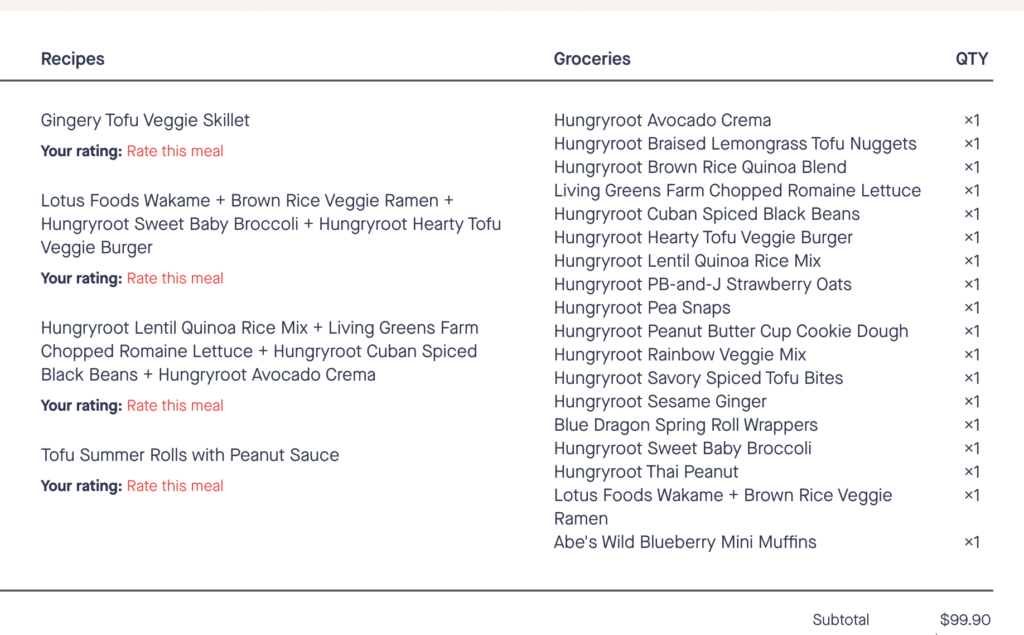 The Food
For my box I chose a vegetarian meal plan which included 4 recipes (2 servings each), two breakfasts and a dessert. The breakfasts were pre-made – 6-count Abe's blueberry muffins and a PB&J oatmeal cup.
This is a spread of all the ingredients that came in my (<$100) box. The written list is above, under the price comments.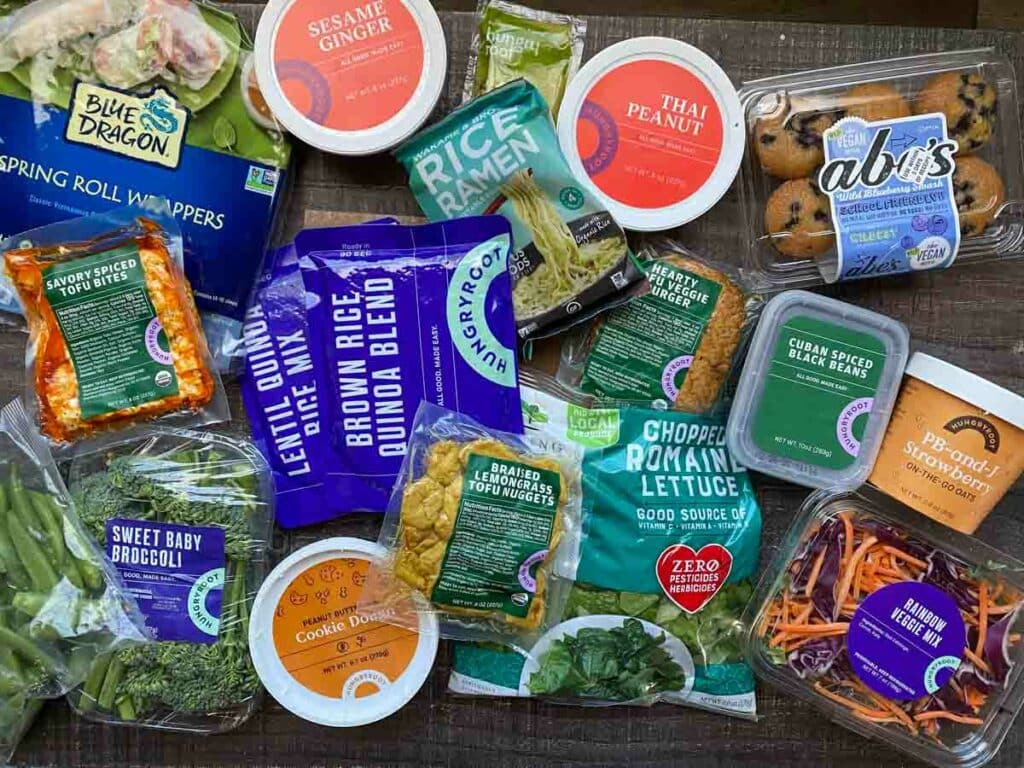 Meals + Photos
Meal #1: Lettuce bowl with cuban spiced black beans, quinoa mix and avocado crema.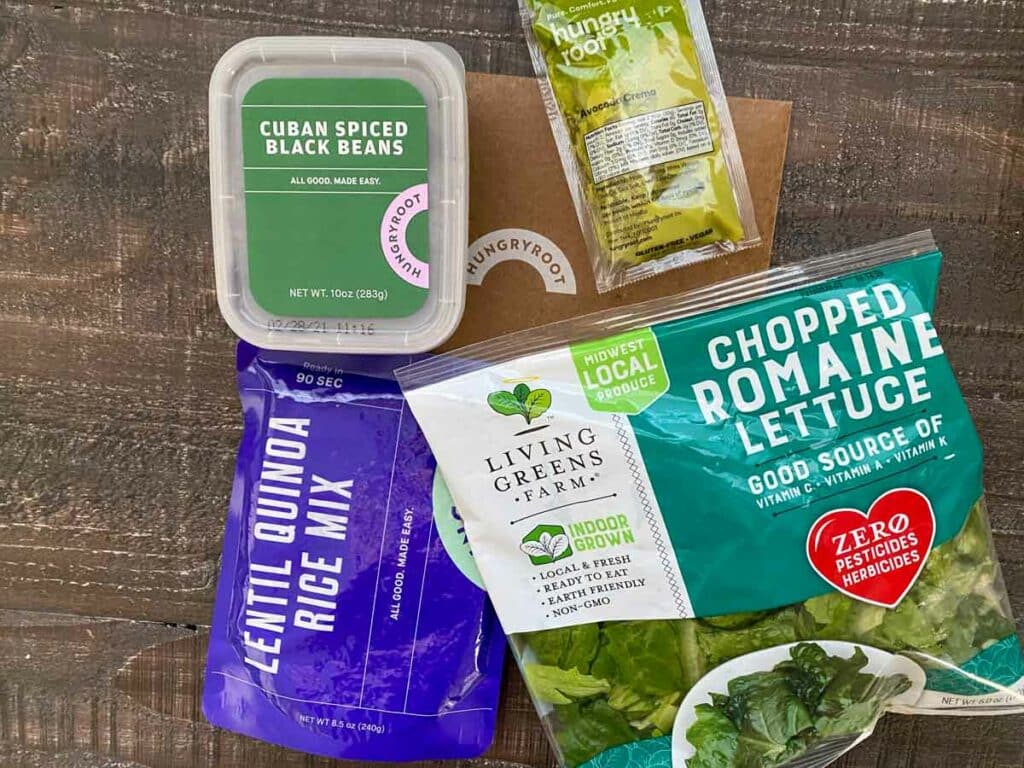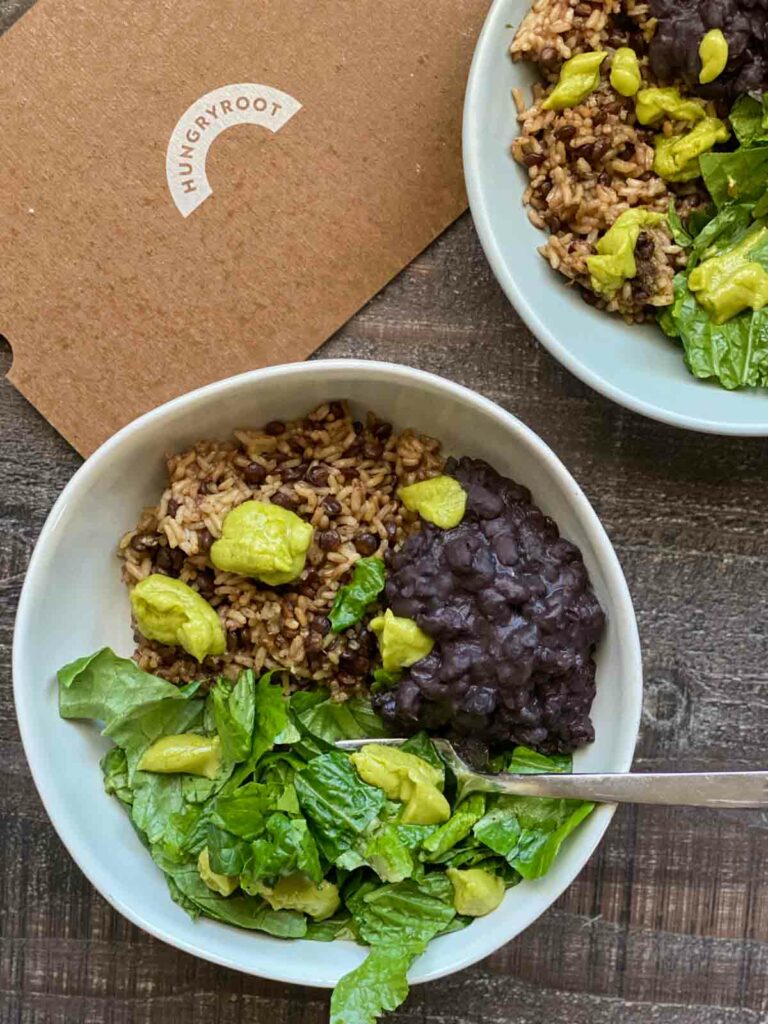 Meal #2: Gingery Tofu Skillet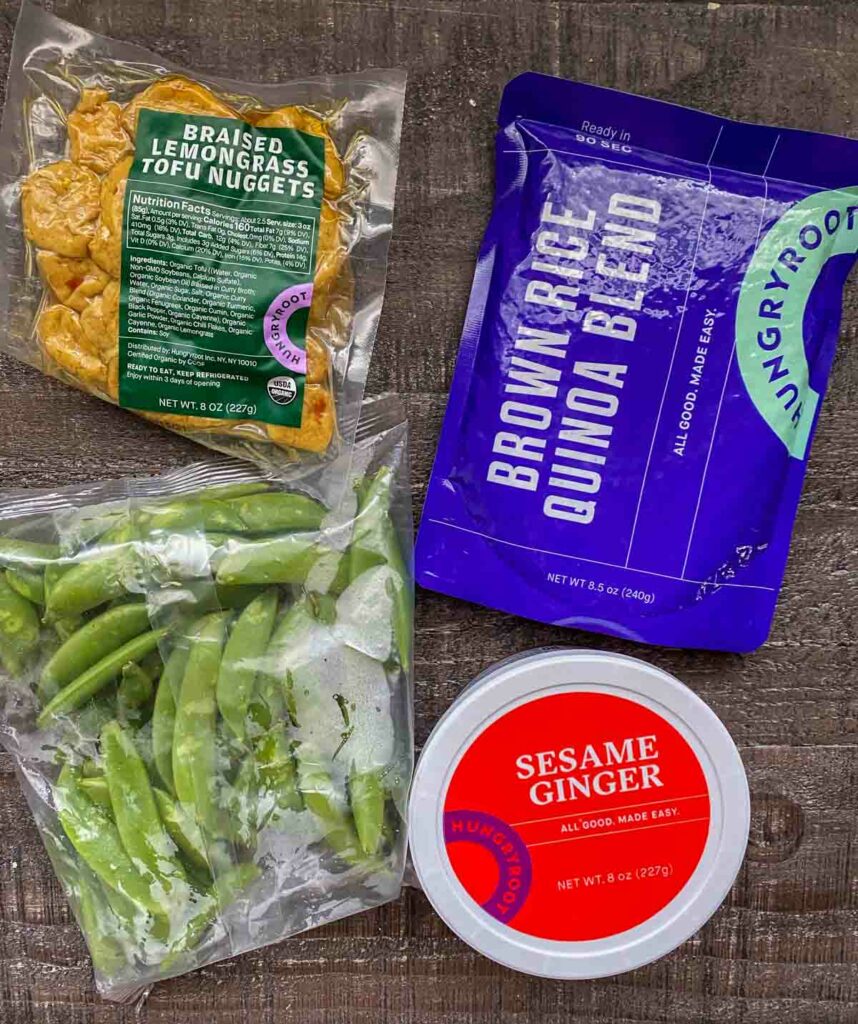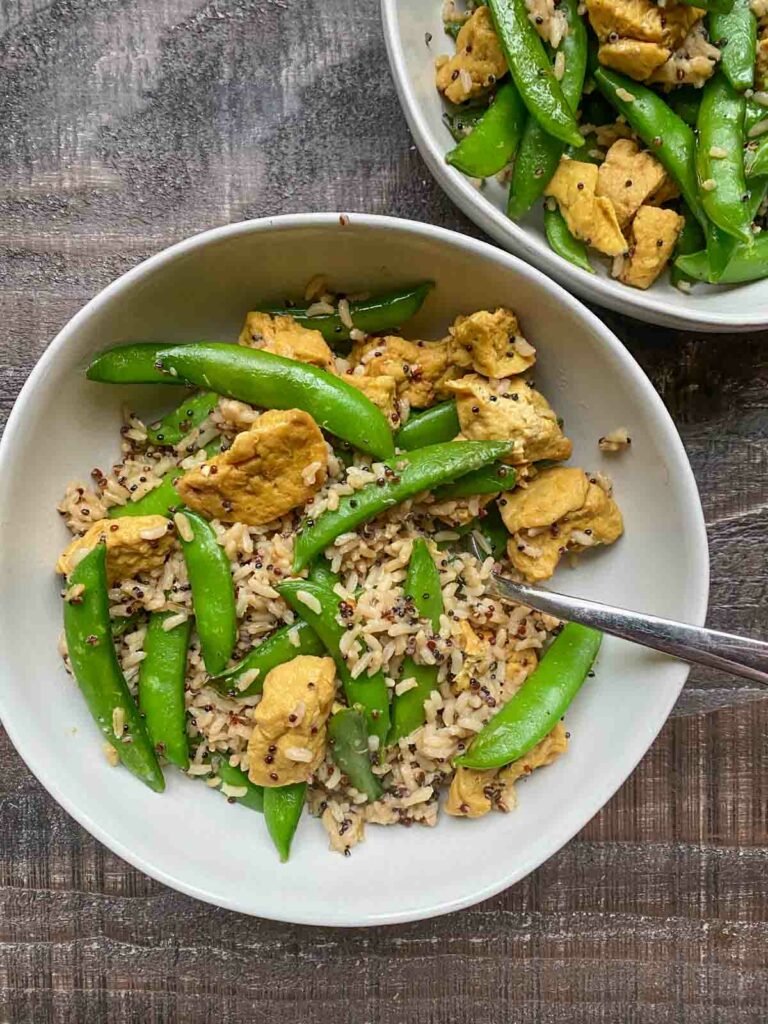 Meal #3: Tofu Summer Rolls with Thai Peanut Sauce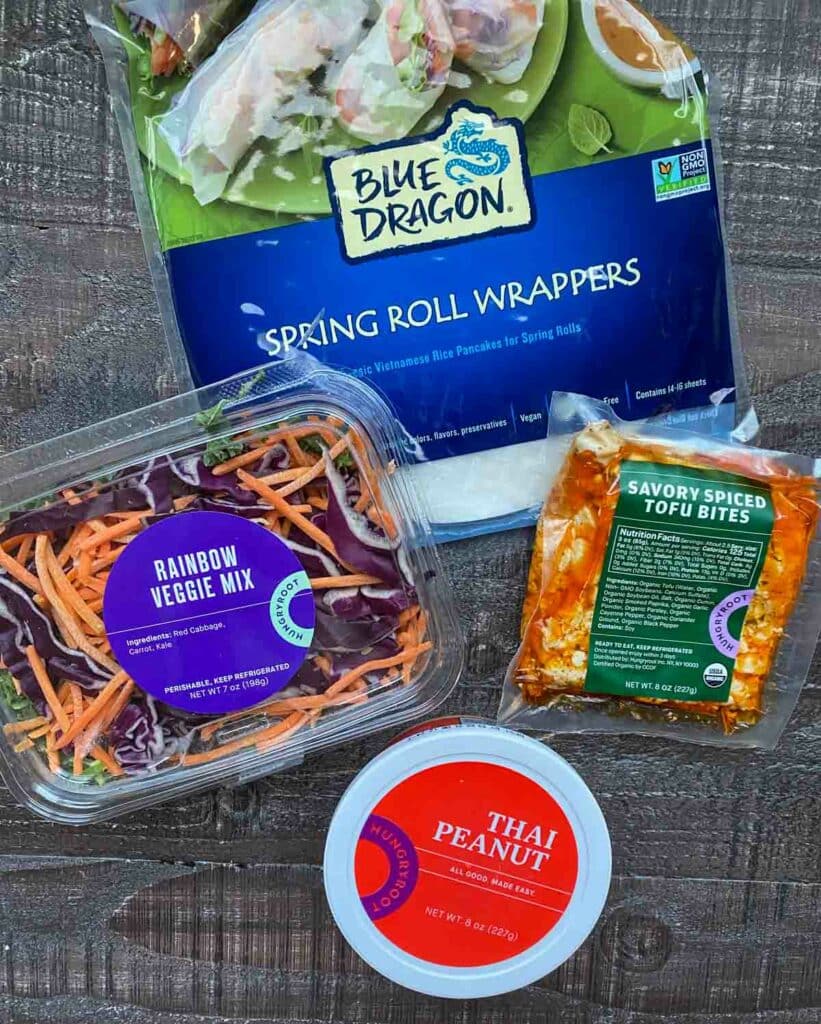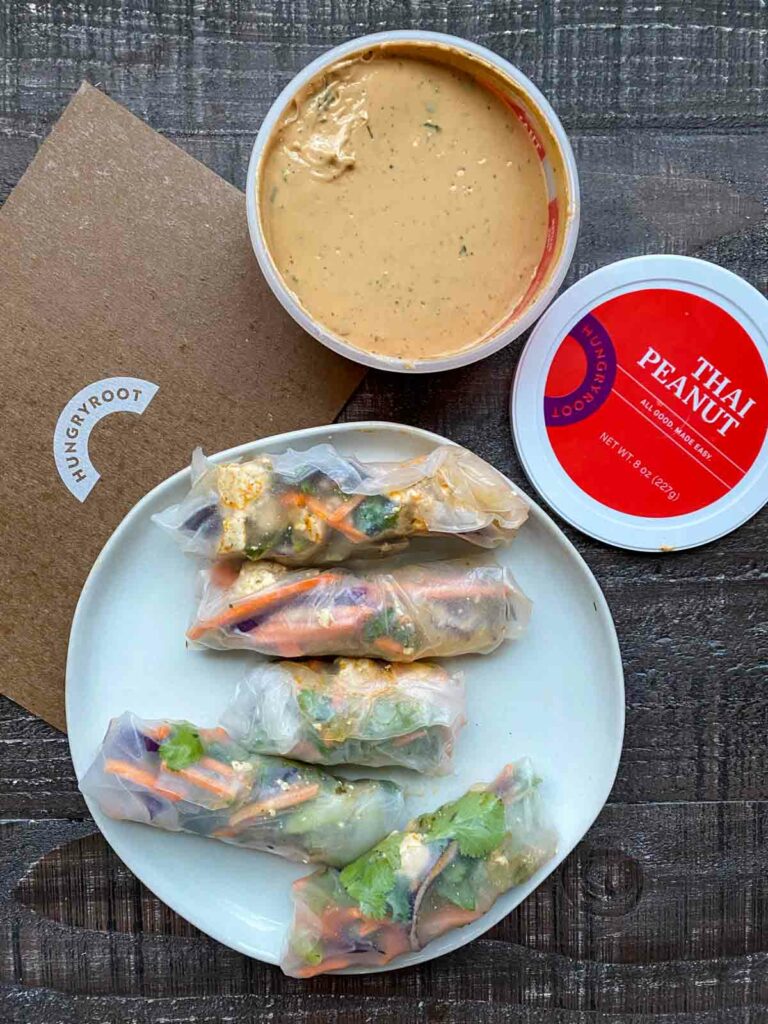 Meal #4: Veggie burger ramen bowl with sweet baby broccoli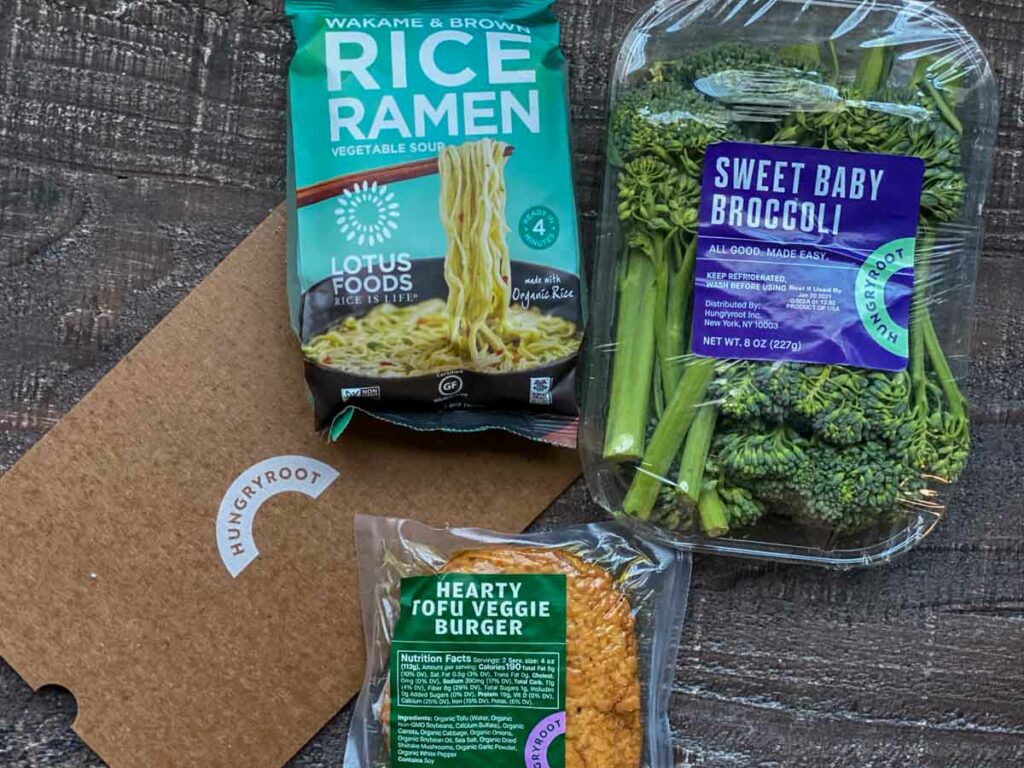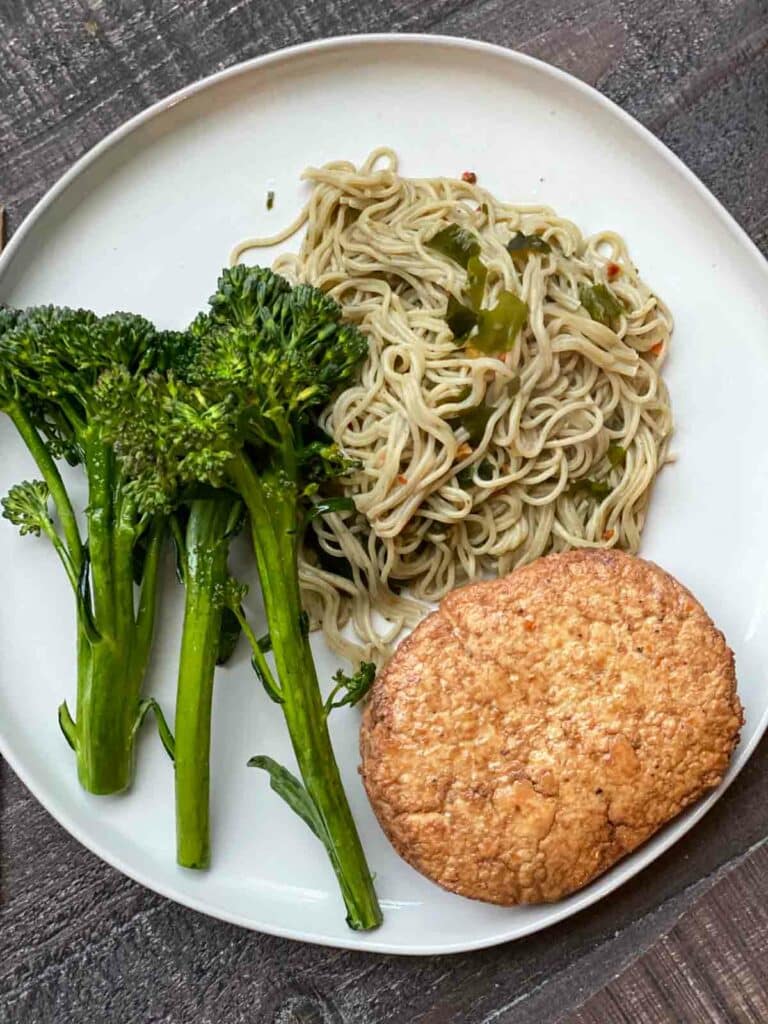 Taste and Preparation Thoughts
The meal prep part was very easy, since most ingredients were ready to just be heated up. I thought the serving sizes were enough to fill me up (sometimes with meal kits I think I need to eat two serving sizes just to get full!), so I did actually get 8 meals out of it which is awesome.
Taste quality was surprisingly good too – I wasn't much of a fan of the peanut sauce (I make a better one) but everything else I liked. I would order all of them again, except maybe the summer rolls because of the sauce (but also because my rolling skills are not great!).
Mine was heavy on the tofu because of my vegetarian choices, but since soy-free is an option I'm curious what your choices would be eliminating that ingredient option.
Since each meal had only 3-4 ingredients, this made assembling the meals super easy. This is probably my favorite part of HungryRoot because most of the other options I've tried are either complicated recipes, or fully prepared and frozen. (Or my most favorite one which is fully prepared and fresh, but pricey.)
Subscription
Hungry Root is based on a subscription model so you won't have a lot of time between receiving your first order and having to decide if you'll continue with a second.
I received my first box on a Tuesday evening, and needed to confirm my second box by Thursday at noon. Good news is that you can pause or reschedule if you need time to figure out if it will work for you – and you can even cancel if needed very easily from your online account.
HungryRoot Review Summary
Hungryroot is unique in the meal delivery world, as it's the only one I've tried that has a grocery shopping aspect to it.
It is by far the most customizable of the meal kits I have tried, and I would recommend it to anyone that doesn't have time to grocery shop and likes quick recipes. It is also one of the easier meal delivery services for people who have more humans in their household since each recipe can include up to 4 servings, and there can be leftover groceries from some of the recipes.
Hungry Root is a great option for people who have limited time to grocery shop or meal plan, but still want to do some of the cooking. Ingredients are mostly prepared and can be whipped together into a meal mostly in 15 minutes or less.
As with all meal delivery services, you are paying for the convenience factor. Could I buy this amount of food for cheaper myself from the grocery store – probably. But for weeks when you don't have time or energy to shop and meal plan, this a great option.
You can also get new ideas for future meals based on the recipes they send. Like the summer rolls I made – I now know I can buy shredded carrots, tofu and wrappers to whip together an easy meal (with my own sauce).
Check out HungryRoot for yourself and let me know how you like it!