This post contains affiliate links, which means I may receive a small commission if you make a purchase after clicking on my links. All opinions are my own.
Trial and Eater's review of the organic, plant-based frozen meal and snack options from Daily Harvest! With breakfast options like oat bowls and chia bowls, dinner choices like flatbreads, harvest bowls, and soups, and even some dessert options like vegan ice cream and hazelnuts bites, there is something for everybody! Read more about them and get an exclusive discount code here!
Ready to buy and don't need to see the rest of the Daily Harvest review? My readers can use the discount code TRIALANDEATER at checkout to get a special $25 off your first order at Daily Harvest!!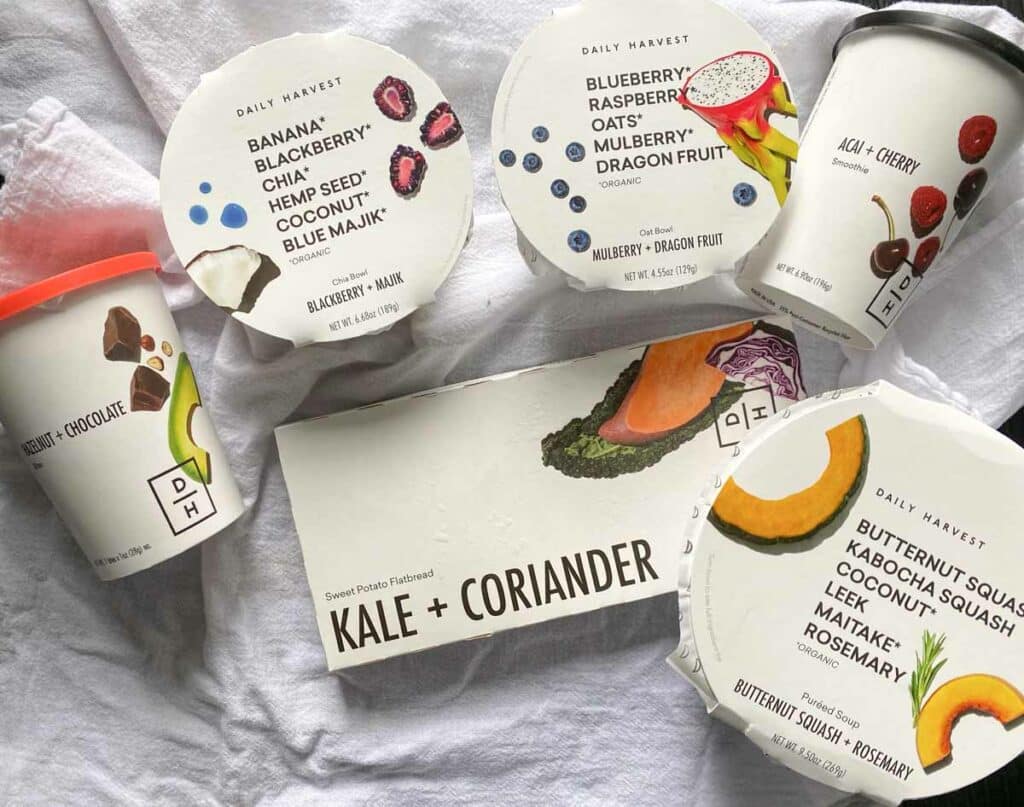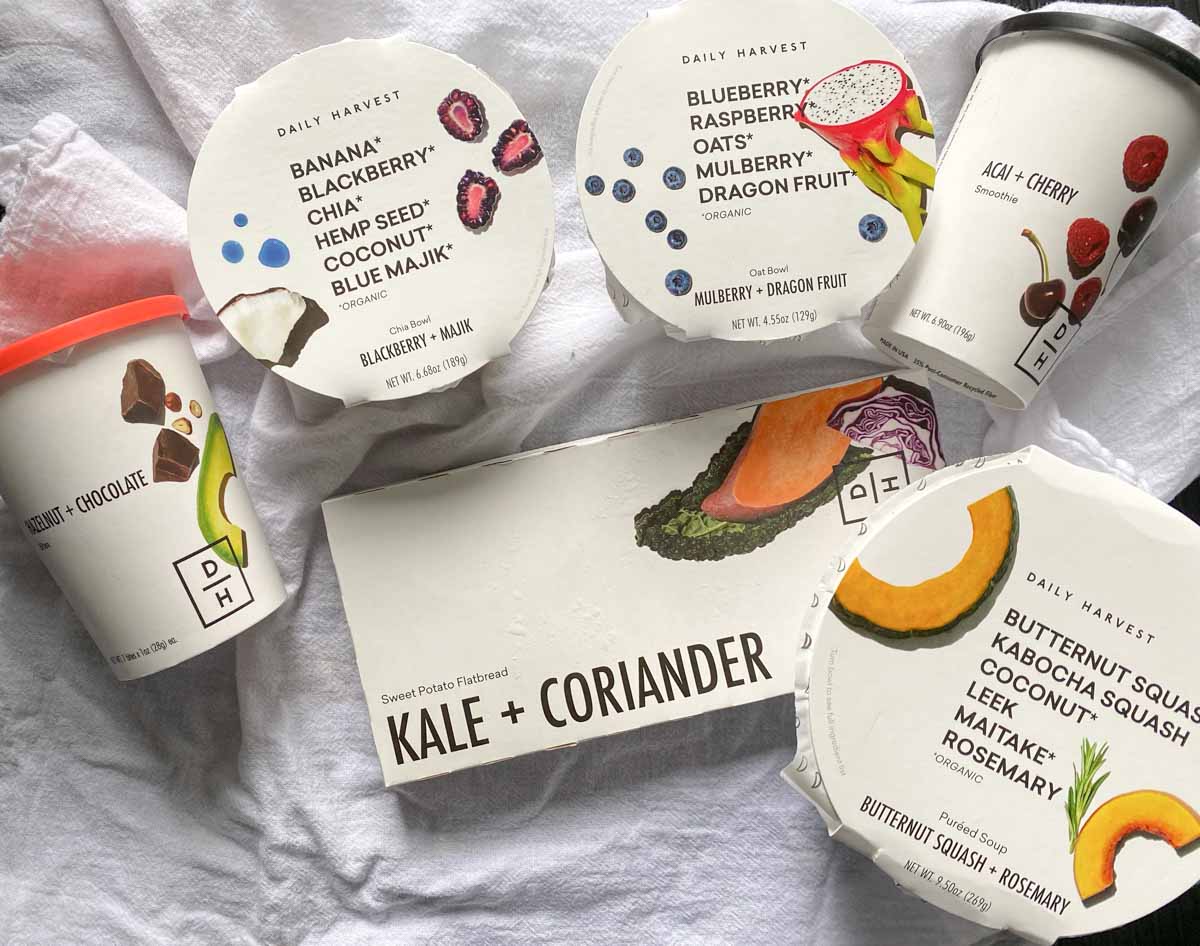 Daily Harvest is an organic, vegan and gluten-free food delivery service that sends thoughtfully sourced, chef-crafted foods straight to your door. Packaged items arrive frozen and most can be ready to eat within a few minutes! The company started out as mostly smoothies, and now they have branched out to breakfasts, dinners, and even desserts.
These delicious pre-made meals and snacks are reasonably priced, and available for delivery to 95% of the continental United States.
Foods They Offer
Currently, there are 9 categories of food you can choose from. Smoothies, harvest bowls, oat bowls, chia bowls, flatbreads, soups, lattes, bites and their latest "scoops" (which is basically vegan ice cream).
When choosing items for your box, you can filter by ingredients (keep ones you love AND exclude ones you don't like!), sort by health benefit (like Energizing or "Stress Relief") and/or search by dietary needs. Note that all options are already dairy-free, vegan and gluten-free, but you can add an additional filter if you're looking for keto-friendly, high protein, or low-calorie.
All of the calories, nutrition facts and ingredients are listed on the website when you view the item. Category links are included below!
My readers can use the code TRIALANDEATER at checkout to get a special $25 off their first Daily Harvest box!
I've tried something from all of their current categories now!
Smoothies – Since Daily Harvest started out as a smoothie box before they expanded into other products, it makes sense that this category has the most flavor options. Currently they have a whopping 25 flavors of smoothies with creative flavors like their best-selling chocolate + blueberry, a cold brew + cacao, watermelon + dragon fruit, and black sesame + banana. I tried an acai and cherry smoothie, since I love all things acai.
You just add water and blend! You could even add some protein powder to bulk it up a bit.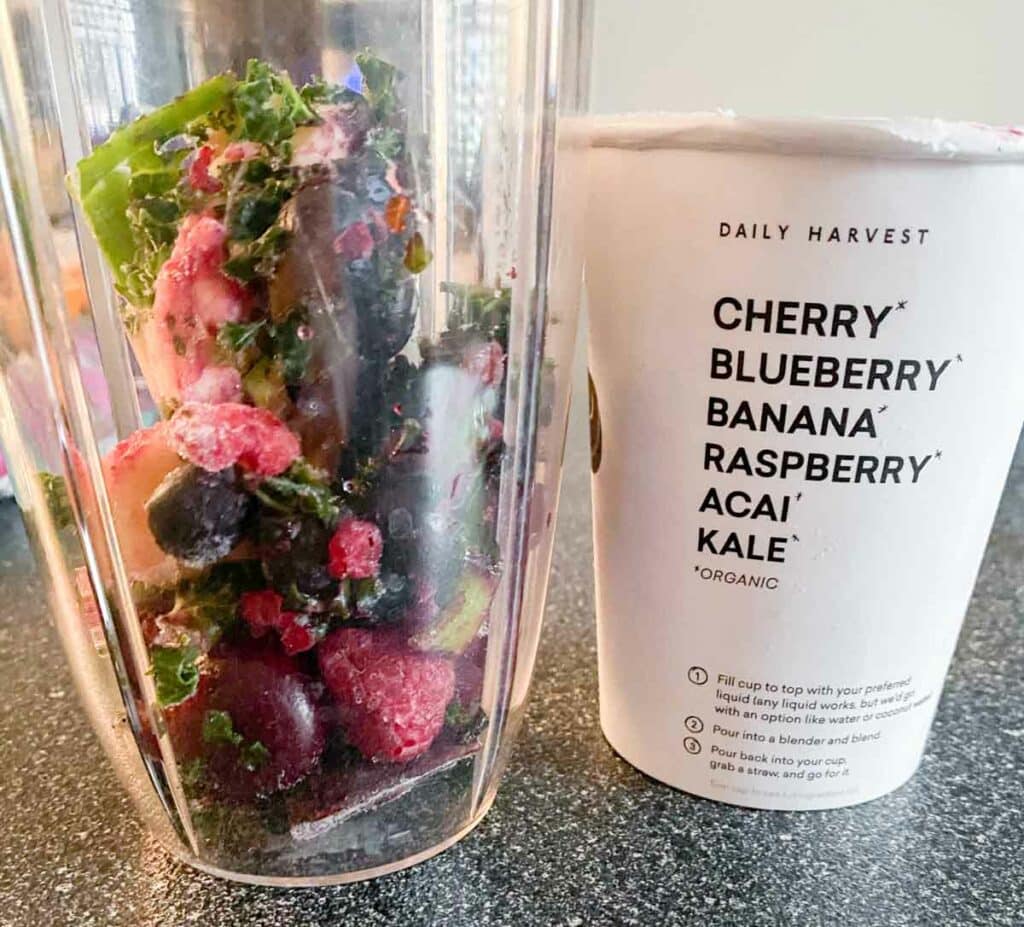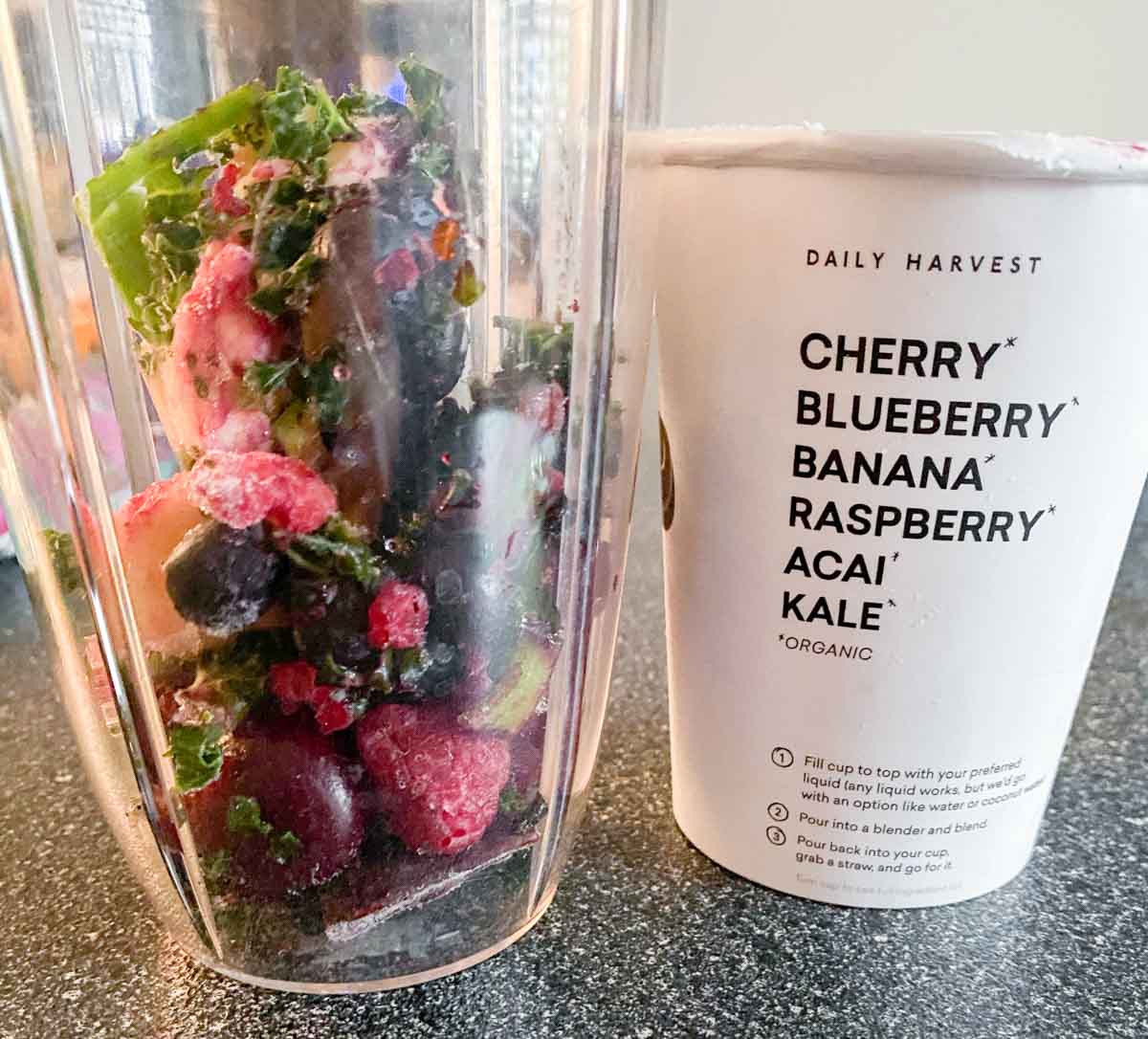 I also love that you can pour it right back into the container and it comes with a lid with a hole for a straw.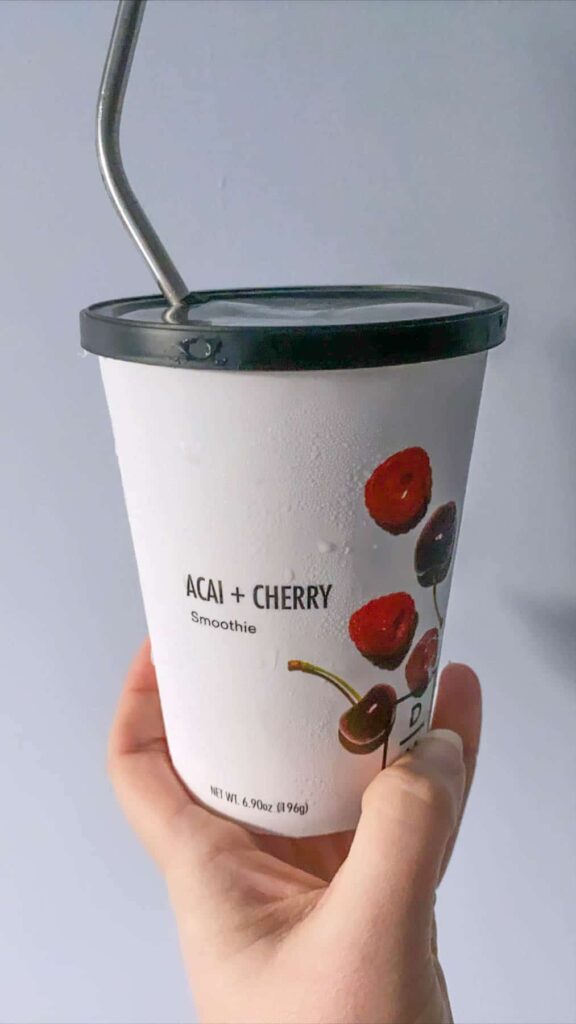 Harvest Bowls – If you've ever had a hearty "Buddha Bowl," this is what the harvest bowls are like. With different grains and veggies combinations, they currently offer 18 flavors – like their most popular "Cauliflower Rice + Kimchi" to the creative "Beet + Avocado Poké" bowl. I have tried the "Broccoli and Cheez" and the "Red Lentil Cumin" so far and highly recommend both.
Oat Bowls – There are 6 flavor options for oat bowls right now, and the breakfast bowls are some of my favorite items! The "Mulberry + Dragon Fruit" is my currently favorite. I didn't care for the "Cherry + Dark Chocolate" but if you like unsweetened chocolate with tart cherry, that could be your bowl. If you've ever made overnight oats, it's like that, but better – and you don't have to prepare these in advance if you're eating it warm.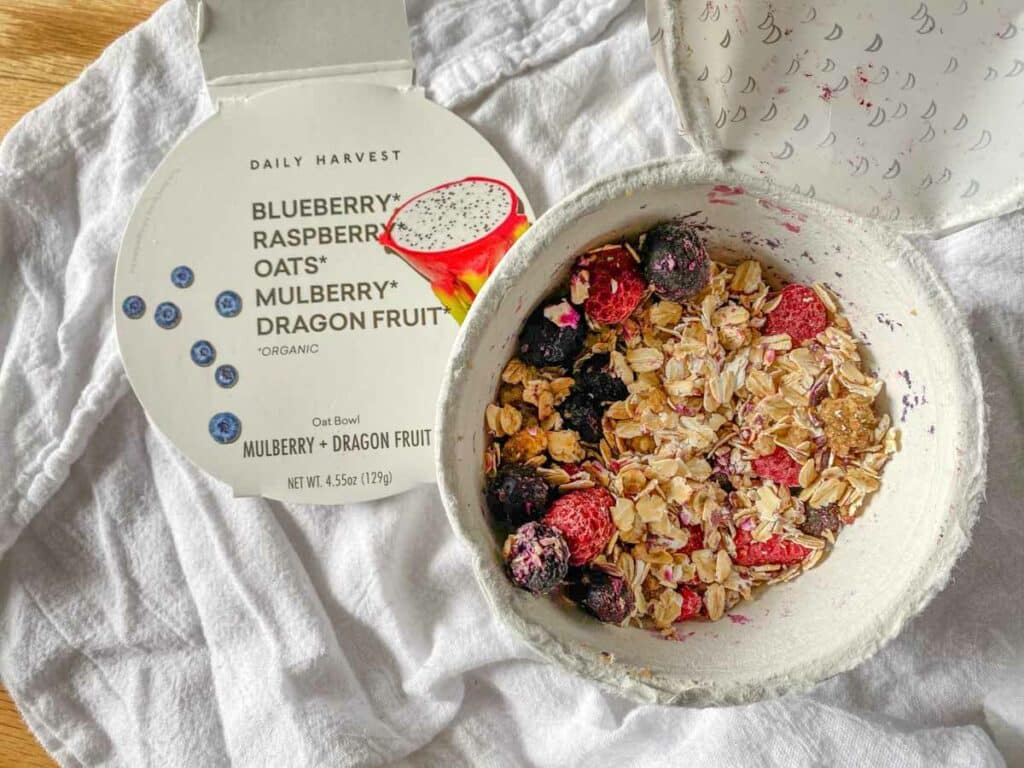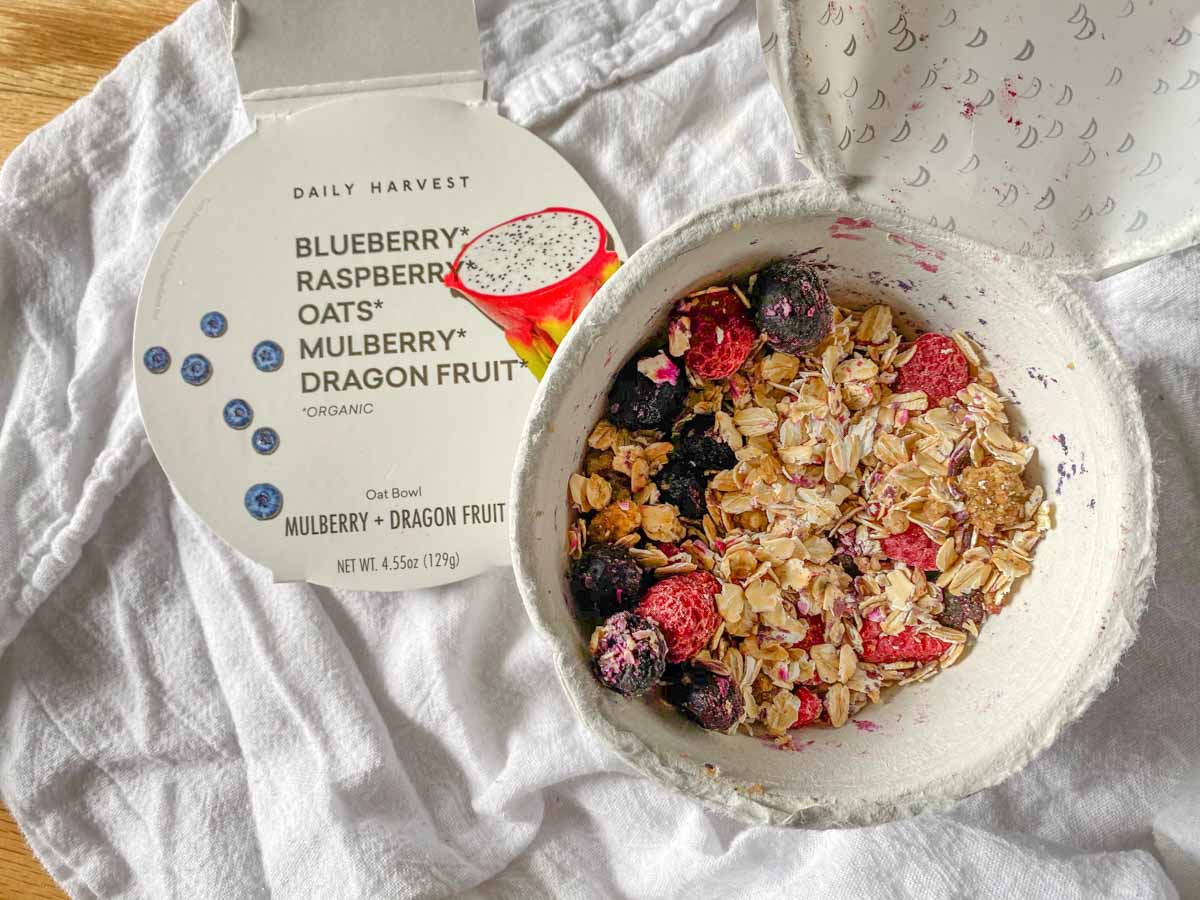 A little close up of that mulberry goodness: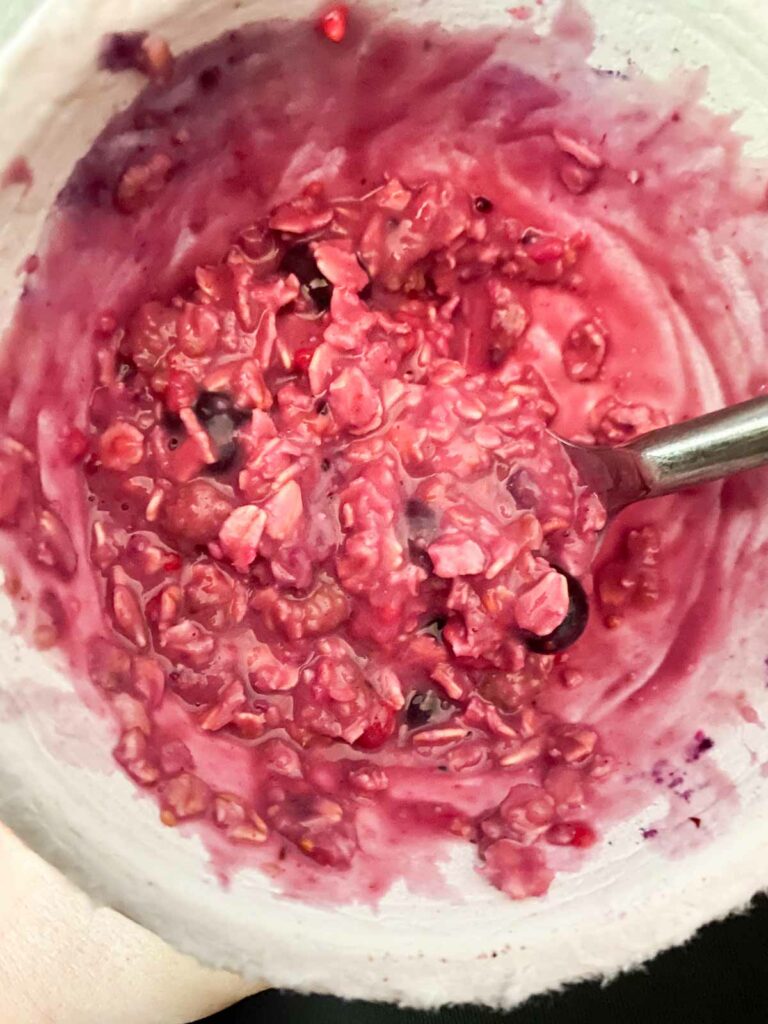 Chia Bowls – I've seen 3-4 flavor options depending on the season, and my favorite is "Blackberry + Majik." Majik is organic spirulina extract, which is what makes it blue. It is recommended to add the liquid the night before and refrigerate (I used oat milk) for the chia seeds to expand. (If you've ever made chia pudding, this is similar.) Will 100% be ordering this one every time.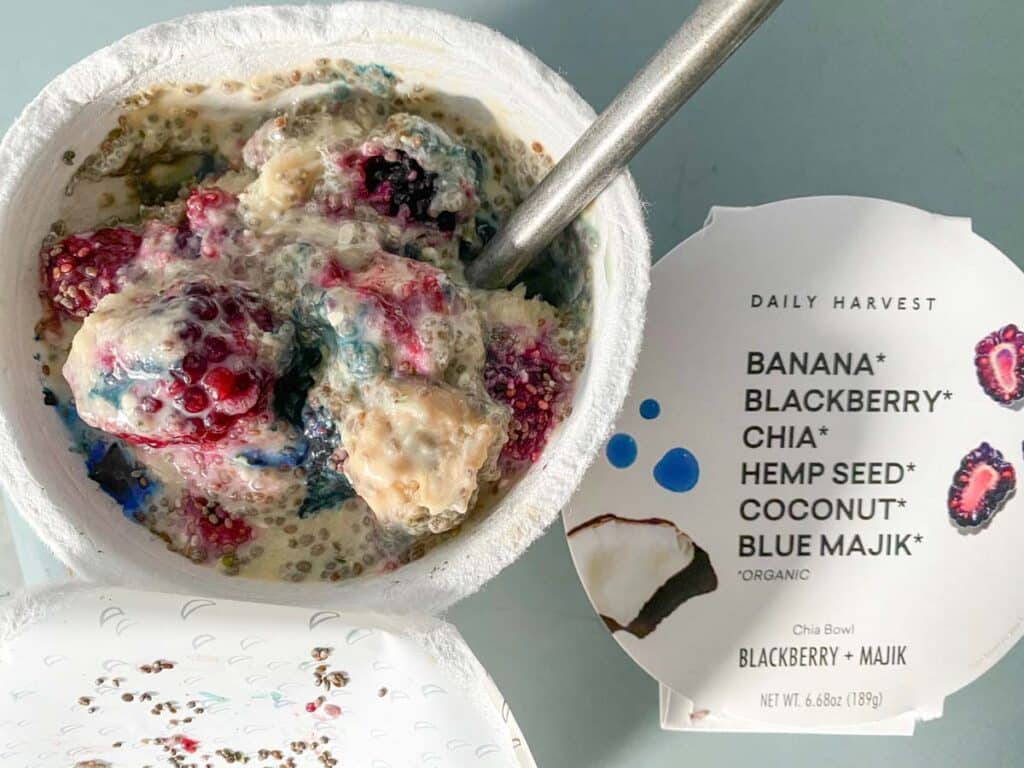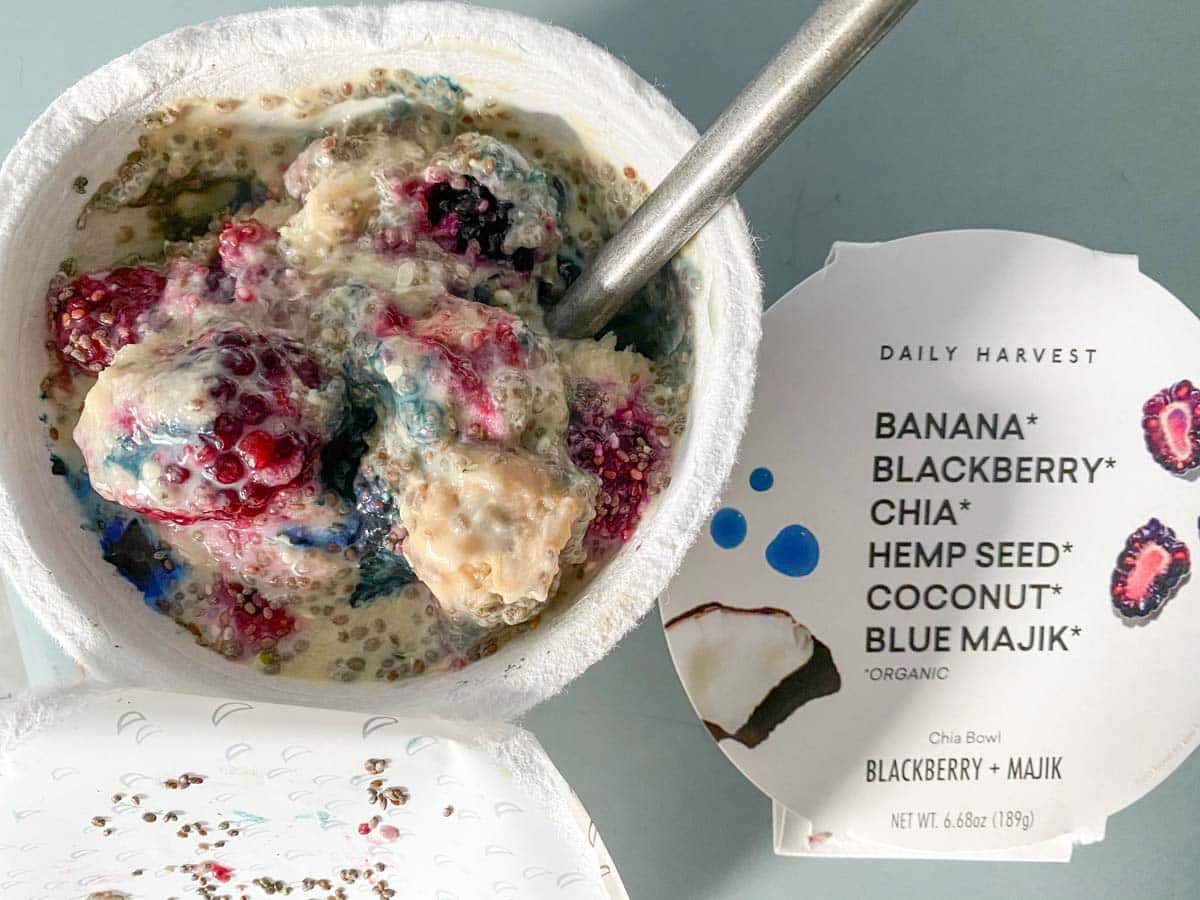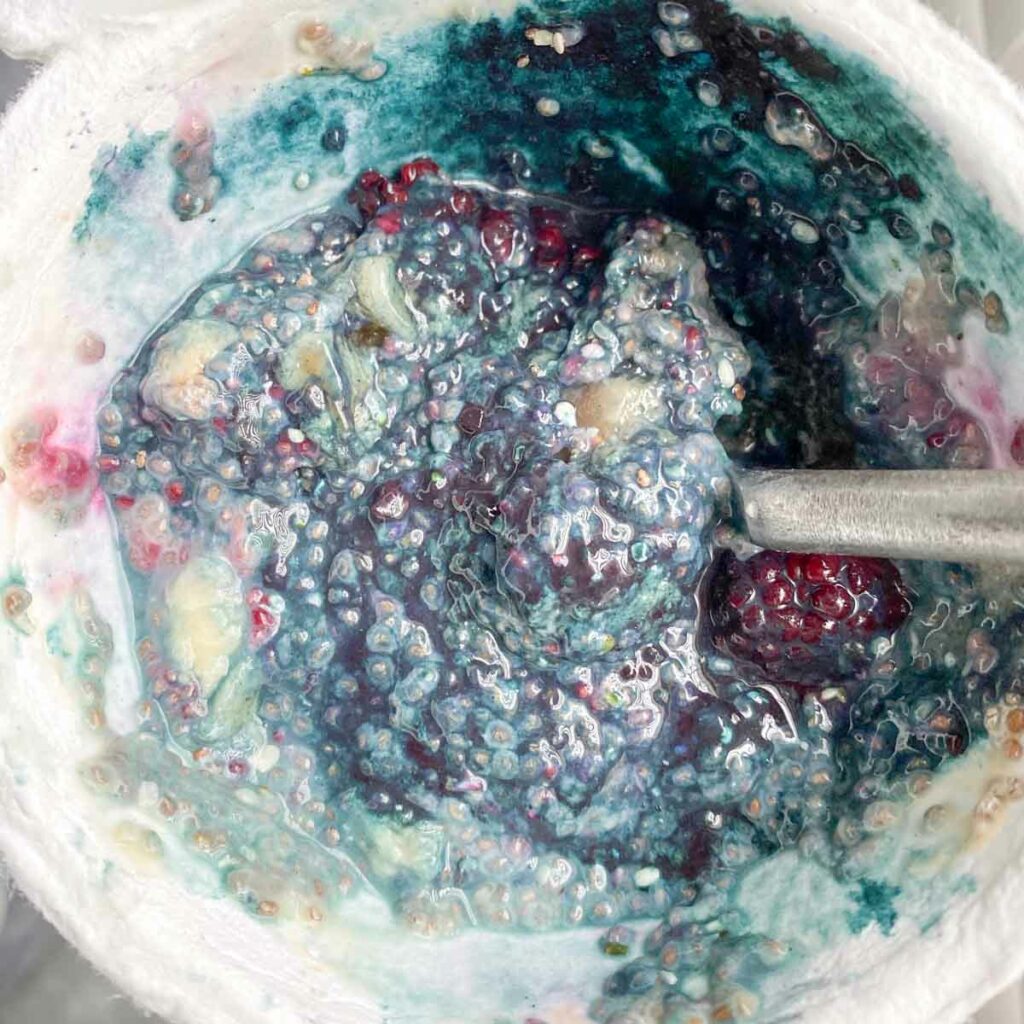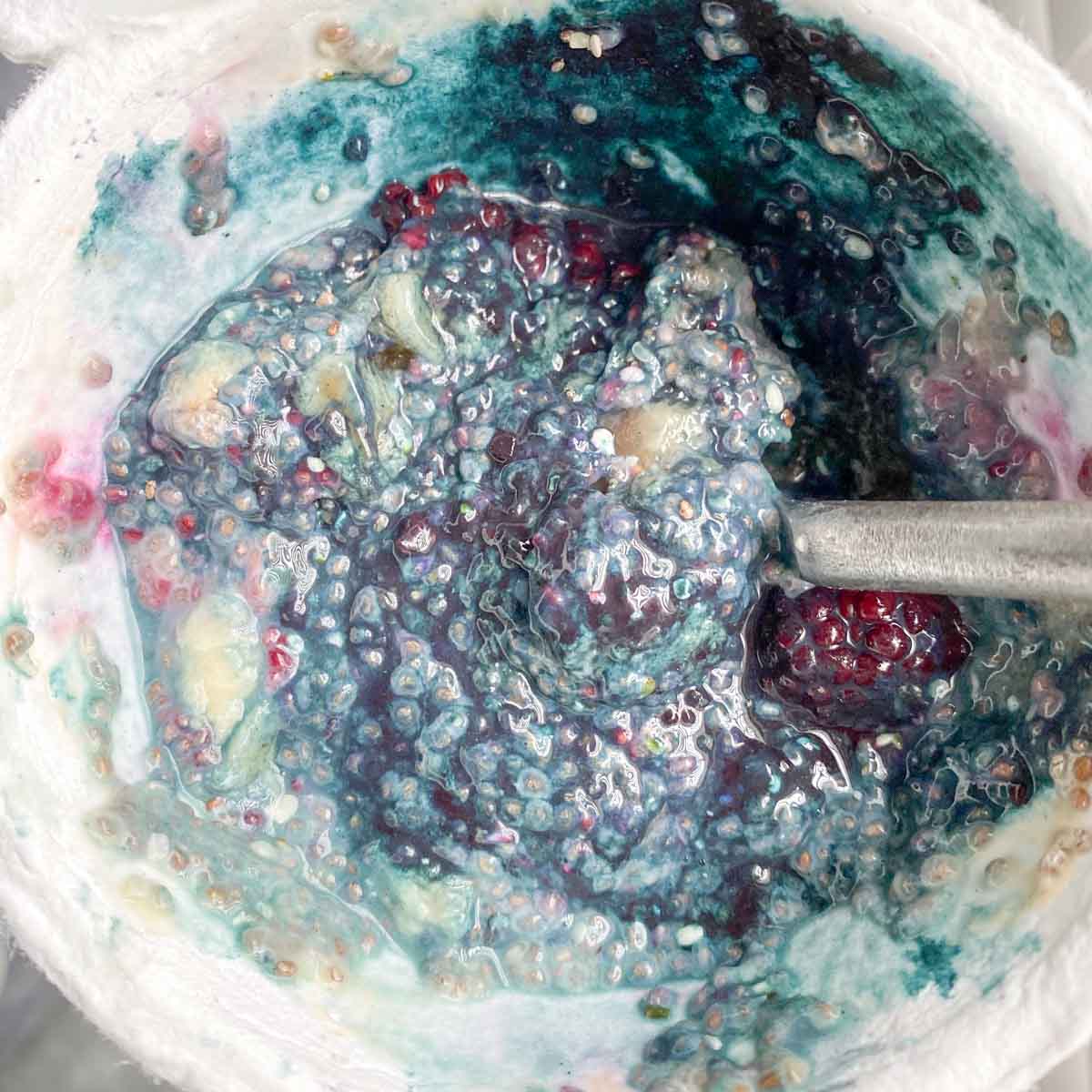 Remember you can use the coupon code TRIALANDEATER at checkout to get a special $25 off your first Daily Harvest box!
Flatbreads are one of their newer options, and they are still adding new flavors. I really like the "Tomatillo Pepper" and the "Kale + Sweet Potato .
And they are so colorful!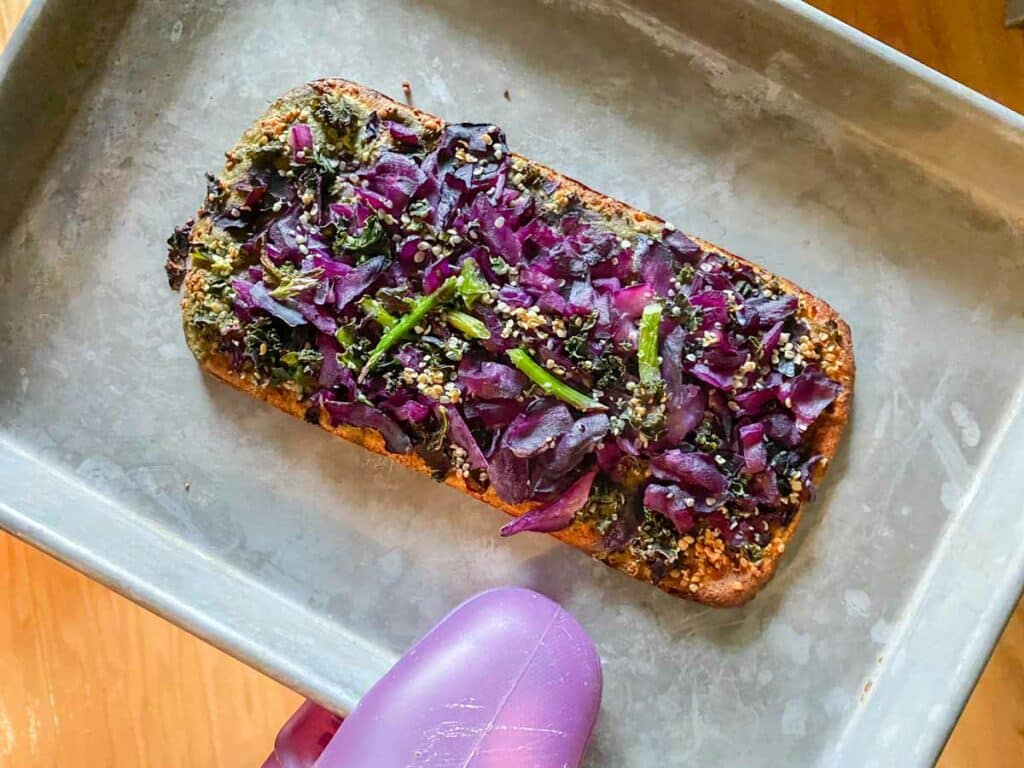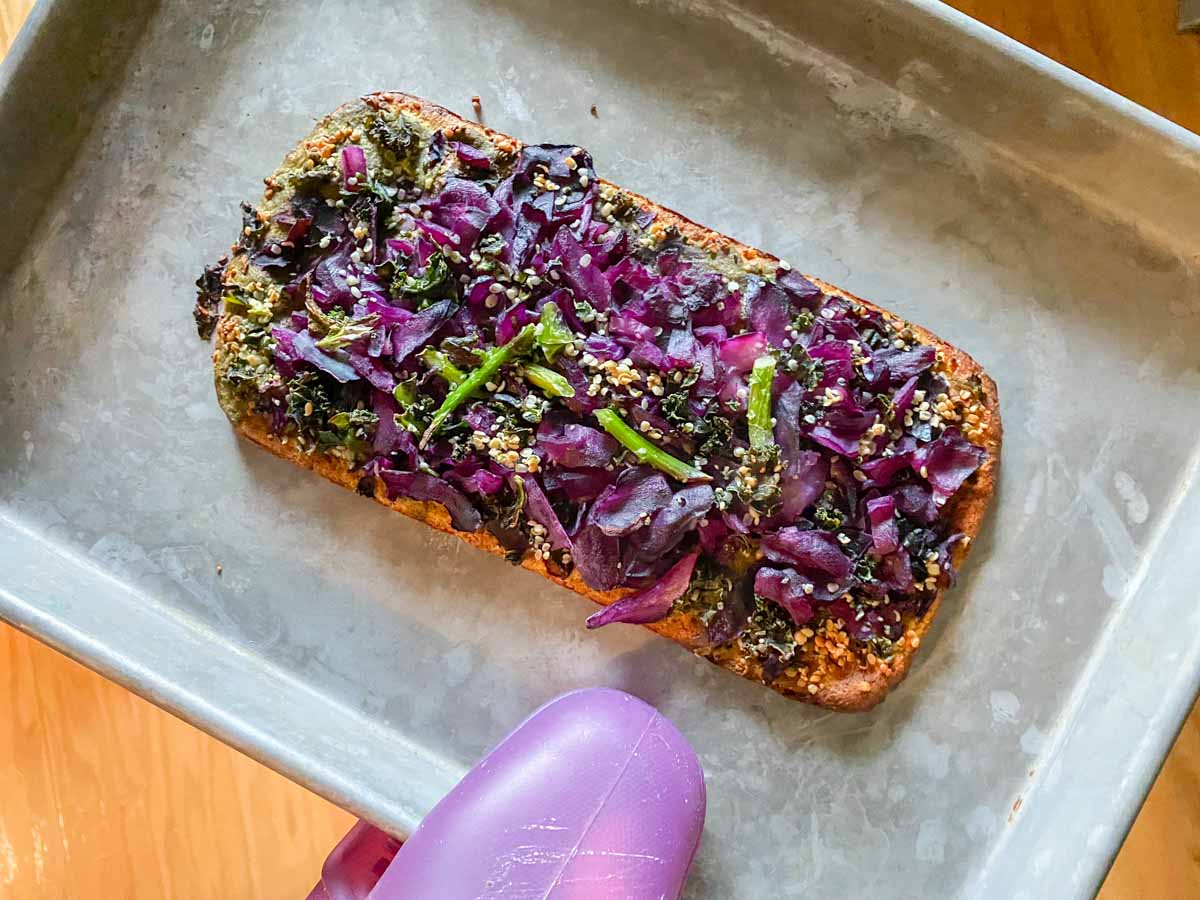 Soups – The soups (over 10+ flavors) come with the ingredients frozen mostly into ice-cube shapes, and you just add water, blend, and heat. I had to add a little more water for my blender to work which made it thinner than I like. Next time, I'll dump the whole thing into a stock pot and use an immersion blender instead, so I can get the right consistency.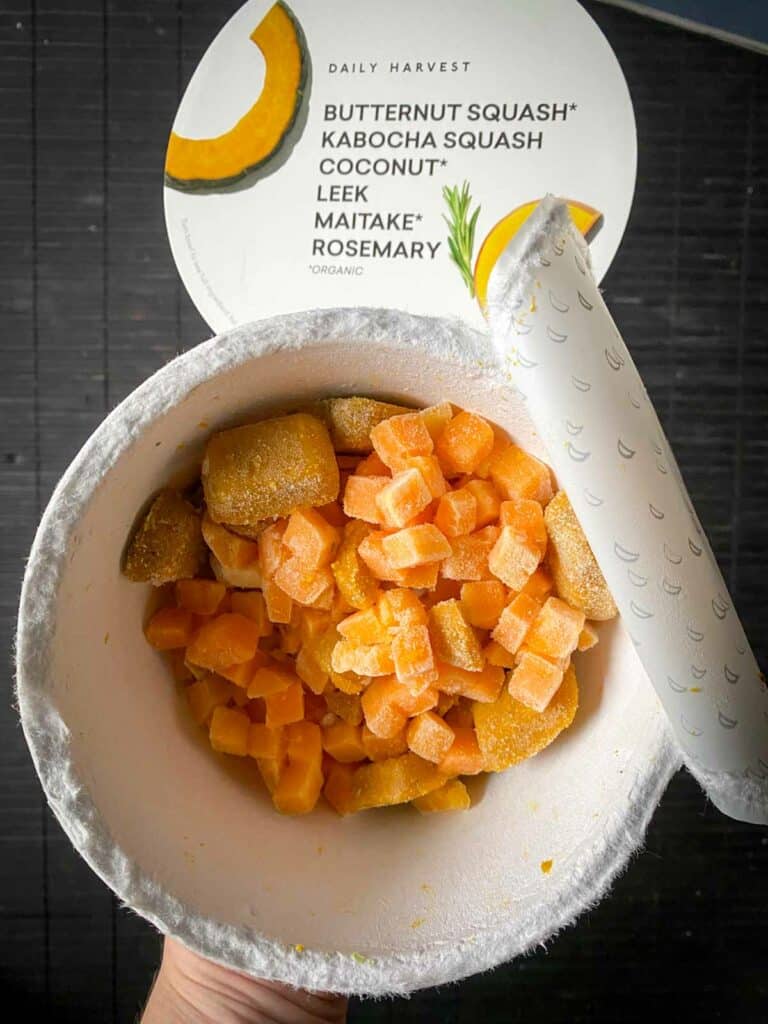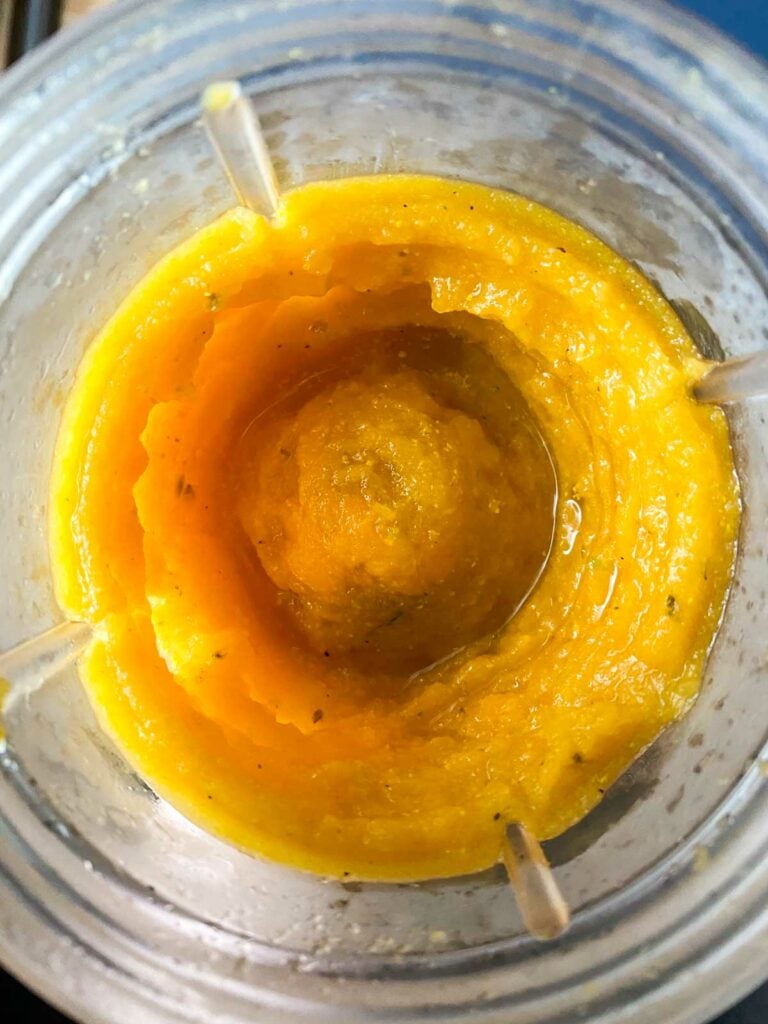 Bites – If you've ever had "energy balls," these are like those! You can eat these straight from the freezer as a midday treat or any time dessert. I tried their Hazelnuts + Chocolate which helped with those afternoon sweet tooth cravings though it's not my favorite healthy chocolate snack. I've heard great things about the Espresso bean + Tahini.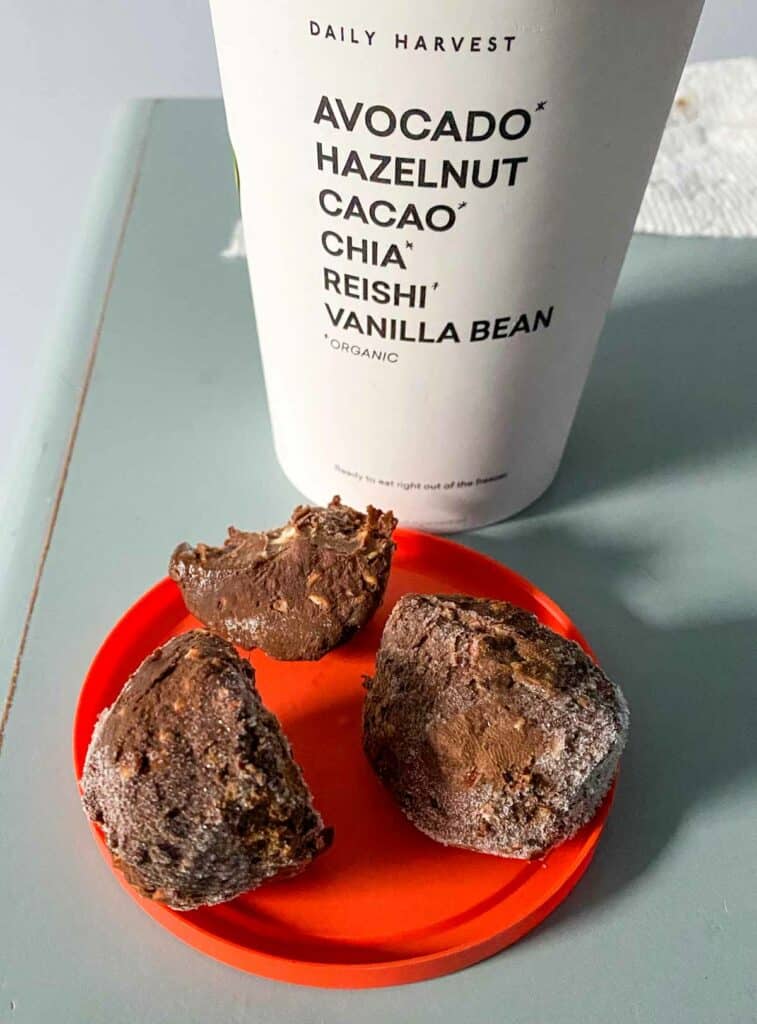 Lattes– Each package gives you 3 single-serve pods that you can enjoy hot or cold! I have tried their popular flavor is chocolate + chaga with oat milk, which is basically like a healthy hot chocolate. The only one that actually contains coffee I believe is the Coffee + Almond.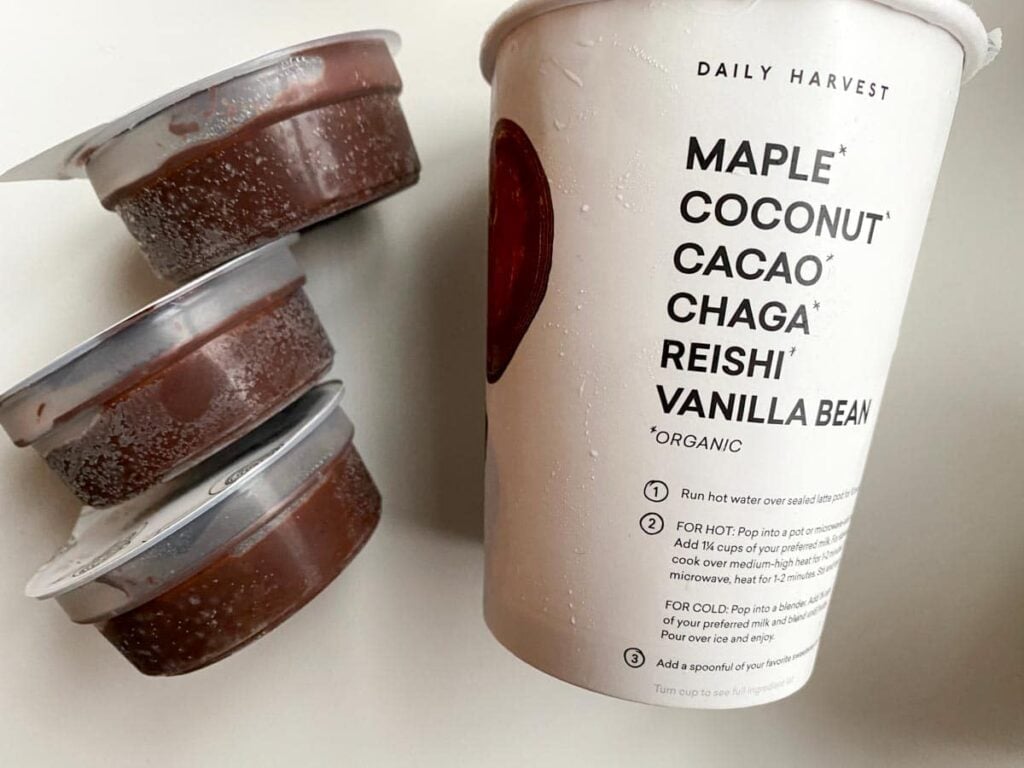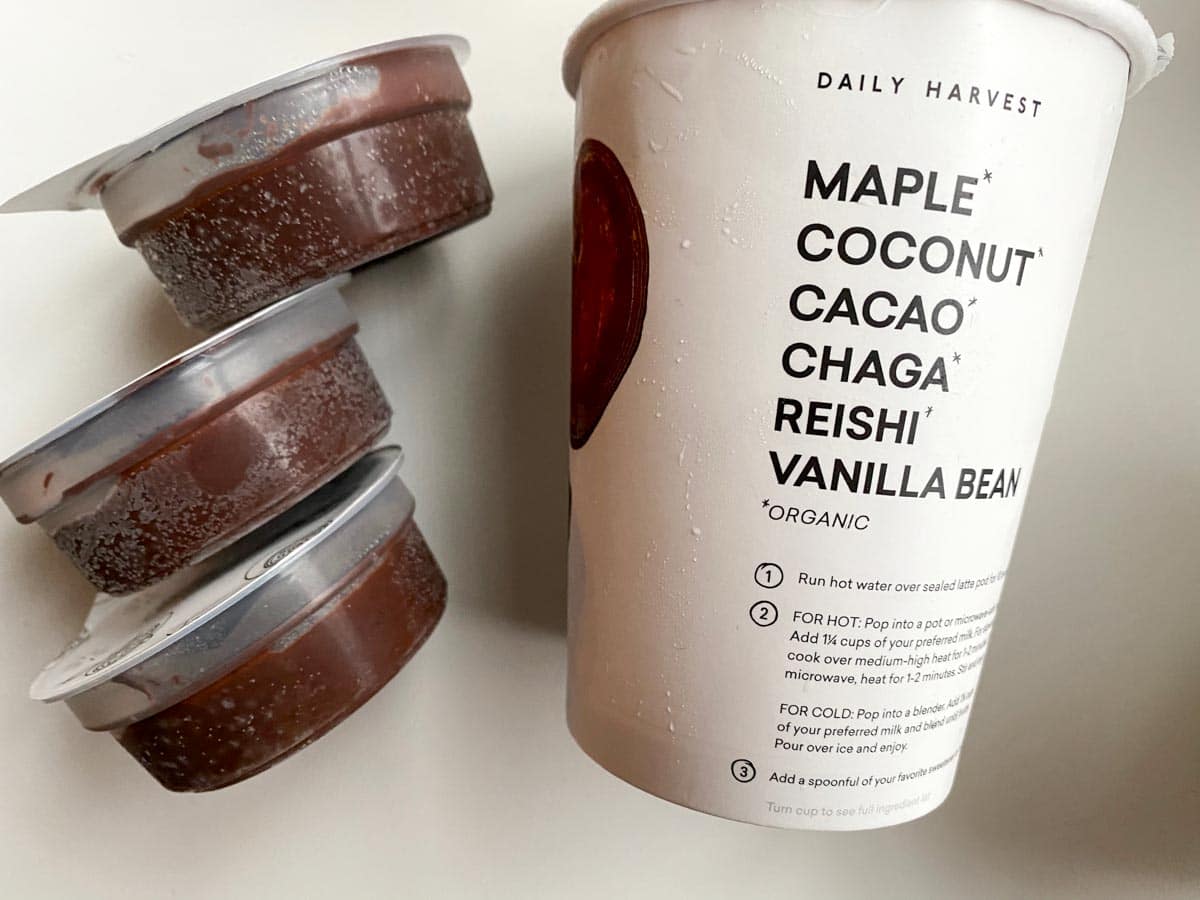 Scoops – (New in 2020!) Their newest item – vegan "ice cream!" I've tried all 4 current flavor options, but my favorite is the salted black sesame!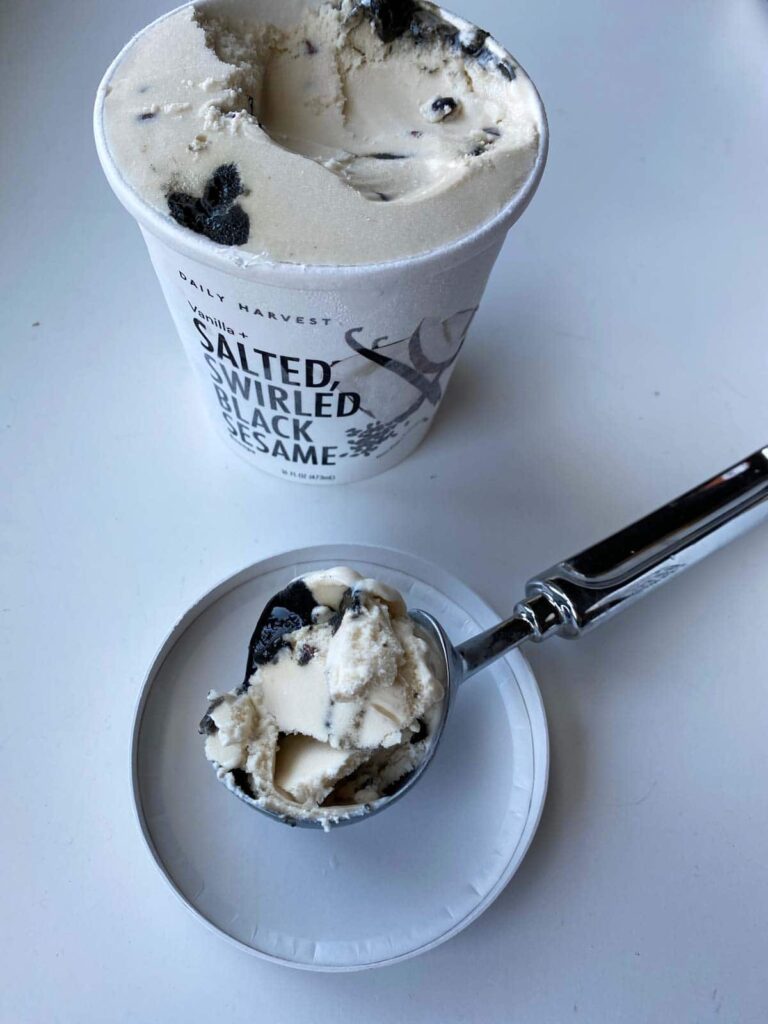 Price
The price of the items ranges from $5.99 – $8.99 each. If you use the coupon code "trialandeater" you can order a 9-item box for as little as $23.91 (up to $50.91), depending on the mix of items you choose.
Translation: If you ordered a 9-item box full of breakfast items (oat bowls and/or chia bowls) at $5.99 you can try them for $2.66 a pop with the coupon. If you ordered all $8.99 items, the coupon reduces the price to $5.66 each instead.
How to Order
To order from Daily Harvest, go to their website and click "Get Started." They'll ask for your email address and zip code, and then allow you to choose what size box you want – Small (9 items, Medium (14 items) or Large (24 items). Use the filter options to help you choose how to fill your box, and after you make your selections you will be taken to checkout.
Underneath the payment information at checkout, change the coupon code to "trialandeater" in order to save $25. (Note: The default discount code will only give you $10 off, and will apply for the first 3 boxes if you choose to continue the subscription. The $25 off is for your first box only.)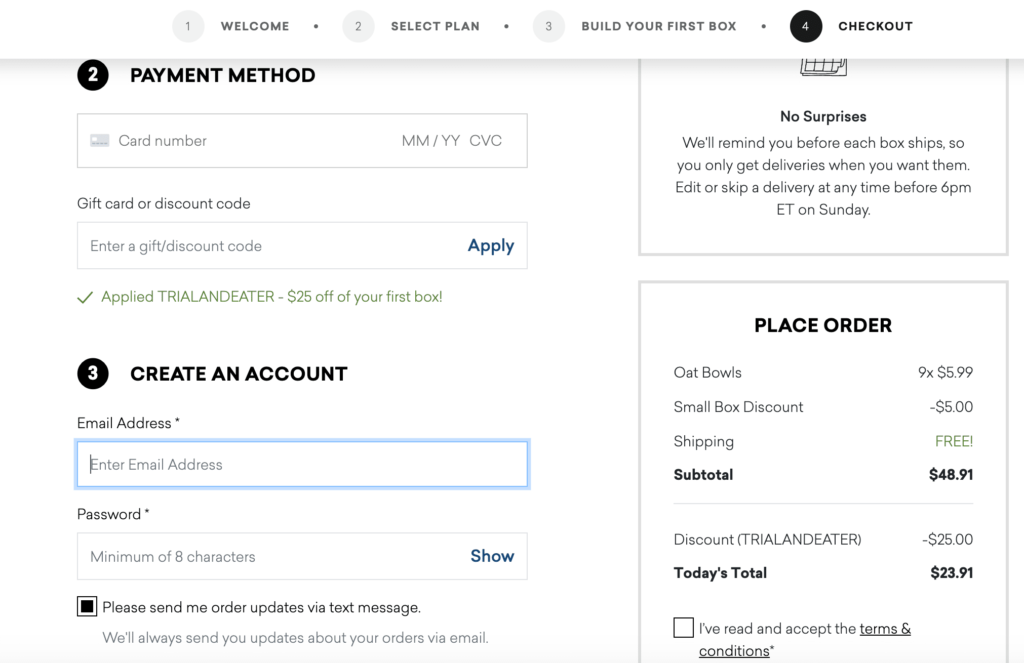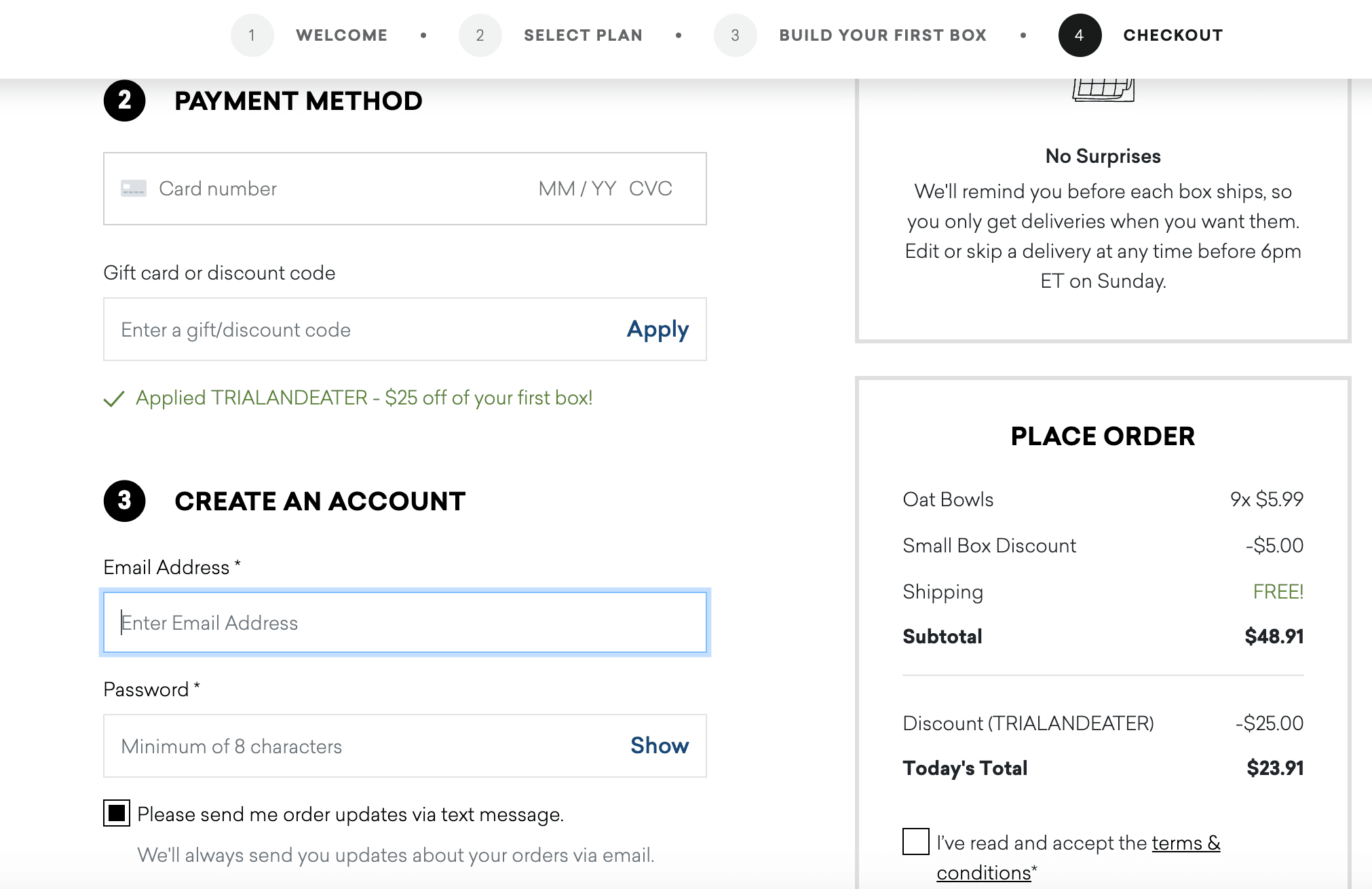 This is a weekly subscription model, so if you wish to pause or cancel after your first box you need to do so before 6pm on the Sunday before the next box ships. Otherwise the plan will continue and they will charge you and ship you another box the following week.
Review Summary
Daily Harvest has been one of my favorite food delivery services to date. (It's top of the list on my "Best Vegan Meal Delivery" page.) The fact that they provide reasonably priced, organic options, (and that they are continually developing new products to choose from) will definitely keep me coming back for more. All their products are vegan and gluten-free, but yet still so flavorful that it doesn't feel like you're missing out on anything.
These options save you the time of grocery shopping and food prepping, and generally take out most of the hassle of cooking. Smoothies just need added water and a blender, flatbreads can be thrown in the oven, and breakfast bowls just need a little plant mylk and a microwave.
If you are someone who eats a vegetarian or vegan diet already, you'll love these options – and if you are looking to get a helping hand in eating more plant-based meals, this is also a great option for you.
And a bonus: they now use compostable packaging! I've also never had an issue with their shipping like other meal kit companies, as they pack it very well and it always arrives still frozen.
I already have some favorites and I'm continuing to work my way through the rest of their menu. If you don't know where to start, their 9-box option will let you pick one from each category to get a variety. For me personally, I love having breakfast items on hand so I will always include oat bowls and chia bowls in my order.
SAVE ON YOUR ORDER: Remember to enter the discount code "trialandeater" at checkout to get an extra $25 off your order!
Which one will you try first?! Show me what you get on Instagram by tagging me @trialandeater or #trialandeater!