Coconut Macaroon Nests – fill with your favorite candy, or use jelly beans or Easter eggs for a fun holiday treat.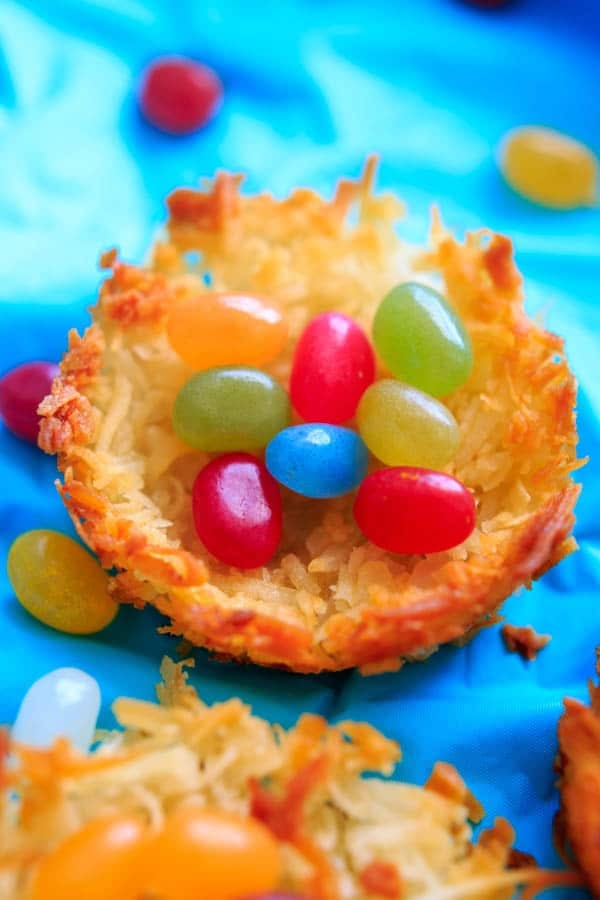 Easter is right around the corner so when I saw these coconut nests from SkinnyTaste I couldn't resist trying them.
Really though, it was just an excuse to buy jelly beans.
I intended to buy chocolate eggs as that is the candy featured in the original recipe, but I couldn't resist the "gourmet jelly bean" bag as I passed it in Trader Joe's.
I think at least 50% of my purchases at that store are impulse buys and I don't think I'm alone. Must learn their marketing secrets.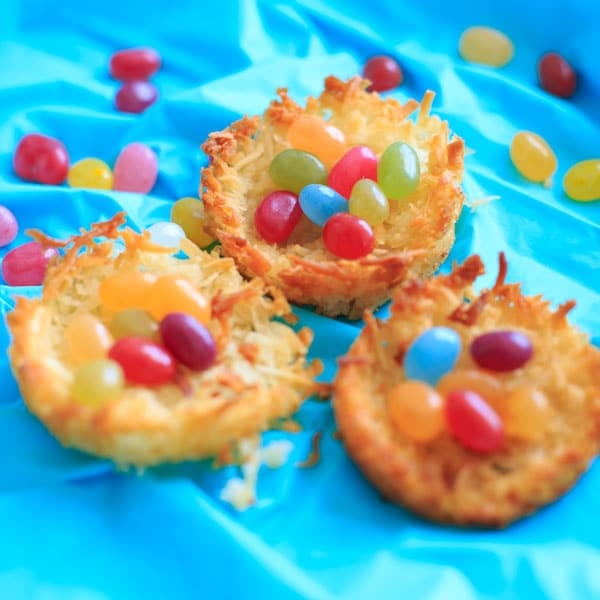 From my experience, there are two types of jelly bean eaters.
One type eats them by the handful, and the other type picks out their favorite flavors and eats them one by one. (Or rather, picks out their least favorite flavors one by one first.)
Luckily with this brand I like all the flavors – well, except the licorice – but at least I don't have to worry about getting a weird buttered popcorn flavor mixed in and ruin it all.
Technically I guess there's a third type, people who don't like jelly beans at all. So for you guys, you can pick your favorite candy to throw in these nests. Maybe get those chocolate eggs I meant to get.
Or I'm sure there will be another impulse option near checkout if you go to Trader Joe's.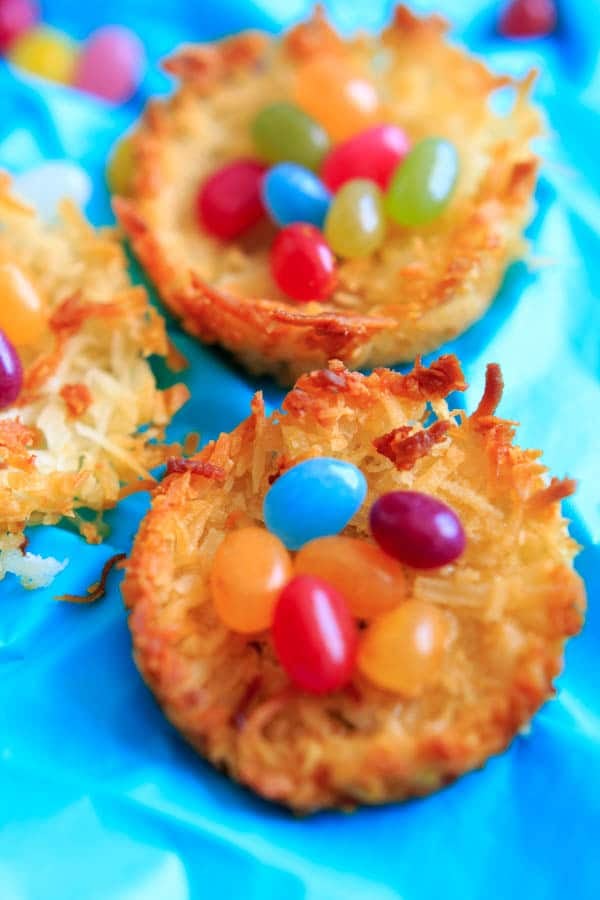 I made these in a regular muffin pan, though if you have a mini-muffin pan they'd be even cuter. Or you can just put a dollop on the pan and press them down like a thumbprint cookie before you bake.
The original recipe had the ingredients cooked together on the stove beforehand, but I skipped that and it worked just fine. I'm all about time saving here 😉
Need more Easter recipe ideas? Check out this list of 40+ vegetarian Easter mains, sides, and desserts.
Coconut Macaroon Nests
Coconut Macaroon Nests - fill with your favorite candy, or use jelly beans or Easter eggs for a fun holiday treat.
Ingredients
3/4

cup

egg whites

(from 5 eggs)

1/3

cup

sugar

10

ounces

sweetened coconut flakes

jelly beans or other candy

for filling
Instructions
Preheat oven to 325°F

In a medium bowl, mix together egg whites, sugar and coconut flakes together.

Spray a muffin pan with oil to prevent sticking.

Add a heaping tablespoon of coconut mixture into each tin and use the back of the spoon press mixture in and make the nests.

Bake for about 25 minutes or until browned. (If using a mini muffin pan, will take less time. Check after 15 minutes.)

Once cooled, fill with jelly beans or other candy as desired.
Recommended and useful items for this coconut macaroon nests recipe: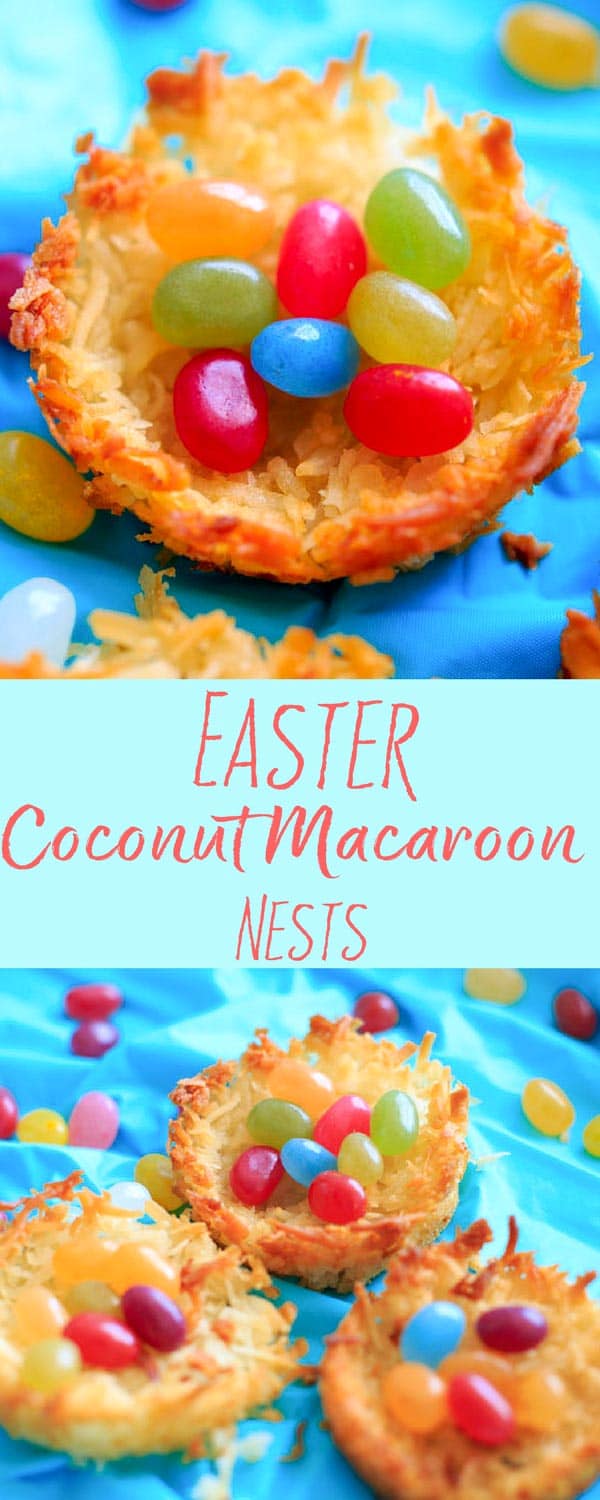 *There are affiliate links within this post that we can earn a commission on at no extra cost to you.