This post contains affiliate links, which means I may receive a small commission if you make a purchase after clicking on my links. All opinions are my own.
Here's our review of the nuts and spreads from the Barùkas brand – which all use the Brazilian baru nut! Read more about this delicious superfood snack and find an exclusive discount code below.
Ready to buy and don't need to see the review? Use the coupon code TRIALANDEATER on their website to save 15% off your order!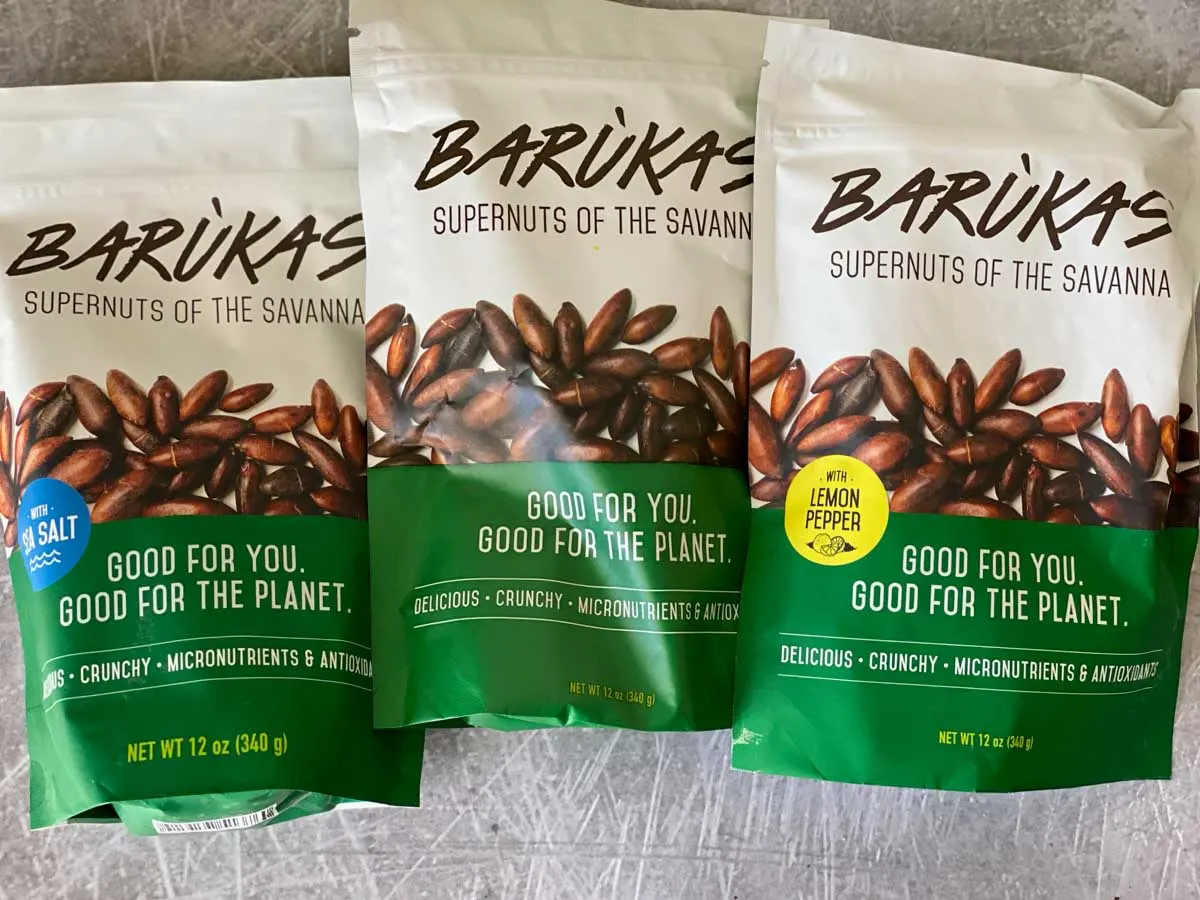 Have you ever tried a Baruka nut? Sometimes called a baru nut or baru seed, this superfood is sourced from the fruit of a tree grown in some parts of Brazil and Bolivia.
The brand Barùkas has found a way to sustainably source them and bring them to the U.S.!
So while you may not have heard of them before, they might just be the next big superfood trend.
After all, their packages have the tagline "Supernuts of the Savanna" and they have the nutritional facts back up this claim!
Not only do they have the most fiber of any nut (and the lowest calories), Barùkas have the highest antioxidant count of any other nut! More than 6 times the amount of peanuts. (Another thing I learned..)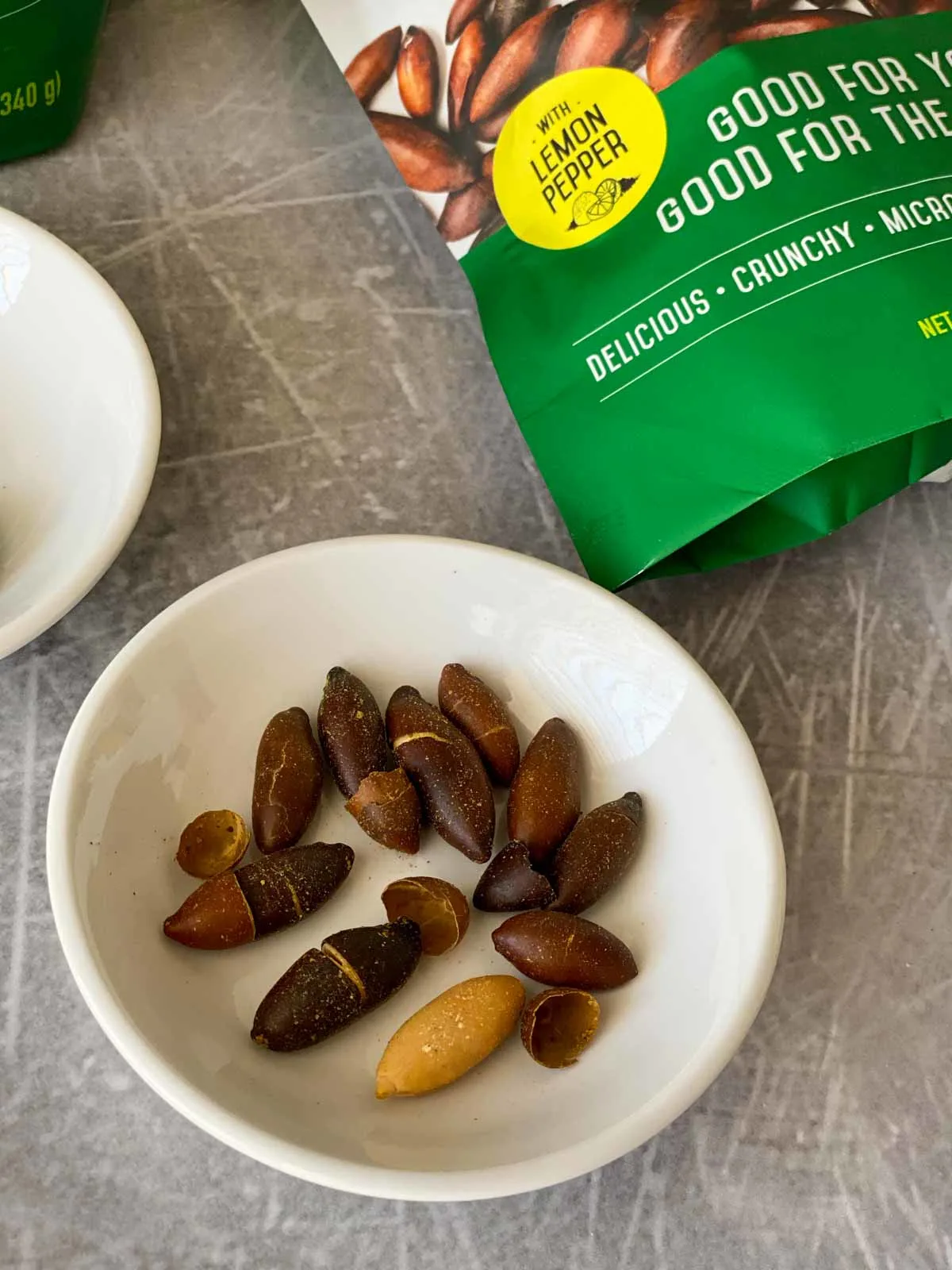 The taste of the original nut is fairly mild, and kind of like a cross between a peanut and an almond. Some say there is a subtle coffee or cocoa flavor.
Other flavors they currently offer are Lemon Pepper and Sea Salt. The Lemon Pepper definitely has a kick to it!
Trail Mix not only had the Baruka nut but the Baruka fruit as well! I like this snack the best and the "fruit" reminds me of cereal – almost like corn flakes.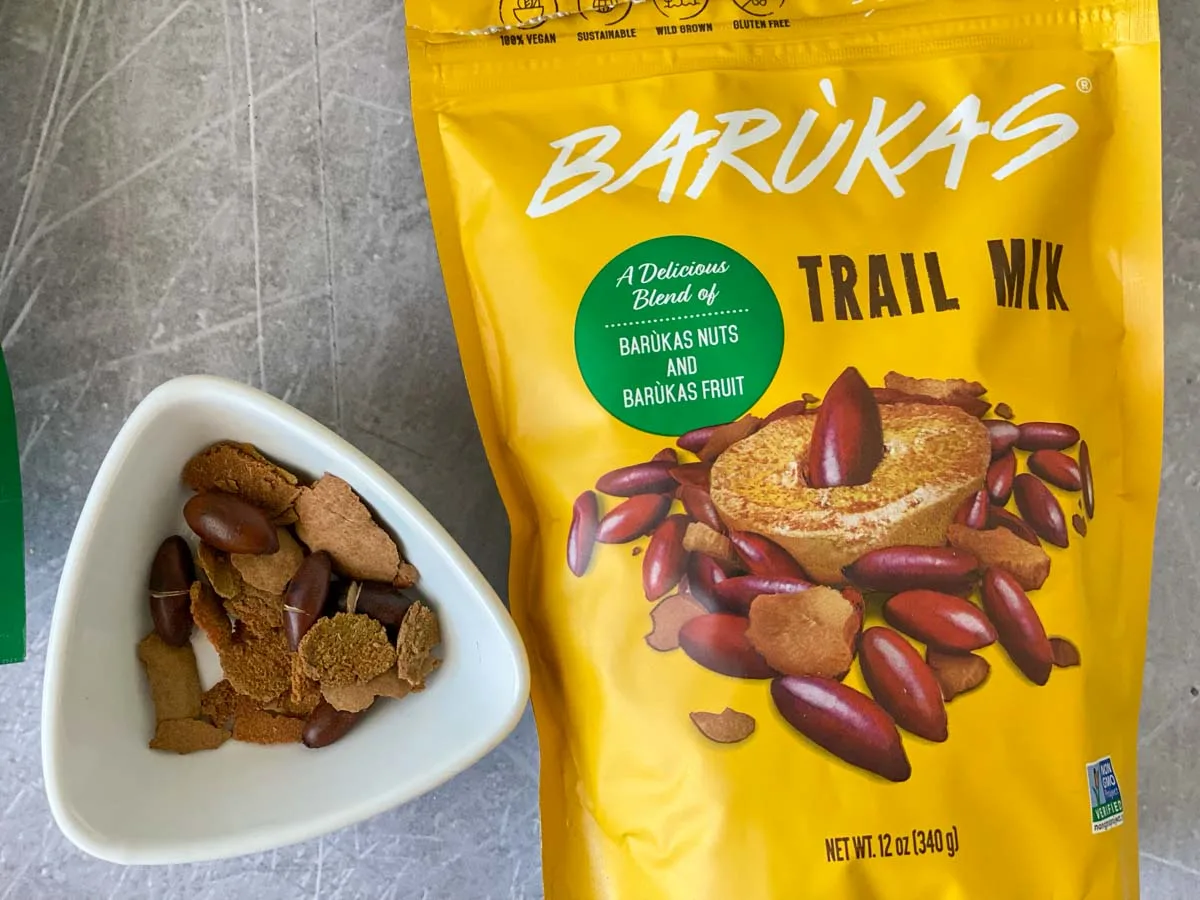 Finally, they also have a nut spread made from Barùkas nuts! Adding this to the peanut butter alternatives list.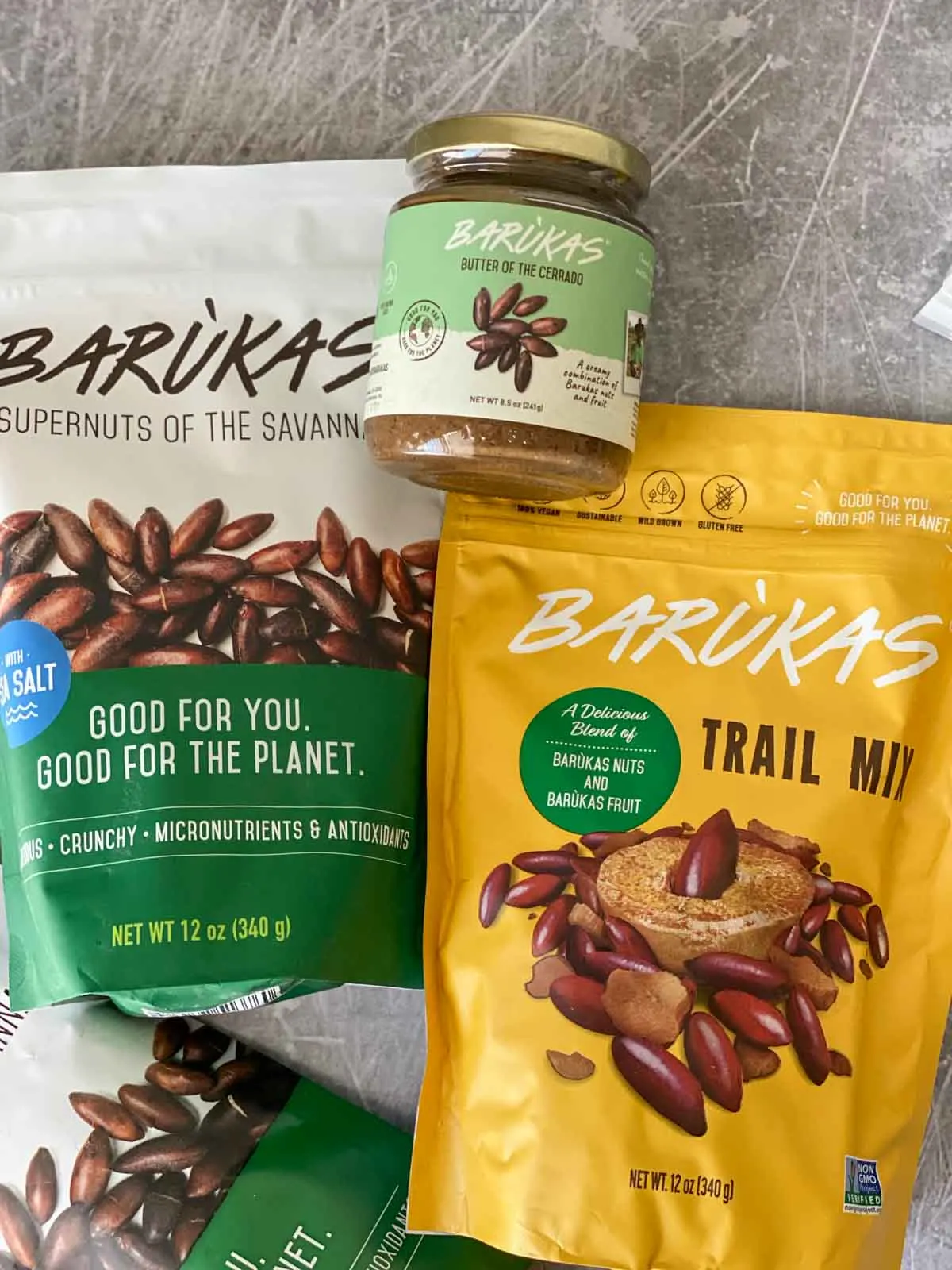 On Barùkas website you will also find the answers to a bunch of frequently asked questions, like can you eat the skin (yes), are they organic (not certified, but technically yes, because no chemicals or pesticides are used) and more.
You can see from the below picture what they look like without the shell.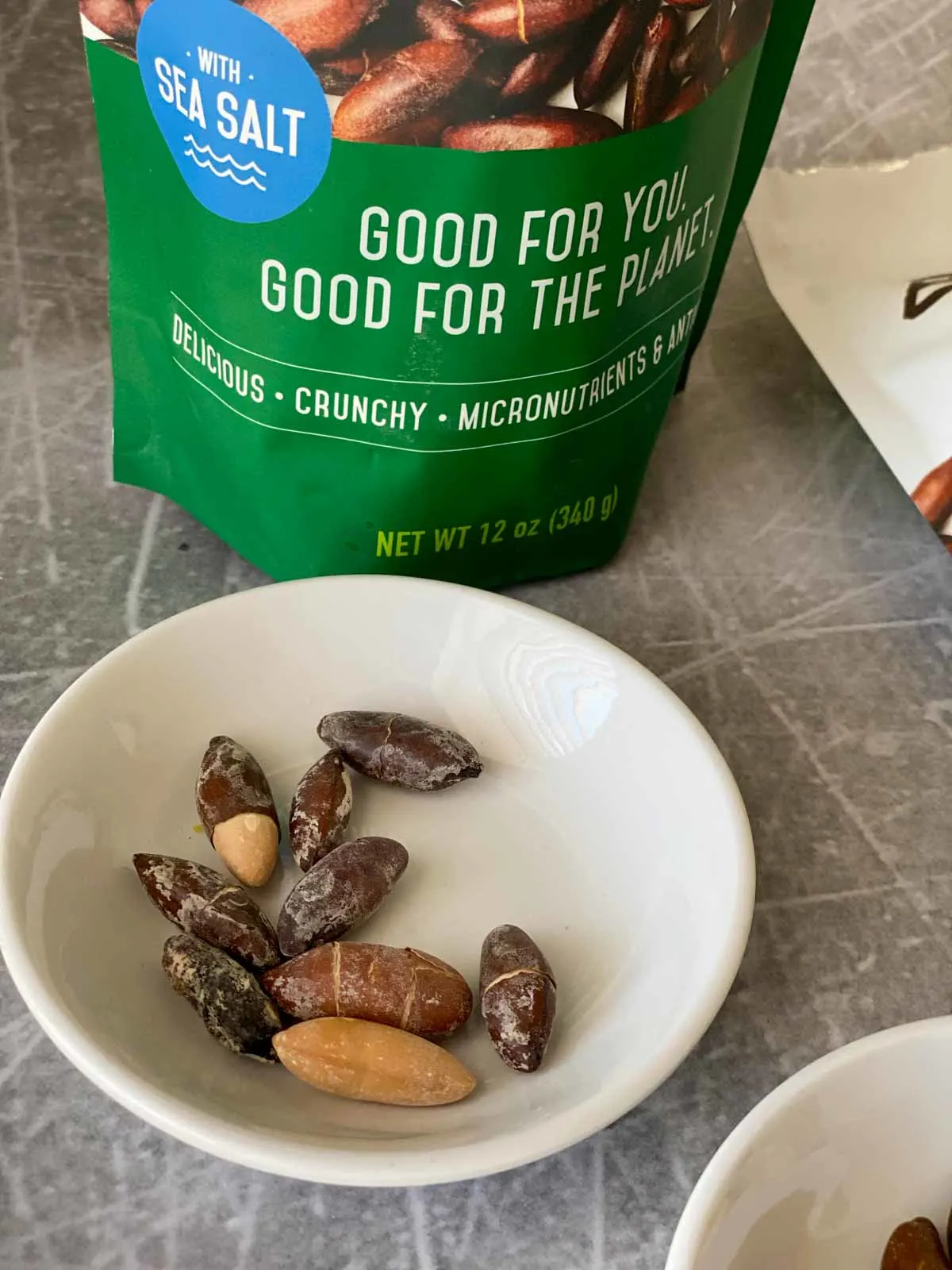 One important tip – chew them VERY well!
You may even want to chop them up if you are adding them to salads or breakfast bowls. You could also peel the skin off to make them a little easier to chew and digest.
In addition to selling good-for-you products, Barukas is a company that does good in the world. They plant a tree in the wild for every 5 pounds of nuts sold, in an effort to reverse deforestation.
You can buy any of these products on their website (be sure to use promo code TRIALANDEATER to save $) and you can also find them on Amazon (but no discount for you if you buy them there!)