This post contains affiliate links, which means I may receive a small commission if you make a purchase after clicking on my links. All opinions are my own.
Our review of the cultural cooking kits from Eat2Explore! An award winning delivery kit that provides fun educational kits with recipes from countries around the world.
Ready to buy and don't need to see the review? Head on over to the Eat2Explore website and pick a country to try first!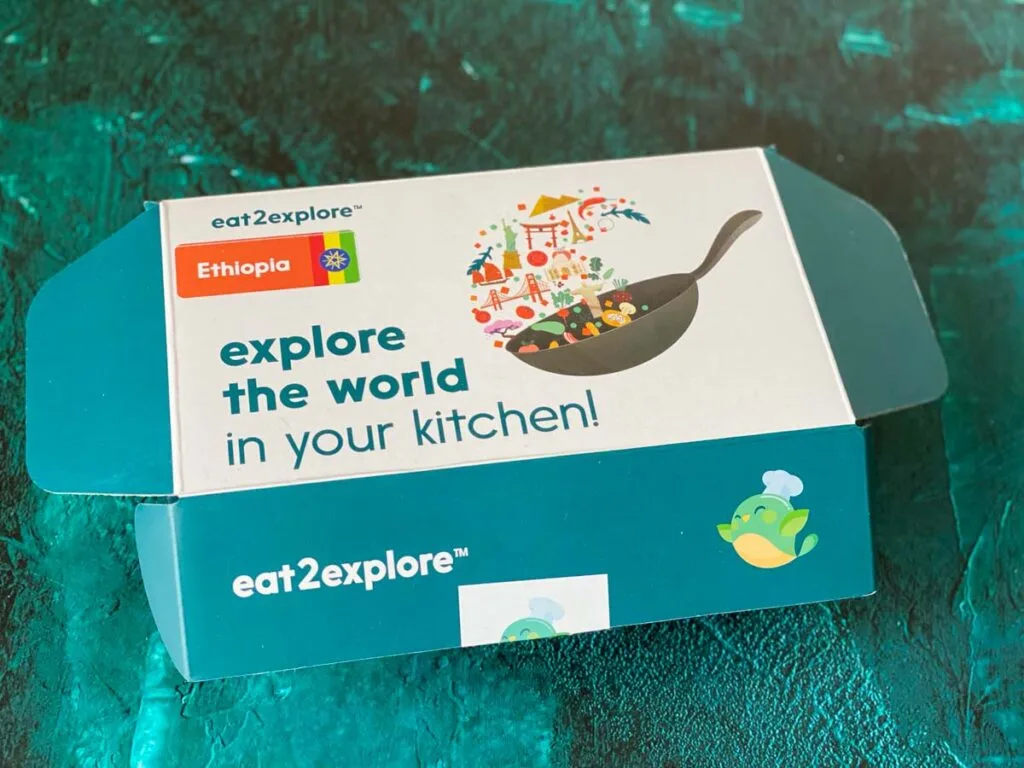 What a fun gift idea or family activity! These kits from eat2explore are not only a fun way to make dinner but also a unique learning tool for adults and kids alike.
How it Works
At the time of this writing there are 21 countries around the world you can choose from to receive a box with a few of their traditional recipes. The majority of these are vegetarian friendly, about 15 out of them, and they are clearly marked in their own category, as are the gluten-free options.
Each kit will come with recipe cards, activity sheets and learning brochures about your chosen area of the world, most of the shelf-stable ingredients needed for your recipes and a shopping list for the rest.
You'll also receive a "passport" and collectible items to mark your progress as you cook across the globe!
Example Kit
The kit I received was Ethiopia!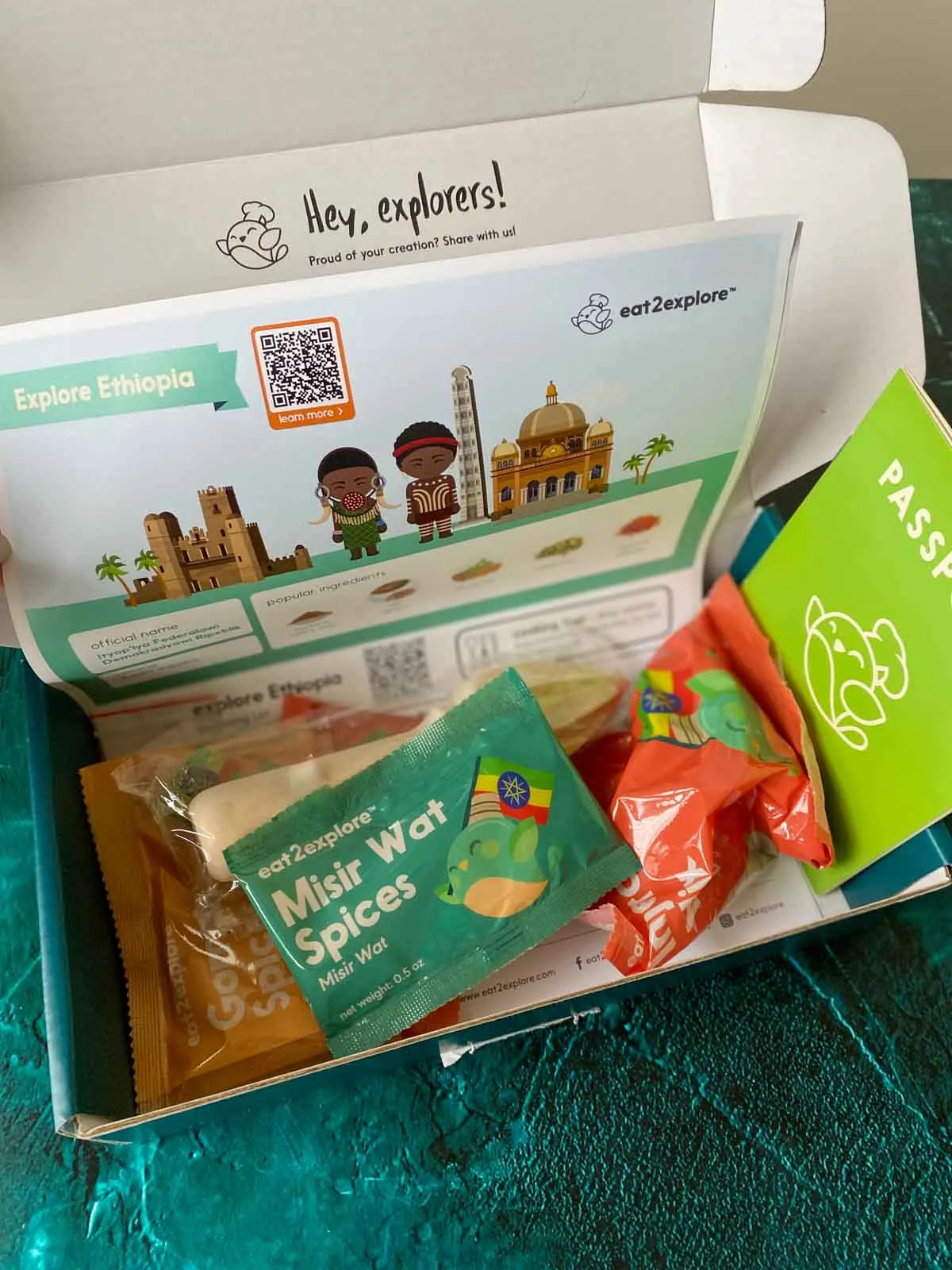 Included in the box: 5 spice blends, a collectible pin flag, a citrus press, 3 recipe cards, 2 fact and activity sheets, and a shopping list.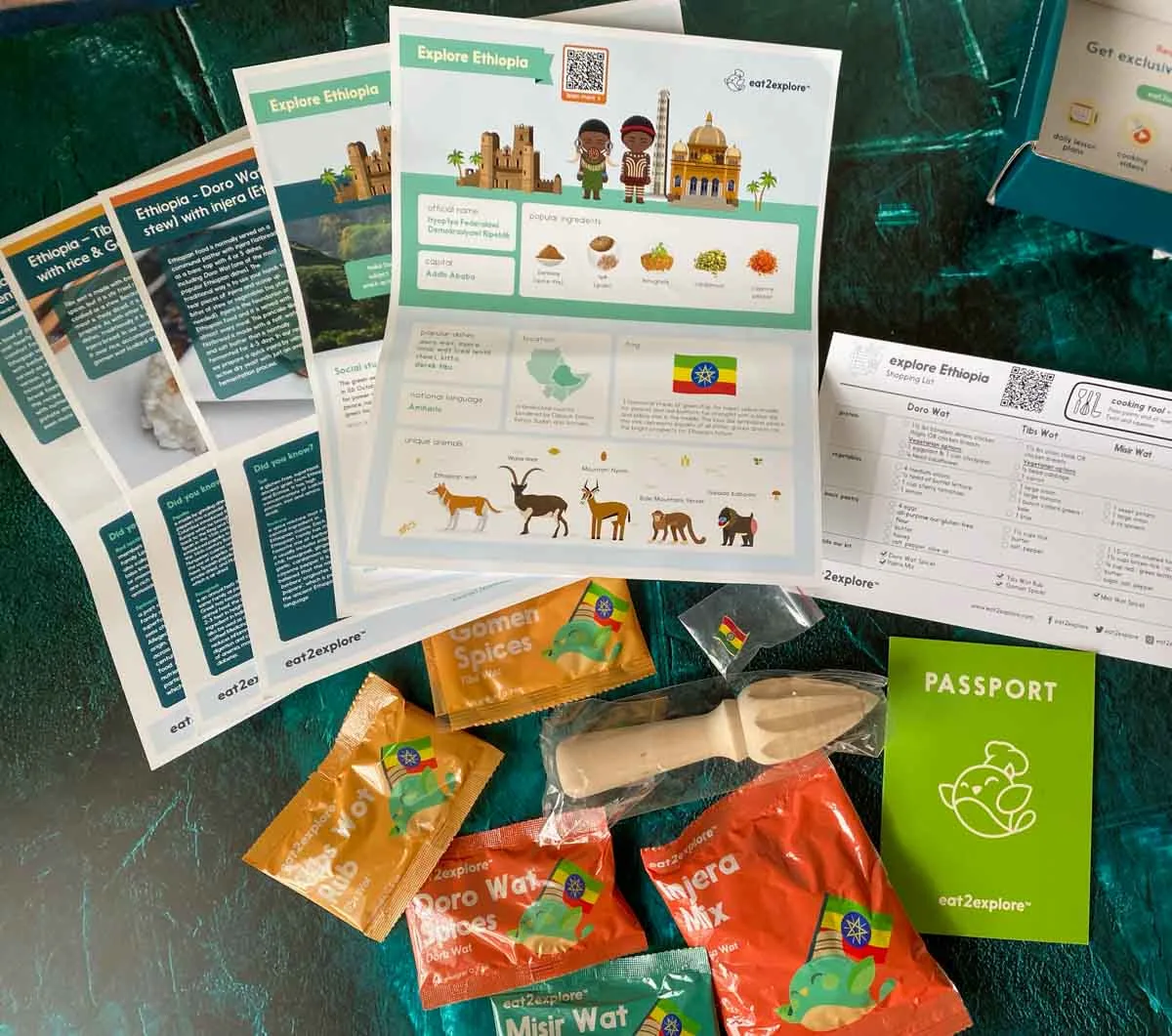 The shopping list was fairly simple, a few fresh produce items and some basic pantry items needed.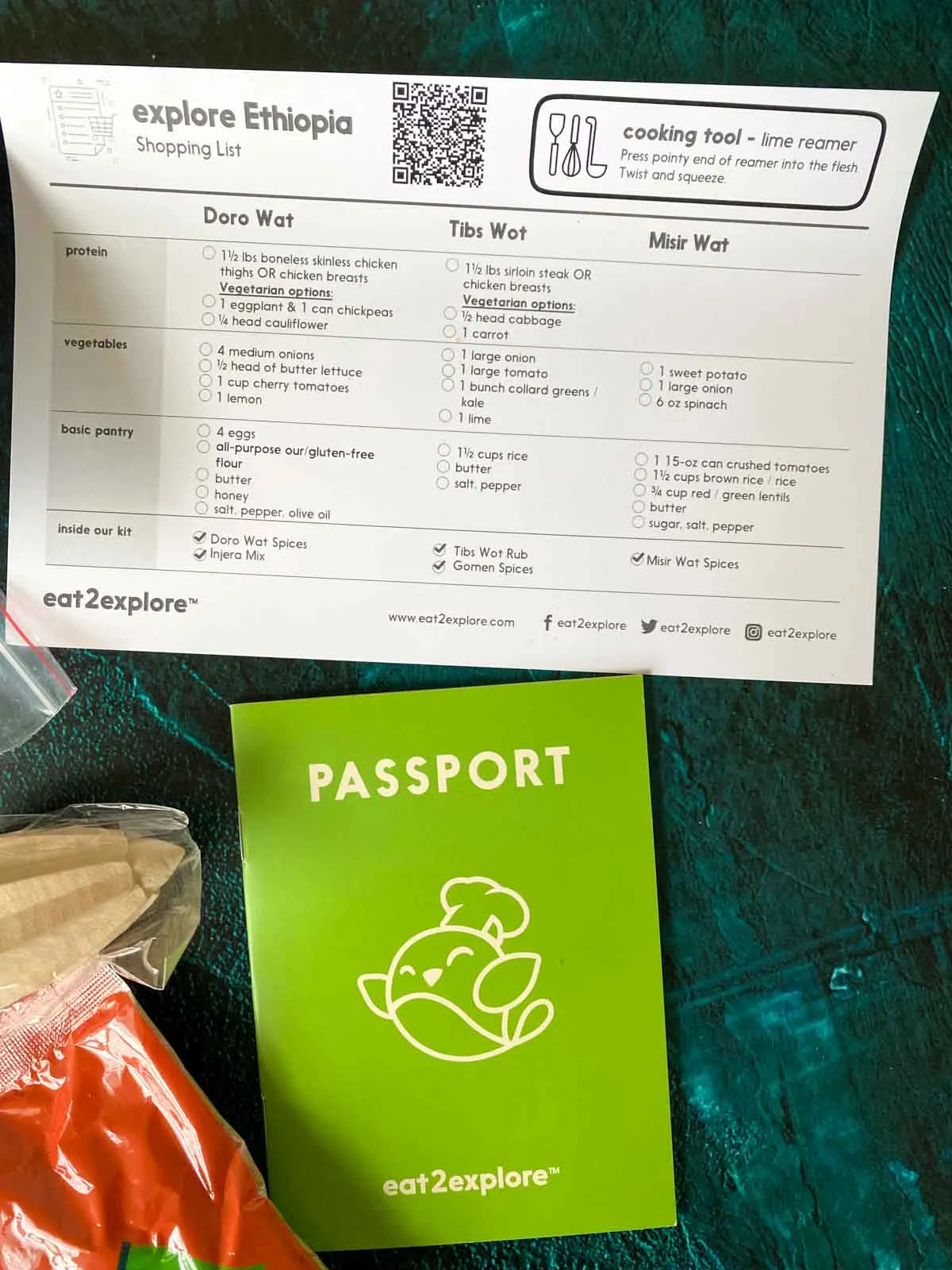 The spices included are very unique! Definitely the highlight of the box, as these are not typical spice blends you would have on hand or even ones I had ever heard about.
They are even color coordinated to the recipe which makes it super helpful as well.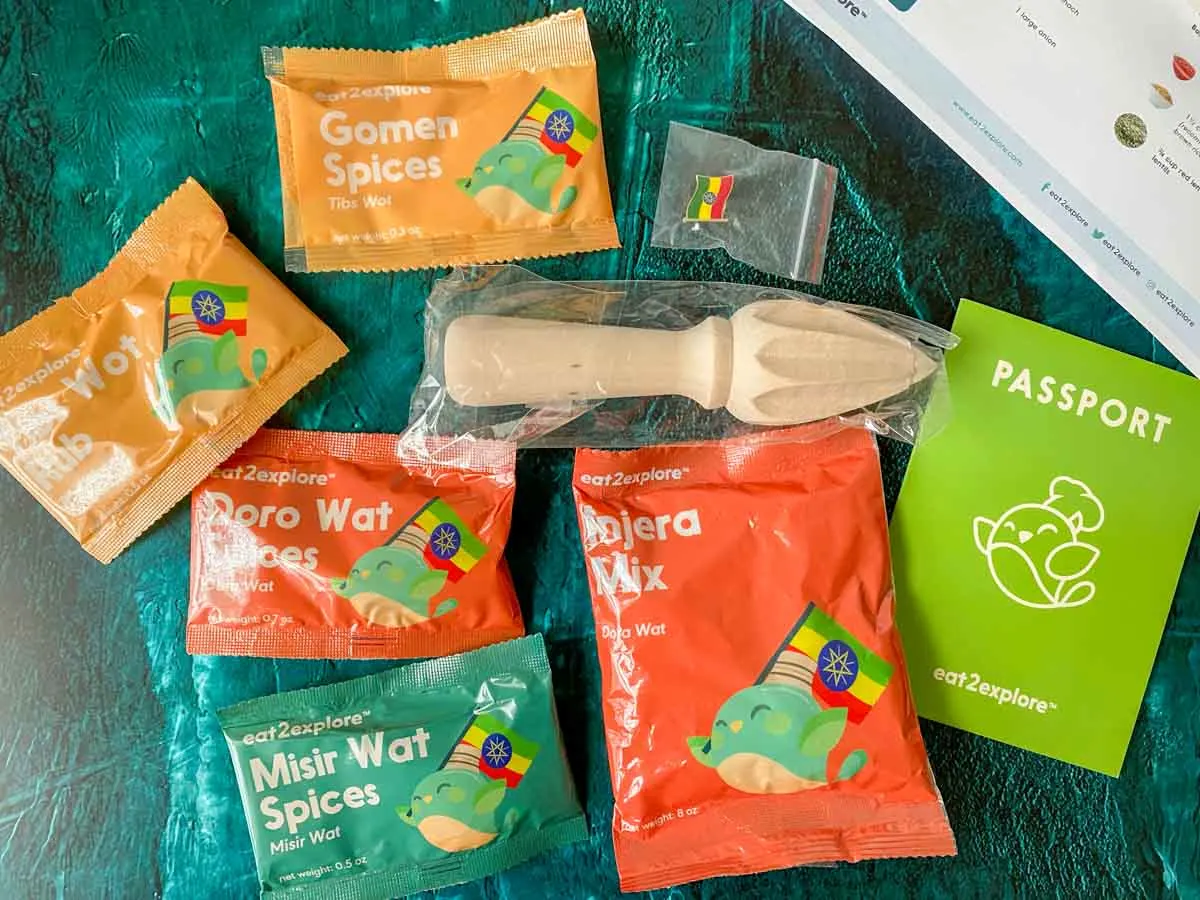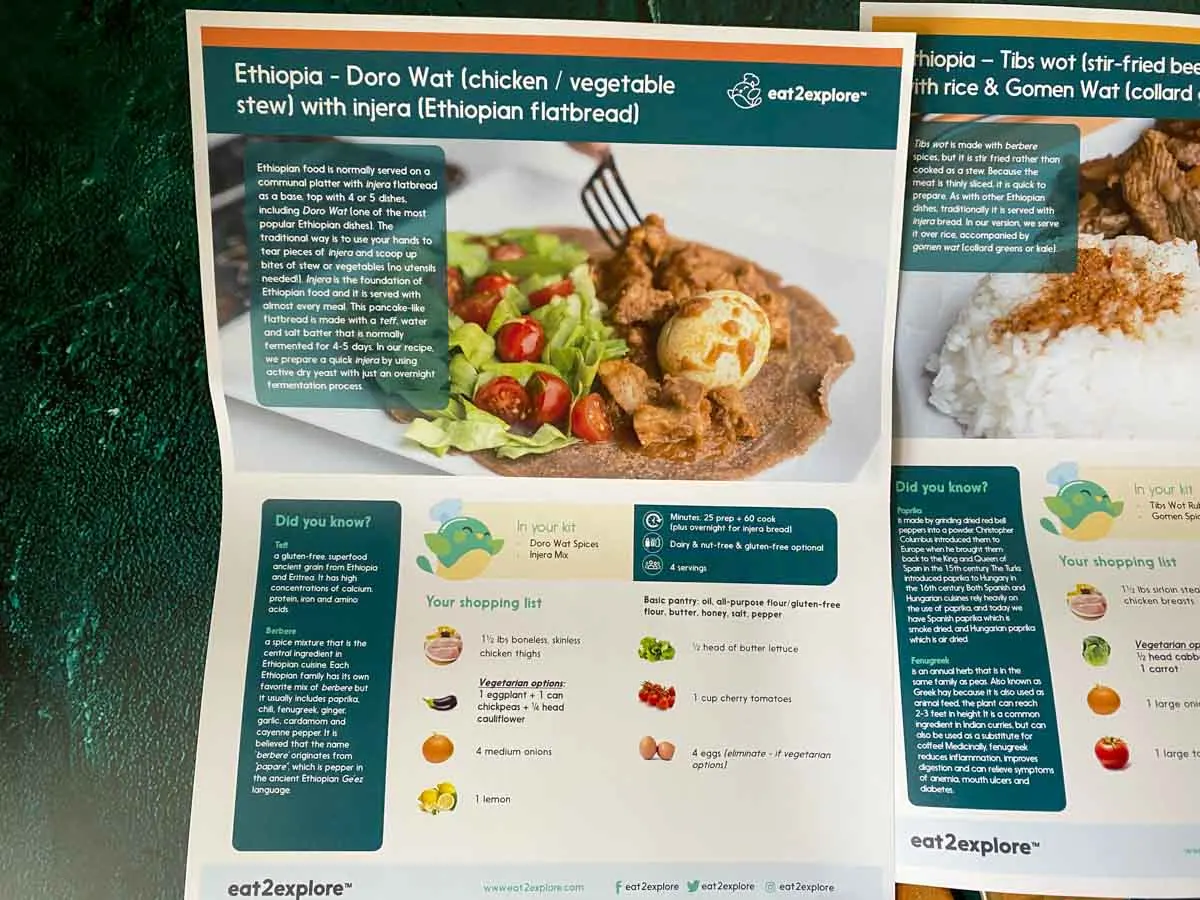 Purchase Options
If you'd like to try it out you can choose to get a one-time box, or you may opt-in for their monthly subscription. You can also get great deals if you buy continent bundle (featuring 5 countries from a continent of your choosing)!
This is definitely great way to try out new recipes and learn about different cultures in the process!
Review Summary
Eat2Explore kits are an excellent activity if you are looking for a special date night or family cooking adventure. If kids are eating the meals, they should probably be adventurous eaters and not too picky.
One downside is you can't easily recreate these recipes unless you hunt down the spices mixes. But it makes for a unique gift and a fun way to "travel the world" without leaving home.
Some of the kits have more dry ingredients included than others. For example, Italy contains 7 large sauce and herb mixes compared to the 5 small spice blends included with Ethiopia. Though as long as you are choosing a country where you are excited to try their recipes, it's sure to be fun!
Italy and Mexico are top of my list to try next! (Who can say no to tacos?!) Which country are you most excited to try?