Austin, Texas vegetarian eats, treats and various activities. Visited in October 2016.
Austin has been on my list of "Top Places to Visit" for a while now. Everyone I knew that had been seems to love the city. The stars finally aligned a couple months ago when a food conference was being held there and a travel friend said I could stay with her and she would show me around.
Let me tell you. If you didn't already know, Austin is an absolutely amazing place if you're a foodie. I was also impressed with how vegetarian and vegan friendly the city is. This post is LONG because I ate A LOT. So without further ado, here's my recommendations based on what I ate and where I explored. (Apologies for the picture quality, my phone doesn't always take the best photos.)
This post is broken up by The Food / The Food part 2: Food Trucks / The Activities
The Food
Austin Java – This was my first breakfast stop and I had a hard time deciding what to order since everything sounded so good. I considered the challah french toast and portabello veggie sandwich. I finally settled on the "Tree Hugger" which was eggs benedict with veggie chorizo and avocado. Also added jalapeno and side of breakfast potatoes. For my caffeine fix I went with a honey nut latte.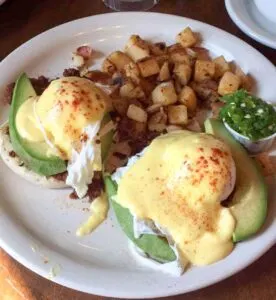 Torchey's Taco's – Tacos are BIG in Austin and this is a popular place for them. I ordered the Fried Avocado tacos, chips and guacamole. The only other vegetarian ones were breakfast tacos with eggs, but they seemed to be accommodating for substitutions.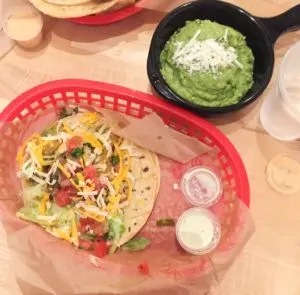 Amy's Ice Cream – this place is known for their boozy ice cream, but I went with their most popular flavor of Mexican vanilla. Added "crush-ins" of peanut butter and chocolate chunks. This was also the moment I finally realized where "Marble Slab" and "Coldstone" get their names. #memories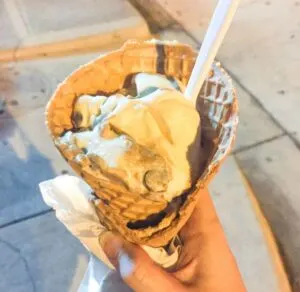 Pinthouse Pizza – We shared a Honey Pear Pizza (no proscuitto) and the Pinthouse Salad (which is similar to this spinach salad). I liked the vibe of this place.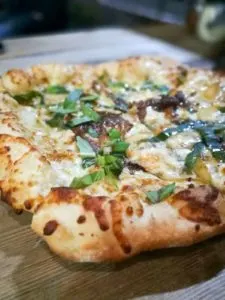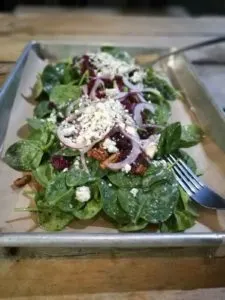 Crepe Crazy – If you know me, you know I am IN LOVE with crepes. I literally could not control myself here. I pretended I was ordering brunch for 3 people and got a savory crepe (Southwestern), a sweet crepe (peanut butter heaven + chocolate), a bagel with brie cheese and jam, and coffee. I don't mess around with brunch. If I lived near this place I'd be in trouble. This place is even cooler because it supports the Deaf community, owned and operated. You don't have to know sign language though – they have a menu at the checkout counter where you can point to your selections.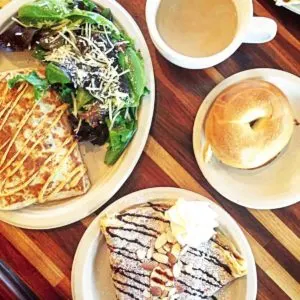 East Side Cafe – Elaine's famous frozen lemonade, baked brie appetizer and a veggie burger. The veggie burger is supposed to be one of the best in the city.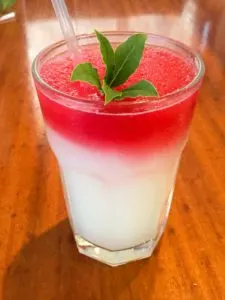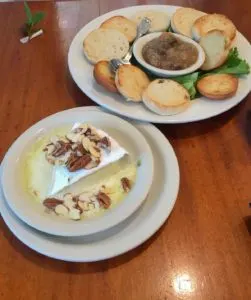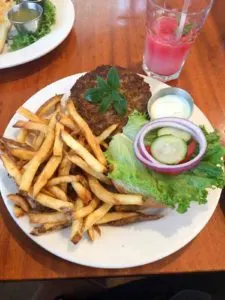 Vintage Heart Coffee – I stopped in here for about an hour one afternoon to get some work done. It's a small place with not many menu options, but they gave me latte art which is all I really ask from my coffee places. <3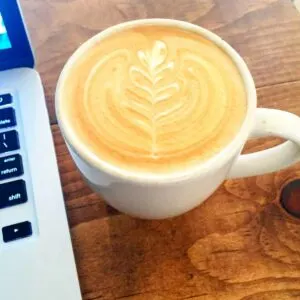 Food, continued: The Food Trucks
Austin is BIG on food trucks. I could spend months here and never run out of food trucks to visit. These are a few I was able to try.
Vera Cruz – This was my first stop in the city because it was in walking distance to where I was staying. Like I said before, Austin is big on tacos. Their vegetarian tacos did not disappoint, and this location is right next to Radio Coffee and Beer so you can get a drink and sit outside. You can make it vegan and leave off the cheese.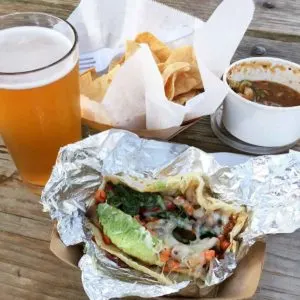 Conscious Cravings – This all-vegan food truck has wraps, salads and smoothies. I went with the blackened tofu wrap, and their spicy chickpea wrap looked tempting too.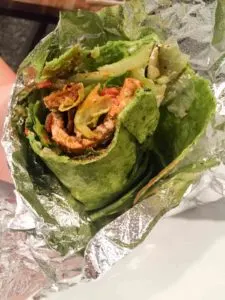 Bananarchy – this is a frozen banana food truck. You pick half or a whole banana, dipper(s) and topping(s). I went with a whole one dipped in chocolate, smothered in peanut butter and Reeses Pieces. The whole banana was only a dollar more than the half but unless you're super hungry, I'd recommend the half. They come on a stick (which is actually a spoon) so you can eat it like a popsicle.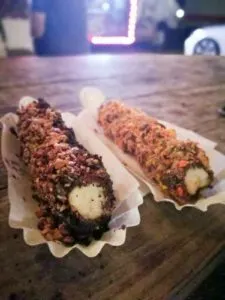 Turf and Surf Po Boy – The location we went to is not technically the "food truck" because that one is closed on Mondays, and the second location is actually in a bar. You can order your choice of toppings in a Po Boy, taco or salad. The vegetarian options were guacamole, eggplant parm or "hipster" with mushrooms, bell peppers and spinach. They were out of guacamole when I was there which obviously was a bummer, so I went with the hipster po boy. This might have been my favorite sandwich of the trip! I also tried their jalapeno hush puppies but I couldn't taste any jalapeno.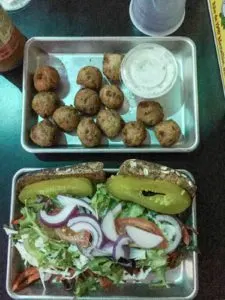 Halcyon – Next door to Turf n Surf, this coffee bar has s'mores for 2 (or 4) that you roast at your table! Would be a cute date idea.
Gourdoughs – There's a lot of debate over the best donut in Austin, but I was told I HAD to have Gourdough's before I left. It was my last night before I was able to make it here, and I already had eaten a whole po boy sandwich. And s'mores. When I asked which donut I should order if I could only have one more donut FOR THE REST OF MY LIFE, they recommended the "Sin-a-bomb" or "Black-out" chocolate. Both of those seemed too heavy considering I had already stuffed my face, so I went with "Freebird" because it had fruit. I could still only get a couple bites in, but I tried. A lot of their sandwich and deluxe donuts have meat on them, but I'd still recommend this place as a dessert stop.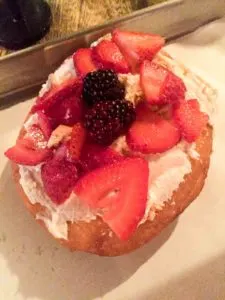 The Activities
Lady Bird Lake – I went canoeing on this lake one afternoon and it was a lot of fun. You can also rent a paddle board or kayak.
Whole Foods – this could have gone under the food category also, but it felt like more of a destination than anything. This is the flagship whole foods. It's so big that there are police directing traffic in the parking deck and lights on the parking spaces to show which ones are available. We were there at 2pm on a Thursday, I can only imagine how crazy busy it is on a weekend. This is the place I spent $8 on the olive bar because I was too overwhelmed with choices.
Bat watching – There's a bridge in downtown Austin where you can see swarms of bats at dusk. Sometimes. We didn't have luck the night we waited around because it was a little chillier than normal and I guess bats don't come out when they are cold? I didn't know that this was a thing, but apparently it's a big deal if you can catch them on the right day. This website gives more information. There are a couple other places for bat sightings, including Round Rock where close to half a million bats are hiding. Bring cover.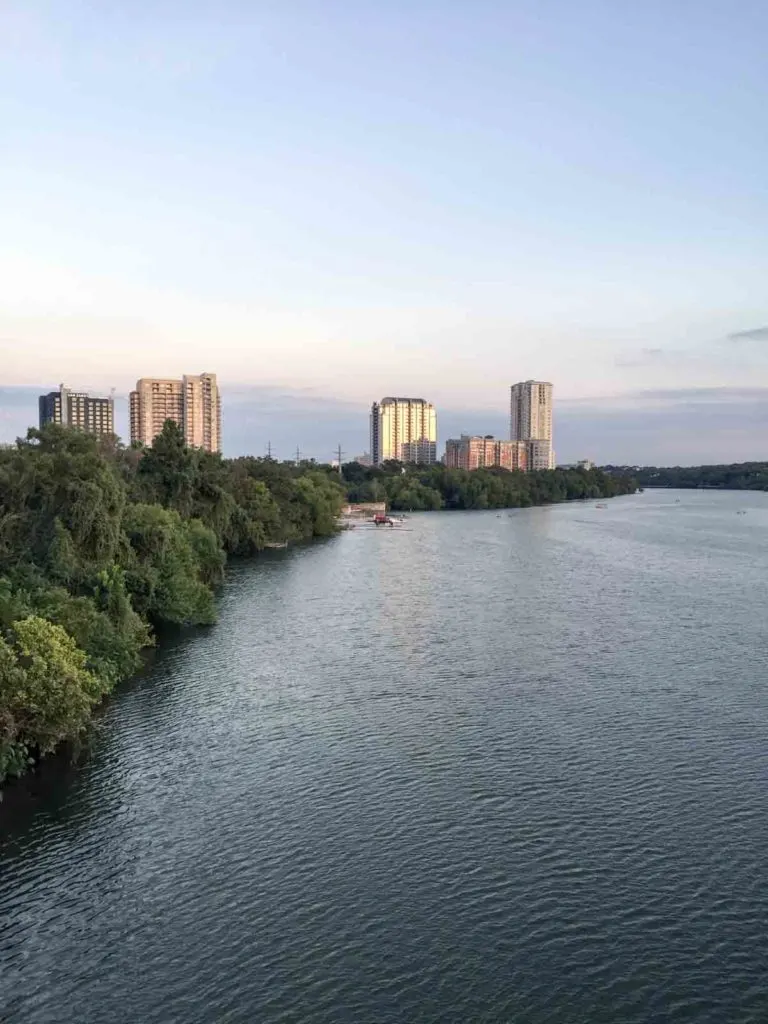 Graffiti Park – Exactly what it sounds like. I love places like this because it will never be the same from day to day. Just be careful where you park because they are quick to leave a ticket if you're in the wrong place.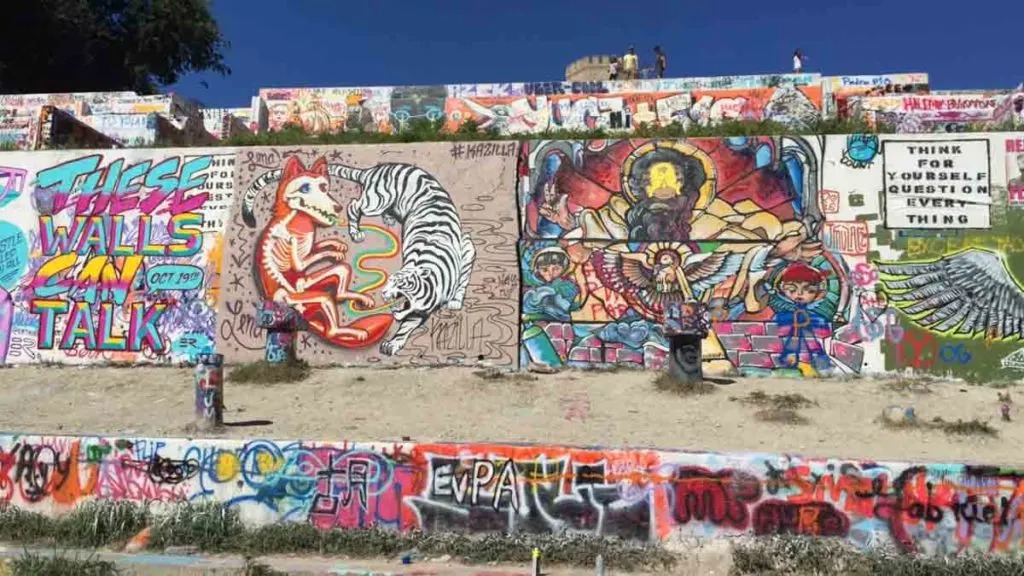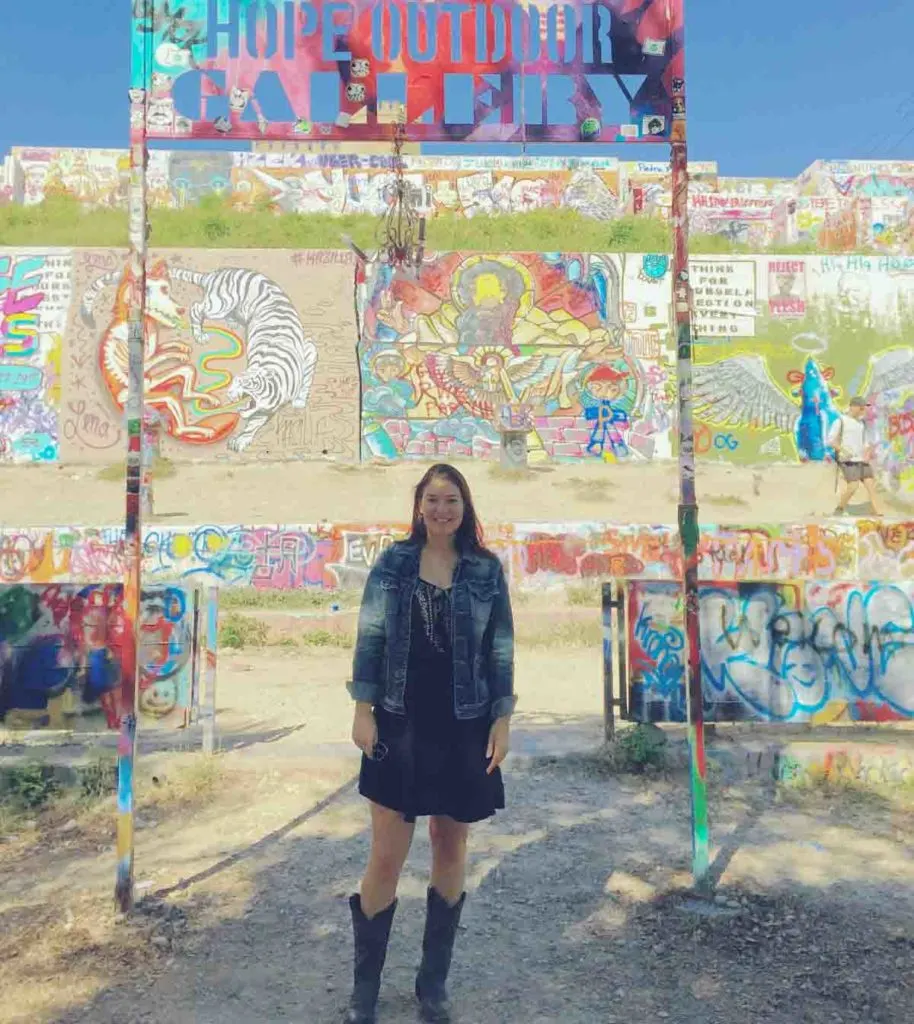 Final thoughts
Be prepared to eat a lot of tacos while you're here.
Check out as many food trucks as you can handle.
If/when I go back, my first stops would be Arlo's and Counter Culture (both vegan food trucks).
Have you been to Austin? Leave your favorite recommendations in the comments!