I ordered my VeganCuts box with my own money. This post contains affiliate links, which means I may receive a small commission if you make a purchase after clicking on my links. All opinions are my own.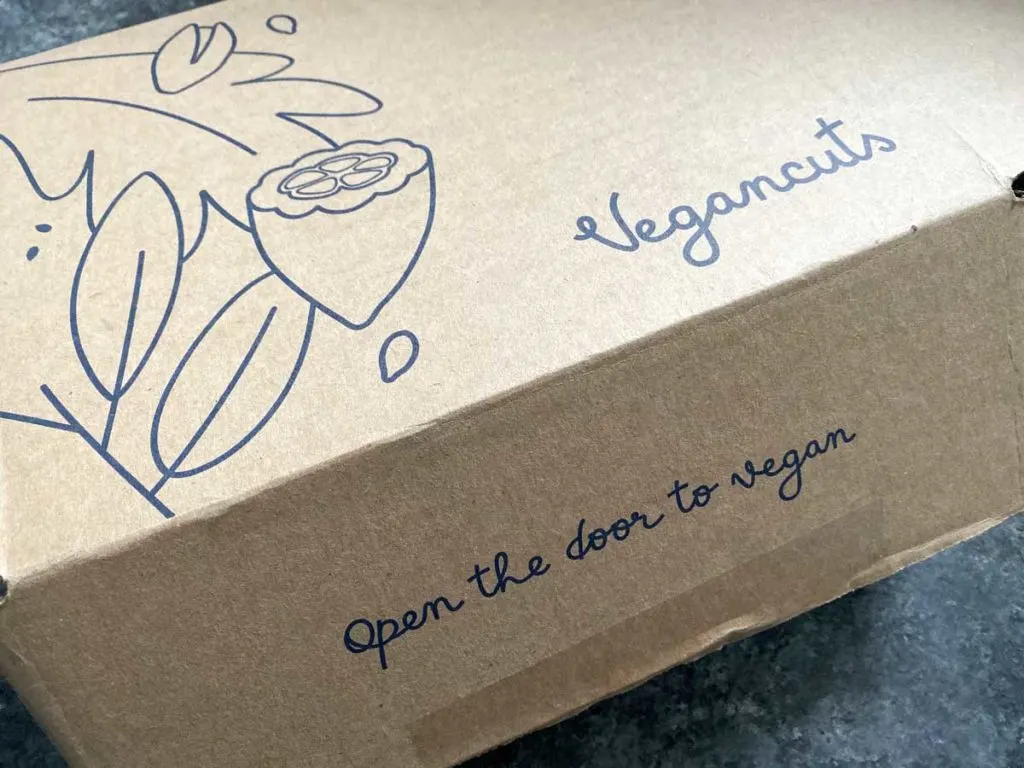 A review of the subscription service from VeganCuts.com! They not only have several kinds of boxes for snacks (general, gluten-free, chocolate), but also offer a beauty box, a makeup box and other special edition boxes. Of course all vegan and 100% cruelty-free! Read more about them and get an exclusive discount code here!
Ready to buy and don't need to see the review? My readers can use the code TRIALANDEATER at checkout to get $5 off any box!
What is VeganCuts?
VeganCuts is a subscription box curated with vegan brands. They offer boxes for snacks, beauty, makeup and other special edition boxes. In addition to subscription, they offer a one time boxes – but you may want a longer subscription so you can enjoy vegan products throughout the year!
NEW in 2020: Special edition boxes:
"Build up Your Pantry" box
"Essential Toiletries" box
Or get both of the above for less in the "Quarantine Essentials" box
(Coupon may not apply to special edition boxes.)
I ordered a regular VeganCuts snack box, though they also offer special boxes for gluten-free + vegan, chocolate only boxes, and other themed boxes throughout the year. They also have a monthly beauty box and a quarterly makeup box, full of vegan products and brands you can trust.
Each snack box include at least 10+ vegan snacks. Some months they include extra special bonus items too! For example, a few months ago new monthly subscribers received a full-size Nuttzo jar and subscriptions for 3 months or longer received a full box of Larabars (added $22 value).
Here's what I received in my box: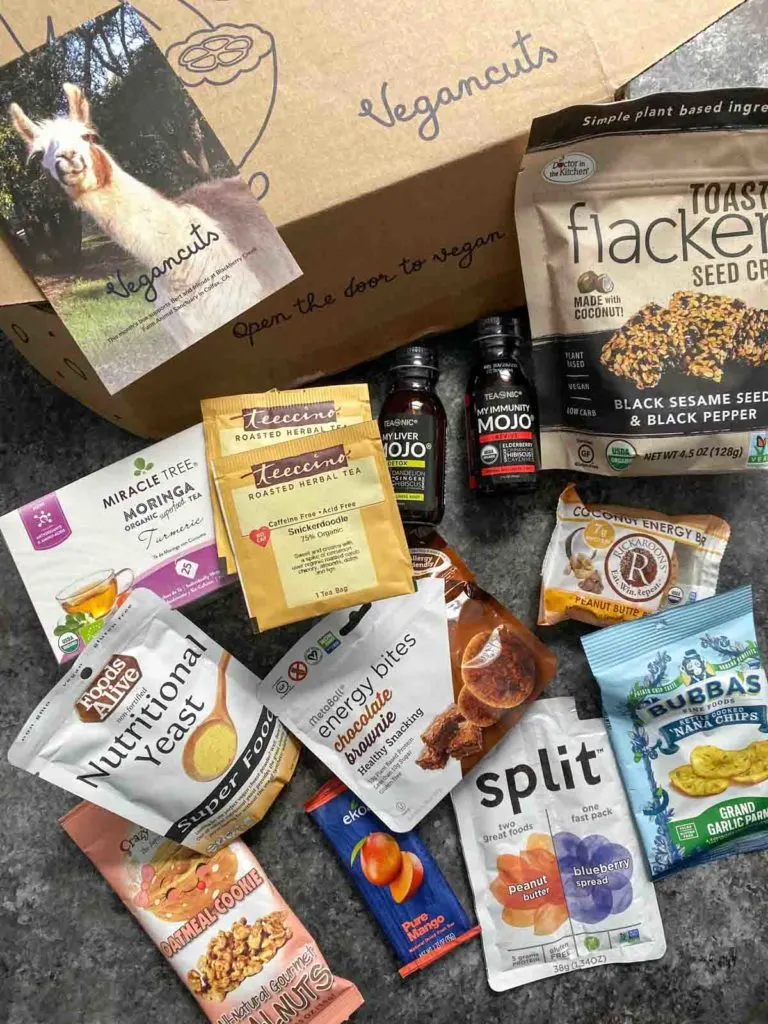 In total there were 13 items from 11 different companies. And I paid under $20 with a $5 off coupon! (Remember, my readers can use the code TRIALANDEATER at checkout to get $5 off any regular box!)
I packed most of these with me on my last cross-country trip. I loved being able to try new snacks for the travel! My favorites included the Ekoa dried fruit bar, the chocolate brownie energy bites and the PB&J packet. I was not a fan of the Flackers Crackers but there is enough variety in the box and it allows me to try new brands.
Many of the brands I see featured in these monthly boxes are ones that have been on my to-try list. VeganCuts is an easy and affordable way to do so.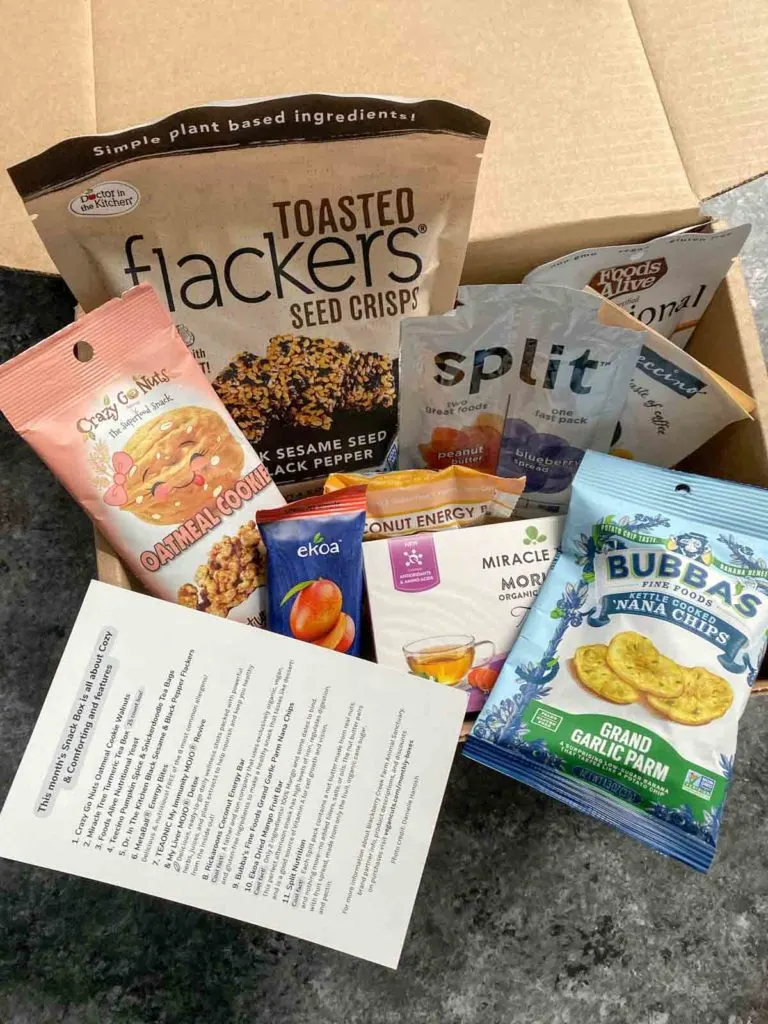 Review Summary of VeganCuts
One thing I absolutely LOVE about VeganCuts is that they donate to an animal sanctuary each month. They include a card inside each shipment that lets you know which sanctuary is being supported by that months box.
These boxes are great for you or friend who is vegan, and also wants to support brands that have vegan-friendly practices. Especially if you find it fun to try new foods. Many of these snacks are perfect to pack for travel!
I love discovering new brands and knowing these are vetted for me is great. Not all of the snacks are ones that I would order again, but at least I get to try them in a more cost-effective way.
Note: The subscriptions are auto-renewing, so if you get a 1-month box and only want it for one month, be sure to cancel. They don't get too many points deducted for this in my book because their website is very easy to navigate and change your subscription as needed. But it's something to be aware of!
Coupon Code to Save $5 Any Regular Box at VeganCuts
My readers can use the code TRIALANDEATER at checkout to get a special $5 off their order VeganCuts.com! You can use this up to two times on different boxes (will only work on non-special edition boxes).
If you decide to try, show me what you get on Instagram by tagging me @trialandeater or #trialandeater!