This post contains affiliate links, which means I may receive a small commission if you make a purchase after clicking on my links. All opinions are my own.
A review of the superfood bread and freedom chips from Uprising Food! Keto-friendly, gluten-free and clean ingredients that are packed with fiber and still taste good.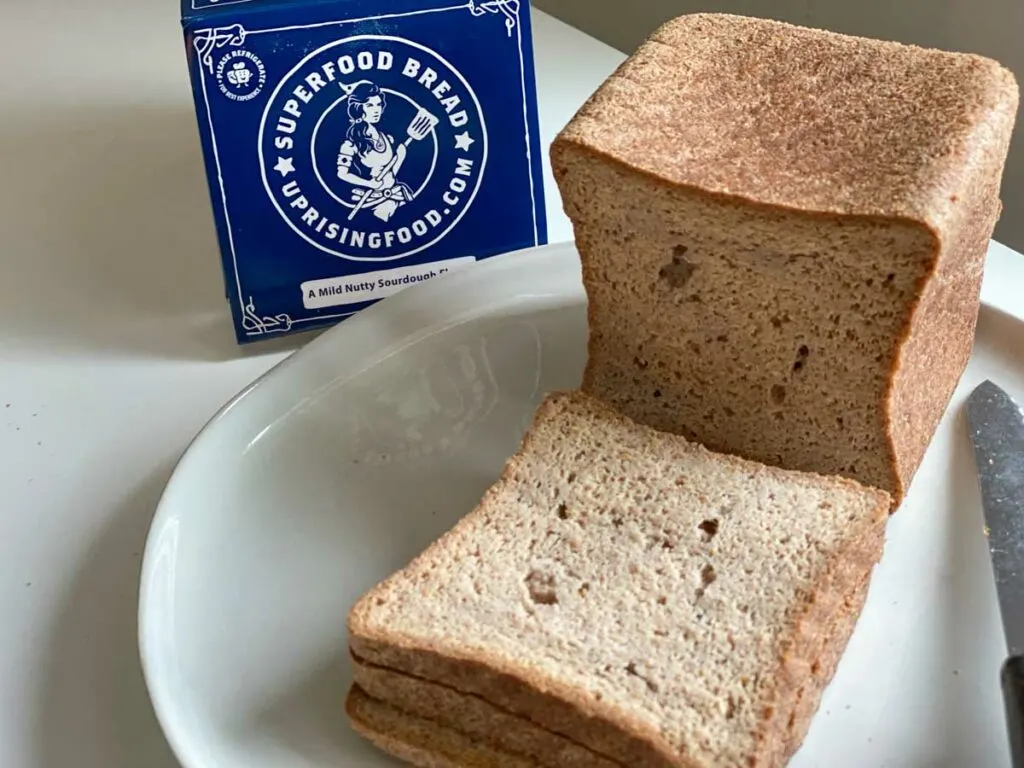 Anything that has superfood in the title is sure to get tested by me at some point, and I finally ordered some of this superfood bread to try for myself.
While I'm not keto, I have recently been experimenting with low-carb and gluten-free diets (like Prolon and Sakara) and always love to find healthy replacements for things.
"Ingredients you can pronounce" is the tagline that pulled me in at first, and while psyllium might be tricky at first (it has a silent "p"), they were otherwise correct!
The Cube
This is the superfood bread, that literally comes in a small cube! The ingredients are: almonds, psyllium husk, flax seeds, egg whites, apple cider vinegar, salt, water and baking powder.
It's very easy to cut into thinner slices, which I appreciate. The picture below is cut thinner than a normal serving size – one cube has 8 servings.
It stays together very well and is not crumbly like some gluten-free breads. It's strong enough to use for sandwiches, toast and really anything where you would normally use bread.
Tastes like a nutty sourdough and has only 2 net carbs per slice, along with 9 grams of fiber and 6 grams of protein.
It will last up to a week out of the fridge, up to 4 weeks if stored in the refrigerator and up to 6 months if you stick it in the freezer.
I prefer it toasted.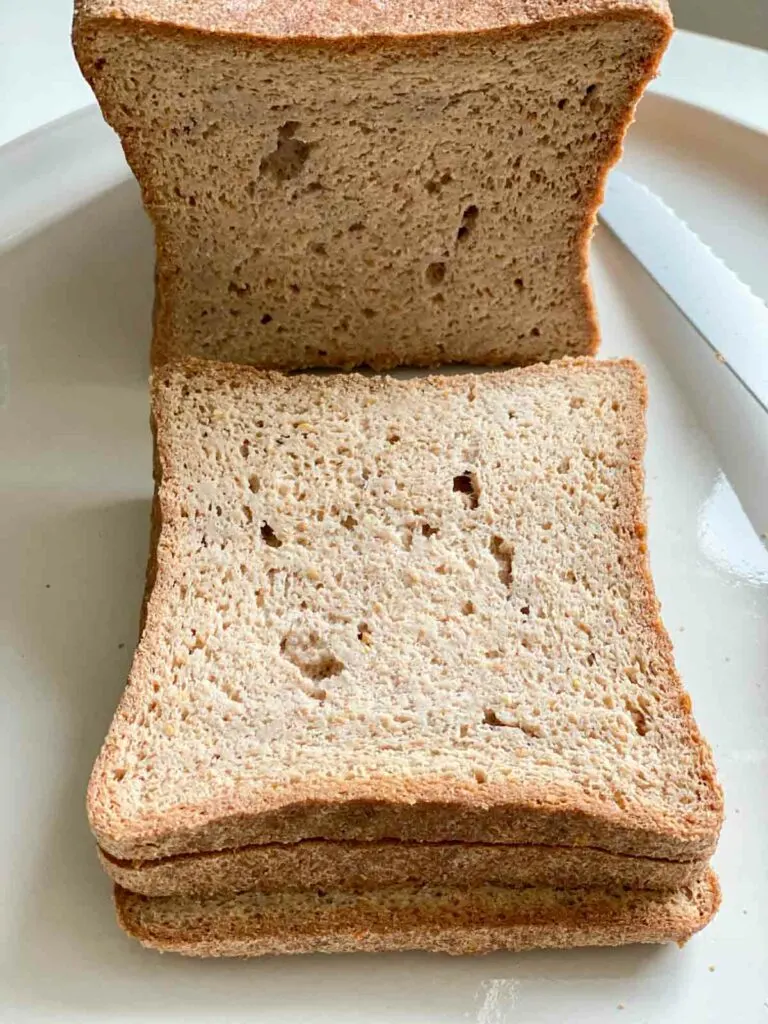 Superfood Freedom Chips
These chip snack packs come in two flavors – sea salt and savory rye.
The ingredients start with the same as the cube (Almonds, Psyllium Husk, Flax Seeds, Egg Whites, Apple Cider Vinegar, Salt, Water, Baking Powder) and also include MCT oil and olive oil.
The savory rye chips also have added spices – Garlic, Onion, Caraway, and Horseradish.
I was expecting them to be very hard by the looks of them (like GG crackers), but they are not too hard!
They have a good crunch without it hurting your teeth!
I tested it with a tub of cream cheese, and while some of the crackers held up strong, about half of them did break. But a normal hummus or other dip would likely be fine.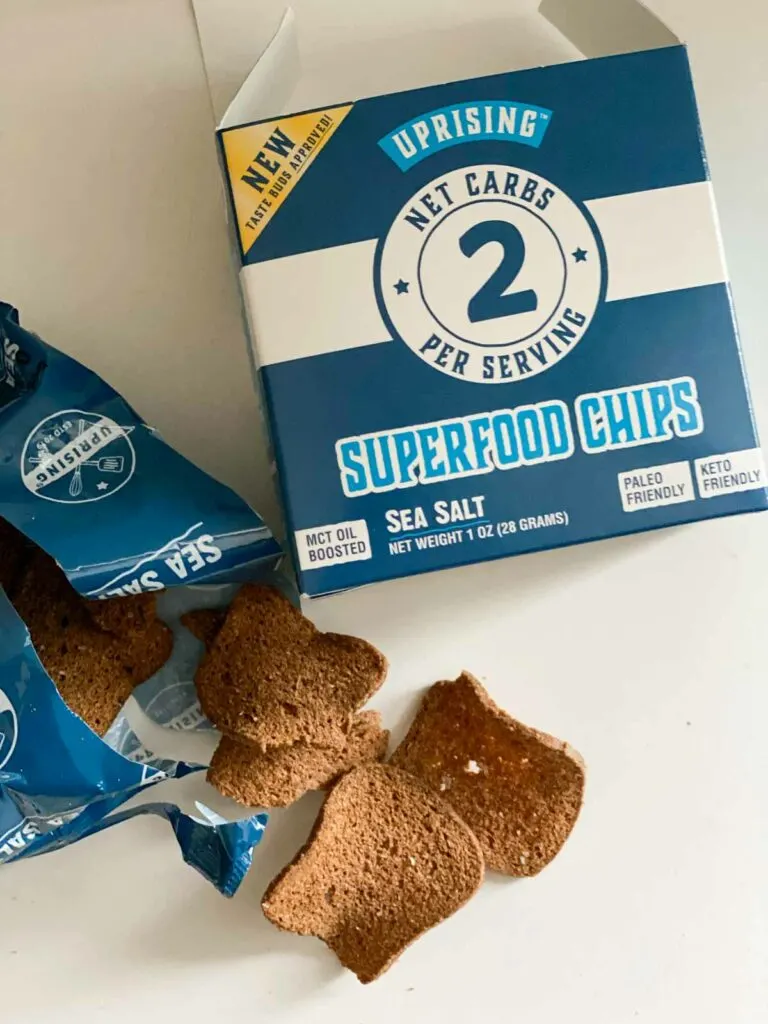 Overall Review
I love how clean the ingredients are in both the superfood bread and chips and how much fiber they provide. It is a great replacement for bread for people on low-carb diets or just people like me who like to have healthier replacements on hand.
The downside: it is pricey. The Starter Sampler package is $48 on their website without a subscription (plus $10 shipping) and includes 4 packs of freedom chips (2 of each flavor) and 2 superfood cubes.
If you buy just the cubes in bulk and subscribe, you'll pay as low as $1.35 per slice (8 slices in a cube). That'll increase the price of your avocado toast for sure.
The upside: you can't beat the health benefits, and it will fill you up much more than a regular slice of bread!
Honestly the bread is not my favorite, butf you have trouble getting fiber into your diet, and/or are trying to cut back on carbs even though you love bread, then I would recommend giving these a try.
I do really like the chips though!
They have sold out multiple times already – AND I heard that they are going to be on Shark Tank – so I'd grab them while you can.
Let me know what you think!