A review of the online marketplace, Thrive Market! They have food products, cleaning products, beauty products and more. You can find everything from fair trade coffee to organic toothpaste, and all sorts of fun items in between. You can search by diet (vegetarian, vegan, paleo, gluten-free, and more!). Read more about them and find out out how to save on your first order!
Ready to buy and don't need to see the review? Click here to use our referral link to save 40% off your first order and start your membership!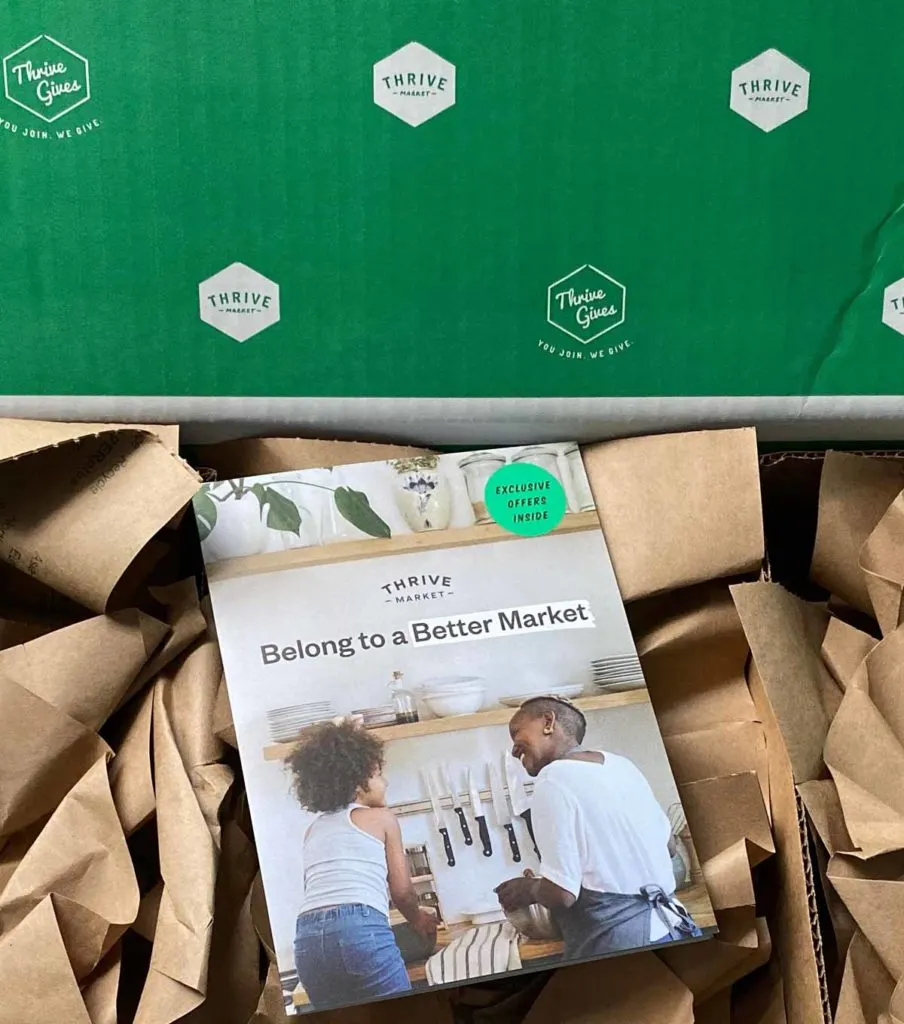 What is Thrive Market?
Thrive Market is an American online marketplace that offers products from many high quality brands. They offer top-quality natural and organic products at reduced costs – on everything from snacks to shampoo to cleaning supplies. The company's mission is to make healthy living easy and affordable for every American family,
They offer discounts on these products that are usually better than what you can find in store, and they have some brands that are hard to find in other stores!
You can earn "Thrive Cash" on certain products that go towards your next order, most items are usually available at some sort of discount!
An Example Order on Thrive
Here is a screenshot of my first order through Thrive: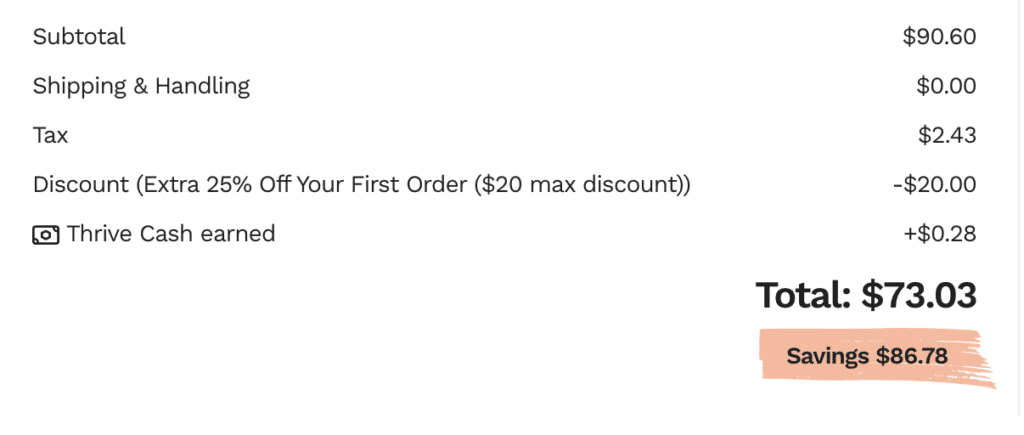 This was on 30 items (listed below), using a 25% off coupon (max of $20) plus the normal savings that Thrive offers every day. That's over 50% total savings!
What was included in this order:
Hu Salty Dark Chocolate Bar
PigOut Pigless Bacon Chips
Hippie Snacks – 3 flavors
Simply Gum – 4 flavors, 7 boxes total
Nuttzo Organic Power Fuel (My favorite!)
Taali Brand Water Lily Pops
Organic Coconut Milk Cans (2)
Thrive Brand sprouted popcorn
Hu Chocolate Cashew Chunks
Cauliflower Pretzels
Lesser Evil Coconut Oil Popcorn (2)
Hippeas Brand Nachos
Salt & Pepper Mushroom Jerky
Activated Superfood brand: Blueberry Blast Cereal and Turmeric Popcorn
(2) Shampoo Bars for my Grandpa (Ironically called "Grandpa's Soap")
PLUS I received a free sample bag of Peatos and a FREE bonus full-size non-GMO almond butter.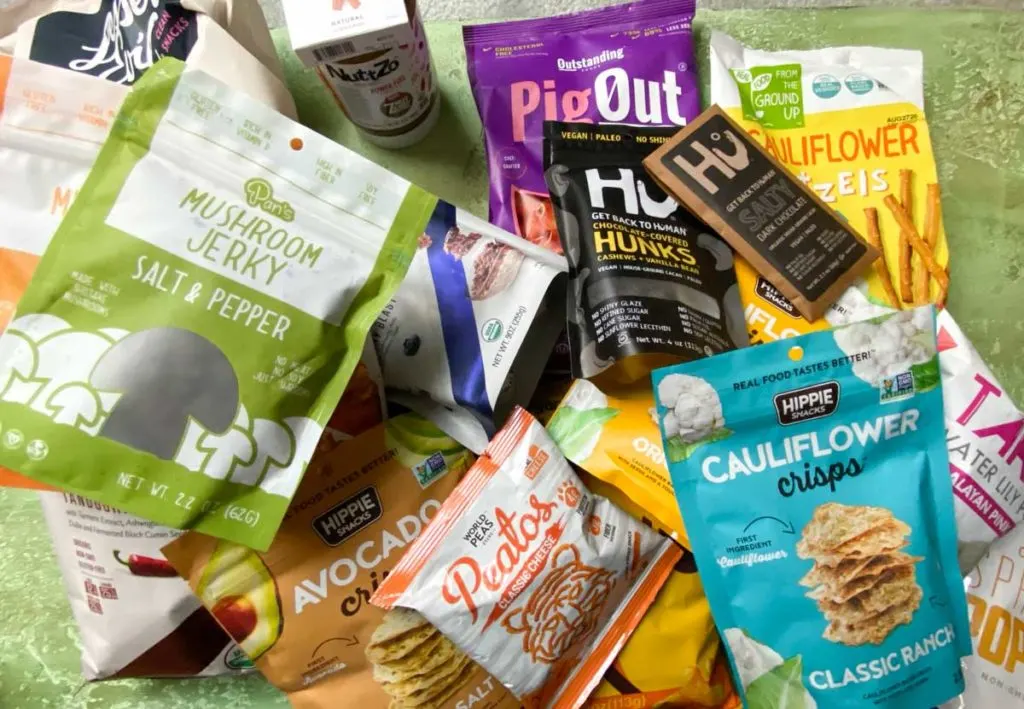 I wasn't a fan of the coconut oil popcorn from Lesser Evil, but next time I'm going to try the avocado oil popcorn. The Simply Gum I probably wouldn't order again, and I didn't care for the cauliflower Hippy Chips. but everything else is going into normal rotation!
Some of my Favorite Products Available on Thrive
While there are so many products available on Thrive that are good, these few are at the top of my favorites list.
Nuttzo – This was my first time trying Nuttzo and it's AMAZING and my new favorite nut butter. The Power Fuel has 7 kinds of nuts and seeds all blended together. It's also very creamy and almost liquidy, which just means it's easy to get every last drop out of the jar! I think I finished this jar in 5 days. This will be a staple for me in every box. Will try the other flavors too!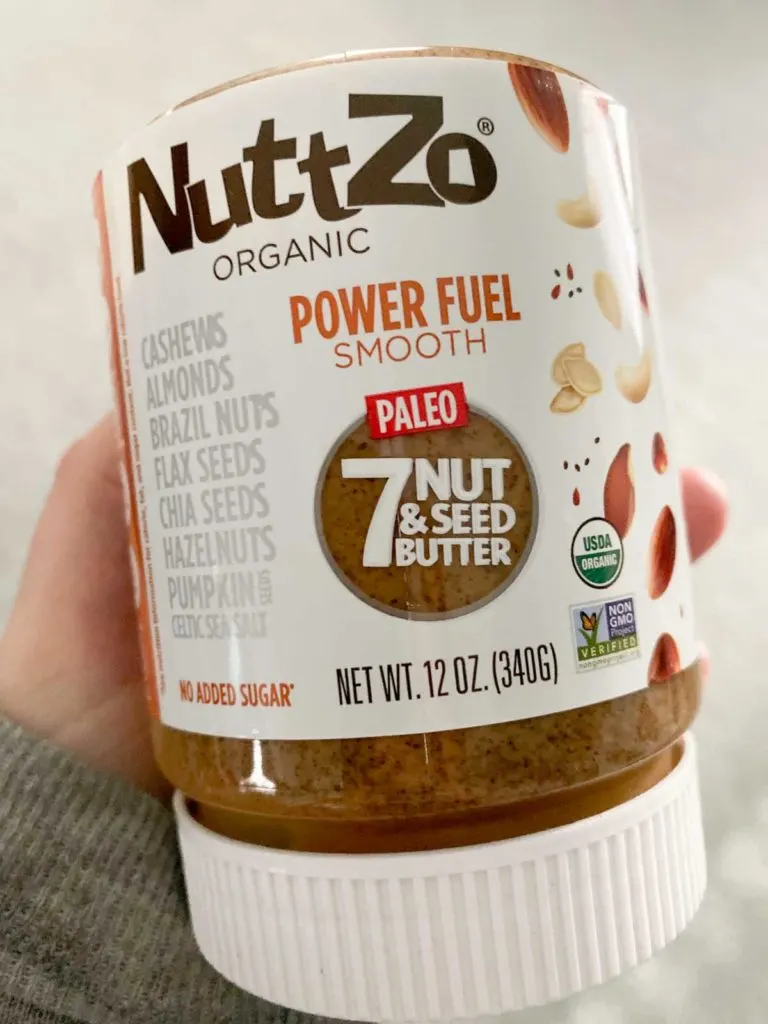 Hu Chocolates – I've only tried two of their flavors but holy chocolate I see what the fuss is about. (Vegan/Paleo)
Unreal – get the dark chocolate almond butter cups. Trust me. Clean ingredients, and tastes better better than Reeses.
What I will order next:
Organic wines, spices, toothpaste, and gluten-free chocolate filled pretzels are all on my list for next order. Will update this as I try more products!
Is Thrive Worth the Money?
The Thrive membership fee might have you questioning if this service is worth it, but you can see above that I made more than my money back from just my first order!
Thrive also has what they call a "Savings Guarantee":
If you don't make your membership fee back in savings by the end of the year, we'll automatically give you the difference in Thrive Market credit after you renew.

For example, if your membership fee was $60, and you only saved $40 in the year, we will automatically add a $20 Thrive Cash to your account after you renew.
So it's basically a risk-free situation, and you have the potential to save so much more! On top of that, you accumulate Thrive Cash on certain products, and are eligible for free gifts and samples.
Review Summary of Thrive Market
I will say, I resisted Thrive Market for YEARS as I just didn't understand why I would pay a membership fee to buy groceries that I thought I could get at any online store or Amazon. Now I realize that SO many of the brands I've been wanting to try are on Thrive, and CHEAPER than other stores.
Their website is very well organized, and I love that I can save grocery lists or favorites, and that it tells me when I come across an item I've purchased before (in case I forget I've tried it). They have so many organic and natural items, and I love that I know any of the brands Thrive carries have been vetted for their quality standards.
You can't go wrong with getting a referral to try them for 40% off your first order. The guaranteed savings program ensures that you will save at least the amount of money you spent on the annual fee.
On 30 items, I saved $86.78 on my just my first order and paid $73.03 out of pocket, more than making up for the $59.95 annual membership fee I paid for access for next 12 months!
You can do auto shipments for the items you know you'll need every month or just place an order when you need a pantry restock. You're in control!
Ready to check them out? Use this referral link to get 40% off your order and start your membership.
If you need a place to start, refer to my favorites list above!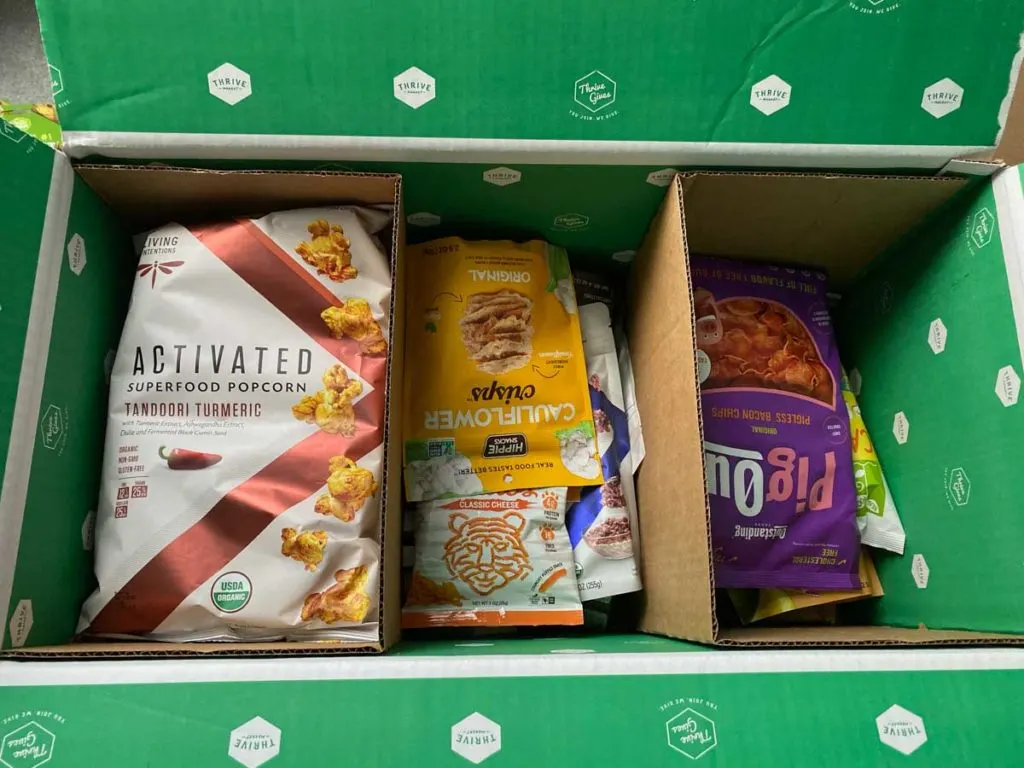 Want to see more of our favorite vegetarian and vegan products? Click here to see all our reviews and make sure to sign up for our emails!