This post contains affiliate links, which means I may receive a small commission if you make a purchase after clicking on my links. All opinions are my own.
Trial and Eater's review of the plant-based meal kit service, Purple Carrot. All vegan ingredients with some gluten-free options sent to your door with instructions for how to cook unique meals right in your own kitchen. Read more about them and find their current promotions below!
Table of contents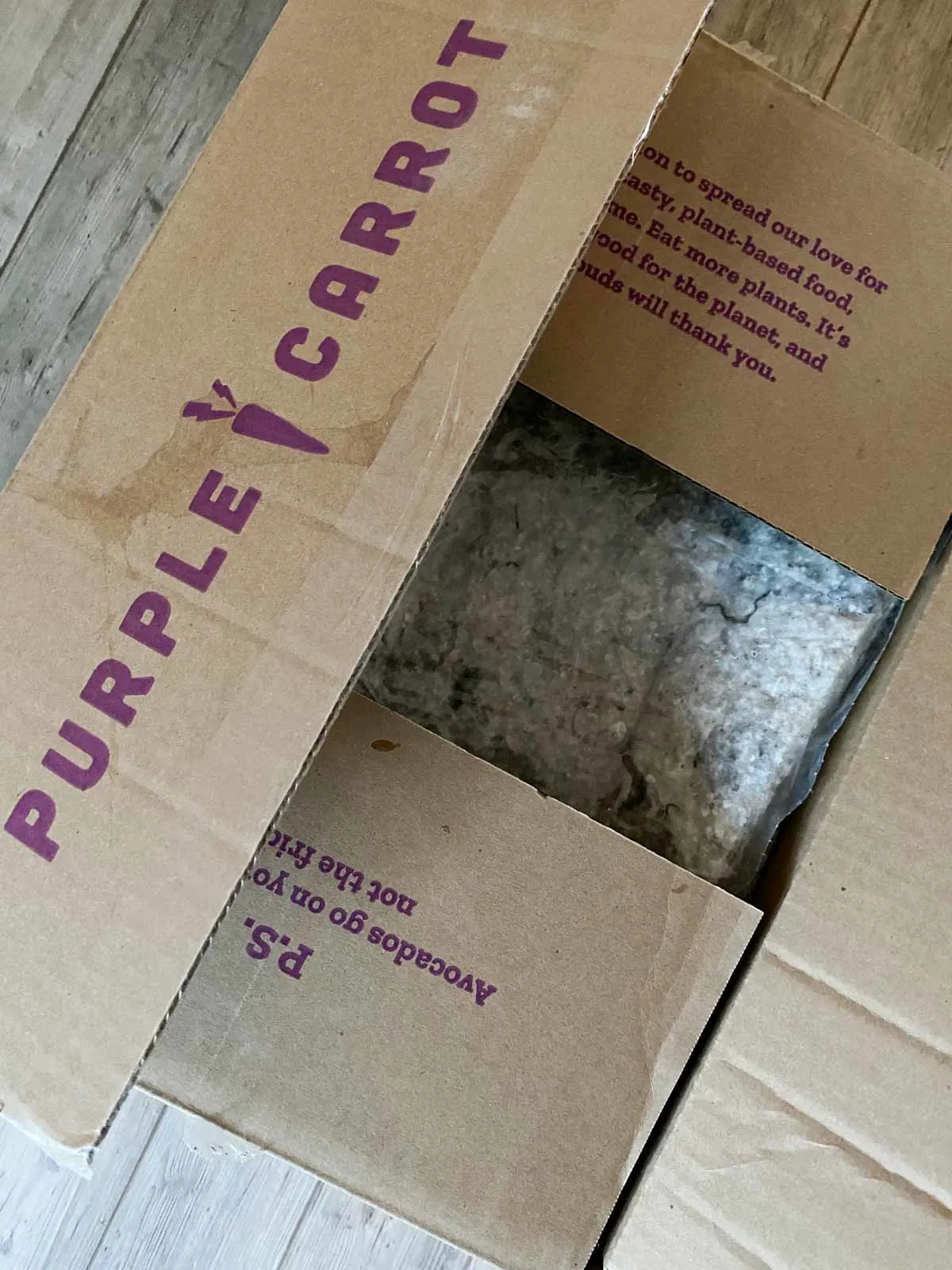 What It Is
Purple Carrot is a meal delivery kit that sends ingredients and a recipe booklet based on your choices from a changing weekly menu.
There are also add-on options you can choose for snacks and breakfast, though the main meals are mostly suited for dinner.
There are options to get enough for 2-servings or 4-servings per meal, depending on your family size. You can also clarify if you're looking for high protein meals or gluten-free specifically.
The meals are designed to be cooked in 45 minutes or less, which makes it great for back-to-school season!
Meals I Tried
I was sent a box for purposes of this review, so I didn't get to choose my meals.
But the three meal kits I was sent were Plantain Arepas, Parsnip and Carrot Bhajis, and Eggplant Parmesan.
My favorite of the 3 was the Plantain Arepas. I
've never cooked with plantains before, and the arepas were surprisingly easy to make. I did substitute the annatto seeds for my own cumin spice on the tofu, which was just a personal preference.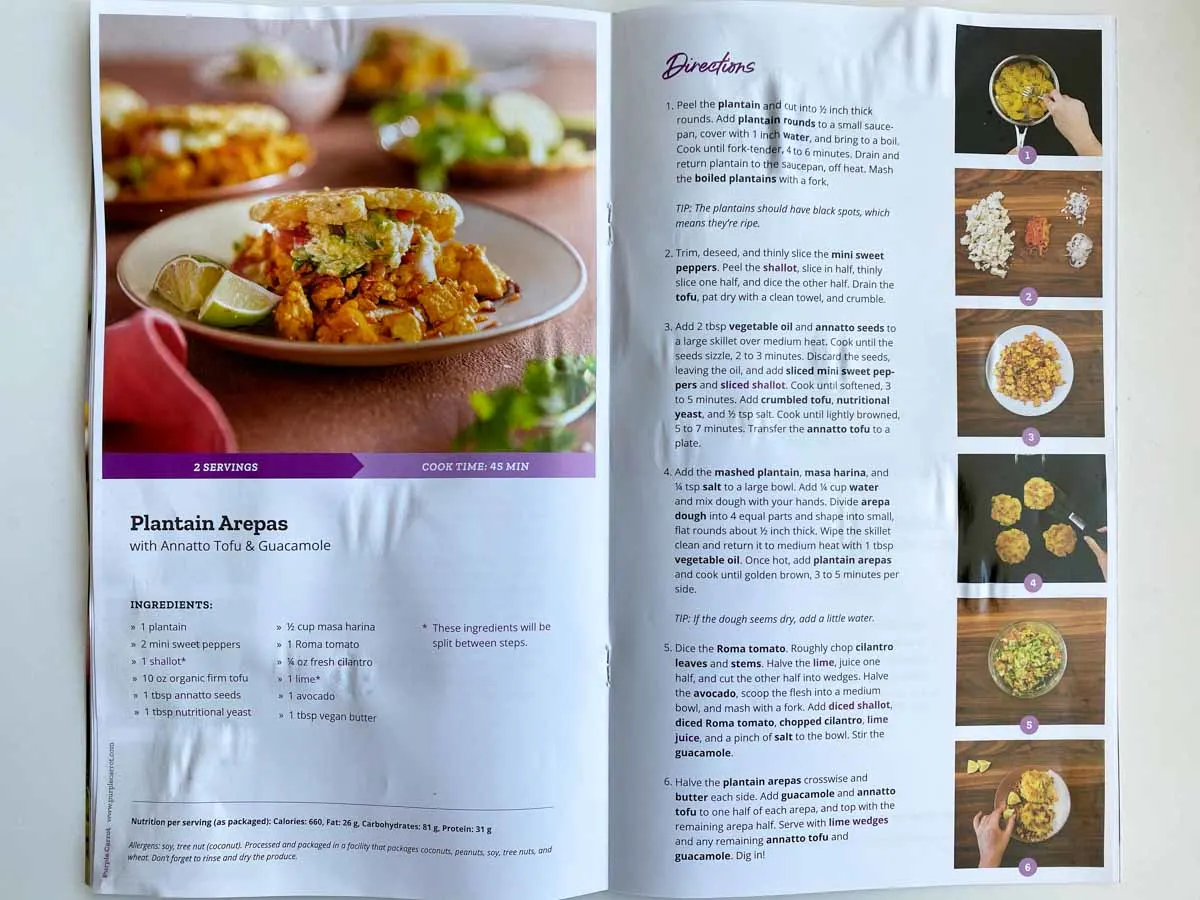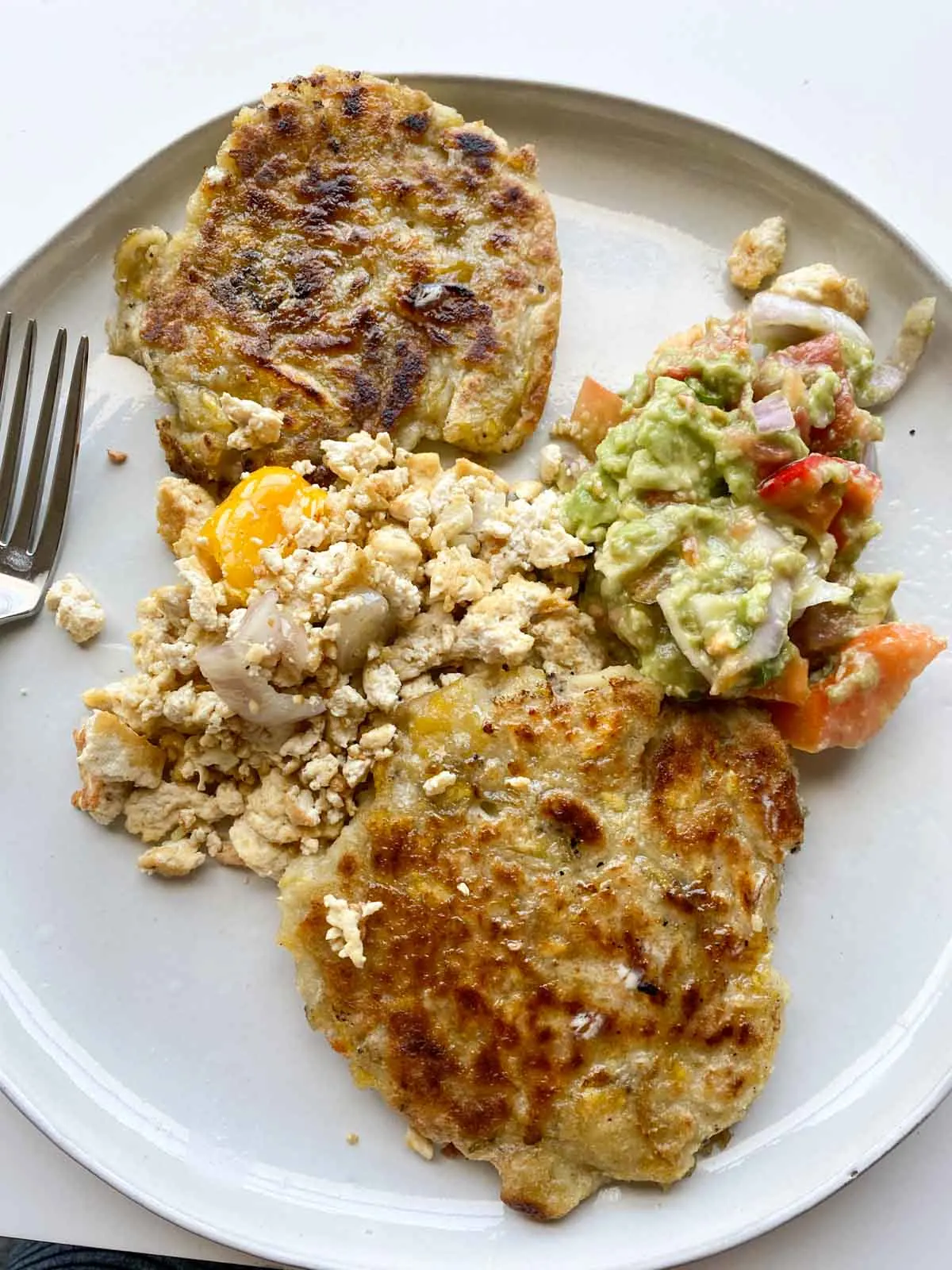 My second favorite was the Parsnip & Carrot Bhajis. Bhajis are an Indian dish I haven't cooked before that are like vegetable fritters.
I didn't read the directions close enough and I combined steps 2 and 3, which meant I mixed the yogurt sauce into the bhaji instead of being able to drizzle it on top. But it worked out okay!
I also love tamarind sauce which was the topper for the side of green beans.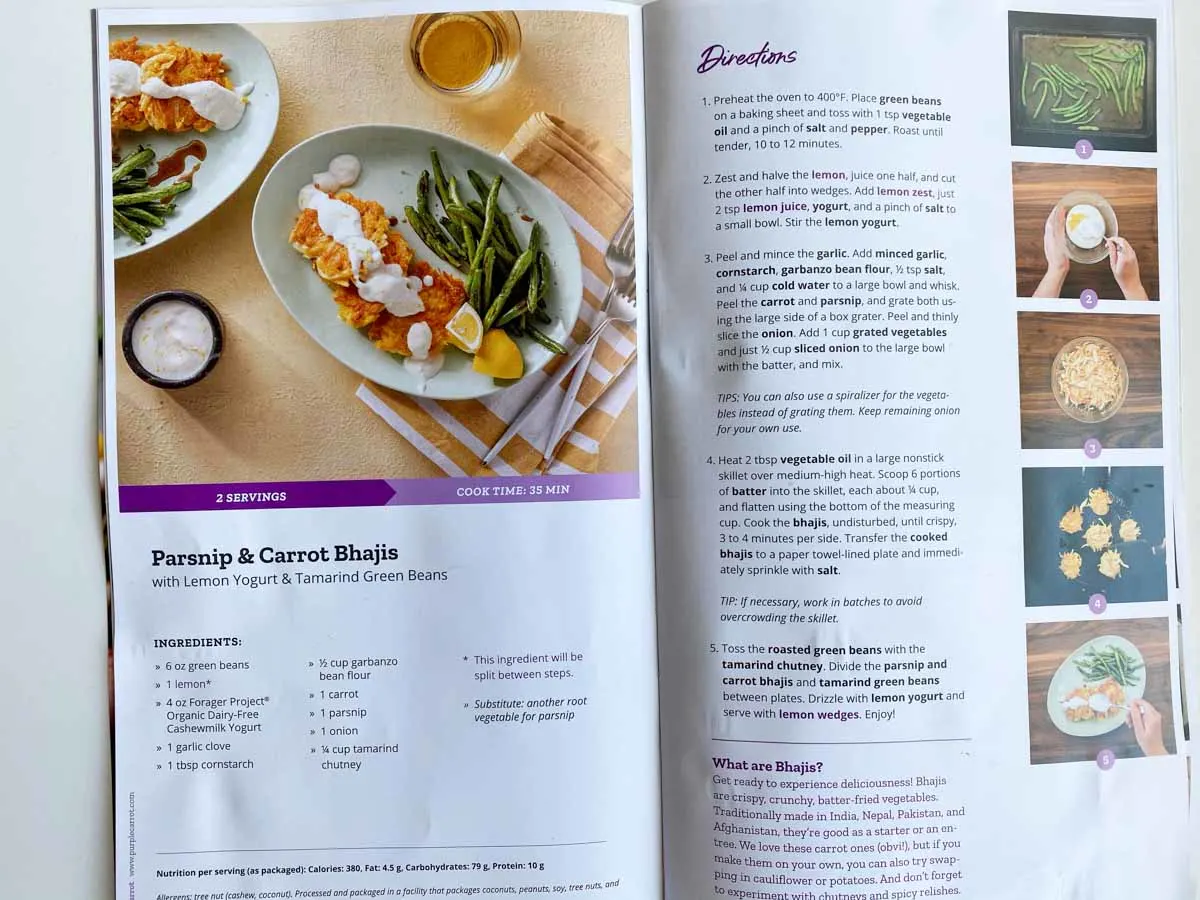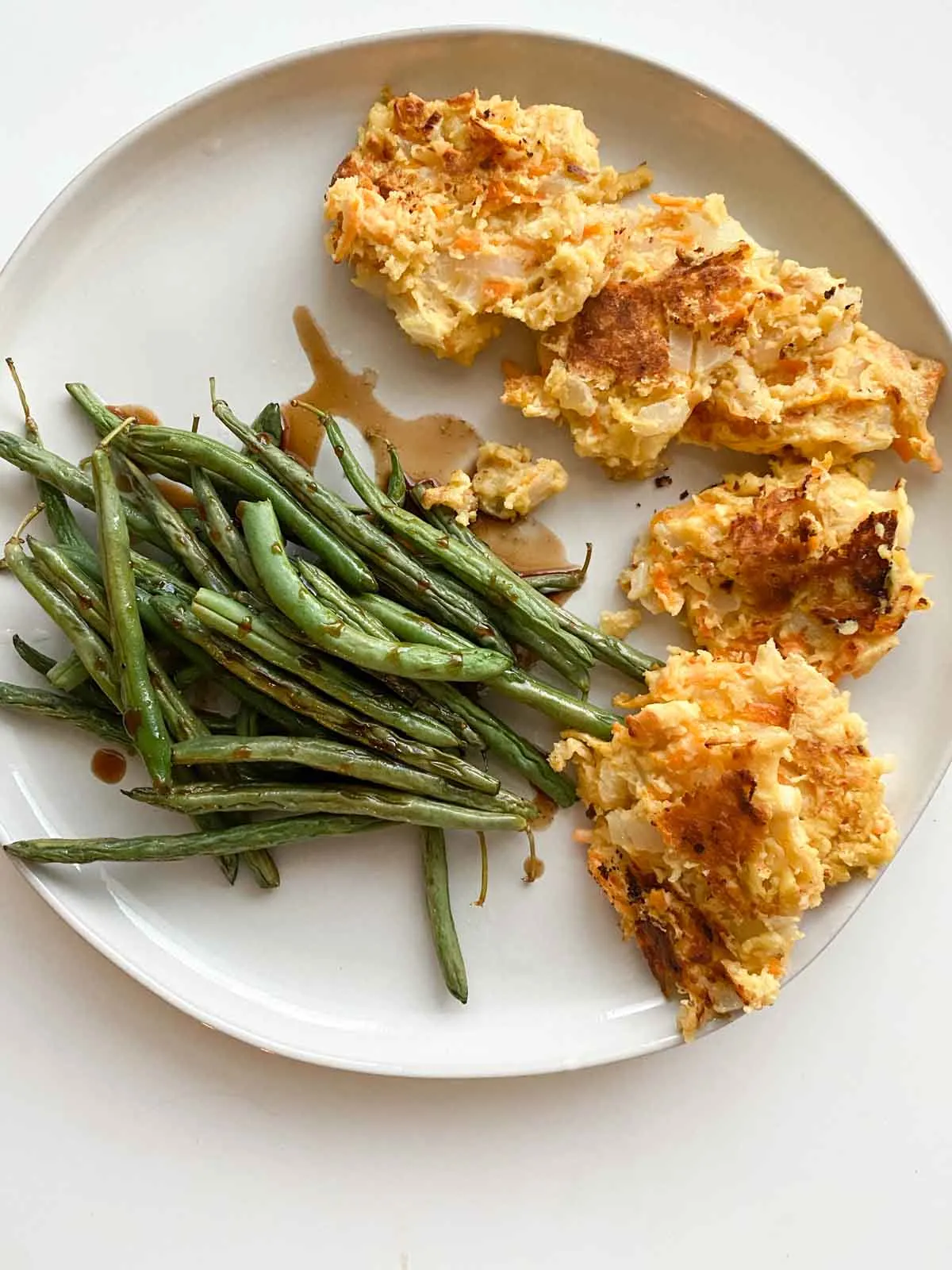 The last one was Eggplant Parmesan. I'm already not a huge fan of eggplant, but one of the main ingredients was missing (fire roasted diced tomatoes) which I didn't realize until I already started cooking.
So I combined the couscous into the seasoning meant for the tomatoes, and I ended up adding my own tomato sauce as a topper to finish it off.
It worked out but was disappointing to be missing an ingredient and not catching it before I was cooking.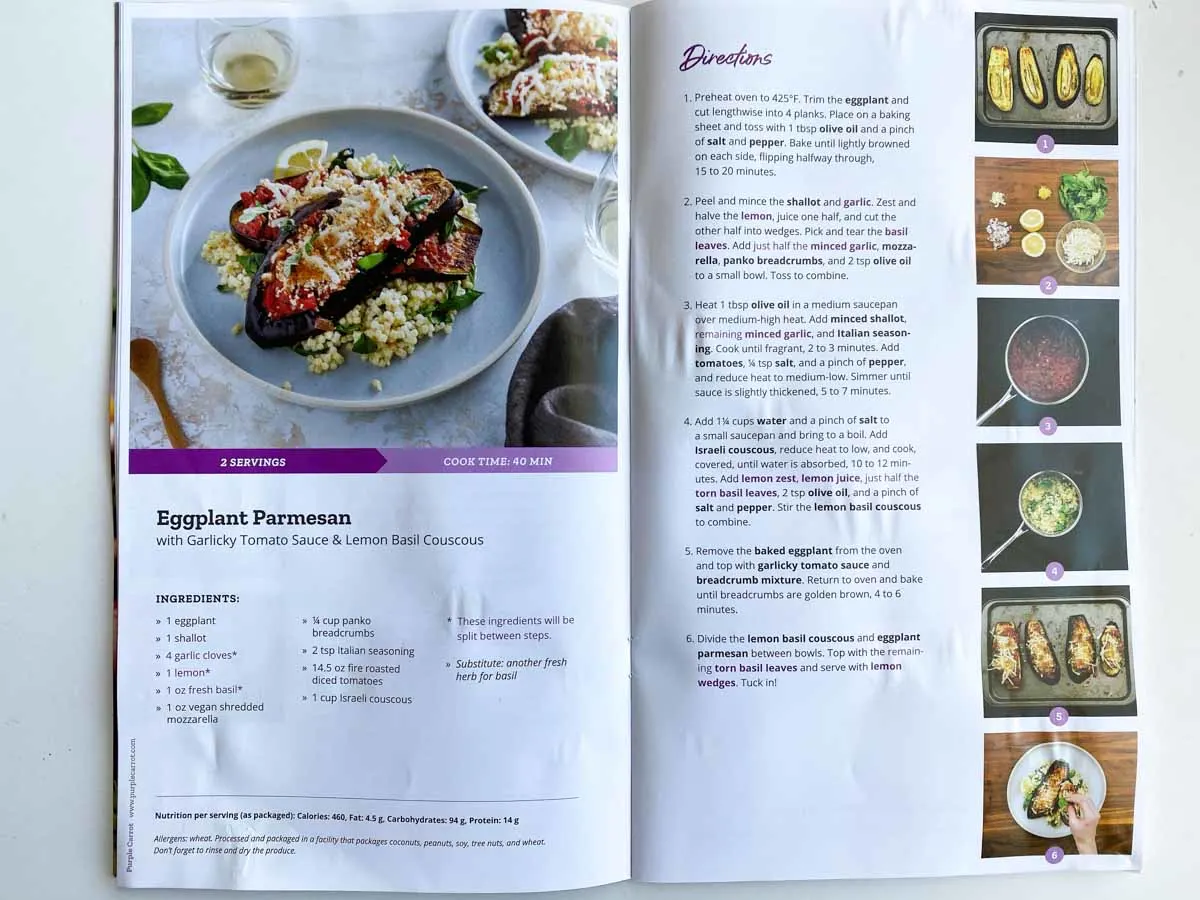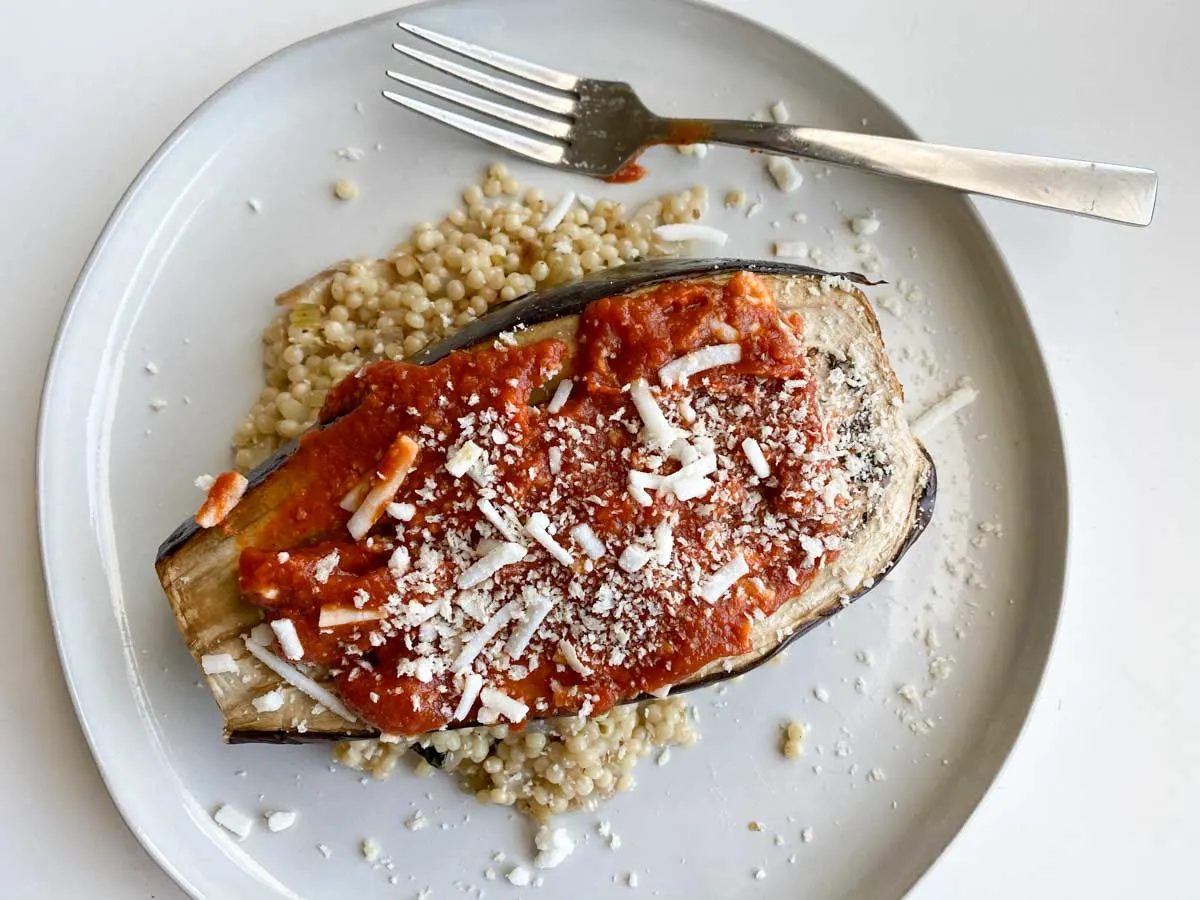 I like that they also sent the full recipe booklet for the week, regardless of which meals you chose. This can help with other meal inspiration if you want to try it another time.
Recipes from Purple Carrot are a little more involved, so I would say this is definitely an activity. But I did find the recipes to be creative and it was fun to try to make dishes I'd never made myself before.
How to Order
From the Purple Carrot website, check out the "menus" option in the menu bar to see what they're currently offering. If you like what you see, then you can go to "pricing" and then "sign up."
Get $30 off your first box with this link and code "carrot30" at checkout (that's more than the discount they'll send you in an email when you register!)
You can always skip a week in your subscription or cancel any time.
Review Summary
If you enjoy the process of cooking, and just want some help with meal ideas and grocery shopping, Purple Carrot could be for you!
There aren't many meal kit delivery services that are vegan, and since this also has a gluten-free option it could help people with those dietary restrictions.
Meals are creative and make it easy to eat healthy, especially when you're short on time.
Saving time by not having to meal plan and shop for ingredients can be pretty amazing, especially during busy times of year like back-to-school.
I recommend you check each ingredient bag and compare it to the recipe immediately when you receive your box, so you'll know that you have everything and it all looks good.
With every ingredient-only meal kit I've tried from any company, I have at least one recipe missing an ingredient. It's frustrating to find this out after you've started cooking!
Some of the recipes are pretty detailed, so it helps to read over the recipe before you start to you know what to expect and how many pots and pans you'll need, etc.
This could be a great date night activity!
Want to see more of our favorite vegetarian and vegan products? Click here to see all our reviews and make sure to sign up for our emails!