Peach Arugula Salad with fresh mozzarella and basil. Light and healthy fresh salad that is easy to throw together for summer gatherings!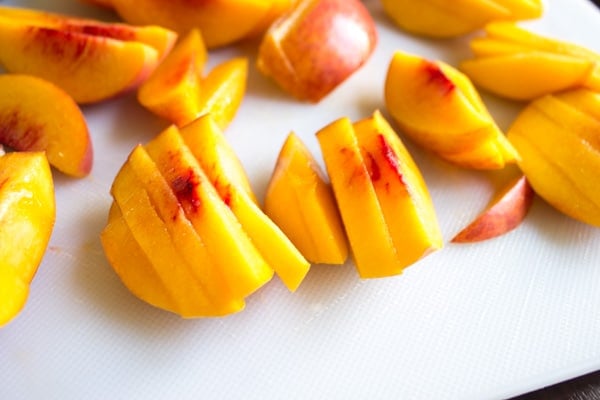 As I mentioned in my last post, I really seem to like apples in salads.
I had not ventured out into other fruit pairings with salad until this recipe, which was inspired by a Shape magazine clipping.
Mozzarella and peaches actually taste really good together, which I never would have tried before, and the arugula's slight peppery taste gives it a bit of a kick.
I may have to try this again with canned peaches just so I don't have to always wait for summer when peaches are in season.
Either way, this is definitely going in my salad recipe rotation.
It is a great way to use some fresh basil if you have some in your garden, too. (Though I can't seem to keep basil alive to save my own life, but that's a different story for another day.)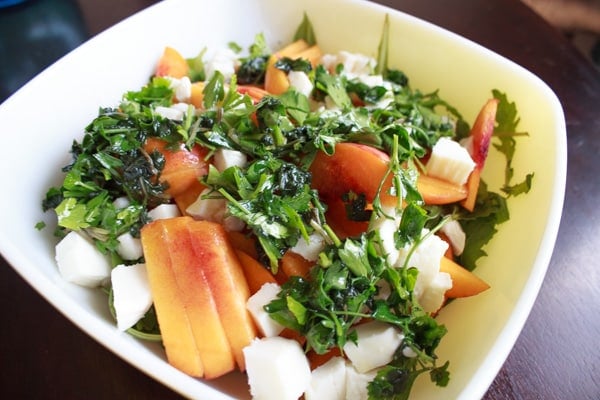 You can also use goat cheese in place of the mozzarella, or spinach or other mixed greens in place of arugula if those ingredients aren't on your favorites list.
The photos were taken with just an olive oil dressing but it would also be really good with the honey poppyseed dressing, because that is a really good dressing on fruits.
Since this is a super easy salad to throw together, it is great for summer get-togethers and cookouts (or bbq's depending on where you are from).
Pack it for a picnic or a trip to the beach and you won't feel weighed down by eating something too heavy. I love to bring salads like this when I'm spending time in the sun.
Recommended and useful items for this peach arugula salad recipe:
Peach Arugula Salad
Peach and Arugula Salad with fresh mozzarella and basil. Light and healthy salad that's easy to throw together!
Ingredients
3

peaches

(sliced)

3

cups

arugula

6

oz

fresh mozzarella

(cubed)

1

cup

fresh basil

(chopped)

1/4

cup

olive oil

salt and pepper

, to taste
Instructions
In a large bowl, add peaches, arugula and mozzarella and toss together.

In a separate smaller bowl, stir together olive oil and basil.

Cover the peach mixture with the basil mixture and toss until combined.

Serve in bowls and sprinkle with salt and pepper as desired.

*There are affiliate links within this post that we can earn a commission on at no extra cost to you. Thank you for helping to support the site!