This post contains affiliate links, which means I may receive a small commission if you make a purchase after clicking on my links. All opinions are my own.
Trial and Eater's review of the vegetarian and vegan frozen food delivery service, Mosaic Foods! A wide variety of veggie bowls, soups and oat bowls to choose from that provide delicious, healthier options for any time of day. Read more about them and see the latest deals below!
Ready to buy and don't need to see the rest of the Mosaic Foods review? My readers can use this link with the discount code AFFILIATE30 at checkout for $30 towards your purchase!
Have you heard of Mosaic Foods? This vegetarian-only frozen meal delivery company is continuing to expand their delivery area across the United States, and shipping from New York City.
If you are lucky enough to live in one of the (primarily east-coast) cities in their current radius, I highly suggest checking them out.
The Food
There are three main categories of current offerings from Mosaic Foods – veggie bowls, oat bowls, and soups.
All options are 100% vegetarian and the majority of their options are actually vegan. The vegan options are all clearly labeled under each product with the "V" symbol.
I've been really impressed with the variety of offerings in each category! For their veggie bowls, they have option like curries, noodles, chili and tofu. A couple of my current favorites are the Peanut Tofu Bowl and Spicy Dan Dan Noodles (pictured below).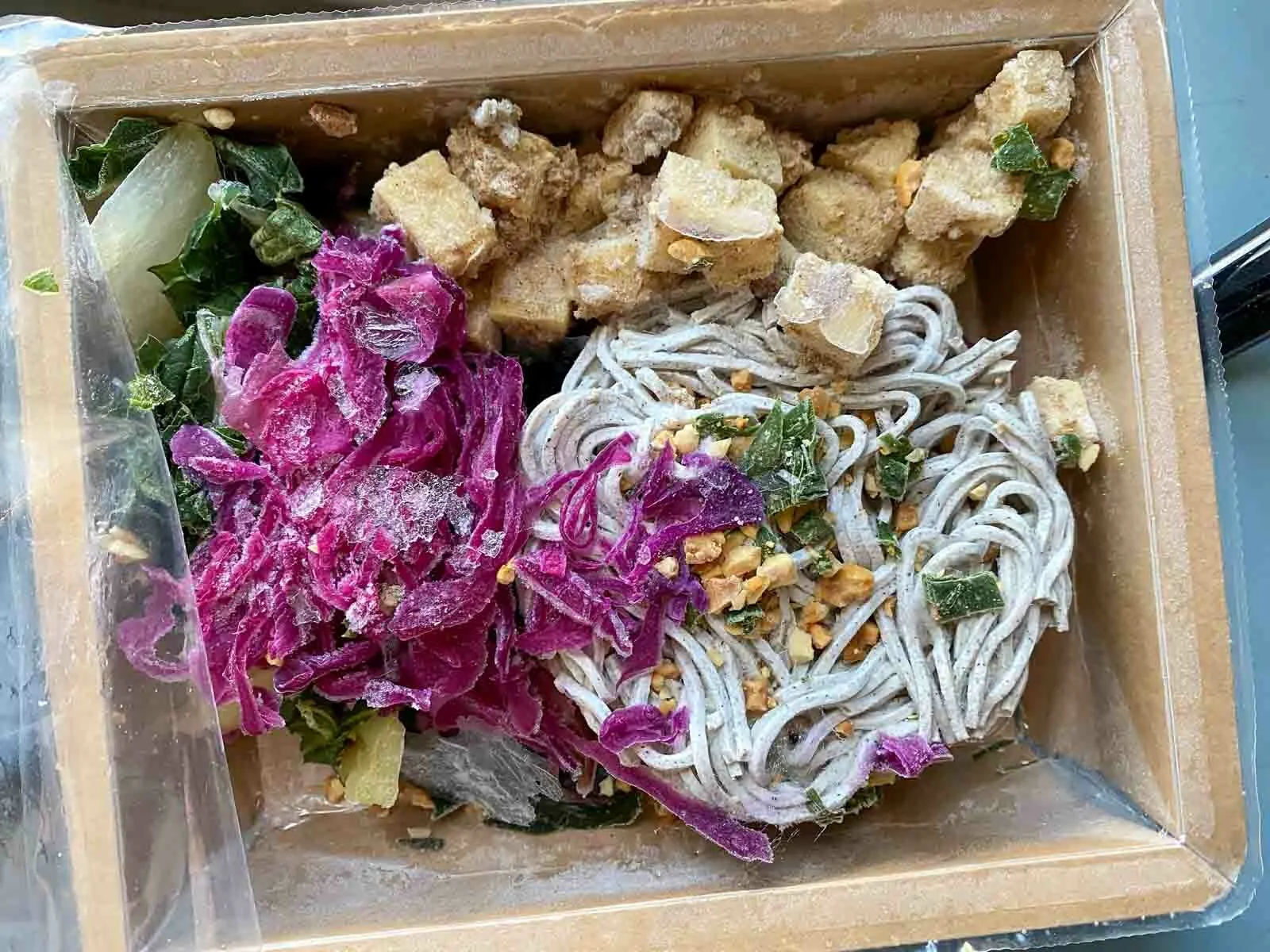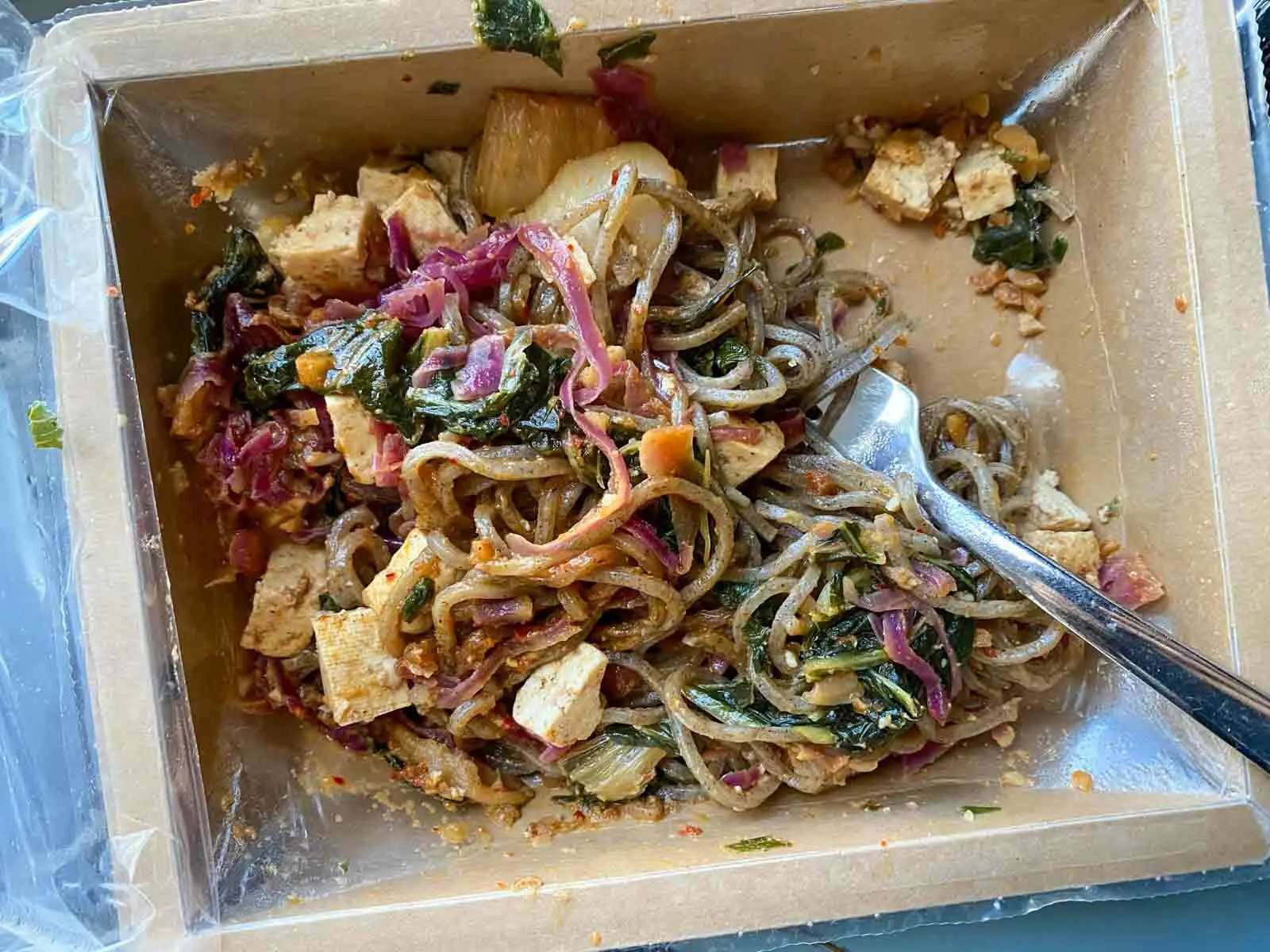 Their breakfast options are super creative as well. Golden Milk and Blackberry Oats? Sun-dried Tomato and "Everything" Oats? Loved the flavor profiles of these as well.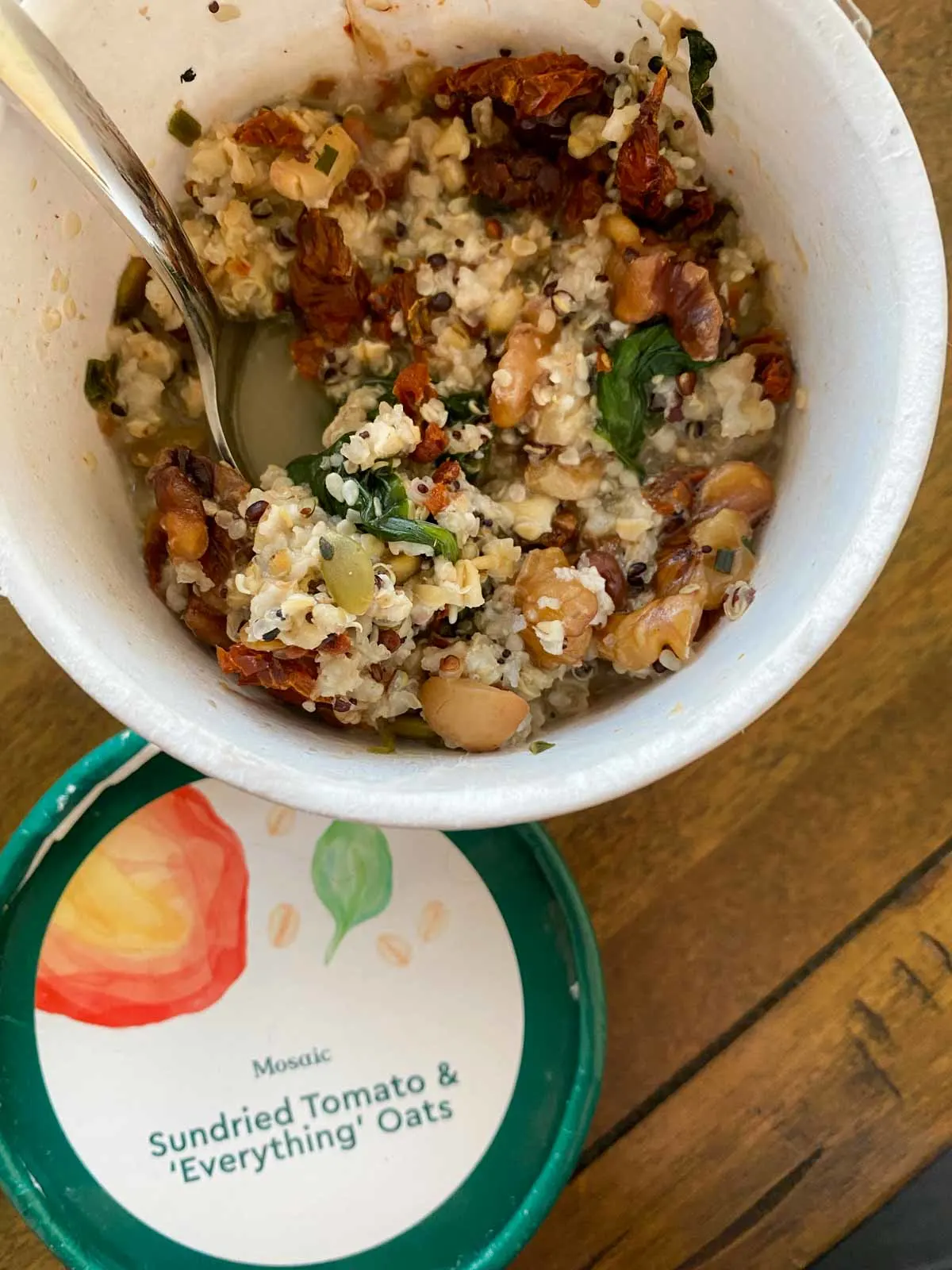 Their newest category is soups.
I struggle with soups sometimes because they aren't always filling or tasty, but the first one I tried from Mosaic was the Miso Soba Noodle soup and it was SO GOOD.
I love soba noodles as it is, but also having "something to chew" in soups helps me feel more satisfied. The flavor and spices were on point, too.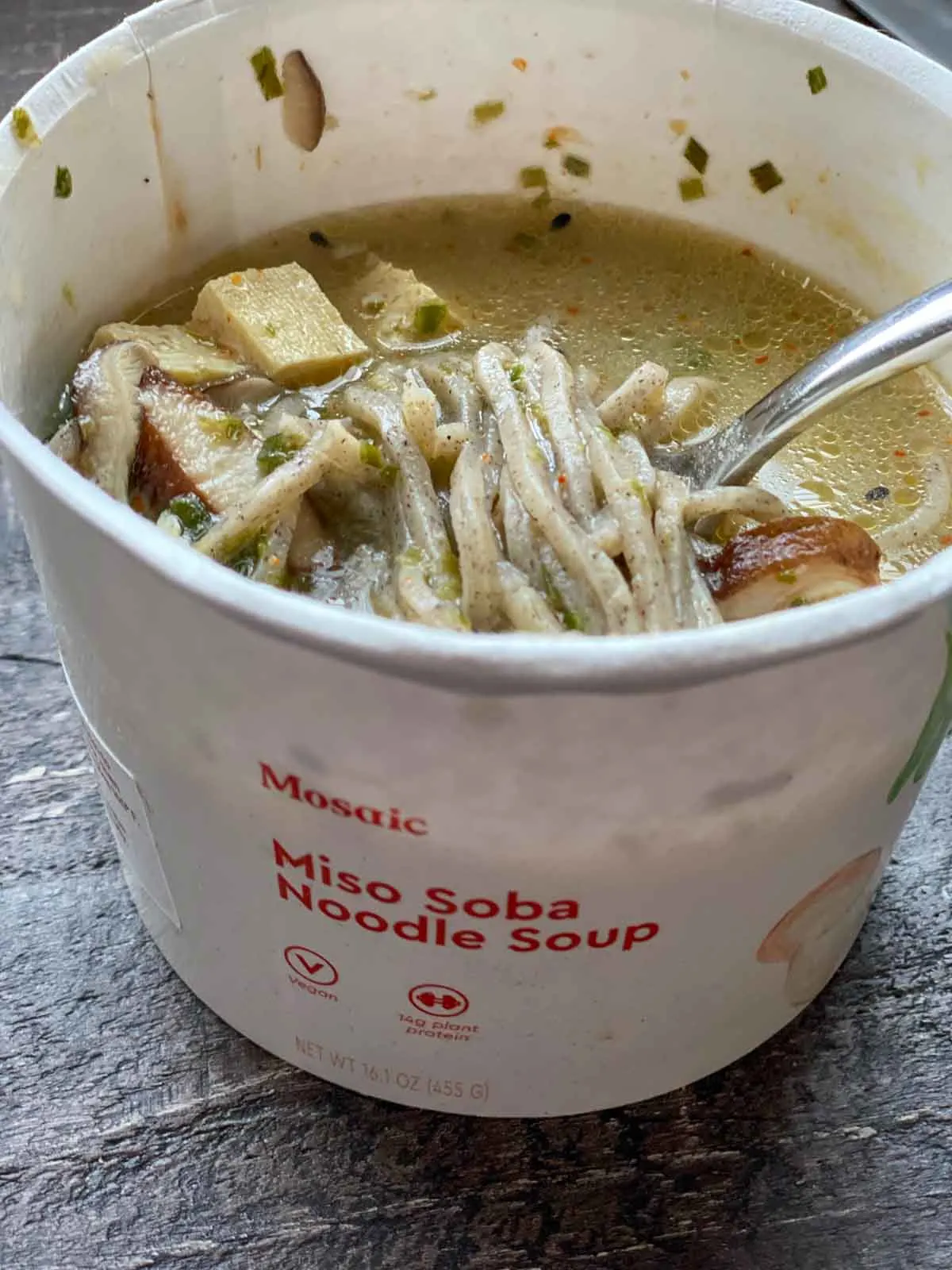 They have a handful of other soups as well – their tomato, rosemary and white bean soup paired very well with a crusty bread on a rainy day.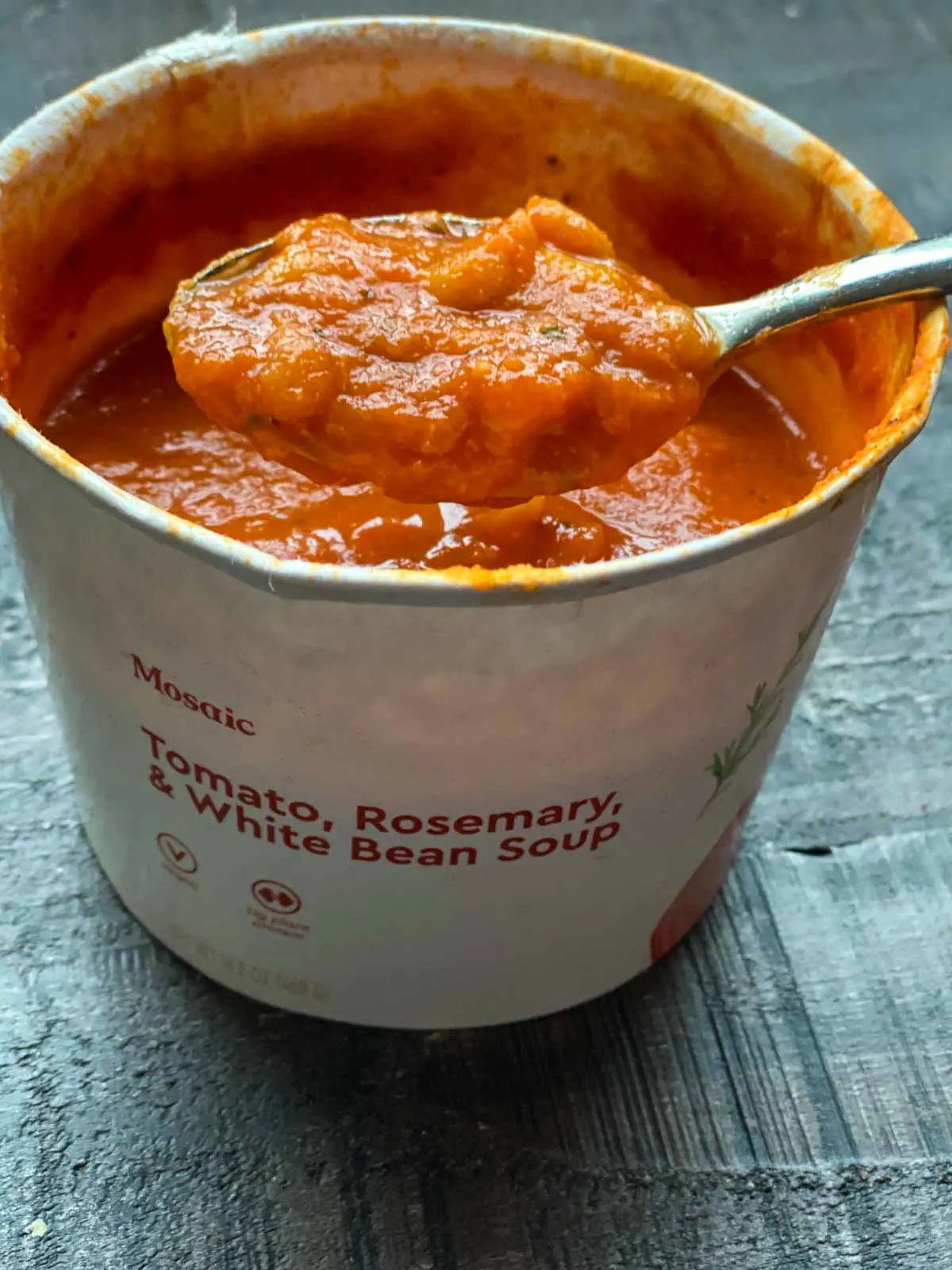 At Mosaic, they believe a meal is only as good as its ingredients.
And their ingredients are really transparent and clean, as well. An example of the "everything" oats bowl here: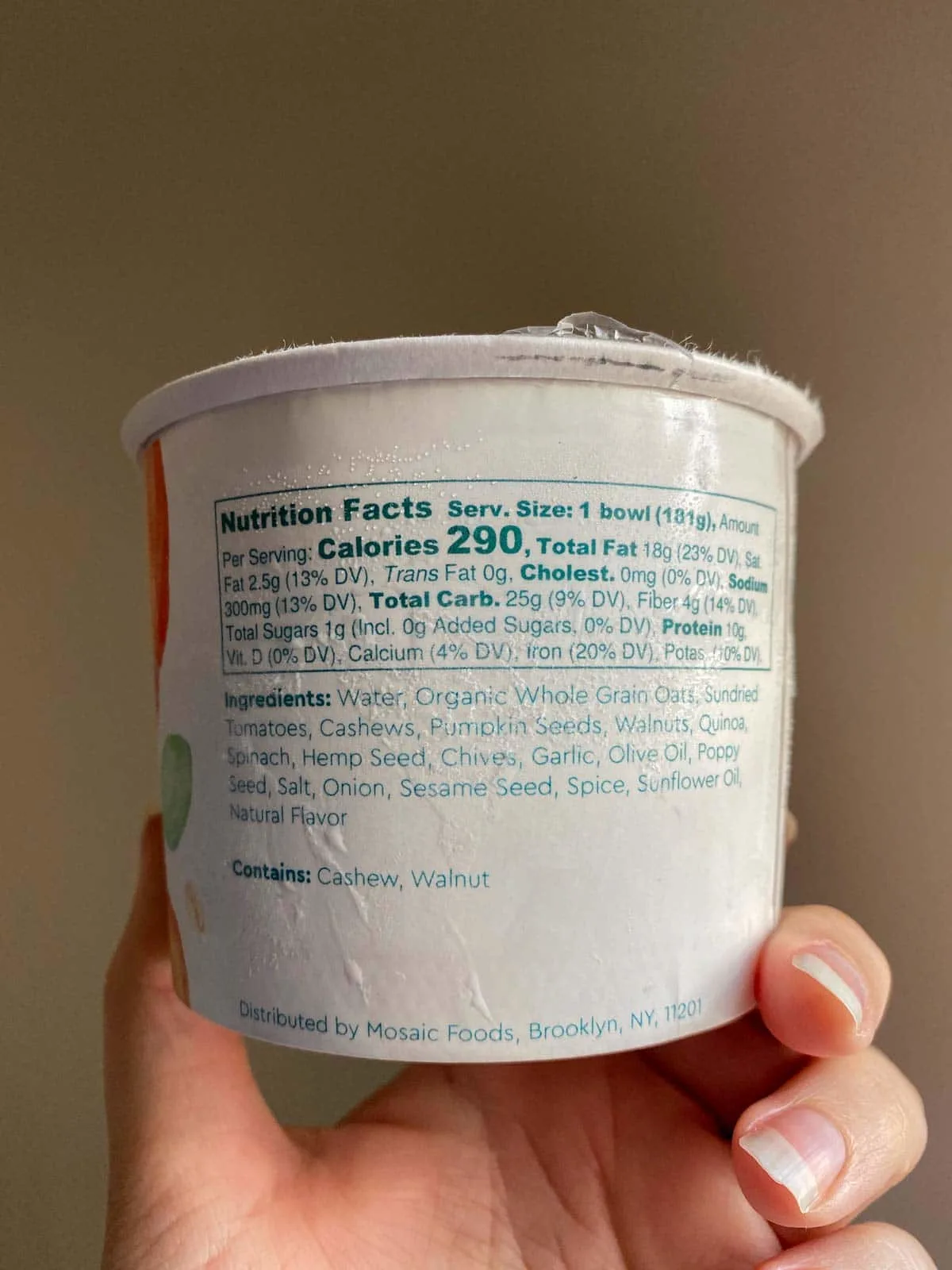 Their motto is "Real Ingredients. Real Cooking. Real Impact." Let's break down what that means!
Real Ingredients – Fresh veggies are sourced from Hudson Valley. No artificial ingredients or flavors.
Real Cooking – Expert chefs craft these meals in real kitchens, not factories! From creating the recipes to taste-testing for quality, the culinary expertise involved in the process really shows.
Real Impact – With every box purchased from Mosaic, two pounds of food is rescued and distributed to New Yorkers in need through the nonprofit City Harvest. Also, they freeze their food for good reason: it helps combat food waste.
The Price
Oat bowls start at $4.99 each
Soups start at $7.99 each
Veggie bowls start at $8.99 each
Free shipping is included on boxes over $100!
How to Order
When you go to MosaicFoods.com, they'll first ask for your zip code and email to make sure you're in their delivery area. Once they confirm you are, you'll be directed to the page with all the food choices.
You can choose your favorites from each category or click the button that says "choose for me" which will fill your box with customer favorites.
There does seem to be a limit to the number of items that will fit in your box – 16 entrees, 19 soups or 29 breakfasts. (I'm not 100% certain of these numbers, that's just when it told me my box was full!)
One other thing to note – there is a $70 minimum order (this helps reduce packaging).
After you fill your box, choose a frequency of every week, every 2 weeks or every 4 weeks (can be cancelled or changed any time).
Add the code AFFILIATE30 at checkout to get your $30 credit.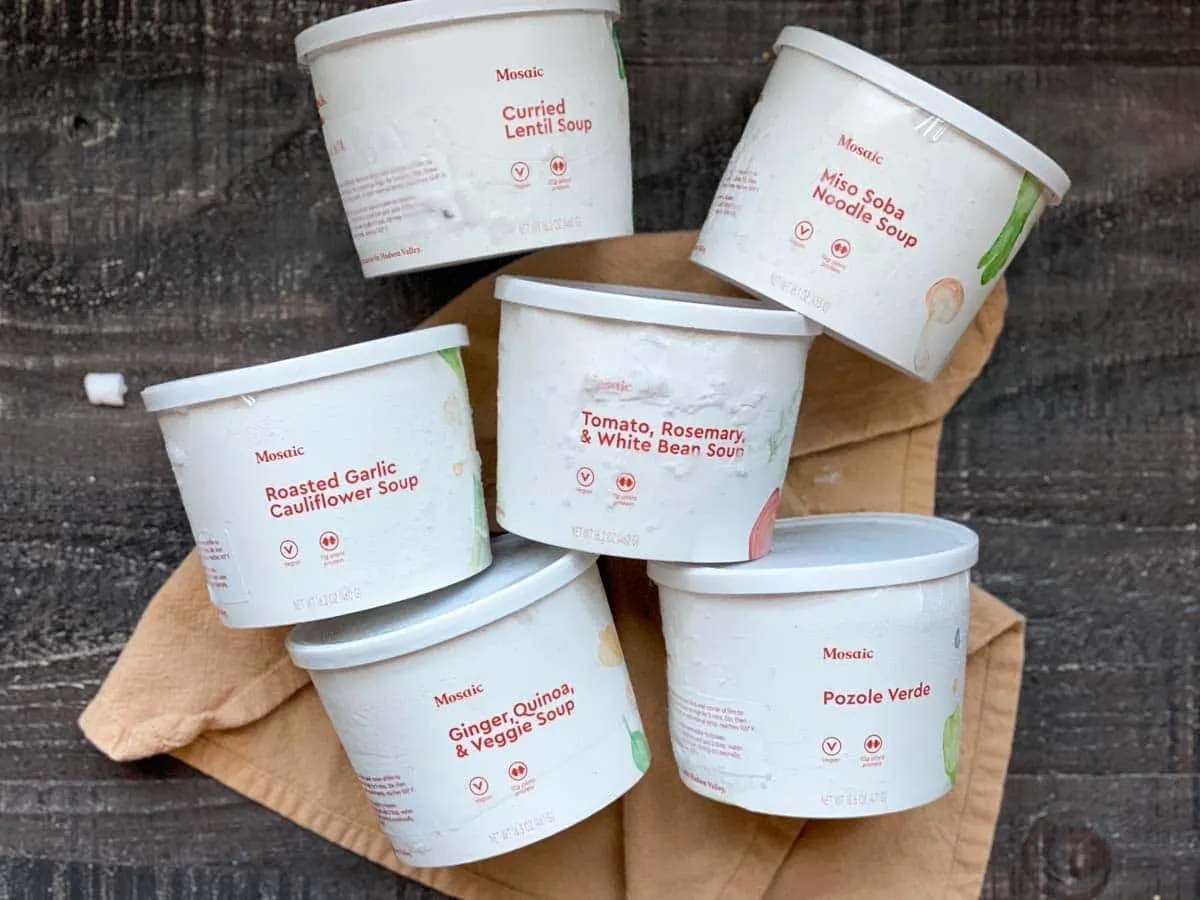 My Overall Review
The meals from Mosaic Foods are honestly some of the best-tasting frozen meals I've tried! It can be difficult to find flavorful frozen options but Mosaic has somehow found a way to pack it in. They continually collaborate with innovative chefs, which no doubt is the reason for their success.
Whether you're vegetarian, vegan, or a meat-eater – we all could use some more veggies in our diet! I recommend you explore these options for balanced and wholesome meals, and find your favorites to stock up your freezer.
Side note: I recently got my meat-eating grandparents to try this service and they really enjoyed it as well. I'm sometimes hesitant to recommend plant-based foods to them because I know how picky they are, but Mosaic passed the test!
Also, companies giving back to the community are more likely to get my dollar these days. So the fact that they are not only helping to reduce food waste and providing delicious meatless meals, but also donating food to fight hunger, makes this money well spent in my book.
Be sure to take advantage of the $30 credit for your first box with this link and code AFFILIATE30 at checkout. Let me know your favorites!