Holiday Gift Ideas For All The Foodies In Your Life
*This post contains affiliate links. As an Amazon associate I earn from qualifying purchases.
We have a great list of gifts to share and are updating it all the time. If you'd prefer to narrow down your search by category, please use the links directly below.
Foodie Gifts for the Master Chef
Foodie Gifts for the Host & Hostess
Unique and Fun Gifts for Your Favorite Foodie
Foodie Gifts for the Frequent Traveler
Gifts for the Caffeine-Addicted Foodie
Gifts for Your Favorite Bartender
Foodie Gifts for the Chocoholic
Time-Saving Gifts for the Health Nut
Homemade or Personalized Gifts for Your Special Foodie
Foodie Gifts for the Master Chef
Cast Iron Skillets – I use mine all the time! These pan handle covers come in handy also.
I alternate between my mid-sized skillet and a
flat cast iron griddle for pizza and cookies. Cast iron easily goes from stove top to oven to table, and last a lifetime! It only takes a little elbow grease and a good-quality vegetable oil to keep your cookware in shape. A little secret is to use
flaxseed oil or try
coconut oil in a pinch.

Enameled Cast Iron Dutch Oven – Easier to clean than traditional cast iron, but cooks the same way. There are fancier name brands out there, but they all do the same thing!
OXO 5-inch Utility Knife – This is such a simple (and inexpensive!) knife, but it's my favorite! I've given these to many people and they end up donating all the other knives in their kitchens!
Granite Mortar and Pestle – The rich flavors, oils and aromas of freshly ground spices and herbs make a big difference in the taste of your food!
Spiceologist Block – A starter set with 22 different spices in glass test tube storage!
Artesian Salt Sampler – Almost every year I hunt down a new flavor of sea salt for my Mom. This set is one of my favorites!
Also, this set of 6 is a beautiful collection from around the world.
Magnetic Spice Tins – For organizing all your spices, jewelry or craft items!
Avocado Slicer – All-in-one tool splits, pits and slices avocados.
Instant Pot DUO Plus 60 – 6 Quart – 9-In-One Cooker – The kitchen trend that's taken over the world! I just bought one and can't wait to try out new recipes.
Aero Garden – I would love to have one of these indoor gardens! Grow your own herbs, vegetables or flowers on your counter with this hydroponic set.
Vegetarian Flavor Bible – I use this frequently when I'm practicing creativity in the kitchen!
Foodie Gifts for the Baker
A stand mixer is essential for every serious baker and Kitchen Aid has stood the test of time. It appears to be on everyone's wish list and will last a lifetime.
Cuisinart sells a brushed chrome stand model.
Hamilton Beach makes a good affordable mixer as well (currently under $30).
–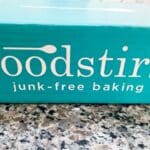 Organic baking mixes from Foodstirs make great gifts and family memories! Try their polar bear cupcake kit!
Silicone Baking Mat – This serves as a replacement to reusable parchment paper. It helps with cleanup and lasts a long time!
Bread Proofing Basket – Also known as a Banneton or Brotform, this proofing basket guarantees consistent results and a hearty, good-sized loaf of homemade bread.
Baking Yeast – Serious bakers use a lot of yeast. Buying yeast in bulk saves so much money!
We also like this organic version. It performs differently and has a learning curve, but the results are well worth it!
Foodie Gifts for the Host & Hostess
Fondue Pot – Fondue is one of my favorite things for a dinner party! You just can't go wrong with cheese or chocolate (or both!).
Did someone say pasta?! Another favorite dinner party idea of mine is make-your-own pasta (<-recipe post) A stand-alone hand-crank pasta maker or Kitchen Aid attachment will help you make the freshest pasta you've ever tasted! It's easier to make than you might think it is!
The gift you never knew you needed! So helpful for drying greens or berries in a pinch. OXO even makes one in stainless steel!
Metallic Glass Erasable Pens – These work on any glass surface, for storage containers, wine glasses and plates!
"Foodie" Dish Towels
Unique and Fun Gifts for Your Favorite Foodie
Keyboard Waffle Maker – Make homemade keyboard-shaped waffles on your stovetop! Here's my unique waffle recipe where I used lentils as a main ingredient! They were so good!
Foodie Gifts for the Frequent Traveler
Glass Tupperware – For meal prep or packing meals on-the-go.
For the people who need to cook in hotel rooms, a hot plate comes in handy.
A carry-on cocktail kit – Choose from 5 cocktail options. (Alcohol not included! 🙁 )
A portable phone charger shaped like a pineapple. What a cute gift!
Save a turtle! Use metal straws.
Foodie Gifts for Gamers
Menu Mash-up is kind of like Cards Against Humanity, for food.
Foodie Fight Trivia Game – Test your foodie knowledge!
The wine version of the foodie trivia game.
I just love this idea for Foodie Dice when you're struggling to come up with what to cook. Not a game per-say, but it kind of feels like it.
Gifts for the Caffeine-Addicted Foodie
A Coffee Bean Scented Candle – for those that just love the smell.
But First, Coffee Coffee Mug
"You Can Do It – Coffee" spoon
Death Wish Coffee, a.k.a. "The World's Strongest Coffee: Organic and Fair-Trade
Coffee Explorer Kit
Gifts for Your Favorite Bartender
Professional Cocktail Shaker Set
I just love glass wine bottle toppers!
Stainless Steal Chilling Cubes for whiskey, wine, et cetera.
Why not a pineapple bottle opener to match?
Foodie Gifts for the Chocoholic
Chocolate Fountain – One year, I received two of these as gifts. It was the best Christmas ever.
Gifts for the Active Foodie
All that eating means you gotta move! I still have an old-school generation of a FitBit, but I love it.
Custom Yoga Mat – I'm not sure what my thing is for pineapples, but this is cute.
Time-Saving Gifts for the Health Nut

Omega Nutrition Center Juicer (Metallic)
Our new juicer gets a daily workout! The Omega brand has long been known as the powerhouse machine for those who take juicing seriously. This model easily handles celery, carrots, apples and even cranberries! It's also versatile enough to extrude homemade pasta, make baby food, grind coffee and make nut milks and butters!
Homemade or Personalized Gifts for Your Special Foodie
Homemade Vanilla Extract is a fun gift to make for the holidays. It tastes so much better than store bought versions. Here is a great and affordable source for fresh vanilla beans!
Nana's Potica – This Slovenian nut bread recipe is a family favorite and has been passed down for many generations.
Personalized cutting boards with recipe's engraved on them or other personalizations (like the ones I have!)