Easy honey baked peaches with brie and (optional) thyme. A sweet and healthy treat with only 3 or 4 ingredients, and ready in 15 minutes!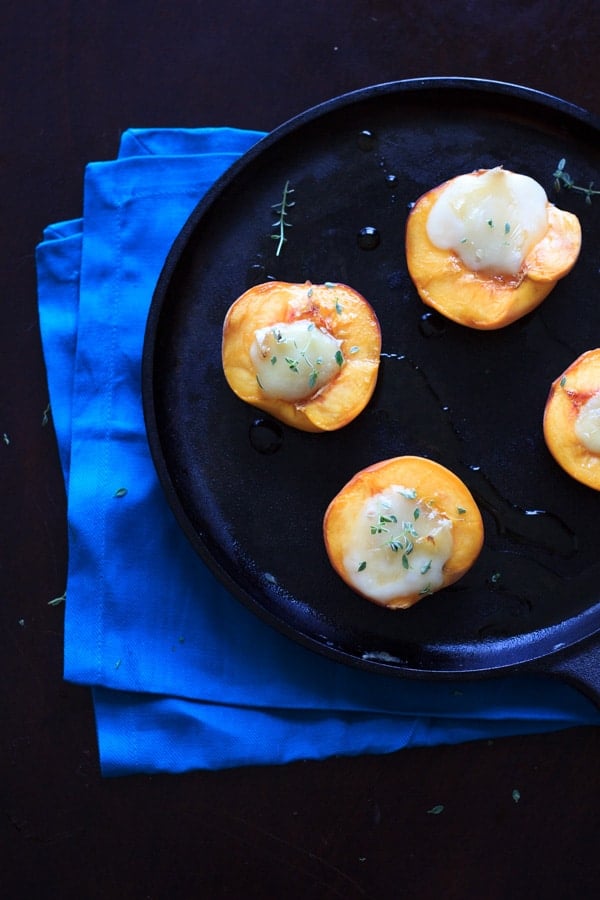 Helloooo peaches!
FUN FACT about me: When I was in college and too lazy to cook, I once (maybe twice) ate a can of peaches for dinner. Since that is apparently an odd thing for someone to do, the guy I was dating at the time gave me the nickname "peaches" and I couldn't live it down for a solid year.
I'd much rather be called cupcake.
But no cupcakes today! Or canned peaches, for that matter. Today requires fresh peaches. And honey, and brie. And thyme, if you're feeling crazy.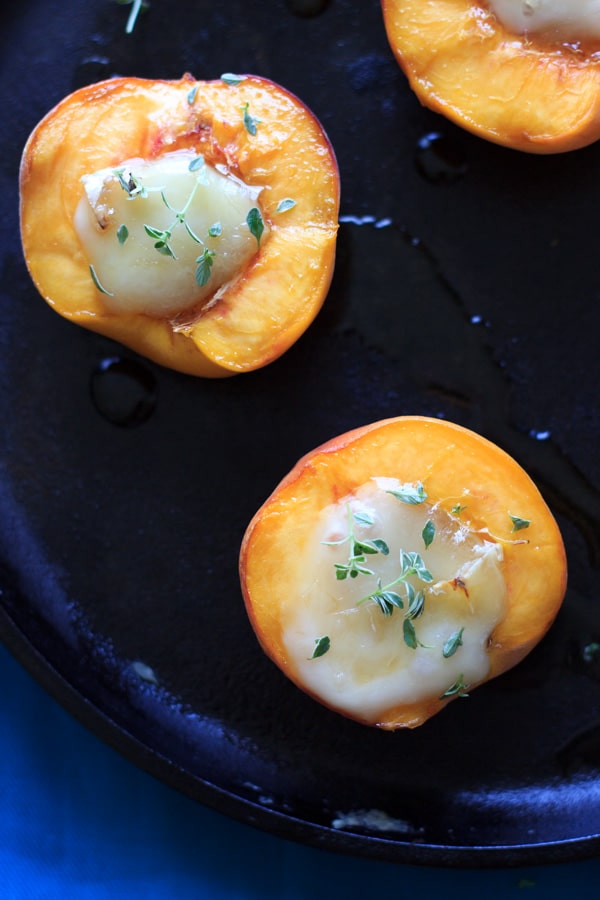 I made these lovelies twice. The first time, I quartered the peaches, only used a small amount of cheese and honey and I also put the thyme on before baking (which didn't work very well).
I remade them in halves, lots more honey and double the cheese, and added thyme after baking. Worked much better!
The problem with cutting it in fourth's was that the honey mostly fell to the pan, where halving the peaches gives the toppings a place to sit and soak in.
I don't know why I was skimping on the honey and cheese the first go-round, but I definitely enjoyed it with more of both.
Start out by cutting 2 peaches in half, and removing the pits. Add about an ounce of brie cheese to each piece.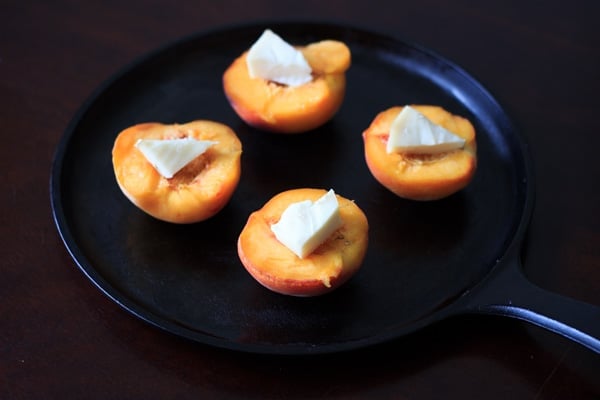 Then add the honey. For the first baked peach trial I only used 1 teaspoon of honey across all of the peaches – the second time I used 4 teaspoons! Or 1 teaspoon for each piece.
It doesn't need to be exact though, just drizzle to your hearts desire.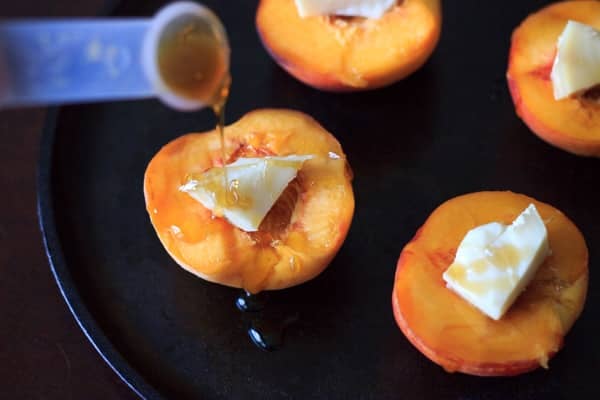 When you're done, they'll look like this: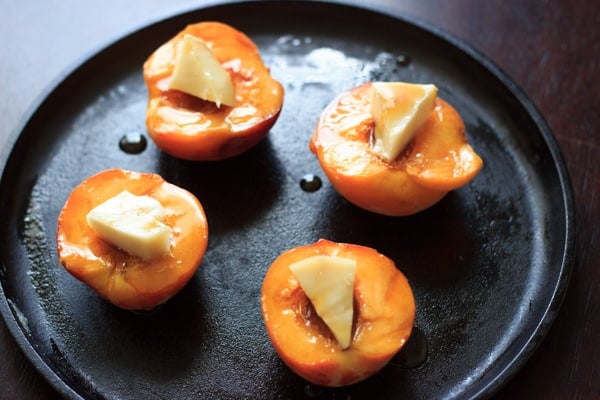 You can totally eat them now if you want, but then you'll have to call them regular honey peaches.
If you can wait long enough, bake them for 10 minutes at 400°F , just long enough for the cheese to melt a little.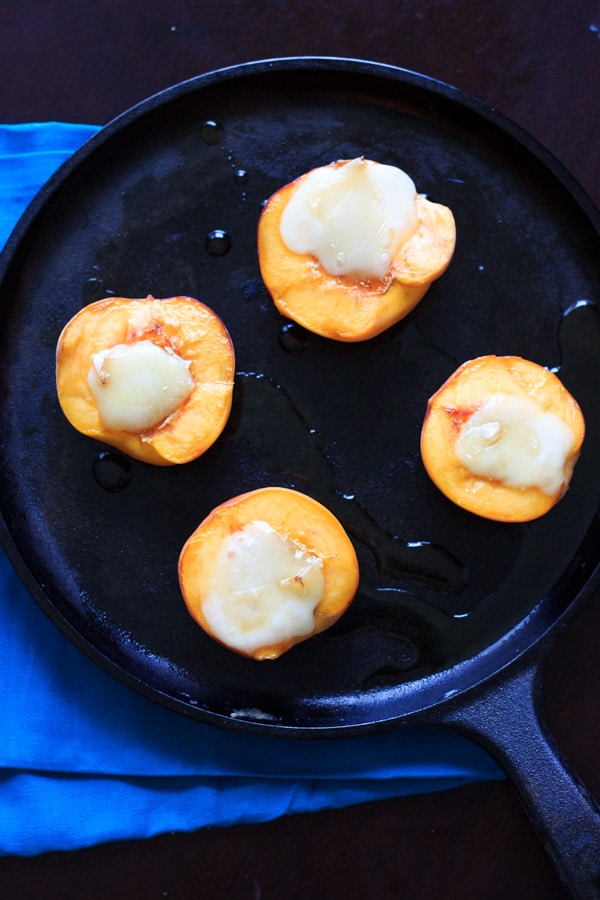 You can top them off with some thyme, or just eat it without.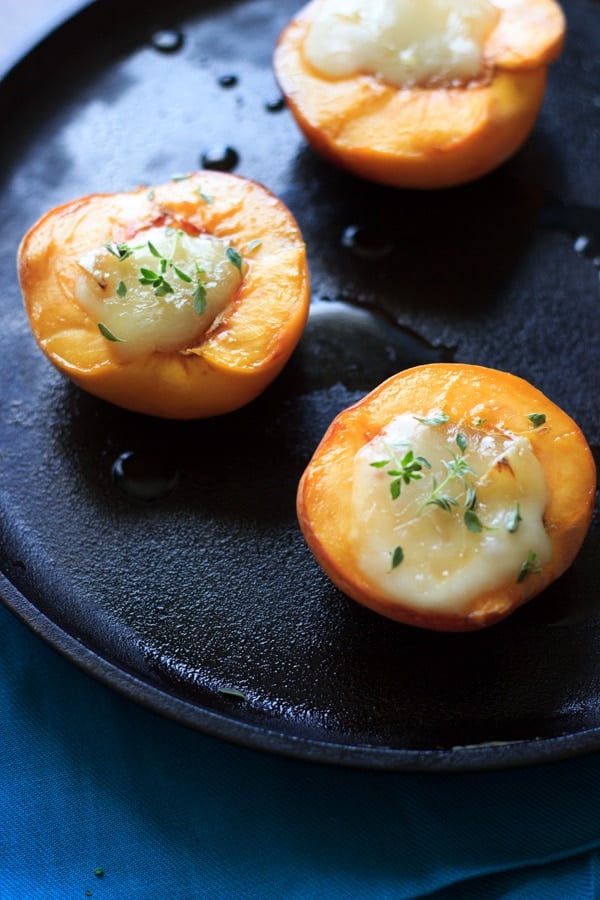 If you make these easy honey baked peaches, I'd love it if you let me know in the comments below!
Or snap a pic and share it on instagram using the hashtag #trialandeater!
Recommended and useful items for this honey baked peaches recipe:
Easy honey baked peaches
Easy honey baked peaches with brie and (optional) thyme. A sweet and healthy treat with only 3 or 4 ingredients, and ready in 15 minutes!
Ingredients
2

peaches

, halved and pitted

4

ounces

brie cheese

, rind removed

4

teaspoons

honey

(doesn't need to be exact, drizzle to your heart's content!)

thyme

(optional), for garnish
Instructions
Preheat oven to 400°F.

Place peach halves on cast iron pan or cookie sheet.

Add 1 ounce of cheese to each peach half, and drizzle honey on top.

Bake for 10 minutes until cheese has melted slightly.

Garnish with thyme if desired.
If you like this recipe, be sure to sign up for weekly 
email updates
so you never miss a post.

You might also like…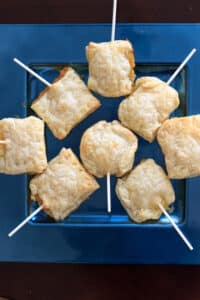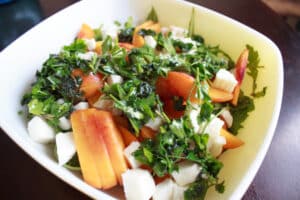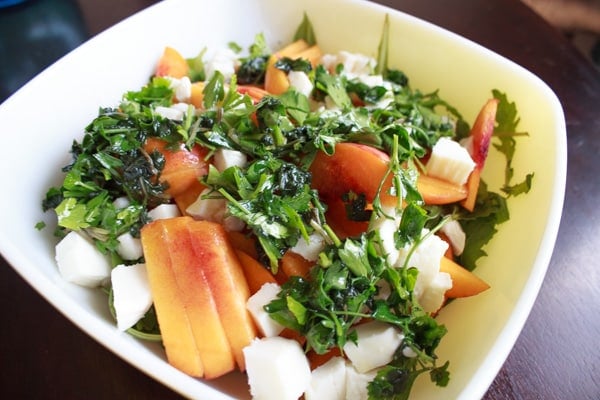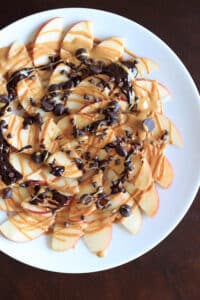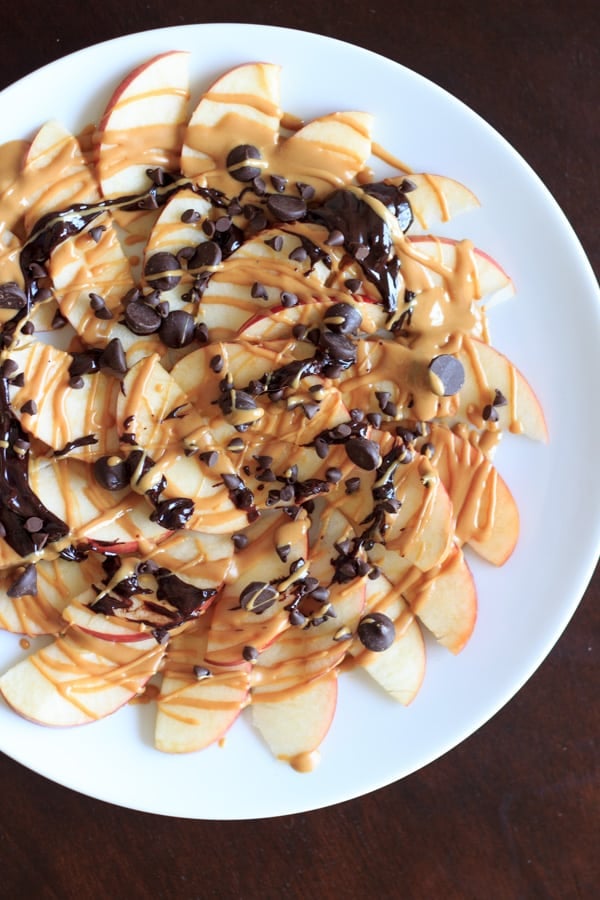 *There are links within this post that we can earn a commission on at no extra cost to you (known as affiliate links). Thank you for helping to support the site!