This post contains affiliate links, which means I may receive a small commission if you make a purchase after clicking on my links. All opinions are my own.
Trial and Eater's review of the organic produce delivery service, Misfits Market. With two size options to choose from plus a whole marketplace of other pantry items to add to your boxes, you're sure to find a whole lot of products you love for good value. Read more about them and find their latest deals below!
Ready to buy and don't need to see the review? Head on over here to enter your zip code and get started.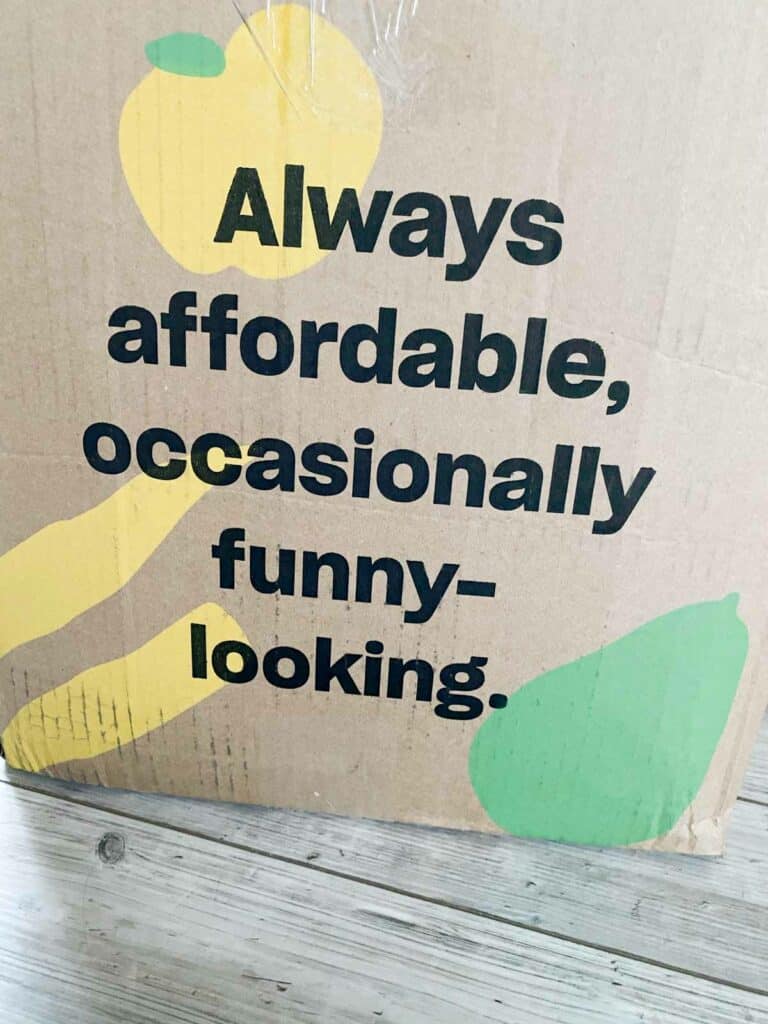 What's a Misfits Box?
Misfits Market is an organic produce delivery company that was created to reduce food waste. The fruits and vegetables are mostly "misfits" – meaning they are oddly shaped or may have other small quirks.
Natural imperfections or unusual sizes of produce mean many supermarkets don't want them – and that's where Misfits comes in. They "rescue" this produce, and other excess from farms, and ship it directly to your home.
Sometimes they also source "normal" produce from other places that have excess that will not be used, so it may have stickers on it or containers that look like it came from a grocery store.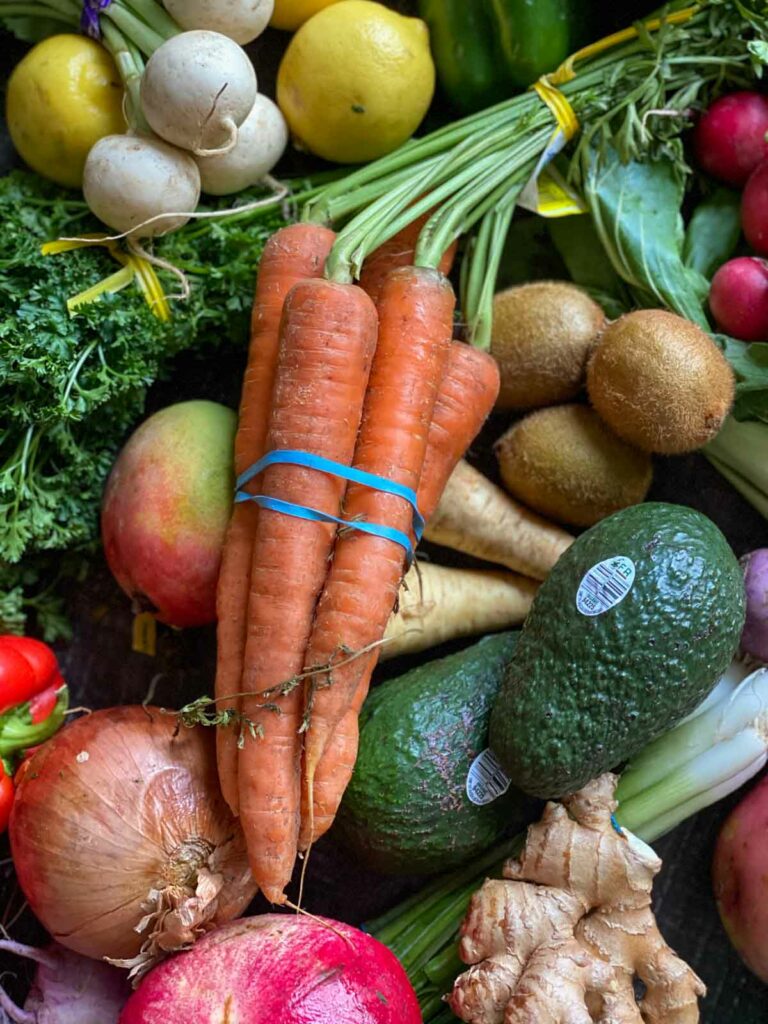 Pricing
Misfits has one of the best priced organic veggie boxes I've tried. I'm really quite impressed with the value!
There are two size options: Mischief (small) or Madness (large), priced at $22 or $35 for 12-14 types of fruits and vegetables.
Shipping is $5.50 on each box.
Below is an example photo of all the produce from a "Madness Box"! It lets you choose 14 kinds of produce from a few groups of options, and you have the option to add-on more from the marketplace.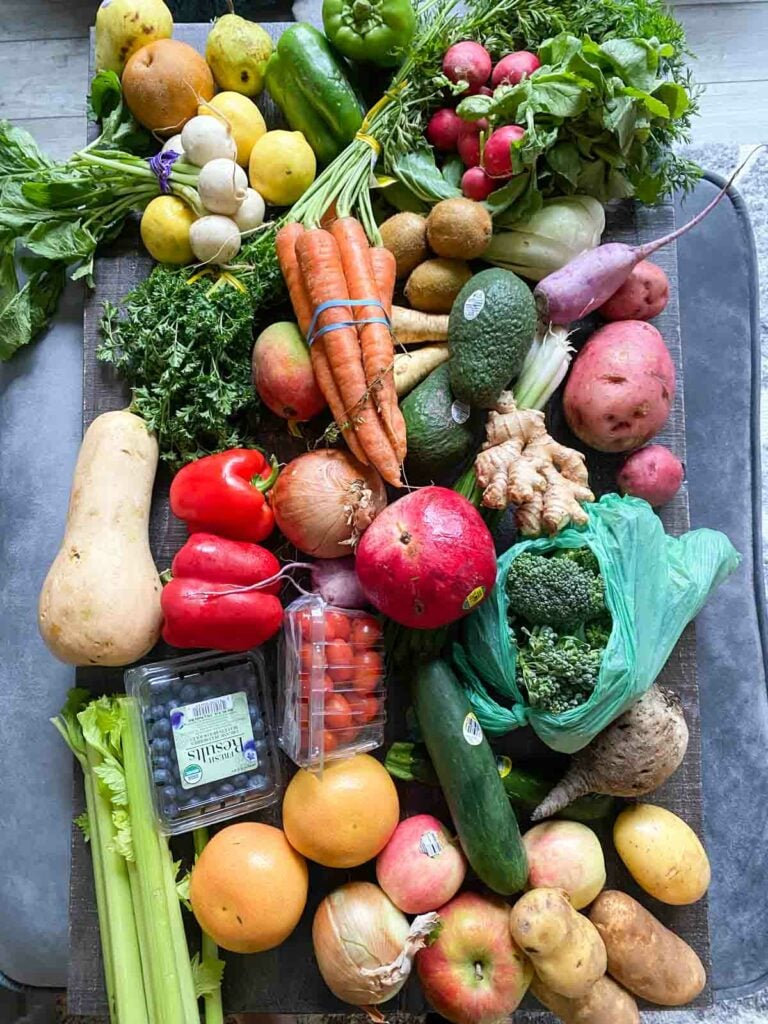 What's in a Box
You have the option to customize your boxes based on your preferences, but generally there will be room for 12-14 different fruits and veggies.
If you don't choose your options, it will be filled with a variety of whatever they have.
Mine was a variety and included broccoli, cherry tomatoes, carrots, blueberries, bell peppers, parsley, beets, several kinds of potatoes, celery, apples, onion, pears, pomegranate and more.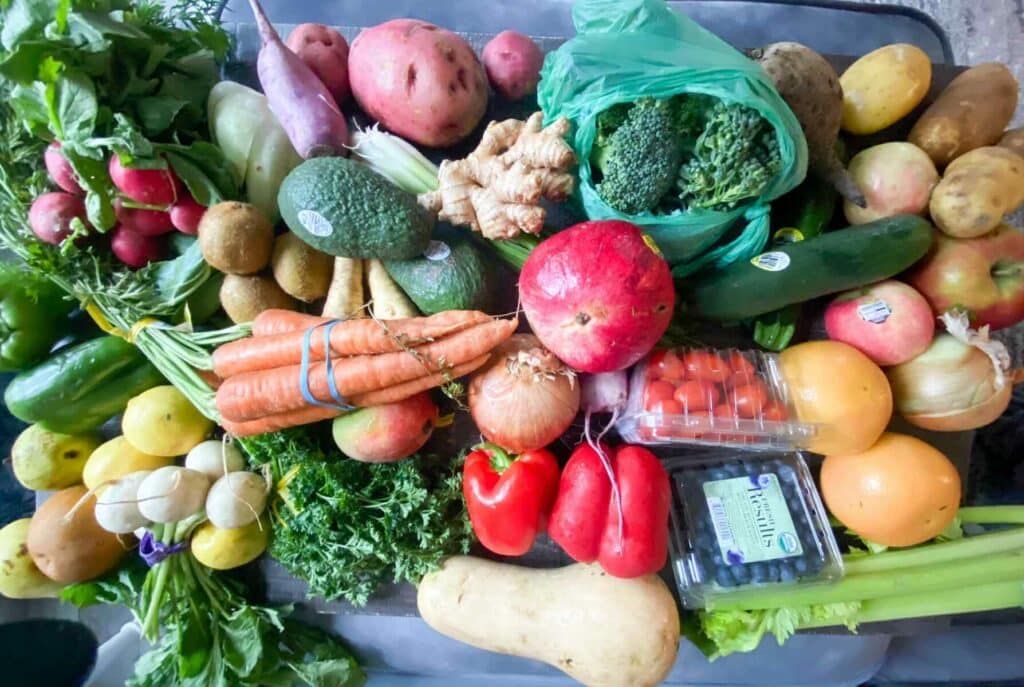 Another example of a large Madness box, from my cousin who I convinced to buy! They went heavy on the greens, and had a couple additions from the marketplace like the turmeric tea.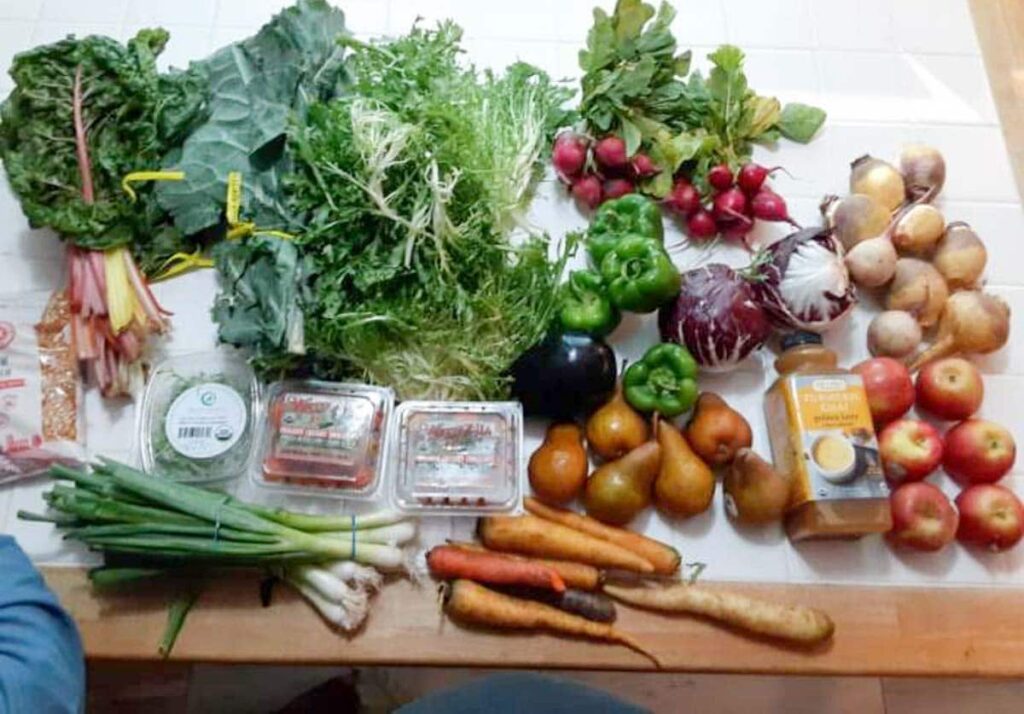 Misfits Marketplace
With a Misfits membership you also gain access to their "marketplace" where you can choose to add-on items to any box.
Lots of cool items to choose from! I received some coffee, pasta, cooking oil, superfood granola, toffee and cashews. There are also juices, spices, baking supplies, snacks and even extra produce.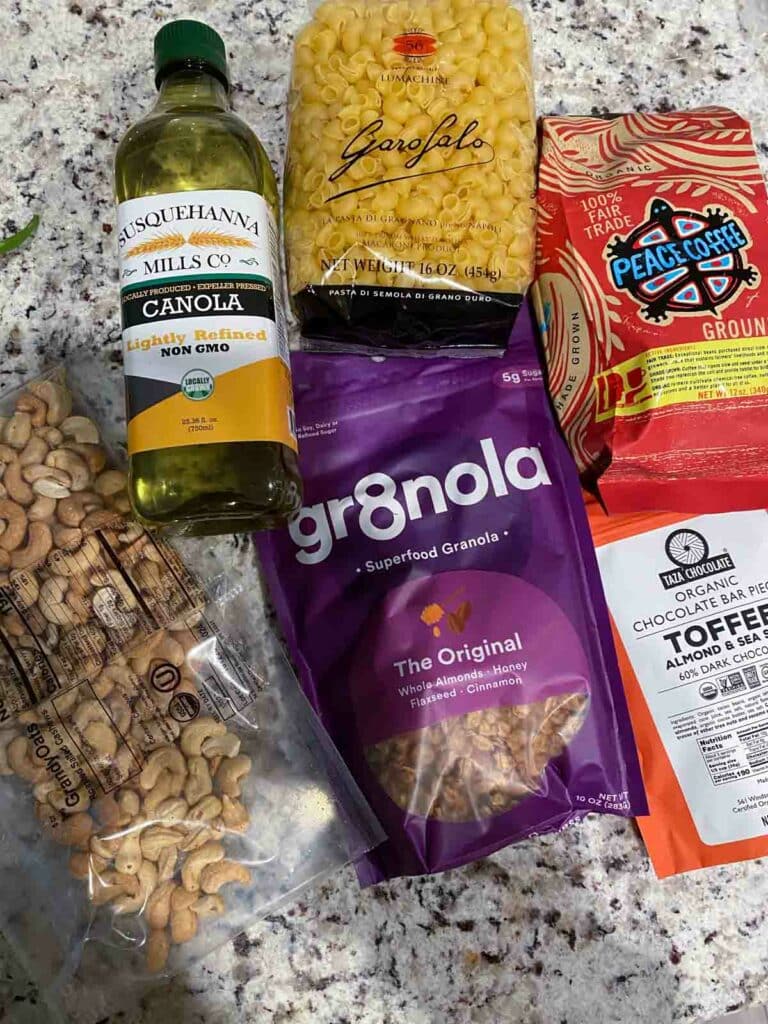 How it Works
On the Misfits home page you'll first enter your zip code and email to make sure you're within the delivery area.
Once you sign up, you'll pick your delivery day and initial frequency of your box (weekly or every other week – don't worry, you can change this later!).
A few days before your box will be shipped, you'll get to "build your box." There are several sections of fruits and vegetables where you can pick a certain amount from that group of options, based on availability.
Then you will be able to see what's available in the Marketplace, if you'd like to add on any other items. You have a few days to confirm this, but items may run out if you don't choose quick!
Other things to know
If you ever want to skip a delivery you can easily do so within your online account. Another cool feature is that you can choose to donate your paid box to a food bank, as an easy way to give back to the community.
The packaging itself is also very eco-friendly. Not only are the boxes recyclable, but the insulation used to keep the produce cold is recyclable is as well.
Since the produce can arrive a little bumped or bruised, it doesn't last super long. Especially since it's organic, you'll want to be prepared with a plan for your produce once it arrives!
Currently, they deliver to 34 states mostly in the Eastern part of the U.S. You can enter your zip code to see availability in your area from the Misfits website.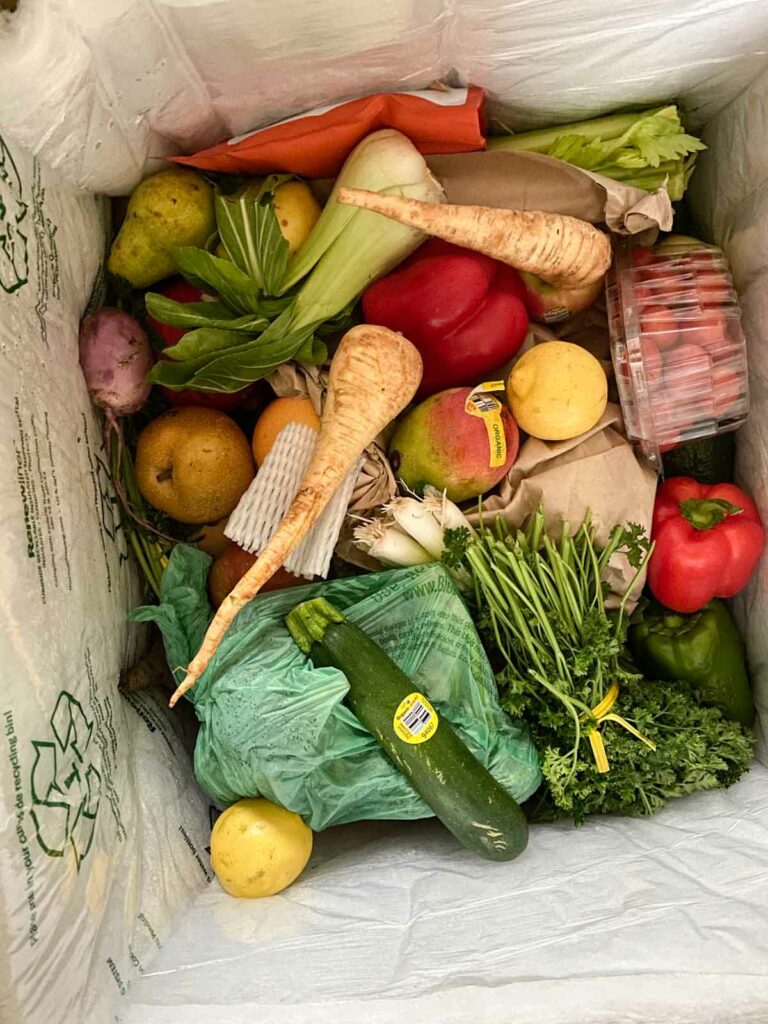 Review Summary
Overall, I'm pretty in love with my Misfits Market delivery boxes! Even though I received my first box as a gift, I'm a paying subscriber now and have referred many family members on to it already.
The large "Madness" box is great to try for your first box and get as much variety as you can, especially if you use a discount code for the first box. After that, you can always switch to the smaller box if you decide that would be more manageable for your household.
Not only does it help me be a little more creative in the kitchen, but it is a great value with a great mission behind it.
If they deliver to your state, I definitely recommend giving them a try! Head on over to enter your zip code to see availability and get started. If they're not in your area yet, you can add yourself to the waitlist.
Thanks for reading our Misfits Market review! Will you try a Misfits box? Or snap a pic and share on Instagram and tag @trialandeater to show me what you got!