Easy Homemade Skillet S'mores. Instead of making individual s'mores, make a dip for everyone to share!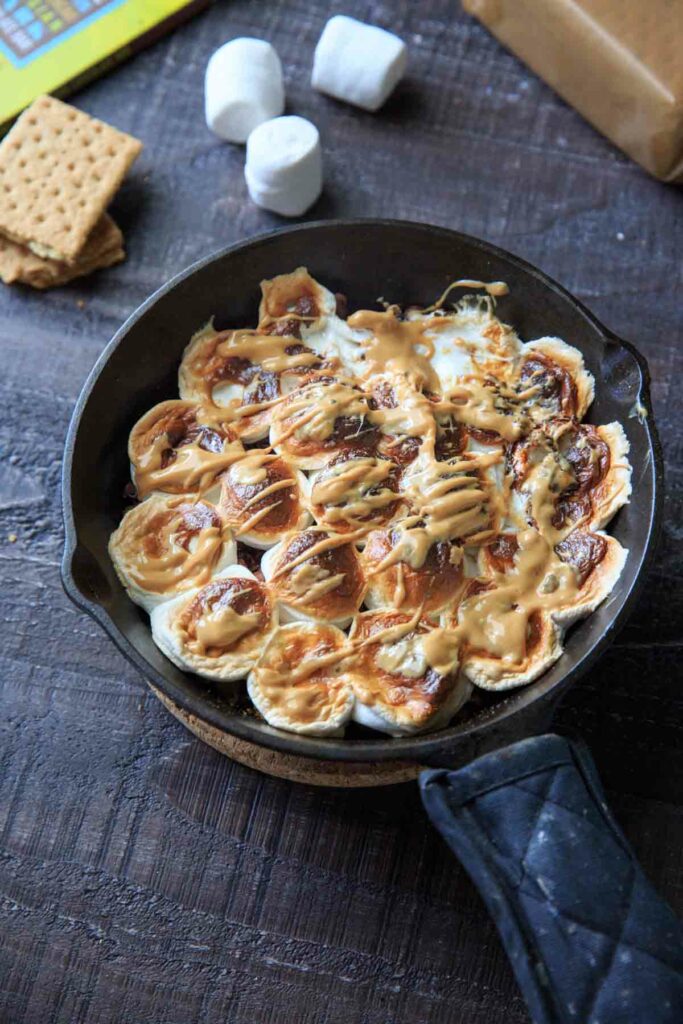 Who says s'mores are just for camping?
When you don't have access to a campfire for toasting marshmallows to perfection, you can just make them in your oven.
Bonus – this is SUPER easy to throw together and can serve as a dessert dip for as many people as you need! Just use a larger skillet the more people you have.
STEP 1: Crumble some graham crackers to fill the bottom of your skillet.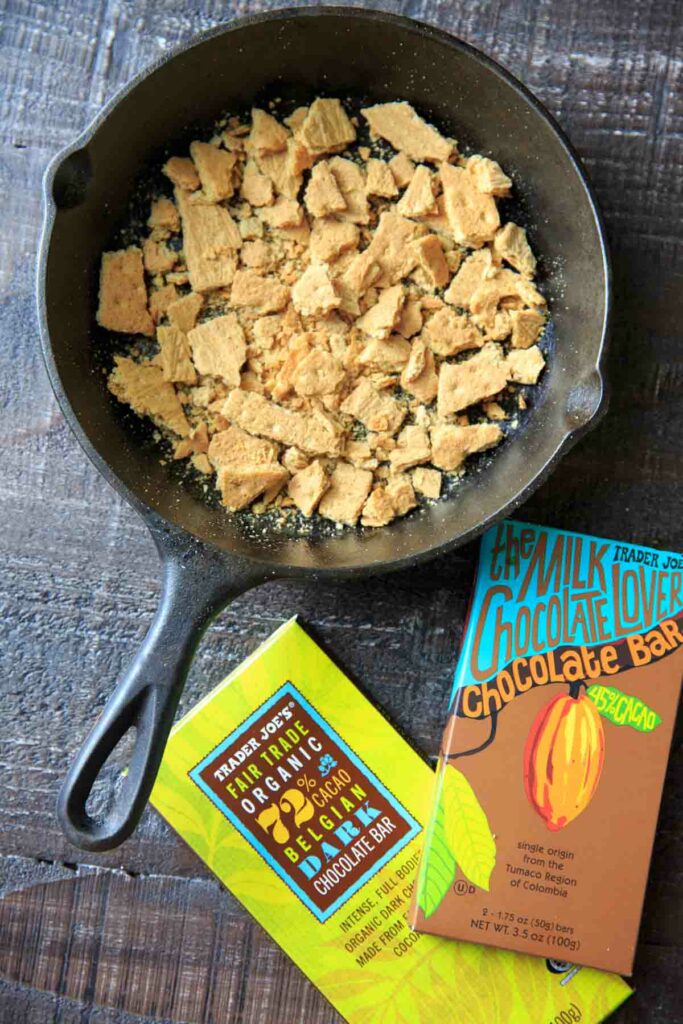 STEP 2: Put chocolate (chips or broken pieces of your favorite chocolate bar) on top.
I have no reason for using both regular chocolate chips and mini chocolate chips, other than that's what I had!
You can use whatever kind of chocolate you want here really – dark, milk, belgian, ones with add-ins like caramel – really, the options are endless.
Then get yourself some vegetarian-friendly marshmallows (without gelatin) and fill up the top layer!
Bake until marshmallows are toasted (bonus to turn on the broiler for a couple minutes – especially if you like your marshmallows a little burnt!).
And if you're the kind of person who likes peanut butter with your chocolate (and who isn't) add some melted chocolate on top.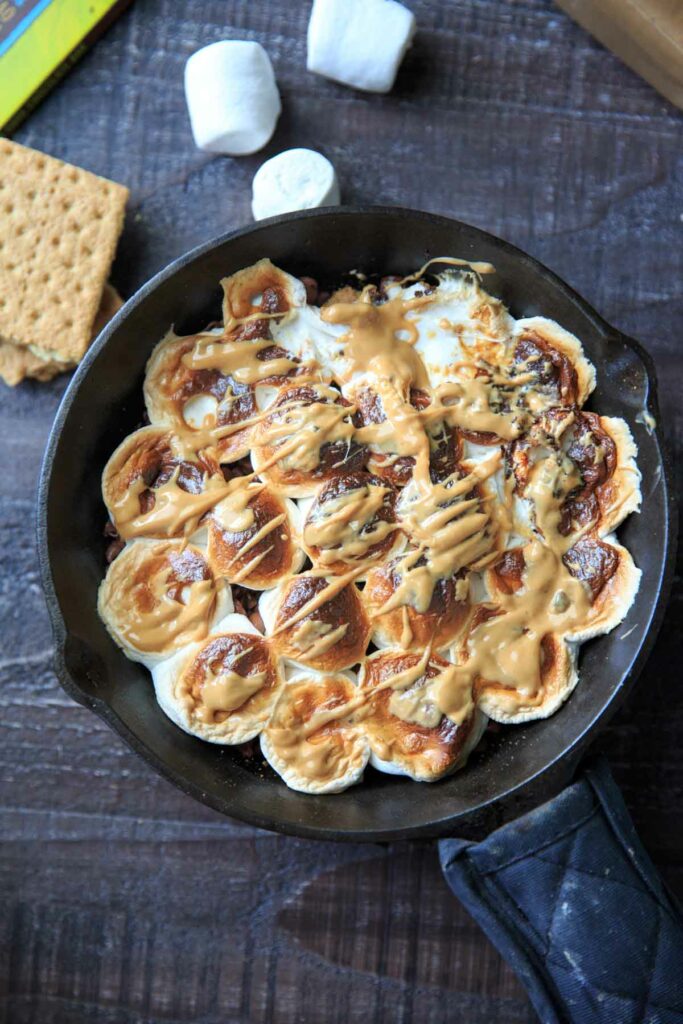 Proceed to eat with a spoon or more graham crackers.
Warning: will disappear quickly.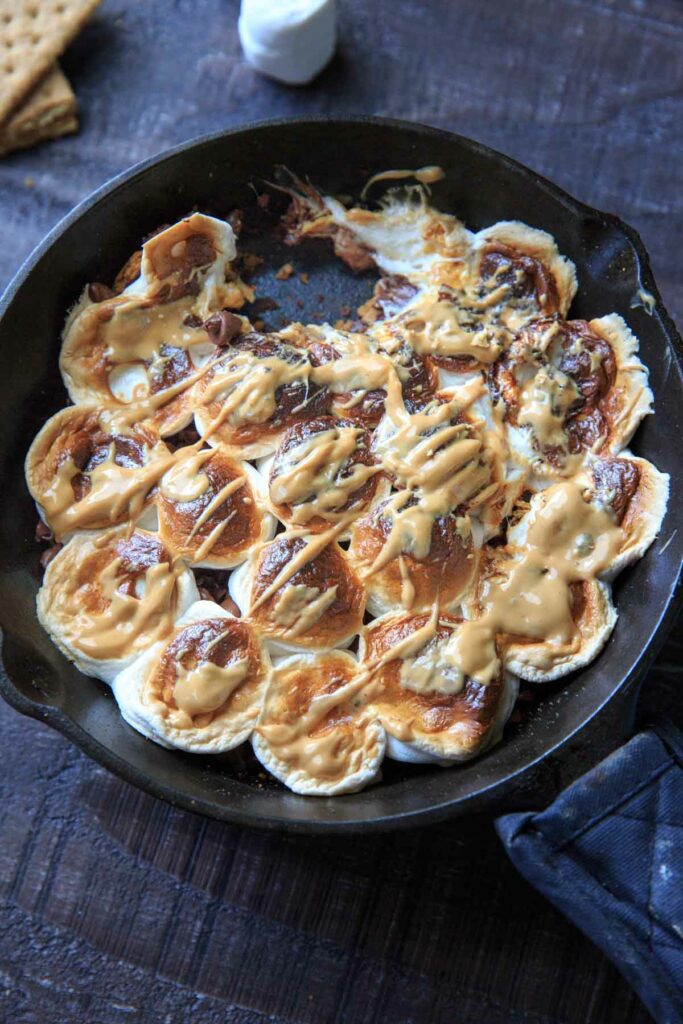 Easy Skillet S'mores
Easy Homemade Skillet S'mores. Instead of making individual s'mores, make a dip for everyone to share!
Ingredients
4

graham crackers

, crumbled (plus more for serving)

1

cup

chocolate chips

20

vegetarian friendly marshmallows

, or enough to fill pan

melted peanut butter

for topping, optional
Instructions
Crumble enough graham crackers to fill bottom of the skillet. Top with chocolate chips, and them marshmallows.

Bake for 7-10 minutes or until marshmallows are toasted. For extra toasted, finish with a couple minutes under high broil - but watch for burning! (Unless burned marshmallows are your thing.)

Drizzle with melted peanut butter, if using.

Serve hot with extra graham crackers for dipping.
Notes
*Recipe measurements fill an 10-inch skillet, increase for a larger skillet or more people.
Feel free to adjust proportions to suit your tastes, depending if you prefer more graham crackers or chocolate!
Recommended and useful items for these homemade skillet s'mores:
Vegetarian-friendly marshmallows and my favorite cast-iron skillet
Also can be found in the Trial and Eater amazon store!
*There are affiliate links within this post that we can earn a commission on at no extra cost to you.