Have you ever tried a meal delivery service like Sun Basket? This is my (unpaid) review and thoughts on my experience with Sun Basket, and how to get the most benefit out of the initial sign-up.
*There are affiliate links within this post that we can earn a commission on at no extra cost to you.
I hear from a lot of you that your biggest challenge in the kitchen is time, and not enough of it! Meal delivery services can help you by cutting out two BIG steps of the meal prep process: first deciding what to cook, and then going out to buy the ingredients. So I thought this would be a fun experiment to see which services are worth the time saved!
If you're ready to try Sun Basket without reading my review, here's a coupon link for $35 off!
There are lots of paid reviews of meal delivery services out there, so I wanted to make sure I was speaking from a true customers perspective.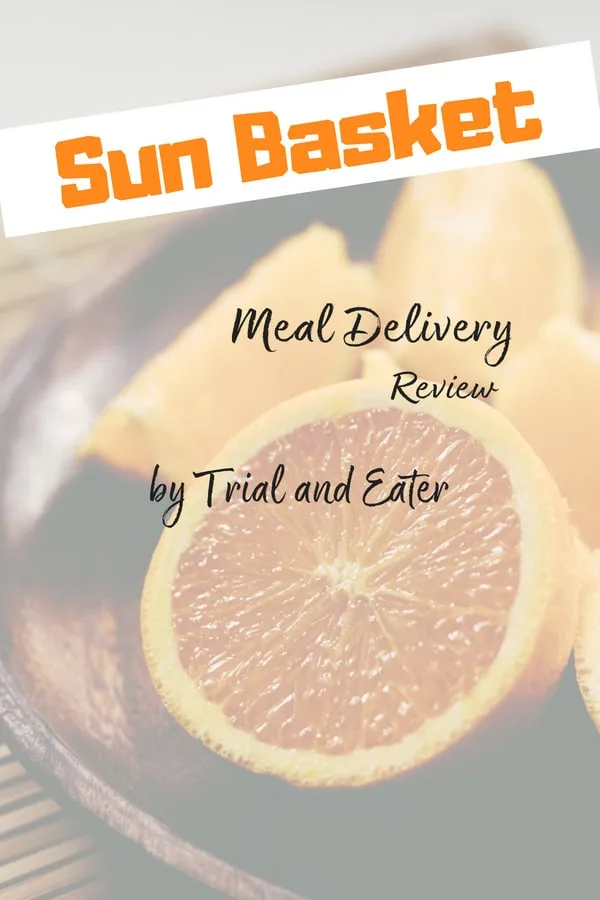 Quick Facts on Sun Basket
Meals start at $10.99 per servings (before coupons) for the family plan, and $11.99 per serving for the classic plan.
Classic Plan includes 3 recipes with either 2 or 4 servings each, and the Family Plan includes your choice of 2-4 recipes, each with 4 servings.
Ingredients are pre-measured and seasonal, shipped to your door in an insulated box. You still need to cook the meals, which average around 30 minutes to make.
First delivery is always free and delivers to most zip codes in 45 states. Delivery dates are Monday-Thursday depending on your area.
Organic produce, with Paleo, Lean & Clean, Gluten-free, Vegan meal plans with 18 weekly recipes available.
Meal choices change every week, and there are usually 3-4 vegetarian options among the 18 recipes.
Packaging is 100% recyclable and compostable.
Ordering with Sun Basket
You can get a combined $70 off your first three weeks with this link. I chose to do two weeks of deliveries to go through the process twice and see what the recipes looked like.
(Unfortunately Sun Basket does not have further rebates available on Mr. Rebates at this time, like Home Chef does.)
You can choose your dietary needs and plan type to start with. They will choose a set of meals for you based on your preferences, which you can swap out with other available recipes as needed. You can browse the menus and order up to 5 weeks ahead of time.
Sun Basket Delivery
The ingredients and recipes all came in a well-insulated box. A small magazine was included with all the week's recipes that include the ones in your box.
Each recipe has all the pre-measured ingredients together in one brown bag for easy storage.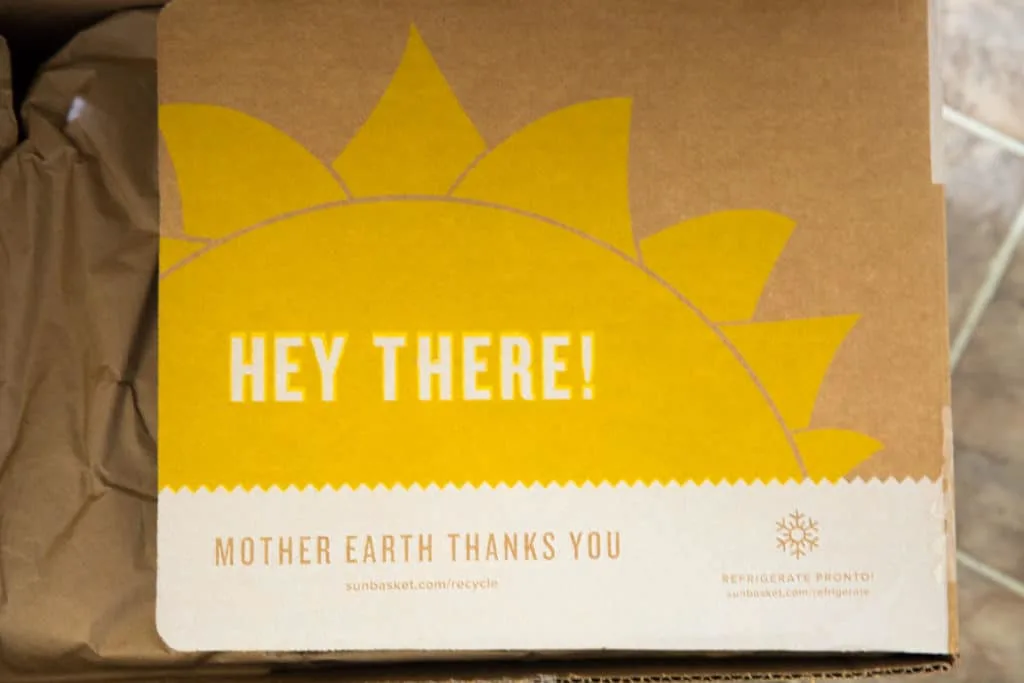 Sun Basket Recipes
My Meals
I got 5 different meals over the 2 week period. I'll list them starting with my favorite first!
This dish was a penne with rosemary-roasted winter vegetables and balsamic-fig sauce. I'm definitely going to have to recreate this balsamic-fig sauce in the future! So unique and delicious, I loved it so much. Also never cooked with a radicchio before this!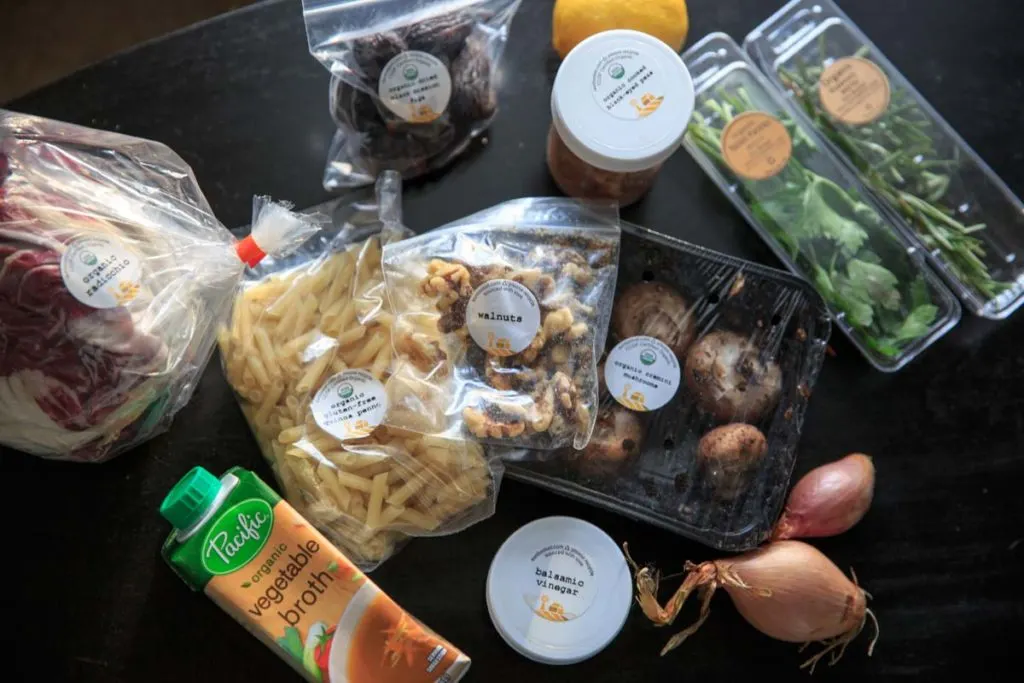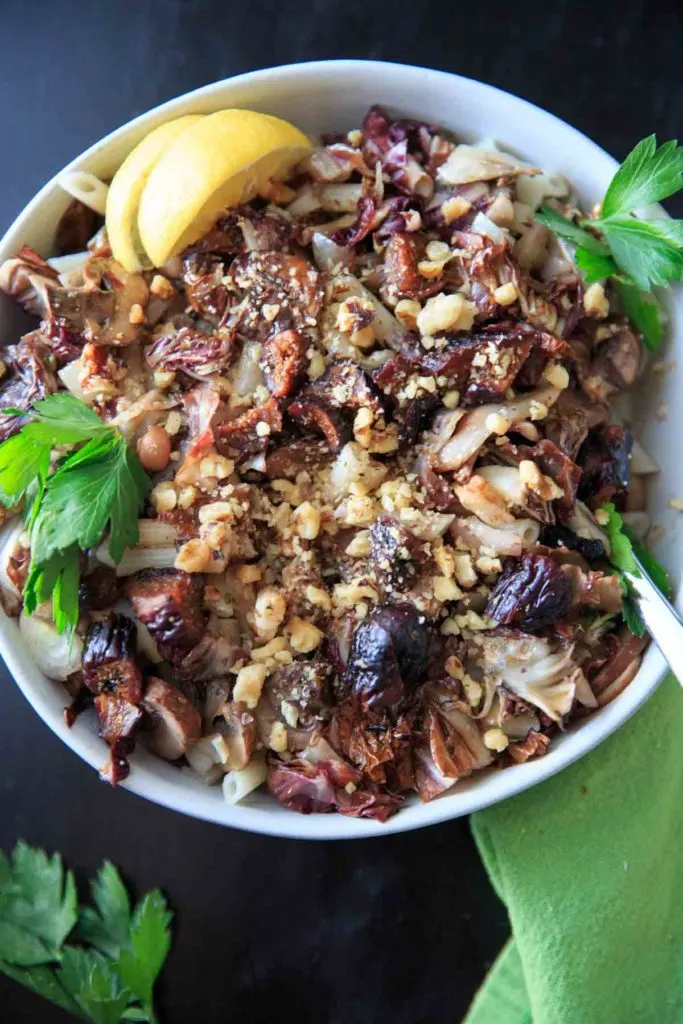 My next favorite was a chilaquiles verdes with soft-scrambled eggs, avocado and queso fresco. It had so many things I love, including avocado and tomatillos!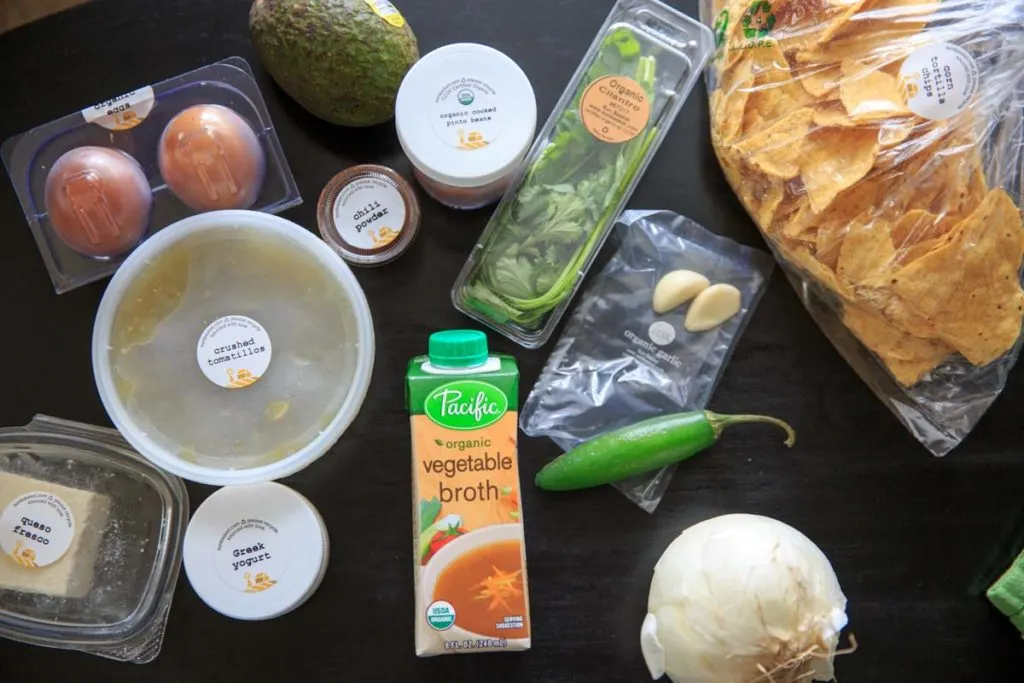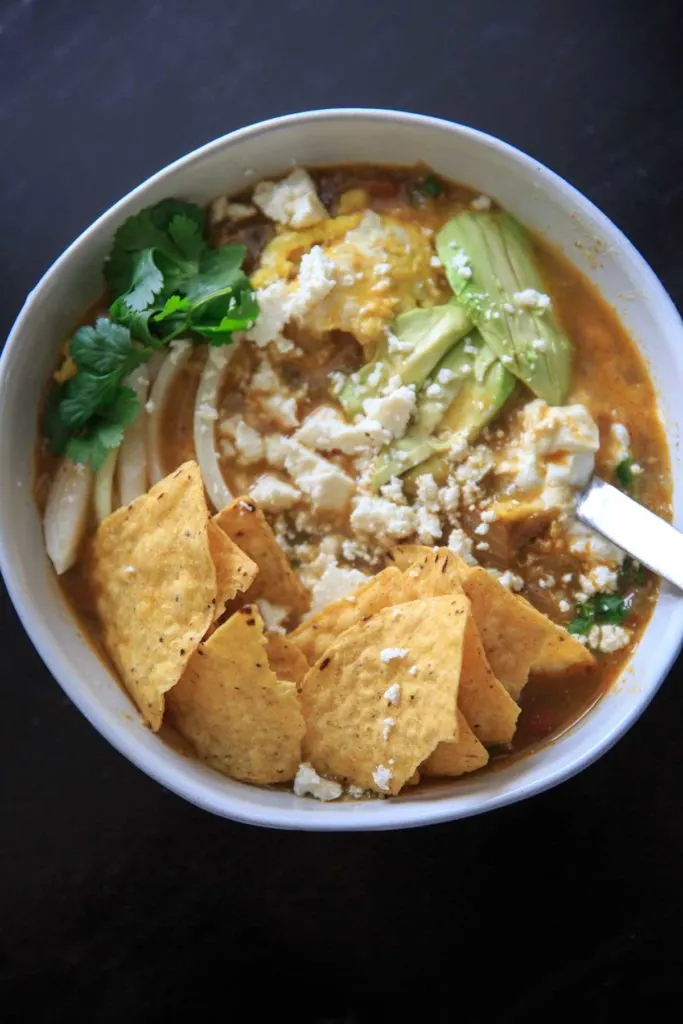 Then there was the Thai tofu panang curry with jasmine rice. So many great flavors, and I should make curry more at home!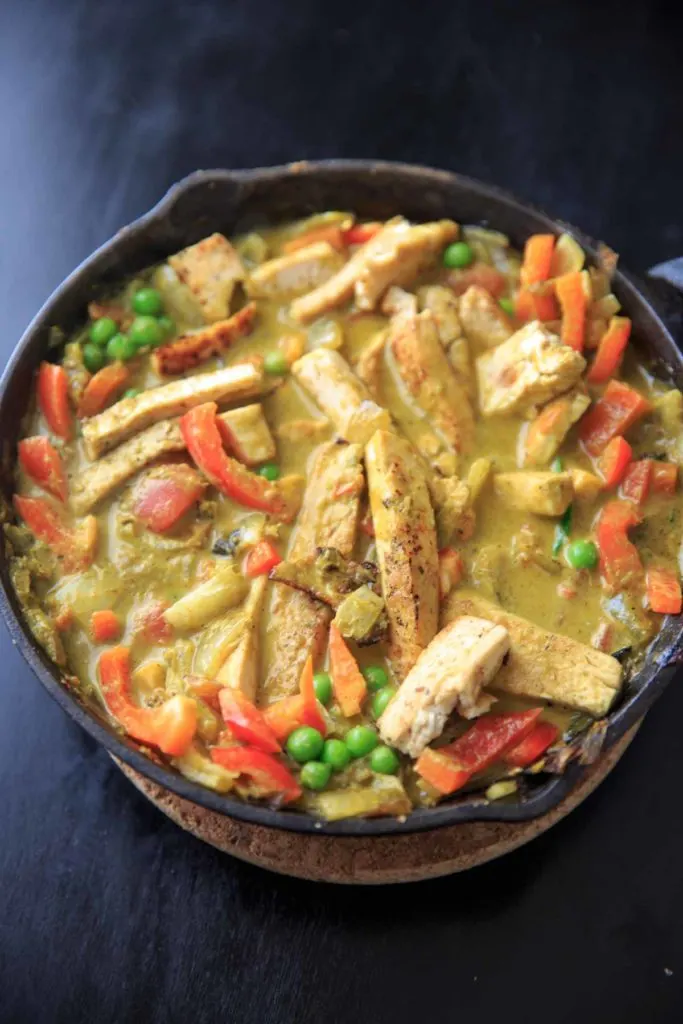 Then, a white bean and mushroom cassoulet with parsley-red onion salad. (Salad not pictured.)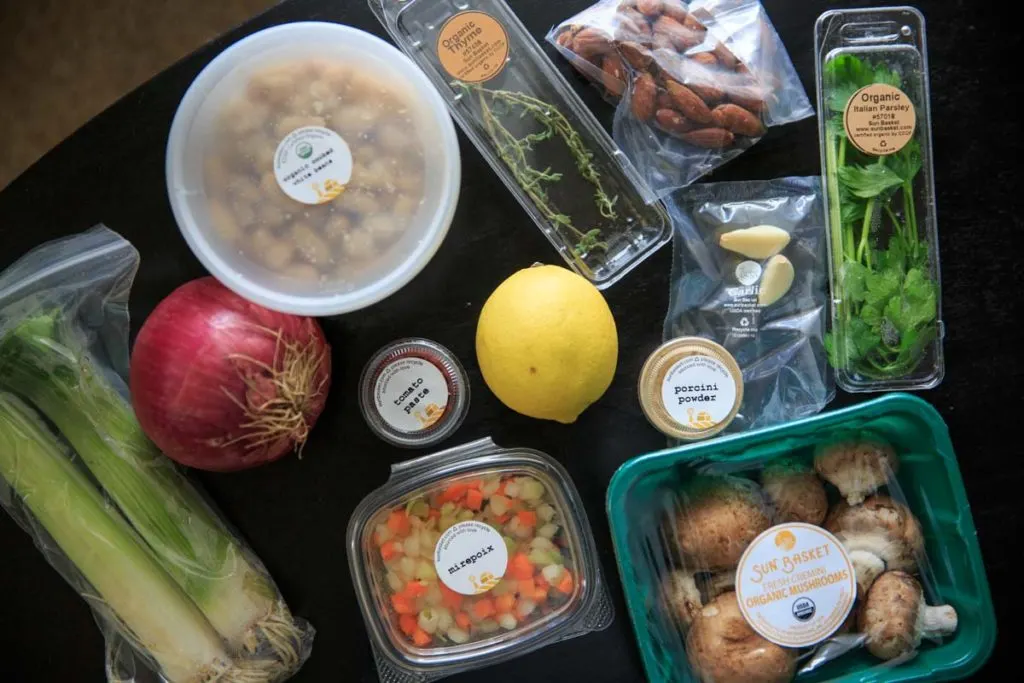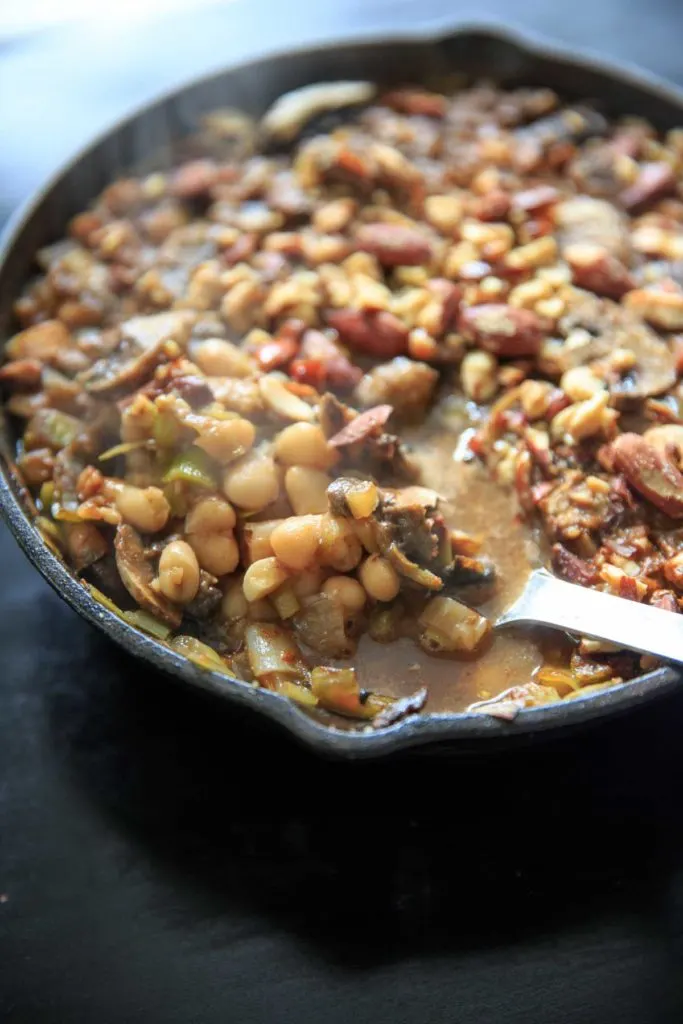 Finally, a Turkish piyaz salad with roasted carrots and soft-cooked eggs. I'm not listing it last because I didn't like it, but the pictures don't do it justice! Also a first for me making a soft-boiled egg. Who knew I would like it?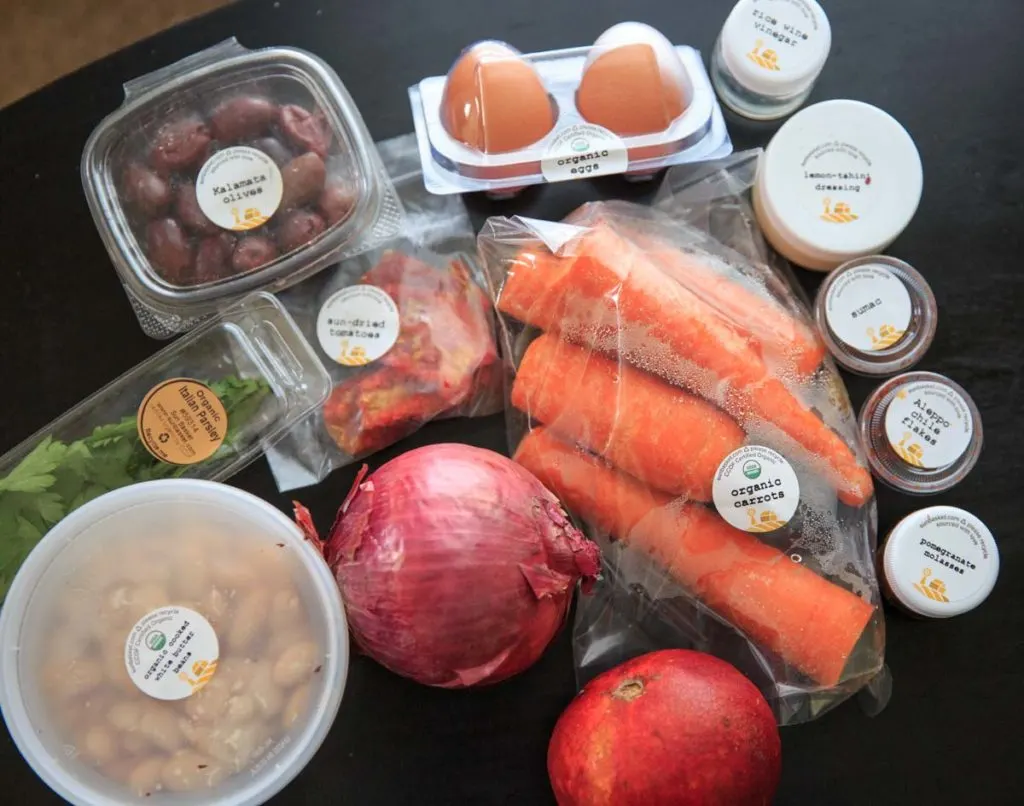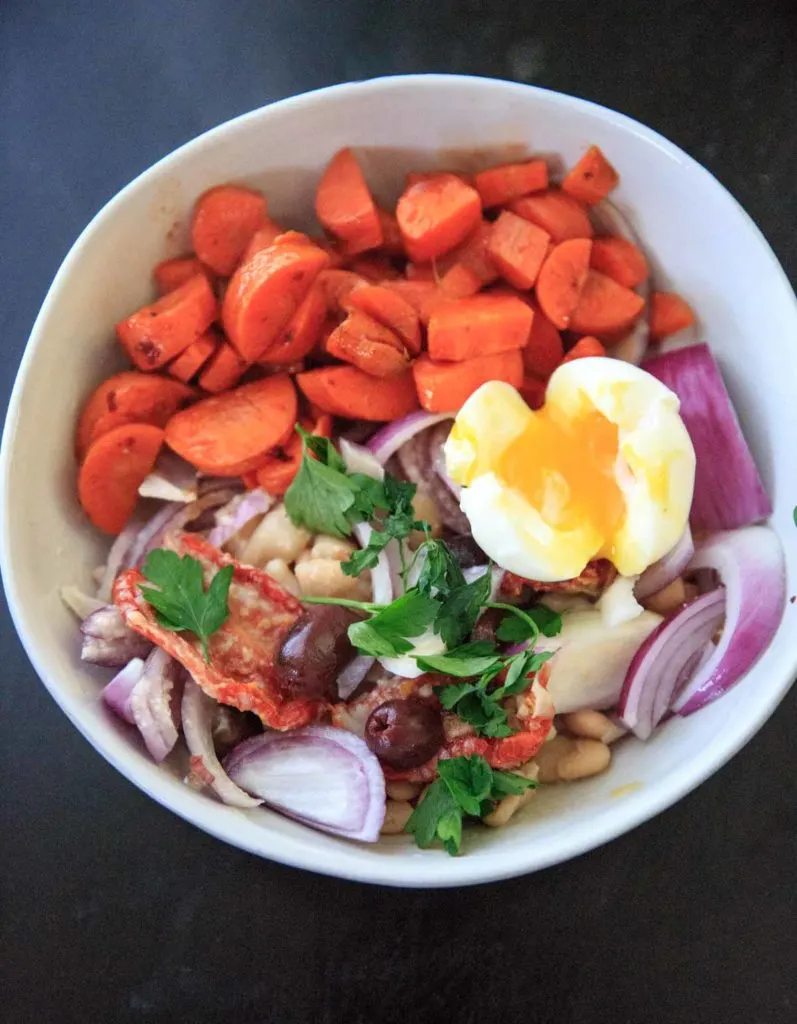 What I Liked About Sun Basket
Each meal's ingredients are in their own bag, which eliminates the need to sort through everything. The recipe cards are clearly laid out with what should be included in your box and what ingredients and tools you'll need from your kitchen. Also on the recipe cards were some chef tips, preparation instructions for planning ahead, and ways to cut down the calories when available.
I LOVE that their ingredients are organic and non-GMO, which sets them apart from some other meal delivery services. Sun Basket seems like a very environmentally-conscious company with the way they source their ingredients and the fact that they use recyclable packaging materials.
They've added new recipe options in 2018 with more vegetarian choices and considering other dietary restrictions. It seems they really listen to customer feedback!
Some of the recipes were so unique and fun that I was happy to try, since I never would have thought to cook it on my own. It's definitely a great date night activity or a way to get creative in the kitchen when you're feeling like you're in a rut with your cooking.
It was fairly easy to pause the subscription/cancel. To skip a week(s) it's just the click of a button, but to cancel required an email (even though their website at the time said it required a phone call).
What I Didn't Like About Sun Basket
The recipe cards didn't list proportions, which is fine since they provide pre-measured ingredients, but becomes a problem if you want to save the recipe for future use! Not as big of a deal since many of these recipes are ones that I wouldn't cook on a regular weeknight that required me to do the shopping. (Note: full recipes are available on their website.)
I try to make my recipes are simple to read as possible, maybe sometimes even oversimplifying too much! So my one complaint is that some of the recipe instructions (while detailed!) seemed overwhelming at first glance. But since these recipes do have more steps and are slightly fancier in general, this is probably better that there are longer instructions.
As always, I wish that the vegetarian meals were priced cheaper than the meat options.
Tips and tricks to get the most out of your Sun Basket delivery:
If your goal is to reduce time in the kitchen (and you're okay with eating leftovers), order fewer meals with more portions. (Example: Order 2 meals with 4 servings instead of 4 meals with 2 servings. Reduces total cooking time in half but still the same amount of meals.)
On the other hand, if your goal is variety and learning new techniques, order more meals with fewer servings!
Check your meal bags right away and compare against the recipe card to make sure you have all ingredients needed, as well as the necessary pantry options. Hopefully a missing ingredient doesn't happen, but it's better to find out before you start cooking!
Remember if you're a new customer to use one of the coupon links links to save money on your first delivery. Once you are a member you can earn $40 for each friend you refer! (They'll get $ off too!)
Summary
People who don't have time to meal prep or grocery shop can benefit from a meal delivery service like Sun Basket. It's also great for those who want to try unique recipes or have a fun date-night or family activity!
Whether you know you have an unusually busy week coming up or even a week that you have company coming, this could be a good way to stock up on food and eliminate the need to eat out. But keep in mind you do still have to do the cooking! This could also be a GREAT gift idea for someone who is hard to shop for but enjoys cooking.
Pros: Save time on planning and shopping, learn new kitchen techniques, try new ingredients, less food waste.
Cons: Still have to cook, can get expensive, meals likely won't go in permanent dinner rotation.
Would I recommend Sun Basket? I'd say it's definitely worth checking out, especially with the deals you can get as a new customer! I think services like this are great to try out and see how they fit you and your lifestyle.
Ready to try Sun Basket? Use this coupon link for $35 off !!
Have you tried Sun Basket, Home Chef, or any other meal delivery services? I'd love to hear which ones you like or don't like. Let me know in the comments!
*There are affiliate links within this post that we can earn a commission on at no extra cost to you.