Are you headed to New York City for only a weekend? Here's some of my favorite vegetarian finds, drink spots and things to do for a short getaway.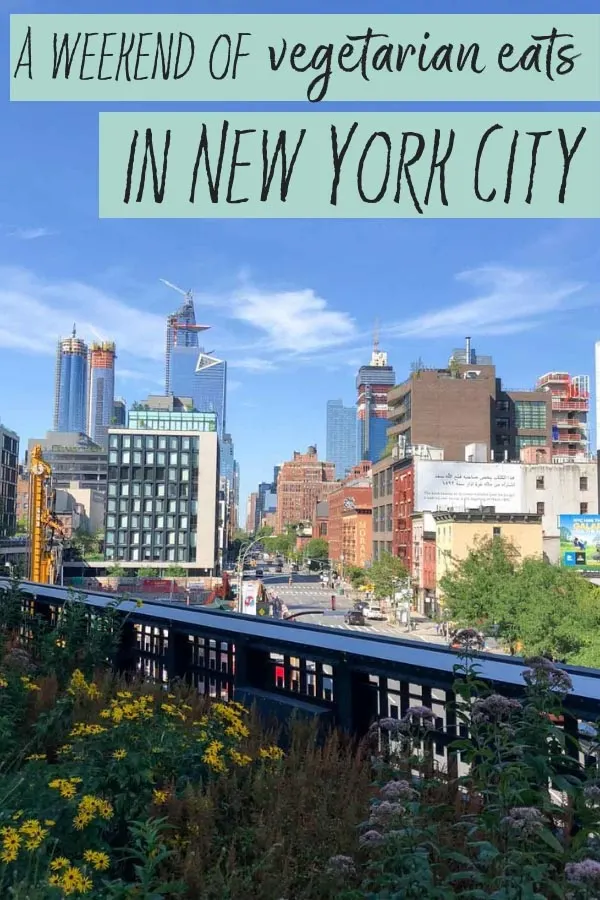 A little backstory: My cousin Bella had an internship in New York City this summer. She had long work hours and limited weekends where she could actually explore the city, and of course many people who wanted to come visit her while she was there.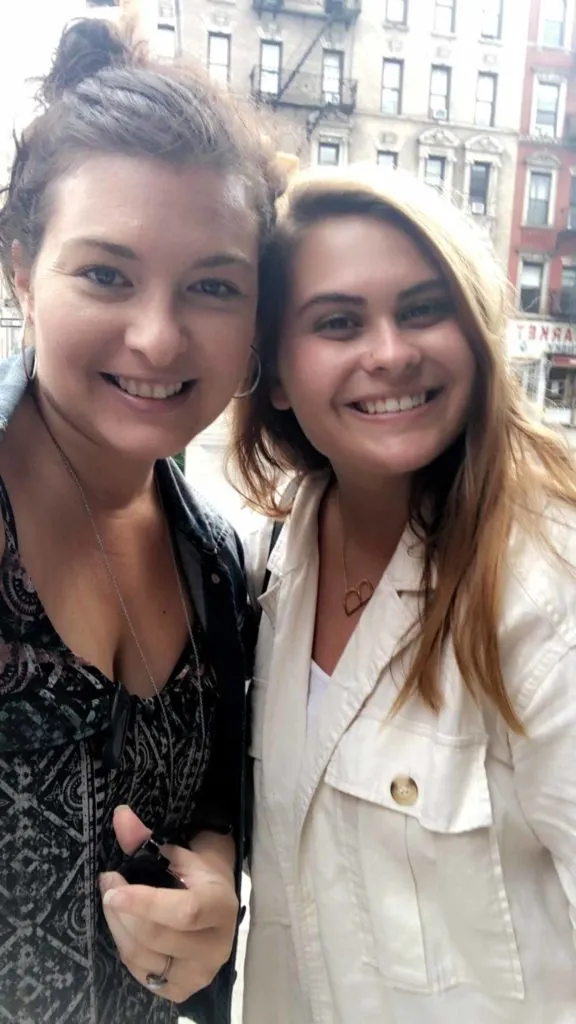 When there were only a couple weeks left of her trip, I thought I had missed my chance to come see her in the Big Apple. But then – at about 3pm on a Wednesday – she texted me and said "I just found out I don't have to work this weekend! Wanna come visit?"
Keep in mind I was down in NC – not a quick drive away. As much as Bella thinks I'm spontaneous (we have taken a few random day trips around the Carolinas), in real life I am not. (Shh don't tell her). But since I've fooled her this long I had to keep up appearances and MAKE THIS HAPPEN!
To make a long story short, about 40 hours after I got the invite, I was on my way to the airport.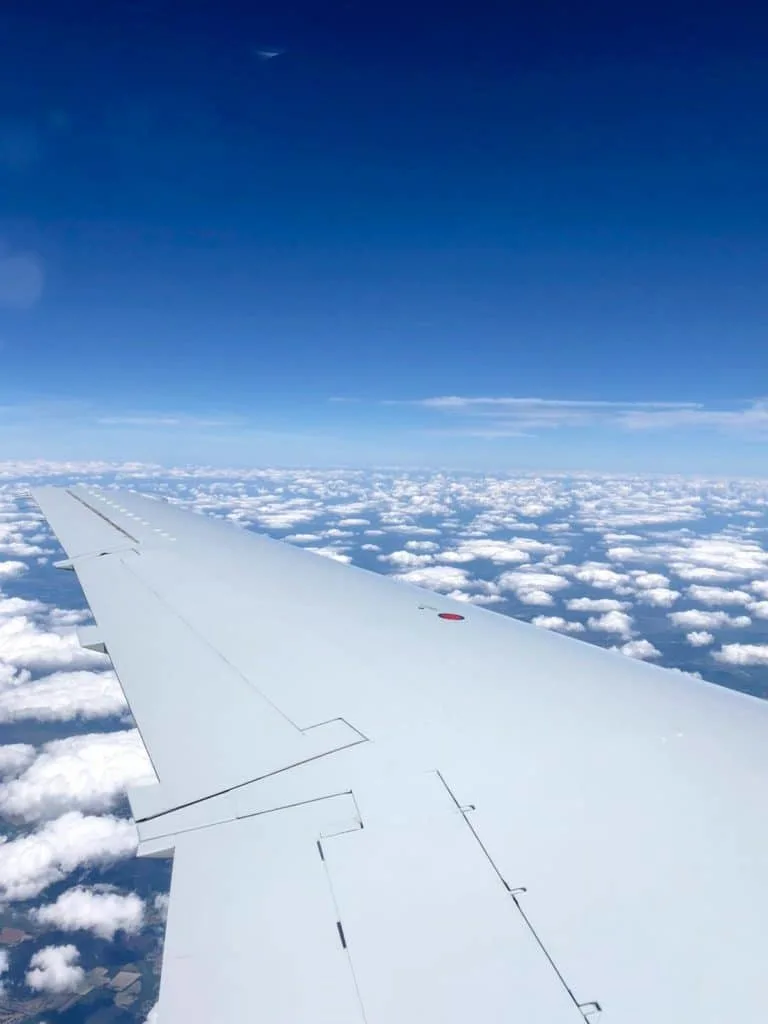 I used to visit New York a lot when I was younger, but I realized I had only been once in the last 15 years. (That trip was only 24 hours and an epic fail – but a story for another day.)
So I was very excited to explore with Bell and we each had our own "must-do" list. Since this neither of our first visit, we didn't necessarily need to visit all the tourist hot-spots. But there were a few important items we included:
Pizza (obviously)
Central Park
A NY bagel
Rooftop bar
An "instagram-worthy" brunch
A walk across Brooklyn Bridge
Ice cream
A visit to a speakeasy
We did all that and more! Here's how we spent my 2.5 day visit.
First day in NYC – Friday
First up once I landed safely and finely found my Bell – lunch. We walked around for a bit before realizing we were close to one of the best-rated veggie burgers in East Village: Superiority Burger.
Bell is not a vegetarian, but she was down to try it and seemed to be pretty impressed with her patty. We both ordered the house special, aptly named the Superiority Burger. Everything on their menu is vegetarian and there are vegan options as well.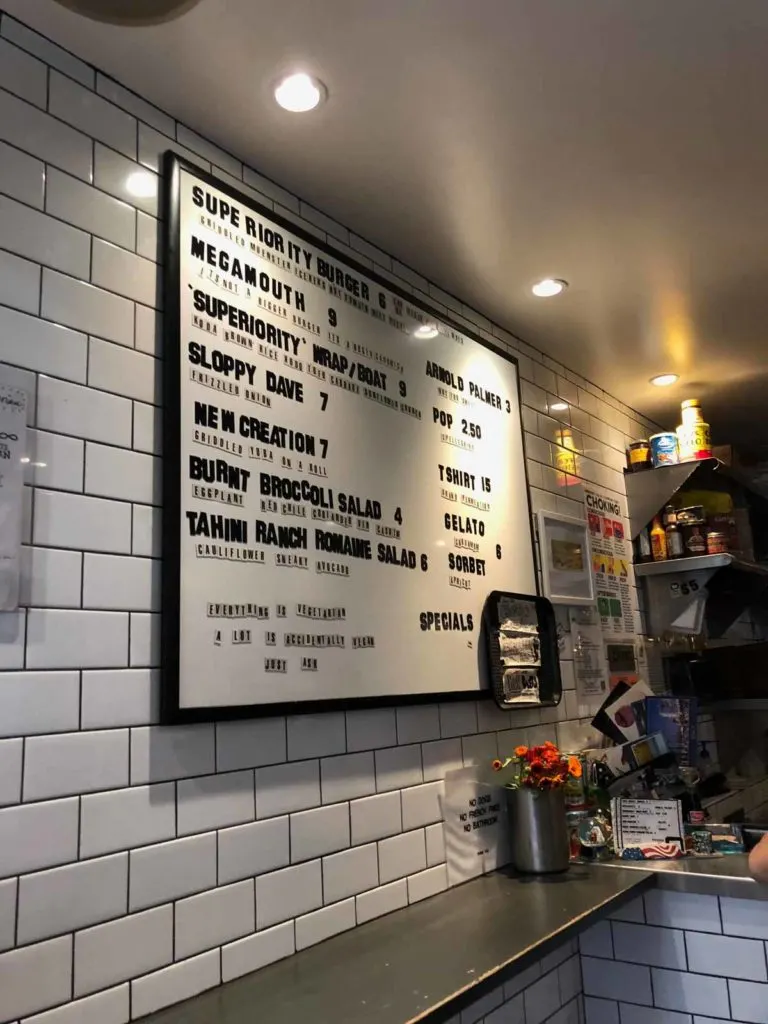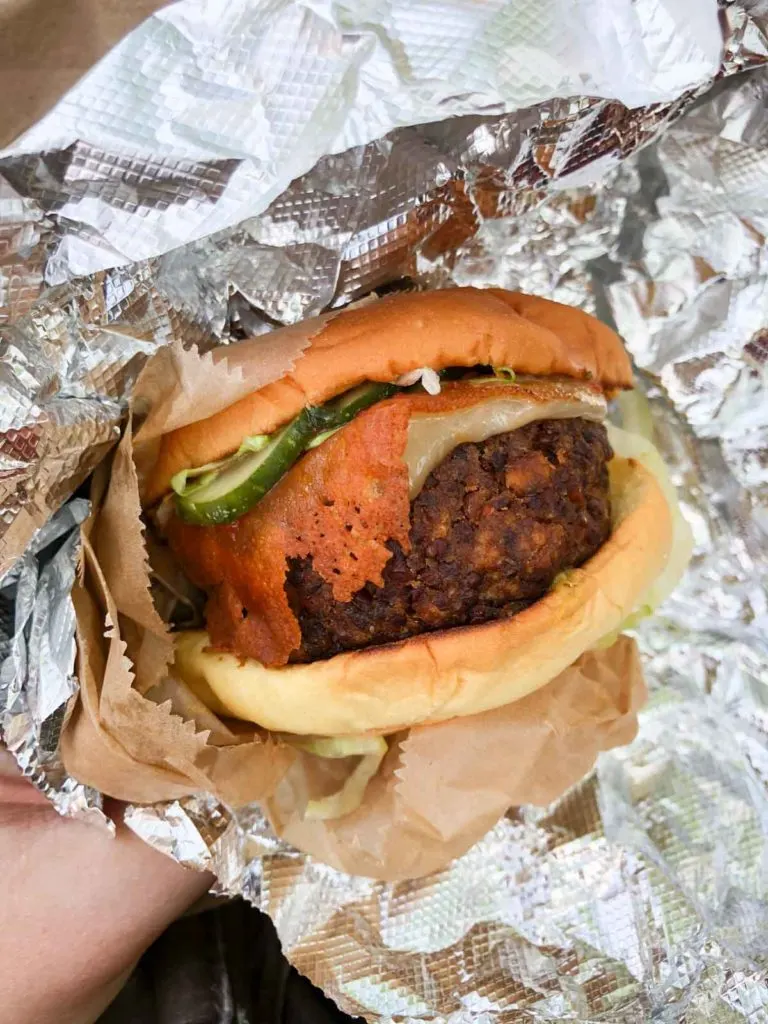 It's a small shop with not a lot of seating – so you probably want to plan on taking it to go.
We walked a few blocks over to eat ours in Washington Square Park. Great for people watching, sitting and enjoying some greenery, and a fountain pic or two.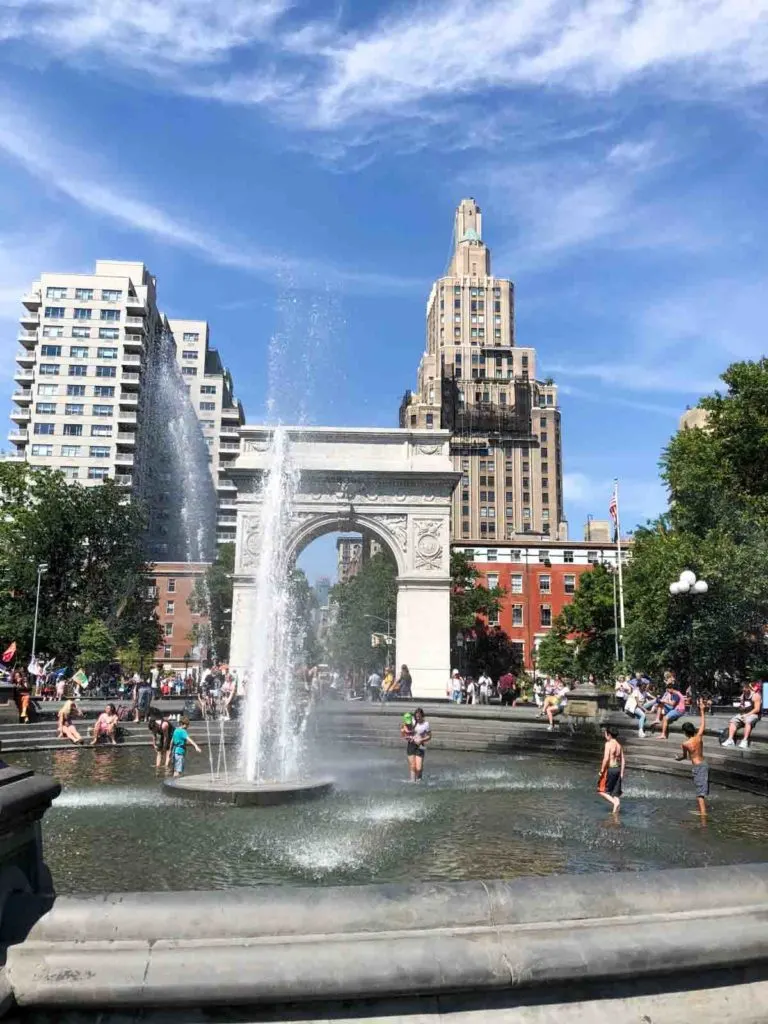 After we ate, Bella remembered we weren't too far from an edible cookie dough shop she had heard about called DO (pronounced "dough"), so we decided to head there next.
My advice: don't order your "DO" before your lunch has fully digested. Or perhaps be smart enough to share one of these desserts, because these are pretty rich! Since I regularly #eatfortheinsta as the kids say, I decided to order the cookie dough sandwich: two baked cookies with your choice of cookie dough inside. (They have all sorts of flavors – but I went for the classic chocolate chip.)
Good picture, yes. And good cookie dough, absolutely. But I could only eat a few bites before I was totally stuffed.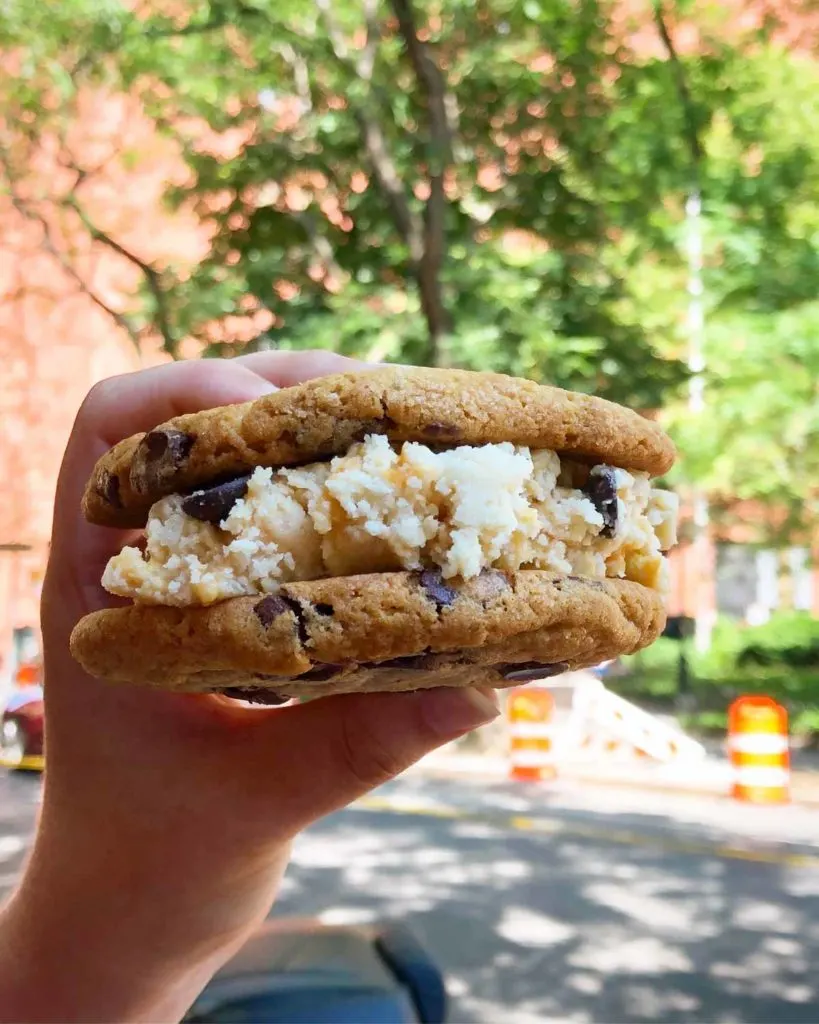 I'm sparing you the photo of me eating the cookie since this is when I learned I don't eat pretty.
Next we decided to walk off some of our cookie dough calories by heading to Chelsea Market. They have 35 vendors in one of the words best dining halls, and plenty of shopping (or window shopping) to keep you busy between bites. Fun fact: over 6 million visitors come here every year!
Be sure to do the High Line walkway too to get some great views.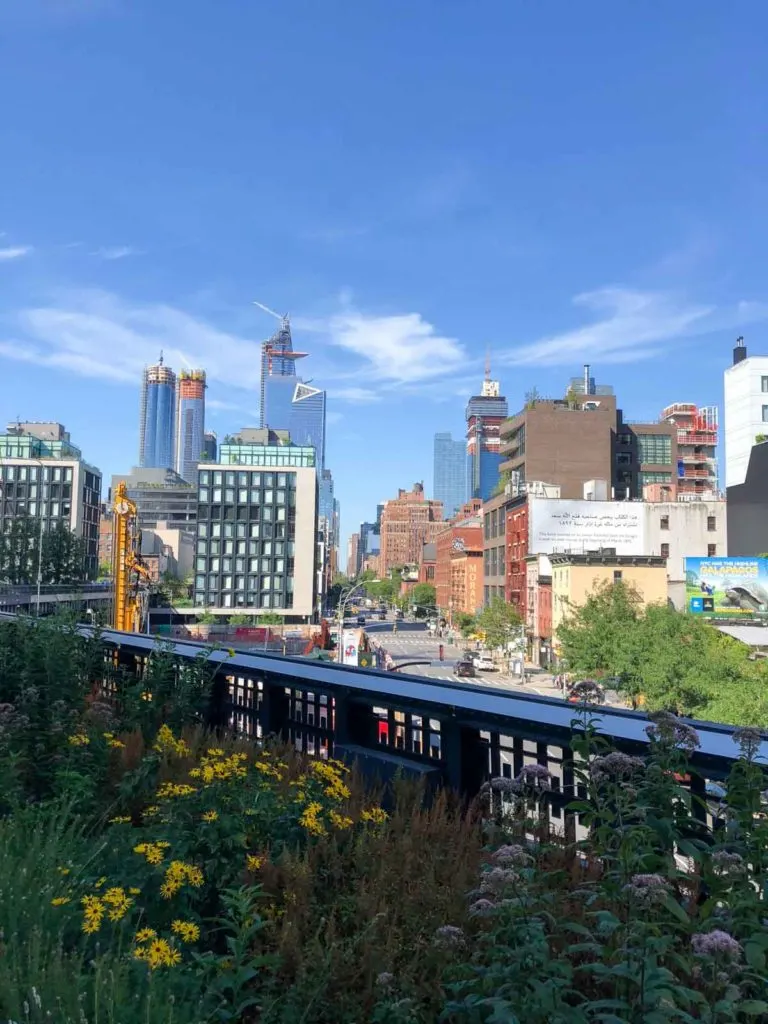 Before we knew it, it was happy hour time! We headed to Gallow Green, which is at the top of the McKittrick Hotel and only open in the summers. Get there early to grab a table – it gets busy!
The cocktails are fun creations with fruity syrups and fresh herbs (mine had lavender!), though they are a bit pricey – but I guess not really in New York terms.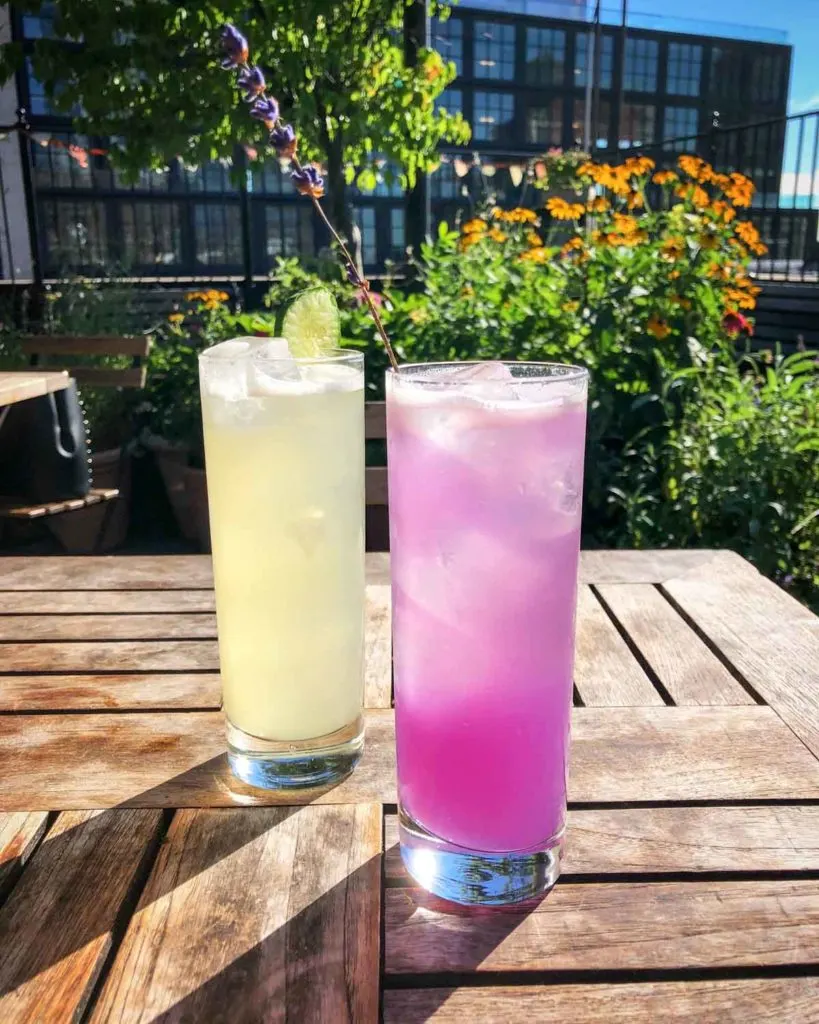 We stumbled across a fun Mexican place for dinner called Rocking Horse. There was not much seating but we snagged a table in the open porch to sip on our margaritas and eat our tacos. (Heads up – I figured out too late that the guacamole is NOT vegetarian!)
That's a wrap for day 1!
Day 2: Spending a day in Brooklyn
We had narrowed it down to a couple top brunch places – and since Juliette was in Brooklyn, we decided to make a day of it.
They have a beautiful rooftop but it didn't open until a bit later than we got there – maybe noon – but loved the indoor seating we had too.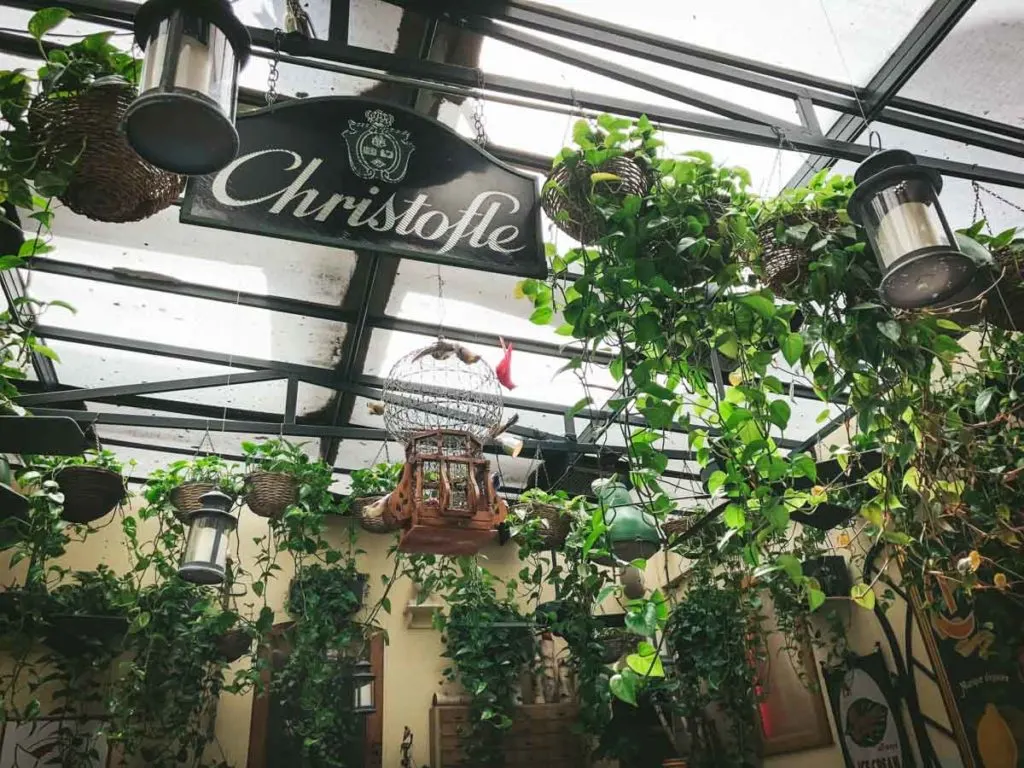 I always have a hard time decided between sweet or savory for brunch, so luckily I had a meal partner that shares my philosophy – order both and share!
Roasted Banana Stuffed French Toast + Eggs Benedict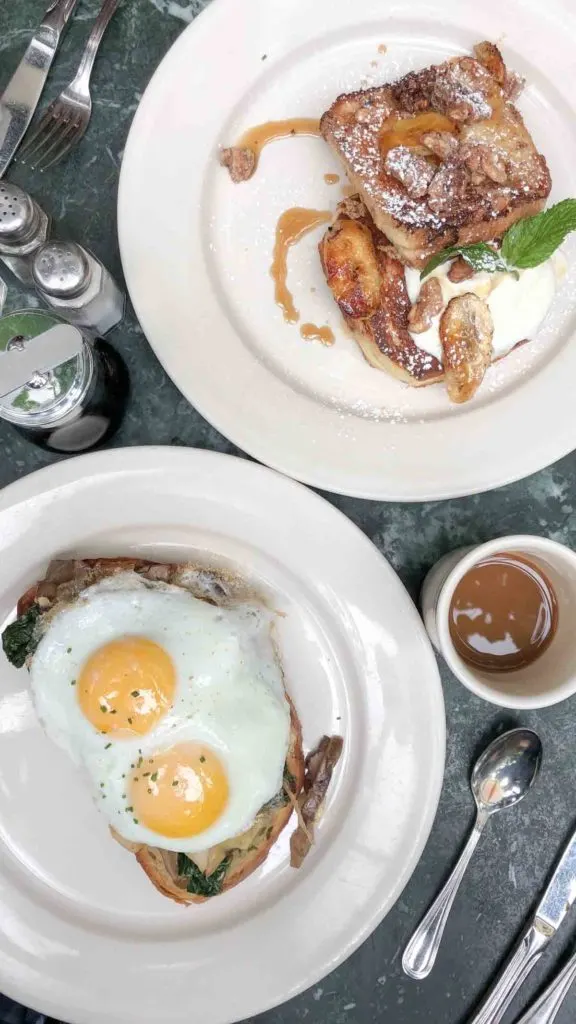 Somehow we hadn't realized how close we were to the ferry, and our waiter pointed us in the right direction when we left. (My favorite tip when eating in a new city is to ask the server not only menu advice but local activities as well!)
If you're going to head to Brooklyn for the day from Manhattan, my recommendation would be to walk the bridge one way and take the ferry back the other way.
We did this a little backwards – when we took the ferry, we didn't think about the fact that we would end up on the other side of the water, so we immediately walked the Brooklyn bridge back into town.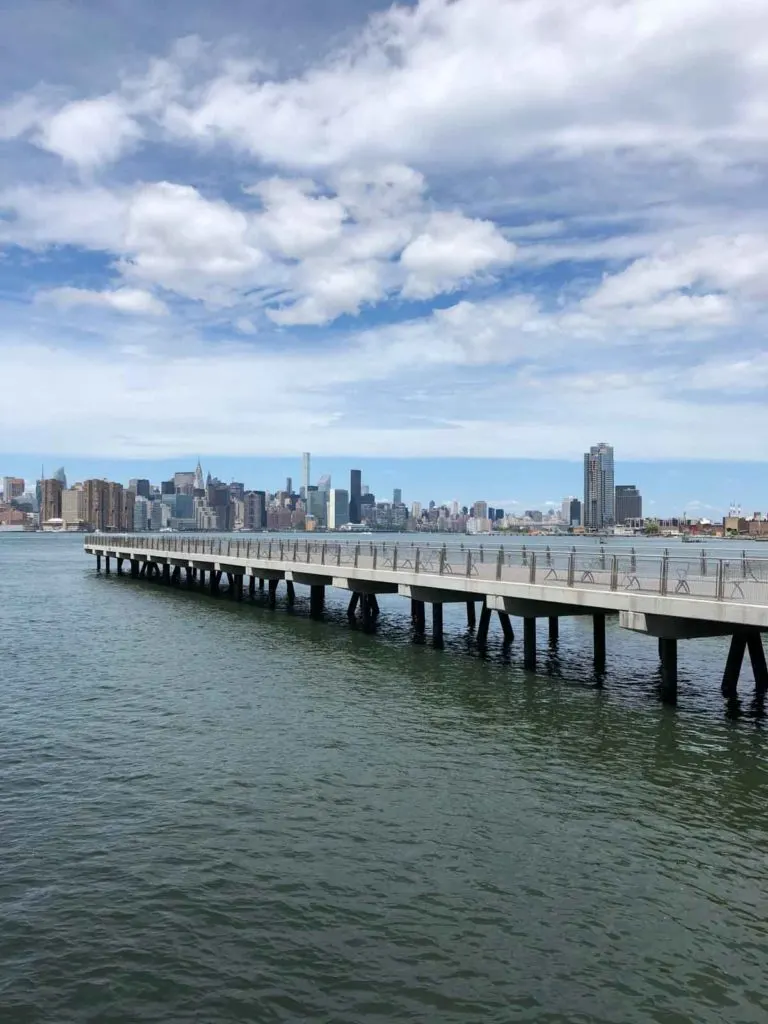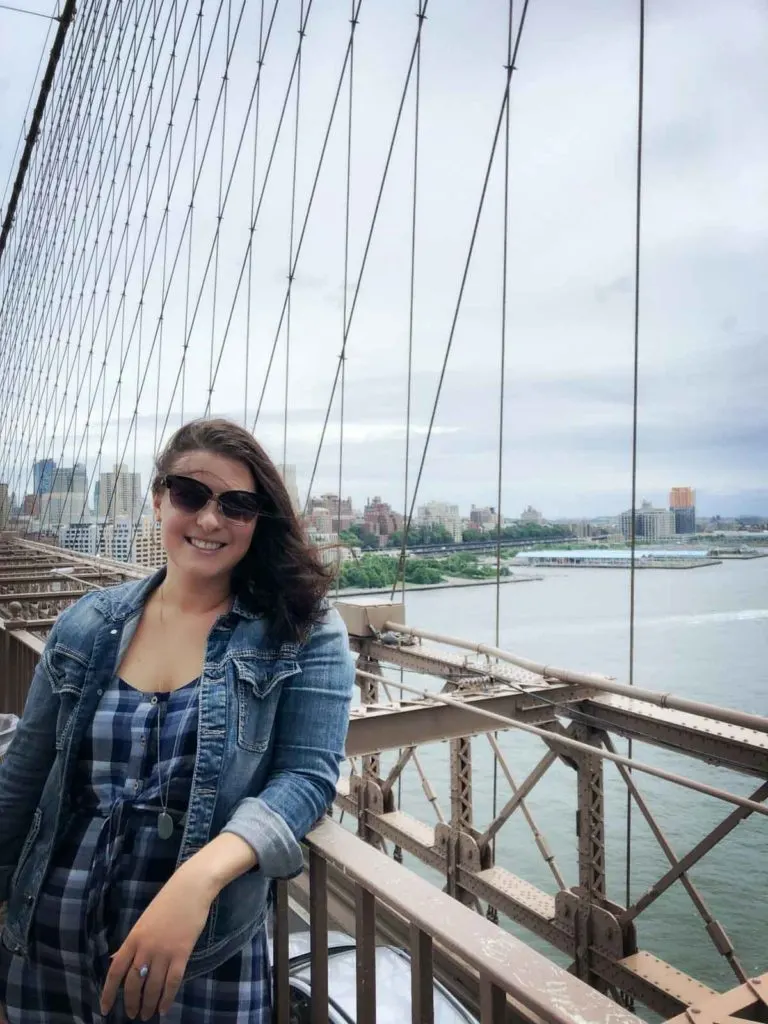 Smorgasburg was our next stop!
Smorgasburg is a weekly event in Williamsburg with over 100 food vendors (check their schedule, as it might be seasonal). Since we were still kind of full from brunch, we walked around and observed some of the fun food options for a while. I tried to wait in line for a Wowfulls – who sell Hong Kong egg waffles filled with ice cream and other sweets – but they sold out before I got to the front.
I did buy a charcoal lemonade (good for detoxing) from a vegan place called Chickpea & Olive, which was actually delicious. Unfortunately I dropped it after a couple sips. If I ever make it back, I really want to try some food from their menu as they specialize in 100% plant-based comfort food.
We weren't sure if we should stay in Brooklyn for dinner or not, but when we found Roberta's Pizza it convinced us to stay. (Later we discovered they also have a location in Manhattan as well.)
This place was so fun! Again, not a lot of seating but we snagged what I think was the best table in the house, towards the back. They have a chill hipster vibe with good music, good atmosphere, and definitely good food.
They are known for their "bee sting" pizza (a drizzle of honey with a little heat – probably some cayenne pepper?). We ordered it (ask for it without the meat, if you're also vegetarian) and then learned you can still ask for the "bee sting" to be added to any of their pizzas, which we did for our second order.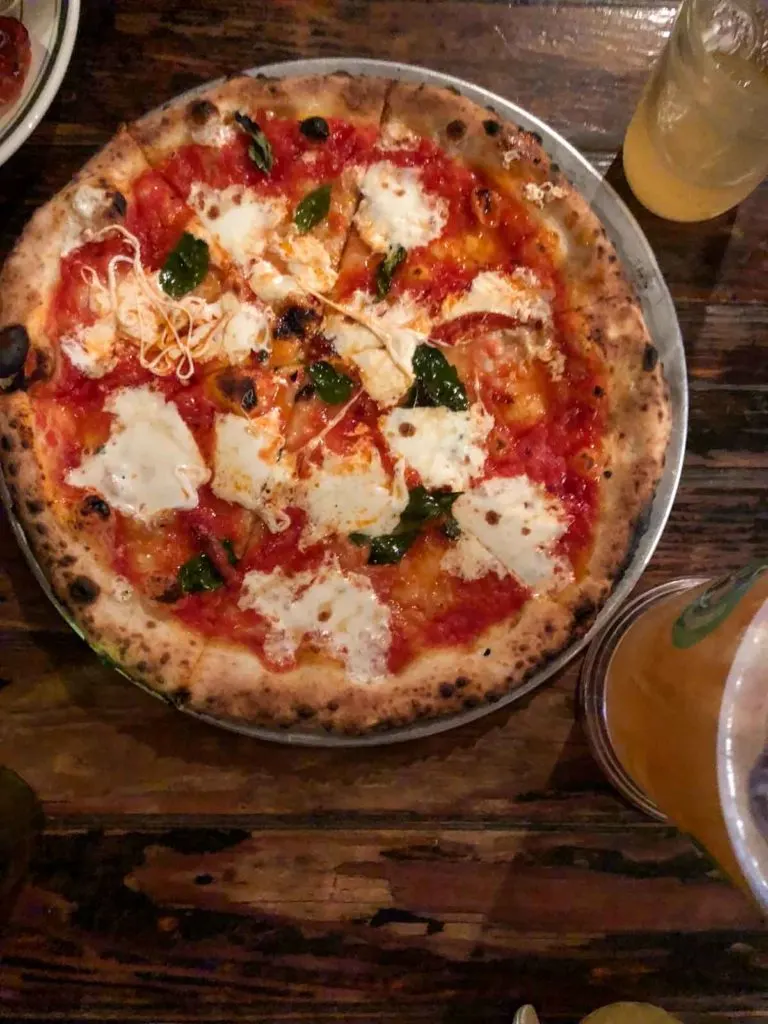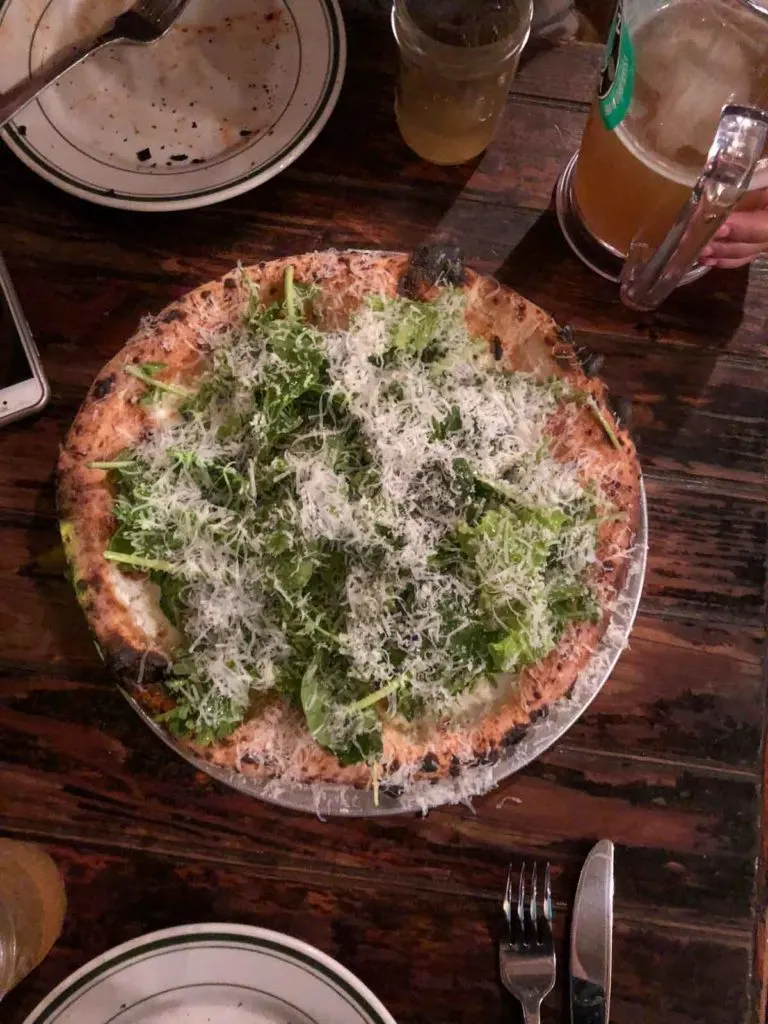 I've long been adding honey to my pizza (case in point) so I love when restaurants have this on their menu! I will definitely be back to Roberta's if I get the chance.
We took the subway back to her dorm in East Village and decided to tackle the night's rainstorm but exploring a speakeasy.
If you don't know what a speakeasy is, it basically means it's a hidden bar. There was one that involved a phone booth and a secret code, and I've also heard of ones behind a false wall or through an armoire like in The Lion, The Witch and the Wardrobe.
We went to one called Angels Share – no secret code required, but we did almost miss it!
It's hidden in a Japanese restaurant, upstairs behind an unmarked door. Bella was convinced that we were going to end up walking into the kitchen in the wrong restaurant.
In fact, we almost got in line for another bar next door, assuming that everyone was there for the "secret place." Luckily we asked the guy in front of us and he had no idea what we were talking about, saying he was just in line because it was a cheap bar!
When we finally found the real bar, we realized Angels Share is definitely not cheap, though they have some of the most unique cocktails I've ever seen. There were was one with coffee, one with avocado, along with many other ingredients you wouldn't ever expect to be in a drink.
The menu changes often and all cocktails are created by the owners, but be careful what you order – some of them may be a little TOO creative for your taste! Still a fun experience overall.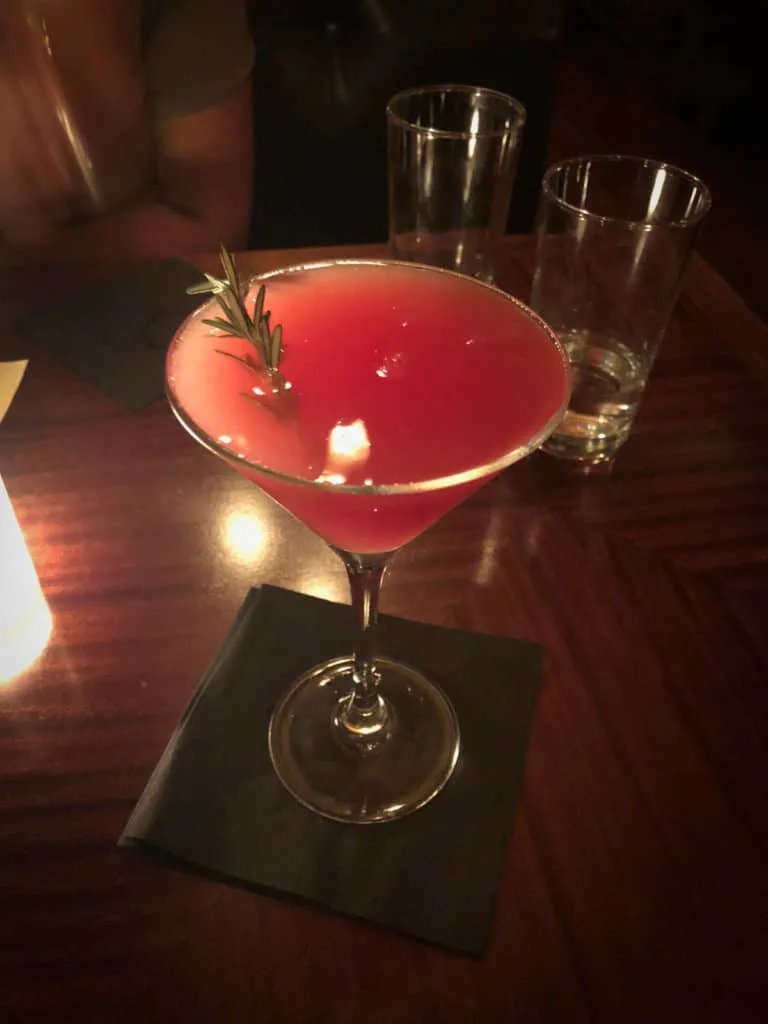 A last minute decision on the way home was milkshakes at Shake Shack! It was mostly a strategy to get out of the rain briefly, but a good way to end the night. (One day I will have to try their veggie burger!)
Day 3: Sunday in New York
Sunday morning we opted for a NY Bagel at Tompkins Square Bagels instead of a fancy brunch. I read somewhere they were the "inventor" of the bagel sandwich, so I had to get one of my own!
I got the vegetarian friendly eggplant one. I remembered too late that I'm not a huge fan of eggplant, but it was a great everything bagel – and they have loads of cream cheese options.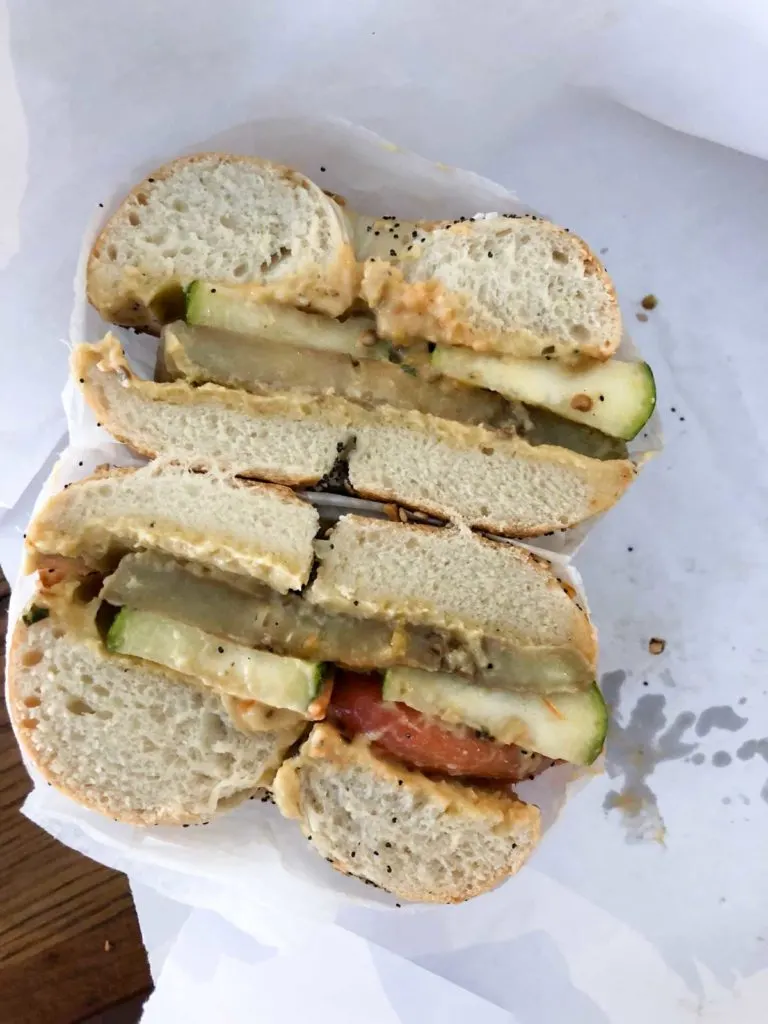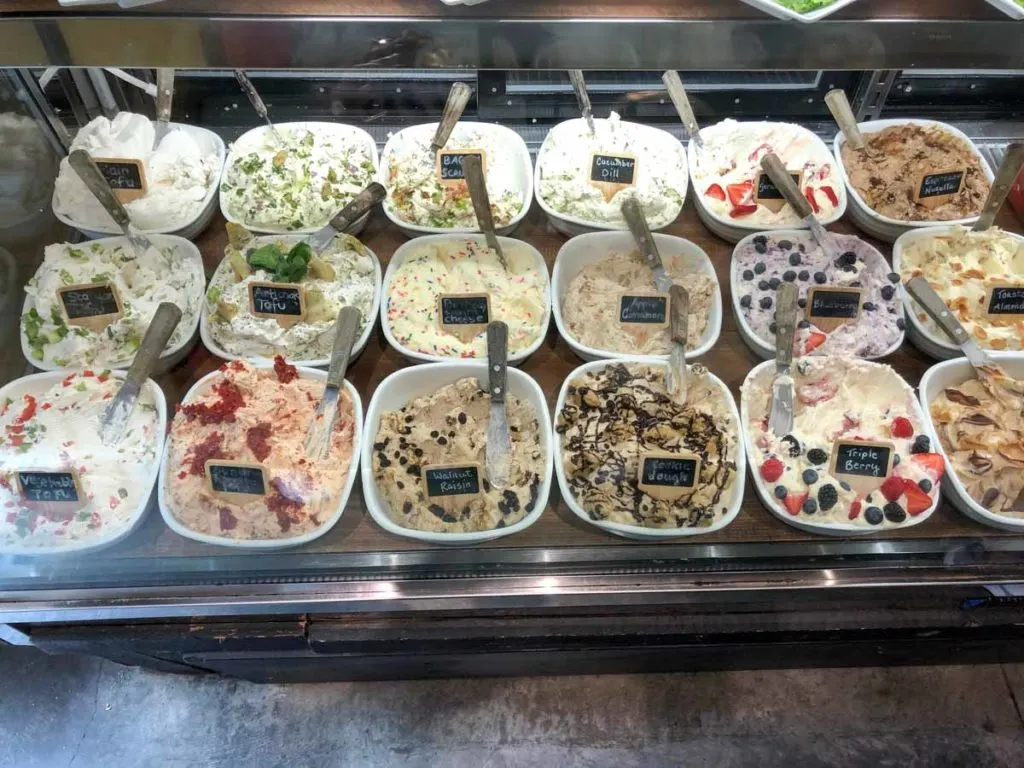 Our Sunday afternoon plans were to visit Central Park. No matter how many times I visit New York, I think I'll always want to make a stop in the park. While it's a great way to pass the afternoon just by sitting on a bench or walking around, we decided to rent Citi Bikes.
While I'm not in the same bike-riding shape I was when I was a kid, this was my favorite way to spend the afternoon (downhill especially).
You can see some highlights of the bike ride in my Instagram highlights (along with a few other food pics from the above activities). I somehow only took Instagram video and no pictures.
I treated myself to some ice cream at Emack & Bolio's after the workout fun bike ride. They were on the list for best Instagram-worthy ice cream with flavors like Space Cake and Mud Pie, and loaded waffle cones that are covered with your favorite childhood cereals.
My favorite flavor is mint chocolate chip so I went with the Grasshopper Pie flavor (which is essentially mint chocolate) and chocolate jimmies cone.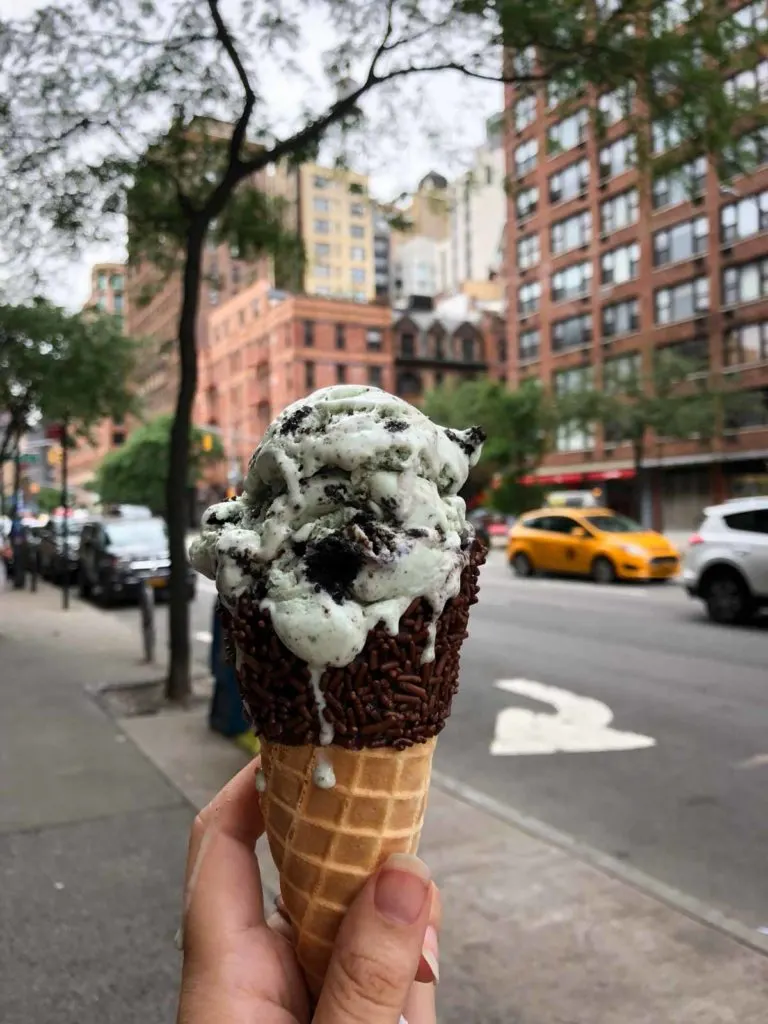 For dinner we covered another cuisine with Pierogis from Veselka. This was actually on Bella's list and we didn't remember until we saw it on another "best of NY" rundown! I got the vegetarian sampler of 4 different pierogis.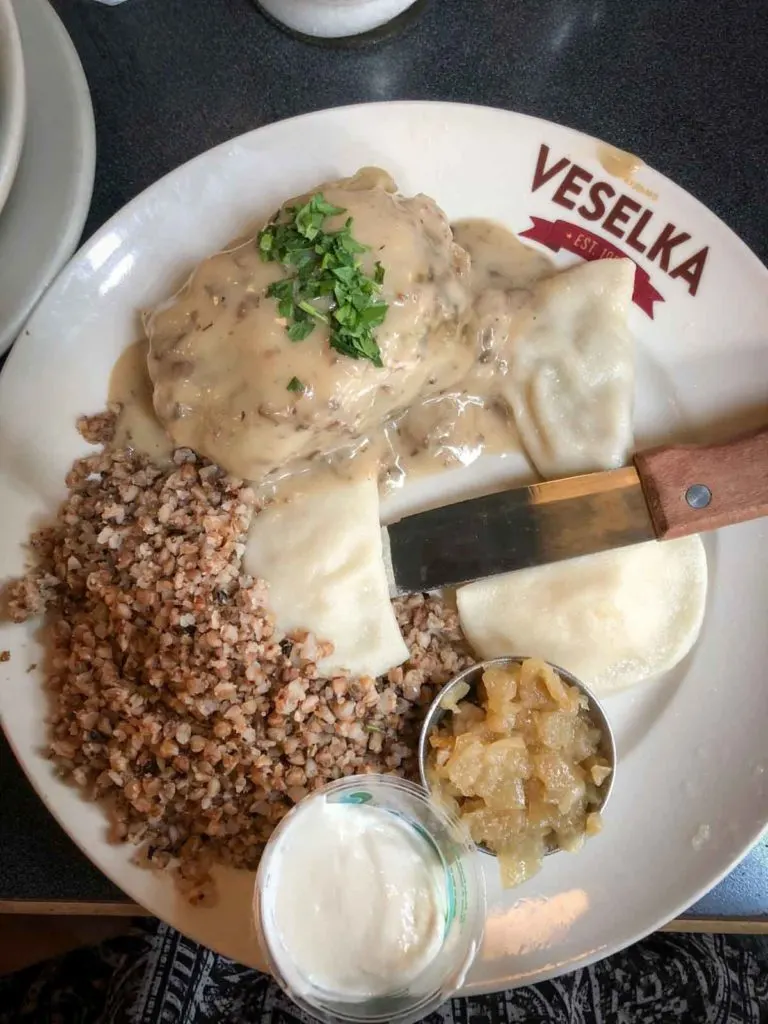 After resting a bit, we finished the night at a wine and chocolate bar called Azya. We split the New York Cheesecake slice and got our own chocolate martinis (one strawberry chocolate and one almond chocolate).
I tried the spicy martini first, after being assured it wasn't too hot – but they had just made a fresh batch and I couldn't even pretend to drink it. Probably the first time I've ever sent something back!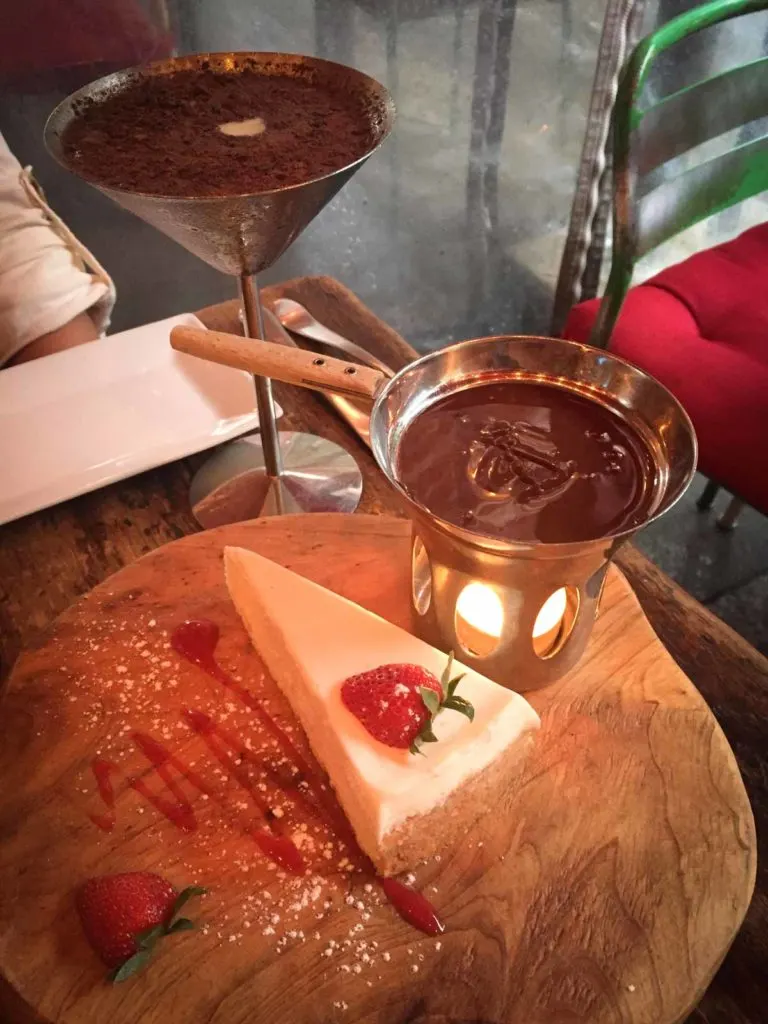 And it wouldn't be a New York visit if it wasn't capped off by another late-night slice of pizza. This one is from Joe's. They have several locations in the city so you're never too far from a slice!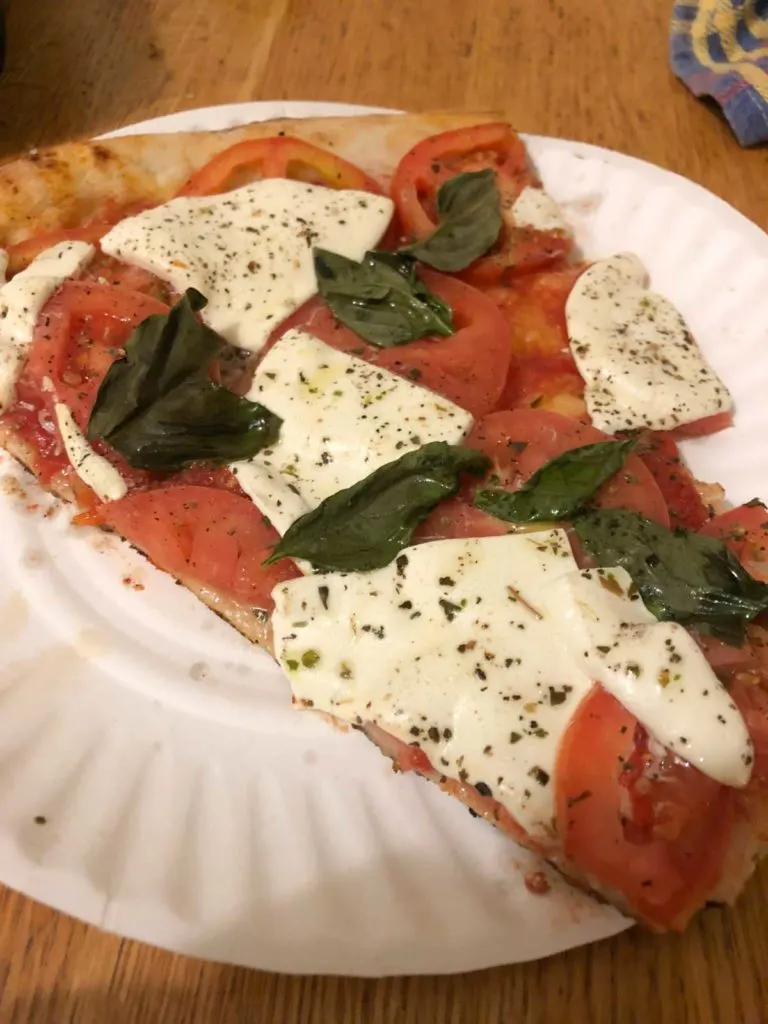 There's my 3-day spontaneous New York trip in a nutshell! LOTS of food, tons of walking, and great memories made.
Tell me your favorite New York City activities in the comments!