Print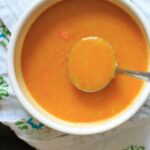 Carrot and Leek Soup
Carrot and Leek Soup - one pot meal ready in 30 minutes. Super flavorful and healthy vegetable meal!
2

tablespoons

olive oil

4

cups

chopped leeks

(about 4 leeks), trimmed

4

cups

chopped carrots

(about 1 lb.)

1

medium white onion

(about 1 cup)

1/2

teaspoon

salt

, or to taste

4

cups

vegetable broth

4

cups

water

(or more broth)

2

teaspoons

cumin

, optional
In a large stovepot, heat oil over medium heat for 1 minute.

Add chopped leeks, carrots and onion and salt. Stirring continuously, cook until carrots are slightly tender, about 5 minutes.

Add broth and water, and mix.

Let simmer over medium-low heat for 10-15 minutes. Remove from heat.

Using an immersion blender, blend together to reach desired consistency. Add more water or broth if desired.

Stir in cumin if using, and serve hot.
*The soup is pretty flavorful on its own, but I also added cumin to spice it up a bit. Other spices that go well with leeks are tarragon, thyme, and sage. To make it SPICY, add red pepper flakes!