Print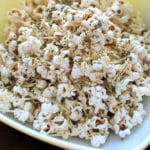 Movie Night Pizza Popcorn
Pizza popcorn is a perfect snack for movie night that's still pretty healthy and full of flavor with herbs and parmesan cheese.
Put popped popcorn in a large bowl.

In a small bowl, combine oil or melted butter and stir together with 1 teaspoon of the herbs. Pour over popcorn and toss until combined.

Top with remaining herbs, parmesan cheese and salt.
2 teaspoons of dried herbs might be too much for some tastes. Start with 1 teaspoon (that will be mixed into the oil or butter) and then top off with another teaspoon if desired. *I preferred it cheesy, but for just a slight parmesan flavor you can start with a couple tablespoons of the cheese instead of the full 1/3 cup. Adapted from Food.com