Print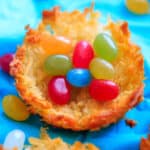 Coconut Macaroon Nests
Coconut Macaroon Nests - fill with your favorite candy, or use jelly beans or Easter eggs for a fun holiday treat.
Preheat oven to 325°F

Spray a muffin pan with oil to prevent sticking.

Add a heaping tablespoon of coconut mixture into each tin and use the back of the spoon press mixture in and make the nests.

Bake for about 25 minutes or until browned. (If using a mini muffin pan, will take less time. Check after 15 minutes.)

Once cooled, fill with jelly beans or other candy as desired.