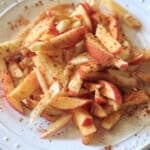 Print
Apple matchsticks
Spicy and sweet and weirdly addicting - I call them apple matchsticks! Quick snack that doubles as a great metabolism booster!
Sprinkle lime juice and salt over apple slices.

Add a tiny amount of cayenne pepper (start small, maybe 1/4 teaspoon).

Adjust spice quantities to your preferred level of spiciness. The cinnamon will "dull" the cayenne pepper a little bit.